Is it Possible to Restore Files From an External Hard Drive?
Yes. You can recover files from external hard drives if they have been accidentally deleted. In fact, external hard drive recovery is possible even after formatting or if the hard disk is damaged. Due to the way modern operating systems handle file deletion and disk formatting, the files are still physically available even when logically inaccessible to the system. Through the use of data recovery software, the drive can be recovered, allowing you to restore the lost files.

The ability to recover deleted files from an external hard drive can be extremely important in a variety of situations. Many computer users use an external HDD as the media on which to store their system's backups. Loss of the data residing on this storage device could potentially destroy years of data backups.

Another popular use of external hard drives is to provide extended storage to augment the capacity of your system's internal disks. Common uses include storing photo, music, and video collections that occupy too much space on the internal drive. These collections can comprise materials in which you have a financial or emotional investment. Losing them to accidental deletion or realizing you have inadvertently formatted the wrong disk can be devastating.
You also may need to retrieve files from a damaged or corrupted disk. In all these cases, data recovery software can save the day.
How to Recover Deleted Files From External Hard Drive
It is possible to unerase deleted files from an external storage device by using Disk Drill data recovery software.
To recover deleted files from an external hard drive, follow these steps:
Download and install Disk Drill.
Attach the external drive to your computer.
Launch the application.
Select the external drive.
Click Search for lost data to scan the drive.
Preview the recoverable files.
Select the files to be recovered and their new storage location.
Click Recover to restore the files.
Disk Drill – Professional External Hard Drive Recovery Software
In the event that you need to recover from data loss, using a professional data recovery software application like Disk Drill is essential. The tool can be used to recover deleted files from virtually any storage media.
Free versions of the utility enable you to preview the files that can be recovered, and on Windows systems you can recover up to 500MB without paying for an upgrade.
At the heart of Disk Drill are powerful scanning algorithms which enable you to undelete files from any storage device, including an external hard drive. Some of its outstanding features include:
Quick and Deep scanning modes to recover as much data as possible;
A clean and intuitive user interface that enables you to scan your disks and recover data quickly and easily;
Ability to pause and restart scans or recoveries;
Additional free data protection utilities;
Capacity to create disk image copies.

Disk Drill offers a full-featured data recovery and protection tool for both macOS and Windows users. It should be your first choice when selecting data recovery tool for your system.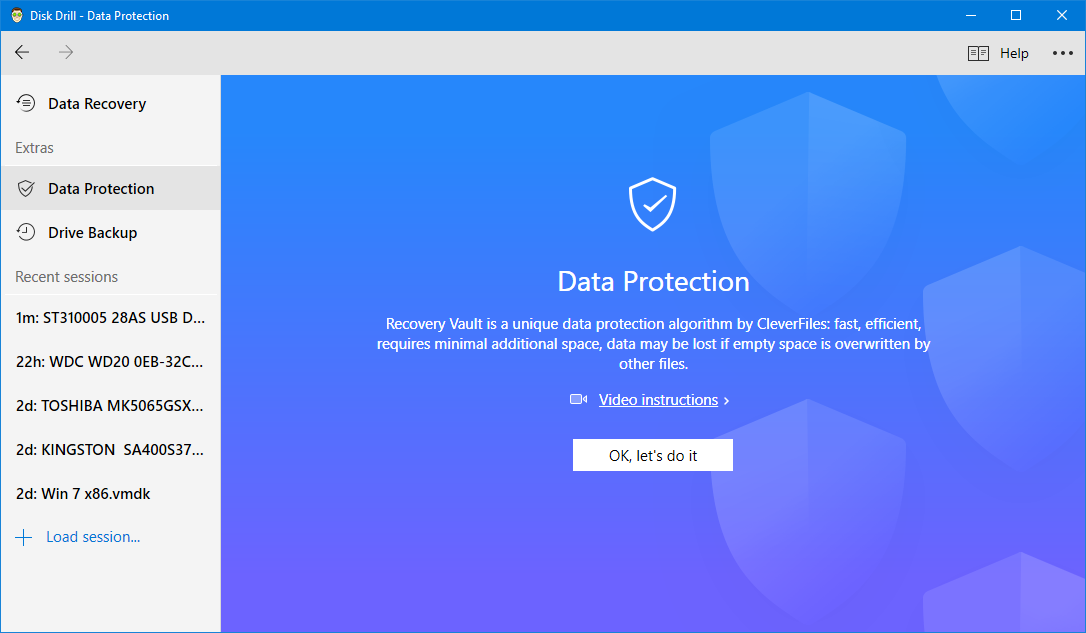 ---
Be Aware of Losing Data From Your External Hard Disk
There are many reasons that your external hard drive can experience data loss. Some of the most common are:
Human error – This is by far the most common reason for data loss. It can occur through accidentally deleting files or formatting disks. Perhaps you are unfamiliar with the Windows cmd command and accidentally ran a script that deleted a bunch of files. You might realize it a split second after executing the command, but the damage is done.
Faulty upgrades – Occasionally a faulty system or application upgrade can impact your system. If an external hard drive was attached to your machine during the upgrade, it could have been negatively impacted and you may have lost some data from it.
Power surges – A power spike can cause damage to your drive and result in a broken storage device that requires data recovery software in order to reduce its data. The drive can appear dead after being subjected to an extreme power surge.
Extreme conditions – Leaving an external hard drive in a hot car or other location where it will be exposed to high temperatures can cause damage to the disk. Similar results will occur if you expose the device to high humidity or moisture. 
These are just some of the causes of data loss that may confront you. A critical point to remember is to immediately stop using the external storage device as soon as you suspect data loss has occurred. Failure to follow this guidance can lead to the deleted data being overwritten before you have a chance to recover it. Put the drive to the side and fire up your data recovery software.
---
Why You Should Use External Hard Drive Data Recovery Software
As previously described, there are a number of situations which can result in the loss of important data that previously resided on an external hard drive. Unless you were lucky enough to have another copy of this data, you will probably need to use data recovery software in order to unerase your files. In all probability, they are not in your Trash or Recycle bin, but are still physically available on the storage media.
Disk Drill allows you to rescue your lost data with a few easy clicks. It can be an invaluable tool when faced with the prospect of attempting to recover data from an external hard drive. In many cases, using data recovery software is your only recourse in attempting to restore your lost files.
---
Protecting the Important Files on Your External Hard Disk
Here are some tips to help protect valuable data on external hard drives.
Have more than one copy of data that is very valuable or that cannot be created. This may involve backing up your external drive to the cloud or making a full copy to another device of similar or greater capacity.
Label external drives to minimize the potential that you will accidentally format the wrong device.
Employ data protection tools such as Recovery Vault and Guaranteed Recovery offered by Disk Drill.
Keep your external hard drives out of direct sunlight and do not subject them to extremes of temperature or moisture.
FAQ
Yes. Data recovery software such as Disk Drill can restore data from a formatted external hard drive.
If a drive is not detected by your Windows machine, there are a few remedies that you can try.
Try the drive in another USB port. Success will indicate that the port was the problem.
Connect the drive to a different computer.
Reassign the drive's letter.
In cases where your drive is not recognized by your system, you may need to format the drive in order to use it again. After the format, data recovery software can be used to recover the data.
Data recovery software can perform a deep scan and scavenge a corrupted disk for file fragments that can be reconstructed. Disk Drill's advanced scanning algorithms may be just what you need.