If you use a computer much, you have probably come across archive files at some point. An archive file is a file that contains one or more files along with metadata concerning its contents. It can be used to compress files so they take up less storage space or to collect multiple files for enhanced portability.
🗨️
Losing a single archive file can have serious consequences, especially if you had a bunch of important documents stored in it. We are going to show you how to go about the recovery of a deleted zip file or another type of archive.
Before we start
We don't want to waste your time, so we suggest you take a quick look at the table below to see if the information we are about to present will help address your situation.
| | |
| --- | --- |
| Your issue | Is this guide for you? |
| I deleted the archive and it's not in the Recycle Bin. | Yes, we can help you! |
| I formatted the disk with the archive on it. | Yes, we can help you! |
| I need to repair a corrupt zip file. | Check out this link to repair a corrupt zip file. |
| My archive was in cloud storage and I deleted it. | If your "cloud" stored files in a folder on your computer, this guide might help. Otherwise, read about restoring data on your particular cloud storage solution. They usually store files for up to 30 days. |
Three Methods to Recover a Deleted Archive File
If you realize you have lost or deleted an archive file on your Windows machine, three recovery methods might get it back. These methods will also work in basically the same way on a Mac system.
❗️
Whatever type of computer you are using, there is one very important measure you need to take to improve your chance of a successful recovery. Stop using the drive that contained the deleted data. Continuing to use the device risks overwriting or corrupting the information you wish to recover.
Recover from the Recycle Bin
It's always worth taking a look in the Windows Recycle Bin for a deleted item before performing more extensive recovery procedures. Use this simple procedure and you may get lucky and get your archive file back quickly.
Open the Recycle Bin by double-clicking on its icon.
Search for the archive file that you want to retrieve.
Right-click on the item and select the Restore option.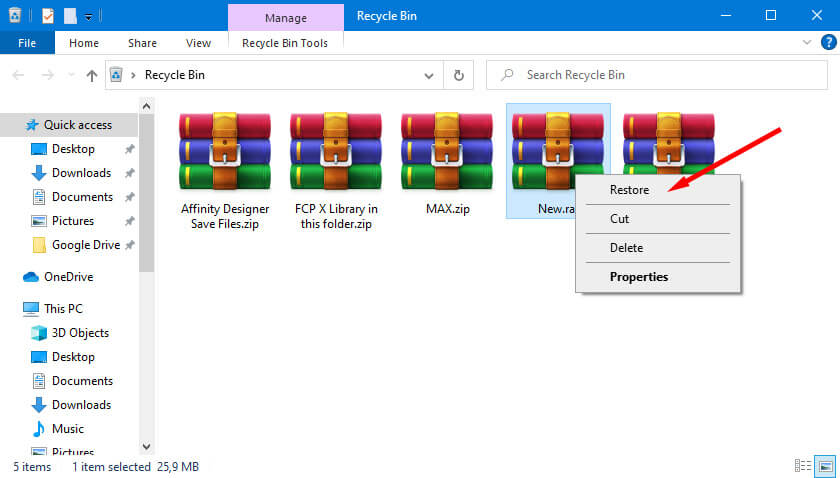 ✅
The file will be restored to its previous location where you can use it with your other applications. If you are on a Mac system, you can attempt recovery with the Trash Bin using essentially the same procedure.
Recover from a Backup
Hopefully, you are backing up your computer regularly to protect your data. On a Windows 10 machine, you can use the built-in File History backup and recovery tool. You can also use third-party tools or back up your files to the cloud. Follow these steps to recover an archive from File History.
In the taskbar's search box, type restore files.
Select Restore your files with File History.
Locate the archive you want to restore and use the arrow keys to select a specific version of the file.
Select Restore to recover the file to its original location. You can also choose Restore to if you wish to save it somewhere else.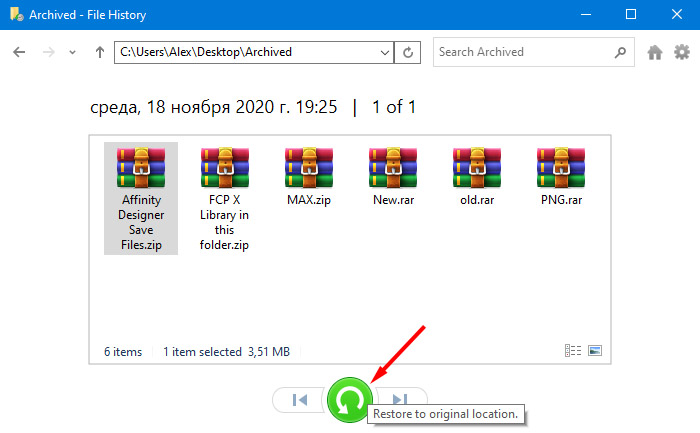 Since archive files are usually not updated frequently if you have a backup copy you might be able to recover all of your lost data. Use the procedure for your backup and recovery tool. When data gets lost, it's easy to see how important it was to be taking those backups!
Recover with Data Recovery Software
Data recovery software may be able to restore lost or deleted archive files that were not backed up or found in the Recycle Bin. Modern operating systems do not physically remove data from a storage device when it is deleted. The OS marks the space occupied by the deleted item as being available for use to store new information and deletes the logical links that made the file accessible by applications.
There are many data recovery products available on the Internet. They all essentially work the same way by scanning a disk and repairing the logical links that make deleted files accessible again. There are differences in the user interface employed by the various tools and some solutions may be hard for a non-expert to negotiate. Price can be a differentiating factor as is the strength of the scanning algorithms and the diversity of devices and file types supported by the application.
✅
We will use Disk Drill to illustrate the steps to use with recovery software. You can choose another recovery software solution, but we like Disk Drill for its recovery capabilities, easy interface, and reasonable price. It has saved a lot of lost files for us over the years.
Use this procedure to recover a lost archive file with Disk Drill.
Download and install Disk Drill. Don't use the disk that contained the deleted file for the download to avoid overwriting the data you want to recover.
Select the storage device that contained the deleted archive file.
Click the Scan for lost data button to start searching for recoverable data.
Preview the files that can be recovered. You can filter the scan results to just display specific file types or search by file name.
Select the files you want to recover and choose a new location where they will be saved. Again, don't use the original disk until recovery is complete.
Click the Restore button to complete the process and get your files back.
The majority of data recovery programs work similarly. Whichever solution you choose to perform a zip file recovery, our warning is the same. Don't save any new data to the affected device until you are finished with the recovery. You might also want to verify that the tool you select has the capabilities to address your situation.
Devices and File Types
You want to make sure that the recovery software solution you choose supports the type of device that experienced data loss. If a tool can only handle internal disks, it will not provide any benefits if you need to recover data from a flash drive.
✅
Disk Drill and most reputable products support all disk-based storage devices including external and internal drives, USB sticks, and SD cards.
You also need to ensure that your chosen tool can recover the types of files you need to restore. In the situation discussed in this article, we are concentrating on archive files. The recovery software should be able to recognize and recover all types of archive formats including:
RAR;
CAB;
LZH;
TAR;
ZIP;
GZIP.
A Final Word
The loss of an important archive file can cause unnecessary stress in your life. Fortunately, there are several methods with which you can recover a deleted archive and save its valuable content. Data recovery software offers a reliable way to get your archive back if it is not in the Recycle Bin and you don't have a backup. Good luck, and remember to not use the device with the lost archive file until you have finished its recovery.
2.8 out of 5 stars (based on 5 reviews)
Thank you for the great tutorial on how to recover ZIP files!
Robert Agar is the Content Writer & Managing Editor for Handy Recovery. Robert brings over 30 years of experience in data storage, security, compliance, backup, and recovery to the HandyRecovery team. Several years ago, he turned his attention from hands-on technical roles to develop a career as a freelance writer concentrating on technology and its impact on society. Areas of focus include the cloud, data recovery, artificial intelligence, and industrial automation.
Administrator • 45 articles
David Morelo is a professional content writer in the technology niche who joined the Handy Recovery team in 2019 and has since made an invaluable contribution to the quantity and quality of our materials. David's main principle is not to start working on a new article until he has studied the subject backwards and forwards.