Many computer users who use macOS machines are familiar with accidental data loss. Whether you are using an older Macintosh or the newest MacBook Pro, there is always the potential that some important information may be deleted. This can be a stressful situation that needs to be quickly resolved. We are going to show you a number of ways to rescue your lost data from your Mac computer.
When a file is deleted from your Mac, your first thought might be that it is gone for good. Fortunately, that is not always the case. In fact, there are a number of ways that you can attempt to recover deleted files — even after emptying Trash can — from your Mac. Some employ native Mac features and work without additional software, while others require third-party software solutions.

After a file is deleted from your Mac computer, macOS simply marks the space that the files formerly occupied as available for reuse. The files are still physically on the disk, though no longer logically accessible through the operating system. As long as the files are not overwritten, there is a good chance that you can recover deleted files on Mac.
Update Notice (JAN 2021)
Mac computers are constantly evolving, and so are data recovery techniques. When this article was first published, macOS Catalina (version 10.15) was the latest iteration of Apple's operating system. To keep this article relevant in the era of
macOS Big Sur
and beyond we've decided to update it and include even more techniques and best software solutions, helping you recover permanently deleted files from your Mac's internal hard disk, external hard drive, USB flash drive, and other storage devices.
5 Proven Ways to Recover Deleted Files on Mac
1. Make Sure the File Was Actually Deleted
Difficulty: Easy
Chance of success: Moderate
Requirements: The deleted files are present in Trash
While your first instinct may be to panic after discovering that you have lost an important file, a systematic search for your file will often produce successful results. Perhaps you were working on a file and accidentally deleted it. You look in the Finder app, and it is not in the folder where it should be located. Here's how to find it.
The first place to look is in the Trash Bin. Here are the steps to follow:
Open the Trash Bin by clicking on its icon.
Search for the file you suspect was deleted.
If the file is found, right-click on the file and select the "Put Back" option.
Verify the recovery by using Finder and searching the file's original location.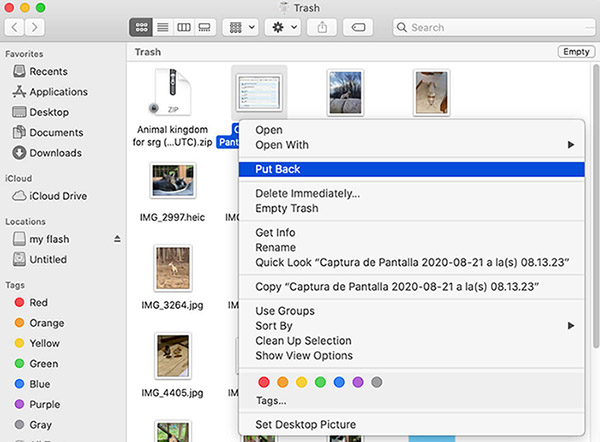 Other ways to search your computer may turn up a missing file. You may have inadvertently moved it to a different location, perhaps even to the cloud. A Spotlight search or employing the Siri digital assistant will quickly help you determine if the file is simply misplaced or really deleted. If it has been deleted, then keep reading, and we will look at some ways to get it back.
2. Restore Deleted Mac Files from a Time Machine Backup
Difficulty: Easy
Chance of success: High
Requirements: Time Machine is active
Time Machine is Apple's backup and recovery tool, and it comes installed on your Mac. You should use it as part of your regular computer maintenance schedule to create backups of your valuable data. Having a backup can come in handy if you discover you have deleted some files and emptied the Trash bin (what the Recycle Bin is called on Mac computers) because Time Machine can recover even permanently deleted files.
To restore files on Mac using a Time Machine backup, follow these steps:
Connect the device that contains the Time Machine backup.
Launch Time Machine.
Open a Finder window in the location you last remember seeing the file.
Scroll back through Time Machine until the file appears in the Finder window.
Select the file and click Restore to recover it.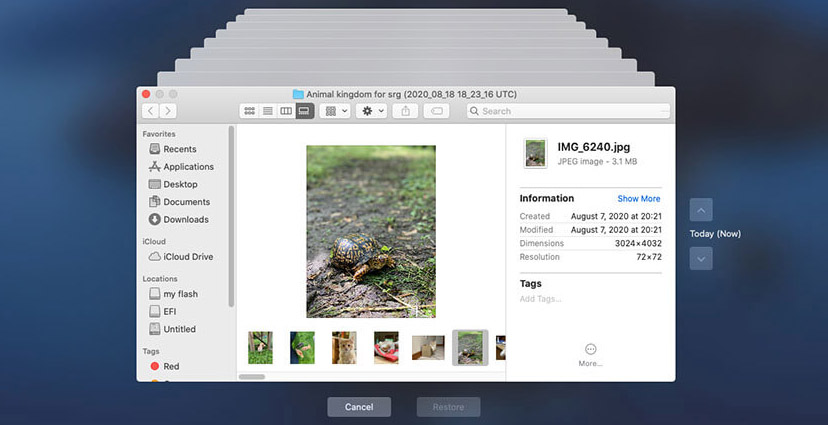 3. Recover Data without Time Machine Using Data Recovery Software
Difficulty: Moderate
Chance of success: High
Requirements: The deleted files have not been overwritten
If you need to recover lost data from a computer or storage device for which you have no backup, you will need to employ dedicated Mac data recovery software.
Disk Drill is an excellent data recovery application that can answer the question of how to recover deleted files on your Mac with a simple click. It offers support for all commonly used file formats and file systems, which allows it to solve virtually any data loss situation you may encounter.
File Formats: Videos, Audio, Images, Documents, Archives
File Systems: NTFS, FAT, FAT32, exFAT, EXT3/EXT4, HFS+, APFS
Supported OS: Mac OS X 10.8.5+
To recover deleted files on your Mac computer using Disk Drill you'll need to do the following:
Download Disk Drill for Mac. When performing data recovery, you want to use the storage device where the deleted files were stored as little as possible. This means that you want to download and install Disk Drill on a different drive or partition than the one where your files were located. A USB flash drive is a good choice for this purpose.
Install Disk Drill for Mac. Install the application and provide your Administrator's password when prompted. Disk Drill requires administrator privileges to scan your storage device and recover files from it. Now start up the application.
Scan for Files Deleted from the Trash Bin. Scan your disk and give Disk Drill some time to locate the files that have been deleted. We recommend you try a Quick scan first. If you don't get the expected results, use Disk Drill's Deep scan capabilities that will search your disk bit by bit.
Preview the Found Files. Preview the found files and select the files that you want to recover. You also need to specify the recovery location. We emphasize again that you need to recover the files to a different storage device in order to avoid overwriting them during the recovery process.
Recover your files. Clicking the "Recover" button will restore the selected files to your desired location.

4. Recover Deleted Files from a Backup
Difficulty: Easy
Chance of success: High
Requirements: Previous backup
There are other methods besides Time Machine to back up your Mac. You can simply copy files and folders to an external drive or cloud storage. Many third-party backup products are also available to protect your data assets. All of these methods require that you save the backups to some type of external storage. The process of recovering files or folders from a backup is similar no matter which type of system you use.
The following steps can be used to recover your data from backup media:
Connect the backup media to your computer.
Launch the data protection tool that was used to create the backup.
Search for the desired files and folders using the restoration tool's interface.
Select the items to be restored and use the interface to begin the process.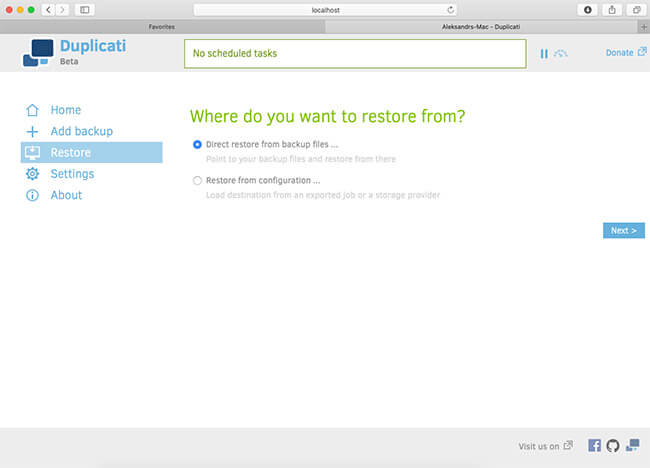 5. Recover Deleted Files Using Mac Terminal
Difficulty: High
Chance of success: Moderate
Requirements: The deleted files are present in Trash
The Mac Terminal program provides an alternate method of recovering files from your Mac's Trash. It is a command line way to recover recently deleted files from your computer.
To use the Terminal app, use these steps:
Launch the Terminal application.
Enter the cd .Trash command.
Type this command: mv xxx.xxx where xxx.xxx is the full filename and extension. Hit Return.
Type Quit to exit the Terminal app.
Open a Finder window and you should find the recovered file in its original location.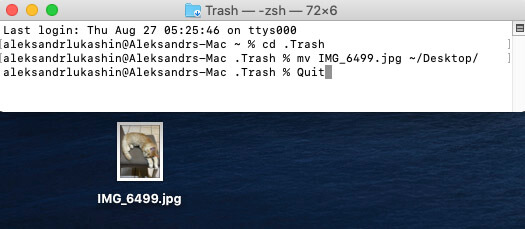 Bonus: Pay a Data Recovery Service to Recover Your Files for You
So far, we've described five ways to recover deleted photos, videos, audio, documents, and other files on Mac, covering everything from the Trash folder to third-party data recovery software. But there's one more solution that we should mention: professional data recovery services.
Professional data recovery services have the equipment and know-how to perform complicated repairs of physically damaged storage devices that are no longer recognized or simply don't work. Thanks to their immense experience, they achieve a very high recovery success rate, making them ideal for recovering sensitive data of great value.
As you can probably guess, the biggest downside of professional data recovery services is their price. Indeed, the cost of professional data recovery can be high when compared with the cost of professional-grade data recovery desktop applications, but there are situations when it's much better to pay extra than lose important data.
What Is Mac's Recovery Mode and Can It Help Recover Lost Files?
macOS Recovery, commonly referred to as Mac Recovery Mode, is a relatively old feature that's been available to Mac users since Mac OS X Lion (version 10.7). It's essentially a useful collection of troubleshooting tools that you can use to fix startup issues, repair your operating system, and, yes, even recover lost files.
To start a Mac in Recovery Mode, do the following:
Click the Apple logo at the top left.
Select Restart.
Hold down the Command and R keys until you see an Apple logo or spinning globe.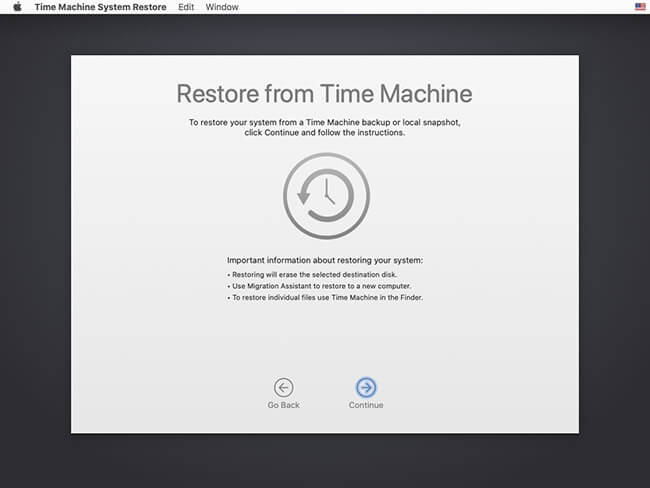 After you Mac finishes booting into Recovery Mode, you will see a window titled macOS Utilities with several options:
Restore From Time Machine Backup: You have a backup of your system that you want to restore.
Reinstall macOS: Reinstall a new copy of macOS.
Get Help Online: Browse the Apple Support website to find help for your Mac.
Disk Utility: Repair or erase a disk using Disk Utility.
If your goal is to recover lost files and you have a Time Machine backup, select the first option and follow the on-screen instructions.
Guarding Against Data Loss
🔒 Backup disks into DMG
You probably have noticed that backing up your data is an important strategy in enabling you to recover from data loss events. Regular backups are considered best practice for all computer users. If you value your data, make sure you regularly take a backup of your system, whether it is to the cloud or an externals storage device.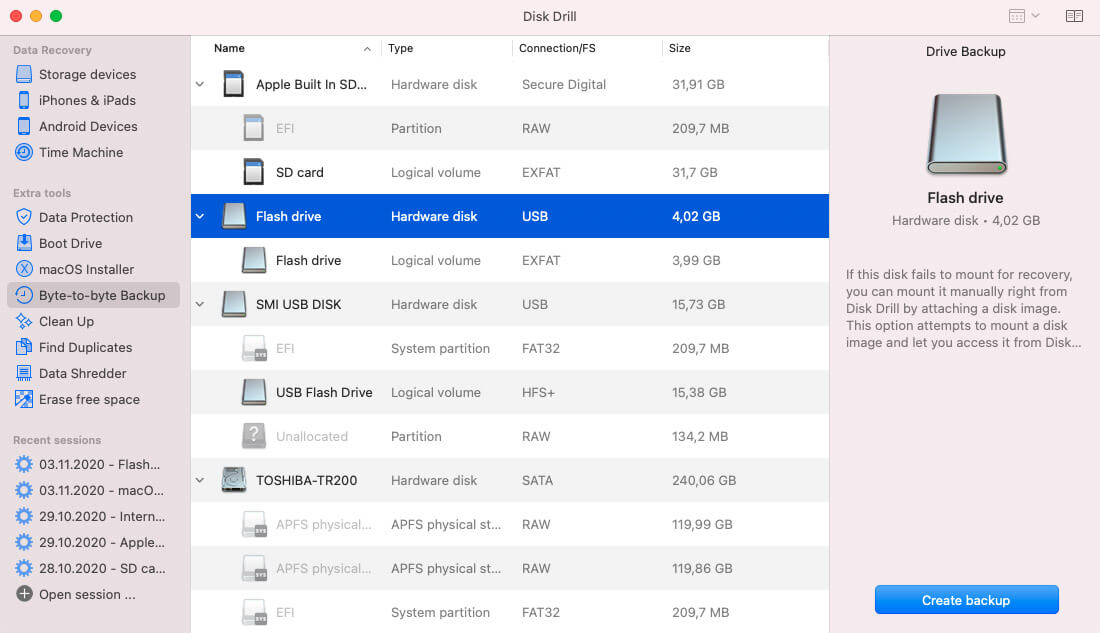 In addition to the backup methods discussed above, Disk Drill offers a byte-by-byte disk image that is essentially an exact copy of your drive. This type of backup is especially helpful when recovering from a catastrophic disk failure.

🔓 Recover protected data
Disk Drill also offers additional data protection with its Recovery Vault and Guaranteed Recovery options. When these features are enabled, Disk Drill remembers the exact locations of all files stored inside specified folders to facilitate seamless, guaranteed recovery in the future.
In fact, you can think of Disk Drill's data protection features as a secondary Trash can, except that it's more efficient and doesn't take up precious storage space because it retains only metadata related to deleted files that make it possible to quickly recover files that are accidentally deleted from your machine.

Frequently Asked Questions
So, How to Restore Deleted Files on a Mac?
Download and install data recovery software of your choice to your Mac device. Launch the app and scan your Mac's internal drive, SD card, or any USB device. Preview the scanning results and check for your files. Recover deleted files to a safe location.