It doesn't matter if you're using Windows or macOS, there's always a chance of you losing important data due to a sudden hardware failure, user error, malware infection, or a number of other causes. To prevent important data from disappearing forever, you need a reliable backup and recovery tool, which is where this article comes in.
After testing countless backup and recovery tools, we've been able to narrow down the available options to the top 10 free backup and recovery tools for Windows and Mac computers. All you need to do to backup and recover your data is to pick the tool you like the most and start using it.
Quick Summary
If you're looking for a sophisticated backup tool that can be booted from a USB flash drive or CD/DVD to back up any operating system, use 
Clonezilla
. If you also need data recovery features, then your best option is 
Disk Drill
, which combines backup and recovery into a single easy-to-use package with an affordable price tag. Learn more about them and other free backup & recovery software in this article.
1

2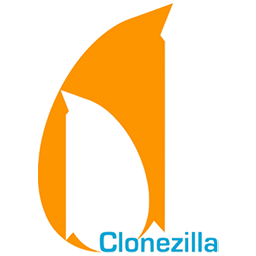 3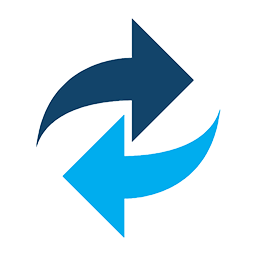 What Features to Look for in Backup and Recovery Tool?
As we've already mentioned, different backup & recovery software tools are meant to cover different use cases, so it's not uncommon for two tools to offer two unique sets of features. However, there are some features that just about every backup & recovery software tool should have:
Reliability: The last thing you want is to find out that the backup & recovery software you've been using for weeks and months can't actually recover your lost data. Reliable backup solutions automatically verify all created backups to ensure that they're complete and recoverable. Likewise, the best data recovery software is able to reliably recover all files that are still physically present on the storage device.
Configurability: We all have different data storage habits. For example, some users like to back up their entire storage devices, while others prefer to back up only specific files and folders. That's why it's important to choose a configurable backup & recovery software tool that can flexibly accommodate a variety of data loss scenarios.
Efficiency: You want to select a backup & recovery tool that can back up and recover your files in an efficient manner, which means without requiring unnecessary interaction and without taking too long.
Let's take a closer look at the top 10 free backup & recovery tools for Windows and Mac that meet all these criteria.
Top 10 Best Backup and Recovery Software
And what about data recovery? Contrary to what many Mac and Windows users believe, it's often possible to recover permanently deleted data that hasn't been backed up properly. How? By using data backup and/or recovery software, such as the ten tools listed below.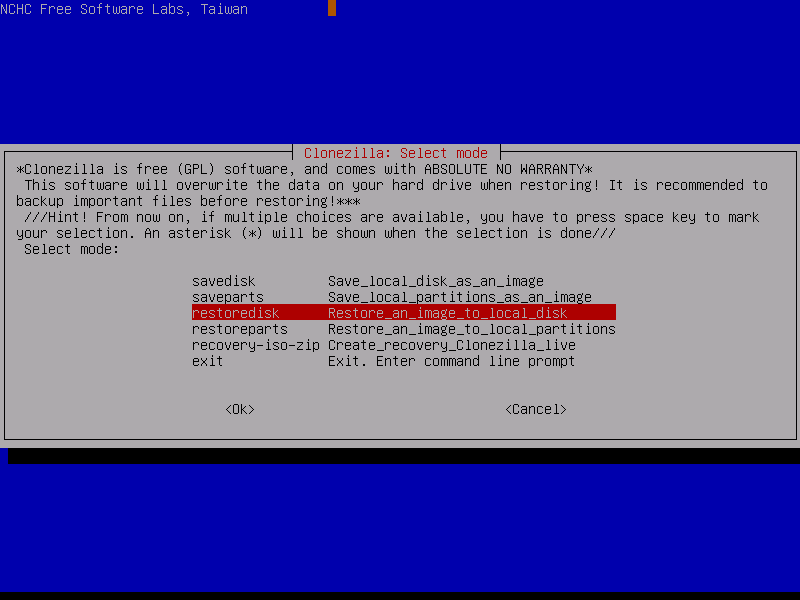 Clonezilla is a popular open source backup tool that's meant to be booted from a USB flash drive or CD/DVD, which means that it can be used to back up any storage device regardless of which operating system you have installed on your main drive.
While it doesn't have a graphical user interface, it offers a fairly straightforward data backup process that consists of a few clearly described steps that anyone should be able to easily follow. As long as your backup device is larger than the source one, you can use Clonezilla to back up just about every Windows, Linux, and macOS file system there is.
Clonezilla can create an image of an entire storage device or individual partition. If you want to, you can encrypt this image for better security using a POSIX-compliant enterprise cryptographic stacked filesystem called ecryptfs. When creating a backup image, Clonezilla automatically leaves out all empty space to keep the image as small as possible. Unfortunately, Clonezilla can't yet create incremental backups, but this functionality will likely be added in the future.
Pros
Free and open source
Doesn't back up empty space
Supports many file systems
Works on all operating systems
Cons
Lacks a graphical user interface
Doesn't support incremental backups
Can't back up a running operating system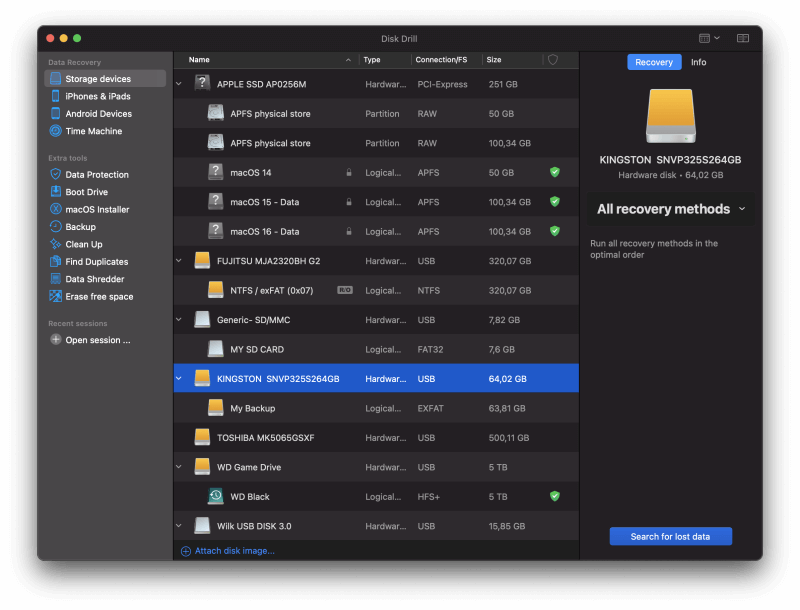 Disk Drill is one of the best tools to recover deleted files on a Mac or Windows computer. It stands out with its signature one-click approach to data recovery, allowing you to solve even the most serious data loss problems with a single click on the Recover button. The latest version of Disk Drill can recover over 400 file formats, including all commonly used image, video, audio, and document files.
Disk Drill supports several different data recovery methods, and the tool can intelligently run them in the optimal order to produce the best data recovery results possible. Unlike many other similar applications, Disk Drill doesn't keep its users waiting before allowing them to review recoverable files. Most files that Disk Drill can recover can be previewed before recovery, so you can easily select exactly what you want to get back and leave everything else behind.
Included with Disk Drill are many extra free disk tools. One such tool is Disk Drill's Data Backup utility, which can create byte-to-byte disk and partition backups. As such, Disk Drill doubles as a data backup software tool that can effectively protect your most sensitive data against data loss.
Pros
Excellent data recovery performance
One-click approach to data recovery
Bundled with extra free disk tools
Recovers over 400 file formats
Cons
The free version can recover only a limited amount of data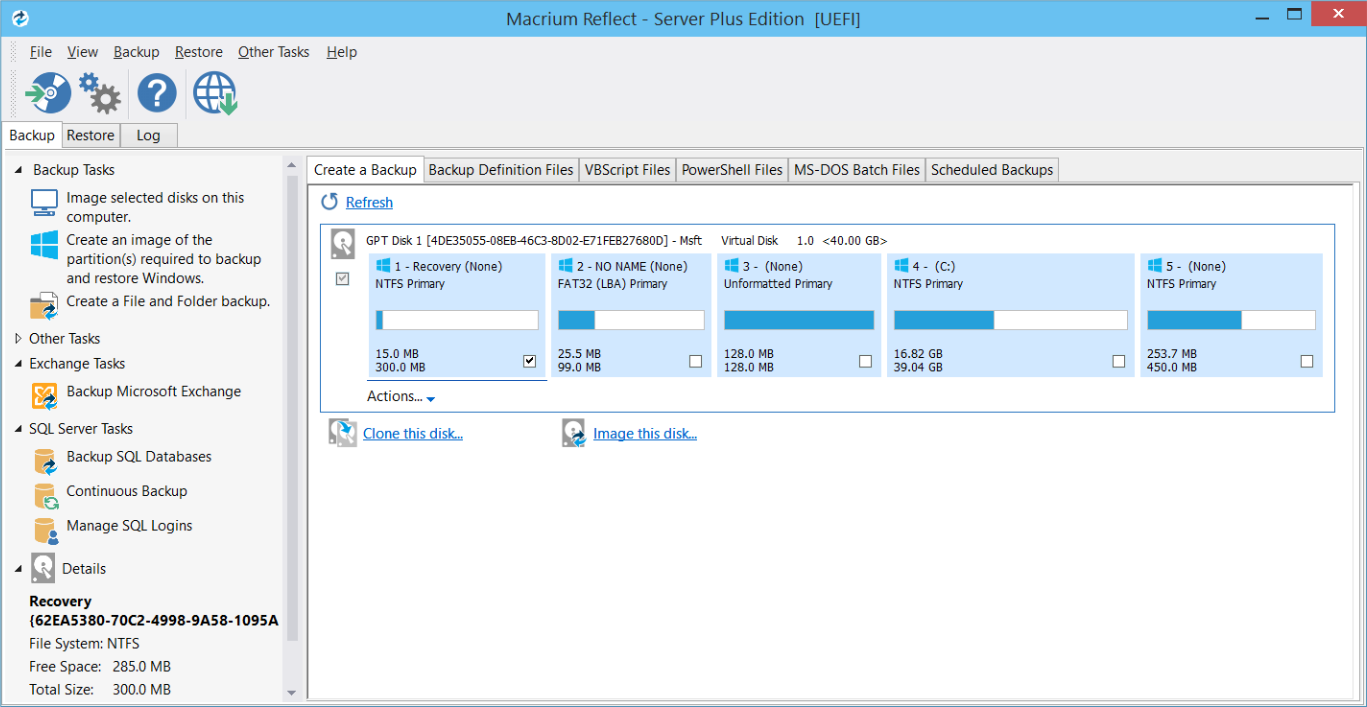 Macrium Reflect is a feature-packed data backup software for Windows that's aimed at intermediate and advanced users who are not easily scared away by an abundance of configuration options. Perhaps the most noteworthy feature of Macrium Reflect is its ability to create disk images while Windows is running. This means that you can tell the software to clone your entire system drive and continue using your computer—no need to restart it and wait until the backup process finishes.
The free version of Macrium Reflect supports many features that even some commercial solutions lack, including incremental backups, backup scheduling with flexible templates, and the ability to boot your backups instantly in a virtual machine. The last feature mentioned is especially useful for restoring non-booting systems that have suffered a critical data loss due to hardware failure or user error.
Pros
The free version includes all essential features
Support for incremental backups
Ability to restore non-booting systems
Direct disk cloning
Cons
No customer support for free users
Inexperienced users may find some of its options confusing
4. Redo Rescue (formerly Redo Backup) (OS agnostic)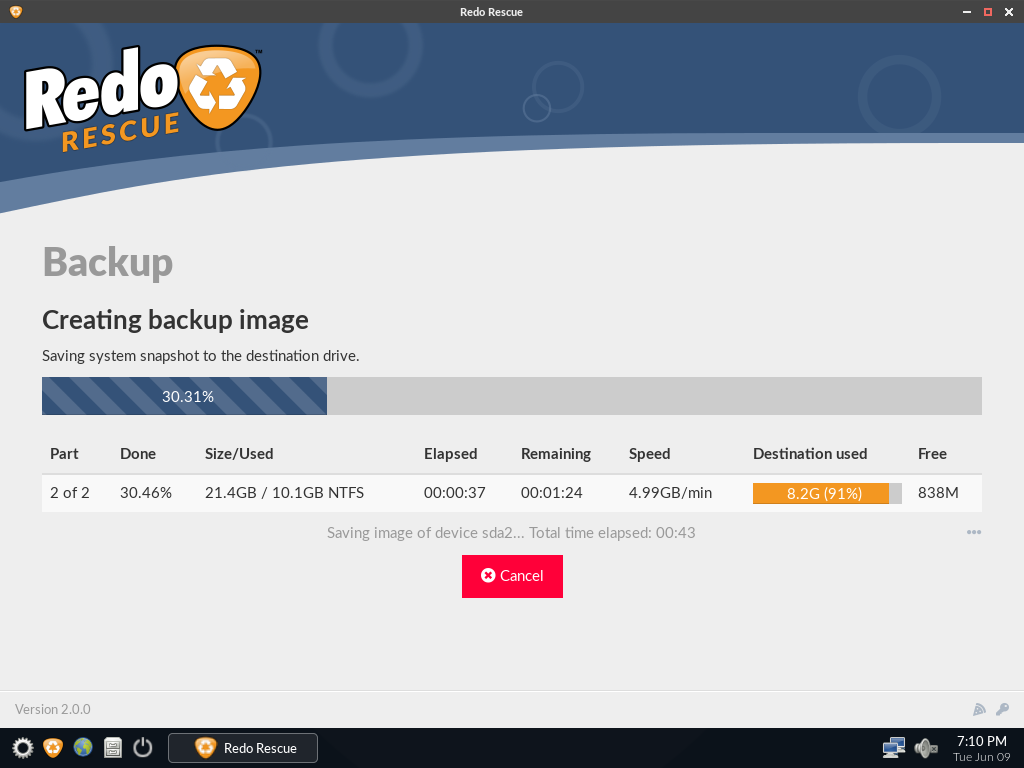 Redo Rescue (formerly Redo Backup) is an extremely versatile data backup software tool that, just like Clonezilla, is meant to run from a USB flash drive or CD/DVD. Because Redo Rescue doesn't have to be installed directly on the computer, it can back up and recover all operating systems, making it perfect for preventing all kinds of potentially disastrous scenarios.
Included with Redo Rescue is a whole assortment of useful disk management tools, including gparted (a partition editing applications), testdisk (free and open-source data recovery utility), and hdparm (a command line program to set and view ATA hard disk drive hardware parameters and test performance). In addition to disk management tools, Redo Rescue also includes the Chromium web browser, which can be indispensable for troubleshooting purposes.
Using Redo Rescue (Redo Backup) is easy thanks to its attractive point-and-click interface that simplifies the entire data backup process into a few steps. Compared with other data backup software, some important features are missing, but that's only because Redo Rescue was essentially dead for the last eight years and resurrected only recently.
Pros
Free and open source
Simple user interface
Can back up all operating systems
Comes with many extra disk management tools
Cons
Slower development
Can't back up a running operating system
Doesn't support incremental backups
5. Recuva (Windows)
Recuva is an easy-to-use data recovery software tool for Windows whose user interface shares many similarities with CCleaner, a popular system optimization, privacy, and cleaning tool. The free version offers completely unlimited data recovery, but it doesn't include virtual hard drive support and automatic updates, features most regular users won't have much trouble getting by without.
To perform data recovery using Recuva, simply select your storage device and click Scan. Recuva will immediately begin scouring the drive using its deep scan algorithms to find any traces of deleted files that can still be recovered. Once it's done, you can select the files you want to restore and copy them to a safe location.
Included with Recuva is a useful file shredder that you can use to securely delete sensitive files that you don't want anyone to ever see again. While the file shredder doesn't offer nearly as many features as dedicated secure deletion tools, but it's still nice to have it available with a simple click.
Pros
Familiar user interface
Unlimited data recovery
Includes a handy file shredder
Cons
No automatic updates
No customer support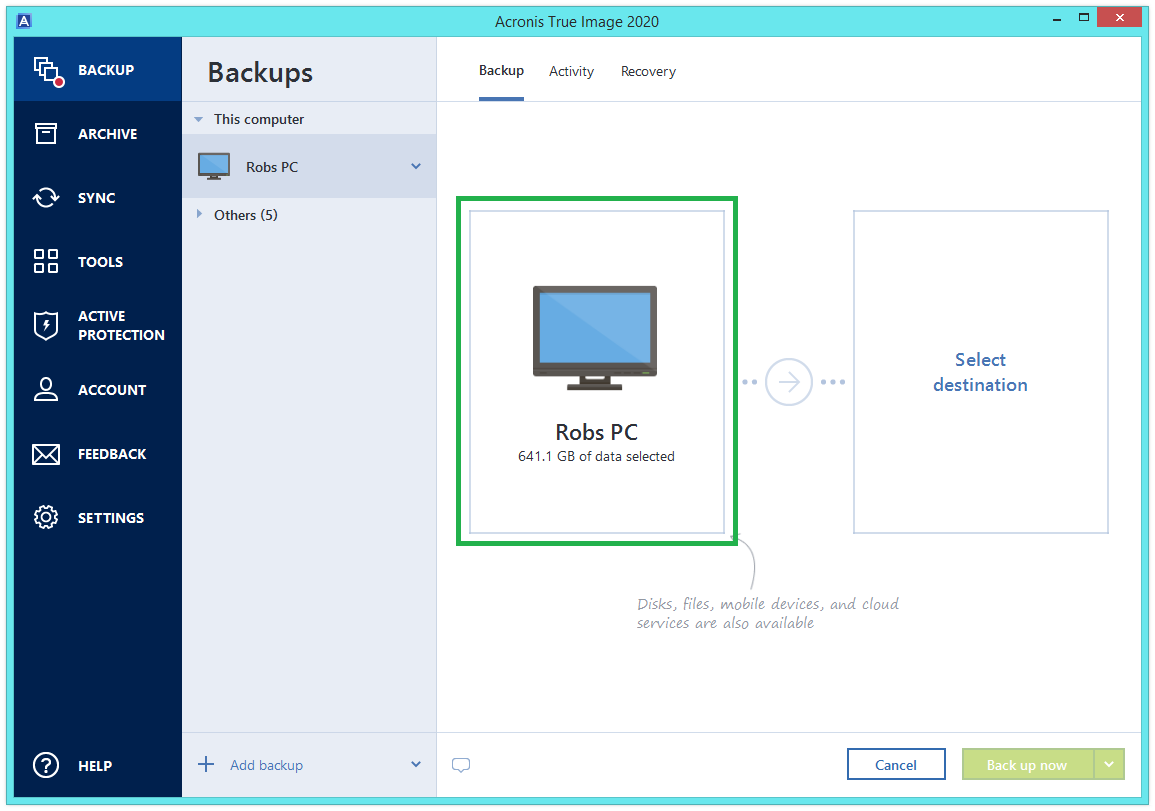 Protection against ransomware is one of the most common reasons why Windows and Mac users back up their data. Experts estimate that a ransomware attack will take place every 11 seconds by 2021, so anyone who hasn't yet implemented a robust ransomware protection strategy should do so soon, which is where Acronis True Image comes in.
This innovative data backup software combines traditional backup features with advanced antimalware capabilities, delivering highly effective all-in-one protection against the latest and most devastating cyber threats. The built-in real-time protection and signature-based defenses work around the clock to keep all kinds of malware from infiltrating your computer, while set-and-forget backups enable you to quickly get back up on your feet should the worst happen.
All this makes Acronis True Image one of the most robust data protection solutions available. Unfortunately, the free version is free for only 30 days. Once the trial period expires, you must purchase a license to keep using the software.
Pros
Polished user interface
Cloud backup option
Protection against ransomware
Cons
The free version is greatly limited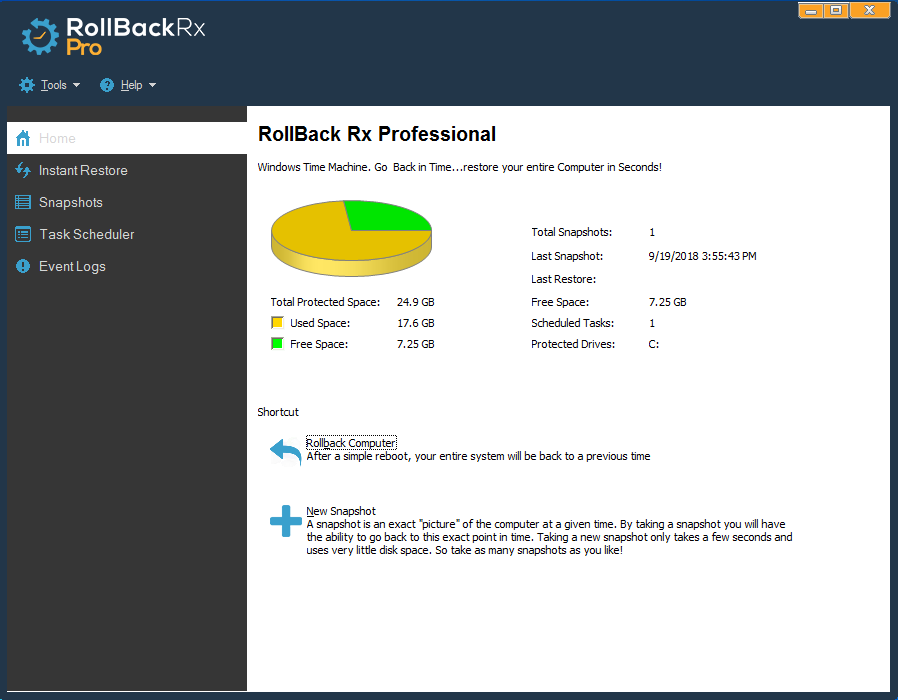 Rollback Rx is like a time machine for your Windows PC. This data backup software creates snapshots of your computer to provide a more comprehensive alternative to Windows System Restore. When something goes wrong with your computer, you can easily restore it to a working state from an earlier snapshot and continue from where you left off.
The free version of Rollback Rx can create up to seven snapshots, which should be more than enough for most users. It also supports VMWare, both as a host or within the virtual machine as a client. Additional functionality, including multiple drive supports, task scheduler, remote management, and RAID support can be unlocked by upgrading to Rollback Rx Professional or Rollback Rx Server.
Pros
Instant system restoration
VMWare support
Easy to use
Cons
The free version is limited in terms of features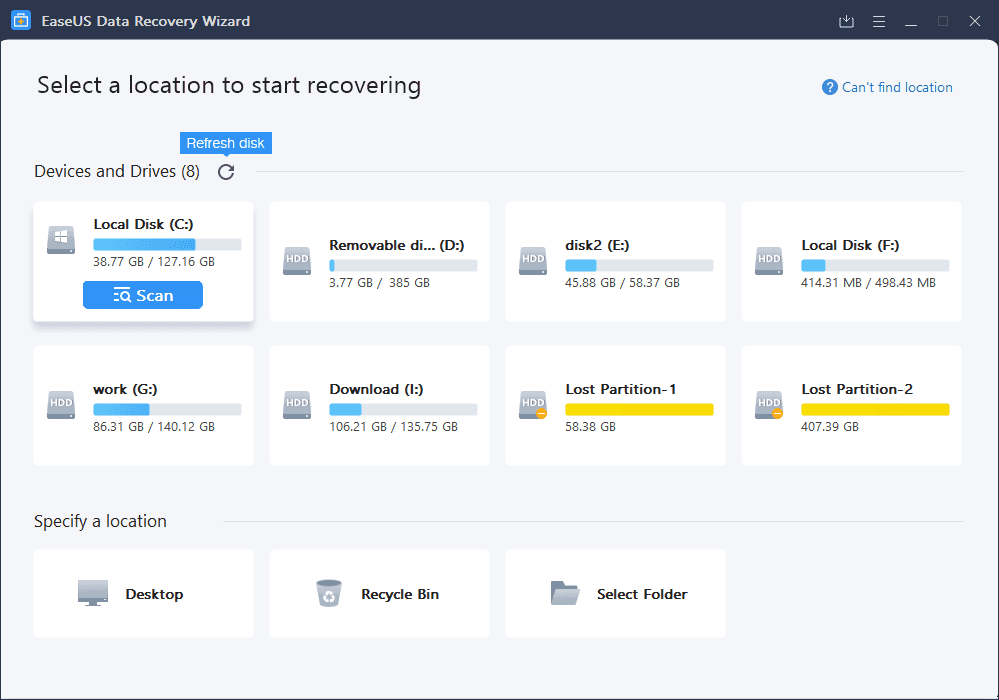 EaseUS Data Recovery Wizard is a polished data recovery tool that lets you recover up to 2 GB of data for free. The tool employs advanced data recovery algorithms to find all traces of permanently deleted files (such as files from an emptied Recycle Bin or Trash), and it offers two distinct scanning modes.
The first mode is called Quick Scan, and its purpose is to quickly find recently deleted files and restore them before they become permanently deleted. The second mode is called Deep Scan, and it's meant to recover deeply buried files that less thorough data recovery software may miss.
Although EaseUS Data Recovery Wizard presents itself as a general-purpose data recovery solution, it clearly specializes in the recovery of picture and video files, offering the ability to reconstruct damaged files to a good condition. With the free version of EaseUS Data Recovery Wizard, you can recover up to 2 GB of data, which is enough for many images and several shorter video files.
Download EaseUS Data Recovery Wizard
Pros
Reliable recovery performance
Advanced scan results filters
Can preview recoverable files
Cons
Scan results include files that can't be recovered
The free version can recover only a limited amount of data
9. PhotoRec (Windows & Mac)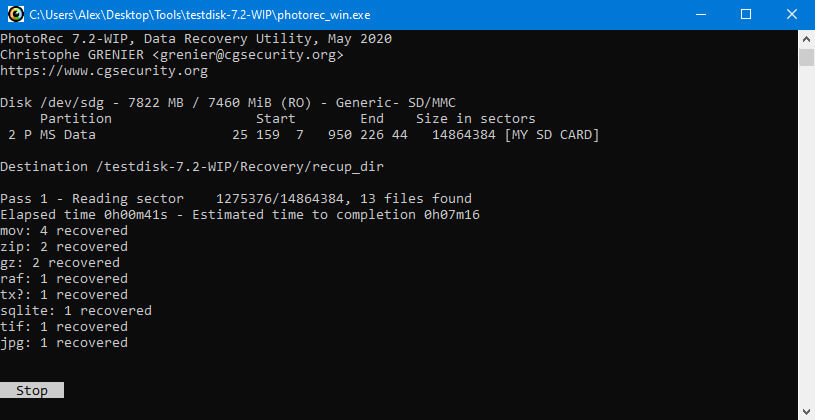 PhotoRec is an open-source data recovery software that runs on Windows, Mac, and all POSIX-compliant operating systems. Even though its name makes it seem that it can recover only photos, that's actually not true at all. PhotoRec is as versatile as any other data recovery tool described in this article, and it recognizes and recovers numerous file formats from FAT, NFTS, exFAT, ext2/ext3/ext4, and HFS+ file systems.
Because PhotoRec is intended to run on as many operating systems as possible, it doesn't have a graphical user interface. Instead, the software is controlled exclusively using a command-line interface, which some users may understandably find off-putting. In reality, the command-line interface is fairly user-friendly, and all you need to do to recover your data is to go through the step-by-step recovery process from start to finish, choosing from available options using your keyboard.
Still, there are certain things only applications with a GUI can do. For example, PhotoRec can't preview recoverable files, and it also won't let you choose individual files. You must always recover everything and then decide what you want to keep.
Pros
Free and open source
Completely unlimited recovery
Support for hundreds of file formats
Step-by-step recovery
Cons
Command-line interface
No file preview functionality
Can't recover individual files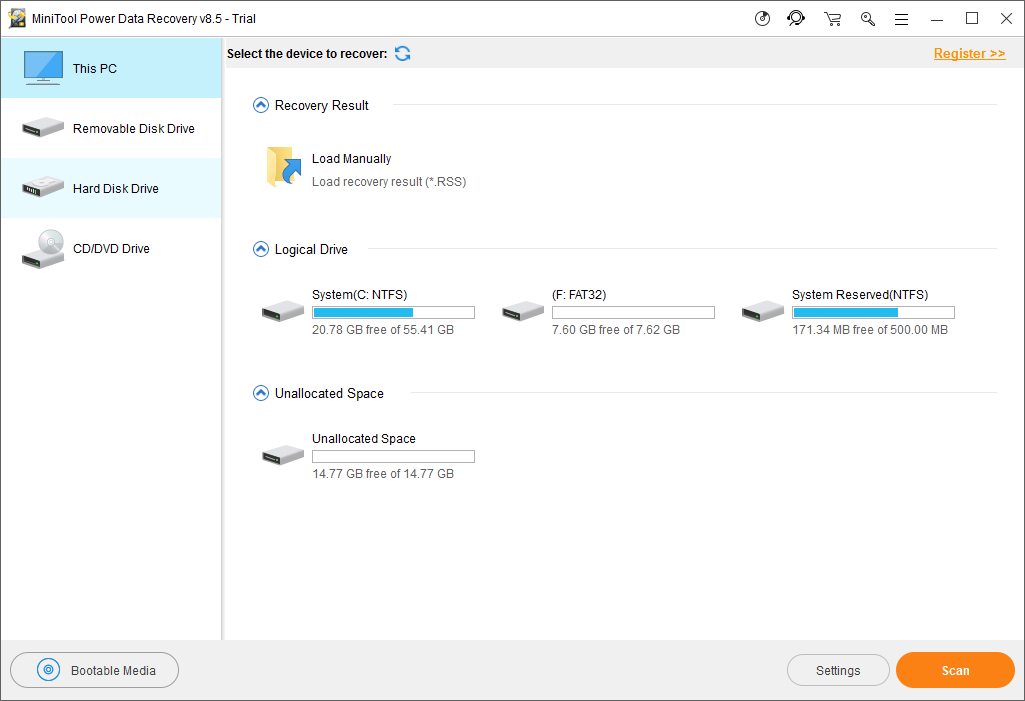 MiniTool Power Data Recovery is another recommendable freemium data recovery application that can recover lost data from all commonly used storage devices. It aims to deliver professional data recovery performance in a sleek package that's accessible even to casual Windows and Mac users who don't know much about computers and don't understand how files are stored on hard drives and other storage media.
The latest version of MiniTool Power Data Recovery has a sleek graphical user interface that makes it easy to choose which storage device you want to scan. You can then preview recoverable files, filter scan results according to various criteria, and choose which files you want to recover and which you want to leave behind.
The data recovery performance of MiniTool Power Data Recovery is only average because the tool doesn't support nearly as many file formats as, for example, Disk Drill.
Download MiniTool Power Data Recovery
Pros
Straightforward data recovery process
Can recover data from a specific folder
Supports raw partition recovery
Cons
The free version can recover only a limited amount of data
Average data recovery performance
What Is Backup and Recovery Software?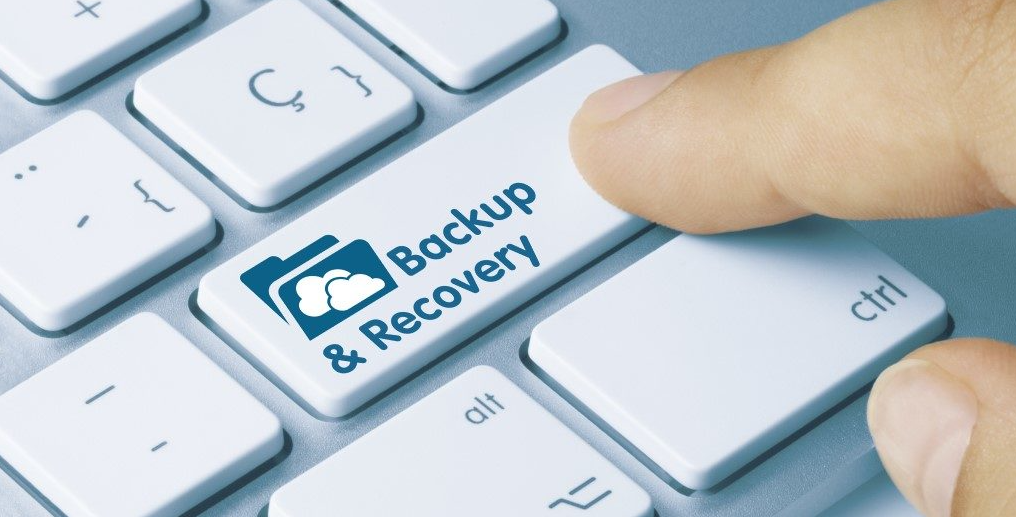 Here's a quick fact: nearly 2 out of every 100 hard drives fail within a year of use, according to data from cloud storage provider Backblaze. Clearly, files stored on modern hard drives are not nearly as safe as many users believe, which is why it's important to have a plan for when things go bad.
The purpose of backup software is to create copies of data stored on modern storage devices (spinning hard drives, SSDs, memory cards, USB flash drives, etc.) to protect users against data loss. Data recovery software also protects users against data loss, and it does so by recovering lost data from the storage device on which it was stored.
Of course, users have been manually backing up their data ever since they started using computers, but manual backups are insufficient and prone to errors. Modern backup software automates the backup process, ensuring that no important files and folders are missed. Some tools are able to analyze existing backups and copy only what has been changed since the last backup, which can dramatically speed up things and save precious storage space.
While it's always best to recover lost data from a backup, the reality is that a backup is not always available, which is where data recovery software comes in. Such software is able to perform an in-depth analysis of a storage device to find deleted files that haven't been overwritten yet.
All Windows and Mac users can benefit from installing and using both a reliable backup software tool and a capable data recovery software solution to keep data loss at bay when working on important business documents, editing family pictures, creating a PowerPoint presentation for a class, or just browsing the web and relaxing.
Why Did We Choose This Particular Set of Solutions?
There are seemingly countless backup & recovery solutions for Windows and Mac computers, so why did we choose this particular set? Here's why:
All solutions featured in this article have received many positive reviews from professional reviewers and real users alike.
They have all the features we expect backup & recovery software to have (read the next chapter).
We have personally tested them and were pleased with their performance and usability.
For these reasons, we don't hesitate to recommend the solutions featured in this article to anyone who needs to back up and/or recover their data.
Conclusion
All Windows and Mac users must expect a data loss incident to occur at any moment and be ready for it by equipping themselves with at least one of the top 10 best free backup and recovery solutions described in this article. Regardless of which solution you choose, make sure to familiarize yourself with its features so that you're ready to get back on your feet and continue from where you left off without any unnecessary delay.