Data loss is a threat that's constantly looming over individuals and businesses alike. It doesn't matter what system you're using; Windows, Mac, Linux – they're all susceptible to data loss. It only needs to occur once for you to completely rethink your data management systems and processes.
🗨️
Much of the stress around creating and maintaining a reliable backup schedule can be taken away by choosing the right backup and recovery software. But, there are so many out there that it can be hard to find one that fits your specific needs. Thankfully, we've done all of the hard work for you. Check out our list of the best data backup and recovery software suited for all environments.
Parameters We Considered When Selecting Backup and Recovery Tools
As we've already mentioned, different backup & recovery software tools are meant to fulfill different needs, so it's not uncommon for two tools to offer two unique sets of features. However, there are some features that just about every backup & recovery software tool should prioritize:
Data backup capabilities - Reliable hard drive backup software should give you a choice in how you back up your data. For example, instead of creating a full backup each time, you may want to opt for an incremental backup (only backs up data that changed since the last backup) or a differential backup (only backs up data that changed since the last full backup). You also have sub-variations, like mirror backups (create an exact copy of the source data), continuous backups (back up in real-time or very short intervals), and synthetic backups (combines a full backup with incremental backups). The type of backup you choose depends on your needs. If you have little disk space for backups, incremental or differential is the way to go. Or, if you want to ensure your data is always backed up immediately, continuous backups are the preferred solution.
Data recovery capabilities - We focused on software that includes multiple recovery options. For the average user, file-level and disk-level recovery is the absolute minimum you should expect. For businesses, bare-metal and disaster recovery is a priority to minimize downtime and data loss, as well as ensure adherence to company Recovery Time Objective (RTO) and Recovery Point Objective (RPO) policies.
Backup storage - How your backups are stored will influence the safety and accessibility of your data. Basic backup solutions may only allow for local backups, while enterprise backup software may provide server, NAS, or cloud backup services for better retention, management, and accessibility, at the cost of higher overhead.
Vendor reputation - To avoid promoting dodgy or outright malicious software, we've taken the time to research each vendor on this list thoroughly. When it comes to your data, taking every precaution to ensure the vendor is trustworthy is of the utmost importance, especially when it comes to storing sensitive data.
Available features - Nowadays, it's common for backup and recovery tools to include additional features, like scheduling, encryption, ransomware protection, monitoring and reporting, support and maintenance, and compatibility with operating systems, hardware, applications, and databases.
Сost-effectiveness - For an average user, an enterprise-grade backup and recovery tool will likely be a waste of money. Contrarily, a business cannot afford to skimp on backup and recovery software that won't be able to deliver the right results when the time comes. While we've included solutions of varying costs in this list, you should first understand what you need to get out of the software. You don't want to overpay for a solution you won't completely utilize, and you don't want to underpay and be left with an inadequate solution that will cost you more time and money.
With that out of the way, let's take a look at the best backup and recovery software available, along with which environments they're best suited for.
Best Backup and Recovery Software for Individual Use
Most individuals won't need all of the advanced features that are needed by SMEs or large enterprises. Therefore, let's start this list off with the best backup and recovery software tools for individual use.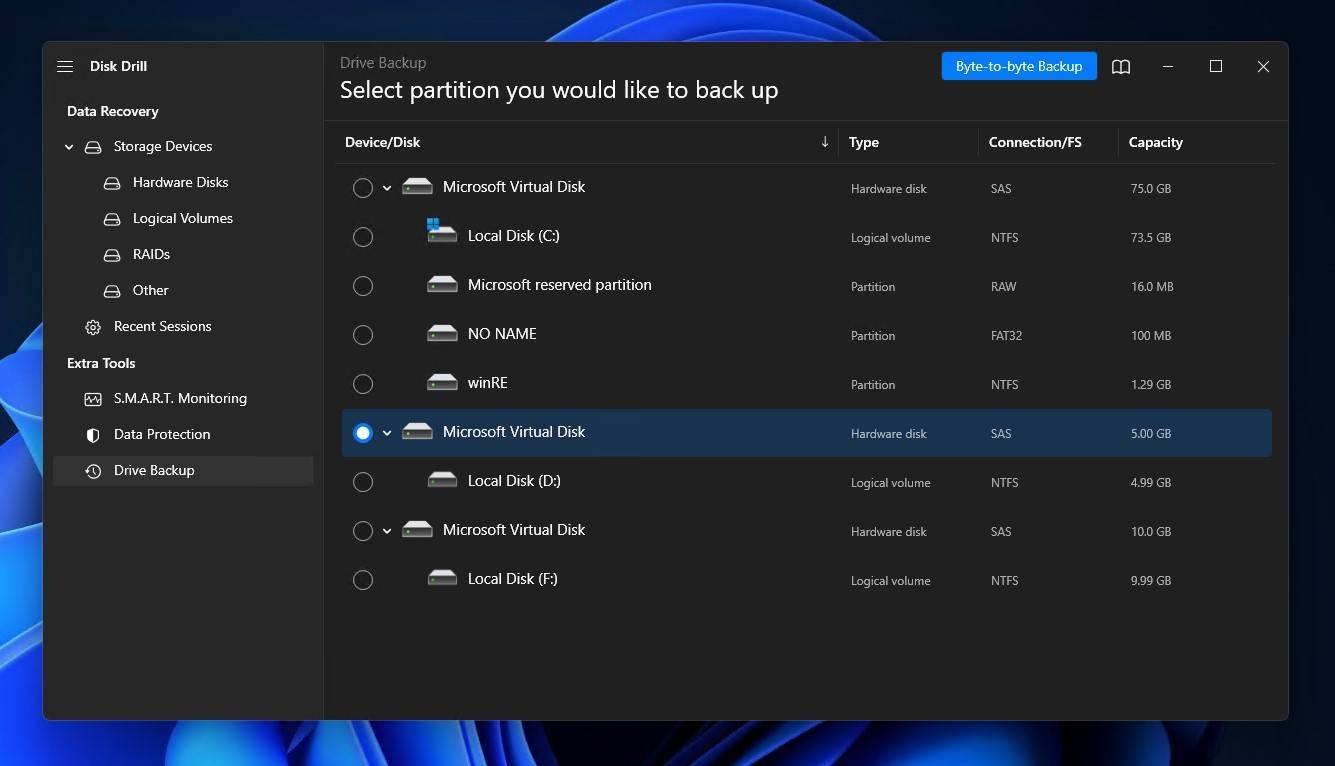 Disk Drill is the ideal backup and recovery solution for individuals who want a simple but professional tool that can get the job done. Available on Windows and Mac, Disk Drill is primarily a data recovery tool that focuses on recovering data after it has been lost. But, it also includes a free Drive Backup feature that allows you to create byte-to-byte backups of your disks or partitions, preserving every piece of information that's stored.
In addition to the Drive Backup feature, Disk Drill also includes a feature called Recovery Vault. When enabled, it will back up the metadata of your files. This gives you a greater chance of recovery if you need to recover lost or deleted data that you haven't had a chance to back up.
Unfortunately, it doesn't give you much customization in regard to your backups. Your options are limited to complete byte-to-byte backups that must be done manually. Even so, the simplicity of a byte-to-byte backup is that it's all conveniently stored in one file and encompasses your entire disk or partition.
Overall, we think Disk Drill is a cost-effective, feature-rich solution that's ideal for anyone who needs to make simple but complete backups. Furthermore, because of its excellent data recovery capabilities, it's a good addition to your digital toolkit if you ever encounter data loss.
Pros:
Excellent data recovery performance
Byte-to-byte backups
One-click approach to data recovery
Bundled with extra free disk tools
Intuitive user interface
The backup process is fast and efficient
Cons:
The free version can recover only a limited amount of data
Limited backup options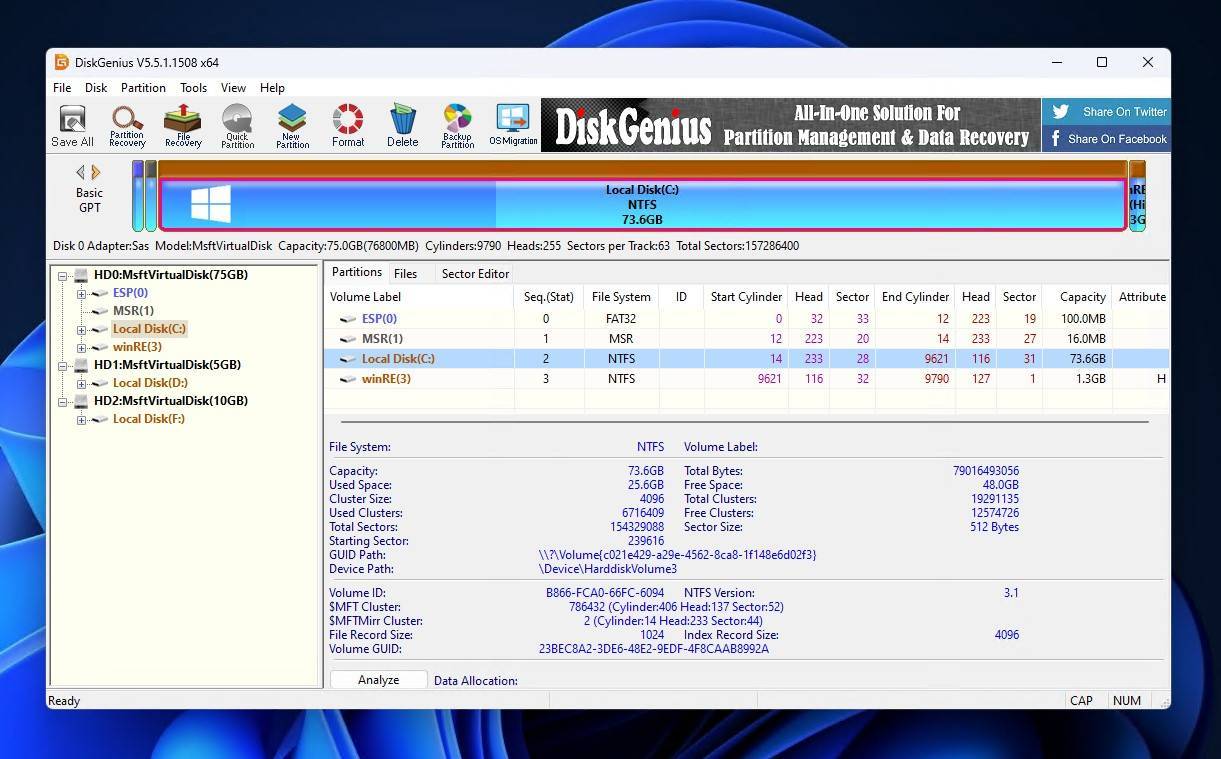 DiskGenius is a versatile software application that can back up and restore data, perform data recovery, manage disk partitions, and more. Despite its outdated and somewhat unappealing user interface, DiskGenius delivers reliable performance, and its developers work hard to keep the application bug-free.
With its backup and restore features, you can easily back up system partitions and other system-related partitions to an image file, and it doesn't matter if your system is installed on BIOS-based or UEFI-based hardware. It also allows you to easily back up your partition table in just a few clicks.
The software offers some good customization options for how you want to set up backups. You can choose to back up the entire drive with all of its sectors, only sectors that contain data, or just the files. Backups can be full or incremental and can be compressed to reduce the footprint on the disk.
For what it has to offer, DiskGenius is very moderately priced and does provide a lot of value for the $69.90 price tag. If you're still weary, it does offer a 30-day money-back guarantee so you can buy with peace of mind.
Pros:
Offers many useful features
30-day money-back guarantee
Free version available
Regularly updated
Good backup customization
Cons:
Outdated user interface
Average data recovery capabilities
Windows only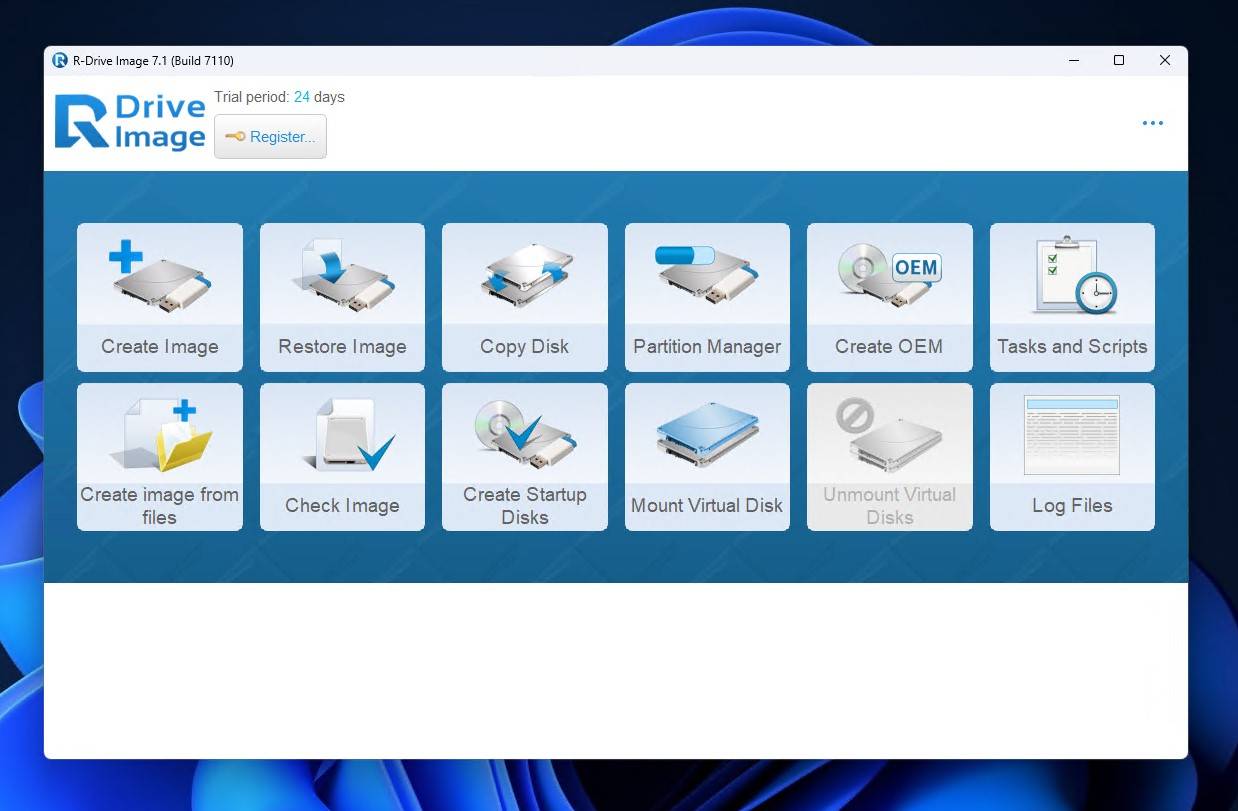 R-Drive is backup software for Windows. Unlike the tools we've mentioned so far, it was created for the sole purpose of backing up your data. It includes many different backup features that enable you to set up and manage a backup schedule that's as simple or advanced as you need it to be.
Using the imaging feature, you can create a byte-to-byte image of your disk or partition. You can also combine multiple partitions or disks into a single image. Disk images can be compressed, split, and password-protected. To stay on top of your backups, email notifications can be set up to alert you when the backup completes or if errors occur.
The program also includes the ability to set up automated tasks and scripts; ideal for automation, but it can get a bit complicated. Full, incremental, and differential backup modes are supported and can be configured on a rotating scheme. Images can be checked using the built-in integrity checker, either manually or automatically via a script.
While the user interface isn't terrible, it does take some getting used to. And, it doesn't include any recovery features for restoring data that hasn't been backed up (as they market their R-Undelete and R-Studio solutions for this). Even so, with a 30-day free trial and prices starting at only $44.95, it offers a good number of comprehensive backup features for keeping your data safe.
Pros:
Great backup customization
Built-in image integrity checker
Backups and tasks can be automated
Create, delete, move, and resize partitions
Good price
Cons:
Slightly unintuitive user interface
Rotation schemes are only available with R-Drive Image Corporate or higher
Data can only be recovered from backups
Windows only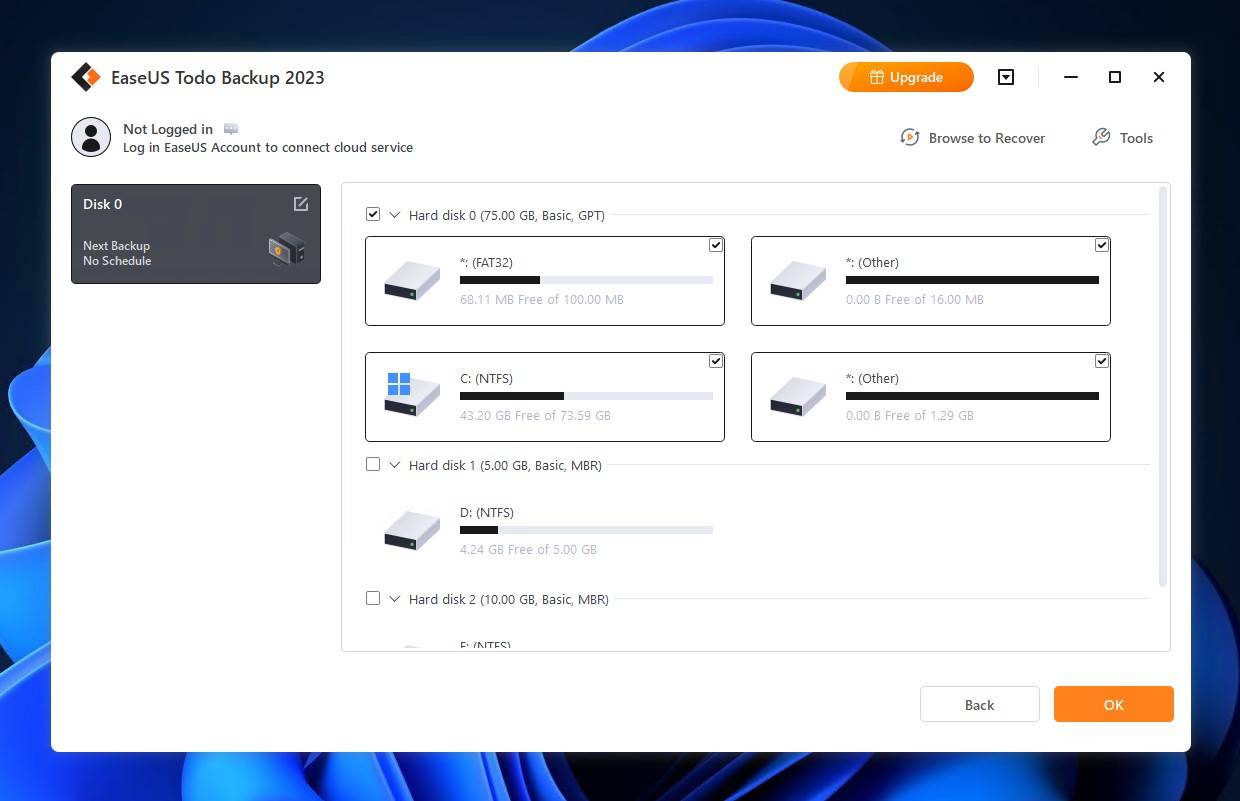 EaseUS Todo Backup comes from the same developers of the well-known data recovery program EaseUS Data Recovery Wizard. It equips you with all of the essential features you'd want from a backup and recovery tool, complete with a refined, easy-to-use user interface.
Anyone can download the free version of EaseUS Todo Backup and begin backing up their files without needing to provide an email address or credit card. The Home version, which is the first paid tier, gives you access to additional features, such as system cloning and event-triggered backups. Paid licenses start at $29.95/year for a subscription or $59 for a lifetime upgrade. If you want to store your backups in EaseUS cloud storage, the Home+ license starts at $59.95/year and gives you 1 TB of cloud storage.
Backups are very customizable. In addition to the typical full, incremental, or differential disk and partition backups, you can back up your individual files, operating system, or app data. Backups can be compressed to reduce file size and split to accommodate file system limitations. And, with the corresponding license, you can choose to store a copy on an off-site server.
The installation process, however, is painful. There are a number of invasive pop-ups that you need to get through and, because the application is 540 MB after installation, the process of installing the program is slow.
Pros:
Excellent user interface
Highly customizable backups
Backups can be stored offsite
Backup scheduling
Back up directly to the cloud
Cons:
Expensive subscription licenses
Free backup speeds are throttled
No data recovery outside of backups
5. Redo Rescue (formerly Redo Backup, Portable)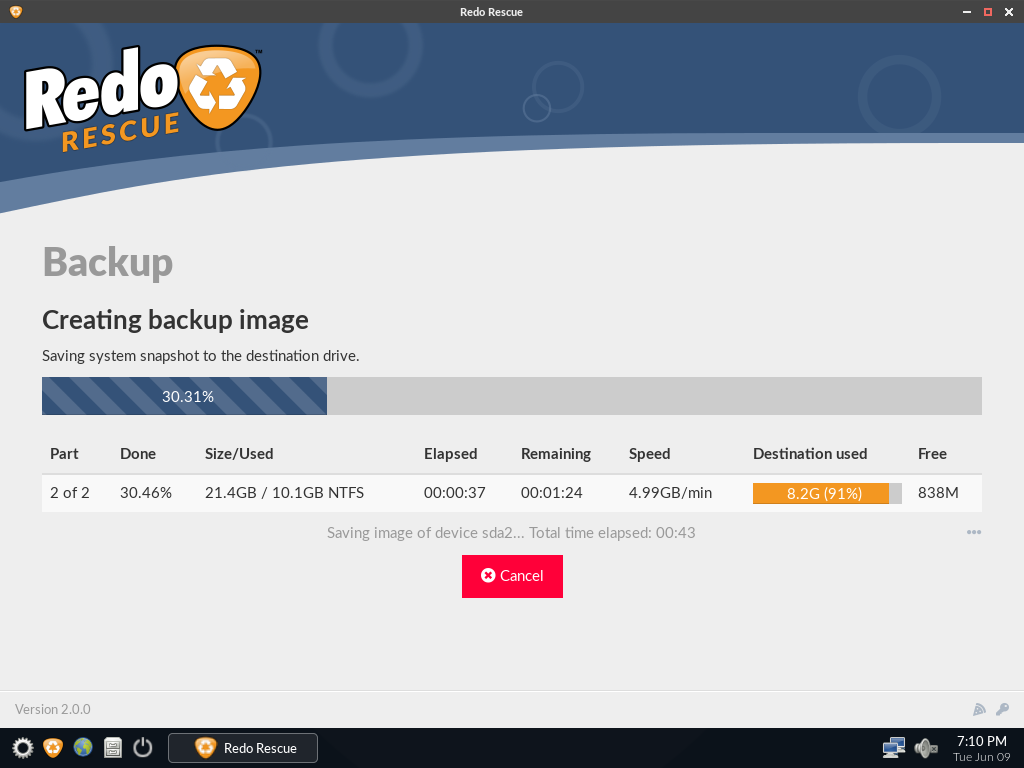 Redo Rescue (formerly Redo Backup) is an extremely versatile data backup software tool that is meant to run from a USB flash drive or CD/DVD. Because Redo Rescue doesn't have to be installed directly on the computer, it can back up and recover all operating systems, making it perfect for preventing all kinds of potentially disastrous scenarios.
Included with Redo Rescue is a whole assortment of useful disk management tools, including gparted (a partition editing applications), testdisk (free and open-source data recovery utility), and hdparm (a command line program to set and view ATA hard disk drive hardware parameters and test performance). In addition to disk management tools, Redo Rescue also includes the Chromium web browser, which can be indispensable for troubleshooting purposes.
Using Redo Rescue (Redo Backup) is easy thanks to its attractive point-and-click interface that simplifies the entire data backup process into a few steps. Compared with other data backup software, some important features are missing, but that's only because Redo Rescue was essentially dead for the last eight years and resurrected only recently.
Pros:
Free and open-source
Simple user interface
Can back up all operating systems
Comes with many extra disk management tools
Cons:
Slower development
Can't back up a running operating system
Doesn't support incremental backups
Best Backup and Recovery Solutions for Medium-Sized Organizations
All of the backup and recovery tools presented thus far are great, but they're not exactly suited for the needs of an SME. Instead, you're going to need something more resilient.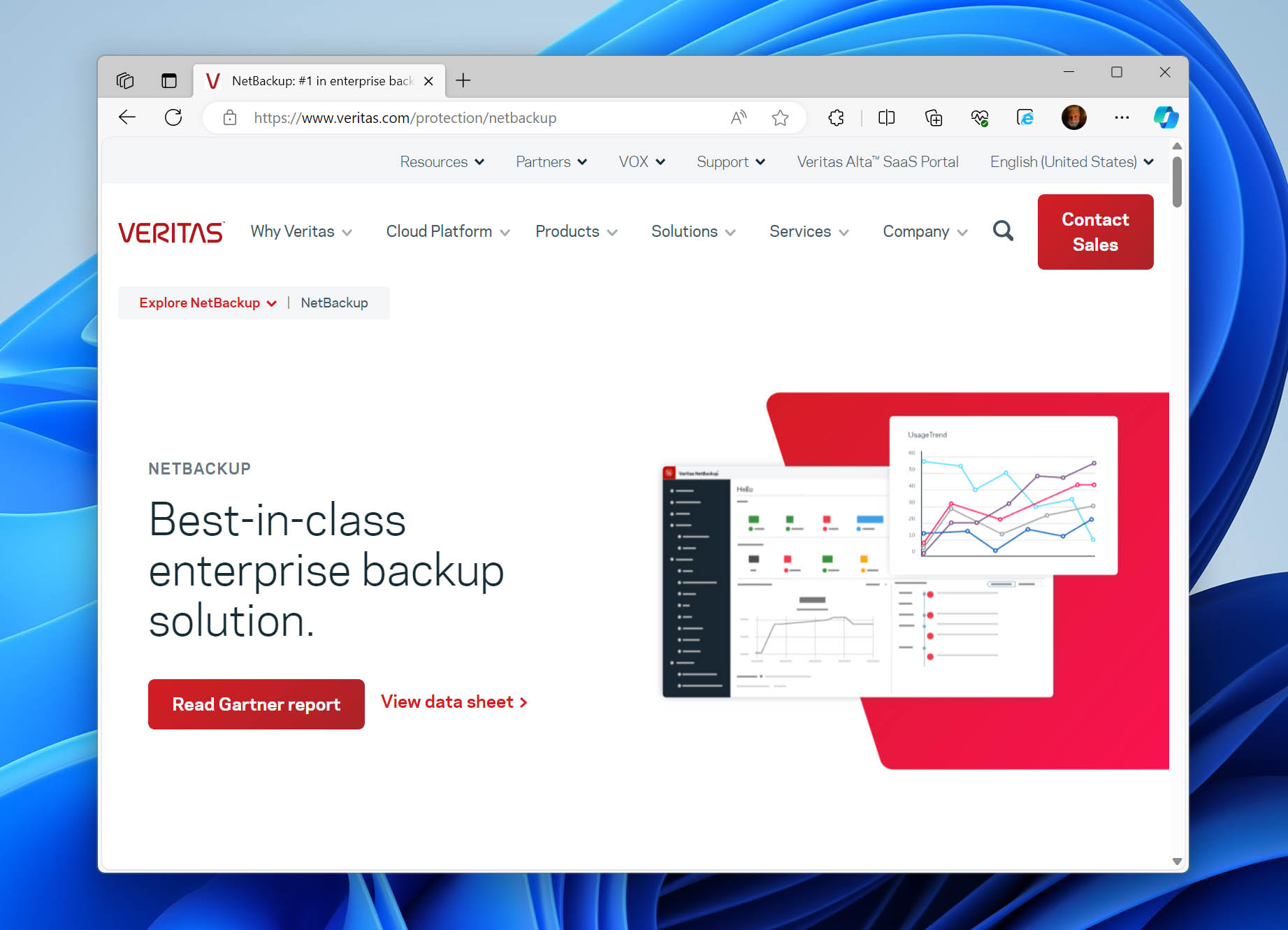 Veritas NetBackup combines multiple technologies into a single solution that goes beyond just backing up data. It's hybrid cloud optimized, meaning it will work in environments where you're using a mixture of on-site and cloud-based storage.
With Veritas NetBackup, you can select various data sources to back up your data from, such as workstations, servers, databases, and applications. Backups can be scheduled, and full, incremental, and differential backups are available.
The program is also very secure. All data is protected, both in transit and at rest, by military-grade encryption. Furthermore, it uses role-based access control and multi-factor authentication to ensure only those who need to access the data can do so. To actively protect your backups, the application employs AI-powered anomaly detection to safeguard against malware attacks.
If your company makes use of Kubernetes, Veritas NetBackup offers native support and claims to offer "near-zero RTO for mission-critical applications" to reduce downtime. Recovery following a disaster can be automated, and the program actively scans your backups for malware and integrity errors to ensure the backup you restore from is safe to use.
Pros:
Many advanced features
AI-powered anomaly detection
Flexible backup management and storage
Hybrid cloud optimized
Cons:
Poor technical support
Clunky, Java-based user interface
Acronis Cyber Protect is marketed as a complete cyber protection solution with some great backup and recovery capabilities. It's a cloud-supported solution that gives you complete control over how your data is backed up and protected.
Utilizing Acronis Cloud, your backups are securely stored in one of Acronis' many data centers around the world. You can also choose which server stores your backups to reduce wait times during download or upload. If your business uses Microsoft 365 or Google Workspace, Acronis Cyber Protect offers direct cloud-to-cloud backups for maximum data retention.
All backups are encrypted with AES-256 encryption at the source to ensure they're protected against any threats during transit. Bare metal recovery is possible in the event of system failure to easily restore to a working state. Even better, it allows for quick disaster recovery failover to the cloud, allowing for business continuity until your on-site infrastructure is back up and running.
Pricing is determined by workload application and licensing period. However, if you want access to cloud storage and disaster recovery, each has its own additional costs which drives up the price by quite a lot as they are offered as add-ons.
Pros:
Integrated backup and data protection solution
Allows quick disaster recovery failover to the cloud
Includes AI-based antimalware scanning
Can work on-site or completely in the cloud
Cons:
Cloud storage and disaster recovery are separate add-ons
Crowded user interface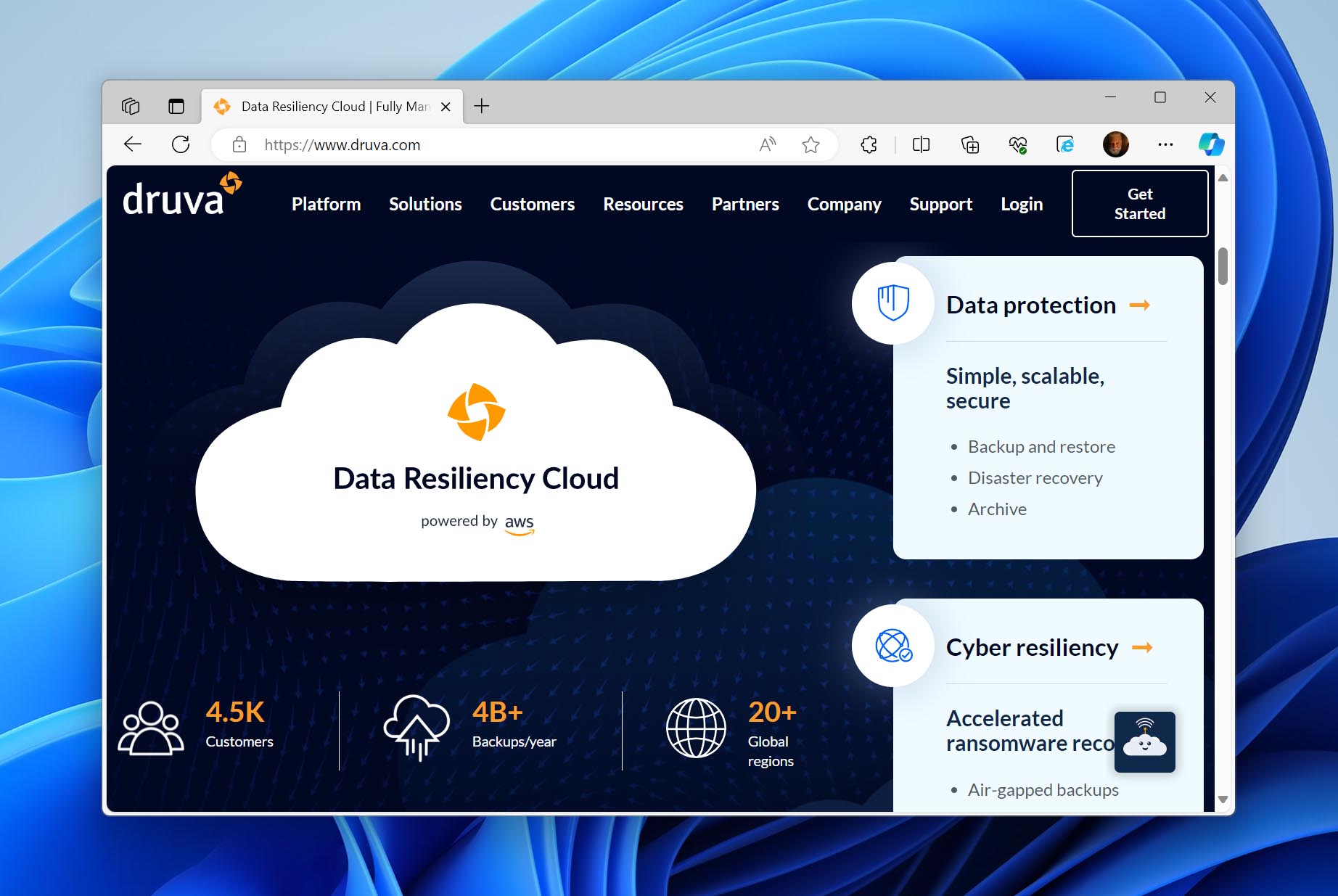 It's easy to summarize Druva in two words: "radically simple". Or rather, that's what it proclaims. Our research finds that it holds true to this statement. As a SaaS-based platform, everything is done in the cloud. You can manage everything; backups, workloads, security, recovery, and compliance, all from the web interface.
All backups are safeguarded with cloud data protection. They're encrypted, regularly monitored for malicious activity, and automatically deduplicated. All files are automatically backed up once changes are detected to minimize storage space and limit bandwidth usage. The platform allows you to simulate your automated disaster recovery plan, as well as implement it in one click to restore everything in minutes.
In addition to simplicity, another big selling point for Druva is cost-effectiveness. You don't need to pay for on-site hardware, and therefore, you don't need to pay ongoing fees for maintenance and administration. And, since everything is done in the cloud, scalability is easy. You can dynamically upscale or downscale based on the needs of your company. Though, it can get expensive based on your requirements, especially with regular price increases.
As you access the platform through a web browser, you can theoretically log in from anywhere with an internet connection. This can also be a limitation, however, as it won't be accessible during broadband outages that may affect you.
Pros:
Simple, SaaS-based solution
All backups are securely stored in the cloud
Recovery is very easy
Scalable
Cons:
Not accessible without internet
Not all file types are supported for backup
The pricing model can get expensive
Best Enterprise Backup and Recovery Software
A large-scale enterprise comprising thousands of employees and workstations can be very tough to manage. You need top-of-the-line backup and recovery software to meet the demands of your business, so we've found what we believe to be the best.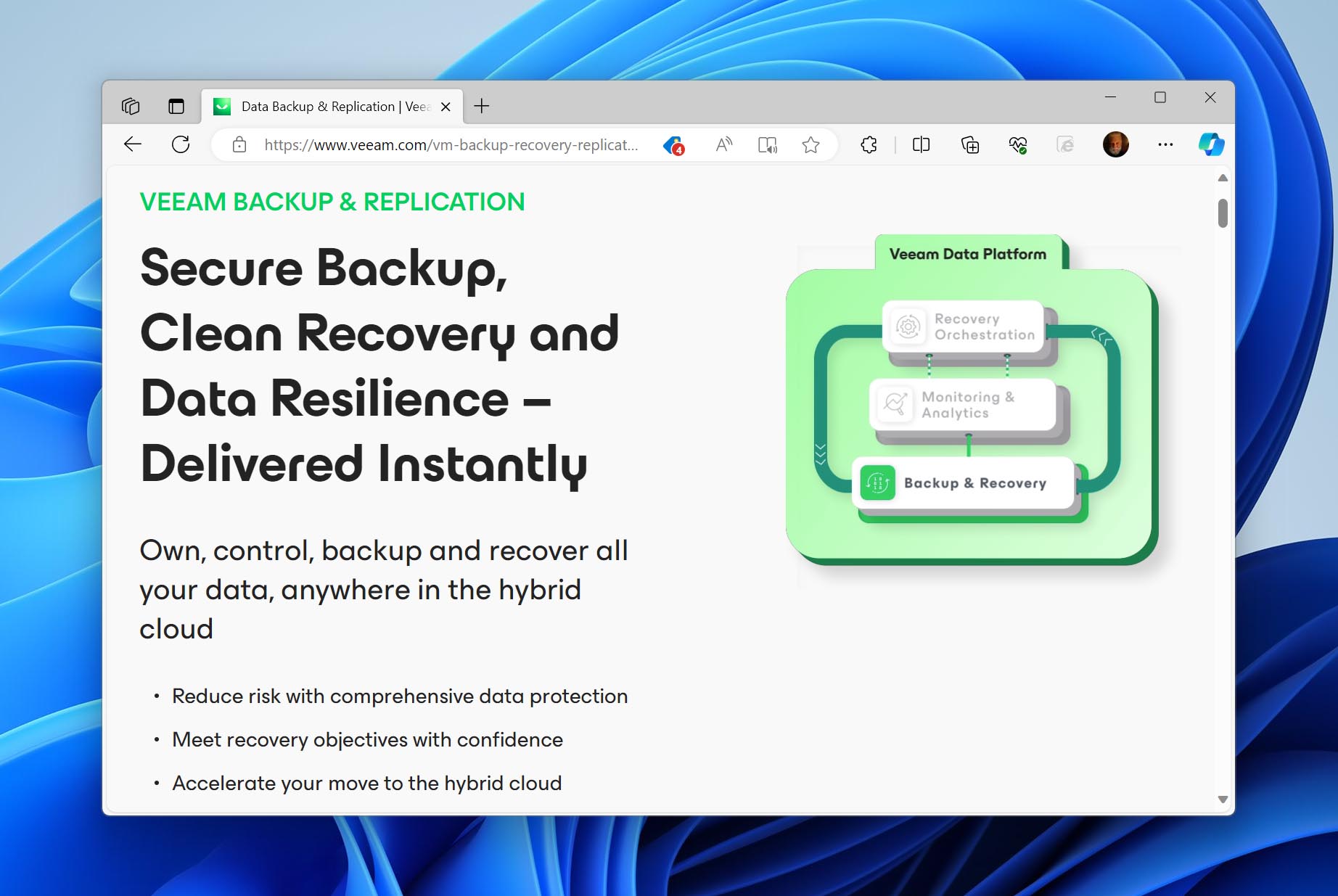 Veeam Backup & Replication is a backup and recovery solution with comprehensive data protection that's designed for large-scale enterprises. While it is an on-premises solution, it does include hybrid cloud capabilities that work with all major workloads, including AWS, Azure, Google Cloud, and VMWare.
The program promises end-to-end immutability to protect your backups from source to destination. It uses an instant recovery engine to reduce downtime and streamline the recovery of critical systems. In the event that you need to recover from a system failure, the application makes regular restore points and regularly checks them to see if they're clean, infected, or suspicious.
Backups are actively protected against malware and ransomware using AI-powered analysis. The company plans to bolster this with additional security features in the future, using YARA content analysis and early threat detection with the help of AI.
Currently, there are three editions: Foundation, Advanced, and Premium. Premium includes Backup & Recovery, Monitoring & Analytics, Recovery Orchestration, as well as Instant Recovery Services (available in 2024) which gives you access to a dedicated support and response team to aid with incident recovery.
Get Veeam Backup & Replication
Pros:
Works with all major workloads.
End-to-end immutability
Instant Recovery engine minimizes downtime
Trusted, industry-leading vendor
Cons:
Expensive premium solution best suited for large organizations
The user interface has a learning curve
Resource-intensive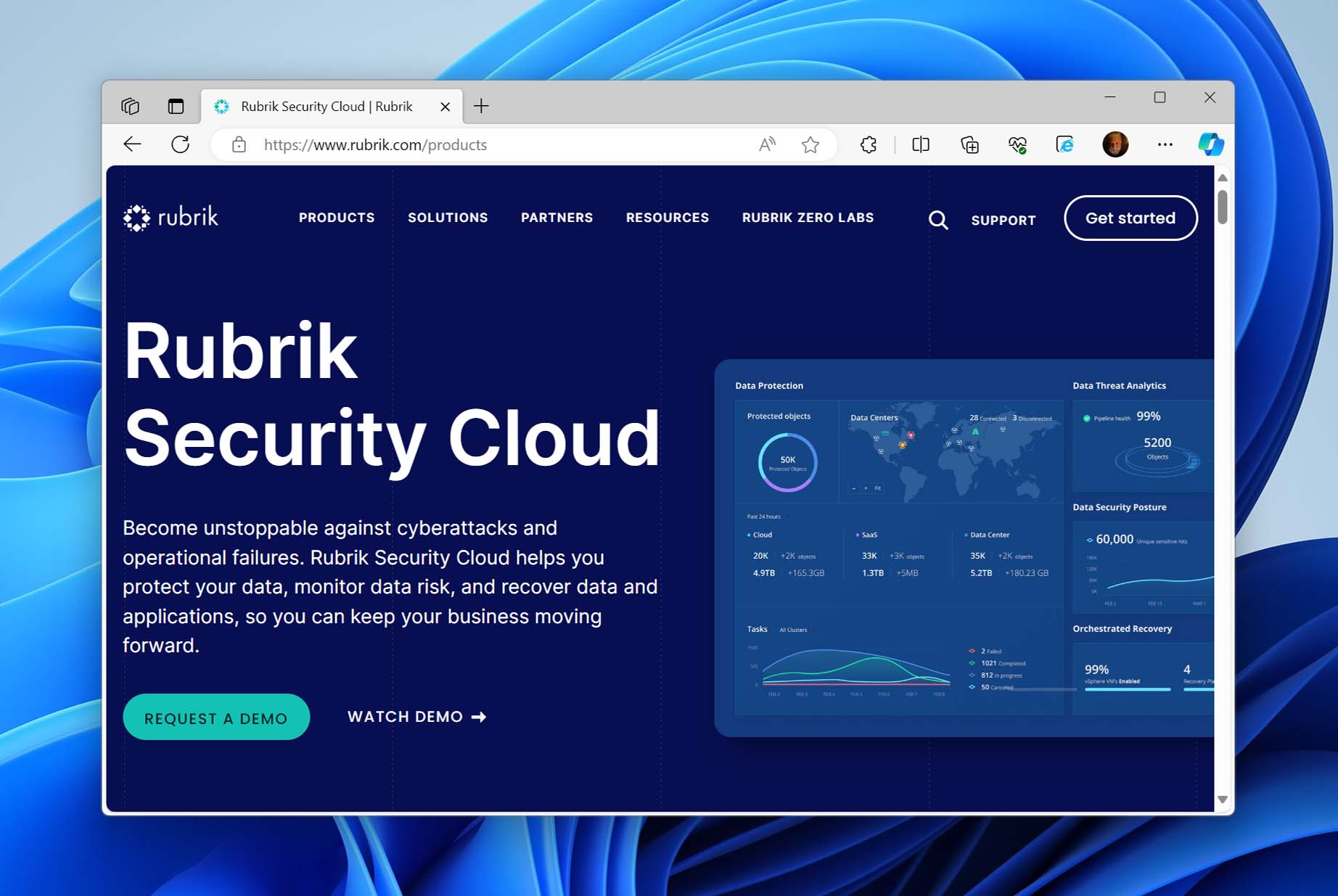 Rubrik Security Cloud is a reputable enterprise-grade backup and recovery solution that prioritizes the security of your data by taking a zero-trust approach. This ensures that everyone, from a new hire to the CEO, is required to go through the same necessary security procedures to access data.
The solution allows you to back up the necessary physical systems, virtual machines, databases, and operating systems with ease. In a data loss event, it promises near zero-RTO with accelerated recovery, whether you need to recover a handful of critical files or hundreds of VMs in bulk. In the event of a ransomware attack, rather than manually search for a viable snapshot, the program uses machine learning to suggest a clean snapshot you to quickly restore to and minimize downtime.
It's compatible with hybrid and multi-cloud organizations and makes use of the public cloud to maximize data storage capacity with cost-effective, long-term storage. All backups are air-gapped to prevent network-based malware infection and the tool includes comprehensive data threat analytics to track threats and indicators of compromise. Moreover, it uses an append-only file system to prevent backups from being maliciously encrypted.
Although it is expensive, you're paying for highly advanced backup features and multiple layers of security. It's a very flexible backup and recovery solution that will fit right in with almost any environment or workload.
Pros:
Quick recovery
Compatible with hybrid and multi-cloud environments
Multiple layers of security
Easy backup configuration and automation
Cons:
Expensive
The user interface can be sluggish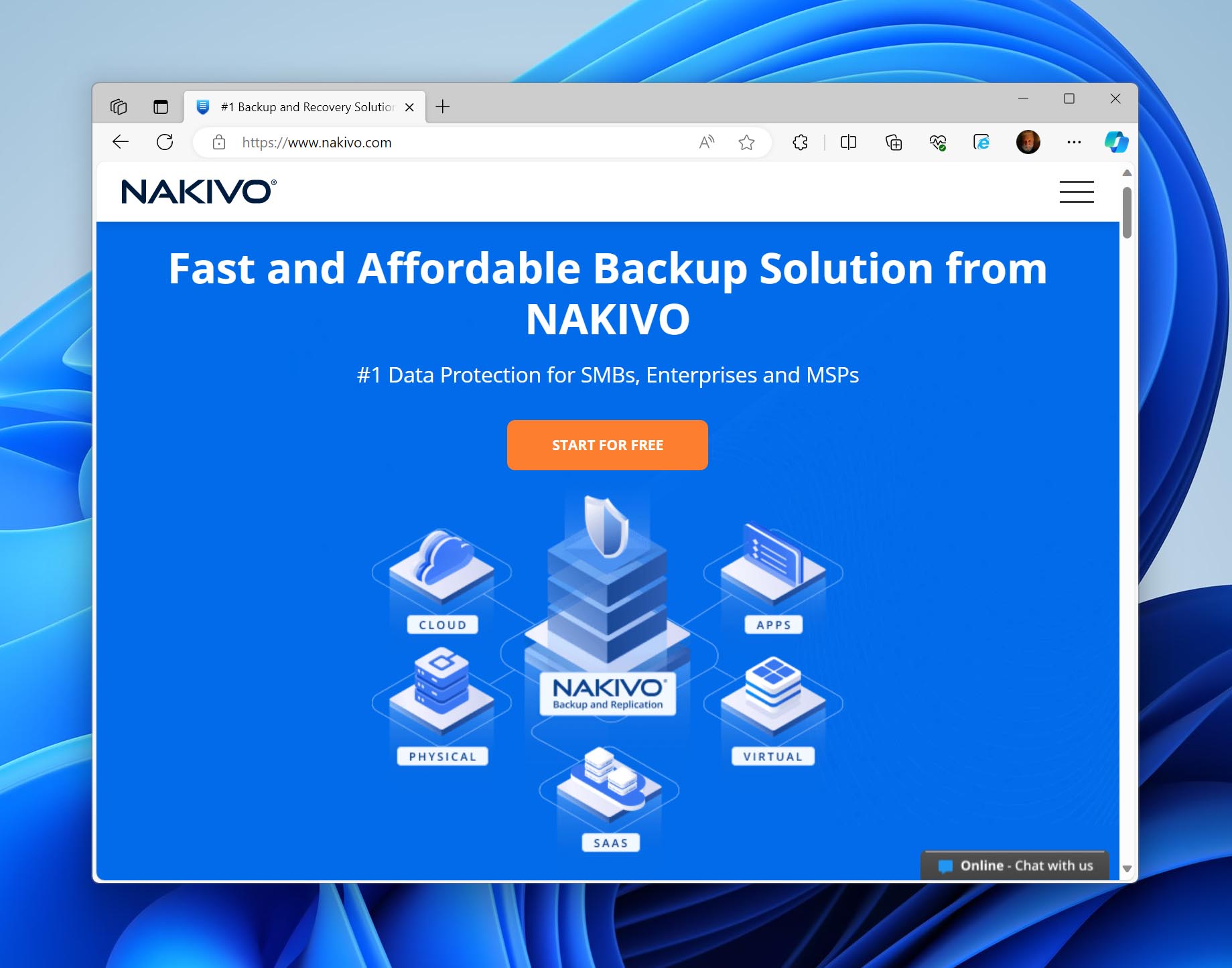 NAKIVO is a popularly lightweight solution that still packs quite a punch. It's a scalable backup and recovery solution that only requires 2 cores and 4 GB RAM to get started. Its simplicity and fast deployment make it a favorite for businesses of all scales.
The solution includes good automation options for backups and includes a calendar to plan backups and prevent overlaps. Backups and replication are quick and easy. Air-gapped backups protect against ransomware and a pre-recovery backup malware scan is done to ensure the backup is safe and functional.
NAKIVO uses a web-based user interface that allows you to access it from anywhere. It's compatible with Windows and Linux-based infrastructures and can be deployed with just one click or command. On a smaller scale, it can also be installed directly on supported NAS devices, like Synology, QNAP, and WD NAS, or even on a Raspberry Pi for a fully-fledged but portable backup application.
In terms of pricing, it may be considered the most affordable of all the enterprise backup and recovery solutions we've included. The company claims it's a "fraction of the cost of competitors". Pricing for the Pro Essentials and Enterprise Essentials editions is transparent and available on the website with perpetual licenses available. Enterprise Plus, however, will require contacting their sales team to discuss the scope and needs of your business.
Pros:
Flexible pricing with perpetual licenses
Scalable
Lightweight
Easy deployment
Cons:
Some services don't automatically start after the app restarts
The renewal process is not automated and requires you to contact the sales team
Honorable Mentions: Open-Source Backup and Recovery Software
Open-source software is quite often the go-to because it's free and trustworthy. But, given that it rarely has any dedicated technical support and can be troublesome to troubleshoot on your own, it's often outshined by more professional solutions.
Regardless, there are still some excellent options out there that we feel deserve a mention. Here's some of the best backup and recovery software that's open-source.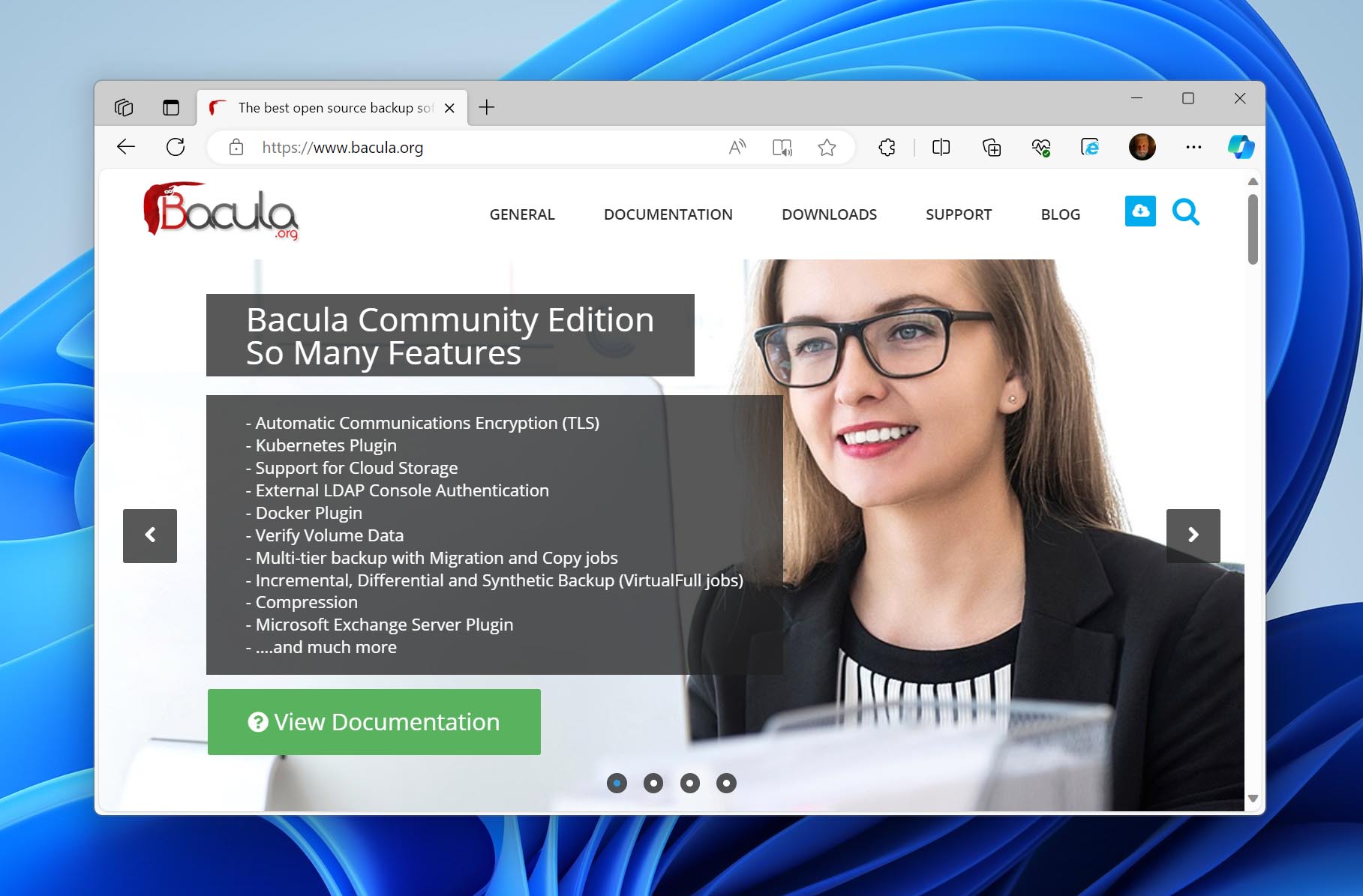 Bacula is a collection of open-source programs that give you control over how you back up and recover your data. It's a highly scalable solution that can work with a single computer or hundreds over the network.
Unlike other backup and recovery solutions on this list, Bacula has a very steep learning curve. Furthermore, it's not intended to be your only solution for recovery, even stating on its website that it is "not a complete disaster recovery system in itself". Instead, it can be part of it.
Pros:
Free and open-source
Highly scalable
Includes many features found in paid tools
Cons:
Takes time to learn
Not a complete solution
Poor user interface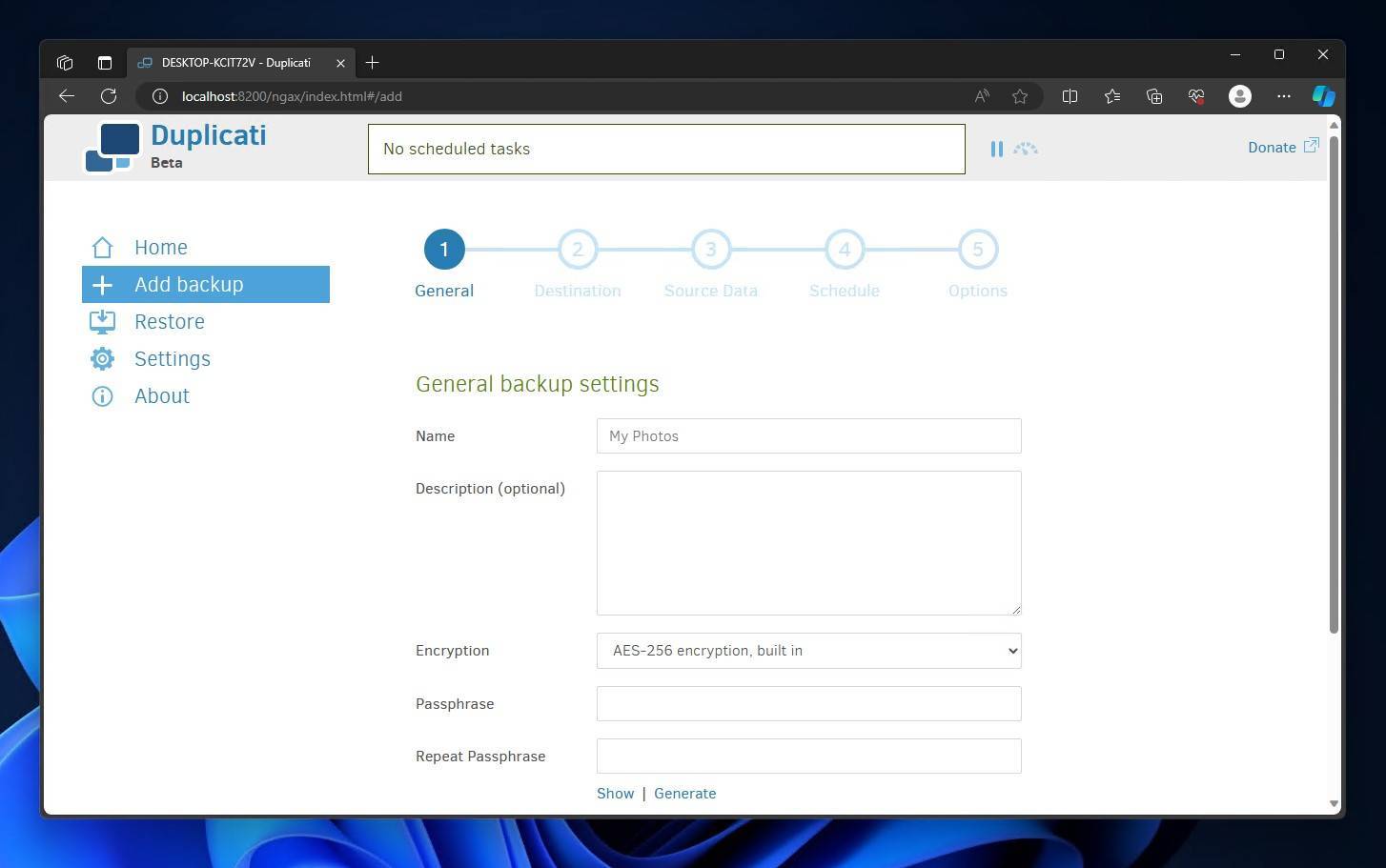 Duplicati is a great backup and recovery solution if you need an open-source program that's built for handling online backups. All backups use AES-256 encryption and can be scheduled for convenience. Backups can be incremental and include automatic deduplication to save storage space. Everything is managed in its web-based UI that can be accessed from anywhere.
Like Bacula, it is also very technical and difficult to pick up at first. It also struggles with network interruptions that stop backups, which then you either have to manually resume the backup or wait for the next scheduled run.
Pros:
Manages cloud backups
Backups are encrypted
Web-based UI
Backups can be resumed after being interrupted
Cons:
Difficult to learn
Interrupted backups require manual action
Limited support
Doesn't include cloud storage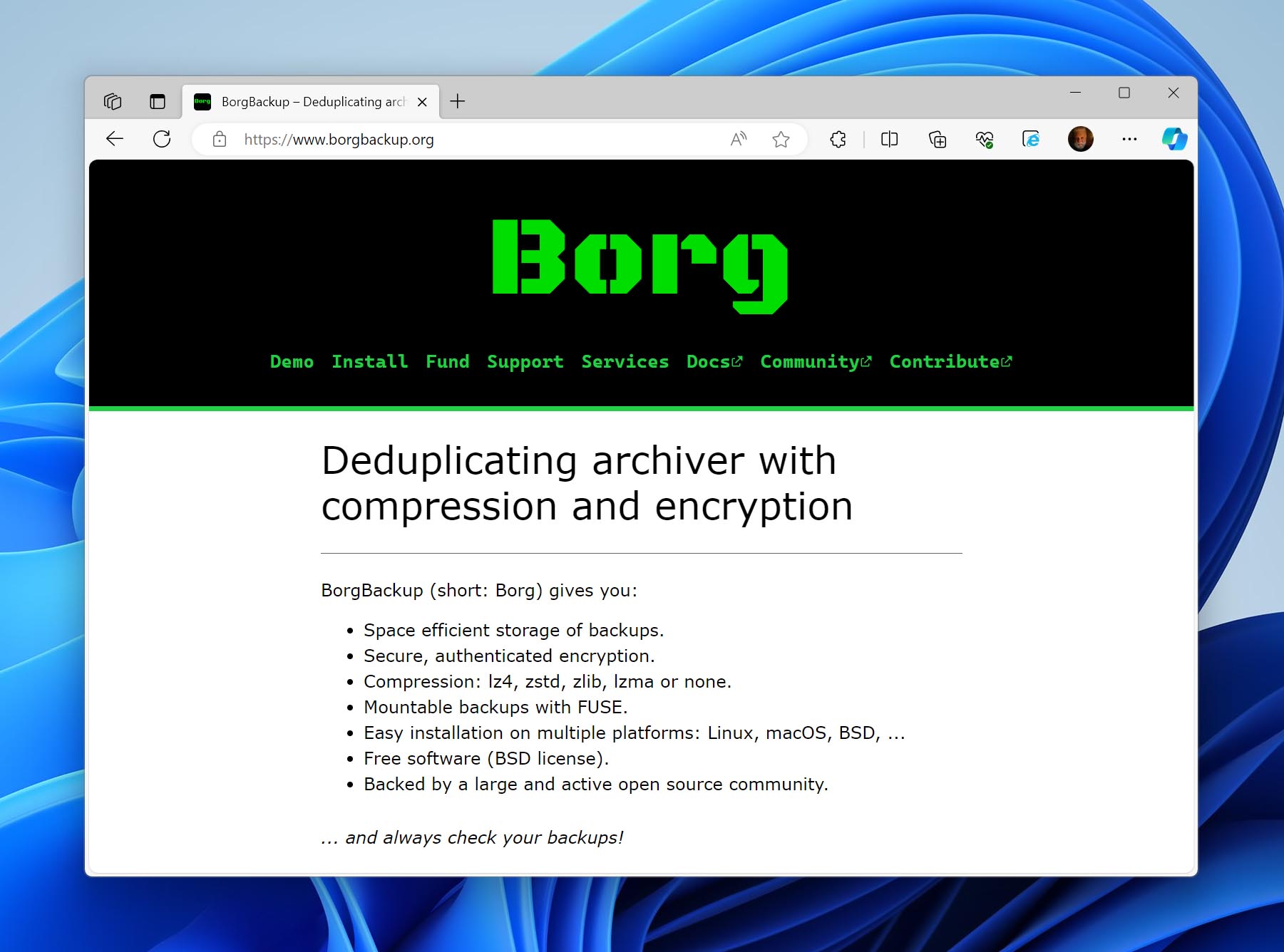 BorgBackup is an open-source backup and recovery tool that prides itself on simplicity and reliability. It's easy to install and all backups feature 256-bit AES encryption. To save on disk space, you can use LZ4, Zstandard (Zstd), zlib, or LZMA compression algorithms and store your backups off-site.
On the flip side, compression is single-threaded. This results in long wait times for compression, even if you have a quad-core CPU or higher. The program itself has very limited support for Windows OS, so a strong understanding of Linux commands and navigating a CLI is necessary. And, it doesn't check the integrity of your backups; you will need to do it manually.
Pros:
Ideal for local and network-based backups
Includes 256-bit AES encryption
Multiple compression options
Backups can be stored off-site
Cons:
Extremely limited Windows support
Uses a CLI
Doesn't actively verify backup integrity
How Important Is Data Backup and Recovery Software?
Very important. Maintaining a regular backup of your drives, partitions, files, apps, etc. may be your only chance of recovering data following a data loss event, as data recovery software can never guarantee a 100% rate of recovery. In a business environment, it's especially important to adhere to RTO and RPO policies that are responsible for managing downtime and expected levels of data loss.
Hard drives fail all the time. According to the drive stats report by cloud storage provider Backblaze, 1,339 of their 240,940 drives failed in Q2 of 2023 alone. That resulted in an Average Failure Rate (AFR) of 2.28%, which may seem like a low number, but each of those drives could have held essential data that would be lost without a backup. Even with the incredible strides in hard drive technology that have improved both capacity and performance, hardware failure is something that remains largely unpredictable, speaking more to the importance of backups.
The purpose of backup software is to create copies of data stored on modern storage devices (spinning hard drives, SSDs, memory cards, USB flash drives, etc.) to protect users against data loss. The idea is that you can easily restore what was lost in seconds or minutes instead of wasting hours trying to recover data that may actually be unrecoverable.
Operating systems come with their own backup utilities. Windows has File History and macOS has Time Machine. However, even though they do make it easier by somewhat automating the process, they don't give you much control over how your data is backed up and are very much barebone, entry-level solutions. This is where modern backup and recovery software comes in, as it gives you access to more features like incremental or differential backups, integrity checking, direct-to-cloud backups, task automation, and much more.
If you value your data, as well as your time and sanity, a backup and recovery solution is the way to go. Implementing a reliable backup solution now will save you a lot of stress in the future. Better yet, you can rest easy knowing that all of your important data is safely protected.
FAQ
Yes. Windows' primary backup program is File History, which superseded Backup and Restore.
If you want to back up your entire computer, your best chance of capturing everything is by creating a byte-to-byte image. This takes a snapshot of your entire system (including your OS) and preserves it in a single file that can be mounted and accessed at any time.
Many professional solutions include free backup features. For example, Disk Drill includes a byte-to-byte backup tool which is free to use, but recovery will require a paid license (Windows users get 500 MB of free recovery). Otherwise, you can opt for an open-source backup and recovery solution, like Bacula, Duplicati, or BorgBackup.
Conclusion
Backup and recovery software is essential if you want to keep your data safe. The threat of data loss is ever prevalent, so implementing a reliable backup strategy goes a long way. There is an abundance of backup and recovery solutions out there to choose from. When shopping around, keep in mind what you're looking to get out of the software.
For a home solution, you may not need more than a scheduled backup that makes a byte-to-byte image of your drives every week or so. Businesses will have their own subset of requirements. Automation, access control, disaster recovery, integrity checking, and high-level data protection are all essential to preserving and protecting one of your business's largest assets: its data.
Administrator • 45 articles
David Morelo is a professional content writer in the technology niche who joined the Handy Recovery team in 2019 and has since made an invaluable contribution to the quantity and quality of our materials. David's main principle is not to start working on a new article until he has studied the subject backwards and forwards.
Author • 33 articles
Jordan Jamieson-Mane is a freelance content writer with a passionate interest in technology. Starting from a young age, this interest gradually turned into a career, with Jordan studying in the field of IT and moving into a technical role right out of tertiary education. After gaining first-hand experience in the field, he started his journey as a freelance content writer. As a tech enthusiast, his interests within the realm of technology include hardware, networking, smart technology, and consumer electronics.
Editor • 0 articles
Andrey Vasilyev is an Editorial Advisor for Handy Recovery. Andrey is a software engineer expert with extensive expertise in data recovery, computer forensics, and data litigation. Andrey brings over 12 years of experience in software development, database administration, and hardware repair to the team.