After lots of research and hands-on testing, we were able to narrow down USB data recovery software to the following solutions: Disk Drill, Undelete 360, Mac Free Any Data Recovery, iCare Data Recovery, Active File Recovery, Stellar Data Recovery, and CrashPlan. Continue reading for more information.
Jump to:
Although it is never pleasant to need USB recovery software, 2023 delivers some impressive solutions to solve the issues that require its use. Instead of writing off the files and folders as lost or only recoverable in a lab, you could be a few clicks away from data retrieval with today's best solutions.
👀
The best USB recovery software handles flash drives, stick drives, pen drives, and other portable storage units. If you can transfer files from your PC or macOS to this device, these services provide the platform you need for the successful recovery of lost data.
What to Consider When Evaluating the Best USB Data Recovery Software?
| | |
| --- | --- |
| 🧭 Recovery results | The primary consideration for any recovery software solution is its ability to offer a successful result. Though you want the process to be as simple as possible, consistent file and folder access on damaged, formatted or corrupted drives is what you need. |
| 📋 File Support | The second most important parameter when choosing data recovery software is whether it supports the types of files you need to recover. |
| 💾 Backup features | While you could clone your flash drive or take other data backup solutions to the cloud, having the best USB recovery software available ensures that nothing gets lost. It gives you a plan to use when the worst-case scenario happens. |
| 💵 Price | Last but not least, you should also evaluate the overall value provided by the software. Sometimes, it's possible to achieve the same results with a free solution. On other occasions, spending some money is the best move. |
🗨️
When evaluating this guide's choices, we looked at these considerations to develop the best options to consider for your personal or professional needs.
Top 7 Best USB Data Recovery Software
Let's see which software applications made it to our ranking.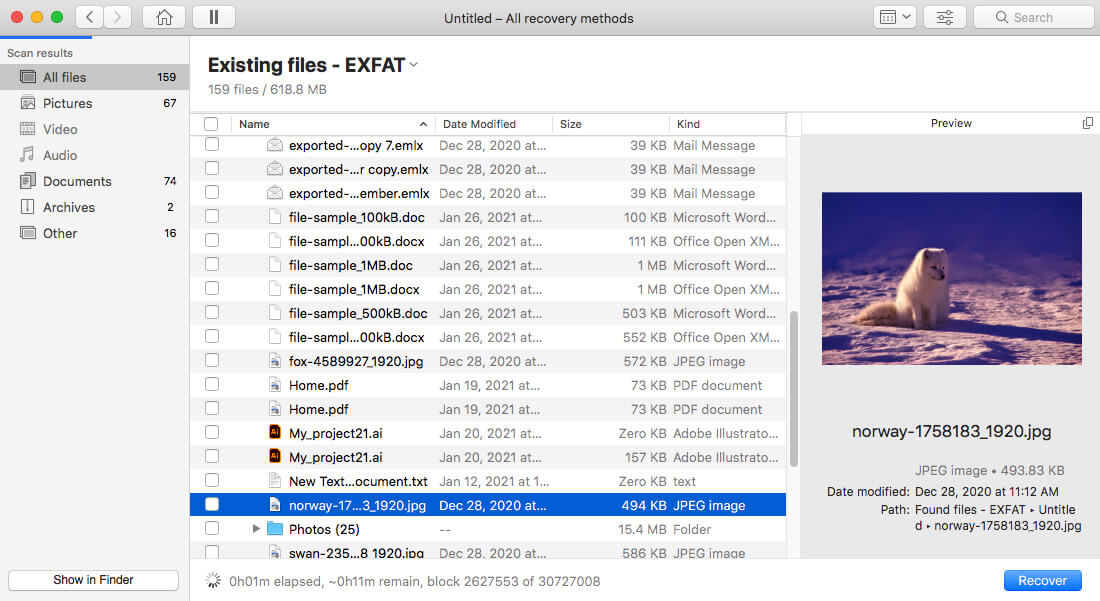 Disk Drill provides a comprehensive flash drive recovery solution. It allows you to access deleted files and folders even when you've got a lost partition problem to manage. When you use this platform, it automatically creates a mapping to your data so that complete restoration is only minutes away.
✅
Pros of Using Disk Drill:
It offers support for all mountable devices through the USB port.
The user-friendly interface offers a straightforward design that helps you find your missing information.
It delivers above-average speed when scanning and restoring information.
The tool supports today's most popular operating systems on Mac and PC.
It comes with a comprehensive suite of additional tools to use for other data restoration and recovery needs.
❗️
Cons of Using Disk Drill:
If your USB flash drive requires a deep scan, the process will take more time than some users might expect.
Should you need some direct help, customer service is through email or chat instead of a toll-free line.
User Experience
We feel that Disk Drill provides a comprehensive solution for a reasonable price. If you're using Windows®, the first 500 MB of your recovery process is 100% free. If you upgrade to the paid license for $89 (required for Mac users), you'll have the best option for complete storage recovery.
If you require a corporate-level solution for your flash drive management, the enterprise-level solutions are currently priced at $499.
Once you load the software, it's essentially point-and-click to initiate the commands you need to access your missing files.
Amazingly it did, and I didn't know this tool existed. Thank you so much -- you and $90 to Disk Drill just saved my bacon (and the flaky Mac is still trying to kill my data, so it's a good thing I backed up the backup immediately, because it corrupted the new drive...!)

— Dan Amrich (@DanAmrich) January 25, 2021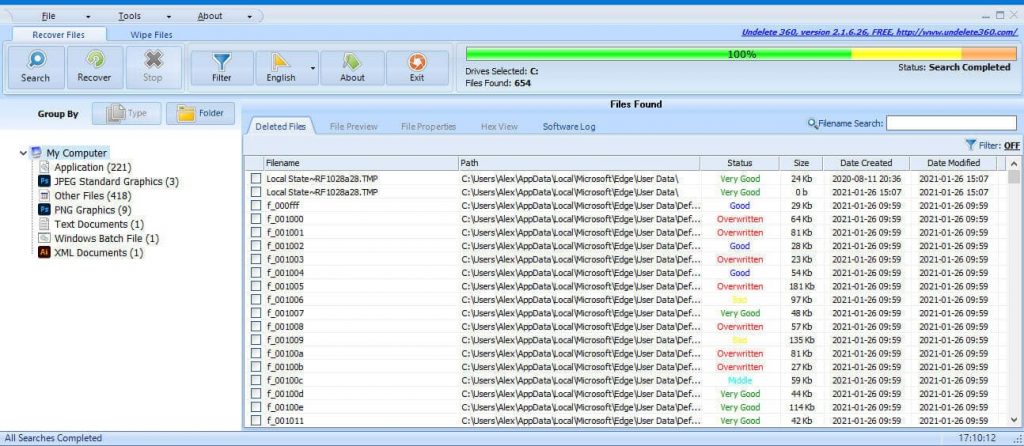 Data corruption and physical damage aren't the only reasons you can lose some files. You might accidentally delete a folder when trying to transfer it from one drive to another. When you want a straightforward solution without an annoying upsell, Undelete 360 delivers impressive results.
✅
Pros of Undelete 360:
You can restore access to the data on your USB flash drive when the deletion or corruption is virus-caused.
Most accidentally deleted files are recoverable with this software, especially when you use it right away.
You can obtain the full version of this application as portable freeware.
❗️
Pros of Undelete 360:
The download links automatically display Windows products, which means users must be careful about the links they click.
After recovering files with this solution, the first letter can get changed to make it difficult to find.
User Experience
We appreciated the versatility that this USB recovery software solution provides. It works with virtually all compatible storage devices and Windows versions.
Since you're getting a freeware solution initially, you'll find that the reminders can get somewhat annoying. It's a small price to pay, in our opinion, to get something that you can genuinely use for free to retrieve the missing information.
Undelete 360 saved my day and my photos 🙌🏽

— The Nikki Nikki (@nicRichieGreece) May 6, 2019
🔗
You should use this link to explore more information about this product, as several imposters have spammed the name to duplicate its success: https://undelete360.com. You should also check out our Undelete 360 review.
From there, you can choose the solution that works best for your needs.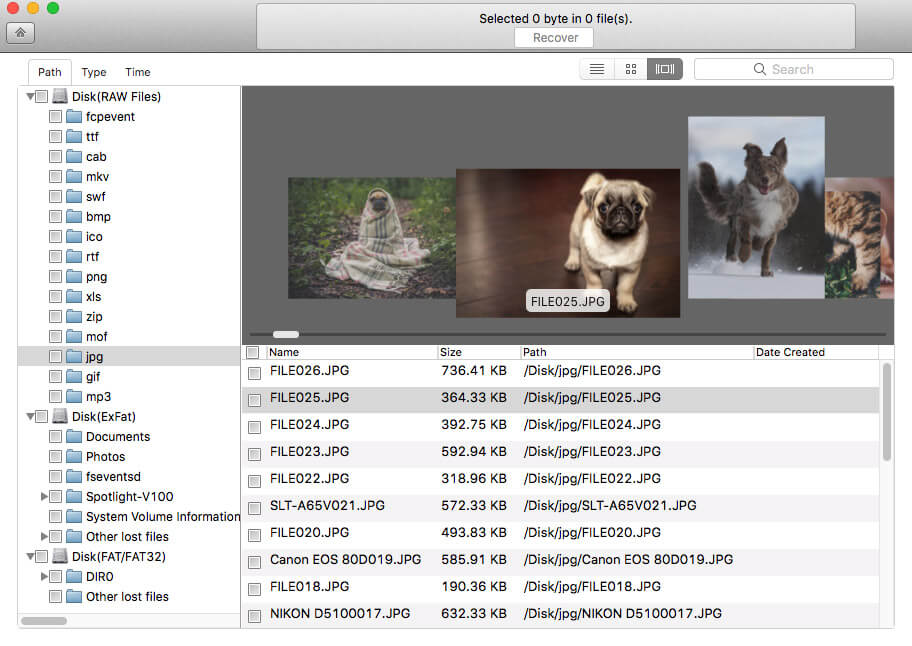 This product is a Mac-specific solution that delivers the comprehensive results you want. It provides fast recovery of your missing files on a flash drive, including audio and video extensions that some other platforms don't offer.
✅
Pros of Mac Free Any Data Recovery:
You receive advanced search options that make it fast and easy to find specific missing files.
You'll receive rated scan results so that you know the likelihood of getting recovered data from the USB drive.
There is 24/7 customer service offered in multiple languages for immediate troubleshooting assistance.
❗️
Cons of Mac Free Any Data Recovery:
If the software cannot detect the USB flash drive, there is no option for data recovery.
The entry-level download only provides quick scans. You must upgrade to perform a deep flash drive scan.
It delivers a poor first impression with its user interface and support website.
Download Mac Free Any Data Recovery
User Experience
We felt that the free updates you get with the paid license and its 90-day money-back guarantee provided this recovery platform with a couple of unique advantages. Instead of paying for an annual subscription, your cost is for a lifetime license.
Using the software is fairly straightforward. Although some of the most in-depth features for file recovery are a little hard to find, it doesn't take much time to figure out what you're doing.
Our one point of contention is with the ordering process. When you're on the primary site, it isn't an HTTPS design. You're redirected to a third-party payment processor if you decide to buy it, and that could be a problem for some users.
can anyone reccommend any good data recovery software for mac (preferably free/cheap)? damn external hd seems to have decided to be borked

— Hamish (@mushion22) November 18, 2009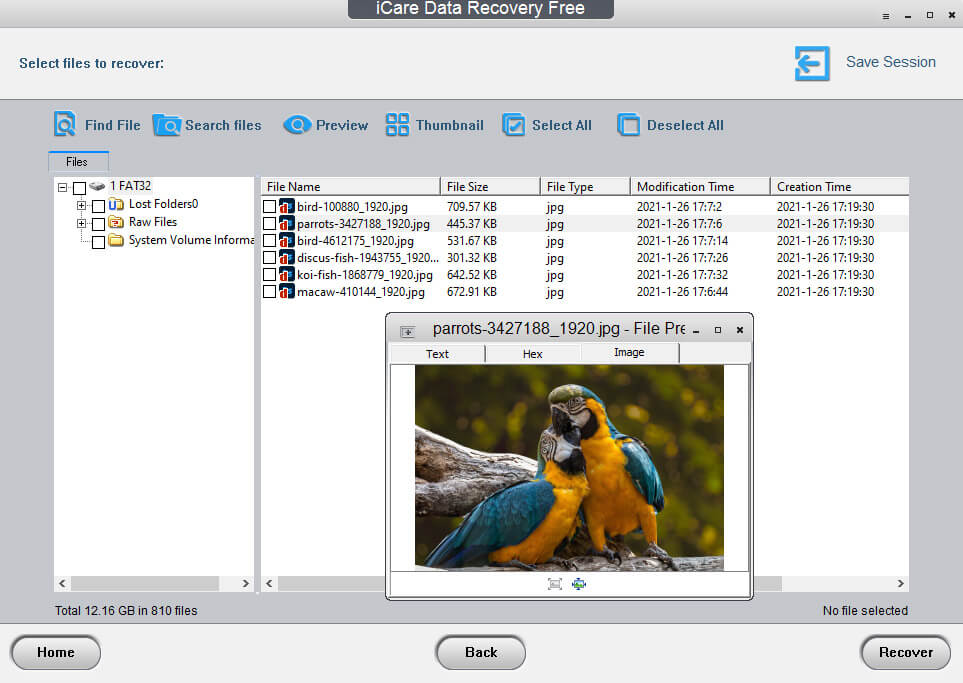 With iCare Data Recovery, you can take care of most USB flash drive recovery needs without paying for a license. It allows you to quickly recover unlimited folders and files from today's storage devices, letting you get on with your day after accidental deletion or data corruption.
✅
Pros of iCare Data Recovery:
Users receive a 100% cleanliness guarantee that the download doesn't contain spyware, bloatware, or adware.
It provides a helpful online manual that guides you through the recovery steps with easy-to-understand instructions.
You receive a genuine freeware experience, which means you don't need to worry about any hidden fees.
❗️
Cons of iCare Data Recovery:
When using this recovery platform, you won't see any progression information. That means it's difficult to judge when the work is complete.
You don't receive 100% support for every USB formatting option.
User Experience
We appreciated the helpful wizard that comes with this flash drive recovery tool. This design element ensures that everyone can find the information they need. It ensures that all you need to do is click the appropriate download link.
iCare Data Recovery offers online tutorials and how-to videos so that you can reach the outcome you want and learn how to best use the tool.
You can get a memory card holder...download icare data recovery software and try and run it...if it picks up the memory card you can recover some of your stuff...

— John Cj Sekuti (@John_Sekuti) March 25, 2018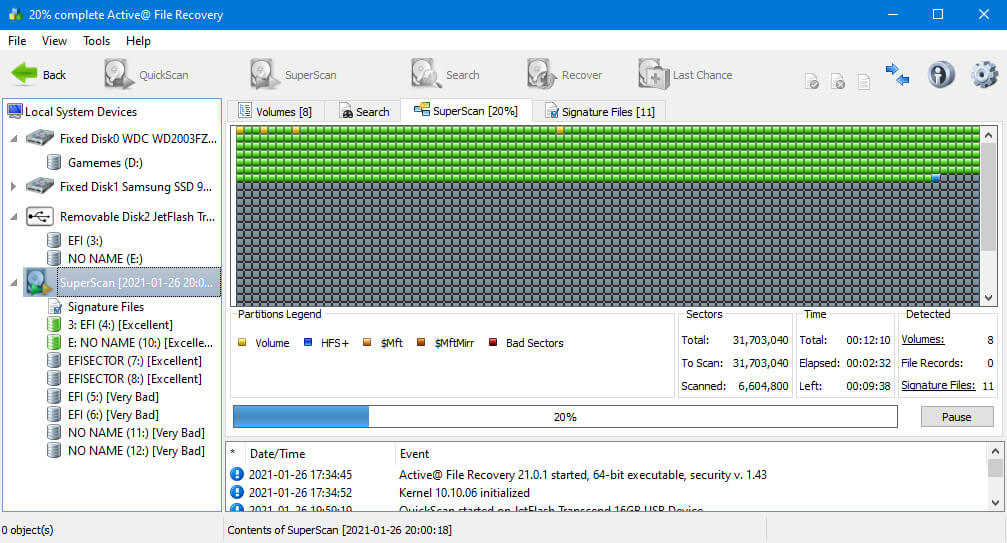 If your primary desire is to recover a missing file from your USB drive, this downloadable solution delivers precise results. Although it doesn't come with expansive features, it performs its primary purpose exceptionally well.
✅
Pros of Active@ File Recovery:
The download occurs quickly to create a fast installation.
It comes with a Superscan feature to find information that the quick-scanning components might not discover.
The speed at which it finds missing files is above-average for the industry today.
❗️
Cons of Active@ File Recovery:
It is an incomplete solution at the moment, as the developer is still working on an expanded set of capabilities.
Although the scanning process is straightforward, the recovery work is somewhat complicated.
The best features are hidden with several layers of menu choices, making them a bit challenging to find.
Some file types are not recoverable with this platform.
Download Active@ File Recovery
User Experience
We'd recommend using this file recovery platform for USB if you have long names to find. It does an excellent job of locating those sometimes problematic elements that some deep scans can miss.
You'll also appreciate the capabilities of this USB recovery solution if you save file names in languages other than English. It has more native support on the back end than most other platforms so that you can navigate through your scans efficiently.
It is a Windows-only solution, although you can operate it on Apple systems using an emulator. If you have a partitioned drive instead, you'll want to ensure your USB port is readable through that method before proceeding with a download.
@mysticsrishti @toshiba there is recovery software lyk active file recovery u can recover ur data

— Selfish (@a_s_singh) June 25, 2015
🔗
Prices start at $29.95 with this tool, delivering unlimited product use for up to three installations. More information about this top choice is available here: https://www.file-recovery.com/.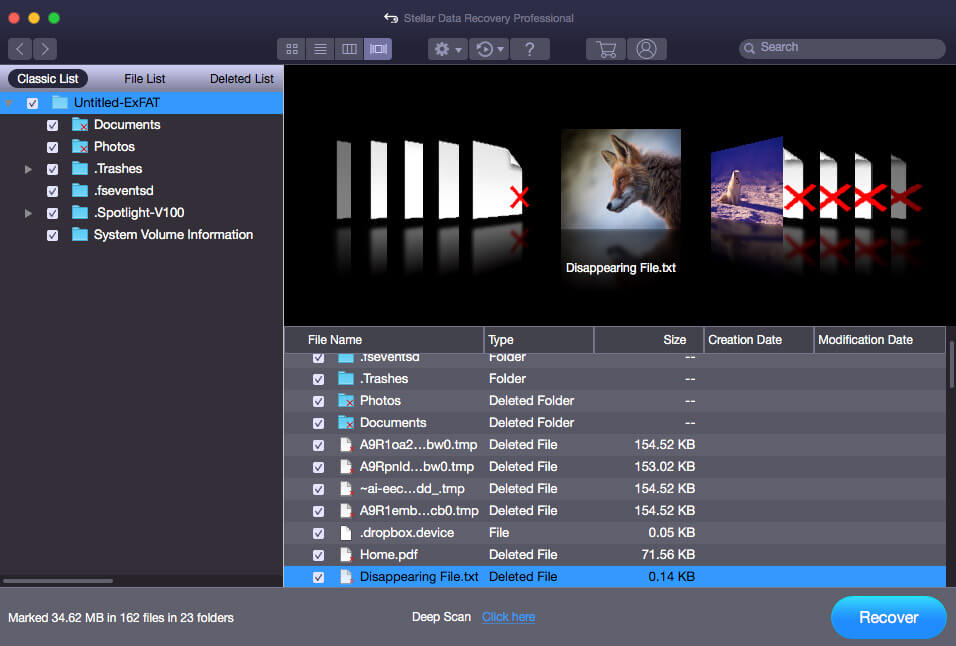 Most USB recovery solutions focus on accidental deletion. Stellar Data Recovery provides a comprehensive solution that addresses data lost due to a deleted partition or drive corruption.
✅
Pros of Stellar Data Recovery:
You can use this software to recover files and data from almost any portable storage device that connects through your USB port.
Any file extension is potentially recoverable when using this resource.
The developer offers a complete online walkthrough for the software so that you can learn how to use it almost immediately.
You have the option to repair corrupted photographs and video files on your USB drive.
❗️
Cons of Stellar Data Recovery:
If you want to repair corrupted image or video files, you must purchase the premium version of this recovery tool.
Your download is system-specific, which means you need two licenses to manage individual computers at home.
Your system needs 8 GB RAM to bring out the full functionality of the software.
Download Stellar Data Recovery
User Experience
We like this USB recovery software option because of the convenience it offers. You'll get plenty of functionality, ease of use, and straightforward commands. This benefit comes with a price since you'll pay up to three times more than most competitive products.
Although it has excellent portable storage recovery, the platform's primary methodology is to recover internal system files. It almost feels like the processes for USB are an afterthought, incorporated after the main product was developed to expand the audience for its use.
Since most deleted files are photos and images, anything corrupted on your USB drive almost forces you to buy the premium version if you decide this software is your best option.
I use a software called Stellar for data recovery.

— Endymion (@Endymion888) January 26, 2021
7. CrashPlan (Windows & Mac)

If you want instant recovery solutions for problematic USB files, the best solution might be a third-party backup plan. When you use CrashPlan, your information gets updated in real-time to your account with this provider so that you have immediate access to your data.
✅
Pros of CrashPlan:
It provides competitive pricing with traditional USB recovery solutions without requiring scanning or corruption repair.
You receive a data backup solution simultaneously with your restoration needs.
It stores files you've already deleted until your capacity or age limit definitions get reached.
Your information is fully encrypted for an additional security layer.
❗️
Cons of CrashPlan:
It takes an image of your entire drive, which means you don't get backups by file type.
You get backups of the newest files first before going to the older backups you need.
You're using a non-traditional recovery method, which means there could be unexpected problems with the process.
User Experience
We appreciate CrashPlan because it stores everything for you. It's always working in the background to make sure you've got a detailed backup of your files and folders. Although it doesn't offer a specific filter, you do have sorting options that make it relatively easy to find the files you want.
It is essential to remember that this system is meant for backups first. You won't get the immediate one-file solution locally that you might want. If you experience an ISP or data outage, you will not be able to connect to the service.
An external drive won't save you if your house burns down / floods / gets attacked by Mothra. Having both is good!

Take a look at CrashPlan and Backblaze. Both are excellent. CP will try to convince you it's only for business, but camgirls are businesses! I've used both.

— Secret Blue (@a_secret_blue) July 17, 2020
Understanding Flash Drive Recovery Software and Its Capabilities
Flash drive recovery software is an advanced tool that lets you retrieve deleted information from USB storage products. If you accidentally delete data from or reformat a USB device, you can use this type of application to find and restore that information.
When you select a USB flash drive restorer, it must recognize NTFS, FAT32, and exFAT at a minimum to provide you with the flexibility to recover your files.
Why Did We Choose These USB Recovery Solutions?
The best USB recovery software choices deliver comprehensive and individualized results. All of them reach this outcome in different ways.
Although some are easier to use and others are more expensive, we found that these software tools were the most reliable when support for USB data loss is necessary.
Each one has specific strengths and weaknesses to consider for your home system and storage needs. These recommendations can help you find the best option and help you get those missing files back safely.
Honorable Mentions and Products to Avoid
👌 Worth to try
Some additional downloads for USB recovery worth taking a look at today include:
👀
The reason these providers didn't make it into the primary list of top downloads involves their ease of use. You still get a straightforward interface with lots of features, but we felt these platforms were much more difficult to learn.
We also felt that the scanning results were slightly more inconsistent compared to the other solutions.
✋ Avoid
During this review, we also found some products to stay away from whenever possible:
❗️
Although they still function, the tree structures have less organization. Some don't install as expected, or you can find bloatware that you must beware of during the installation process.
Robert Agar is the Content Writer & Managing Editor for Handy Recovery. Robert brings over 30 years of experience in data storage, security, compliance, backup, and recovery to the HandyRecovery team. Several years ago, he turned his attention from hands-on technical roles to develop a career as a freelance writer concentrating on technology and its impact on society. Areas of focus include the cloud, data recovery, artificial intelligence, and industrial automation.
Andrey Vasilyev is an Editorial Advisor for Handy Recovery. Andrey is a software engineer expert with extensive expertise in data recovery, computer forensics, and data litigation. Andrey brings over 12 years of experience in software development, database administration, and hardware repair to the team.