If you've been researching data recovery software, you've probably stumbled across Stellar Data Recovery, also called Stellar Phoenix and Stellar Photo Recovery. This recovery tool was first released in 2000, and it quickly became one of the most popular applications of its kind for Windows and Mac.
In this article, we're taking a closer look at its latest version because we want to find out whether it still holds up after so many years of development.
👀
TL;DR: Despite its steep price and underwhelming customer support, Stellar Data Recovery is still a great data recovery software application. Just keep in mind that less expensive yet more capable alternatives do exist.
| Parameter | Score (10 points) |
| --- | --- |
| User Friendliness | 9.0 |
| Recovery Process | 9.0 |
| Features | 8.0 |
| Pricing | 5.0 |
| Support | 6.0 |
✅ Pros:

❌Cons:

3-step recovery process
Easy to use
The free version can recover up to 1 GB of data
Support for custom file formats
Many versions to choose from

Subscription-based pricing model
Inconsistent data recovery results
The preview feature failed us
1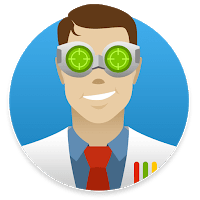 Disk Drill
Platform:

Windows, macOS
Distributed as:

Freemium
2

PhotoRec
Platform:

Windows, macOS, Linux
Distributed as:

Freeware
3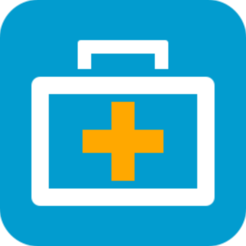 EaseUS
Platform:

Windows, macOS
Distributed as:

Freemium
Main Features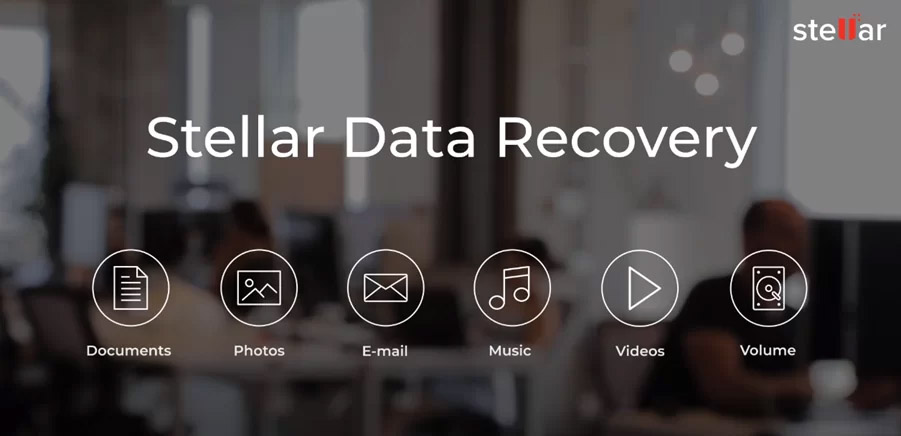 Stellar Data Recovery is a comprehensive data recovery application designed to help its users deal with all kinds of data loss situations, and do so without requiring any expert knowledge. Let's take a closer look at its main features and characteristics.
File System and File Type Support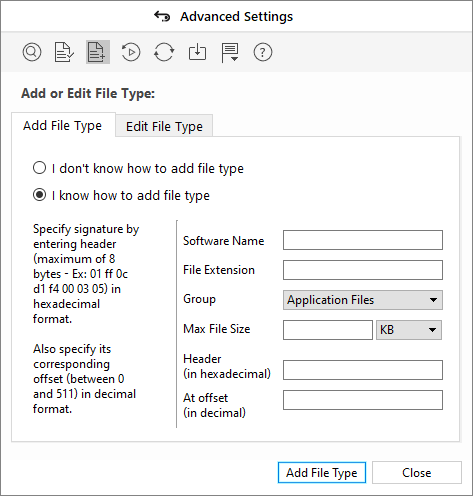 Stellar Data Recovery supports NTFS, FAT, FAT16, FAT32, exFAT, Ext2, Ext3, Ext4, HFS, HFS+, and APFS file system. The application can recover over 200 file formats, including archive files, songs, database files, images, videos, documents, and more. You can find their complete list on this page.
Many other data recovery applications support far more file formats than that, but Stellar Data Recovery has one trick up its sleeve: it allows users to add new file types manually. This isn't something regular users are expected to ever take advantage of, but it's great that this feature is available for professionals.
User Interface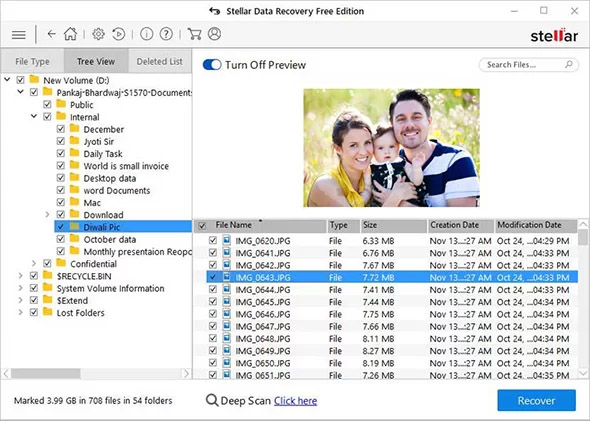 If there's one thing users almost universality like about this data recovery software, then it has to be its user interface. While not particularly modern or stylish, its simple layout and clearly described options make it obvious which action the user is supposed to take next.
The recovery process itself, which we describe in detail in the next chapter, is also straightforward, consisting of just three main steps.
Recovery Capabilities

From the recovery of data stored on damaged, deleted, formatted, and lost partitions on any storage media to seamless recovery for lost or inaccessible RAID hard drives, Stellar Data Recovery offers extensive data recovery capabilities, covering a plethora of different use cases.
Users can choose between normal scanning and deep scanning. The latter scanning mode does a comprehensive file signature-based search that's particularly useful for recovering the files that couldn't be found with normal scanning.
Extra Features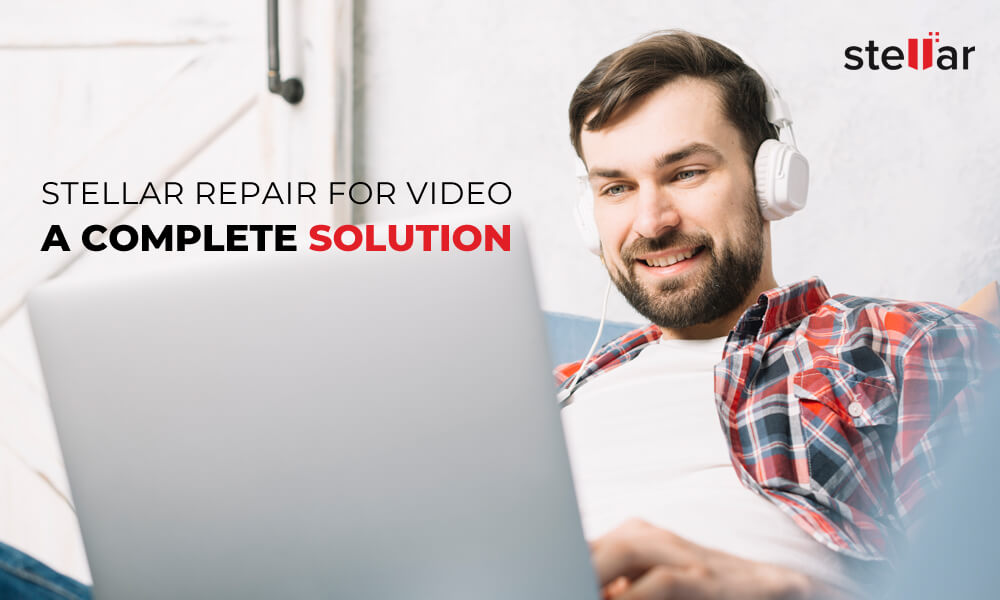 Depending on which edition of Stellar Data Recovery you choose, you can get access to various useful extra features that can be helpful when dealing with more complicated cases of data loss. For example, the Professional edition adds support for the creation of images from hard disks and volumes.
If you decide to spend even more money to get the Premium edition, you unlock the image and video repair feature, which comes directly from Stellar Repair for Video. This feature allows you to reconstruct partially corrupted image and video files, which can be extremely useful when restoring precious family pictures.
Customer Support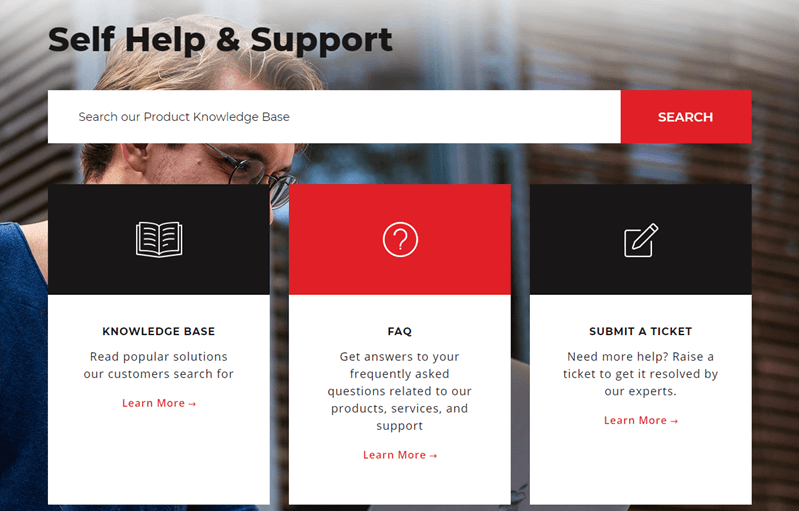 When Stellar Data Recovery users need help, they can contact one of the several provided customer support numbers or submit a ticket. There's also an extensive knowledge base with data recovery-related articles and step-by-step solutions to common problems.
Unfortunately, it's possible to find many negative online reviews that detail how unwilling Stellar is to resolve issues with refunds. Some reviews also criticize the technical skills of the India-based customer support staff.
| Feature | Stellar Data Recovery |
| --- | --- |
| User-friendly interface | Yes |
| Intuitive recovery process | Yes |
| Recover data from formatted disks or partitions | Yes |
| Recover data from any disk-based device | Yes |
| Recover deleted files from an emptied Recycle Bin | Yes |
| Photo and video repair capabilities | Yes (Premium edition) |
| Repair damaged partitions | No |
| Data protection tools | No |
| File formats supported | Over 200 |
| Linux support | No |
| Customer support | Phone, tickets, knowledge base |
Data Recovery Process
Stellar Data Recovery features a streamlined recovery process that boils down to three simple steps:
Step 1: Select the type of data you want to recover.
Step 2: Select the storage device you want to scan.
Step 3: Save recovered data.
But before you can get started, you first need to download the application from its website and install it on your computer. Stellar Data Recovery is compatible with Windows 10, 8.1, 8, and 7, as well as macOS Catalina, Mojave, High Sierra, Sierra, OS X El Capitan, Yosemite, Mavericks, Mountain Lion, and Lion.
⚠️
For the purposes of this review, we're using the Windows 10 version, but the Mac version is visually and functionally identical. Installing it was simple enough since all we had to do was to double-click the downloaded StellarDataRecovery.exe installation file and follow the instructions.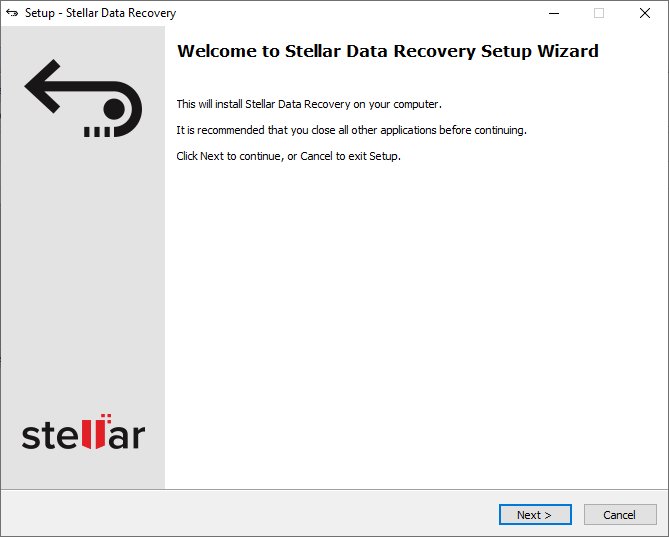 Once we had Stellar Data Recovery installed on our test machine, we were able to launch it by double-clicking the Stellar Data Recovery icon on the desktop. After a few seconds, we were greeted by the main application window and asked to select the types of files we wanted to recover.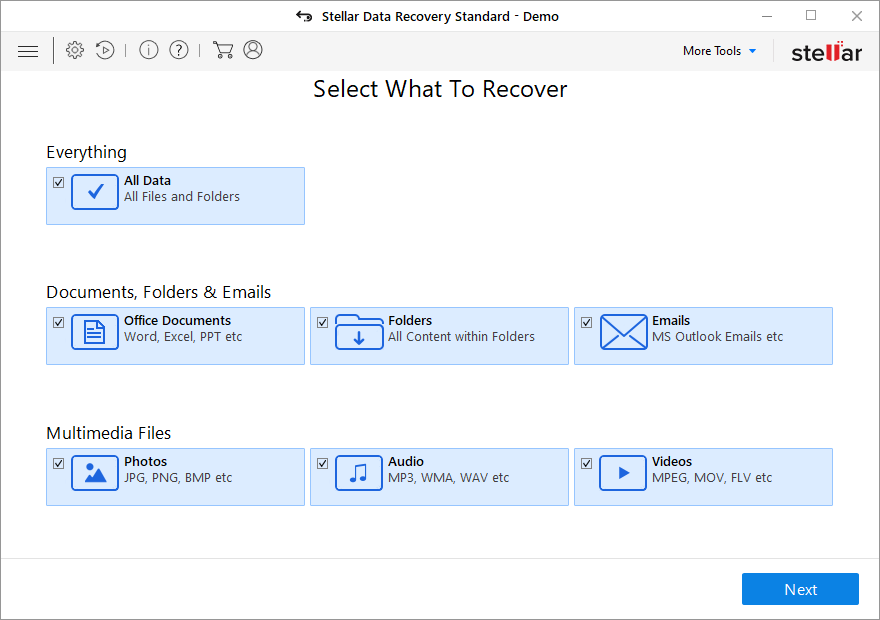 Since all file types are selected by default, we simply clicked Next and proceeded to the next step, choosing our storage device. If you don't want to scan the entire storage device, you can choose a specific location, such as the Documents folder, but this can negatively affect Stellar's performance.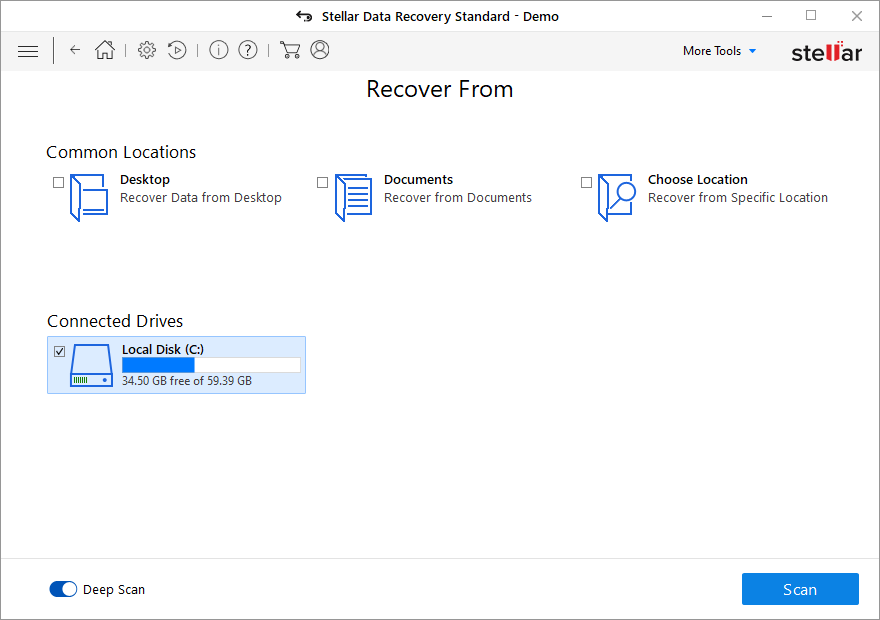 Before clicking the Scan button, we made sure to activate the Deep Scan option located in the bottom-right corner because we wanted to perform a scan based on file signatures and find as many lost and deleted files as possible.

The scan itself took a while, but that's to be expected when performing a Deep Scan. What was somewhat unexpected was the fact that Stellar Data Recovery found 70.31 GB of recoverable data enough though our virtual hard drive was just 60 GB large.
Even more strangely, Stellar Data Recovery found just 45.88 GB of recoverable data when we ran the scan again, after downloading and then deleting 20 images. It's possible that this issue had something to do with running the application inside a virtual machine, though.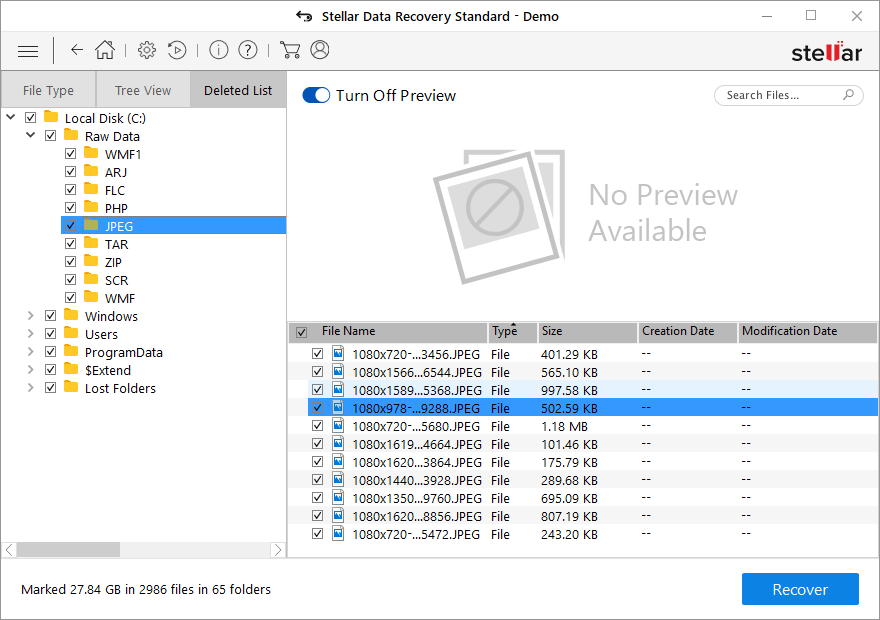 We were then presented with a detailed list of results, which included all files on our machines—not just those that were deleted. So, we switched to the Deleted List tab in the preview window and were quickly able to find our test images. Unfortunately, the preview feature didn't work correctly, so we had to select them blindly.
👀
Overall, the data recovery process is straightforward enough so that even users with no previous data recovery experience should be able to complete it without any trouble.
Pricing

There are several different editions of Stellar Data Recovery, each offering a different set of features at a different price point:
| | |
| --- | --- |
| Free (Windows and Mac) |  Can be used to recover up to 1 GB of data. |
| Standard (Windows only) |  For $49.99 a year, this version can recover an unlimited amount of data. |
| Professional (Windows and Mac) |  Spend $79.99 a year to unlock lost partition recovery, unbootable system recovery, and optical media recovery. |
| Premium (Windows and Mac) |  To repair corrupted photos and videos, you need to purchase the Premium edition for $99.99 a year. |
| Technician (Windows and Mac) |  If you require RAID data recovery capabilities, be prepared to pay $149 a year for the Mac version or $199 a year for the Windows version. |
| Toolkit (Windows only) |  The most expensive edition of Stellar Data Recovery costs $299 a year, and it includes support for virtual drive recovery and five additional file systems (HFS, HFS+, ext2, ext3, ext4). |
As you can see, you can get started with Stellar Data recovery without paying a single dollar, but unlocking all of its features is far from affordable.
The biggest problem with the pricing of this data recovery application is the subscription-based model. Most people need to recover lost data only once every few months, so having to renew a license year after year is not exactly cost-effective when there are many equally capable alternatives that let you purchase a lifetime license for the same amount of money.
Users Feedback
Stellar Data Recovery has been available for many years, so there's no shortage of real user reviews published on various review sites, such as G2, Trustpilot, and Capterra.
The vast majority of Stellar Data Recovery users praise its graphical user interface, finding it intuitive and well-designed. The user-friendly nature of Stellar Data Recovery is especially appealing to people with little to no previous experience with data recovery, who enjoy the step-by-step data recovery process, which makes it possible to recover lost files with just a few simple clicks
The GUI is intuitive, user-friendly and provides the tools and options to search and recover data you thought may be lost due to Windows not recognizing the drive, or portions of the drive being corrupted. The deep scan option often brings back additional data you may not have realized was lost or knew you wanted/needed. (Source)
On the other hand, Stellar Data Recovery users are less than thrilled with its pricing. As we've already explained, this data recovery software uses the subscription model to drive revenue, and users are required to renew their licenses on a yearly basis. Since renewals are not discounted, their cost quickly adds up and exceeds that of many other data recovery applications.
The basic con about this software is that it doesn't suits normal person pocket as their price are little much higher than other software. (Source)
In addition to its steep price, Stellar Data Recovery users also criticize the quality of customer support they receive. Apparently, Stellar is less than willing to adhere to its own terms and conditions and issue refunds to users who have purchased the software by mistake or changed their mind and decided to ask for a refund.
Poor customer service and conflicting terms and conditions which state you are eligible for a refund if the incorrect software is purchased – I have since been fobbed up by their customer service team. I will be seeking legal advice and will not let this drop. (Source)
FAQ
Yes, Stellar Data Recovery is safe to install and use. The installer doesn't contain any malware or adware, and the application itself employs a safe data recovery process.
That depends mainly on the size of your storage device and its speed. If you want to recover an old spinning hard drive using the Deep Scan mode, then you'll probably have to wait a while for the recovery process to finish.
Verdict
Stellar Data Recovery, also known simply as Stellar Recovery or Stellar Phoenix, is a reputable data recovery application for Windows and Mac that provides experienced and inexperienced users alike all the tools they need to recover lost and deleted documents, images, videos, music, and other files.
---
✅
Our verdict: 4.5 out of 5.
David Morelo is a professional content writer in the technology niche who joined the Handy Recovery team in 2019 and has since made an invaluable contribution to the quantity and quality of our materials. David's main principle is not to start working on a new article until he has studied the subject backwards and forwards.
Andrey Vasilyev is an Editorial Advisor for Handy Recovery. Andrey is a software engineer expert with extensive expertise in data recovery, computer forensics, and data litigation. Andrey brings over 12 years of experience in software development, database administration, and hardware repair to the team.