At some point, many computer users will need to make use of photo recovery software. It's very easy to accidentally delete the wrong file or folder and you may need to use picture recovery techniques to get back some irreplaceable memories like wedding photos (or even a video).
🗨️
There are many paid and free photo recovery software solutions that can help you recover from an unexpected data loss scenario. We are going to take a look at ten tools that are available and give you some information to make an informed decision on which one is right for you.
Which Parameters Did We Prioritize When Evaluating Software?
We focused on the parameters that are most important when using image recovery software:
| | |
| --- | --- |
| 💰 Free trials | As this post focuses on free solutions, we will discuss any limitations of the trial versions of paid photo recovery tools. In the case of freeware products, the limit score will indicate the tool's ability to reliably restore lost photos. |
| ⚡ Speed | One of those is the scanning speed of the solution. You want a product that scans quickly and finds your valuable data effectively. |
| 💡 Reliability | Another important factor is its reliability and ease of use, so we looked at those points as well. |
| 🖼️ Supported file types | Your priority should be choosing a software application that supports the image file type you need to recover. This is especially important if your goal is to recover files associated only with, for example, specific digital cameras. That's why we focused on tools boasting a large number of supported image file formats. |
---
✅
Before moving on to our complete ranking, here is a quick recap of the best photo recovery software:
1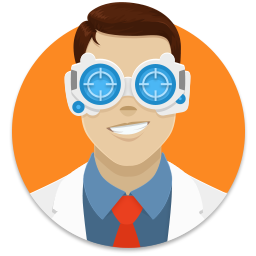 2

Recuva
Platform:

Windows
Distributed as:

Freemium
3

PhotoRec
Platform:

Windows, macOS, Linux
Distributed as:

Open-source
Top 10 Best Photo Recovery Software
Let's see which photo recovery software applications made it to our full ranking.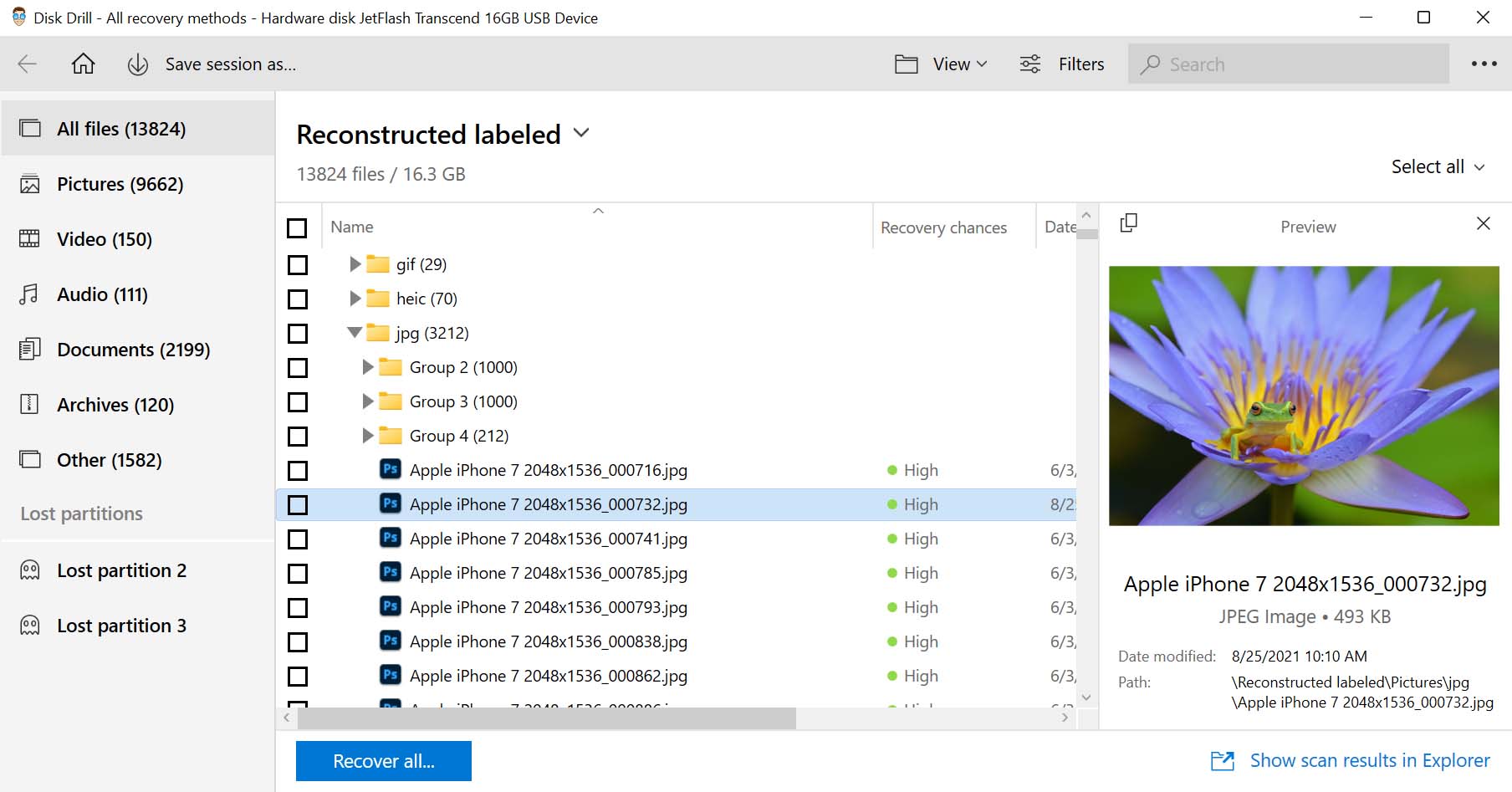 Disk Drill is a flexible and reliable photo recovery application that offers users a free trial version. The application sports a user-friendly interface that makes it easy for anyone to recover their lost photos.
Download Disk Drill Photo Recovery
Key Features:
Advanced scanning algorithms that recognize over 400 filetypes
Market-leading RAW image scanner
An intuitive user interface that provides recovery in a few clicks
Support for virtually all types of disk-based storage devices
Fast scanning and recovery
Deep scan to locate and reconstruct old deleted files
Free data protection tools
User Experience
✅
Disk Drill is an excellent choice to recover deleted images on the Windows or Mac platforms. Its combination of functionality, intuitive interface, and free data protection tools make it the best data recovery solution for recovering lost images as well as any other type of data. The freeware version of the software lets you see how it can help you without costing you a cent. Highly recommended for users facing a data loss scenario.
Restrictions on the free version: 500MB Free recovery for Windows, Free preview of recoverable data for macOS.
2. Recuva (Windows)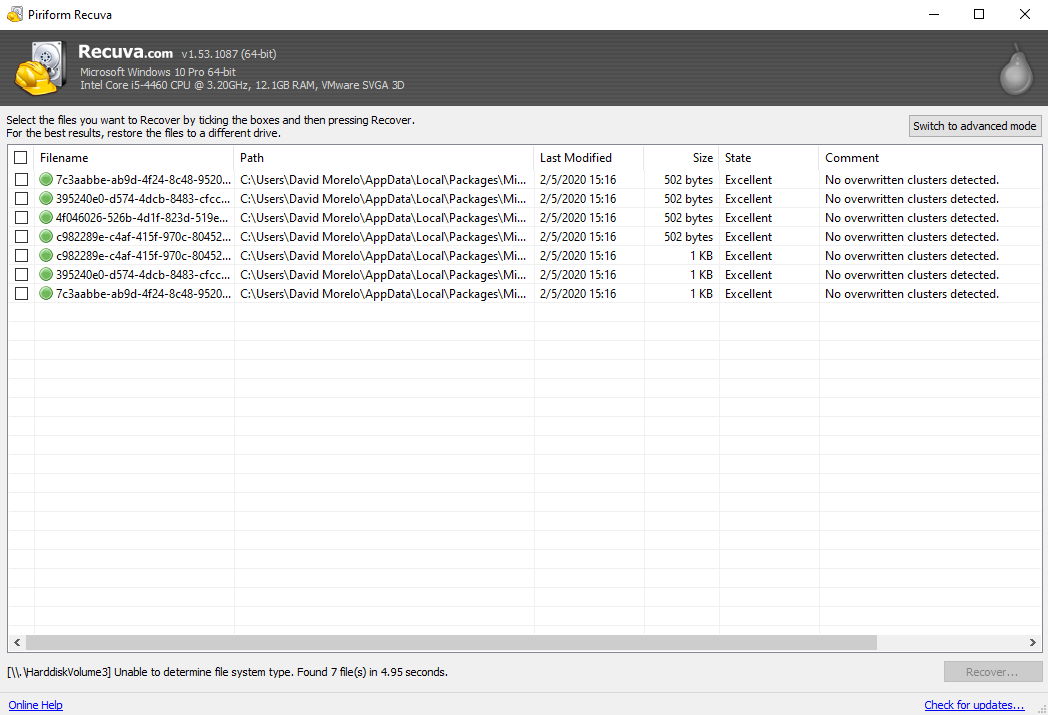 Recuva is available as a freeware tool and also has a paid pro version. It offers Windows users a simple photo recovery tool that can be used to restore lost images on a variety of storage devices including CDs and DVDs.
Key Features:
Unlimited free recovery
Two GUIs for advanced and novice users
Can securely erase files
Good scanning speed
User Experience
✅
Recuva offers limited preview capabilities and its deep scanning procedures can only identify around 100 different filetypes. It can be a useful tool for recovering photos that have been recently deleted and is a nice option for securely erasing data from your system.
Restrictions on the free version: No limits on free recovery
🔗
For more information about Recuva, read our review.
Though Recuva is a very good recovery tool for free, it is very slow and takes quite a lot of time in scanning and recovering the files. Since it is FREE, you can't complain about it being a slow tool. (Neeraj S, g2.com)
3. PhotoRec (Windows, Mac & Linux)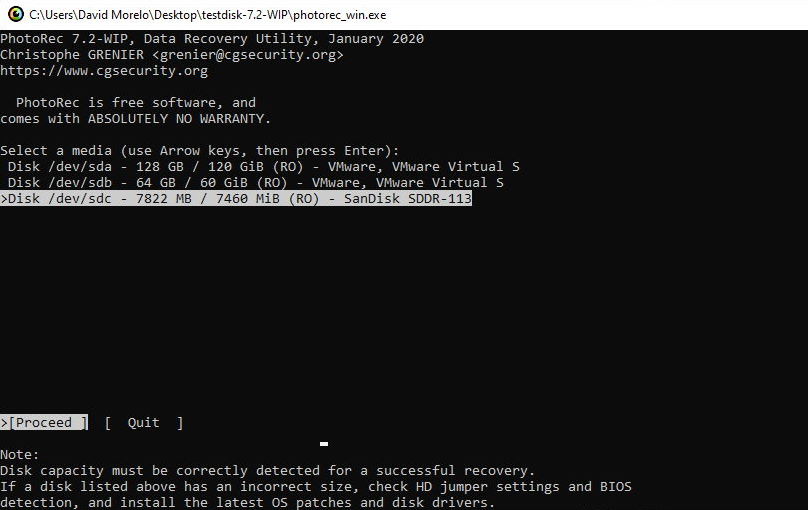 PhotoRec is a freeware tool that supports lost photo recovery for over 480 types of files. It does not have preview capabilities and does not recover folder structure or file names. Additional storage is required to hold the recovery results.
Key Features:
Supports recovery on disk-based storage and SD cards
Free unlimited recovery
Many file signatures supported
Good recovery results
Freeware updated yearly
User Experience
✅
PhotoRec is worth a try as a freeware product but does not have the features of more viable options. The user interface is hard to navigate for typical users and there is no preview option. Experienced users may find the software useful for its wide filetype support.
Restrictions on the free version: Freeware tool with an unlimited free recovery
PhotoRec found a lot more accidentally deleted files on a FAT32 formatted drive than Recuva. Of course Recuva's interface is nicer but in the end it is recovering the data that matters. (CopyTrans, alternativeto.net)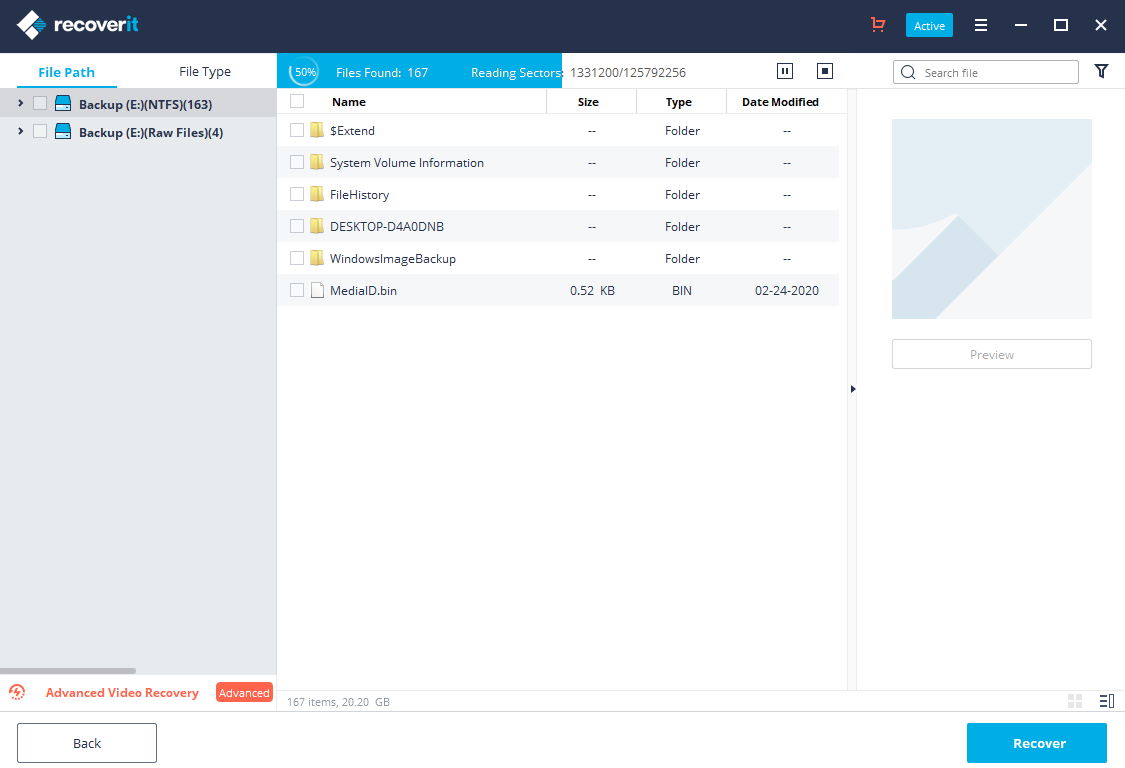 Recoverit is a paid recovery solution with versions available for Windows and Mac systems. It has several different licensing levels and offers a 7-day money-back guarantee. The tool supports many devices and file types for advanced recovery capability.
Key Features:
Supports over 1000 file formats
Deep scanning capability to find long lost files
Recoverable file preview
Free remote technical support
User Experience
✅
Recoverit is a serviceable photo recovery solution that offers a user-friendly method of restoring lost data. The freeware version is very limited, forcing users to purchase the product to verify its usefulness in their situation.
Restrictions on the free version: 100MB free recovery for Windows, free preview for Mac.
🔗
Our Recoverit by Wondershare review can be found here.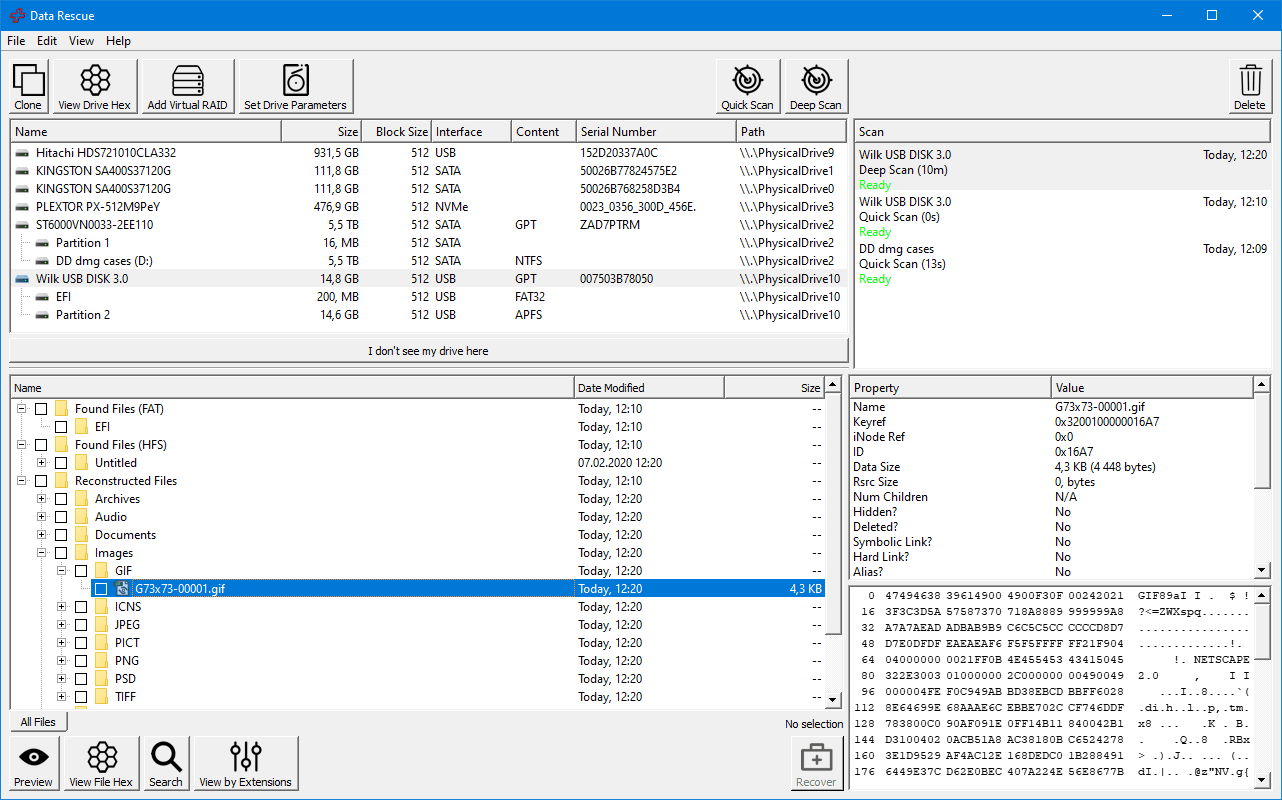 Data Rescue 6 is a professional grade photo recovery tool that has some excellent features as well as some functionality issues and restrictions on its standard version.
Key Features:
Supports many filetypes
Duplicate file recognition
Recovery file preview
Time Machine compatibility
User Experience
✅
Data Rescue 6 is an expensive solution for users who intend to use it often. The standard version only allows you to perform 5 scans, forcing many users to opt for the pro version which is quite expensive. Scanning can't be paused or resumed and is slow compared to other data recovery tools.
Restrictions on the free version: Limited to recoverable file preview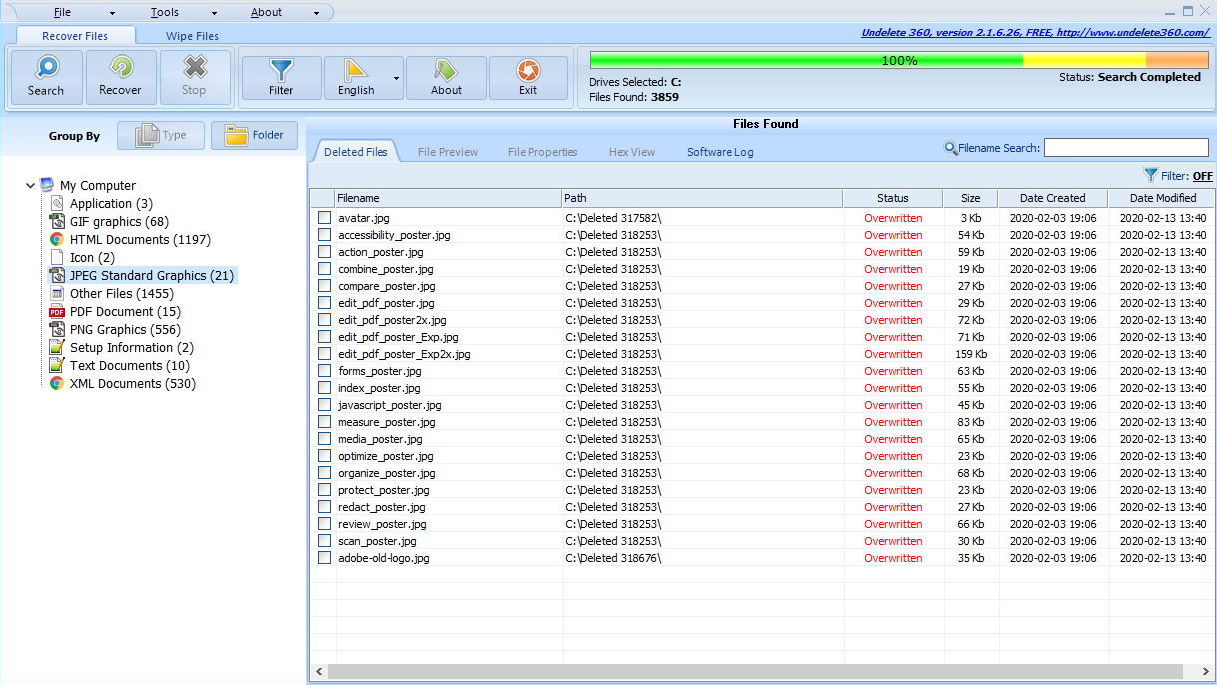 Here is another Windows-specific freeware photo recovery tool that may be able to get your images back safely. It does not have the deep scanning capacity of more reliable solutions.
Key Features:
Free unlimited recovery of recently deleted files
Can securely erase files from your computer
Found file tree graphically displays deleted and lost files
User Experience
✅
Users with Windows 7 or earlier systems can use this tool to recover recently deleted photos from their hard drives. Its lack of a deep scan feature makes it less useful for finding files deleted some time ago.
Restrictions on the free version: Free unlimited recovery
🔗
For more information about Undelete 360, read our review.
7. TestDisk (Windows, Mac & Linux)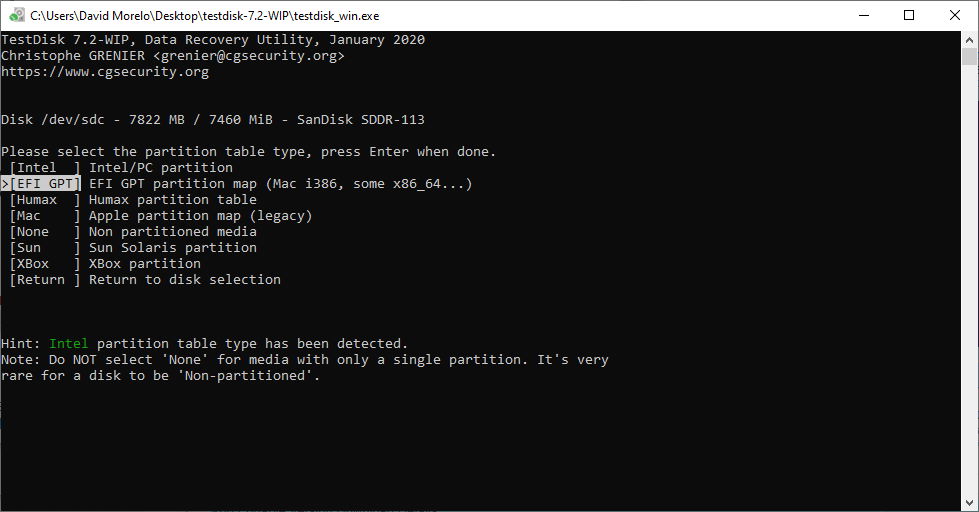 TestDisk is a freeware tool that is designed to recover partitions instead of individual files. It can be very useful if you have accidentally formatted a partition full of valuable images. TestDisk can also help restore damaged partitions, enabling their data to be preserved.
Key Features:
Bootable version is available
Reliable partition recovery
Recovers boot sectors and file tables
User Experience
✅
This is a good tool for recovering full partitions but does not provide the capacity to restore individual files. It is a command-line tool with no GUI and requires knowledge of disk recovery to use successfully.
Restrictions on the free version: Freeware with unlimited file recovery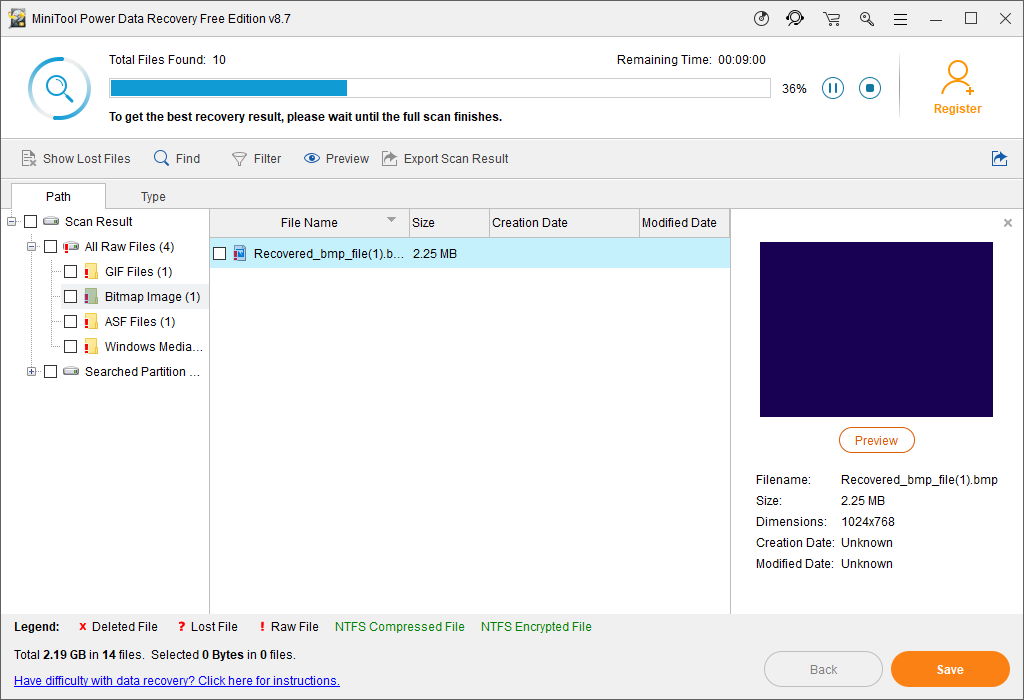 Minitool is a paid image recovery application that offers users a free trial version of the software. It supports disk-based storage devices as well as CDs and DVDs.
Key Features:
A bootable version is available
Fast scanning speed
Can scan damaged DVDs and CDs
User Experience
✅
This tool lacks reliable file preview support and has a tendency to crash while restoring large files. It does offer the ability to recover from DVDs or CDs which may be attractive to some users.
Restrictions on the free version: Can recover 1GB with the free version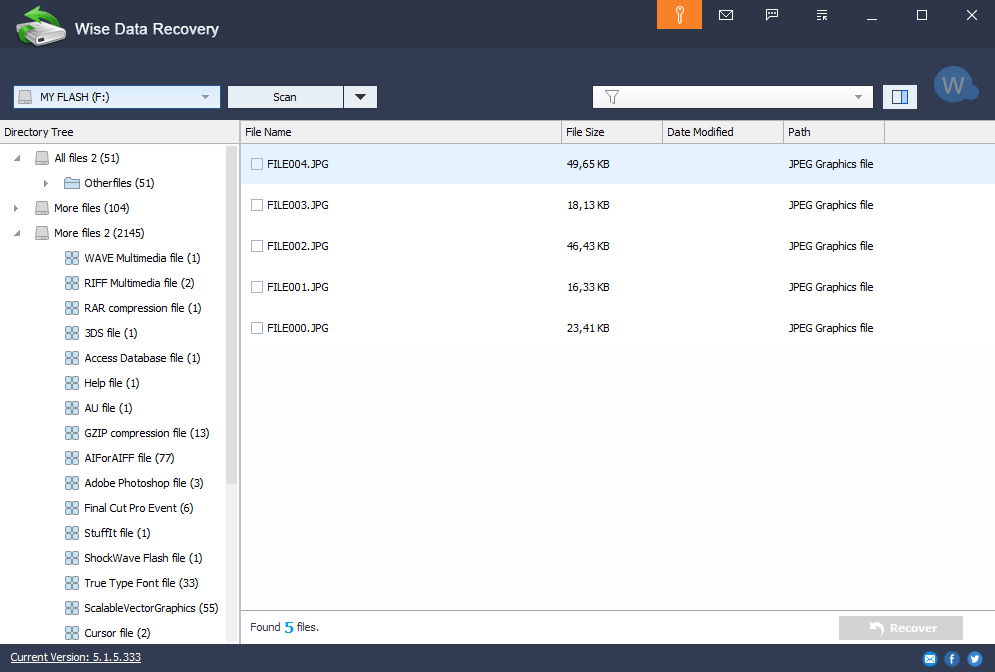 Wise Data Recovery is a paid program with a freeware version that is limited in functionality but not in the amount of data that can be recovered. You can only perform quick scans with the free version of the tool.
Key Features: 
Deep scanning capability in the paid version
Fast scanning performance
Automatic updates
Premium technical support in the paid version
User Experience
✅
Wise Data Recovery can quickly find lost files but may not be able to restore them due to inconsistent recovery performance. During installation, it attempts to download other programs and users must manually uncheck boxes to avoid extra software they may not want.
Restrictions on the free version: Free unlimited recovery with quick scanning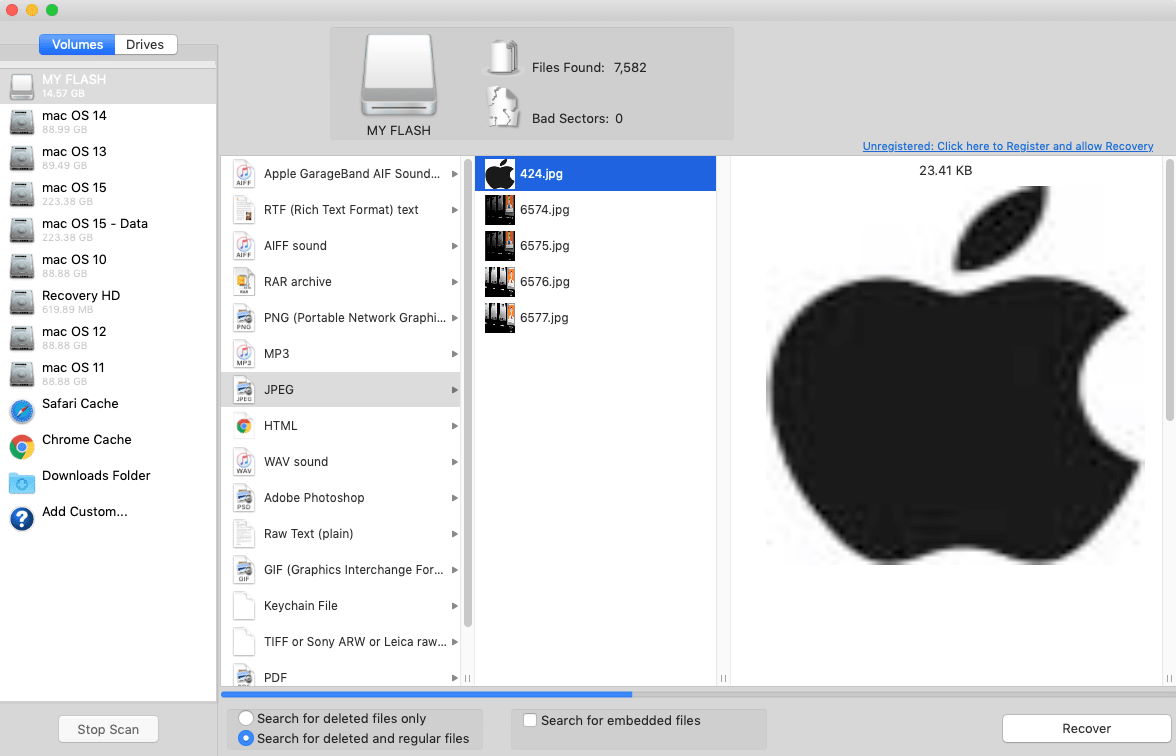 Here is a Mac-specific, paid photo recovery application that offers users a 100% money-back guarantee if not satisfied. The free trial version enables you to see what files the tool can recover before spending any money on it.
Download Mac Data Recovery Guru
Key Features:
Uses content-based scanning for file recovery
Performs satisfactory image recovery
User Experience
✅
You need to spend money if you want a reliable Mac photo recovery solution. There are other applications out there that will provide more functionality and better recovery performance than the Data Recovery Guru.
Restrictions on the free version: Free version only allows a preview of recoverable files
---
Photo Recovery Software Picker
Conclusion
As you can see from our review, free picture recovery software can sometimes get the job done. Free recovery software is either limited by functionality in the case of true freeware or in the amount of data trial versions allow you to recover.
In cases where a small amount of data has been lost, the free trial version of software like Disk Drill is all you need to get your data back. When larger amounts of data need to be recovered, you may be impacted by the limitations of free solutions and be better served by purchasing a paid license.
👀
Did You Know? You can often perform successful image recovery long after the files were deleted from your hard drive. This is because modern operating systems simply remove logical access when deleting a file. The photos still physically exist on a storage device until they are overwritten by new data. Data recovery software scans the storage device and recreates the logical links necessary to access the lost photos. Minimizing the use of the drive after file deletion increases the chance of a successful recovery.
FAQ
Robert Agar is the Content Writer & Managing Editor for Handy Recovery. Robert brings over 30 years of experience in data storage, security, compliance, backup, and recovery to the HandyRecovery team. Several years ago, he turned his attention from hands-on technical roles to develop a career as a freelance writer concentrating on technology and its impact on society. Areas of focus include the cloud, data recovery, artificial intelligence, and industrial automation.
Andrey Vasilyev is an Editorial Advisor for Handy Recovery. Andrey is a software engineer expert with extensive expertise in data recovery, computer forensics, and data litigation. Andrey brings over 12 years of experience in software development, database administration, and hardware repair to the team.