We have all been there. Wiping a drive clean only to realize that it was where your wedding photos were backed up. No problem, your friends tell you. Use any data recovery tool.
Except most tools don't really work as advertised. They dredge up useless things or are limited to stuff removed only minutes ago.
The MiniTool Power Data Recovery is a software touted to comprehensively recover deleted or corrupted data from all kinds of storage media, whatever the file format.
But does the MiniTool Power Data Recovery manage to live up to its expectations? Let's find out.
In a Nutshell
The MiniTool Power Data Recovery is a barebones data recovery tool with a horrendous user interface that leaves the user guessing.
✅
We tested it with a number of storage media with varying levels of data corruption, and the only good thing is that it does perform. We were able to recover data (in some cases, a few months old) from crashed HDDs, old SD cards, and frequently used USB drives with a high level of success.
❗️
Our main problem with the software is the abysmal user interface. Basic functions like formatting a drive or deleting a previous scan result are not represented by any option on the main screens, which makes it very difficult to use this tool.
Another pain-point is the lack of an integrated backup tool. You either need to get MiniTool's Shadowmaker (which unfortunately only works for Windows) or a different application altogether.
Overall, the MiniTool Power Data Recovery is very difficult to use the software that does little to distinguish itself from the competition.
⚠️
Want to help make our content better? Please vote for the best alternative to MiniTool:
1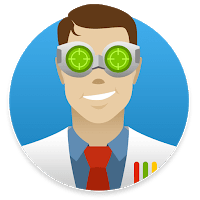 Disk Drill
Platform:

Windows, macOS
Distributed as:

Freemium
2

PhotoRec
Platform:

Windows, macOS, Linux
Distributed as:

Freeware
3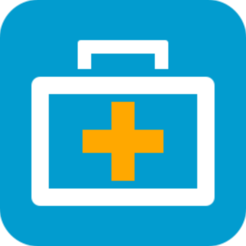 EaseUS
Platform:

Windows, macOS
Distributed as:

Freemium
Highlights
🖥️💻 Supports Both Windows and Mac
There are many data recovery tools available for Windows, but it can often be hard to find a good, working option for a Mac.
The MiniTool Power Data Recovery software is one of the few that services both with equal effectiveness. In fact, its Mac software licenses are more generous than its Windows counterpart and are perfect for a technician working with Macs.
⚠️
The Mac version of MiniTool Power Data Recovery is now called Stellar Data Recovery for Mac. If you want to learn more information about it, we encourage you to read our comprehensive review, in which we describe the app's features, recovery process, and discuss its strengths and weaknesses.
On Windows, the focus is more on enterprise solutions, including licenses for a large number of PCs or servers with free updates.
🗄️ Recover Common File Types and Even Raw Data
The software supports almost all common file types, including every image or video extension. In addition, MiniTool Power Data Recovery can recover raw data as well, which can help you get even the rare file types used by any proprietary in-house software.
The preview option could use some work though, as many times the user is left guessing about the nature of the file they are recovering until they have actually recovered it.
💽 Scan All External And Internal Storage Devices
Running the application gives you access to all storage media connected to the computer, including both internal and external devices. USB drives, SD cards, external HDDs, and even optical drives are supported, apart from the mounted internal disk drive.
It can scan all the different file systems in use too, including NTFS and FAT, the two most common types you will encounter.
In the free version, however, the scans cannot be saved (they are saved, but cannot be opened). This forces you to rescan every time you need to recover a file, which is a time-consuming process.
💾 Bootable Media
A welcome addition is the ability to create bootable USB drives. This helps you scan and recover data from failed hard drives, which cannot be booted into directly and do not show up at all in Windows' built-in recovery service.
The only drawback is that this feature is limited to premium users, forcing you to pay for a license before you can use it.
📁 Scan Specific Locations
Often, you know the last location of the file you are looking for. It can be the Documents, the Recycle Bin, or some other folder.
In such cases, scanning the whole drive can be time-consuming, not to mention confusing due to the sheer number of files that show up.
That is where this feature comes in handy. You can scan and recover files from specific locations and folders, saving time and effort.
Putting it to the Test
Getting the MiniTool Power Data Recovery application up and running is easy. The initial download is quite small (only 2.2 MB), followed by some additional data downloaded during the installation process.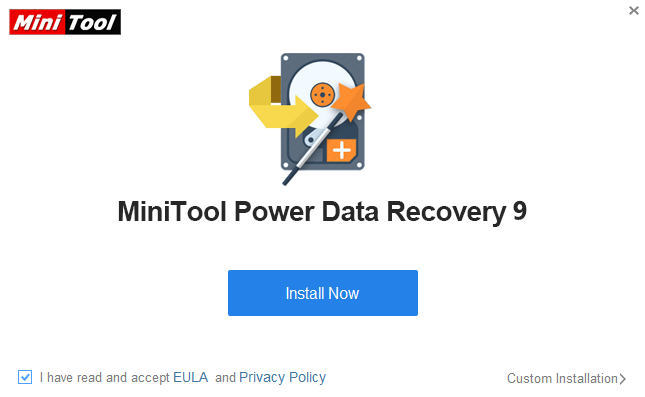 Once the software is installed, you are directly offered the option to fire it up. Clicking the button opens a simple window with a list of all drives currently detected.
There is also a bootable media option at the bottom, for creating a bootable USB to recover files from a failed HDD, but the option is only available in the paid version.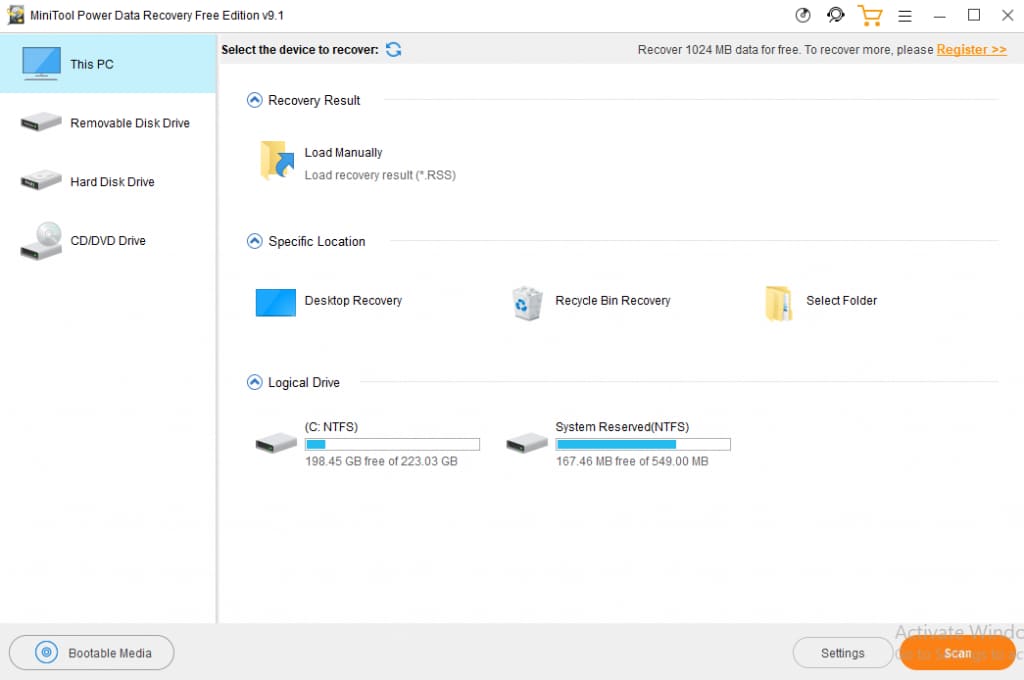 You can scan an entire drive, which shows you all the files that can be recovered, or specific locations if you know where the missing file used to reside. A full scan can take quite long, so the option to search in specific locations is a great idea.
You can also click on settings to bring up a dialog where you can limit the scan parameters, such as choosing specific file systems or certain file types.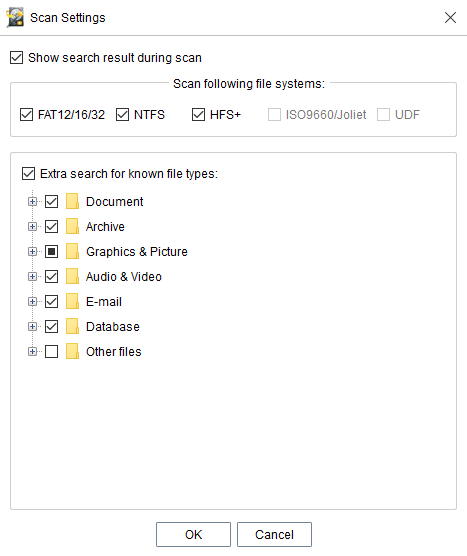 For now, though, we will perform a full scan of the entire C drive.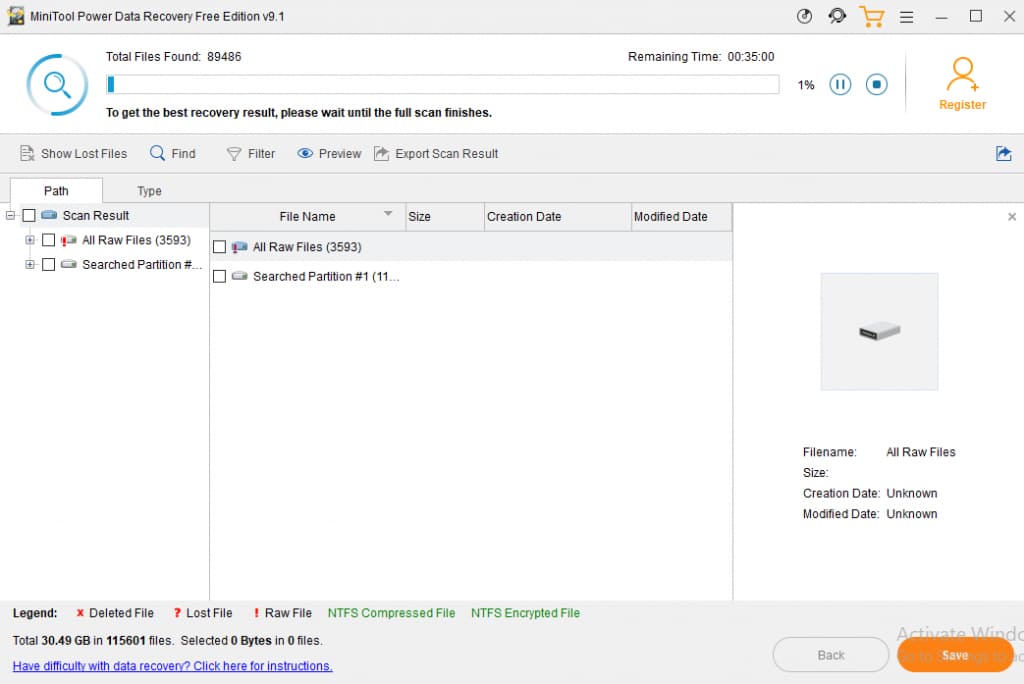 After the first few seconds of wildly fluctuating estimates, the time remaining settles down into a solid, mostly correct number. Since our 240 GB SSD is relatively new (installed two months ago), the scan does not take too long (around 30 minutes) but be prepared for a longer wait on an older drive, especially if it is a traditional HDD.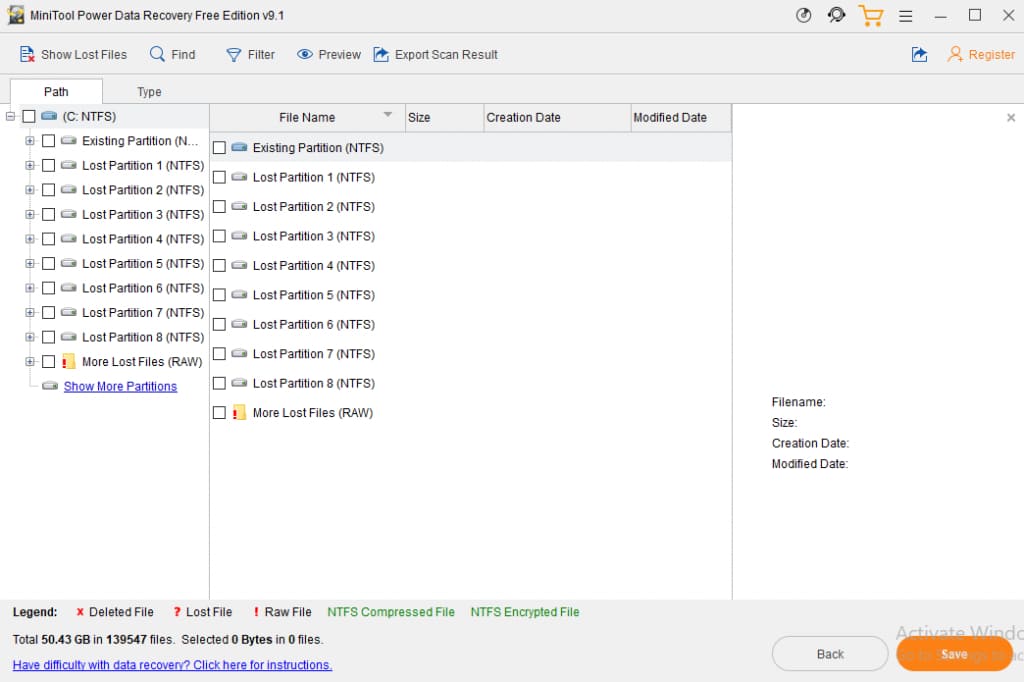 The completed scan reveals a surprisingly high number of lost partitions and the files within them. Do note that while the tool automatically saves the scan results, it does not allow you to access it in the free version.
On an older drive, this will normally result in an unmanageably large list of results. You can use the Filter option at the top to sift through the results or Find a file directly if you remember part of its name.
⚠️
Some of the files will turn up corrupted. On the premium version, there is an option that tries to repair such images and videos with mixed results.
You can try previewing the files before recovering them, although many file types do not translate well into a preview. This is also where a backup option is sorely missed.
Still, the MiniTool Power Recovery software performed well enough in its primary purpose, allowing us to recover deleted and corrupted data quickly and efficiently.
Pricing
Now let's talk about the pricing. Like many software products, MiniTool uses a separate pricing scheme for Mac and Windows.
Windows is where you get the most variety, with a range of offerings for both home and business users.
For home users, the pricing model is built around the duration of usage. $69 and $89 give you a monthly and a yearly license respectively for a single computer, with free upgrades during that period. The $129 version (offered at $99 currently) improves that to a lifetime license and unlimited upgrades on three computers.

All of these plans allow you to recover as much data as you require, unlike the free plan with a 1 GB limit.
Enterprise users are given the option between supporting 1, 99, and 299 computers (including both PCs and servers) with one year of free upgrade service, priced at $119, $399, and $499 respectively. There is also a $199 plan for lifetime upgrades on a single PC or server.
On Macintosh, there are only three plans.
Both the Professional and Premium subscriptions (priced at $99 and $149 respectively) come with a lifetime license on a single Mac; the extra fifty bucks are for MiniTool's proprietary photo and video repair service.

This functionality to repair corrupted visual media is also included in the $149 Technician subscription, along with support for three systems – but only for a year. This is obviously meant for a professional data recovery service that needs to work on multiple systems.
What others are saying about it
✅
Most users have good things to say about MiniTool Power Data Recovery's performance. Very few people fail to get results; for the most part, the software works as advertised.
❗️
Some users are miffed about the lack of a Linux version, while others complain about the lackluster customer support.
The common thread, however, appears to be problems with the user interface. Many are put off by the overly streamlined interface that has no options beyond the recovery itself; a good thing if that's all you want, but a problem if you are looking for any advanced option.
Many features advertised on the MiniTool homepage are almost impossible to find, and the help section on the website has next to no information
FAQ
Verdict
A google search for data recovery tools turns up many candidates for the job. Almost all of them also offer free versions with similar restrictions and features.
The only good thing about the MiniTool Power Data Recovery is its effectiveness. The interface might not be something to write home about, but there is nothing to complain about its primary purpose.
Whether it is failed HDDs or removable media, the application is able to search through a sea of corruption and recover user data. It is fast and has a small download size, allowing you to get started with recovering your files immediately.
The problem is that it is pretty barebones; no backup utility, and outdated UI, and less than stellar customer support.
There are plenty of options in the market that offer the same level of performance and quality of life features at the same time at even more competitive rates. There is no real reason to choose MiniTool Power Data Recovery unless you are a fan of obtuse user interfaces and non-existent customer support.
---
✅
Our verdict: 4.5 out of 5.
A frontend developer turned writer, Levin brings his in-depth knowledge to bear in breaking down complex technical topics into a layman's perspective. A believer in emergent technologies, Levin writes about Machine Learning and Internet-of-Things to explore how people and businesses can benefit from innovation. He also likes going into the nitty-gritty details of software or hardware products to bring an unbiased review that adds value to his readers.
Andrey Vasilyev is an Editorial Advisor for Handy Recovery. Andrey is a software engineer expert with extensive expertise in data recovery, computer forensics, and data litigation. Andrey brings over 12 years of experience in software development, database administration, and hardware repair to the team.