Losing or accidentally deleting a file is bad enough, but when a whole folder disappears it can be overwhelming. You may have accumulated a substantial number of files in that folder that cannot easily be replaced. While your first impulse may be to panic, don't. We may be able to help.
🗨️
Fortunately, several methods can recover a deleted folder on Mac. Using these techniques, there's a very good chance you can recover the lost folder and retrieve your valuable files. So take a deep breath and read on for information on recovering your lost folders.
Quick Navigation
The Different Types of Folders in macOS
Not all macOS folders are the same. They can be broadly categorized as either System or User folders. The type of folder determines the best recovery technique to use in a data loss scenario.
📁 System folders
Your Mac's system folders are comprised of three main folders.
The System folder contains files necessary for the operating system to function properly. Loss of files in this folder may result in unexpected performance from your Mac.
The Application folder holds all of the applications running on your Mac
The Library folder stores files required by macOS and your applications.
A common characteristic of these folders is that macOS will not let you delete them. Individual files can be deleted from these folders and can be recovered using standard data recovery software techniques. If a system folder is lost or corrupted, the best way to restore it is through a Time Machine backup. You can also reinstall the operating system to repair or recover system folders.
💁‍♂️ User folders
macOS keeps all user files in the Users folder. There can be any number of nested folders within the main Users folder, each of which can contain a large quantity of data. If a User folder is deleted, you can use multiple recovery methods to get it back. Based on the situation, you may be able to recover from the Trash, a backup, or with data recovery software.
3 Best Options To Recover Deleted Folders on Mac
Whether you deleted your folder recently or not, there are many ways to recover a lost folder. In this article, we'll show you three easy ways to restore deleted folders on Mac – saving you time and a headache.
Method #1:

Recover the deleted folder from Mac Trash Bin

Although you won't see deleted files and folders on your computer, your Mac does not immediately erase deleted folders. Instead, deleted folders are automatically stored inside the Trash Bin application for 30 days.
Locate the Trash Bin and find your folder. Navigate to the Dock on the bottom of your screen, and click the 'Trash Bin' icon. It is usually located on the far right side of the dock.
Restore your deleted folder. Hover over the folder you want to restore and right-click. From the menu, select either 'Put Back' or 'Restore'. The folder and its contents will then disappear from your Trash Bin and will be restored to their original location.
👀
If you only want to recover a single file from the folder, you can double-click on the folder in Trash Bin, right-click on the file, and select 'Put Back' or 'Restore' to recover the file individually.
Method #1.1 Press undo
If you find yourself needing to recover deleted folders on Mac frequently, it might be useful to learn how to use your computer's 'undo' button. The 'undo' button will erase the last action you took on your computer, making it a great tool for deleted folder recovery.
There are two ways to use the 'undo' button:
First, you can simply press the Command + Z keys.
Alternatively, you can navigate to the top of your screen, mouse over 'Edit', and select 'Undo Move of XXXX'.
Method #1.2 Recover from your Trash Bin using Terminal
You can also recover items from your Trash Bin using the app 'Terminal'. Terminal lets you use a command-line interface to interact with your operating system directly.  This is particularly useful if you are having trouble sorting through your Trash Bin manually, and know the name of your deleted folder.
To recover a deleted folder through Terminal, follow these steps:
Launch Terminal by clicking on 'Applications', then 'Utilities'.
Type in cd .Trash to locate the Trash Bin folder.
Enter ls -al ~/.Trash to view the contents of your Trash Bin.
Once you have located the folder you want to restore, enter the command mv folder ../.

⚠️

NOTE: Change 'folder' for the name of your deleted folder.

After you have restored the folder, type quit to exit Terminal.
This will allow you to recover deleted folders on Mac's instantly.
Method #2:

Recover deleted Mac folders using Data Recovery Software

If you are unable to recover your folder from the Trash Bin, you may be able to recover the folder directly from your hard drive. After your Trash Bin is emptied, files and folders are stored on your hard drive until they are overwritten.

Disk Drill works by scanning your computer and displaying all folders that can be recovered. The program is affordable, and can be tested for free on Windows and Mac.

Here's how you can recover deleted folders as a first-time Disk Drill user.
Check your computer is compatible. Check that your Mac is compatible with Disk Drill ensuring your computer is updated to Mac OS X 10.8.5 or later.

👀

Hint: You can check for software updates by navigating to 'System Preferences' and selecting 'Software Update'.

Download Disk Drill for Mac. Then, navigate to your Downloads Folder, and double-click the file named 'diskdrill.dmg'. When prompted, drag the Disk Drill icon into your Applications folder to install it.
Launch Disk Drill. Launch the Disk Drill application by double-clicking the program's icon. You will need to give Disk Drill permission to scan your hard drive by entering your administrator password.
Scan your hard drive. Select the partition you want to scan and press the 'Search for lost data' button. Disk Drill will first perform a Quick Scan of your hard drive and then automatically follow up with a Deep Scan, which can take a while to complete. Once the scan is over, you can click the 'Scan entire disk' option to scan remaining partitions on the same storage device.
Find your lost folder. Finally, go through the scan results and locate the folder you want to restore. Add all files contained inside the folder to your recovery queue and click the 'Recover' button. If you've already upgraded to Disk Drill PRO, you will be asked to specify the recovery location. Make sure your recovery location isn't on the same hard drive as the folder you want to recover and click 'OK' to proceed.
Recover deleted folders. Once you have located your deleted folder, select the file, choose a location to restore it to, and press the 'Recover' button. You will then be prompted to upgrade to PRO. Disk Drive will then restore your deleted folder to the location you choose.
⚠️
If you were using Disk Drill before your folder was deleted, follow steps 3 – 6, as your folder can likely be recovered using Disk Drill's data protection tools.
Method #3:

Recover deleted folder on a Mac using Time Machine

If you are unable to locate your folder in your Trash Bin and have previously installed Time Machine, you can use the program to restore deleted folders in a few clicks.

👀

Time Machine is an in-built system that automatically backs up data from your apps, books, photos, music, emails, and documents. Time Machine backs up the contents of your Mac to an external hard drive, storing new data locally as it is created. This gives you easy access to deleted folders, even when they have been erased from the Trash Bin.

Here's how to recover a folder using Time Machine.
Open Time Machine. Navigate to 'System Preferences' by selecting the apple menu. Double-click the Time Machine icon. Select the checkbox next to 'Show Time Machine in menu bar'. This will allow you to access Time Machine through the menu bar.
Enter Time Machine and find your deleted folder. Select the Time Machine icon on your menu bar, and click 'Enter Time Machine'. Inside the Time Machine, you can find your folder manually, or use the search bar. Select your deleted folder, and click the 'Restore' button at the bottom of the Time Machine window.
⚠️
Once Time Machine has finished the deleted folder recovery process, your folder will be returned to its original location.
How to ensure you never lose another folder
Recovering a folder you thought was permanently lost can give you feelings of immense relief. Thankfully, there are steps you can take to ensure you never lose another folder.
⌚ Set up Time Machine on your Mac
As mentioned above, Time Machine automatically backs up the data on your Mac. This ensures folders that are deleted can be recovered quickly, saving you stress and time.
To set up Time Machine, simply connect an external hard drive to your Mac and select 'Use as Backup Disk' when prompted.
Time Machine will then backup your data hourly unless you choose otherwise.
🔐 Lock your folders
If you need to keep an important folder from being deleted, you can always lock the folder. Locking a folder prevents it from being deleted accidentally by giving you a warning when the folder is added to the trash.
You can lock a folder by right-clicking the folder, navigating to 'Get Info', and pressing 'Locked' under the general settings.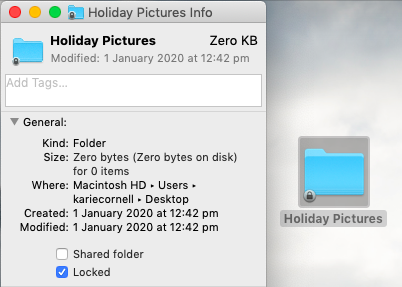 👀
Once you lock a folder, you will need to unlock it before you can make any changes to the contents of the folder. Unlock the folder by right-clicking the folder, pressing 'Get Info', and de-selecting 'locked'.
☁️ Store your folders with iCloud
If you need to recover deleted folders on Mac often, it may be worth storing backups of your data with iCloud. You can set up iCloud by navigating to 'System Preferences' and selecting 'iCloud'. From there, you can enable 'iCloud Drive', which will backup your folders and files.
🛡️ Ensure your device is virus-free
Computer viruses are nasty at the best of times, but many computer viruses are known to delete folders and files. To stop this from happening to your Mac, monitor your internet downloads with an antivirus program.
FAQ
The most efficient way to recover a lost folder on a Mac is with data recovery software. Most recovery apps use a similar process to restore lost data.
Install the recovery software.
Select the device that stored the deleted folder.
Scan the device for recoverable data.
Choose the recoverable items that you want to restore.
Complete the recovery.
There are several recently deleted folders on a Mac. The main one is the Trash Bin which is a special folder that temporarily holds recently deleted items. There are also application-specific recently deleted folders in apps like Photos and Notes.
Yes, it is possible. If the folders were deleted recently they may be able to be restored from your Mac's Trash. The Trash should always be the first place you look for deleted items on your Mac. You can also use Time Machine to restore individual files and folders from a recent backup.
Summary
While it may seem like a deleted folder is gone forever, this is seldom the case. In just a few clicks, lost folders can be retrieved from your Trash Bin and hard drive with a little time and the help of Time Machine and data recovery software.
Andrey Vasilyev is an Editorial Advisor for Handy Recovery. Andrey is a software engineer expert with extensive expertise in data recovery, computer forensics, and data litigation. Andrey brings over 12 years of experience in software development, database administration, and hardware repair to the team.