Losing files on your Mac, whether by accident or as a consequence of hardware failure, is an inconvenience. At some point, unfortunately, almost everyone experiences it.
However, losing an entire partition on your Mac can be critical, especially if there are files that you urgently need for work or school. This could turn out even worse for those who are unfamiliar with Mac partition recovery, or even Mac partitions in general.

In this article, we're going to look at some helpful ways you can recover deleted partitions on your Mac to recover the files you need.

What Are Mac Partitions?
Apple File System (APFS)
By default, all Macs with macOS 10.13 or later use the Apple File System (APFS) partition type. APFS is optimized for SSD storage that's used in recent Mac computers, but it also supports older, traditional hard disk drives (HDD) and externally attached storage. APFS has strong encryption and features space sharing, snapshots, and improved file system fundamentals.

Mac OS Extended (HFS+)
Prior to APFS, HFS+ was the default file system, appearing on all Macs with macOS 10.12 and earlier. While it can still be used as a partition type, Apple discourages it, as it lacks important features that are otherwise very common in modern partition types, such as encryption.

MS-DOS (FAT) and exFAT
Both FAT and exFAT are file systems developed by Microsoft, and are traditionally found on Windows systems. Apple supports these partition types for those who work with dual operating systems, or external storage devices formatted in Windows.

What Can Cause Partition Loss on Your Mac?
There are many reasons why a partition could have been deleted or lost. Here are a few that could be the cause of the problem.
In most cases, partition loss is caused by a hardware-related issue, like a fatal hard drive error. While it is possible for someone to accidentally delete or format a partition, the chances of this happening are low unless the user is actively manipulating settings associated with disk management. Hardware failure, unfortunately, is unavoidable most of the time and can strike at random.
Another contributing factor to lost partitions can be malware. Malware and viruses can be designed to corrupt your data and specifically target your disk drives, causing catastrophic loss of your files.
No matter how it was lost, we're going to look at a few ways you can recover your data.
How To Recover Specific Files from a Mac Partition
Instead of recovering the whole partition, you may only need to recover a few important files. In this case, you can use specialized software to recover the files that you need. For file recovery, you can try Disk Drill, recovery software for Macs that focuses on recovering deleted files.
Our editorial team makes use of it all the time because it's simple, robust, and has a proven record of successful file recoveries. Not to mention, it's a lot more cost-effective compared to other file recovery software on the market.
In some cases, you don't need to recover the whole partition, just a few files that were lost. Disk Drill is the recommended software for recovering individual files instead of the whole partition.
To recover files from a lost Mac partition using Disk Drill:
1. Download and Install Disk Drill
Disk Drill is available for both Windows and Mac. To begin, download Disk Drill to your Mac, and install it.
2. Scan Your Mac
Once installed, open Disk Drill. Inside, you'll be able to see your hard drives and partitions, as well as a "Search for lost data" button. Click the "Search for lost data" button on the drive where data loss has recently occurred. This will begin scanning the disk for recoverable data.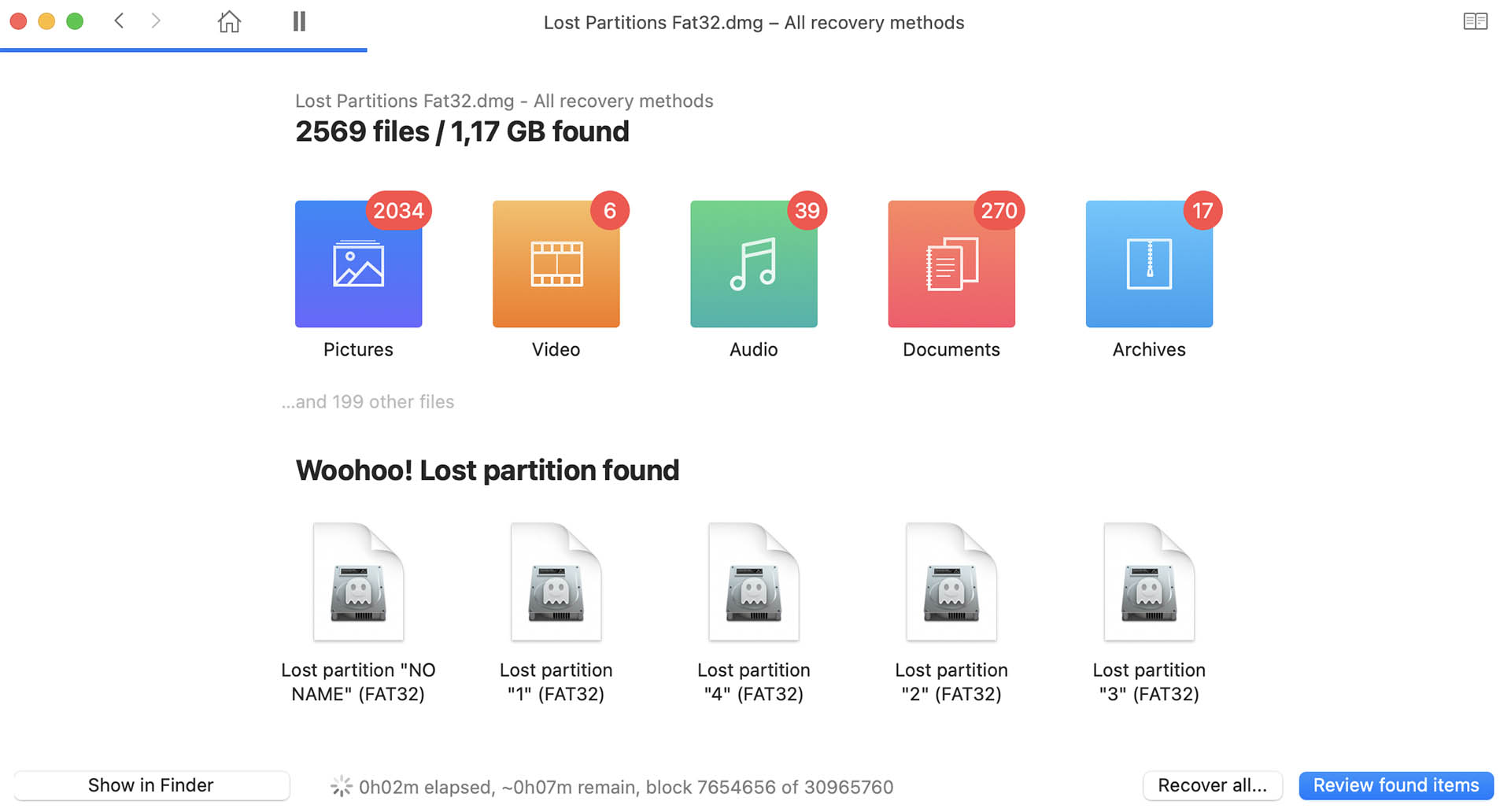 3. Recover Your Files
One Disk Drill has finished scanning the drive or partition, you will be presented with a list of files that you can choose from to recover. At this point, it's as easy as selecting the files you'd like to recover, and clicking the Recover button.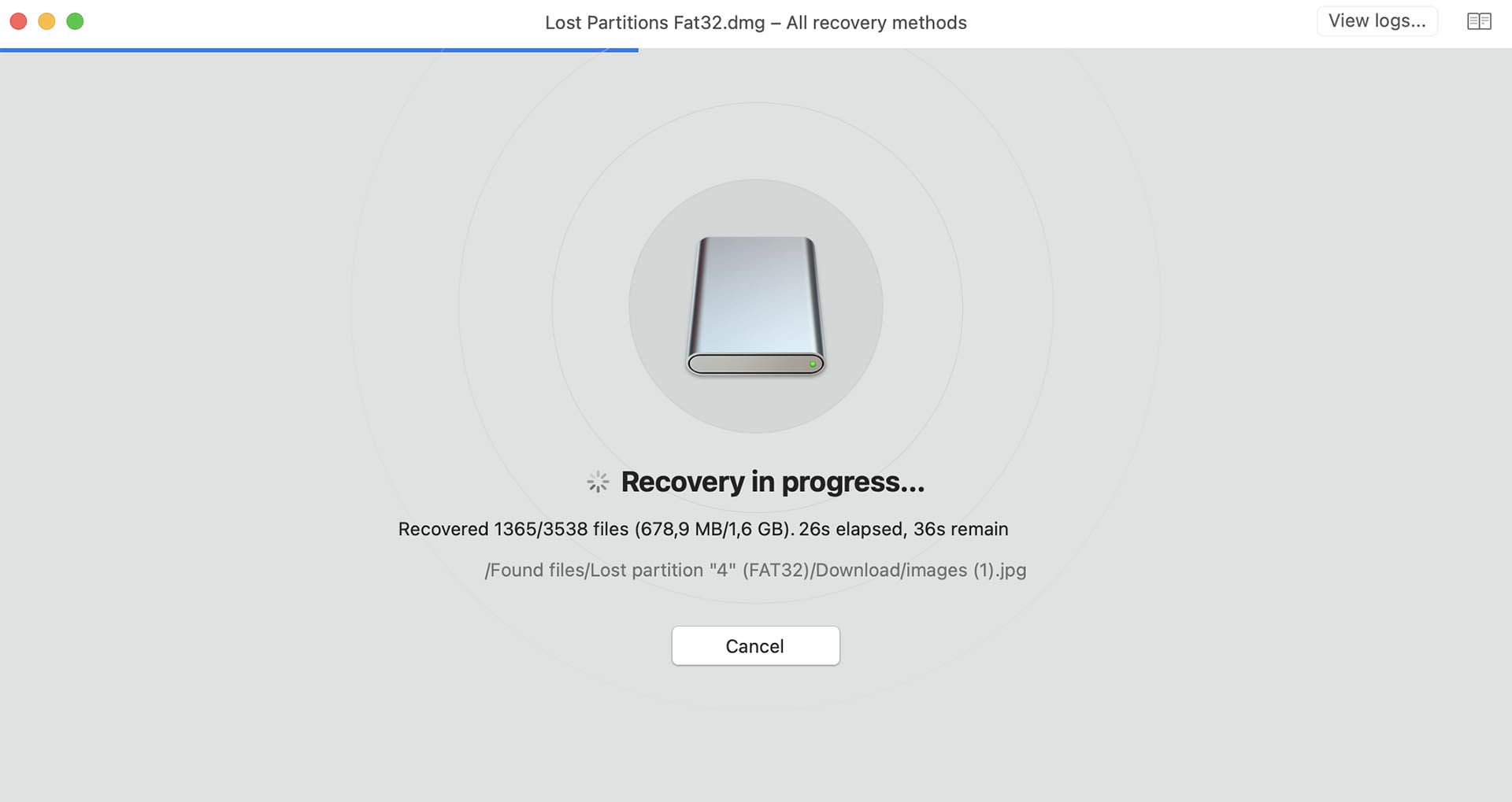 How To Recover a Deleted or Lost Partition on a Mac
To recover entire partitions that have either been lost or deleted, we'll need a larger solution. TestDisk is a great tool for recovering whole partitions. Open source and available on multiple platforms, it's the go-to tool for big jobs like this.
Because it doesn't offer a graphical interface, it's not as beginner-friendly as applications like Disk Drill. However, we've written some instructions below for you to follow.
To recover a lost or deleted Mac partition using TestDisk:
1. Install TestDisk Using Homebrew
Homebrew is a free, open-source software package management system that allows you to install software on macOS. You can install it by pasting the below command in Terminal:
/bin/bash -c "$(curl -fsSL https://raw.githubusercontent.com/Homebrew/install/master/install.sh)"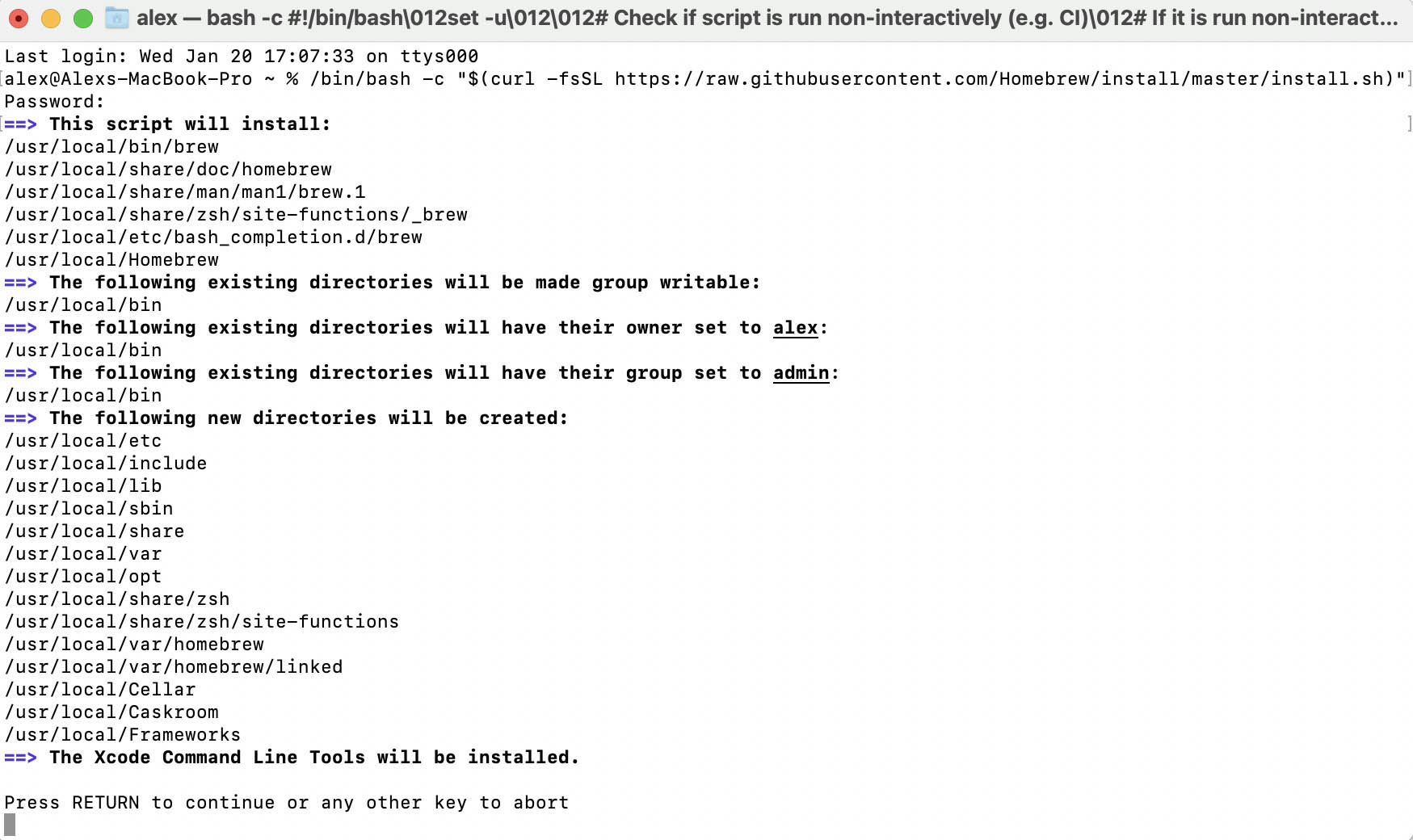 After this, to install TestDisk open Terminal and type:
brew install testdisk

2. Use TestDisk to Search for Lost Partitions
In order to launch TestDisk, use the below command in your Terminal, and hit Return to launch TestDisk.
sudo testdisk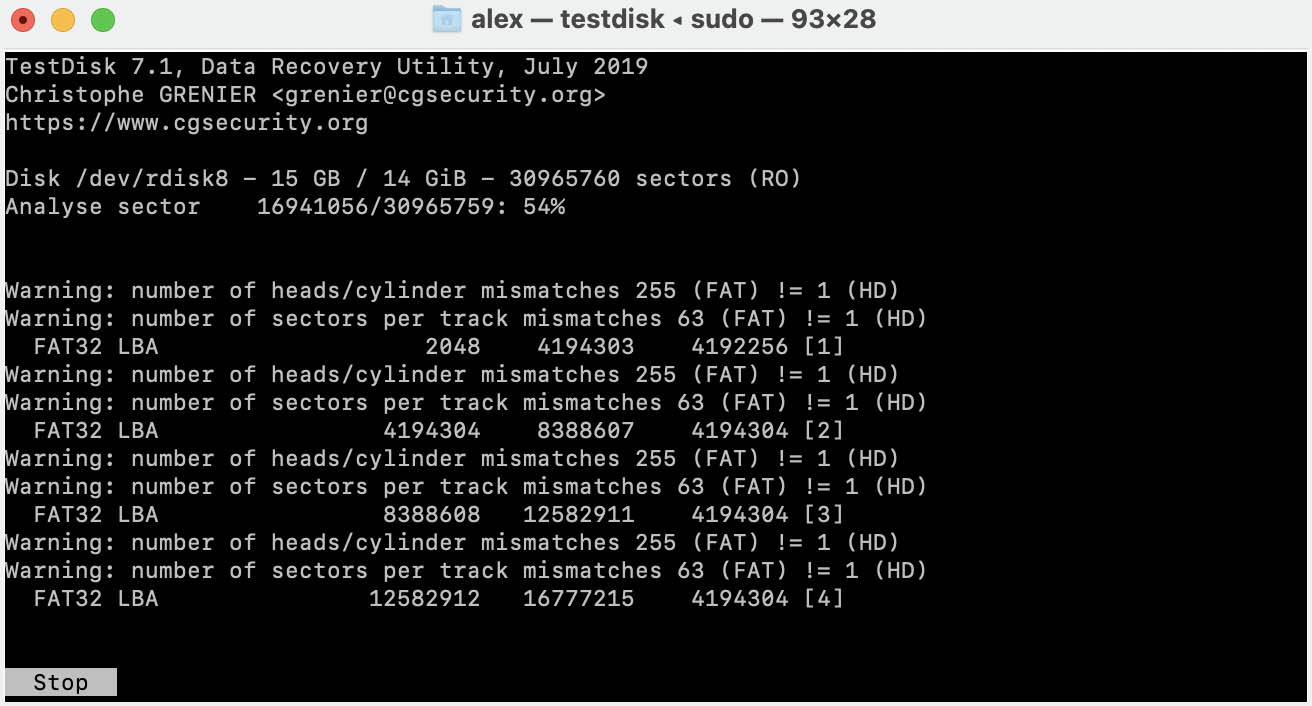 Upon launch, TestDisk will ask if you'd like to create a new log file. This is recommended, as it will give you a full overview of the tasks being executed. Once you've decided, you will need to choose the drive you want to scan, as well as the partition table type. TestDisk automatically suggests the correct option. On the next screen, choose to analyze the current partition structure and search for any lost partitions. Lastly, you will have the option to begin a Quick Search.
3. Recover The Partition
Upon completion of the Quick Scan, TestDisk will show you all recoverable partitions. Choose your partition and hit Return to continue. You will have the option to Write, which will save the partition structure.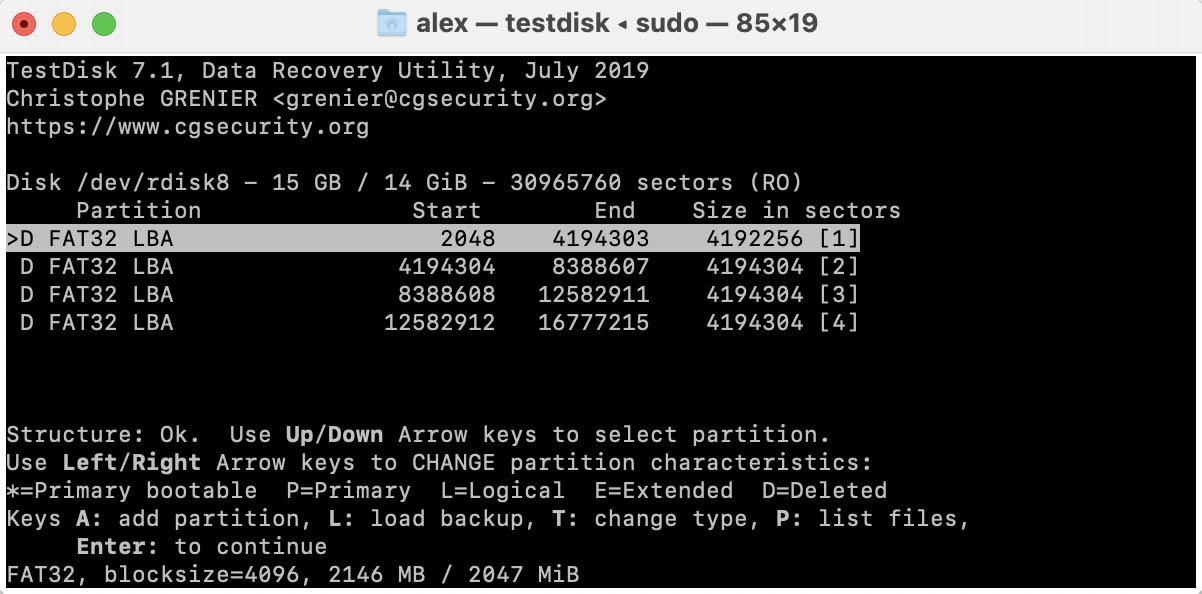 If your partition is not visible, you can continue with a Deeper Search for an in-depth scan. Once finished, you will be presented with another list, containing the recoverable partitions.
How To Repair a Damaged Partition on Your Mac
Not all fixes require third-party software. In fact, sometimes you can get away with using Apple's Disk Utility app that comes with your Mac.
To repair a damaged partition using Disk Utility:
1. Open Disk Utility
Through Finder, go to Application > Utilities and open Disk Utility. For recovery of partitions on the same drive your operating system is installed, it's recommended you boot into macOS Recovery mode before launching Disk Utility.
2. Choose The Partition
Choose the partition you'd like to assess, then click on the First Aid button.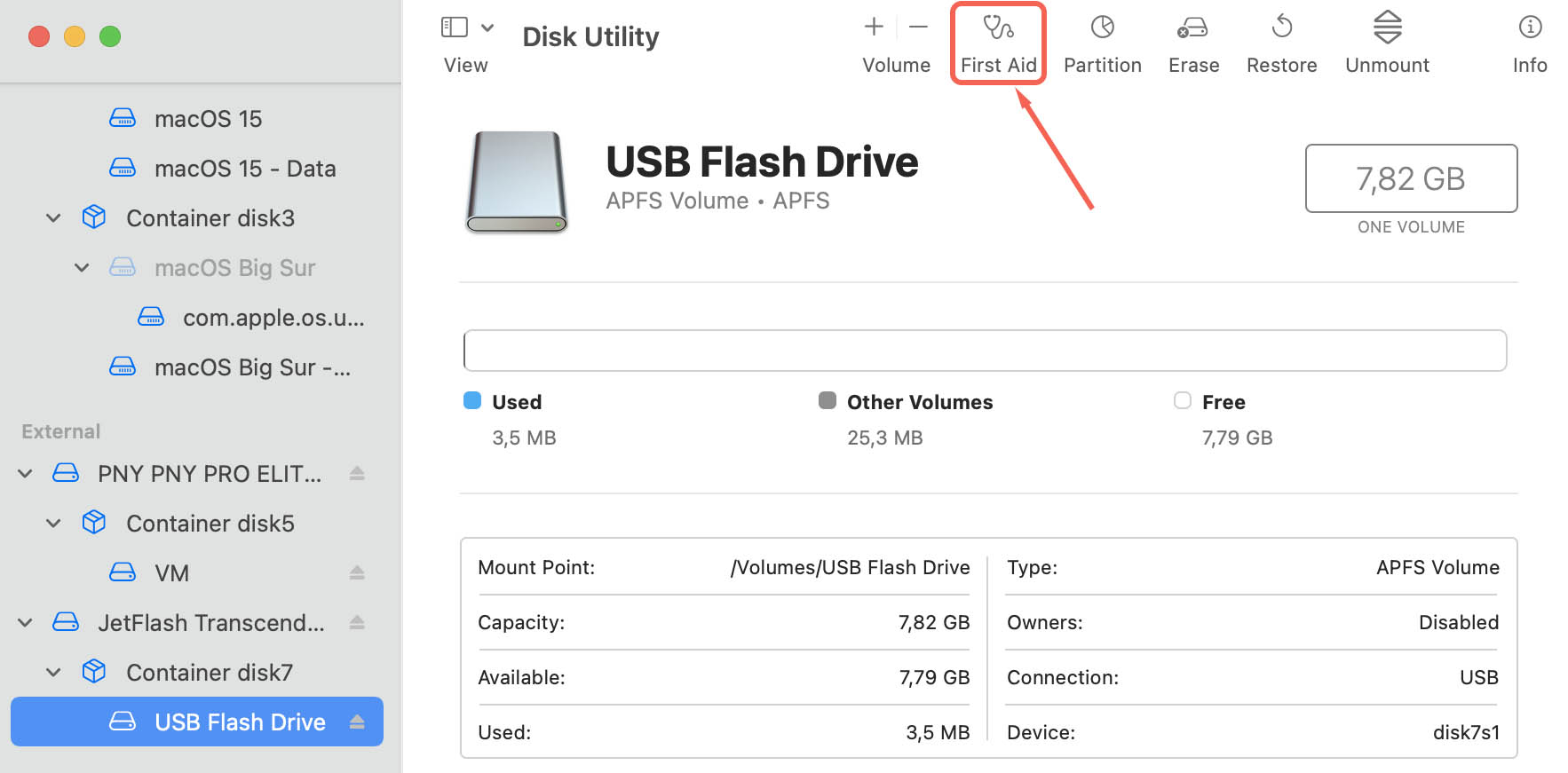 3. Confirmation
A simple screen will pop up asking you for confirmation. Click Run, and it will begin to search for problems, and automatically repair them where possible.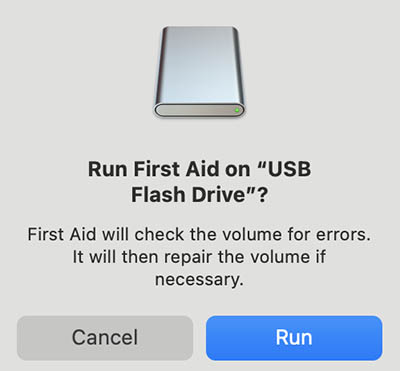 How To Protect Against Mac Partition Loss
While there isn't a bulletproof way of guaranteeing your disk drives won't fail at any point in time, there are some proactive steps you can take to protecting your data, making data recovery a lot easier for yourself, and/or your team.

📁 Make Backups
Making backups of your data is truly the best way of retaining your files. Backing up your data is important, as it not only ensures that your files are safe, but it also makes it easier to recover them in the event of disk failure.
One of the best ways of backing up your data is by using a cloud service like Google Drive or Dropbox. These services hold your data for you, and make it accessible from anywhere with a data connection.
An added benefit of using a cloud-based service like Google Drive is that it makes it a lot easier to collaborate with your team, as they all have access to the files from a central location.
⚙️ Regularly Check Your Disk Health
Although SSD technology is becoming increasingly popular (and cheaper), hard drives still reside in a great portion of the computers we use. Because hard drives contain moving parts, they're susceptible to failure over time. It's not a matter of if it will happen, it's a matter of when it will happen.
To reduce the risk of hard drive failure, you can routinely check the health status of your hard disk drives through Disk Utility. This gives you the best chance of identifying when it's time to switch out your storage. To learn more, check out this post from OSXDaily.
🩺 Use an Antivirus
As mentioned previously, malware and viruses can contribute to data loss. As a Mac user, you're less susceptible to viruses compared to a Windows user. However, this doesn't mean that the threat isn't real.
Malware and viruses are still a threat for Mac users, so to ensure you're protecting yourself (and your data) against these digital threats, it's recommended you actively use an antivirus. Malwarebytes offers a free version of their software that allows you to clean your infected Mac, alongside a premium version that comes with added benefits, like active malware protection.
Symptoms of a Failing HDD
If you want to keep an eye out in anticipation of hard drive failure, here are some symptoms you can remain vigilant of.

Slow Data Access – Your Mac is taking extra long to access files that were otherwise quick to access before.
Loud and Excessive Spinning – Your Mac sounds like it's working twice as hard when opening applications, or even sitting idle.
Random Dismounts – For external drives, they can start dismounting from your Mac at random.
Clicking Noises – You can hear clicking noises coming from your Mac, particularly where your HDD is located.
Intermittent System Performance Issues – This could be a range of things, such as your Mac freezing, applications closing, or files randomly corrupting.
If you are experiencing any of the above issues, it's recommended that you do a health check on your hard drive using Apple's Disk Utility. If it returns with concerns, it could potentially mean that it's time to switch out your hard drive.
Conclusion
Having a plan in place for disk failure is proactive. This means doing what you can to prevent your data from being lost or deleted in the first place.
In most cases, partition loss is unpredictable and unexpected. However, as mentioned above, there are some steps you can do to better prepare yourself for when data loss happens.