In our in-depth Disk Drill review, we go over the data recovery application's main and extra features, its recovery process, and several other aspects that you should take into consideration when evaluating whether it's worth your money. Hint: Disk Drill is worth every penny, and there's even a free version.
Jump to:
Windows users may already be familiar with Disk Drill Data Recovery. It has been a reliable solution for resolving data loss issues for many years. Its developers at CleverFiles have recently released the latest update of this versatile data recovery tool. Disk Drill for Windows 4.5 provides even more powerful data scanning and recovery capabilities as well as an improved user interface. We encourage readers who are unfamiliar with the way data recovery software works to visit our guide on the subject. Let's take a look at the application's features so you can see if it's right for you.
Guys, we have great news! CleverFiles reached out to us and provided a
discount coupon
exclusively for our readers. Use promo code
"DD20-OFF"
or follow
this link
to save 20% when you upgrade to Disk Drill PRO.
| | |
| --- | --- |
| Parameter | Score |
| User Friendliness | 9.5 |
| Recovery Process | 9.0 |
| Features | 9.5 |
| Pricing | 9.0 |
| Support | 8.5 |

#1

Main Features
Users choose software tools based on their features and usability. Satisfying those criteria has always been the focus of the team at CleverFiles. Disk Drill for Windows 4.5 continues this practice with the new version of their data recovery software. It offers users an intuitive and powerful platform for recovering lost and deleted data from any type of disk-based storage device. Data protection tools are included for free to help keep your important data safe. Let's take a closer look at what you get with Disk Drill.
Good to know: Disk Drill is sometimes wrongly referred to as "Disc Drill." Although the words "disk" and "disc" can be used interchangeably, the former is the preferred spelling in computer-related usage.
User-Interface
Experienced users of Disk Drill data recovery software will immediately notice the changes to the tool's interface. The application's features are laid out in a much more user-friendly way that makes them all easily accessible from the program's main window. From the panel on the left side, you can choose Data Recovery, Data Protection or Drive Backup. You can also easily access previous complete or paused scanning sessions.
When you select Data Recovery, the central window displays a list of all disks that are available to be scanned by Disk Drill. You can choose to view them in a tree or detailed format. When you choose to scan a disk, the results are displayed in the main window and they can be paused, restarted or saved with just a click.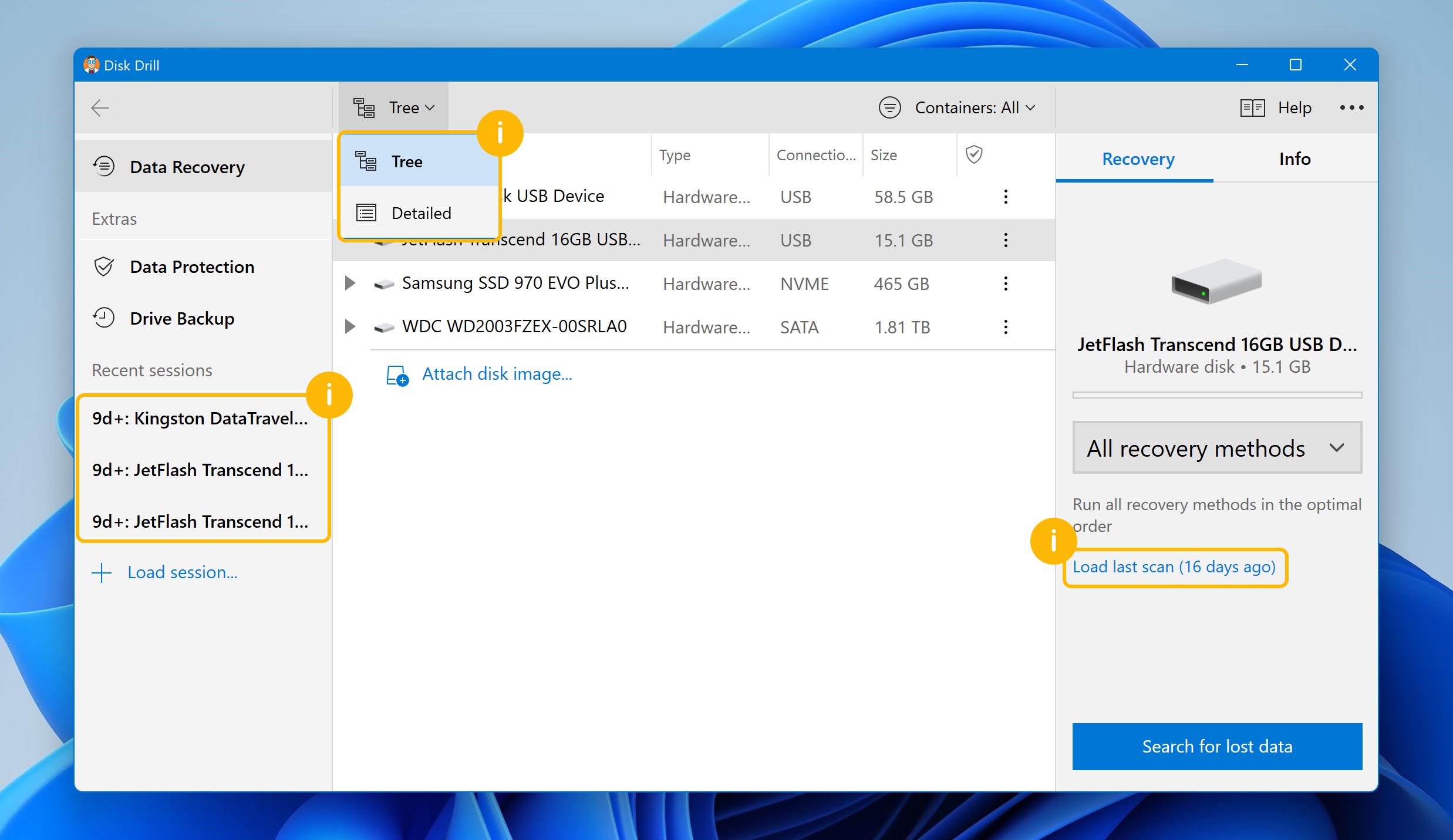 Similarly, clicking Data Protection opens a window that shows the Recovery Vault settings and allows you to change the configuration. Choosing Drive Backup provides video instruction on creating a byte-level backup and lets you perform that operation with a few clicks.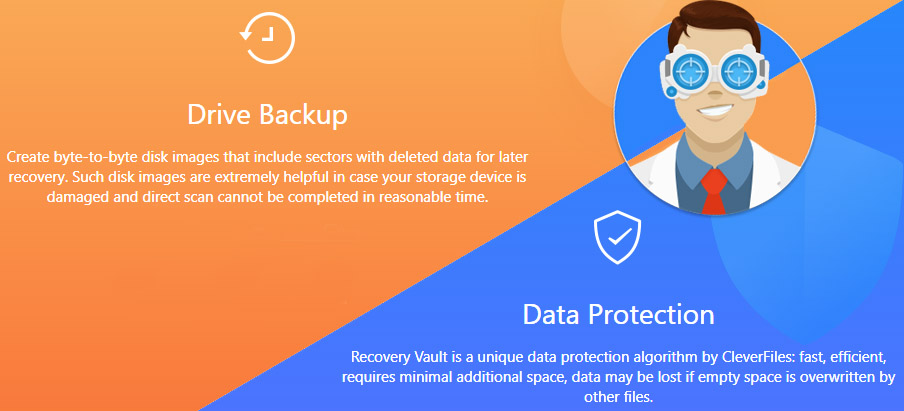 ---
Powerful recovery capabilities
Data recovery is Disk Drill's main purpose. It performs that function with advanced scanning algorithms that can deeply interrogate disk storage devices and perform everything from SD card recovery to USB flash drive scanning in order to uncover recoverable files in over 400 different formats. You can quickly recover from data loss situations such as restoring files from an external hard drive, saving data from formatted disks, and getting files back from an emptied Recycle Bin.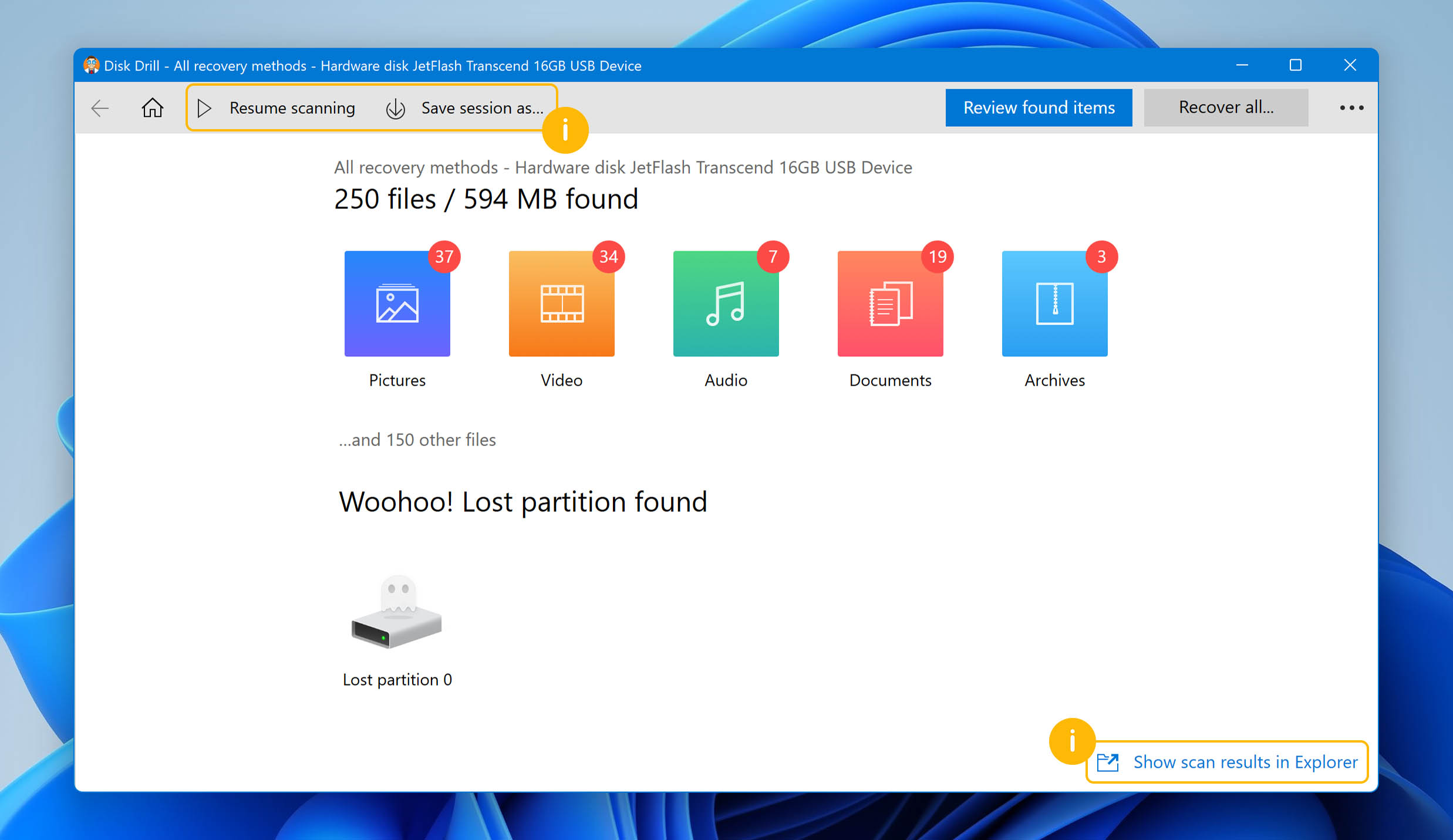 The tool offers flexibility in the scanning process by enabling scans to be paused and resumed at a later time. File recovery has been streamlined with the ability to load scan results as a virtual disk so files can be moved more easily. You can fine-tune the scanning process by selecting specific scans or allowing the tool to run them all for a more complete data recovery.
Disk Drill removes all guesswork from data recovery by predicting recovery chances for each found file at the end of scanning and allowing you to preview recoverable files in a dedicated Preview window.
Disaster recovery (DR) chances are indicated using easy-to-understand color labels:
🟢 High = green
🟡 Average = yellow
🟠 Low = orange
⚪ Unknown = grey
Best of all, you can filter your scan results according to estimated recovery chances, making it easy to select files that have acceptable recovery chances and leave everything else behind.
---
Additional data protection tools
A real bonus is the data protection tools that are free with all versions of Disk Drill, including Disk Drill Basic. You can provide extra protection for valuable files and folders by configuring Recovery Vault to store them if they get deleted. The vault works like an additional Recycle Bin and saves the data for a user-determined period of time. They can quickly be recovered without employing a full recovery and paying any cent. Restoring files from Recovery Vault is absolutely free.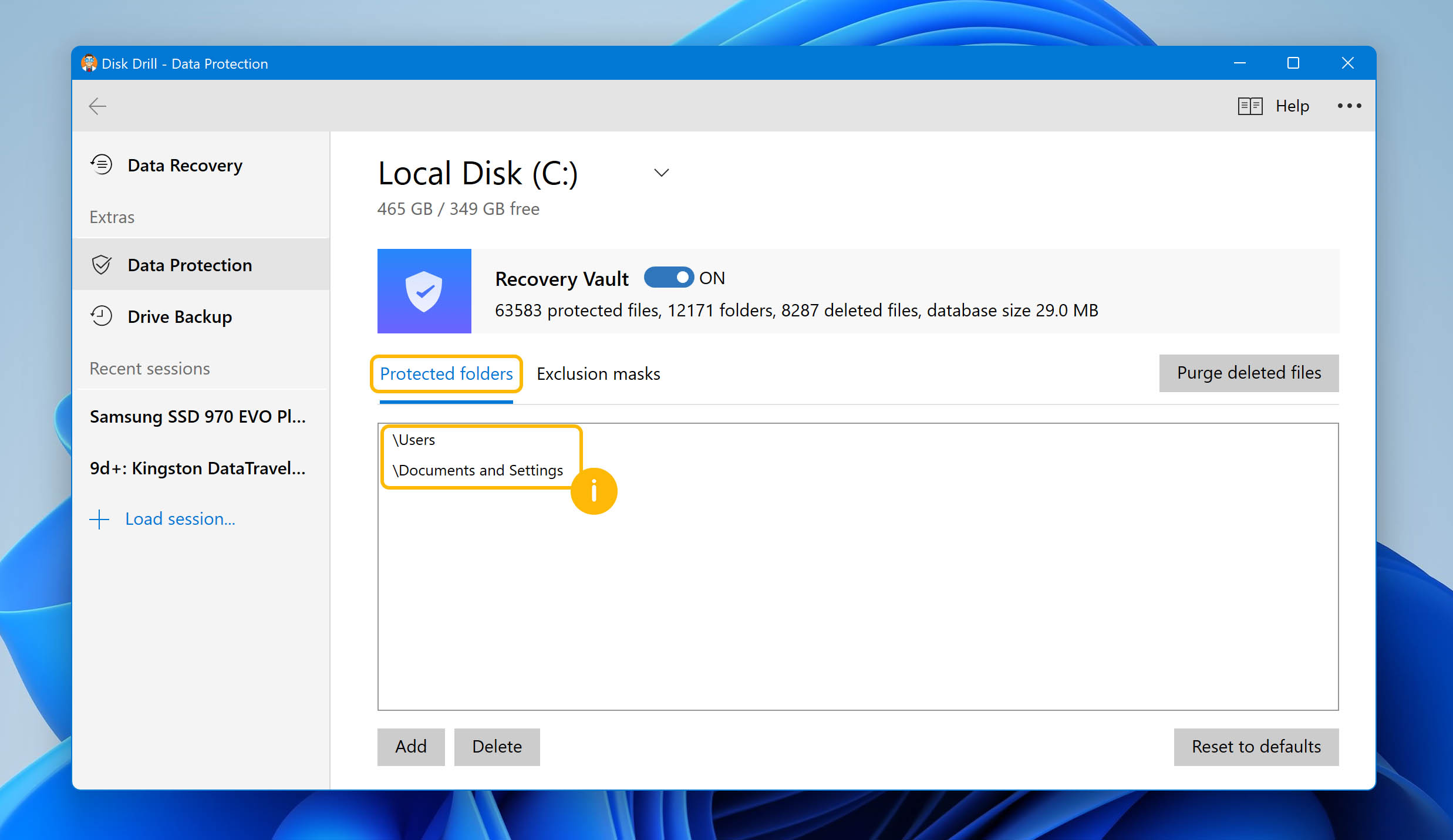 Byte-level backups can be critically important when you are faced with a disk that is showing signs of imminent failure. When you create this backup, it can be used for data recovery without putting the failing disk through the stress of multiple reads and writes. You only access the drive one time to make the backup which can be used to recover deteled files if the disk does indeed fail.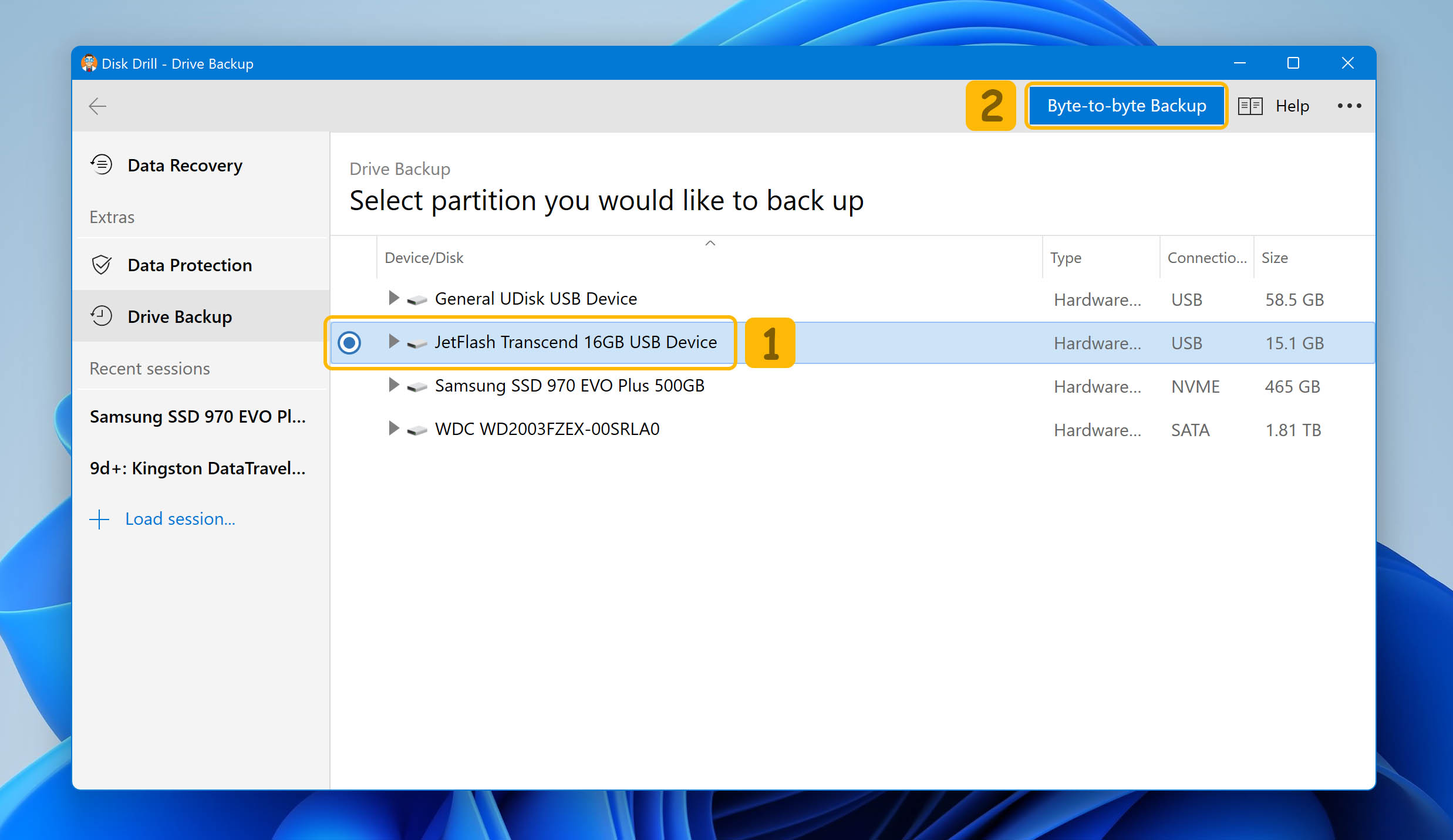 | Feature | Disk Drill |
| --- | --- |
| User-friendly interface | Yes |
| Intuitive recovery process | Yes |
| Recover data from formatted disks or partitions | Yes |
| Recover data from any disk-based device | Yes |
| Recover deleted files from an emptied Recycle Bin | Yes |
| Repair damaged partitions | No |
| Over 400 file formats supported for recovery | Yes |
| Display scan results as a virtual disk | Yes |
| Data loss prevention tools | Yes |
| Windows and macOS support | Yes |
| Linux support | No |
| Filter recovery files for faster scanning | No |
| Find lost partitions | Yes |
Seems Like Disk Drill's Developers Never Rest
Each new version of Disk Drill extends and enhances the tool's functionality. Here's a look at some of the main improvements made to Disk Drill 4.5 for Windows.
Enhanced support for drives using the NTFS filesystem uses deep scanning technology to rebuild corrupted drives. Compressed NTFS drives are also supported.
More accurate deep scanning file signature support leading to better file detection and improved recovery;
25% smaller installation footprint;
Resequenced scanning methods provide faster results;
Auto-resume disconnected scans and the ability to select files that were not previously recovered to save time;
Monitor drive temperature in real-time in the S.M.A.R.T. tab.
Is there something that competitors don't have?
Some of the features that set Disk Drill app apart from the competition include:
The advanced technology that drives its scanning algorithms;
A very intuitive and user-friendly interface;
The inclusion of free data protection tools.

#2

Data Recovery Process
Let's take a look at how to set up Disk Drill on a PC and run it through a few media recovery scenarios.
Installing and Configuring Disk Drill
Installing Disk Drill for Windows 4.5 is a painless process. It just took me a few minutes. Here's the procedure I used.
I downloaded the software from the Official website.
Clicking on the downloaded files started the installation.
I was asked to allow to make changes on my device. This is required so setup of Disk Drill can make changes to Windows settings.
When the program opened, I selected Enable data protection to configure Recovery Vault to protect my important files and folders.While this step is not required to use Disk Drill, it is recommended as a way to better protect your valuable data.
That's it! Disk Drill installs quickly and easily on your Windows machine and starts protecting the files configured for Recovery Vault right away.
The data recoveries discussed below all make the assumption that you have completed the installation process outlined above. Here's how Disk Drill enabled me to quickly address the following data loss scenarios.
---
Scenario #1: Will Disk Drill Help to Recover Data from External Storage Media?
The answer is yes! I had an issue where several folders were inadvertently deleted from an external drive used to store photos. These were the steps that allowed me to get them back.
I connected my external hard drive to my machine.
After firing up Disk Drill I choose the disk from the app's list.
I clicked the Search for lost data button to start scanning the drive.
Disk Drill returned a list of the data it could recover. Included in the list were the folders I needed back which I quickly selected for recovery. For each listed file, Disk Drill estimated its recovery chances, giving me plenty of information to decide which reconstructed files to select and which to leave behind.
I choose a new folder on my main drive to store the recovered files and clicked the Recover button to complete the process.
When the recovery concluded my files were safely in their new folder.
---
Scenario #2: Recovering Lost Photos from an Internal HDD
I have also had occasion to use Disk Drill to recover lost photos on my internal HDD. They were inadvertently deleted when I was attempting to transfer them to an external drive, and then I inexplicably also emptied the Recycle Bin. I thought my prospects were dim, but tried Disk Drill anyway.
After launching Disk Drill I selected my internal disk for scanning.
I clicked the Search for lost data button to begin scanning for my lost images.
When the scan completed I clicked on the Pictures folder in the Preview window to see the results. The photos I had deleted were available for recovery and marked as recoverable by Disk Drill, so I selected them to be restored.
I clicked the Recover button and selected a new folder in which to save the files. Since the photos were on my main drive, I selected an external USB device as the location for the recovered data to avoid any files being overwritten or corrupted.
In a few minutes, the process was complete and the important photos were safe and sound in the new folder.
Results: My photos were restored in the matter of a few clicks. What began as a stressful situation ended well with the priceless images available again.
---
Scenario #3: Let's Try to Recover Deleted Word Document
Another situation that you might run into is the accidental deletion of a Word document. It can happen easily, as it did to me, when cleaning up my hard drive. Afterwards, I realized I had deleted a doc I needed for work the next day.
I launched Disk Drill and choose the main drive since it was where the Word file had been located.
I clicked the Search for lost data button to scan for the deleted document.
When the scan completed, I opened the Documents folder in. To my great relief, the file was marked as recoverable, which I was able to confirm by opening it in the Preview window. I then selected the file for recovery.
After clicking the Recover button I was prompted for a storage location at which to save the doc. I did not save it to its original location to avoid overwriting the original file. The best solution is to use a different drive, such as an external device, to store the recovered data. Simply using a different folder on the same drive still exposes you to accidentally overwriting the data you want to recover.
The process completed and I had my file back. The ten minute recovery process saved me hours of work that would have been spent attempting to recreate the document.
Results: Once again, Disk Drill came through with flying colors. It found my lost document and recovered it quickly which saved a lot of work and unnecessary stress.
Intermediate Verdict
Disk Drill effectively and efficiently performs its primary function as a data recovery tool. From the perspective of a data recovery tool, I can highly recommend this software. It successfully passed all of my tests and recovered the requested data with no issues.

#3

How Much Does Disk Drill Cost?
Disk Drill can be obtained in a couple of configurations to serve the needs of individuals or businesses. Here are the options available.
Version

Price

Limitations or Perks

Primary usage scenario

Basic Version

Free

500 MB recovery;

Preview all recovery features;

Free data protection tools.


Testing the application's features and small data recovery tasks.

Pro Version

$89

Unlimited recovery;

Full access to all features;

1 user 3 activations;

Free data protection tools.


Single users with large data recovery and protection requirements.

Enterprise Version

$499

Unlimited recovery;

10 users and unlimited activations;

Comprehensive commercial data recovery for your business;

Free data protection tools;

Priority customer support.


Ideal for company-wide data recovery.
All paid versions of Disk Drill for Windows 4.5 include an option for users to download the fully-functional Disk Drill for macOS. Discounts may also be available by checking on the CleverFiles download site.

#4

What Users Say About Disk Drill
In the interest of providing more than one point of view, here are what some other users and reviewers have said about Disk Drill.
Lifewire calls Disk Drill an
"awesome free file recovery program".
Softpedia says that Disk Drill is
"easy to recommend as a powerful and efficient data recovery program".
Reddit user claims the following:
"In the past I've had best success with an app called Disk Drill".
Techadvisor UK gives this verdict on the tool:
"Disk Drill is a great undelete tool with some valuable extras".
OnMac says that Disk Drill:
"has evolved from a humble but capable data recovery tool into a comprehensive toolbox".
So you don't have to just take our word for it. Disk Drill works!
A loose cable on my memory cards reader caused the memory card to be "unsafely removed" from the computer. All the content disappeared from the card. After panicking, I spent the next 2 hours recovering my round 9 photos. Thank god @Cleverfiles saved the day! pic.twitter.com/r3EsSRJR02

— David Llada ♞ (@davidllada) September 20, 2019

#5

Disk Drill Alternatives: Does It Make Sense to Look for Other Solutions?
There are alternatives to Disk Drill out there. Two of its competing applications are EaseUS Data Recovery and Stellar Data Recovery. We don't pretend that any application is right for every user, so you might want to take look at this chart and see how Disk Drill stands up to these rival solutions.

| Parameter | Disk Drill | EaseUS Data Recovery | Stellar Data Recovery |
| --- | --- | --- | --- |
| Recovery interface and usability | 9.5 | 8.5 | 8.5 |
| Recovery capabilities | 9.0 | 8.0 | 8.0 |
| Pricing | Flexible pricing terms are available | Subscriptions are required. | Flexible pricing terms are available |
| Data protection tools | Yes | No | No |
| Recovery file thumbnail preview | Yes | No | No |
| Free macOS recovery with paid versions | Yes | No | No |
| File formats supported | Over 400 | Over 1000 | Over 200 |
| RAID recovery | No | No | Yes |
| Support | Email and knowledge base | Email, knowledge base, and phone | Email, knowledge base, and phone |
FAQ
Conclusion
With its intuitive interface, data protection tools, and effective data recovery capabilities, we think you can't go wrong when selecting Disk Drill as your data recovery tool of choice. It is a valuable application that helps both new and experienced Windows users get their lost data back quickly and easily.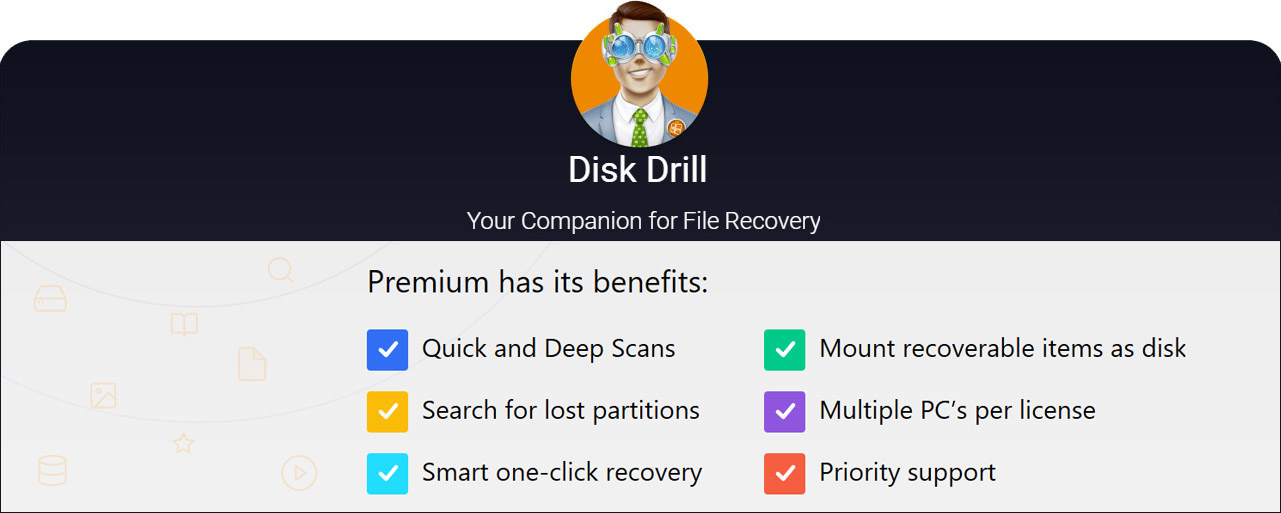 Pros
Intuitive user-friendly interface
Powerful recovery capabilities
Supports all Windows version
Recovery for any type of disk-based storage
Additional data protection and disk backup tools
Cons
Does not support the Linux operating system
No phone support
Full scans using all available methods may take some time
---
So, is it worth it?
In a word, yes! If you are in need of a data recovery tool for Windows, Disk Drill is an excellent option. It will find your lost and deleted data in a few clicks. It also helps protect your important files and disks with its additional free tools. In our opinion, it should be your first choice when faced with a data loss scenario.
---
Our verdict: 4.8 out of 5.