Small, medium, and large-scale companies store massive amounts of information in a digital format. Data can range from patient or client information, payroll data, contact lists, email communication, various data concerning individual jobs and projects to spreadsheets. Losing this data and files is catastrophic for any company. Recovering this data is compelling for the regular functionality of the business.
With a number of potential technology issues, from malware to system crashes, every individual and company should have data recovery software. Not every solution will meet all of your needs. Let's take a look at all that Wondershare Recoverit has to offer.
What Is Wondershare Recoverit?
Wondershare Recoverit data recovery software accesses the paths to deleted files on your system. Wondershare released Recoverit in 2003 and has done a great job and bringing out new releases to become one of the leading data recovery tools. This simple to use software is available for both macOS and Windows and is able to recover documents, photos, videos, audio files, and even emails. In fact, there are over 1000 files that are recoverable with Recoverit.
You can use Recoverit data recovery from different locations from USBs to SD cards, desktops to specific folders, and formatted partitions. Impressively, you can also retrieve data from smartphones and digital cameras.
1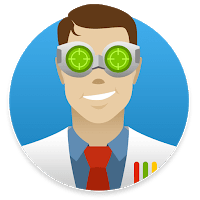 Disk Drill
Platform:

Windows, macOS
Distributed as:

Freemium
2

PhotoRec
Platform:

Windows, macOS, Linux
Distributed as:

Freeware
3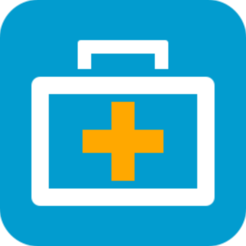 EaseUS
Platform:

Windows, macOS
Distributed as:

Freemium
What Are the Main Features of Wondershare Recoverit?
The included features will depend on the plan you choose, so it is also worth looking at our pricing section.
Recoverit has an industry-leading recovery rate at 96% for both macOS and Windows. The software has been known to recover data that other solutions haven't. We successfully recovered everything we lost when using macOS (version 11.1 Big Sur) and Windows 10.
It uses an advanced data recovery algorithm with smart scan and deep scan technology. You can also benefit from video fragment technology to recover those videos that you thought you would ever see again.
It supports DOC/DOCX, XLS/XLSX, PPT, PDF, HTML/HTM, JPG, TIFF, PNG, GIF, WMF, RAW, VVI, MOV, MP4, MPG, AIF, WAV, MP3, PST, EMLX, ZIP, RAR, and more. The general rule is that if your operating system can view a file type, Wondershare Recoverit can recover it.
Aside from recovering data from your Recycle Bin, you can also scan all types of memory cards, hard drives, removable drives, flash drives, and digital cameras and camcorders.
Wondershare Recoverit is completely safe to use and comes with a 100% secure virus-free guarantee, which is ideal if you are recovering data after a virus or malware.
The service comes with free tech support in the US 24/7. The online support is exceptionally useful for those in other countries. We tested this email service, and every query was resolved with no need for follow up.
⚠️
On our MacOS Big Sur, the locations came up before the options to select file types. We also had to change our privacy settings and restart the computer when trying to recover our deleted trash, although this didn't happen when we scanned the USB.
We were able to preview all of the photos that we wanted to recover, but the names of the word documents had disappeared. This meant we had to recover all word documents instead of just those we wanted.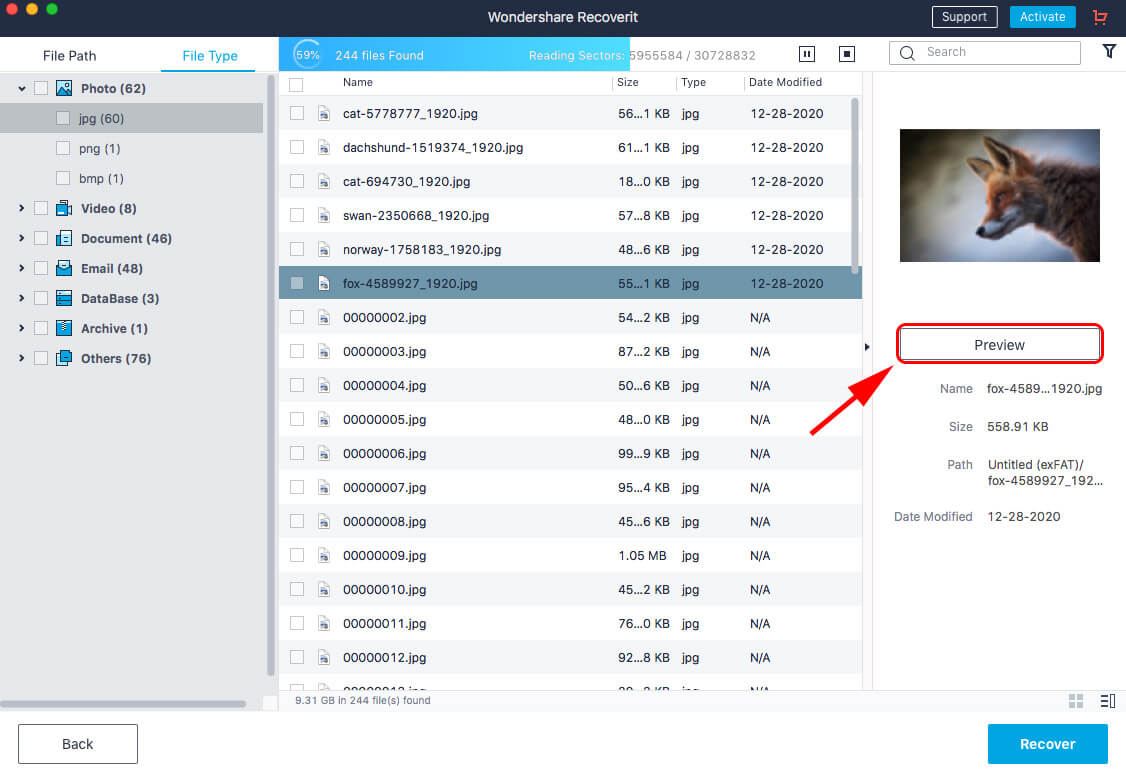 How Easy Is Wondershare Recoverit to Use?
We are naturally dubious when software companies use expressions like "Only 3-steps". Even the most tech-minded of us have tried other data recovery solutions, and 20 clicks later, we delete our progress and moved on to the next.
Recoverit data recovery was a pleasant surprise. In the first place, you need to choose the 'Download for Win' or 'Download for Mac' from the Wondershare site. You will see the usual download instructions which you need to follow.
When you open Recoverit, a window will open with the types of files you want to recover. The main categories are:
Photos
Audio
Video
Email
Documents
Other
In the top left-hand corner, you can also tick the box to select all file types.
After clicking next, a new window opens with the locations that you can scan. These options can include:
Hard drives
External Devices
Locations (Recycle Bin/Desktop, folders)
Computer Crash Recovery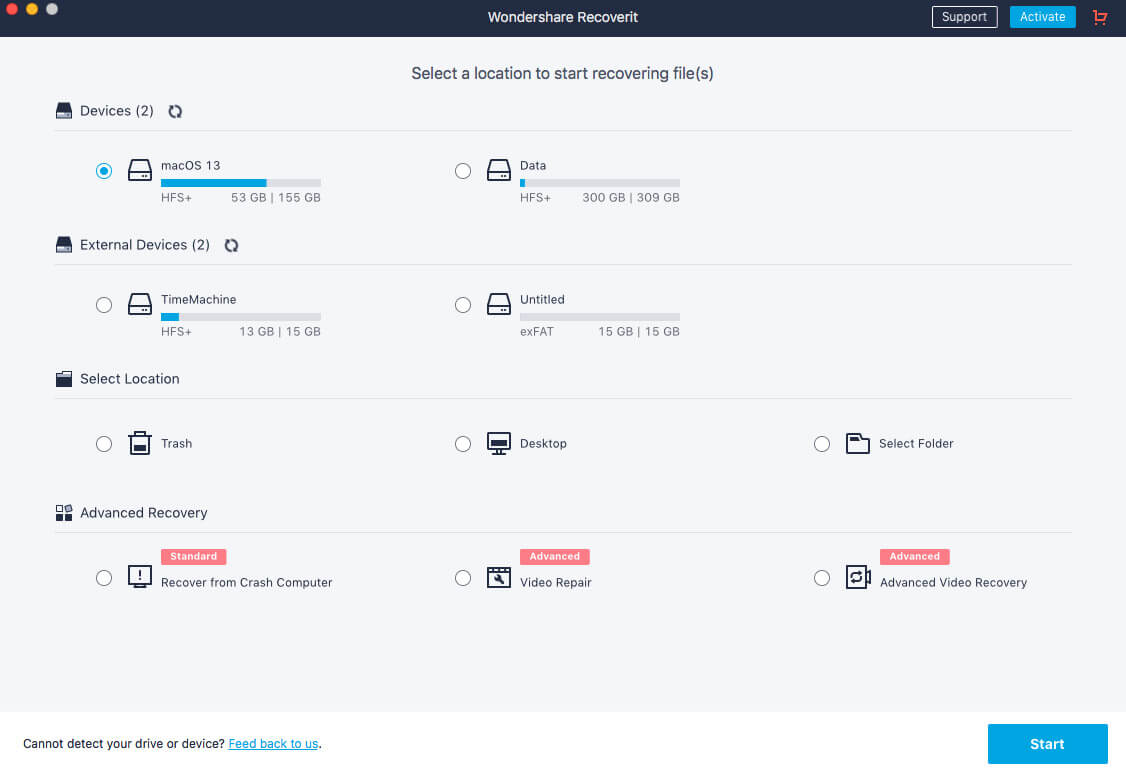 The first action you can scan is a Quick Scan. If nothing is found at this stage, or the particular file you are looking for doesn't appear, you can move onto the next stage, which is the Deep Scan. Your files appear in a list that you can view as most other folders with the name, size, and date created. Once the scans are complete, you can preview your files.
On the left-hand side of the name, there is a box for you to select. Make sure the files you wish to recover are selected, and then click on recover. Finally, you need to select the location where you want to save the recovered files.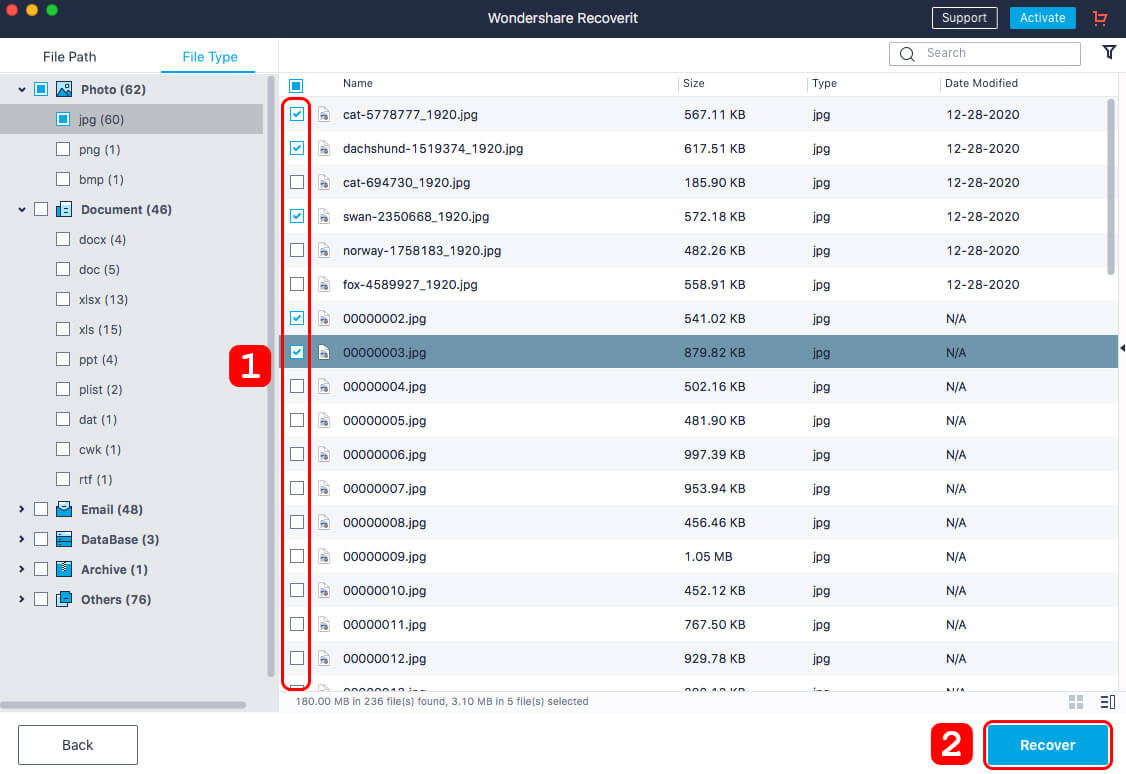 ⚠️
It's important that you choose a different location to save the recovered files from the location you are retrieving them. If you choose the same location, you could overwrite the files you want to recover. So, for example, when we recovered files from our USB, we made sure to save them in a new folder on the desktop.
Our Data Recovery Results
We started with an 8GB USB that is probably close to 10 years old. The actual USB had one folder with about 50 photos and 10 songs. The deep scan said it would take 12 minutes, but it actually only took a little over 7 minutes. In total, we recovered 52 documents, 118 photos, 6 videos (all relatively small between 15MB and 50MB). As the pictures and videos were old, we wouldn't say that the quality wasn't the same as the original, just the quality of the camera wasn't the same. We were able to preview all of the files. Our only issue was that the documents had lost their original name and were now numbered, but the preview helped.
Scanning our desktops was more interesting. It took just a few minutes to scan nearly 2000 different files. After deciding this was too much to go through manually, we repeated the search using the filter options. Of the 593 JPG files the deep scan discovered, we selected 100 to restore. This took approximately 40 minutes.
This was all well and good for files that we had forgotten about, but what about specific files we wanted to recover? We purposely deleted various files that don't have the usual file extensions (TIFF, RAR, and NTFS) and some emails to see how effective Recoverit would be in these situations.
Again, the process was very simple, and the files appeared in the Quick Scan. It is true that there were only a couple of days between deleting and recovering, so there were no issues with finding the files and the quality of them. Actually, with both macOS and Windows, there was only one PDF file that we couldn't recover, which puts our overall recovery rate at well over 96%.
When it comes to estimating times for different scans, it is challenging to give accurate times. This will very much depend on your operating system and the volume of scanned files Recoverit is working its way through. The only difference we noticed between macOS and Windows is that the estimated time to finish the scan and recovery was more accurate with macOS than with Windows, but in both cases, Recoverit overestimated the amount of time, so again, we were pleasantly surprised.
Is Wondershare Recoverit Good Value for Money?
Prices for data recovery can range from $30 to up to $500, depending on the included features and the number of computers you wish to use. Wondershare Recoverit data recovery has 3 pricing plans for annual subscriptions, all of which we felt were very reasonable. Here is an outline of each plan:
Essential- $71.47 Unlimited data recovery for 1 PC with more than 1000 file formats. Recovery from all devices we mentioned previously. Quick Scan, Deep Scan and file preview. Free remote technical support.
Standard- $84.47 Recover files from 1 crashed PC with more than 1000 file formats. The same features as the Essential plan plus: Create bootable media. Crash recovery. Resolve "blue screen of death.".
Advanced- $97.47 Recover and repair data for 2 PCS. The same features as the Standard plan plus: Advanced video recovery. Repair corrupt videos. Scan video fragments.
👀
You can contact Wondershare if you are looking for a plan for 3 or more computers. There are plenty of payment options such as PayPal, credit and debit cards. You can download a free version of Wondershare Recoverit, but you will notice that the features are somewhat limited. Still, it's a great way to get started and see if you need one of the paid plans. Wondershare offers a 30-day money-back guarantee.
What Are People Saying About Wondershare Recoverit?
The Wondershare site has some good reviews from customers who have used the free and paid-for versions. There were many reviews tugging at heart-strings as we read of precious and priceless memories being recovered. The general opinion from users was that Recoverit is easy to use, particularly for those who don't have much experience with data recovery. Overall, people were able to recover "most" to "all" files.
Wondershare Recoverit scored 4.3 out of 5 on Trustpilot. Interestingly, the majority of the reviews are 5 stars, followed by 1-star reviews, although only 11% have rated it as 1 star. Wondershare has responded to the large majority of their negative reviews, but it seems like a bit of a coincidence that they can't seem to locate the order number of these customers. It would be nice to see how Wondershare handles these negative reviews.
The lowest star rating with g2, a software review site, is a 3, so it is generally very popular with business users. These reviewers also commented on the outstanding recovery rate but also mentioned the limitations of the free trial.
Wondershare Recoverit: Frequently Asked Questions
The Wondershare data recovery app that allows you can select different file types and locations that Recoverit will scan to find lost or deleted files. Once you have selected and/or previewed files, you can recover them to a new location.
Yes, Recoverit is completely safe. This is because it is only searching files that your devices have already saved. It doesn't influence these files in any way. Plus, it comes with an anti-virus guarantee, making it 100% safe.
There is a free version of Recoverit, version V9.0. It is rather limited in features, and you can only recover up to 100MB of files, and you might notice the logo on the recovered file. That being said, it still does an awesome job at recovering files.
Wondershare Recoverit: Our Final Verdict
In brief, having using Wondershare Data Recovery for Windows for a while, I can say that Recoverit is a safe and convenient tool for data recovery on PC and Mac.
However, no software is perfect. Wondershare Recoverit mostly focuses on scanning and recovery without permitting much in the way of adjustments to settings. For instance, it lacks some essential features, like the ability to save scans. Another downside would be the absence of a built-in help guide; it only features a link that points users to the software's online manual available on Wondershare's website.
We wouldn't recommend the free version. 100MB is really not enough, and because of the limited features, you don't get a complete overview of what the software can do. It was slightly frustrating having to give credit card details to appreciate the free trial. Compared with other data recovery software, Recoverit does take longer. That being said, we felt the length of time was forgivable for the data recovery rate.
---
✅
Our verdict: 4.5 out of 5.
Roxana Raducanu is a seasoned technical writer with 10+ years of experience writing for startups and Fortune 500s alike. She is a copywriter with a special affinity for technical content; and a love for words, and SEO; a tech enthusiast, following the latest trends related to digital marketing, hardware, software, Artificial Intelligence, blockchain, cryptocurrencies, and new technologies.
Andrey Vasilyev is an Editorial Advisor for Handy Recovery. Andrey is a software engineer expert with extensive expertise in data recovery, computer forensics, and data litigation. Andrey brings over 12 years of experience in software development, database administration, and hardware repair to the team.