Disk Drill has been a go-to data recovery software for many Windows and Mac users thanks to its ability to deliver impressive results without any hassle. But some users have expressed concerns about malware being potentially installed alongside the software.
Such concerns are not to be taken lightly because certain kinds of malware, like the Cerber ransomware strain, can lead to the complete loss of vast quantities of important data.
👀
So, is Disk Drill safe to use, or does it really contain dangerous malware? Let's explore this question in depth to answer it as accurately and comprehensively as possible.
Quick summary of our findings: 
| | |
| --- | --- |
| 🛡️ Malware | 100% safe to use. Tested using VirusTotal and Microsoft Defender. |
| 🔒 Privacy | Doesn't share data with third parties. Possible to opt out of data collection. |
| 💾 Data Integrity | Uses non-destructive algorithms. Original data always remains intact. |
| 👍 Developer | Legitimate US-based company with a clear structure. Many positive user reviews. |
✅
We have great news! CleverFiles has taken notice of our analysis and appreciated our efforts. As a token of gratitude, they've sent us a discount coupon for the readers of this review. If you've been considering upgrading Disk Drill to the PRO version, you can use the coupon code "DD-15-Safe". Alternatively, you can use this link for the Windows version and this link for macOS to avail a 15% discount on Disk Drill PRO.
Does Disk Drill Contain Viruses or Other Malware? A Safety Analysis
To address the accusations of Disk Drill containing malware, we performed the following safety analysis (you can follow the steps yourself to verify our findings):
Step 1:

Obtaining Disk Drill

You can always download the up-to-date version of Disk Drill directly from the official website of its developer, CleverFiles (a subsidiary of 508 Software).

Downloading the software elsewhere is a bad idea at best because not all third-party software download sites are legitimate. Sites that offer (or claim to offer) illegal unlocked versions of Disk Drill are especially dangerous because such sites are often riddled with malware.

So, we headed to www.cleverfiles.com, and visited the downloaded page. Version 5.1.808 started downloading automatically, and we were also presented with two direct download links, one for the regular installer (the one that downloads automatically) and the other one for the extended installer (which we also downloaded).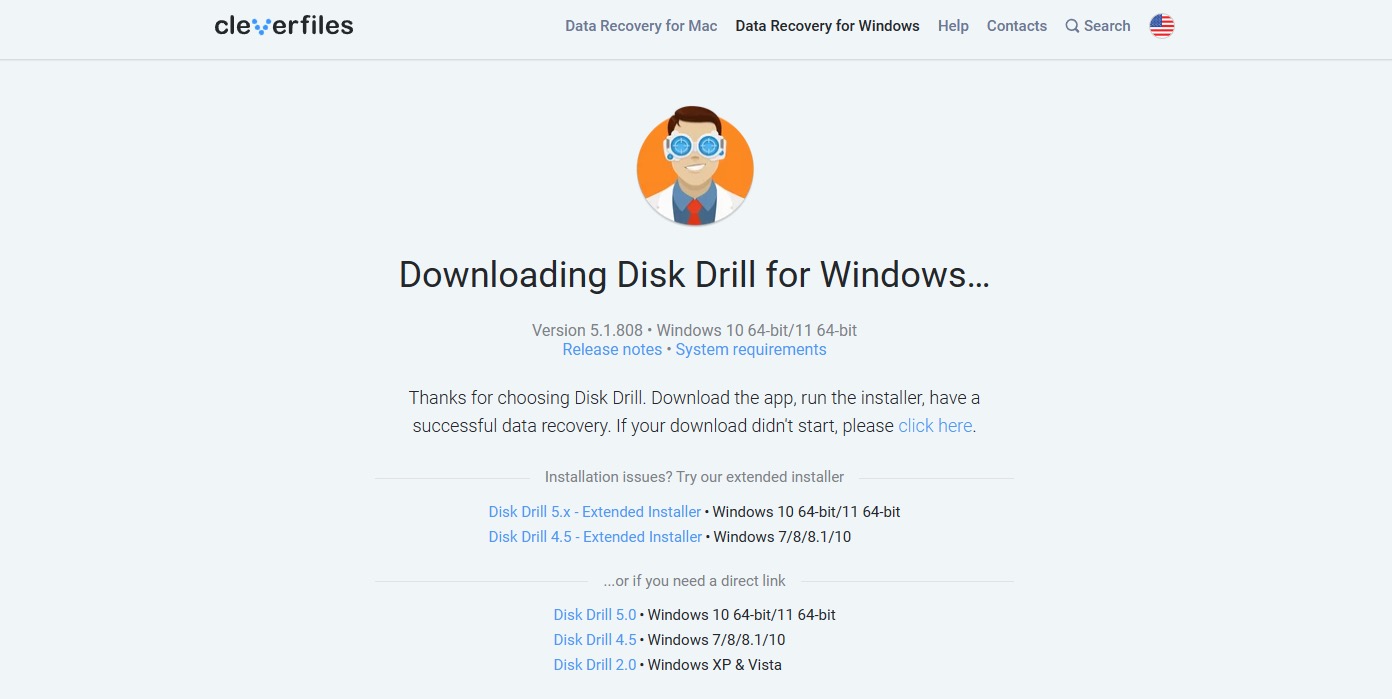 The regular installer is just around 20 MB large, and it contains only the main application files. At over 100 MB, the extended installer is much larger, but it comes with all the software nuts and bolts needed to get Disk Drill 5 up and running on Windows, including Microsoft's NET Desktop Runtime.
Step 2:

Scanning the Disk Drill Installer

Since most users will use the regular installer, we decided to scan it first. As always, our malware scanner of choice was VirusTotal (owned by Chronicle, a subsidiary of Google), a highly reputable aggregator of multiple malware scanners developed by some of the most reputable security companies in the world.

We uploaded the regular Disk Drill installer, and VirusTotal immediately got to work. The results were conclusive: No security vendors and no sandboxes out of 58 flagged the file as malicious.

But what about the extended installer? Its analysis yielded the same perfect score, except that VirusTotal scanned it with even more scanners (61 instead of 58).
To go a step further, we then decided to reanalyze both installers manually by clicking the "Reanalyze file" button. This took some time, but it served as a useful confirmation of the original results.
Step 3:

Installing Disk Drill

Once we knew both the regular and the extended Disk Drill installer is safe, we used them to install Disk Drill in two different clean virtual environments running Windows 11. For the sake of brevity, we will focus only on the regular installer from now on, but you should know that we tested the extended one the same way.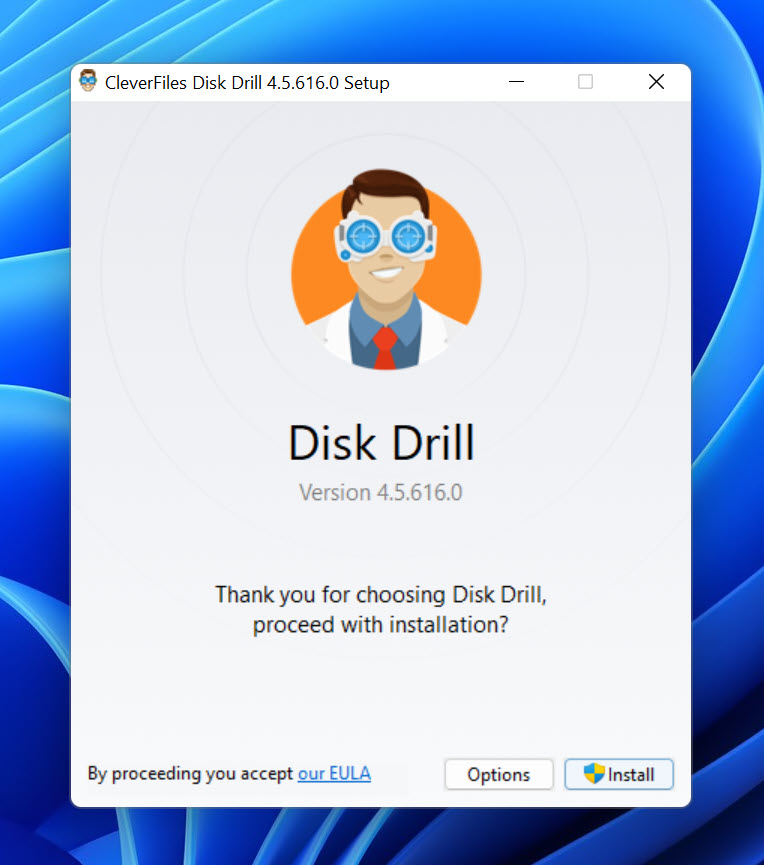 The installation process took only a short while, and we were asked for administrator privileges at its start. That's, of course, expected, as Disk Drill requires access to certain parts of the operating system to function properly.
Step 4:

Scanning the Computer

We launched Disk Drill and used it to perform several scans. With the application left running (to catch malware designed to hide in RAM), we launched Microsoft Defender and performed a full scan, which is the most comprehensive scan option available.

Microsoft Defender is a great choice because it consistently ranks among the best anti-malware solutions for Windows. For example, Microsoft Defender achieved a detection rate of 99.5% with just 7 false positives in the latest test performed by AV-Comparatives.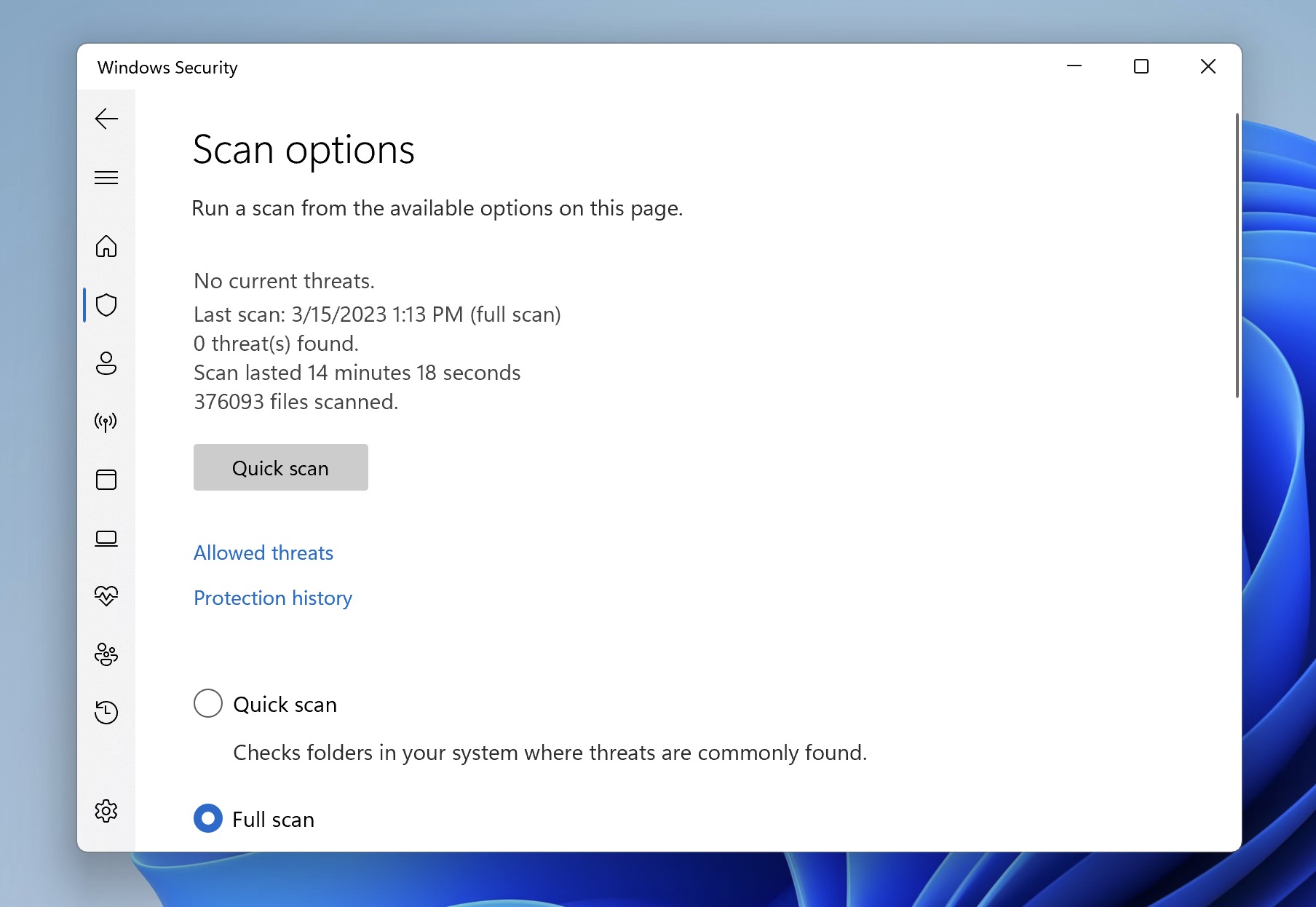 The results, as shown above, speak for themselves, and they clearly show that the installation and use of Disk Drill hadn't introduced any malware into our virtual environment.
Results:

Does Disk Drill Contain Malware?

✅

In conclusion, we can say that neither the Disk Drill installer nor the installed application contains any viruses or other malware.

We suspect that the users who reported issues with malware likely downloaded the software from untrusted sources or had already been infected with malware before they installed Disk Drill. It's also possible that the issues were posted by competitors trying to tarnish the reputation of Disk Drill, but that's not something we can prove.
Data Recovery Tool Safety Isn't Just About Malware
While our safety analysis of Disk Drill confirms that the software does not contain any viruses or other malware, it's important to remember that data recovery tool safety isn't just about malware. Here are three other factors that determine whether a tool like Disk Drill is safe or not:
🔒 Privacy: A safe data recovery tool should respect the user's privacy and keep the recovered data, as well as any metadata associated with it, confidential. It should not collect any information at all unless explicitly allowed to do so, such as for the purposes of providing anonymous feedback to developers.
🛡️ Data integrity: Safe data recovery software applications are designed to be non-destructive. This means they don't modify or overwrite the original data during the recovery process while also maintaining the integrity of the recovered data to ensure that it is complete, accurate, and usable.
👨‍💻 Developer: When selecting data recovery software, one should also pay attention to its developer, ensuring the company has a track record of delivering reliable software. A developer that's not reputable might refuse to issue a refund a customer has every right to receive.
To earn a place among the best data recovery apps, Disk Drill should excel in all these areas. But doesn't it? It's time to find out!
Protecting Your Data Privacy and Integrity: Is Disk Drill a Safe Choice?
Many software applications collect all kinds of data about their users, which they then share with various third parties to make money. Fortunately, Disk Drill isn't one of them.
As stated in the application's terms of service:
Any and all User Content provided by You shall be considered confidential including information regarding Your business and products and all such information shall remain as Your intellectual property and will be held strictly confidential by 508 Software.
508 Software's Privacy Policy is similarly user-friendly:
508 Software will not sell or rent Your Personal Information or a list of its customers and/or users to third parties.
Okay, Disk Drill respects the privacy of its users, but does it also respect the integrity of recovered data by using non-destructive data recovery algorithms? According to the FAQ section on its official website, it does:
Yes, Disk Drill uses non-destructive data recovery algorithms that are designed specifically to recover your lost data without performing any write operations.
We did some digging to verify this claim by running data recovery scans on a USB flash drive and then checking if its content was modified even in the slightest way. No matter how many scans and recoveries we performed, we could not find any evidence of compromised data integrity.
Does Disk Drill Collect Data?
Yes, Disk Drill automatically enables the collection of anonymous in-app usage data upon installation. The developers use this data to improve the data recovery software. Users can opt out of this data collection by changing the following settings within the software: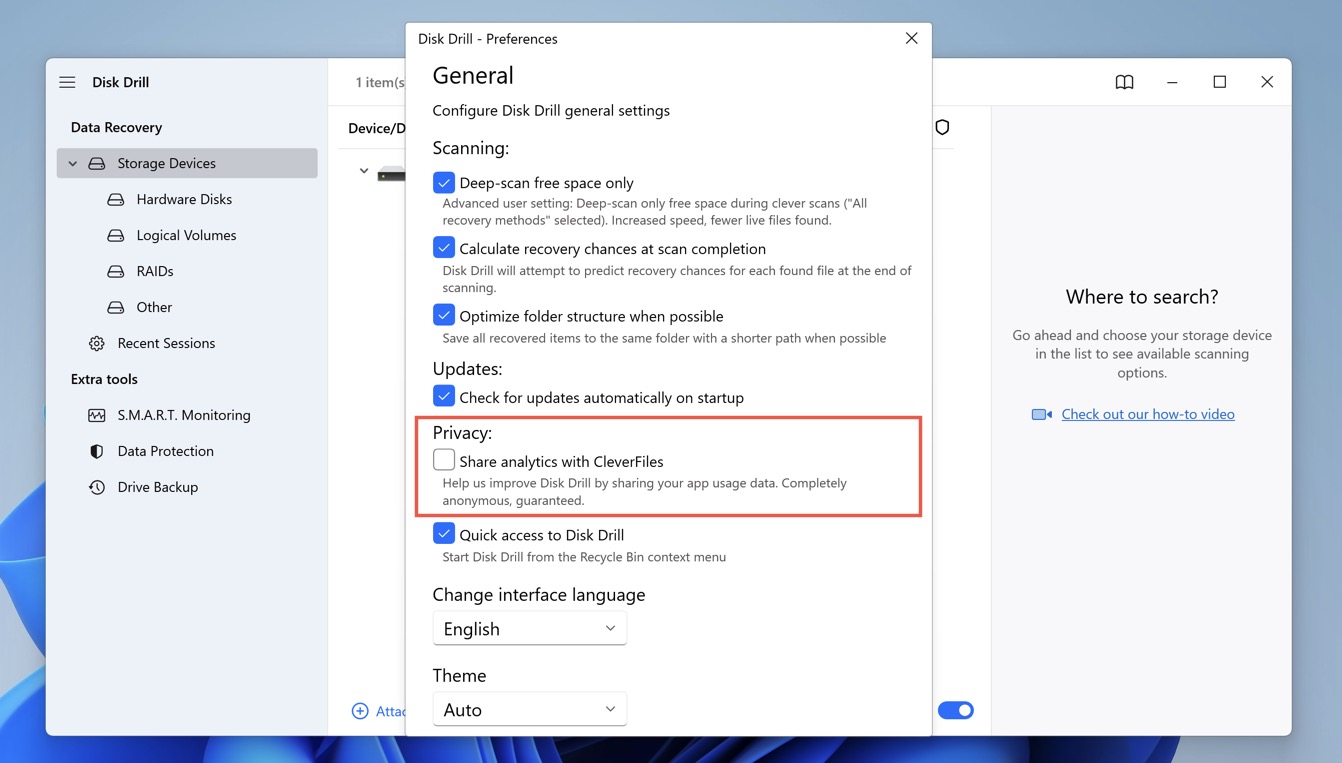 It's worth noting that while some users may have concerns about data collection, this practice is common in many software products and is generally considered safe.
Investigating the Developer Behind Disk Drill: Legitimacy and Reputation
We at Handy Recovery have reviewed many different data recovery software applications—some excellent and some not so good.
One characteristic of most shady data recovery tools is the lack of information about their vendors. Trustworthy data recovery software vendors, on the other hand, always provide detailed information about themselves, including their physical location and contact details.
The good news is that Disk Drill falls into the latter category, with all important its developer, CleverFiles, being readily available.
CleverFiles was founded in 2009 (which is also when its domain name was first registered) as a subsidiary of 508 Software, a software company headquartered in Alexandria, Virginia. You can visit the company's ZoomInfo page for detailed information about its structure. The same page also lists the exact location of CleverFiles' headquarters and its phone number.
If you would like to read what real customers have to say about the CleverFiles brand, then you can visit Trustpilot, where over 200 reviews are currently posted. The reviews are overwhelmingly positive, leaving CleverFiles with a rating of 4.5 stars out 5.
FAQ
Verdict
If you've been itching to download Disk Drill to recover lost data but wasn't sure if the tool is safe, you breathe a sigh of relief now that we've confirmed that Disk Drill is 100% safe and free of malware.
Our in-depth safety analysis has shown that the accusations of malware being installed alongside the software most likely stem from users downloading the software from untrusted sources or already having malware on their systems before installing Disk Drill.
In addition to being free of malware, Disk Drill also protects the privacy and integrity of users' data, and the US-based company behind it has a solid reputation and a wealth of industry experience.
All of this and more makes Disk Drill an excellent, safe, and risk-free choice for anyone in need of data recovery software.
David Morelo is a professional content writer in the technology niche who joined the Handy Recovery team in 2019 and has since made an invaluable contribution to the quantity and quality of our materials. David's main principle is not to start working on a new article until he has studied the subject backwards and forwards.
Andrey Vasilyev is an Editorial Advisor for Handy Recovery. Andrey is a software engineer expert with extensive expertise in data recovery, computer forensics, and data litigation. Andrey brings over 12 years of experience in software development, database administration, and hardware repair to the team.