There's no shortage of data recovery programs in today's market, making it difficult to decide which one to choose for your file retrieval needs. It's all the more difficult when pitting two exceedingly popular options like Disk Drill and Recuva against one another.
✅
To save you the headache and hassle, we'll do the comparing and show you their strengths, weaknesses, and who comes out on top.
| | | |
| --- | --- | --- |
| | Disk Drill | Recuva |
| Requirements | Windows 10-11 (x64 only) | Windows XP-10, 11 (unofficial support) |
| Trial version limit | 500 MB | No limit |
| Starting Price | $89 / One-time purchase | $24.95 / 1 year |
| Recovery quality | ⭐⭐⭐⭐⭐ | ⭐⭐ |
| Usability | Easy | Easy |
| Website | | |
| Download | | |
Disk Drill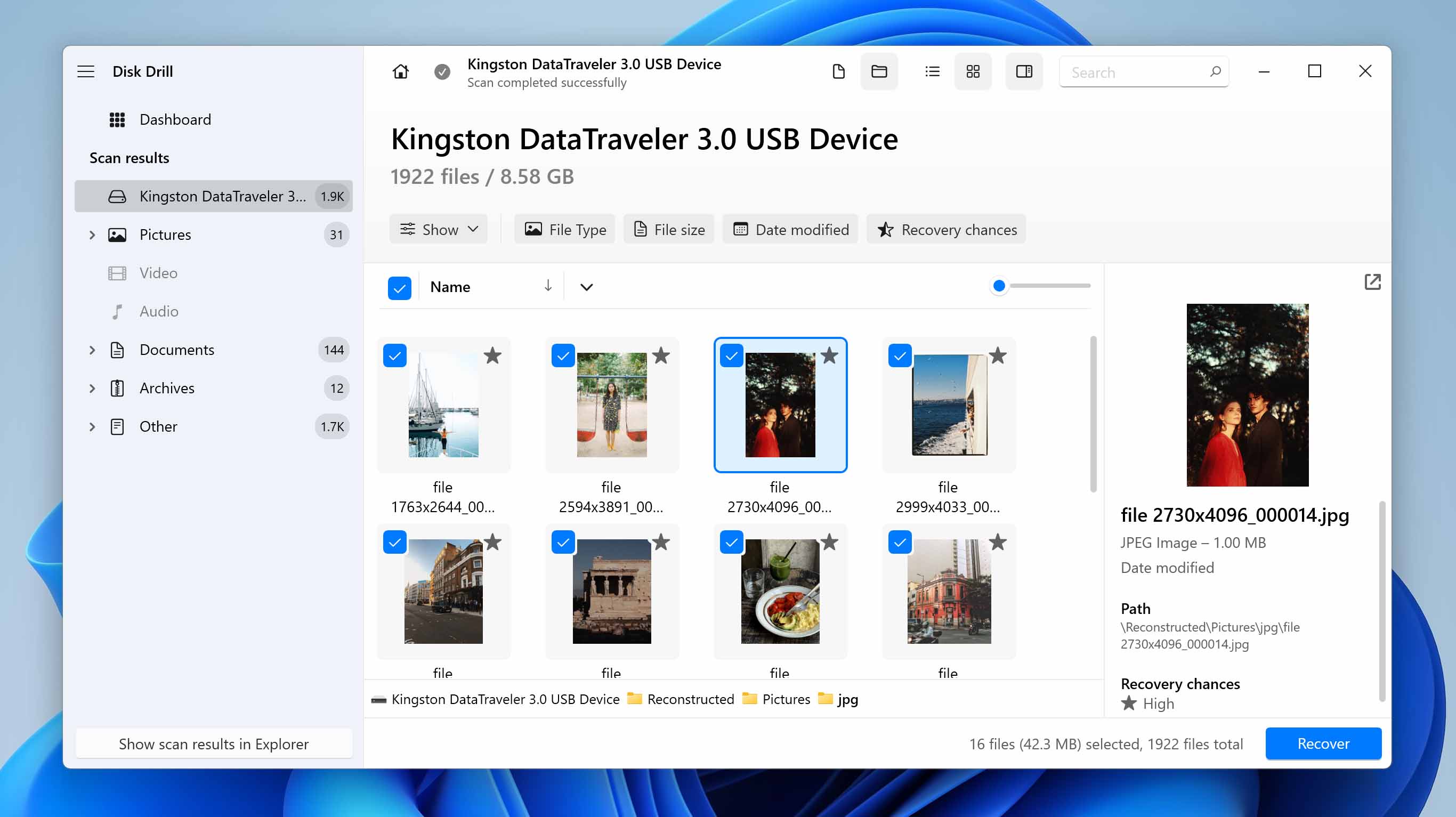 Disk Drill has managed to make quite a name for itself as one of the best data recovery apps around on account of its superb recovery prowess, quick scan times, and intuitive user interface. It also boasts high compatibility with the majority of storage devices and file formats, and it comes with a few security features to keep your files safe.
Pros:
Advanced Scanning Algorithms:

Disk Drill's cutting-edge algorithms provide users with the best chance at uncovering and recovering missing files from a variety of data loss scenarios.

Accessible User Interface:

Accessible User Interface: The program's UI is both sleek and easy on the eyes, catering to novices and advanced users alike.

Cross-Platform Scanning:

Not only is Disk Drill available on Mac and Windows operating systems, but you can even start the scan one and continue it on the other. As a nice bonus, purchasing a license automatically gives you access to both OS versions.

Extra Security And Backup Tools:

All Disk Drill versions – including the free edition – come with some nifty additional features. You'll get a S.M.A.R.T monitoring tool to keep track of your hard drive health, a data vault to secure your important information, and a Drive Backup feature to create Byte-to-byte Backups of your storage devices.
Cons:
Lack of Linux Support:

Unfortunately for Linux enthusiasts, Disk Drill doesn't have a variant for Linux operating systems, though it is capable of recovering file formats and file systems typically attributed to Linux systems.

No Phone Support:

While the program does offer email and chat support, you won't get a phone number to call in case you want to talk to somebody.

No Media Repair Tools:

Some data recovery programs include a media file repair feature, particularly for photos and videos. Disk Drill comes with no such features.
Recuva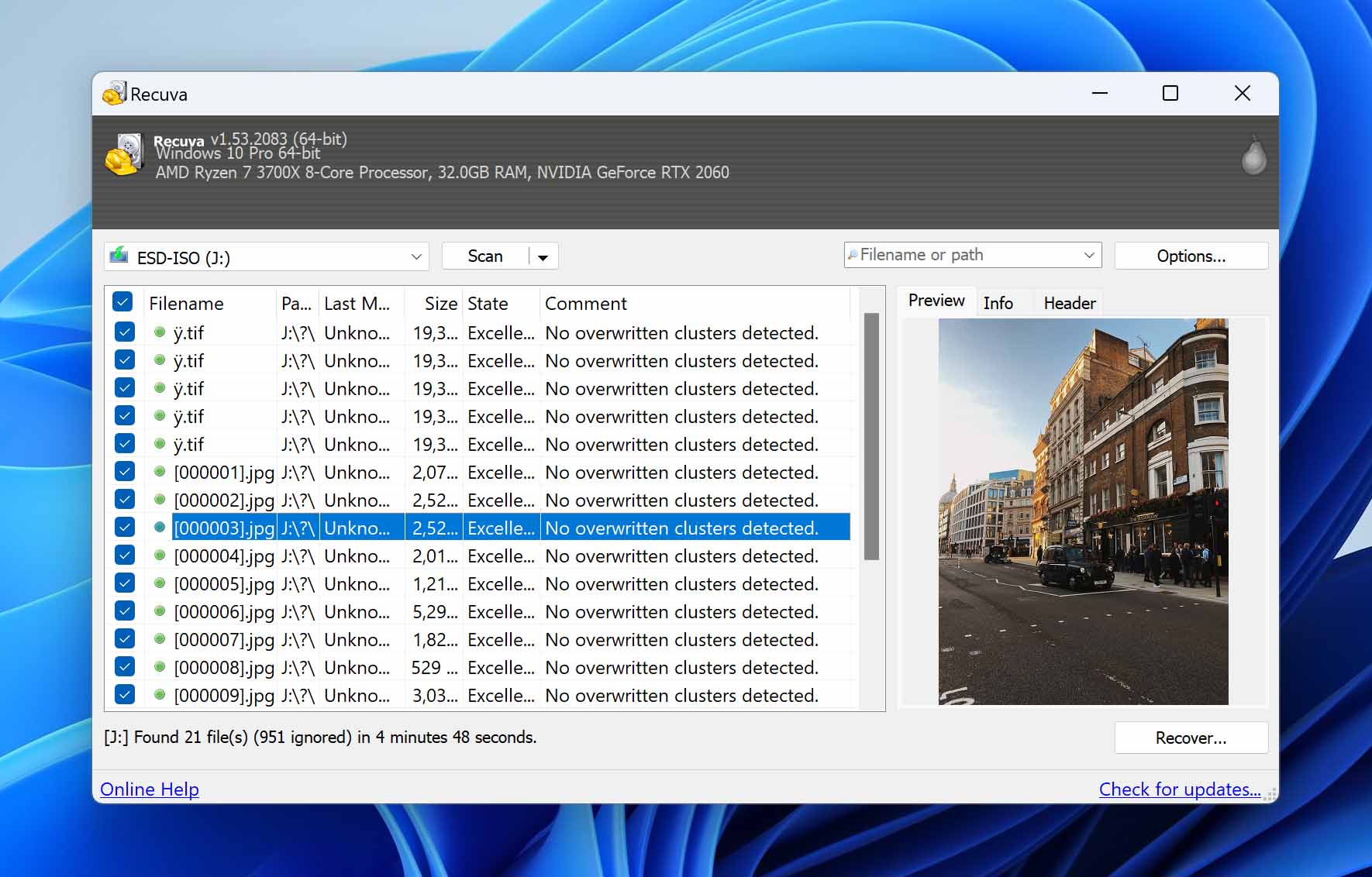 Recuva is a serviceable data recovery program that promises to recover a variety of different file types from any form of rewritable media, including hard drives, SSDs, memory cards, and USB sticks. Its stand-out features are the fact that its entry-level tier is completely free, and it supports more languages than any alternative on the market.
Pros:
Free Data Recovery:

Recuva's base edition is totally free of charge and comes with no data recovery limits, so you can use it to try and rescue as many files as you like.

Low-Profile Design:

The application requires very little hard disk space to install and hardly takes any computing power to run. This makes it a good choice for obsolete or lower-end machines.

Wide Range of Language Options:

Recuva offers more than 40 languages to choose from, which is more than any other data recovery program out there.
Cons:
Prone To Crashes:

Scanning for certain types of files can cause the program to become unstable or crash, making it frustrating if you use those file types often.

Minimal Support:

Recuva's sole means of support is through email, which could take quite a bit of time compared to chat or phone. To make matters worse, figuring out how to reach out to the support team is more difficult than it should be.

Inaccurate Recovery Predictions:

The program boasts the ability to predict how likely it is that you can recover a file. The problem is that these predictions are inaccurate more often than not and are one of the primary causes of crashes in the software.

Archaic User Interface:

Recuva's user interface is in desperate need of a visual overhaul and looks like a program from the Windows XP era. It's not exactly user-friendly either, making it frustrating for people who are lacking in technical prowess.
Recuva vs. Disk Drill: Pricing Comparison
Pricing

Recuva

Disk Drill

Distributed as

Completely free with a paid version

Freemium

Trial version available

✅

✅

Trial version limitations

Fewer features but no recovery limit

500 MB recovery limit

Number of devices per license

Professional – 1
Professional bundle – 1

PRO License – 1
Enterprise License – 10

Starting price

Free

$89 one-time fee

License model

Subscription + Lifetime

Lifetime

No credit card to try

✅

✅

Money back guarantee

⛔️

✅
Recuva sells itself as a totally free data recovery solution, drawing users in with the ability to retrieve an unlimited number of files even with its base version. Disk Drill, on the other hand, offers a free trial version that comes with all the bells and whistles of the purchased variant except that it's capped at a 500 MB recovery limit.
🗨️
If you decide to go for Recuva Pro, it'll set you back $24.95 per year. In contrast, a Disk Drill license will cost you a one-time fee of $89, making it the more economical choice in the long run.
Disk Drill vs. Recuva: Data Recovery Performance Comparison
| | | |
| --- | --- | --- |
| File System | Recuva | Disk Drill |
| FAT32 partitions | ⚠️ | ✅ |
| exFAT partitions | ⚠️ | ✅ |
| NTFS partitions | ⚠️ | ✅ |
| EXT4 partitions | ⛔️ | ✅ |
| HFS+ partitions | ⛔️ | ✅ |
| APFS partitions | ⛔️ | ✅ |
| BitLocker support | ⚠️ | ✅ |
| Windows shadow copies scanning | ✅ | ⛔️ |
The effectiveness of a data recovery program is directly related to the number of file types and file systems it supports, how good it is at recovering them, and the additional recovery features that come with the application. Let's take a closer look at both Recuva and Disk Drill to see which one outdoes the other.
⚠️
Whether it's a quick or deep scan, Recuva is a hit-or-miss when it comes to recovering from FAT32, exFAT, and NTFS partitions, and it's no good at dealing with EXT4, HFS+, and APFS.
Conversely, Disk Drill has shown great aptitude in retrieving files from all the aforementioned partitions. On top of that, it's proven itself capable of rescuing most document, video, and image file types – including raw ones like NRW, CR2, PEF, SR2, X3F, etc., whereas Recuva struggles with more uncommon formats.
On the plus side, Recuva supports scanning and recovering shadow copies of system drives which is a feature that Disk Drill doesn't have. However, Disk Drill is compatible with Bitlocker drives, while Recuva is not.
Recuva vs. Disk Drill: Feature Comparison
| | | |
| --- | --- | --- |
| Feature | Recuva | Disk Drill |
| Update frequency | ⛔️ | ✅ |
| Changelog available | ✅ | ✅ |
| Online market share | ⚠️ | ✅ |
| Sort results | ✅ | ✅ |
| Recovery from RAID1, 0, JBOD | ⛔️ | ✅ |
| Real-life recovery challenge | ⚠️ | ✅ |
| Raw photo recovery | ⚠️ | ✅ |
| Video formats recovery | ⚠️ | ✅ |
| Document formats recovery | ⚠️ | ✅ |
| Convenient scan session management | ⛔️ | ✅ |
| Scan free space only | ⛔️ | ✅ |
| Corrupted video repair tool | ⛔️ | ⛔️ |
Performance is definitely a prime factor in determining a data recovery program's worth, but so is the list of features and additional tools that it's packed with. After all, even an app with mediocre performance can be well-loved on account of its nifty extras. That said, let's see how well Recuva and Disk Drill hold up in that department.
Despite Recuva being developed by the minds behind the popular CCleaner utility app, it's sorely lacking from a features standpoint unless you purchase the bundle that comes with some of the brand's other offerings. Data recovery is pretty much all you get. Version updates have all but ceased since mid-2022, support is limited to just emails which usually have the slowest turnaround time, and online resources are disappointingly scarce.
Disk Drill is pretty consistent with its software updates, and although it doesn't offer phone support, it has both email and chat. It also features a comprehensive help section in case you're looking for assistance. Both options have their fair share of sorting options when it comes to the scan results, while Disk Drill pulls ahead when dealing with video, document, and raw photo file formats. Unfortunately, for both programs, neither of them offers image or video repair capabilities.
✅
Overall, Disk Drill has an overwhelming advantage when recovering missing files compared to Recuva. Its features also generally worked better. For example, the preview feature in Disk Drill worked with most images and videos we were attempting to recover, whereas Recuva's version was wildly inconsistent.
Verdict
All-in-all, Disk Drill comes out as the clear winner in this matchup, whether it's in terms of performance, usability, features, or support. The only reasons to consider Recuva are if you're looking for a completely free data recovery solution with no limits or if you're eyeing an option with Windows shadow copy support. Otherwise, you're better off sticking with Disk Drill.
Emma Collins is a Content Writer at Handy Recovery. She used to work as an Assistant Language Teacher (ALT) in Hokkaido, Japan before she finally changed careers and focused on digital marketing, content writing, and copywriting. For 5 years, she has already written thousands of articles and web pages on different niches, such as fashion, finance, digital marketing, and technology— particularly android, iOS, Windows, social media, and more.
Andrey Vasilyev is an Editorial Advisor for Handy Recovery. Andrey is a software engineer expert with extensive expertise in data recovery, computer forensics, and data litigation. Andrey brings over 12 years of experience in software development, database administration, and hardware repair to the team.