CR2 files are commonly created by a Canon camera, though some other programs also use the CR2 file extension. If you're a professional that often deals with CR2 files, you probably know what they are, but what happens when you accidentally delete them? CR2 file recovery is fairly easy when you have the right set of tools.
🗨️
In this guide, we'll walk you through the process of recovering CR2 files and the steps you can take to fix corrupted CR2 photos.
What Are CR2 Files?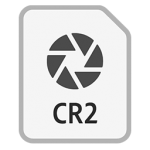 CR2 stands for Canon Raw Version 2 and is a raw image file extension used by Canon cameras. All digital cameras store photos with minimally processed data in a raw image file because it allows cameras to capture every bit of detail.
A canon camera stores its sensor's lossless, unmanipulated visual details in an image or video with the CR2 file extension. For a frame of reference, it produces images with up to 14 bits of RGB data compared to 8 bits on a JPEG file. Since the file extension allows recording high-quality imagery, it's great for professional photographers.
Is it Possible to Recover a Deleted CR2 File?
Yes, it's possible to recover deleted CR2 files, but the chances of recovery depend on several factors.
⚠️
When you delete a file, it just disappears and becomes inaccessible. However, it might still be on your SD card, just in a different storage space on the card where the file's data will be overwritten as more information is added to the hard disk. Until the addition of new information overwrites the previously deleted files, you can still recover them.
The same applies to CR2 files as well. You might lose your CR2 file because of several reasons:
😵 Accidental deletion: You'll lose CR2 files if you inadvertently delete them from your SD card while you're still using the camera to take more pictures. You might also mistakenly delete them while using your PC if you've stored them on an internal or external storage device.
💽 Formatting: Did you recently perform a format yourself or through another program? Sometimes, if your external storage device isn't functioning, your PC might suggest performing a format. If you consented to it without realizing you're formatting, you'll end up deleting your CR2 files. In some cases, you might format your SD card while it's still in the camera without realizing there are files you wanted to retain. Don't worry, though. It's possible to recover files from a formatted SD card or hard drive.
⚠️ Corruption: Several things could lead to corruption of an SD card or a hard drive such as a virus attack, soft and hard bad sectors, or physical damage. The chances of successfully recovering files from a corrupt SD card or hard drive depend on the level of corruption.
⌛ Wear and tear: SD cards and hard drives have a limited life. As you use the device over time, it will undergo wear and tear, and at some point, collapse.
It's important to know the potential reasons because it's the cause that tells you if you'll be able to recover your files or not.
For instance, if your hard drive has undergone significant wear and tear, you might not be able to recover all files. On the other hand, there are very good chances of recovering files that you recently deleted by accident.
Best 3 Methods for CR2 File Recovery
You can use third-party tools to recover files from an SD card or a hard drive. The chances of recovery, as we discussed, depend on what caused the files to disappear in the first place. However, when you use an intelligent recovery tool, you'll improve the chances of recovery.
👀
Below, we talk about two CR2 file recovery software for SD cards and other storage devices, and a third option you can use as a last resort in cases where the storage device has been damaged severely.
Option A:

Disk Drill

Disk Drill is an excellent tool with robust functionality for CR2 file recovery. We discuss how you can use Disk Drill below.
Step 1: Download Disk Drill
Download Disk Drill and install it on your PC.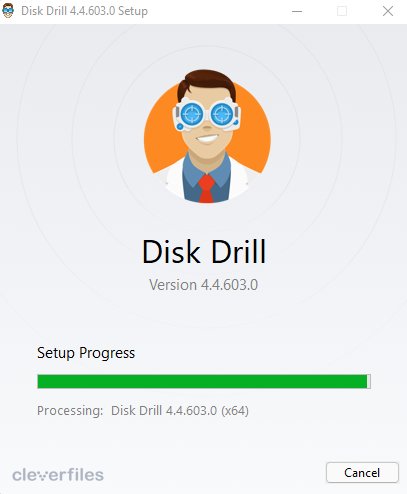 Step 2: Launch Disk Drill and Start the Scan
Once you've installed Disk Drill, launch the app. You'll see the storage devices listed on the home screen. Select the one where you had stored the CR2 files and click on Search for lost data. Doing this will start the scan.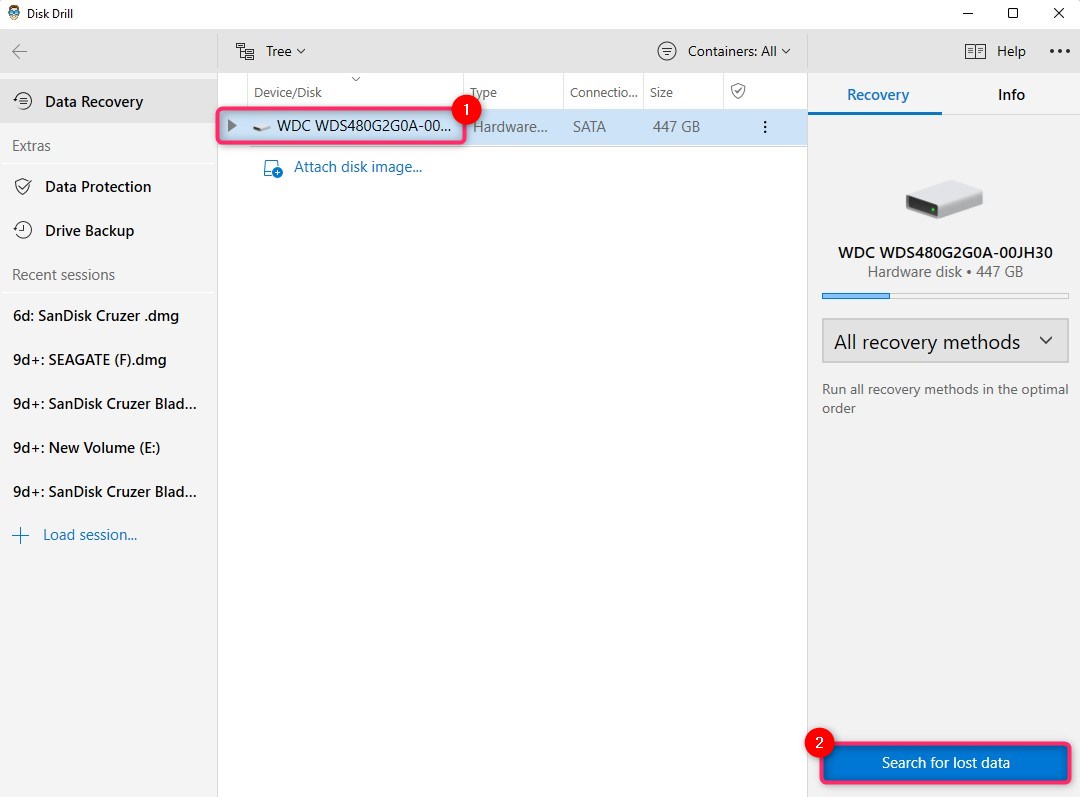 ⚠️
Note: Since photos are frequently written and deleted from a camera's SD card, fragmentation is a common issue. For this reason, we recommend that you let the scan complete without interruption. Once the scan completes, you'll see any fragmented files Disk Drill finds under the "Deep Scan" section. Disk Drill also tries to restore fragmented files and displays them under the "Reconstructed" section.
Step 3: Find and Recover Files
Once the scan completes, click on the Review found items button. Doing this will display all the files Disk Drill found during the scan. Since you're looking for CR2 files, you can filter the results by searching for "*.cr2" using the search bar.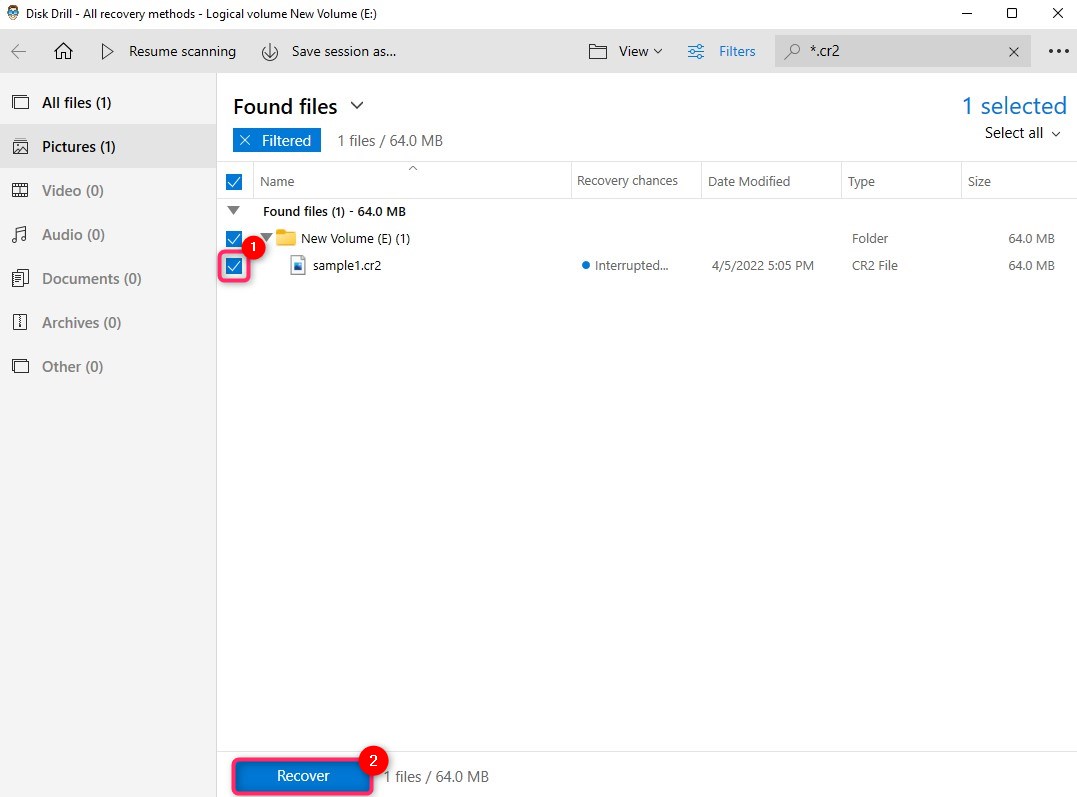 Check the box next to all CR2 files you want to recover and click the Recover button at the bottom.
Step 4: Select Recovery Location
Once you've selected the files you want to recover and clicked the Recover button, you'll see a pop-up asking for a location where you want to recover the files. It's best to choose a location different from the source drive (i.e., the drive you're recovering the files from) to avoid overwriting existing data.
Select a location and click OK.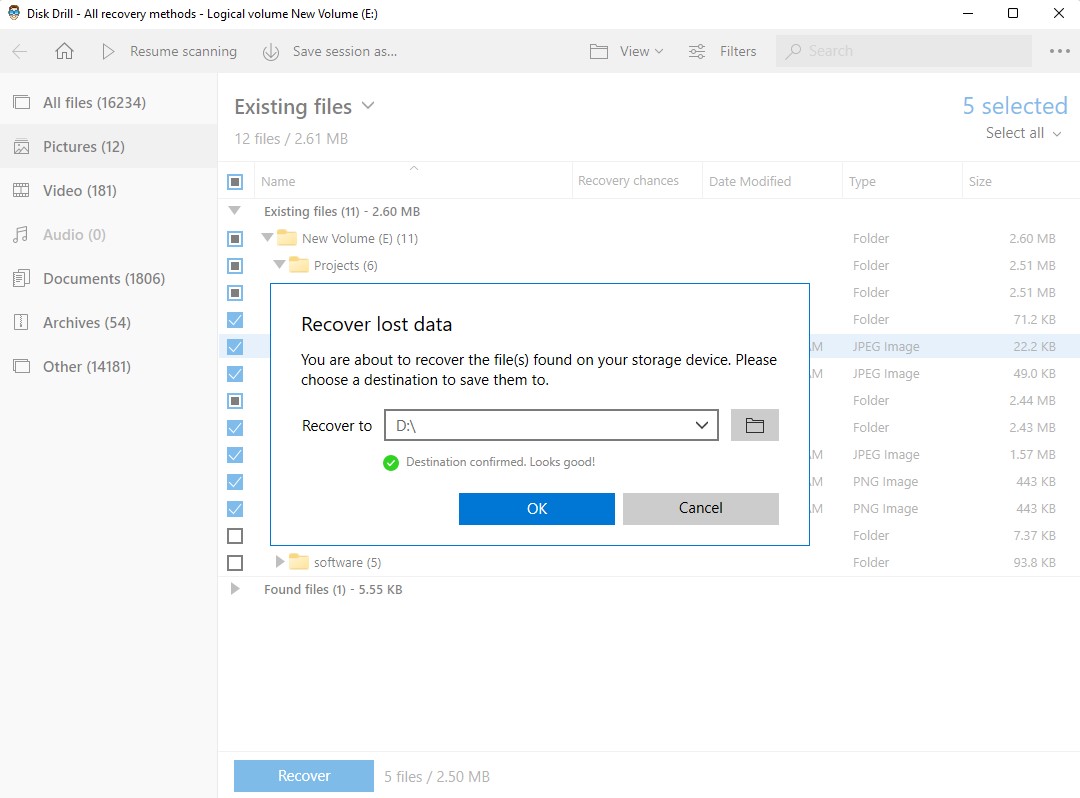 ✅
You'll now find the recovered CR2 files in the chosen location on your PC.
Option B:

 Stellar Photo Recovery

Stellar Photo Recovery is a tool that can help recover deleted photos, videos, and audio files and comes from the same team who created Stellar Data Recovery. It also works for recovering CR2 files, but unlike Disk Drill, there's no free version you can use. Let's walk through the process of CR2 file recovery with Stellar Photo Recovery.
Step 1: Download and Install Stellar Photo Recovery
Start by downloading Stellar Photo Recovery and installing it on your PC.
⚠️
Note: You'll also need to pay for the product because the free version only allows scanning and previewing the files, not recovering them.
Step 2: Launch the App and Scan the Drive
Launch Stellar Photo Recovery once it's installed. Select the drive you want to scan from the home screen and click on Scan.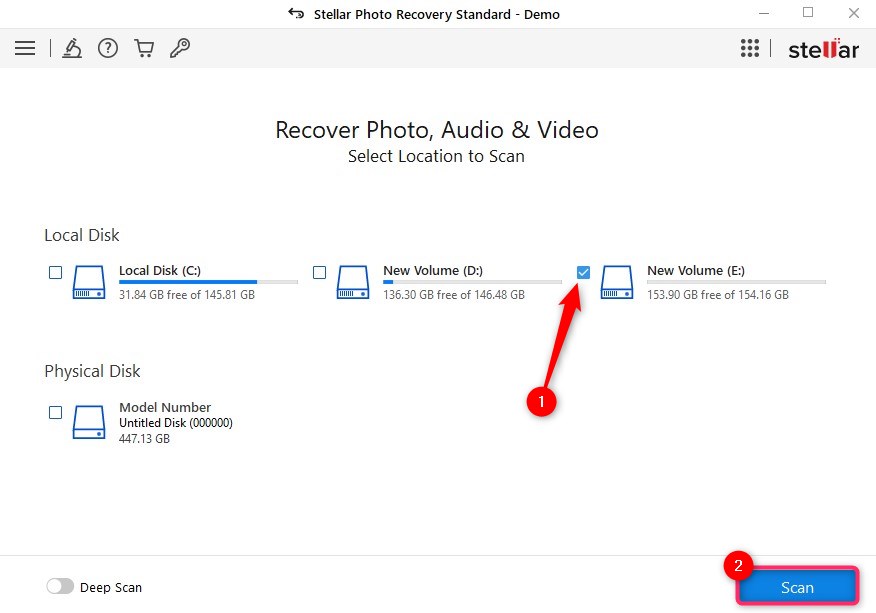 Step 3: Select Files and Recover
Once the scan completes, you'll see a list of files that Stellar Photo Recovery found during the scan. Check the boxes next to the files you want to recover. Click on the Recover button and choose a recovery location. Click OK, and you're done.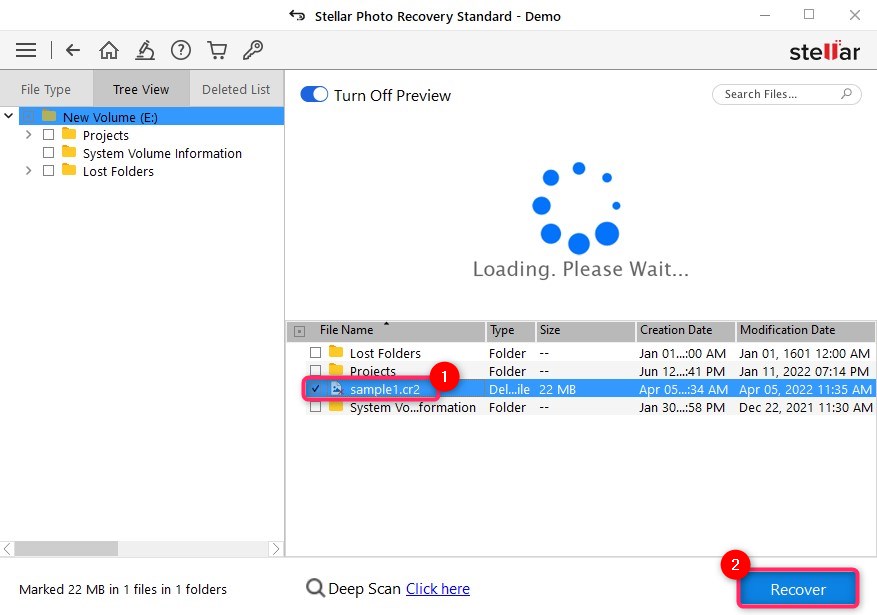 Option C:

 Data Recovery Service

While you can easily recover files from a hard drive in many cases, sometimes you'll need to rely on a professional data recovery recovery service. If you were unable to recover files using a CR2 recovery software or your hard drive seems to have been physically damaged, it's time to call a data recovery service.

Not all data recovery services offer equal quality of service, though. You should choose a service with a good history of recovering data. Plus, you'll all need the service to be available in your area, so choosing a service with a wide network is just as important.

✅

We recommend ACE Data Recovery because of an excellent history of success with recovering data (98% success rate), availability across all major U.S. and Canadian cities, and their "no data, no charge" policy.
How to Repair Corrupted CR2 Photos
If your CR2 files have become corrupt, there are several ways you can try and fix them. Below, we list a few methods you can use for repairing corrupt CR2 photos.
Method 1: Use a Different Program
As simple as it sounds, opening a CR2 file with a different program can fix the file. This method only works when the degree of corruption is minimal, though. In the case of CR2 files, if you're using Canon's dedicated software, try using Adobe Photoshop or Lightroom to open the files and see if those programs can open the file correctly.
Method 2: Convert CR2 to JPEG
Converting CR2 to a different file extension like JPEG can also fix the problem. You can use online converters like Iloveimg and Cloudconvert to make this conversion. Of course, the photos will now be in JPG format, but you'll be able to access them just fine.
Method 3: Extract JPEG Data Using JPEG-Repair
If the reason you can't open a CR2 file is because the RAW data is absent or has become corrupt, you can try extracting the JPEG preview out of the file. You can do this using a tool like JPEG-Repair.
⚠️
Note: A lot of online tools that claim to repair CR2 files really just extract the JPEG data, instead of actually repairing the file. The recovered image might have a lower resolution than the original file because of higher compression. However, it's still an option worth having when you've exhausted other recovery options.
To recover an image using this method:
Download the JPEG-Repair toolkit.
Open the zip file and run JPEGRapair.exe.
Enter the key or use the trial version by clicking Continue.
Select Extract JPEG from Tool selection. Next, click on the folder icon to select the CR2 file you want to recover.
Click Repair.
Once you're done, you'll see the preview of the file. It will also be saved automatically in the folder where your CR2 file was saved.
Method 4: Use a Third-Party Tool
You can use a third-party tool like Stellar Photo Repair for repairing CR2 files.
⚠️
Note: You will need the paid version to repair files. The free version is only good for getting a preview of what the photo will look like after the repair.
Here's how you can use Stellar Photo Repair to repair CR2 files:
Download Stellar Photo Repair and install it on your PC.
Launch Stellar Photo Repair and click on Add File on the home screen. Select the CR2 files and click Open.
Once all the files appear in the list, click on Repair.
Once the repair is complete, click OK. Then, click on Save Repaired Files.
Frequently Asked Questions
Arjun is a freelance writer with experience writing about data recovery. On a normal day, Arjun spends his time helping people recover critical data from their Windows devices. He's also a tech ninja, codes HTML and CSS, and has received an honorary mention as the family's go-to tech help during get-togethers.
Andrey Vasilyev is an Editorial Advisor for Handy Recovery. Andrey is a software engineer expert with extensive expertise in data recovery, computer forensics, and data litigation. Andrey brings over 12 years of experience in software development, database administration, and hardware repair to the team.