People love their Macs. They are extremely versatile machines that deliver high technology wrapped in an intuitive and friendly interface. These characteristics have made them very popular with creative individuals in many different fields. But as with any other computer, the possibility of data loss is always present. In this article, we will look at data recovery software for Mac and provide information that will help you choose the right solution to recover from a data loss scenario.
Data loss is something that often strikes at the most inopportune time. Consider this instance where wedding photos were lost due to a laptop failure and a lack of backup media. If the photographer in question had used data recovery software, they may have been able to recover these valuable items. No matter how confident you are in the reliability of your storage device, there is always the potential that it can be subjected to data loss.
Factors to Consider When Choosing Mac Data Recovery Software
There are many data recovery solutions from which to choose when data loss strikes your Mac. Several factors may influence which one you choose to use to recover your lost data. Here are some things to consider when naming your selection.
💻 Functionality: The most important aspect of recovery software is its ability to get your lost files back. You should choose a flexible solution that allows you to recover data from multiple types of storage devices and restore the file types that interest you.
🖱️ Ease-of-use: You will likely use data recovery software under less than optimal conditions. Losing data is stressful and you don't need to increase the tension by using software that requires you to use arcane commands. Look for a tool that makes it easy for you to recover your lost files and folders.
⚙️ Reliability: You may only have one chance to recover your lost data so you want to use a tool created by reliable developers. It's a good idea to check out some reviews of the products under consideration to see which ones have a proven track record of success.
💰 Price: There is a wide range in the pricing of Mac data recovery solutions. You can obtain freeware solutions or commercial applications. In most cases, a paid solution will offer more functionality and ease-of-use than freeware alternatives.
Quick summary
Before presenting the complete list of our seven solutions, we want to highlight the best free and paid solutions from among these applications. In our opinion, these tools are better than the other options in their class.
As for us, the best paid solution is Disk Drill for Mac. We make this determination based on several factors including:
Intuitive and user-friendly recovery procedure;
Advanced and sophisticated scanning algorithms;
Support for over 400 different filetypes;
Free data protection and S.M.A.R.T. disk monitoring tools.
If you are looking for a free data recovery solution, PhotoRec is your best bet. It has several advantages over other freeware recovery tools including:
Support for a wide range of operating systems including Mac;
The developers update the tool every year;
Free unlimited data recovery.
Top 7 Best Data Recovery Software for Mac
Here is an overview of seven of the best data recovery software solutions for Mac. We have included both paid and freeware data recovery applications for your Mac.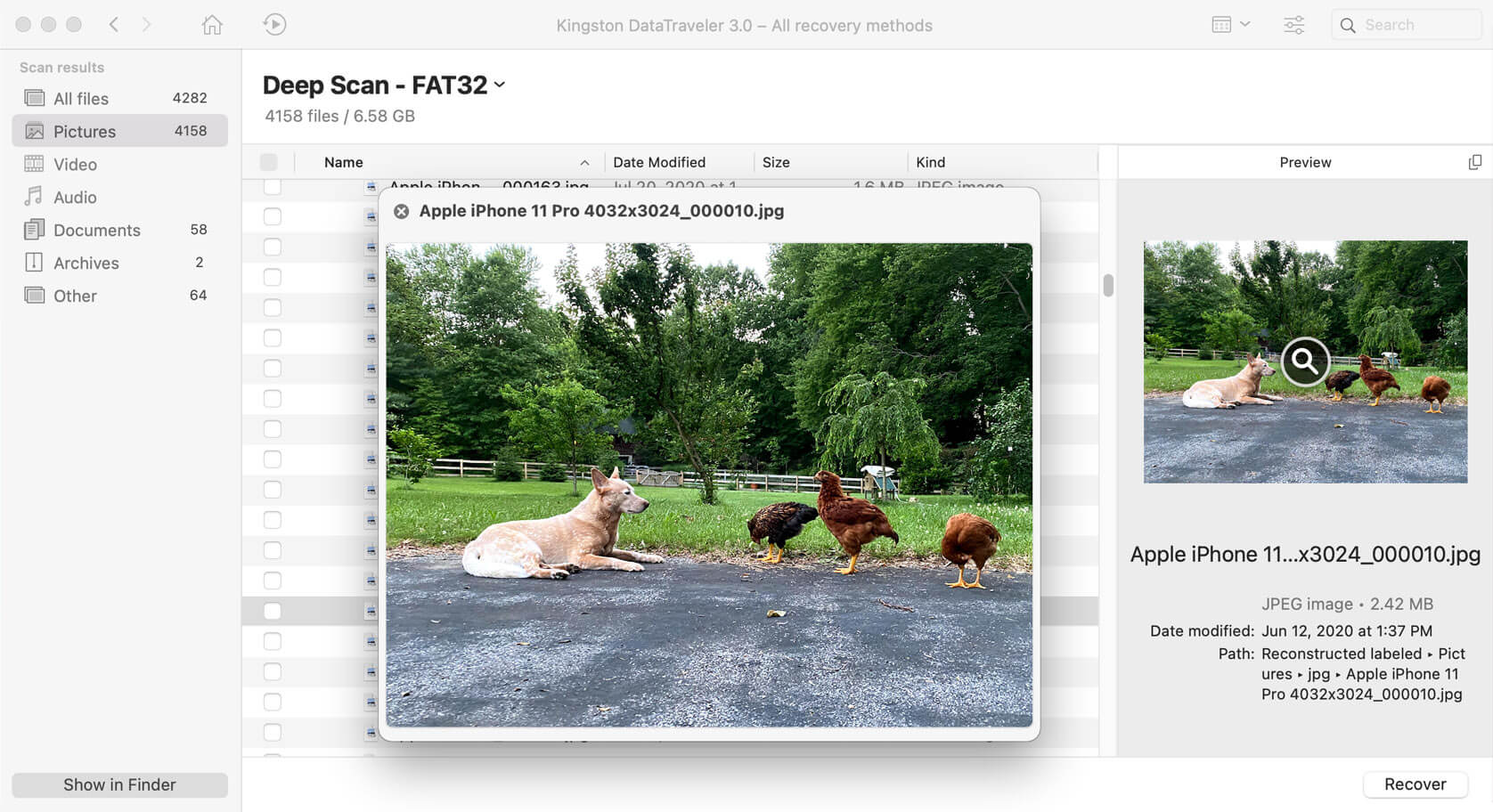 Disk Drill is a comprehensive data recovery tool that makes it easy for anyone to restore accidentally deleted files and folders.
Pros:
Intuitive and user-friendly interface
Simple yet effective recovery procedure
Scan results can be mounted as a virtual disk
Recovers all lost or deleted files, even from an emptied Trash
Advanced scanning algorithms
Support for over 400 filetypes
Cons:
No phone support
The free version only provides file previews
User Experience
Disk Drill simplifies the data recovery process, making it easy for anyone to recover their lost and deleted data. With just a few clicks, you can select the disk for recovery and start scanning the device for recoverable files and folders. Quick or deep scans can be employed to control the recovery and locate the maximum number of items to be restored.
Effective filters help control the scanning and recovery process by allowing you to focus on the files that matter. Scans can be paused and resumed at any time to make it more convenient to recover your lost data. When the scan is complete, the results can be mounted as a virtual disk, streamlining the recovery process.
The inclusion of the free data protection tools Recovery Vault and Guaranteed Recovery helps you keep your valuable information safe and furnish a simplified recovery method if you accidentally deleted a protected file. The tool is a comprehensive data recovery and protection solution that keeps your files and folders secure.
Free limits: You can preview all recoverable files with the free version of Disk Drill.
Price: $89.00
OS version: Disk Drill supports all versions of the Mac operating system from macOS X 10.5 to macOS Big Sur.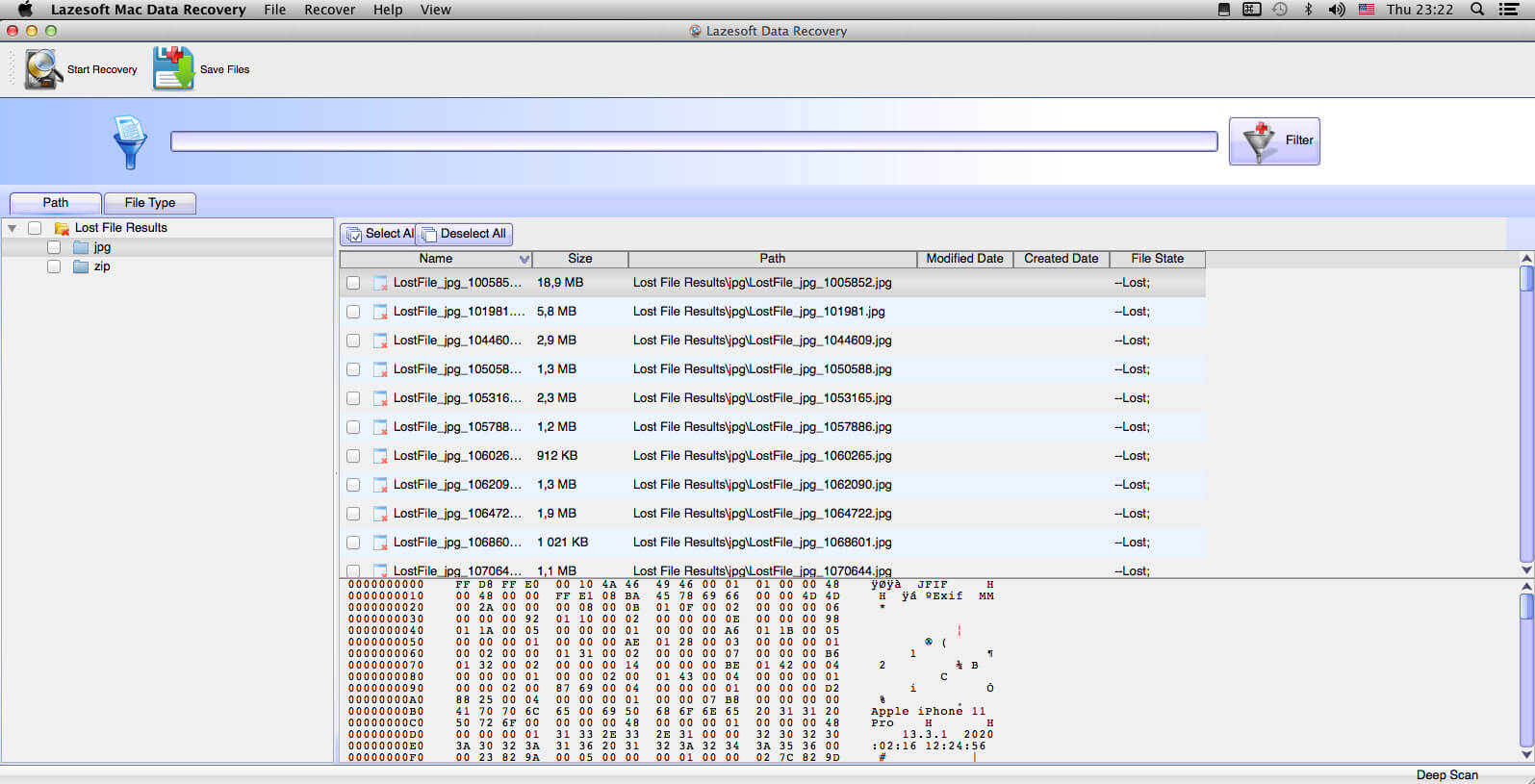 Lazesoft is a free recovery tool for Mac that has not been updated in several years, making it unsuitable for some modern operating systems.
Pros:
Free data recovery for Mac
Recovers partitions and formatted drives
Designed natively for macOS X
Preview recoverable files
Cons:
No updates to the software since macOS 10.9
User Experience
Even though Lazesoft Mac Data Recovery has not been updated in several years, we did get it to run on macOS Catalina. Since it is a free tool, it may be worth a try if you are searching for inexpensive recovery software. The lack of current operating system support may be cause for concern if very valuable data is to be recovered.
The tool is capable of recovering audio, video, document, and image files in a variety of formats. It provides fast and deep scan options that can be used to recover lost and deleted files and partitions. Recovery of specific files can be performed while the scan is running to speed up the process. The lack of an update since 2014 indicates that the developers have abandoned the project and that no more progress will be made with this app.
Free limits: no limits on free recovery.
Price: Freeware
OS version: macOS X 10.5 to 10.9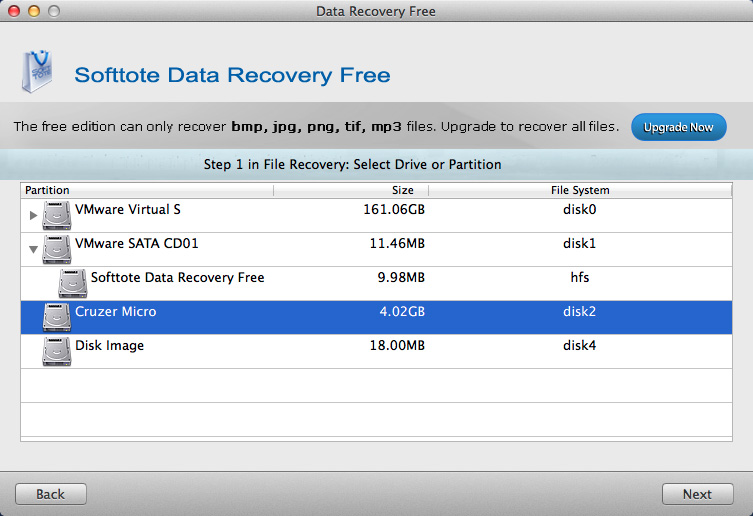 Softtote is a paid Mac data recovery application that allows users to recover up to 1 GB of data for free.
Pros:
Recovery wizards to help recover files, photos, or partitions
Preview found files before recovery
Easy to navigate user interface
RAW searching technology for more effective recovery
Cons:
Lack of Catalina support
No direct customer support
User Experience
Softtote is a simple to use data recovery app that uses intuitive wizards to guide users through the process of restoring lost files and partitions. The tool allows you to preview the files before recovery and the interface is designed to help novice computer users restore lost data. It employs advanced search technology to locate and recover as many files as possible.
The tool is somewhat hampered by the limited number of file formats it supports. This may make the application unsuitable for serious data loss scenarios. Support for macOS Catalina is also currently lacking which may influence your choice to try the tool. It does offer 1 GB of free recovery before upgrading, so you can give it a try and see if it has the necessary functionality for your situation.
Free limits: 1 GB free recovery on MacOS 10.6 – 10.13 systems.
Price: $69.99
OS version: macOS X 10.6 – 10.14.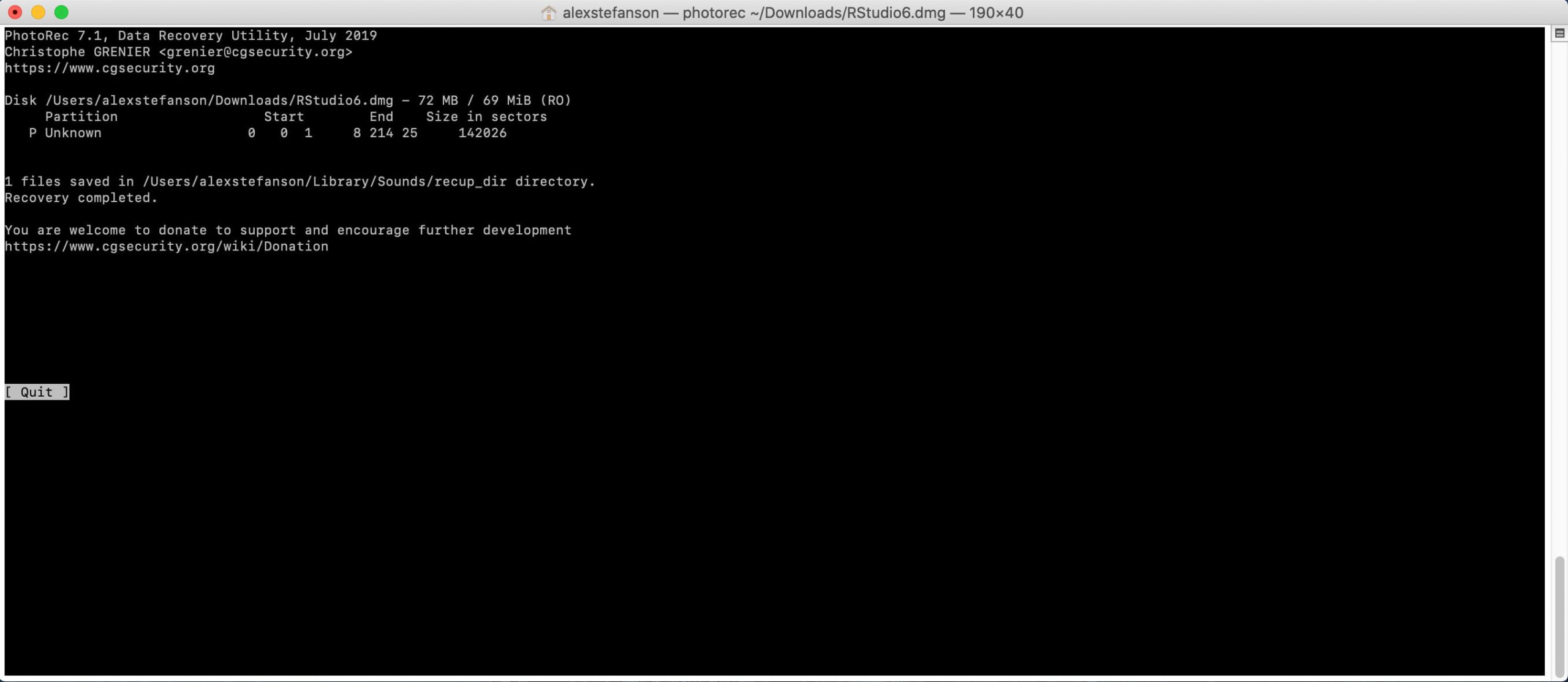 This freeware recovery tool is compatible with all versions of Mac operating systems and provides a command-line user interface.
Pros:
Free and unlimited recovery
Support for Mac, Windows, and Linux operating systems
Wide-ranging filesystem support
Supports recovery of many different filetypes
Cons:
Command-line interface
Files are recovered with generic names and need to be renamed
User Experience
Users who are not intimidated by a command-line interface will find PhotoRec to be a valuable piece of freeware. It supports all versions of the Mac operating system as well as Windows and Linux systems. The tool supports an impressive array of file types and filesystems, making it ideal for a variety of data recovery scenarios.
The menu-driven, command-line interface does require some knowledge of the underlying system that more intuitive applications keep hidden from users. This can make the tool hard to operate for inexperienced computer users. Another drawback of this tool is that files are recovered with generic names, forcing users to review and rename them after recovery is completed.
Free limits: unlimited free recovery.
Price: Freeware
OS version: all versions of macOS X are supported.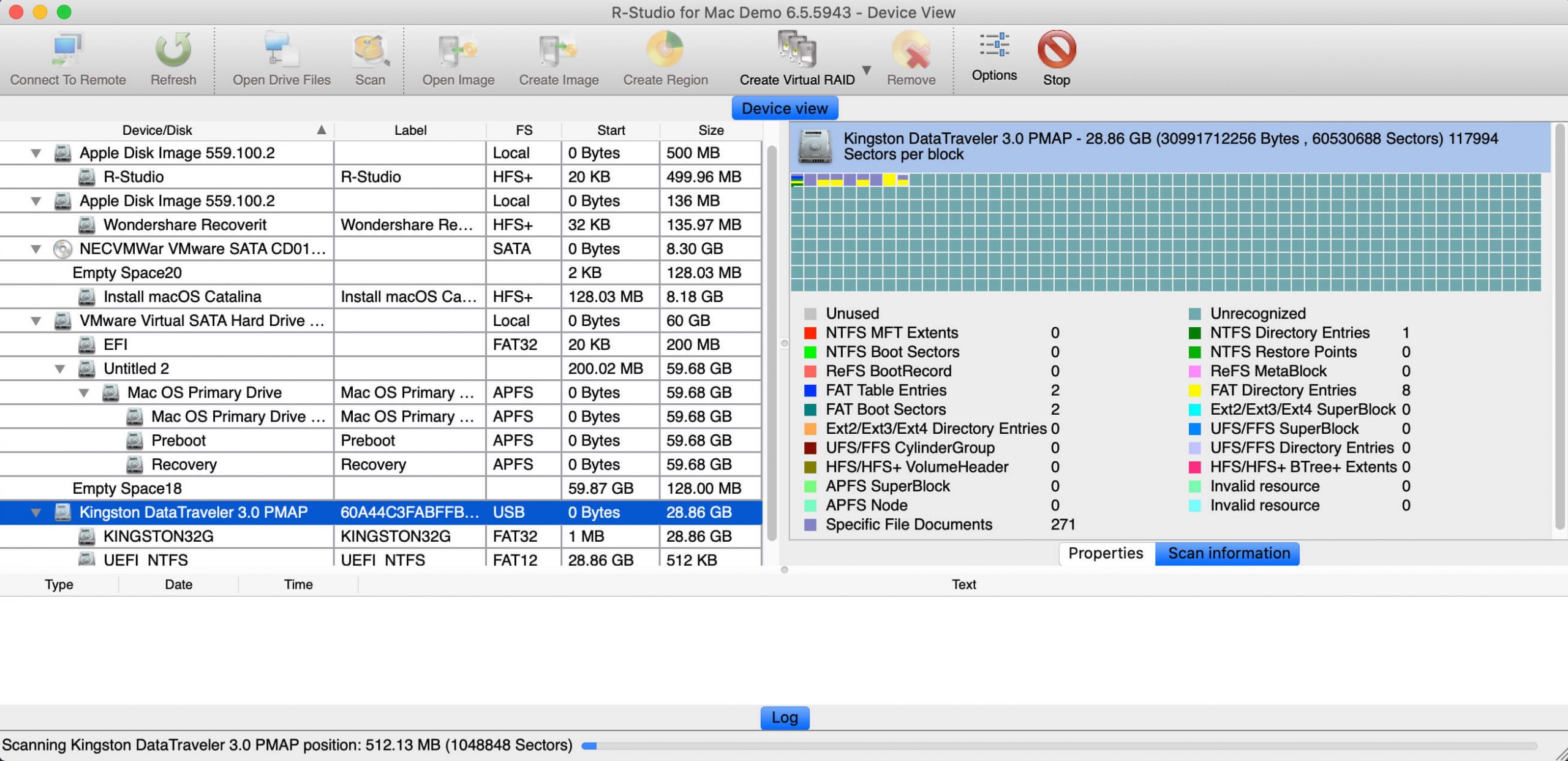 This product was developed for data recovery professionals and includes many features that are not usually required for individual use.
Pros:
Windows Explorer type interface
Can repair damaged RAID arrays
S.M.A.R.T. disk monitoring tools
Recover any file type from any disk-based storage device
Cons:
Designed for professionals and may be too complicated for average users
Features can be hard to locate
User Experience
R-Studio is a full-featured recovery application that is suitable for professional use. It has an impressive number of features that, in some cases, may over-complicate the recovery process for inexperienced users. The advanced capabilities of the tool include the ability to repair damaged RAID implementations and perform network data recovery. Excellent documentation is available which covers all types of data recovery situations.
You can preview recoverable files with the demo version before making a financial commitment and the application provides a wealth of advanced features. At times, it can be hard to locate specific features in the tool's interface. It's worth the effort if you need access to its hexadecimal editor or disk copy module. R-Studio provides an excellent recovery application tailored to the needs of professionals and advanced computer users.
Free limits: File preview of recoverable files is available for free.
Price: $79.99 for the basic version
OS version: macOS X 10.5 through macOS 10.15 Catalina.

Here is another paid Mac data recovery tool that can be used to restore your lost and deleted files and folders.
Pros:
Multiple scanning modes
Preview recoverable files
Supports encrypted APFS volumes
Recovers lost data from many device types and emptied Mac Trash
Cons:
Lack of data protection tools
Cannot mount scan results as a virtual disk
User Experience
This recovery tool is compatible with all versions of Mac operating systems and can be used to restore deleted data from just about any kind of disk-based storage device. You can preview the files before recovering deleted items from the Trash or a formatted disk or partition. A nice feature of this application is its ability to recover data from encrypted APFS volumes.
You can recover up to a gigabyte of data with the trial version of the tool which allows you to get a good sense of its utility. Both quick and deep scanning modes are available for the most complete recovery results. One issue we found was that through the deep scan provides better results, it can take multiple hours to complete. You need to obtain the Pro version of M3 Mac Data Recovery if you want to use it with APFS disks.
Free limits: 1 GB data recovery for free.
Price: $99.95 for the Pro version
OS version: Supports all Mac operating systems through macOS 10.15 Catalina.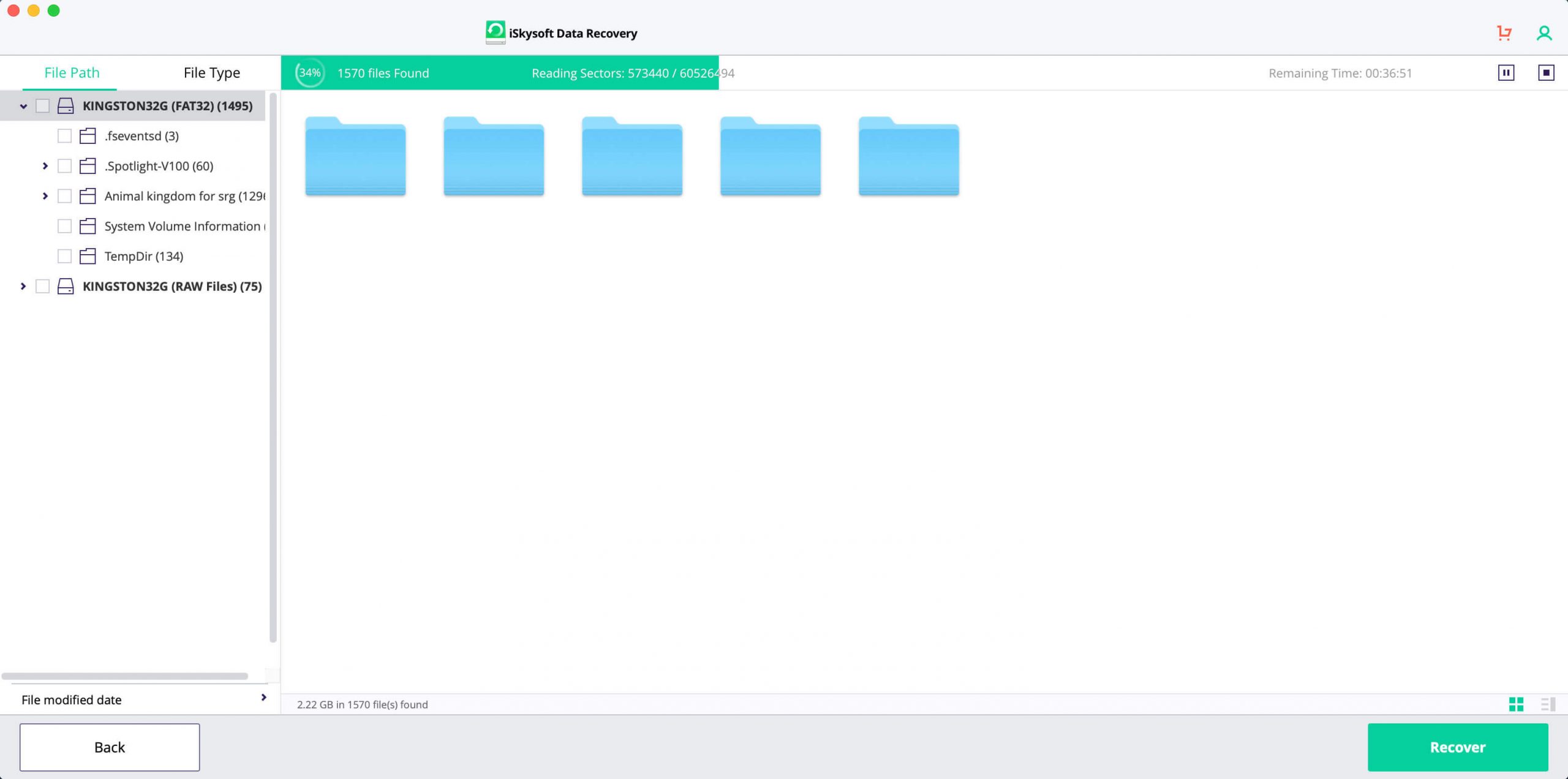 This recovery software was designed to be easy enough to use that anyone can recover their lost data.
Pros:
Deep and quick scanning modes
Recovers over 500 different file types
Preview data before recovery
Cons:
During installation, the program may try to download additional software
User Experience
The developers of this recovery application have concentrated on making the process of restoring lost and deleted files easy for users with any level of computer experience. It supports all disk-based storage devices and can recover your photos, documents, audio files, and many other types of data you may have on your Mac.
The tool provides a simplified, three-step recovery procedure that guides users through the process. When engaged with the stressful activity of recovering lost data, this simplicity is greatly appreciated by the tool's users. Quick and deep scanning modes are available as well as the ability to preview your files before recovering them.
Free limits: 100 MB recovery with the trial version.
Price: $39.95
OS version: macOS X 10.5 and later.
Why did we choose this particular set of solutions?
The solutions we have selected to discuss in this article represent a sampling of both the paid and free data recovery applications available to Mac users. We believe that you should be able to find a suitable tool from among these recovery solutions. We have tried to avoid applications that promise more than they deliver or that have generated multiple user complaints.
What is data recovery software and what can I do with it?
Data recovery software may just be the most important and useful type of application you ever use on your Mac. It can undo mistakes that lead to data loss and help you retrieve your valuable files and folders. Here's how it works.
When macOS deletes a file, it does not immediately remove the data from your storage device. In most cases, the first stop for a deleted file is the Mac Trash Can. This is a special folder that temporarily stores deleted files so they can be recovered quickly.
When you empty the Trash or permanently delete a file without sending it to this temporary storage, the data remains physically present on the disk. The operating system removes logical access to the data, making it unavailable to users or applications. The system marks the space occupied by the file as available for use and will eventually overwrite the original data.
Data recovery software scans storage devices and repairs the logical links to deleted data that is still physically available. As long as the data has not been overwritten, it can be restored through the use of recovery software. The key is that the data cannot have been overwritten. Once it is, recovery software cannot get it back.
For this reason, it is highly recommended that you stop using the device that experienced data loss as soon as you suspect that data loss has occurred. This will minimize the risk of the data you wish to recover being overwritten before you perform the recovery.
How can I improve my chances of data recovery using third-party software?
Your chances of successful data recovery using a reliable third-party solution are good if you follow our recommendations. Failure to take these simple steps raises the risk that your data will be overwritten and lost for good.
Stop using the device affected by data loss as soon as it is discovered. You don't want to perform any activity that may initiate a write operation that may destroy the deleted data you want to recover. Every time you access a device that has experienced data loss, you risk overwriting the files and folders you want to recover.
Download and install the recovery software on a different device than the one with lost data. You should not use an alternate partition on the same disk, but a completely separate device. This also protects the deleted data until it is recovered.
Save the recovered data to a new location on a different storage device. Saving it to the same device that has lost data risks overwriting or corrupting data as it is being recovered.
If you follow these suggestions, there is a very good chance that you can recover your lost data using third-party software.
On which types of devices can data be recovered and what are the recovery specifics of each?
Data recovery software can be used to recover data from virtually any type of disk-based storage device. There are some special considerations to keep in mind when using certain kinds of devices which we will outline below.
Laptops and personal computers – If your computer's main drive has experienced data loss, you need to perform the recovery steps using an external storage device. Use a thumb drive or external hard drive to download and install the recovery software. Save any recovered data to the external device. These two precautions eliminate the chance that you will overwrite the data that you want to recover.
External Hard Drives and USB Drives – Recovering deleted data from an external drive requires you to connect the device to the computer that has data recovery software installed. Don't save the recovered items to the same external device that lost data to prevent overwriting or corrupting the files.
SD Cards – Simply connect an SD card to your computer with a built-in or external reader. Save recovered files to your computer's main drive and not the card that was subjected to data loss.
Solid-State Drives – Solid-state drives that have TRIM enabled require special handling when attempting data recovery. Your best chances of success are to create a disk image of the SSD drives and attempt the recovery from that backup.
Digital Cameras – Digital cameras often contain SD cards that are used to store user's photos and videos. When performing a recovery, you can connect the camera directly to your computer or remove the memory card and use a reader to access the data.
Mobile Phones – Data recovery software can be used to restore lost data from mobile phones. Connecting the phone to your computer allows recovery software to treat it like a disk and scan for lost data that can be recovered.
What types of files can be recovered using data recovery software for Mac?
A reliable recovery tool will be able to recover a wide variety of file types. You should look for a software solution that can get back all of your deleted files. Here are some examples of the types of files that a good recovery application can restore.
Video files – 3G2, 3GP, AVI, DIR, OGM, RM, FCP, FLA, FLV, M2T, M2TS, M4V, MOV, MPG, MP4, SWF, and TOD.
Audio files – AA, ASF, CAF, CDA, FLAC, FLP, M4A, MID, MP3, PTF, RA, RNS, SIB, WAV, and WMA.
Photos and raw images – 3FR, AI, ARW, BLEND, BMP, CDR, CR2, DPX, EPS, FFF, JPG, NEF, ORF, PEF, PNG, PS, PSD, TIFF, and WEBP.
Documents – AFDESIGN, APK, CFB, CHM, CS, CST, DB3, DOC/DOCX, EMLX, EPUB, H, HTML, KEYCHAIN, MSG, NUMBERS, XLS/XLSX, PDF, RAR, and RTF.
Archives – 7Z, RAR, ZIP, and also ARJ, CAB, DMG, ISO, MBX, PST, RDB, TAR.XZ.
Did you know?
Ransomware is a particularly problematic variety of malware that encrypts a computer's hard drive and hold its data for ransom. Some variants also steal or delete some of the data resources that it attacks. Ransomware can be delivered in multiple ways, making it imperative that users keep up their guard. Some of the most common methods of delivering ransomware are phishing emails, lax security training, weak passwords, and visiting malicious websites. As you can see, there is a human element in allowing these attacks to occur. Care needs to be taken by all users to minimize the risk of falling victim to ransomware.
FAQ
Yes, there is. PhotoRec is a freeware solution that is free and compatible with the macOS operating system. It does require the user to navigate a command-line interface and is best suited for users with some knowledge of data recovery, partitions, and filesystems. Developers keep the freeware updated for compatibility with the most current Mac operating systems.