Your phone—if you're like most folks in 2023, your phone is probably always at your side, if not in your hand. Pictures, documents, reminders, calendars, to-do lists, shopping lists, music, movies, and more are housed in these devices that are, unfortunately, susceptible to damage and data loss. What do you do when your Android mobile data is in peril or, worse, seemingly completely gone? You can turn to Android data recovery software to find and repair your files so you can get your life back on track.
This begs the question: which Android data recovery software actually works in 2023? Which one is the best one for me?
| | | | | | |
| --- | --- | --- | --- | --- | --- |
| Name | What we liked | Fees | Free Trial | Supported Android versions | Our score out of 50 |
| Disk Drill 5 | ❤️ Best all-inclusive option for Mac users | $89 | Yes | Supports all the latest Android versions | 43 |
| FoneLab Android Data Recovery | 💡 Best recovery process | $55.95 | Yes | Supports Android OS 5.0 and above | 39 |
| AirMore | 👀 Best UI | Free | NA | Supports all the latest Android versions | 44 |
| FonePaw | 📶 Best for SIM card recovery | $34.96 | Yes | Supports Android OS 5.0 and above | 42 |
| UltData | 🔧 Best no-root data recovery options | $49.95 | Yes | Supports Android OS 5.0 and above | 41 |
| PhoneRescue | ☎️ Best customer support | $55.99 | Yes | Supports Android 4.0 and above | 32 |
| EaseUS MobiSaver | 🖼️ Best comprehensive recovery | $39.95 | Yes | Supports all the latest Android versions | 31 |
What is Android Recovery Software? How Can It Help Me?
Android recovery software refers to special data recovery tools used to find and fix files lost due to accidental deletion or corruption on your Android smartphone. In most cases, such software is used to recover files from the internal memory of an Android phone, like a Samsung Galaxy or Google Pixel.
This means that a user is attempting to retrieve data that has been stored directly on the phone, as opposed to a storage device like an external memory card or SD card. To recover deleted files from an SD card, any of the top data recovery software will work just fine.
Using data recovery software for Android phone internal memory is necessary if you are facing issues with missing data because this software has special functionalities that traditional data recovery software doesn't often possess.
👀
Notice: Before you try to recover lost data from your Android phone using recovery software, you must know that the process might require your phone to be rooted first. Rooting gives special access to the software, allowing it to find data that's usually hard to reach.
If the device has not been previously rooted, it cannot be scanned using Android recovery software, but after obtaining root access, there will be a factory reset. It's a good idea to back up your data since the factory reset erases everything on your phone. So having a backup is critical, or you'll lose your data forever.
How To Choose The Right Android Recovery Software For Your Situation
Data recovery is a very situational thing. The best type of software to use will depend on a variety of factors.
👻 Cause Of Data Loss: Why is the data missing? Were the files simply deleted or was the phone factory restored to its default settings? Are the files damaged or corrupted?
💰 Cost: You also have to consider your budget. How much are you willing to spend upfront? Are you open to paying a subscription rate? You must also consider whether a free trial is important to you. Some recovery software offers a try-before-you-buy way to verify the recoverability of your files. This can lessen the headache of trying to get a refund, a difficult task for many data recovery companies. If you're not using a free trial, you need to consider if you can afford a second software to recover your files if the first doesn't work or if you're looking at possible long wait times for a refund.
🗃️ Data Storage Location: When recovering data from an Android phone or other devices, the original location of the data makes a difference. There are two main locations to store data on an Android device: internal system storage and external SD card (AKA memory card). Not all data recovery software supports both file locations- in fact, many don't.
🛡️ To Root Or Not To Root: Whether or not you're willing to root your phone will make a big difference in which software you use to recover your files. While no software on the market (that we're aware of) offers full recovery options on unrooted devices, many offer partial recovery options on unrooted phones. To learn more about what it means to root your phone and decide whether or not you're willing to do it, you can read about rooting here.
💽 Storage Medium For Recovered Files: Something important to consider is where you intend to store your recovered files. It's highly advisable to use a different storage medium than the one you're recovering from, so you have to consider, for example, whether you have enough space on your drive. If you need to use an external drive, do you have enough USB ports to support your phone, drive and peripherals such as your mouse? What is your data transfer speed—will it take two minutes or two days, based on how much data you have stored on your Android device? This can sway which device you choose to use to recover your data. Many users gravitate toward machines that have multiple USB 3.0 or USB-C ports because of their speed.
⏱️ How Quickly Do You Need Your Files? Time is a major factor in choosing which Android recovery software is right for you. Do you need to access files quickly for a meeting or other event? Do you have time for a slower, perhaps more thorough software to recover more of your files?
👨‍💻 Do You Have A Technical Background? Lastly, your technical expertise should factor into your decision-making. While many Android data recovery software offerings today are user-friendly, some come with more straightforward user interfaces than others, while some support ultra-complex recovery processes, but can be difficult to understand for people who are not technologically inclined.
The Winners By The Numbers: Best Android Recovery Software in 2023
| Software | Score Out of 50 |
| --- | --- |
| Disk Drill 5 | 43 |
| FoneLab Android Data Recovery | 39 |
| AirMore | 44 |
| UltData | 42 |
| PhoneRescue | 41 |
| FonePaw | 32 |
| EaseUS MobiSaver | 31 |
The Disk Drill 5 Android Data Recovery software works on Mac OS X to recover data from SD cards as well as internal memory on rooted Android devices.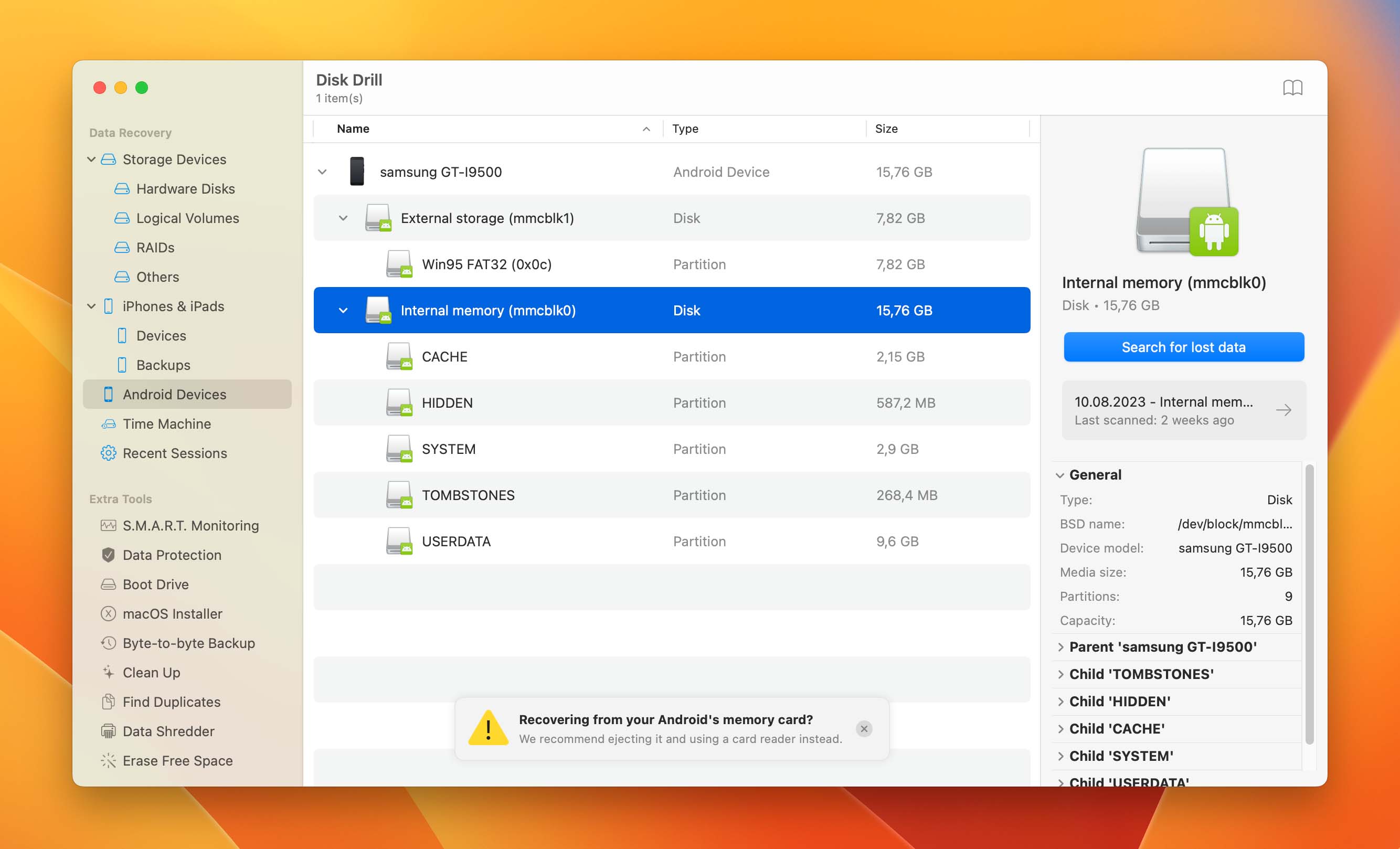 Pros:
Recover any file type
Recover files after factory reset
Works for failed system upgrades
Recovers files from incomplete or interrupted file transfers
Cons:
Only works on Mac (although you can still scan any Android memory card on Windows PC)
Download Disk Drill 5 Android Data Recovery
User Experience:
Like other Android data recovery software, Disk Drill requires users to have a rooted phone to function and recover data. Disk Drill can recover data from your Android device in a number of scenarios, powered by the same features underpinning its Mac data recovery. Disk Drill treats Android internal memory as well as SD cards the same way it would treat any other hard drive, making data recovery an easy process.
With a rooted device, Disk Drill can recover files that would otherwise be gone for good. This software is also not limited to photos or videos and can recover any type of data that is (or seemingly once was) on the phone. At this time, Disk Drill cannot scan the internal memory of your smartphone on Windows directly but can scan any Android device's SD card on your Windows PC.
On the plus side, Disk Drill has a free option for users to try to verify recoverability before investing in the paid version.
Score by parameters (10 Points max)
👐 User Friendliness - 9
💡 Recovery Process - 10
⚙️ Features - 6
💰 Pricing - 9
📞 Support - 9
Desktop version ✅
Android app version ❌
FoneLab Android Data Recovery lets users recover data not only from Android phones but also from SD cards and even SIM cards.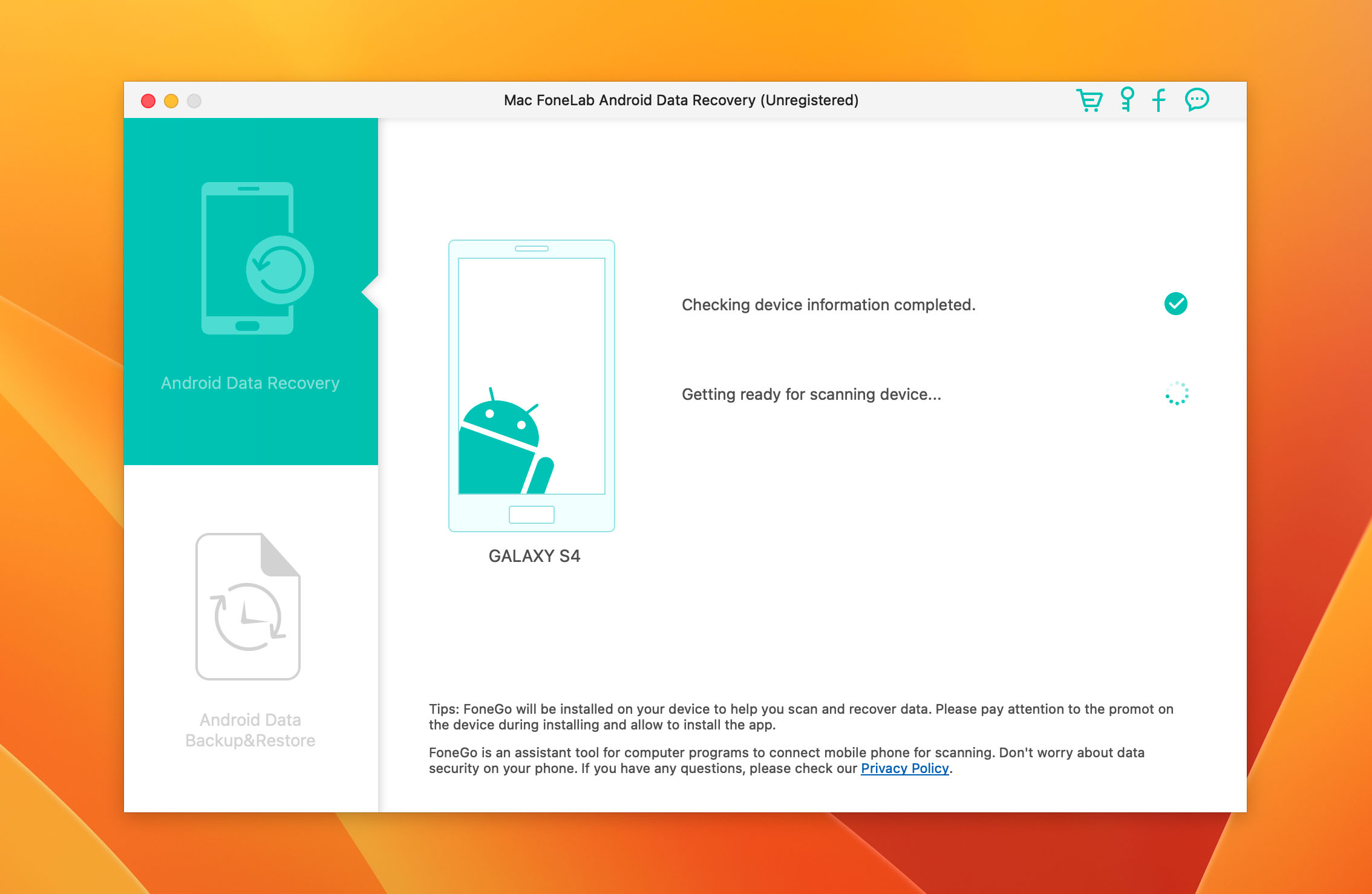 Pros:
SIM card recovery
Preview screen prior to recovery
Restore WhatsApp data and call history
Fix Android problems and anomalies
Cons:
May deny refunds
Possibly slow or underwhelming customer service response times
User Experience:
FoneLab is a powerful Android data recovery software with a pleasant, simple user interface that makes it very easy to recover lost files. FoneLab is able to recover files from different scenarios, including OS and rooting errors, accidental deletion, forgotten passwords, crashes, viruses, device failures, and more.
We like FoneLab specifically for its ease of use and customer-centric design. Finding and recovering files using their interface is intuitive—simply browse through the sidebar navigation to find call logs, contacts, messages, attachments, and media, all clearly labeled and organized.
FoneLab's data recovery software for Android works on both Windows (XP and up) as well as Mac OS X 10.7 and above. It requires very little storage space or CPU power, so it is a formidable option for users with practically any hardware configuration in this lineup. (This means it's also super convenient to have whether you're at home, at the office, or elsewhere because it will work in a pinch with whatever is available.)
One really pleasant aspect of FoneLab that sets it apart from its competitors is its ability to recover SIM card data. Users are able to try a free version before purchasing a full version of the software.
Score by parameters (10 Points max)
👐 User Friendliness - 10
💡 Recovery Process - 9
⚙️ Features - 10
💰 Pricing - 8
📞 Support - 2
Desktop version ✅
Android app version ❌
AirMore is a feature-rich Android data recovery software that recovers a wide range of file types spanning nearly all common data loss scenarios encountered by Android users.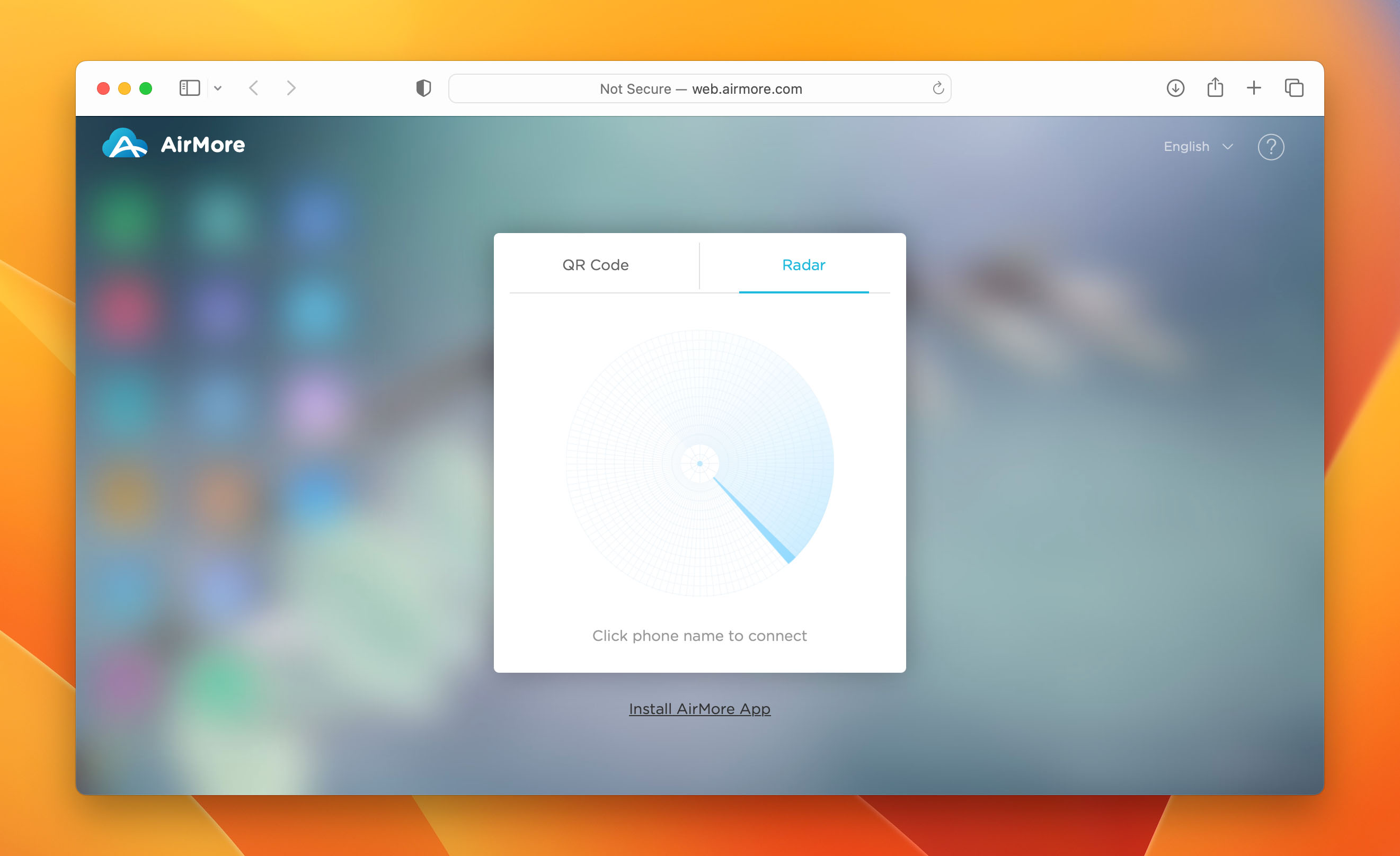 Pros:
Recovers lost data due to system rooting
Recovers data lost from ROM flashing
Simple 4-step process
Safe, non-damaging, read-only recovery process
Cons:
Does not appear to recover SIM card data
User Experience:
AirMore offers a safe way to recover your Android data that neither disturbs the files nor breaches your privacy—no files are "kept or leaked" by the software. This powerful tool simplifies the recovery process, and it can recover even heavily altered files such as those lost during rooting and ROM flashing.
AirMore supports both WIndows and Mac OS X users and has a beautiful, pleasant UI that is quick and easy to understand at every stage of the data recovery process.
The company also makes simplified file transfer software that can be downloaded on both Android and iPhone.
We like AirMore for its simple, clean user interface, easy processes, and free trial.
Score by parameters (10 Points max)
👐 User Friendliness - 10
💡 Recovery Process - 10
⚙️ Features - 9
💰 Pricing - 9
📞 Support - 7
Desktop web version ✅
Android app version ✅
TenorShare is an Android data recovery software that claims that it doesn't require root, making it a standout competitor against others on our list.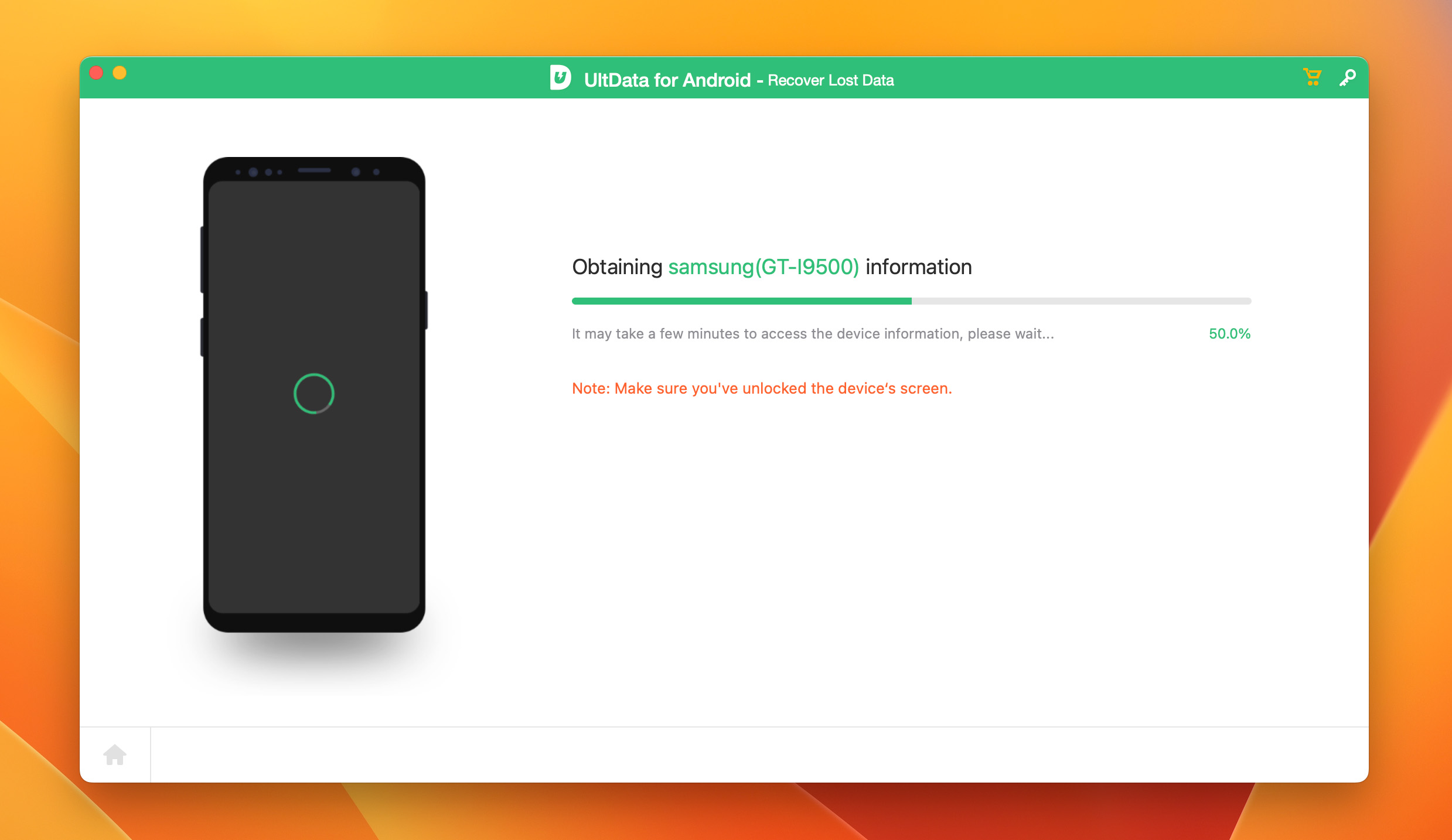 Pros:
Recovery without root
Recovers call logs, WhatsApp, and text messages
Offers a free download
Cons:
Unethical, off-putting refund tactics
User Experience:
TenorShare's UltData Android recovery software offers something no other competitor on the list does—data recovery without rooting the phone. It even claims to recover WhatsApp data including voice recordings and stickers without root. This tool is not file-type limited, so users can recover documents, photos, videos, and anything else they may have had stored on their phones.
The website claims a guaranteed refund if it doesn't work, and it does offer a free trial, but some users have complained about unethical refund policies. While some companies on this list refuse refunds or fight them hard, TenorShare has been said to try to negotiate users into receiving a partial refund, something that many customers have found off-putting.
This is another software that if it works well for your device, then you will be in luck, but if it doesn't, you can be ready for a headache.
Score by parameters (10 Points max)
👐 User Friendliness - 9
💡 Recovery Process - 10
⚙️ Features - 10
💰 Pricing - 9
📞 Support - 4
Desktop version ✅
Android app version ✅
iMobie PhoneRescue is a data recovery software for Android and iOS that offers a free download and a 60-day money back guarantee.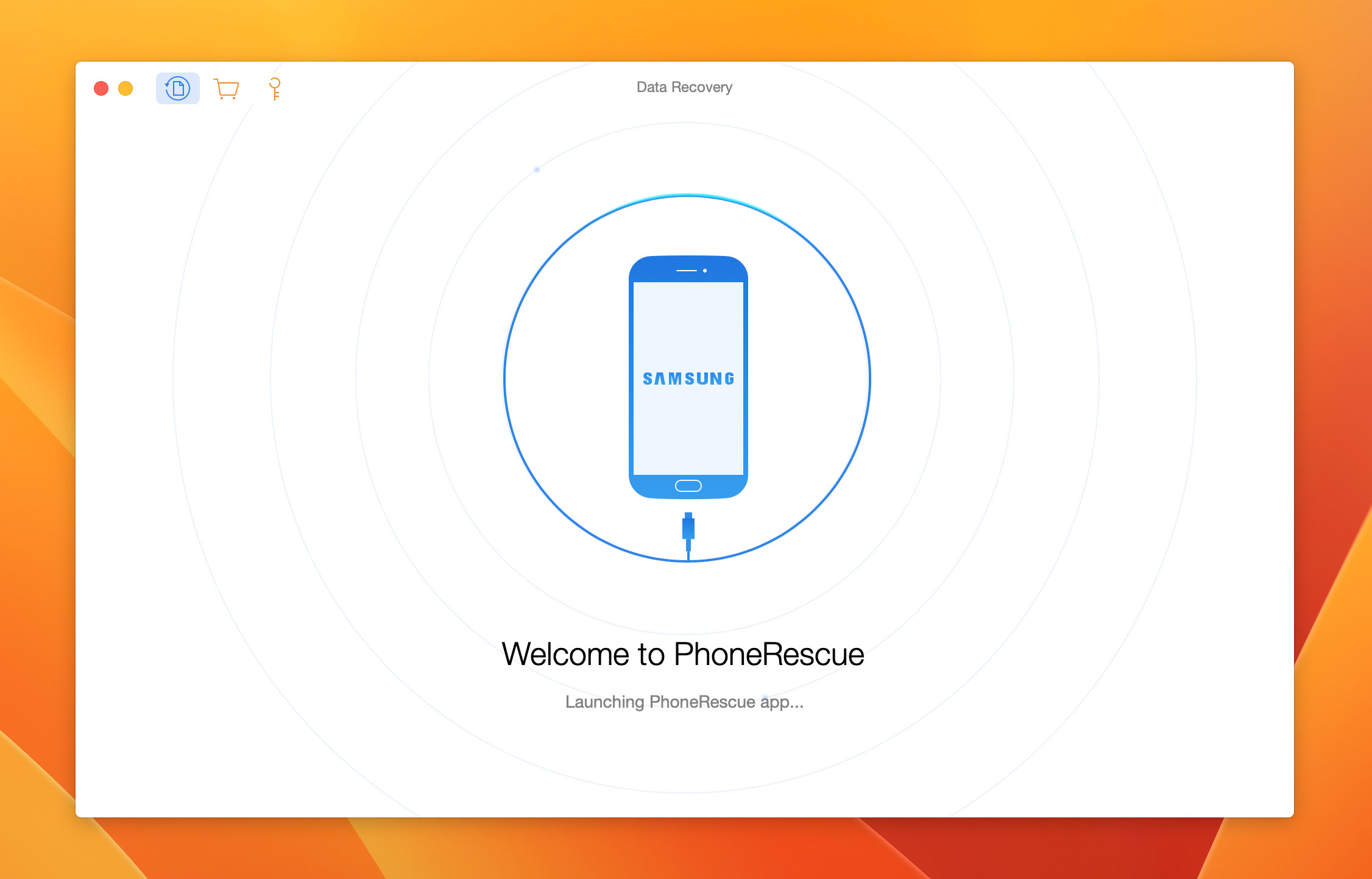 Pros:
60-day money back guarantee
Cross platform support
Recovers any file type
Finds hidden data without root
Recovers WhatsApp
Cons:
Slightly misleading web copy
User Experience:
PhoneRescue is another software that is able to get back WhatsApp data including videos and messages. It also boasts the ability to find hidden files such as received WhatsApp videos without rooting the device. It can even recover data from locked devices.
While the copywriting on their website could mislead non-technical users into believing that they could recover all of their lost files without rooting their phone, the reality is that it can find hidden files on unrooted phones the same way other Android recovery software can. For full data recovery, root is still required.
On the plus side, this software is cross-functional between iOS and Android, so it works well for families with a mixed set of devices.
One stand-out feature of iMobie vs. other competitors on our list is their customer service. While some users have had issues, many have praised the customer service provided by iMobie as being caring and efficient—a breath of fresh air from how many data recovery companies interface with their consumers.
Score by parameters (10 Points max)
👐 User Friendliness - 7
💡 Recovery Process - 8
⚙️ Features - 9
💰 Pricing - 8
📞 Support - 9
Desktop version ✅
Android app version ❌
Android data recovery with FonePaw is a breeze with an easy click-and-go recovery interface, read-only data recovery, and free trial to verify recoverability.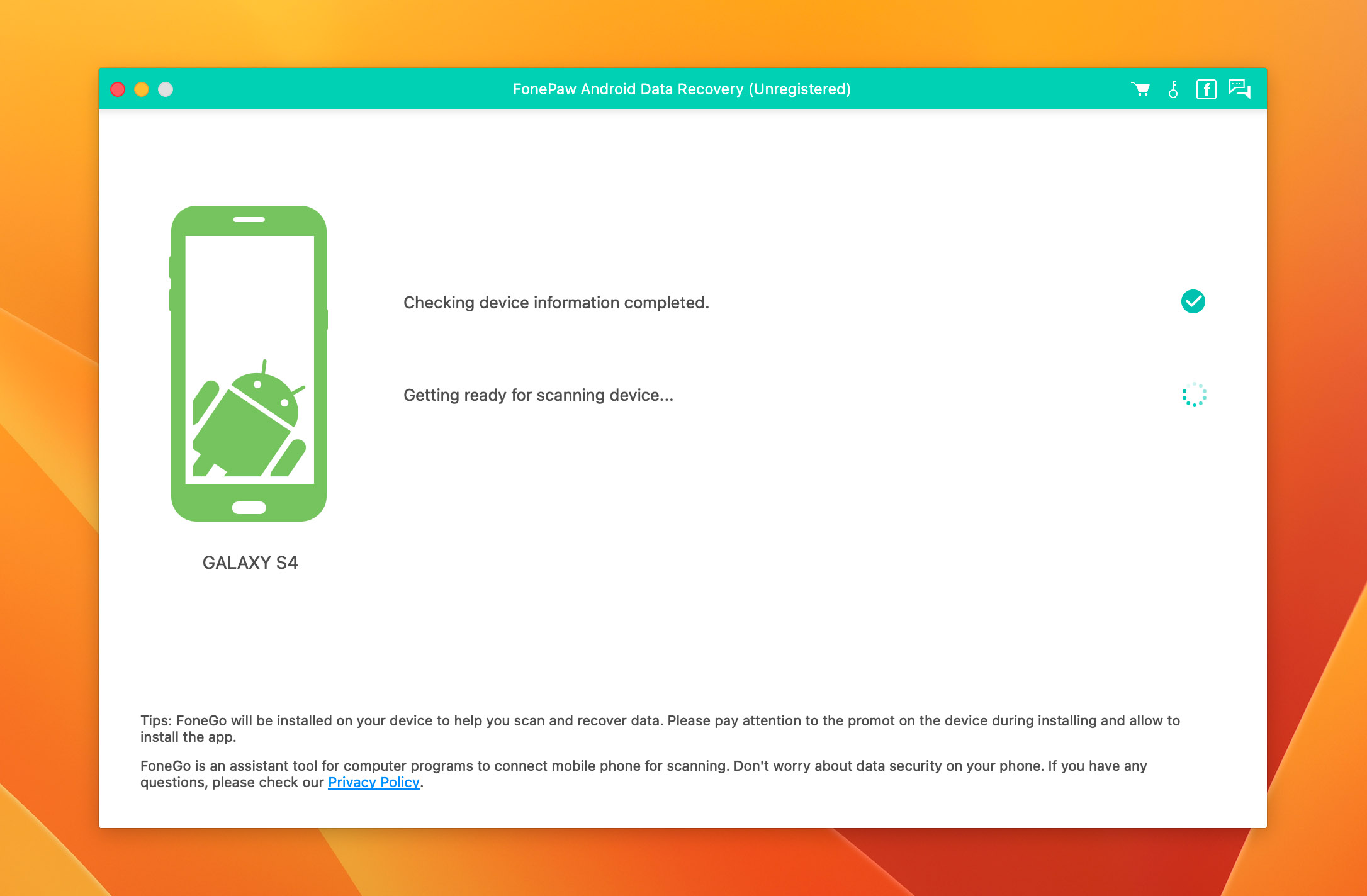 Pros:
Free trial with preview
Ultra fast for many users
Recovers from internal memory, SD card, and SIM card
Cons:
Finicky customer support
Difficult refund process
Slow for some users
User Experience:
FonePaw is another Android data recovery software that allows for SIM card data recovery. We like it for its ability to recover call logs as well as basically all data types from internal and external Android memory.
While FonePaw is effective for many users, and they offer a free trial that users can utilize to preview files and verify recoverability, hiccups with the paid version have led to many customer complaints regarding customer service, refunds, and responsiveness.
If it works well for you, you could be in luck with a fast, pleasant-to-use, powerful data recovery option. If it doesn't work for you, you might have to jump through hoops to get your money back.
Score by parameters (10 Points max)
👐 User Friendliness - 7
💡 Recovery Process - 7
⚙️ Features - 9
💰 Pricing - 8
📞 Support - 1
Desktop version ✅
Android app version ❌
EaseUS MobiSaver stands as a user-friendly, no-cost tool dedicated to effortlessly recovering data from Android devices.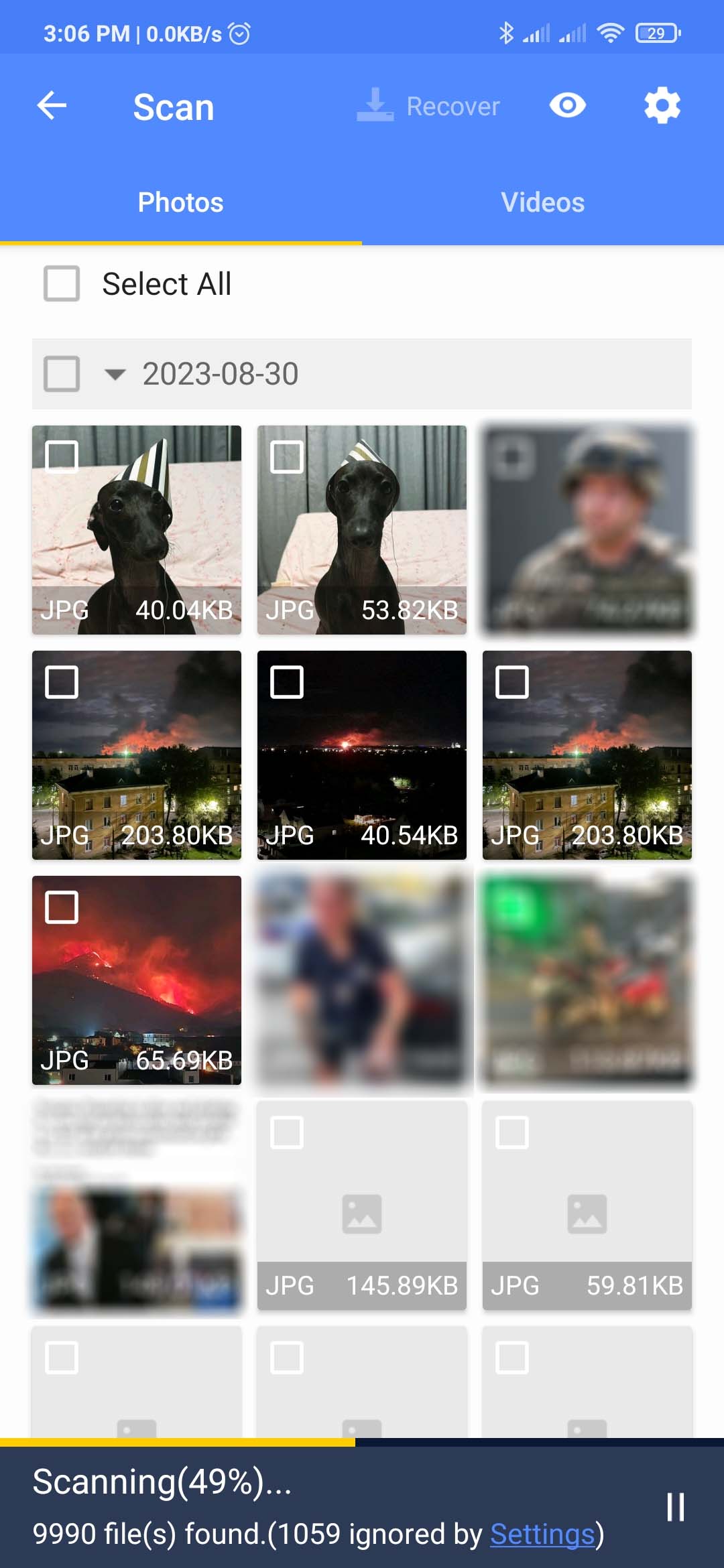 Pros:
User-Friendly Interface
Comprehensive Data Recovery
Preview Functionality
Cons:
Limited Free Version and price subscriptions
No Cloud Recovery
Its intuitive process involves connecting your Android device, initiating a scan, and selecting the desired files for recovery. It is compatible with over 6000 Android models and can easily retrieve data from internal and external memory sources. The tool also offers helpful features like file preview options before recovery and supports exporting recovered files in formats like CSV and HTML.
We like this app's simple interface and Android app version that makes internal memory data recovery a breeze. However, its pricing and subscription models are not the best, especially for short-term premium subscriptions.
Score by parameters (10 Points max)
👐 User Friendliness - 8
💡 Recovery Process - 7
⚙️ Features - 7
💰 Pricing - 5
📞 Support - 4
Desktop version ✅
Android app version ✅
Honorable Mentions
Here's a list of other Android data recovery tools that didn't make it to the list but are worth trying out:
DiskDigger: DiskDigger is an Android data recovery app that focuses on recovering deleted files from both internal and external mobile storage. But despite being a great tool for Android data recovery, DiskDigger's desktop version does not provide Android scanning. This limits the app's versatility and function, making it useful only for those with relatively simple data recovery needs on their Android device.
Wondershare Dr. Fone: Wondershare Dr. Fone is an Android data recovery application that offers a range of data recovery options, including the retrieval of deleted files, contacts, and messages. In addition to recovery, it also features data backup, transfer, and repair tools. But despite these features, its pricey subscription models and poor customer service make it a bad choice for budget-conscious users or those who value reliable support.
iMyFone D-Back for Android: iMyFone D-Back for Android is another recovery app that can help retrieve lost or deleted data from Android devices. However, its 3-PC limit and pricey subscription models make it an unviable option when compared to similar apps.
What If I Don't Use Windows Or Mac? What Can Linux Users Do To Recover Android Files?
There are currently no software recommendations for Linux users to recover data from Android devices. For external memory like an SD card, any Linux-compatible data recovery software should work, e.g. PhotoRec and similar open source options.
FAQ
Author • 3 articles
Cas is a B2B disruptive technology content marketer with C-level experience and a focus on artificial intelligence and machine learning. She is the founder of Supmantek Industrial Marketing which serves the companies at the intersection of technology with supply chain, manufacturing, and logistics.
Author • 17 articles
Vihaan is a freelance content writer with over two years of experience in creating original content across a multitude of niches such as tech, infotainment, lifestyle, and media. He is also deeply interested in the field of data recovery and has been studying it extensively for some time now. Vihaan is passionate about sharing his knowledge and insights on the topic and hopes to contribute to the community of professionals working in data recovery.
Editor
Andrey Vasilyev is an Editorial Advisor for Handy Recovery. Andrey is a software engineer expert with extensive expertise in data recovery, computer forensics, and data litigation. Andrey brings over 12 years of experience in software development, database administration, and hardware repair to the team.