You don't want to be caught off guard when you lose an important file. Instead, you want to have reliable data recovery software already installed on your system, and this article is here to help you pick the best solution for you.
✅
Before moving on to our complete ranking, here is a quick recap of our editors' top data recovery software picks for 2023:
1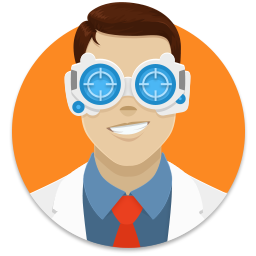 Disk Drill
Platform:

Windows, macOS
Distributed as:

Freemium
2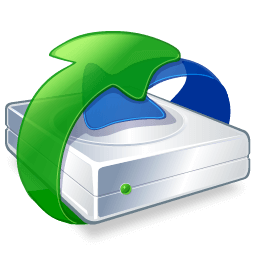 R-Studio
Platform:

Windows, macOS, Linux
Distributed as:

Commercial
3

PhotoRec
Platform:

Windows, macOS, Linux
Distributed as:

Open-Source
Our Data Recovery Software Selection Criteria
Here are some of the critical aspects that delineate top data recovery software from the competition.
⚙️ Performance & Versatility: A common issue with a lot of these recovery apps is that the rescue tools support very limited file types. A recovery app becomes resourceful when it supports the restoration of a wide range of file types; so, you can confidently restore deleted photos, videos, music files, and other more specific file types, such as XLS, DOC, or PDF files. Another unpleasant realization is that most of your programs do not support the recovery of files from external storage devices such as external HDD, memory cards or USB flash drives. This is quite inconvenient as the major chunk of data loss these days occur on external or portable storage devices. We favored versatile data recovery software with high performance, supporting various file types, file systems, and recovery from external storage devices, while maintaining a high recovery rate.
⌛ Scanning Speed: Time is something nobody has enough of these days. You can't expect users to spend the whole day waiting for the scanning and recovering processes to finally get their hands on something urgent. Good-performing data recovery software generally has options for high-speed scanning. And some even come with customized scanning while targeting a specific file for recovery. We preferred data recovery software with fast scanning speeds, offering high-speed and customizable scans for targeted file recovery, thus saving time and increasing efficiency.
🔍 File Preview & Recovery Chances: Another important feature is to preview files that have already been identified. Also, the recovered files need to be in their original quality. Reliable data recovery applications also display the recovery chances of each file. We gave preference to data recovery software with file previews, original quality preservation, and displayed recovery chances for informed decision-making.
🤷‍♂️ User-Friendly UI: There's no use in having the world's best data recovery app if it can only be operated by the team behind it. A simple interface and ease of use are essential to any app. A lot of recovery programs feature flashy icons and supposedly high-tech features that are rather useless. The end-user often only needs a well-defined interface that delivers the goods, period. We prioritized user-friendly data recovery software with a simple interface, removing flashy elements, for easy end-user operation.
Now that you know what makes an awesome recovery program, let's move on to the ranking.
Top 10 Best Data Recovery Software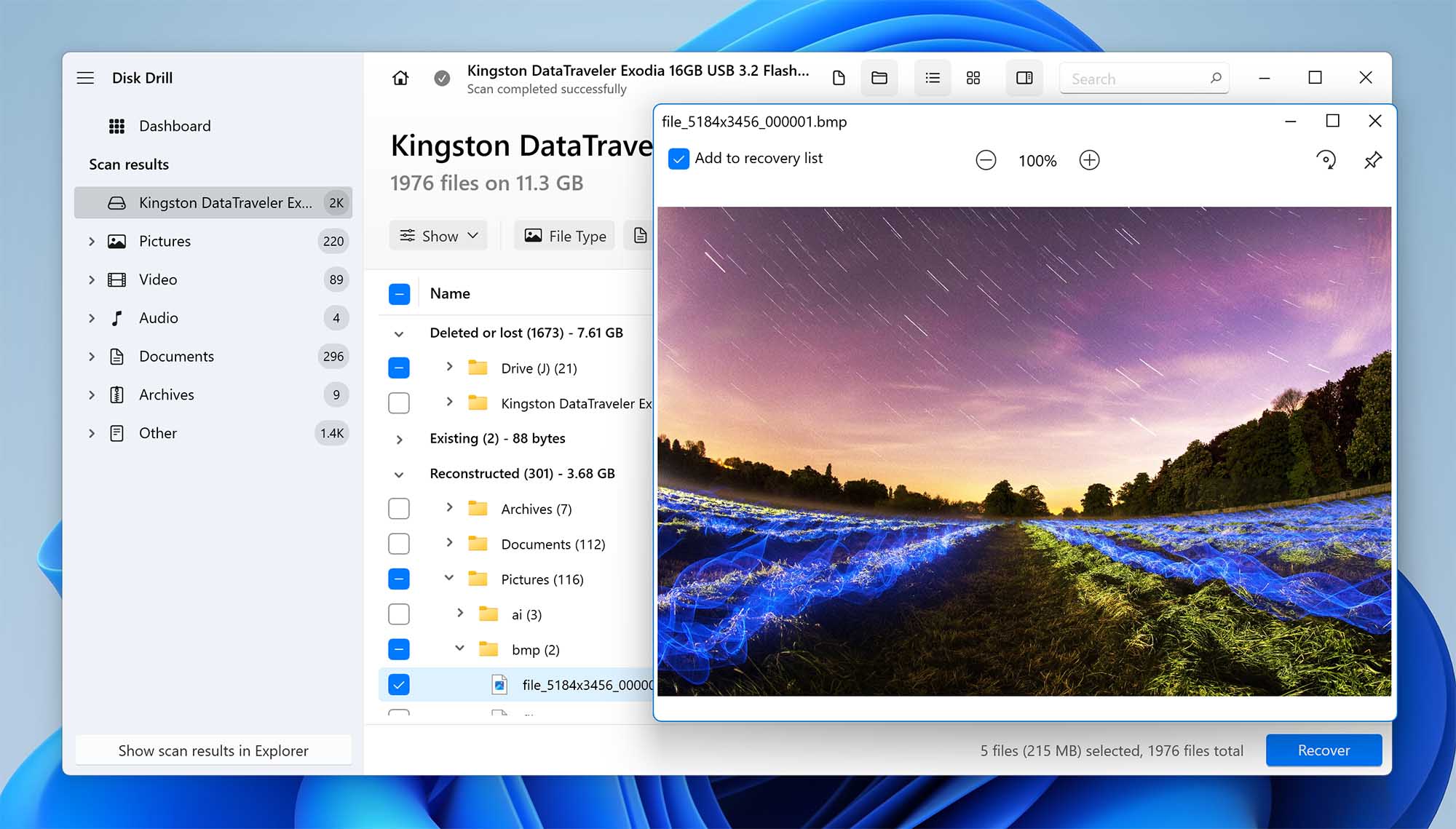 Disk Drill is one the best data recovery software for Windows and Mac because of its ability to effortlessly recover lost or deleted data from all internal and external storage devices, regardless of their file system.
✅
Pros:
Supports hundreds of file formats
Powerful recovery capabilities
Lost partition search
Data protection and backup features
Intuitive user interface
Recovers up to 500 MB of data for free (Windows)
Ability to mount scan results as a folder
❗️
Cons:
No phone support
Average scan speed
Limited support for Linux file systems
User Experience
Developed by the data recovery experts at CleverFiles, Disk Drill is the best choice for professional and casual home users alike, providing an exceptionally polished experience and best-in-class data recovery results. The latest version of the software can recover data in more than 400 file formats from a variety of storage devices and file systems using its advanced scanning algorithms.
Data recovery with Disk Drill is an intuitive process that doesn't require any expert knowledge. You can filter scan results to find a specific file and preview it before recovery directly inside Disk Drill. If you need to shut down your computer, you can simply pause the scan and resume it later.
The free version of Disk Drill can recover up to 500 MB of data (on Windows), and it provides enhanced data protection with its Recovery Vault and Drive backup features (which makes Disk Drill a backup and recovery tool at the same time). Both of these features are just as easy to use as the data recovery portion of Disk Drill because they share the same polished user interface. Another important aspect of Disk Drill is its ability to recover data with original file names and folder structure.
Users who would like to enjoy unlimited data recovery can upgrade to Disk Drill PRO for just $89.00 and activate it on up to 3 computers. Lifetime upgrades can be purchased for $29 to reliably recover data even on future versions of Windows and macOS.
On top of that, when you buy Disk Drill you actually get two for one. For example, your purchase of Disk Drill PRO for Windows automatically gets you a version for macOS.
Despite the word PRO in its name, the paid version of Disk Drill is just as easy to use as the free one, so even inexperienced home users with no expert knowledge shouldn't feel intimidated by it.
🔗
If you're interested in using Disk Drill, check out our full review to learn about its features and performance. We also conducted an analysis of its safety and security, which you can find on our website.
Versions / Licensing:
Disk Drill Basic: Free
Disk Drill Pro: $89
Disk Drill Enterprise: $499
System requirements: Windows 7 SP1+, 44 MB of storage space / Mac OS X 10.8.5+, 22 MB of storage space
Supported languages: English, Arabic, German, Spanish, French, Turkish, Italian, Japanese, Korean, Malay, Dutch, Polish, Brazilian, Portuguese, European Portuguese, Russian, Swedish, Chinese, Hindi
Supported file systems: NTFS, NTFS5, FAT12, FAT16, FAT32, exFAT, EXT3/EXT4, HFS, HFS+, APFS
2. R-Studio (Windows, Mac, and Linux)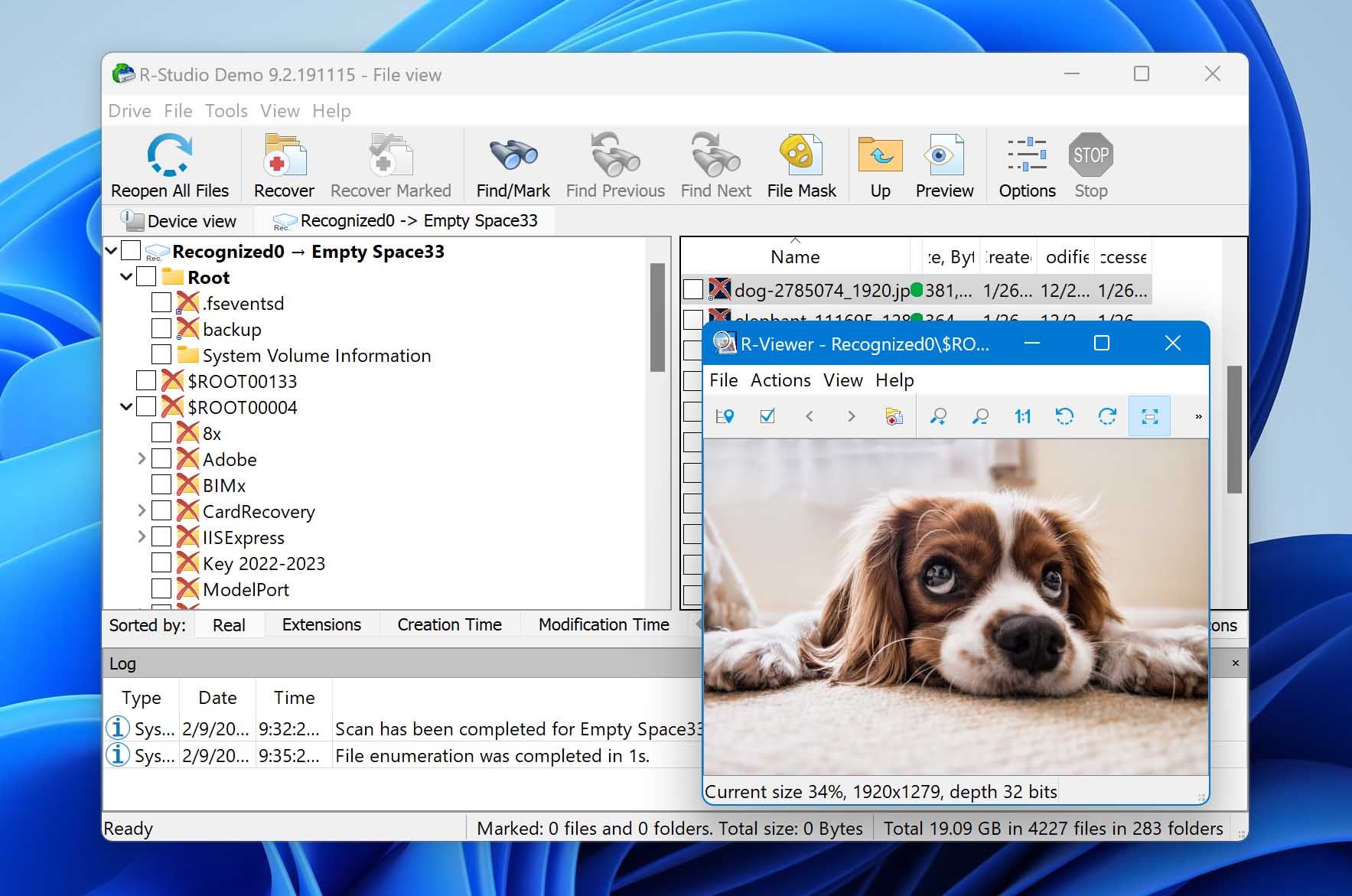 This comprehensive data recovery software solution is geared toward more experienced users who are able to appreciate its extensive options and powerful features.
✅
Pros:
Advanced features for data recovery professionals
Available as a bootable ISO image
Disk sanitization feature
❗️
Cons:
Not suitable for non-technical users
Doesn't display results during scan
Can preview only a few file formats
User Experience
Whereas most data recovery products on the market target regular home users, R-Studio is intended primarily for professionals who already understand the ins and outs of data recovery. It provides support for all commonly used file systems and partition layout schemes and handles even damaged or deleted partitions.
Instead of guiding users through the recovery process step by step, R-Studio gives them the freedom to start multiple data recovery jobs at the same time in separate tabs. Recovered files can be sorted by their extensions, creation time, modification time, access time, and other parameters. You can preview many supported file types or view files using the built-in hex editor to assess their integrity or perform partial recovery.
When buying R-Studio, make sure you get the right version. The least expensive version of R-Studio ($49.99) can recover data only from the FAT, exFAT, and Ext2/3/4 file systems. To also recover data from NTFS, ReFS, HFS+, APFS, HFS, and UFS, you need to purchase the $79.99 version.
🔗
Want to know more about R-Studio? Then read our full review.
Versions / Licensing:
R-Studio FAT: $49.99
R-Studio NTFS: $59.99
R-Studio: $79.99
R-Studio Network: $179.99
R-Studio Technician: $899.00
System requirements: Windows 10/8.1/8/7/Vista/XP/2000 or Windows Server 2019/2016/2012/2008/2003 / Mac OS X 10.5 Leopard or newer / Any kernel 2.6+ Linux distribution capable of installing .rpm or .deb packages
Supported languages: English, French, Spanish, German, Russian, Portuguese, Traditional and Simplified Chinese, and Japanese
Supported file systems: NTFS/ReFS, FAT/exFAT, Ext2/Ext3/Ext4, HFS+/APFS/ HFS/UFS
3. PhotoRec (Windows, Mac, and Linux)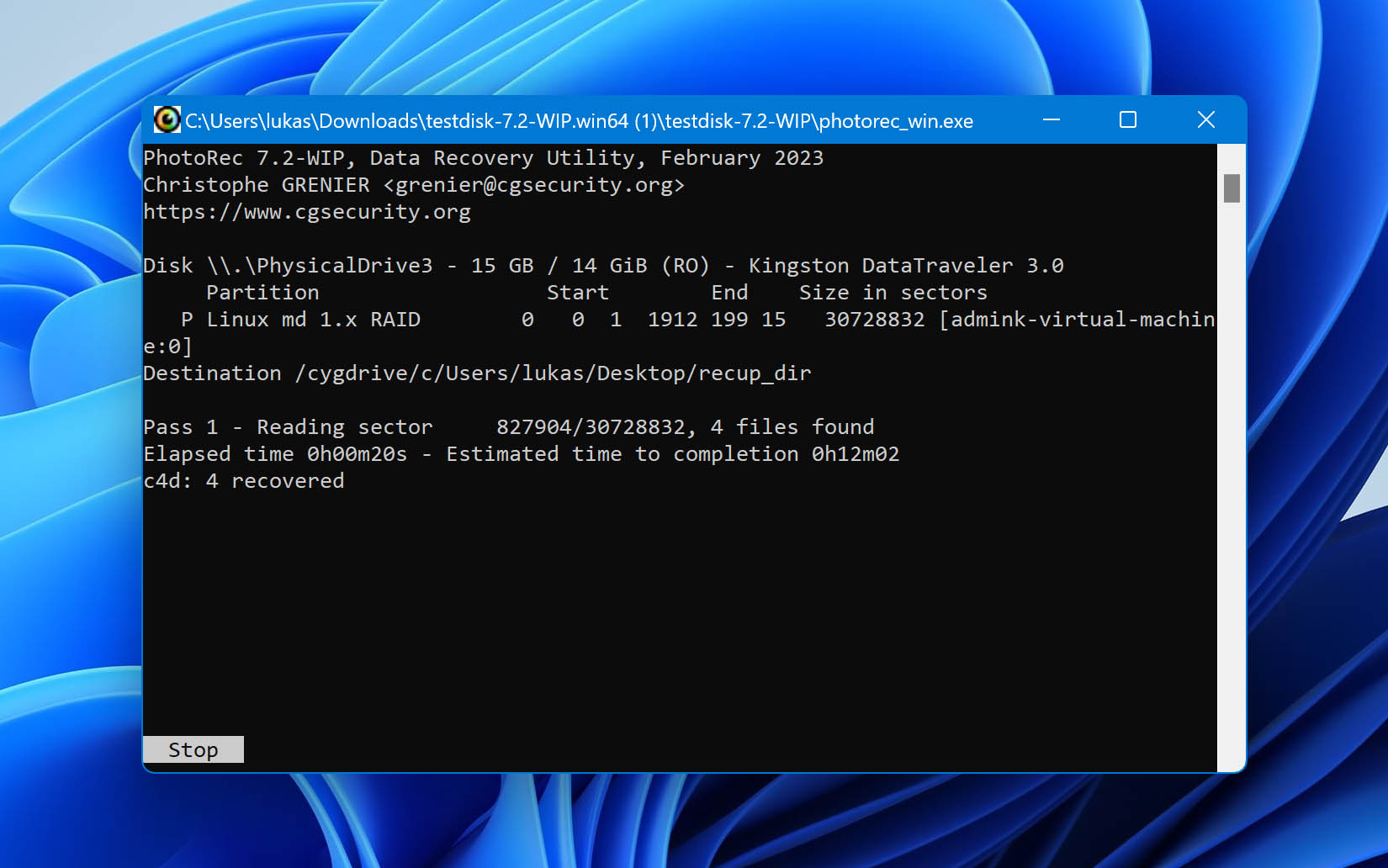 PhotoRec has powerful file recovery capabilities and support for a wide range of platforms. Whether it's a digital camera or a traditional hard drive, PhotoRec has you covered as long as you're able to figure out how to use it.
✅
Pros:
Compatible with all major operating systems
Recovers about 300 file families
Support for many file systems
❗️
Cons:
Intimidating for beginners
All files are automatically recovered during scan
Unable to restore file names and folder structure
User Experience
Judging by its name, you might think that PhotoRec can recover only image file formats, but that's not the case at all. In reality, this open-source data recovery software can recover more than 480 file extensions (about 300 file families) from hard drives, memory cards, CD-ROMs, USB flash drives, and other storage devices.
PhotoRec is known for scaring inexperienced users away with its text-only user interface, but we found the data recovery process to be reasonably self-explanatory. Sure, beginners could benefit from even more handholding, but that's what the official documentation is intended for.
In terms of performance, PhotoRec can measure up to many paid data recovery software applications. It uses a non-destructive data recovery method, which prevents it from writing to the same storage device the user is about to recover from. In certain cases, PhotoRec can successfully recover even fragmented files scattered all over the place.
Versions / Licensing: Free and open-source
System requirements: Windows 10/8.1/8/7/Vista/XP, Windows Server 2016/2012/2008/2003 / Any recent version of macOS / Linux kernel 2.6.18 or later
Supported languages: English, Catalan, Chinese, Czech, French, Italian, Portuguese, Russian, Spanish, Turkish
Supported file systems: FAT, NTFS, exFAT, ext2/ext3/ext4 filesystem, HFS
4. Recuva (Windows)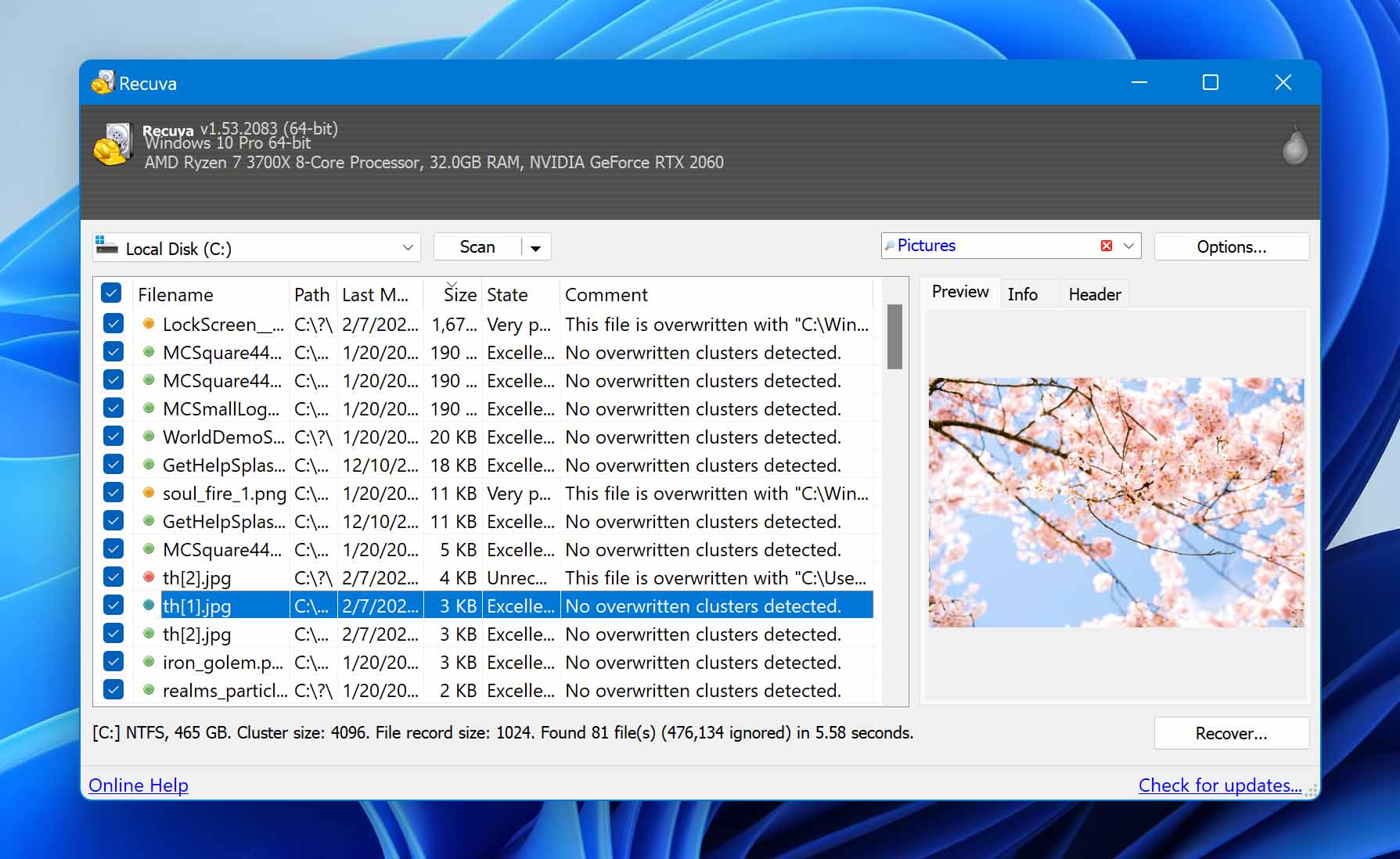 Recuva is a small freeware program you can use to recover pictures, music, documents, videos, or any other types of files on your hard drive, memory cards, floppy disks, iPod or MP3 player, or USB sticks.
✅
Pros:
Low price
Free version available
Preview screen
❗️
Cons:
Can't recover as many files as high-priced rivals
The interface is rather outdated
Limited support of restoring the original folder trees and file names
User Experience
We like Recuva for its low cost, its clear interface, and its ease of use, but it only recovered two-thirds of the deleted files on my test drive, and that kind of performance may not be good enough in a crisis. The reason why Recuva performs poorly compared with the top 3 listed in this article is simple: it doesn't support many file formats.
The lackluster file format support may not matter to you if all you want to do is recover files saved in a format that is supported by Recuva. What will matter to you, in either case, is the tool's usability, which is rather good thanks to its clean interface design and integrated preview screen.
It's clear, however, that Recuva's user interface comes from the Windows XP era (Recuva was released during the transition period from Windows XP to Windows Vista). The latest major Rucuva update (v1.53) was released in 2016, and the software has received only minor improvements since then. Fortunately, it still works fine on all recent versions of Windows.
Versions / Licensing:
Recuva Free: $0
Recuva Pro: $19.95
System requirements: Windows 10, 8.1, 7, Vista, and XP
Supported languages: Albanian, Arabic, Armenian, Azeri (Latin), Bosnian, Brazilian Portuguese (Portugues do Brasil), Bulgarian, Catalan (Catala), Chinese (Simplified), Chinese (Traditional), Croatian, Czech (Ceský), Danish, Dutch (Nederlands), English, Estonian, Finnish (Suomi), French (Français), Georgian, German (Deutsch), Greek, Hebrew, Hungarian (Magyar), Italian (Italiano), Japanese, Lithuanian (Lietuviu), Norwegian, Polish (Polski), Romanian (Romana), Russian, Serbian (Cyrillic), Slovak, Slovenian, Spanish (Espanol), Swedish (Svenska), Turkish (Türkçe), Ukrainian, Vietnamese.
Supported file systems: FAT, exFAT, and NTFS
Simplicity is what Data Rescue is all about, but its steep price makes it prohibitively expensive for most home users, the demographic that would ironically most appreciate its clean and simple user interface.
✅
Pros:
Clean and simple interface
Can duplicate a potentially failing drive onto a healthy drive
Automatically determines a set of RAID configurations
❗️
Cons:
Unnecessarily complicated multi-step recovery process
Expensive
User Experience
Data Rescue is a somewhat confusing data recovery software application because its clean and simple user interface (the main screen features just three large buttons with colorful icons and detailed descriptions) suggests that its target are regular home users, but its steep price tag and website tell a completely different story.
A single license (which can be used by one user on an unlimited number of systems) costs $399.00 a year. That's more than twice as much compared with what most other competing data recovery software applications charge for a lifetime license.
If you can afford to pay such a large amount of money for Data Rescue, you can look forward to fast scan and recovery speeds, improved RAID recovery, and additional disk tools for byte-to-byte disk copies and secure file deletion.
Versions / Licensing:
Data Rescue 6 Demo: Free
Data Rescue 6 Standard: starts at $19 (pay for the files you want to recover)
Data Rescue 6 Pro: $399 per year
System requirements: Windows 7 or later or macOS 10.12 or later, secondary storage location, internet connection
Supported languages: English
Supported file systems: FAT, FAT32, exFAT, ext2, ext3, HFS+, APFS, and NTFS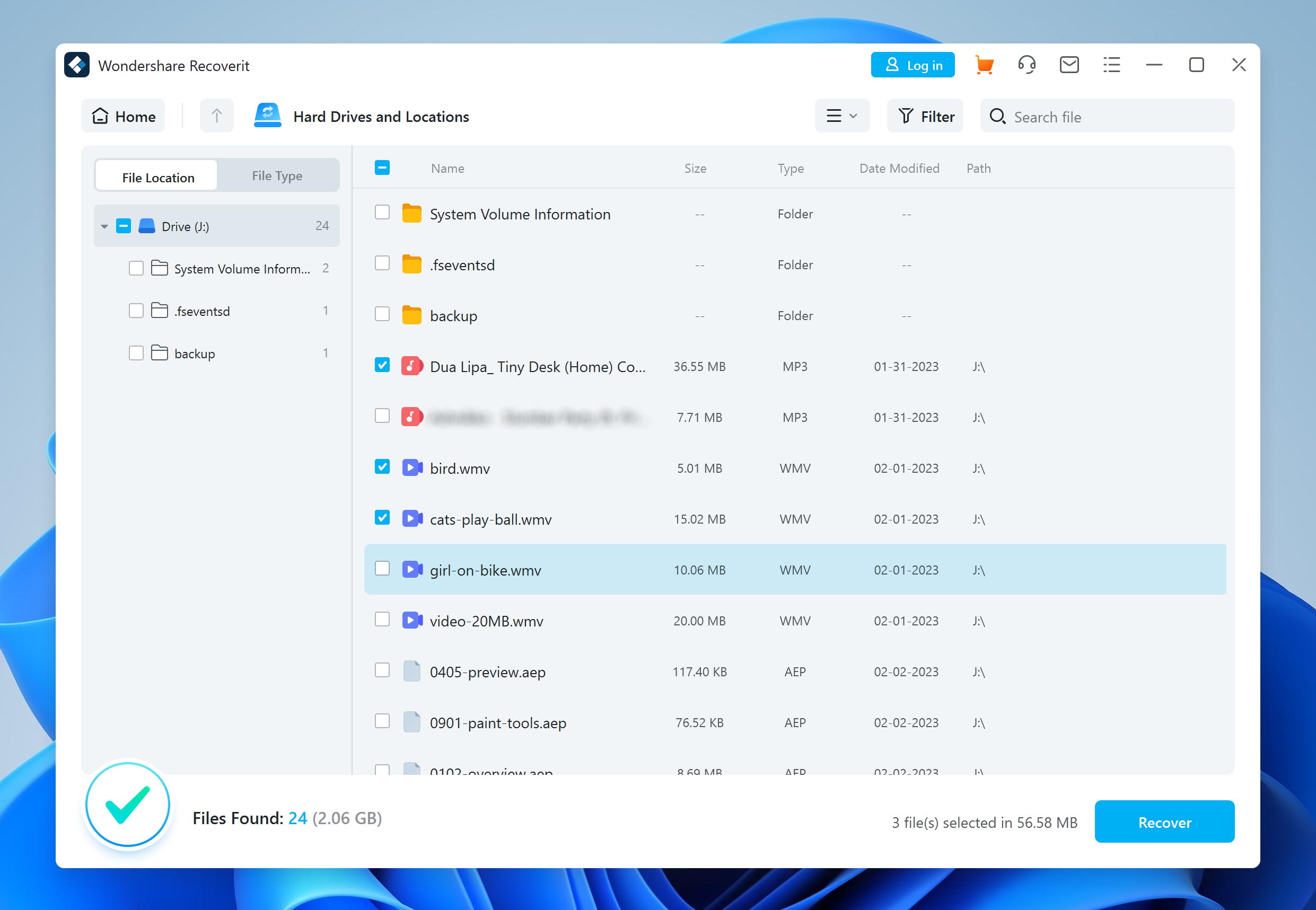 One of the best data recovery programs in its price range, Wondershare works flawlessly with a wide range of storage devices, including camcorders, hard drives, memory sticks, and USB flash drives.
✅
Pros:
Supports many file formats
Sleek design and great usability
Compatible with Windows and Mac files systems
❗️
Cons:
Can recover only up to 100 MB of data
Preview feature limited to a handful of file formats
Many duplicates in scan results
Download Wondershare Recoverit
User Experience
The company behind this data recovery software has been around for many years, and it has successfully earned the trust of millions of home users and many large companies. Recoverit is its flagship data recovery product, and it boasts support for over 1,000 file formats and all commonly used file systems, including NTFS, FAT, HFS+, and APFS.
Just like all other software applications from Wondershare, Recoverit is really easy to use, and we had to go through just three simple steps to recover our files. During the last step, we were able to preview recovered files before retrieving them with a single click.
The only problem is that the free version of Wondershare Recoverit can recover only up to 100 MB of data. That's not much considering that a single high-resolution picture taken with a modern smartphone can easily have around 5 MB.
Versions / Licensing:
Wondershare Recoverit Essential: $59.95 a year
Wondershare Recoverit Standard: $69.95 a year
Wondershare Recoverit Advanced: $79.95 a year
System requirements: Windows 10, 8.1, 8, 7, Vista, XP (either 32-bit or 64-bit) or Windows Server 2016, 2012, 2008, 2003 / macOS 10.9- 10.15
Supported languages: English, Japanese, Chinese, French, German, Italian, Portuguese, Spanish, Arabic, Dutch, Korean
Supported file systems: NTFS, FAT32, FAT16, exFAT, APFS, encrypted APFS, HFS+, encrypted HFS, HFSX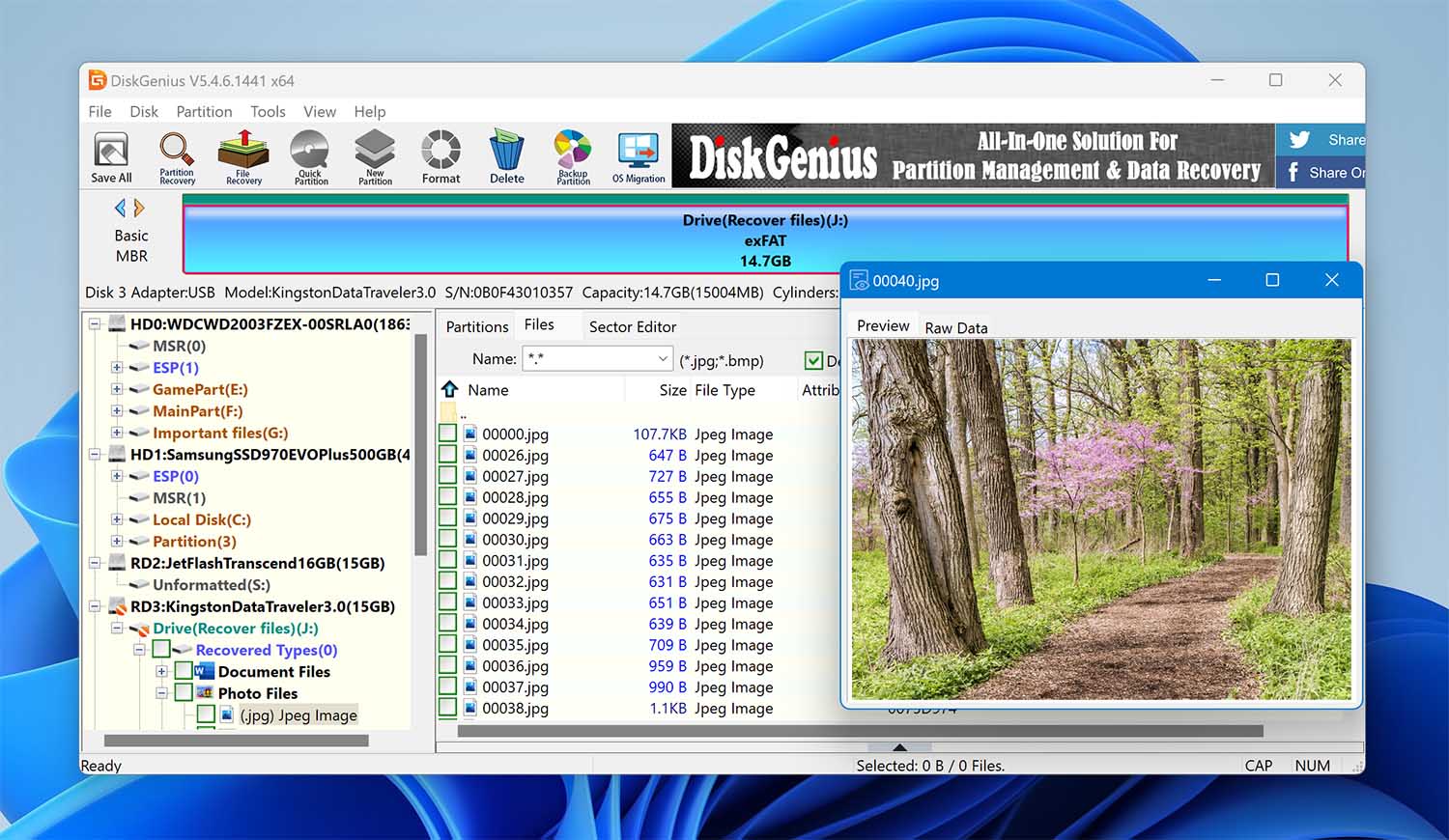 DiskGenius is an all-in-one data recovery and partition management solution aimed at professional and home users alike. You can use it to solve many unpleasant disk problems and try it for free before spending money on one of the two paid versions.
✅
Pros:
Combines data recovery and partition management
Is able to virtualize Windows into a VMware virtual machine
Disk cloning functionality
30-day money-back guarantee
Free version available
❗️
Cons:
Doesn't have the most intuitive user interface
Jack of all trades but master of none
User Experience
Partition and data loss issues often go hand-in-hand, which is why the people behind DiskGenius decided to create an all-in-one data recovery and partition management solution that lets you recover lost data from deletion, formatting, RAW drive, partition loss, OS crash, and many other data loss situations.
While the user interface of DiskGenius is nothing to write home about, the actual data recovery process is simple and boils down to just three steps. First, you select a partition or drive, then you scan for lost data, and, finally, you preview all listed files and select those that you want to get back.
DiskGenius comes with several extra features that even several times more expensive products don't include, such as the ability to recover data directly from VMware, Virtual Box, or Microsoft Virtual PC images. It also includes a hex editor that facilitates the analysis of raw disk data, but it's unlikely that regular users would ever take advantage of this feature.
🔗
Wanna learn more about DiskGenius? Then read our full review.
Versions / Licensing:
DiskGenius Free: $0
DiskGenius Standard: $69.90
DiskGenius Professional: $99.90
System requirements: Windows 2000/XP/Vista/7/8/8.1/10, Small Business Server 2011/2003/2008, Windows home server 2011, and Windows Server 2003/2008/2012/2016 (both 32bit and 64bit)
Supported languages: English, Japanese
Supported file systems: NTFS, FAT32, FAT16, exFAT, EXT2, EXT3, and EXT4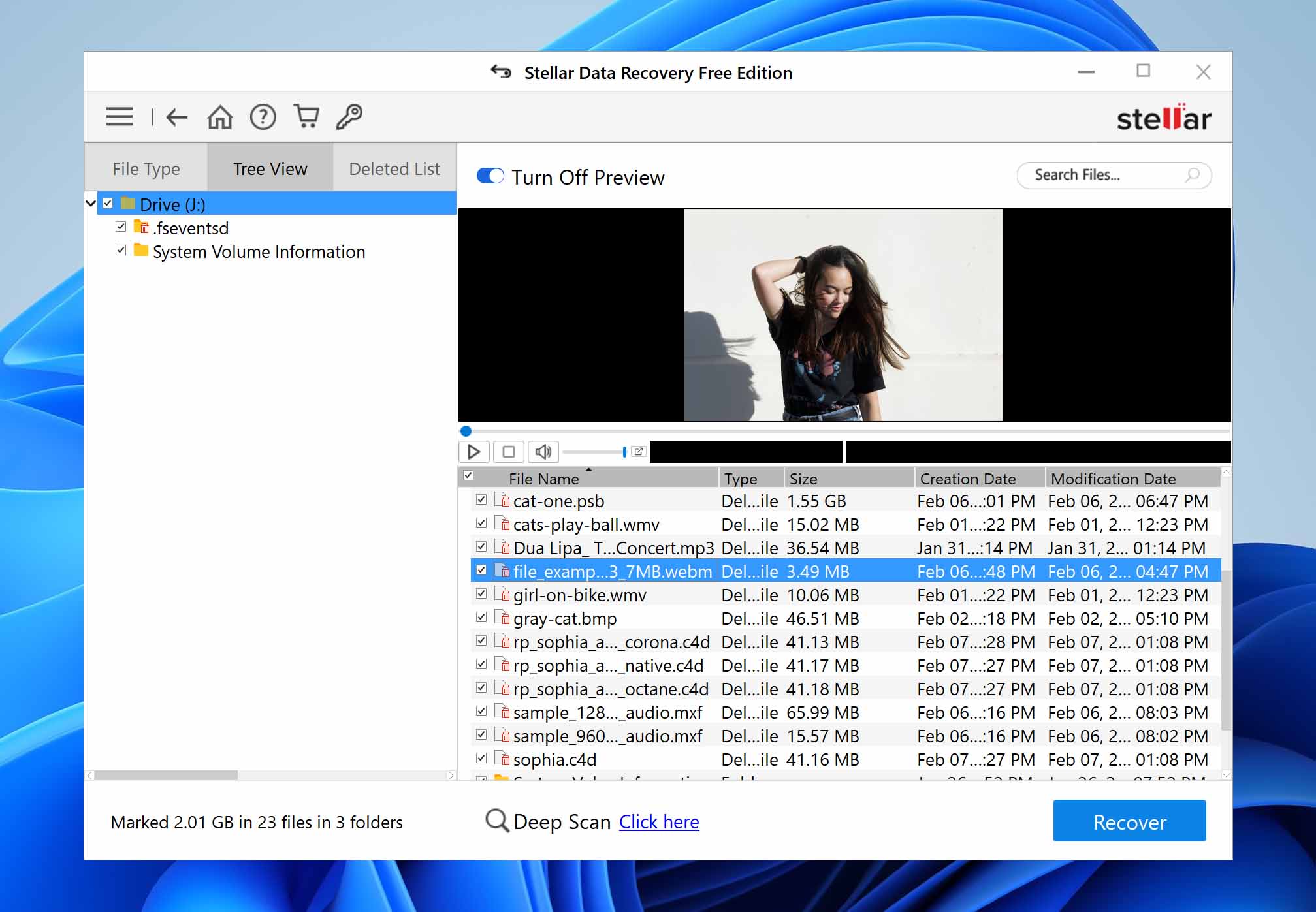 Stellar Data Recovery is a professional-grade data recovery software for Windows and Mac that can deal with completely crashed and unbootable systems that many lesser applications of its kind would deem unrecoverable.
✅
Pros:
Support for a wide range of storage devices
Easy to use
Useful preview feature
❗️
Cons:
Relatively expensive
Slow scan and recovery speed
Glitchy store device selection
Download Stellar Data Recovery
User Experience
Previously known as Stellar Phoenix Data Recovery, this data recovery software supports NTFS, exFAT, and FAT (FAT16/FAT32) formatted hard drives, SSDs, USB flash drives, memory cards (including SD cards, MicroSD cards, CF cards, etc.), and other commonly used storage devices.
You can choose from two different versions intended for professional usage: Professional ($79.99 for one year or $99 for a lifetime license) and Premium ($99.99 for one year or $149 for a lifetime license). The former version is slightly cheaper because it doesn't include any video or photo recovery capabilities.
Except for the missing recovery features, the two versions are identical and equally easy to use. Recovered files can be sorted according to their type or displayed in a tree view, which is useful for locating a specific folder.
Versions / Licensing:
Stellar Data Recovery Free: $0
Stellar Data Recovery Standard: $49.99
Stellar Data Recovery Professional: $79.99
Stellar Data Recovery Premium: $99.99
Stellar Data Recovery Technician: $199
Stellar Data Recovery Toolkit: $299
System requirements: Windows 10, 8.1, 8, 7, Vista & XP / macOS Catalina 10.15, Mojave 10.14, High Sierra 10.13, 10.12, 10.11, 10.10, 10.9, 10.8 & 10.7
Supported languages: English, German, French, Italian, Spanish
Supported file systems: NTFS, exFAT, FAT(FAT16/FAT32), HFS, HFS+, ext2, ext3, ext4
9. TestDisk (Windows, Mac, and Linux)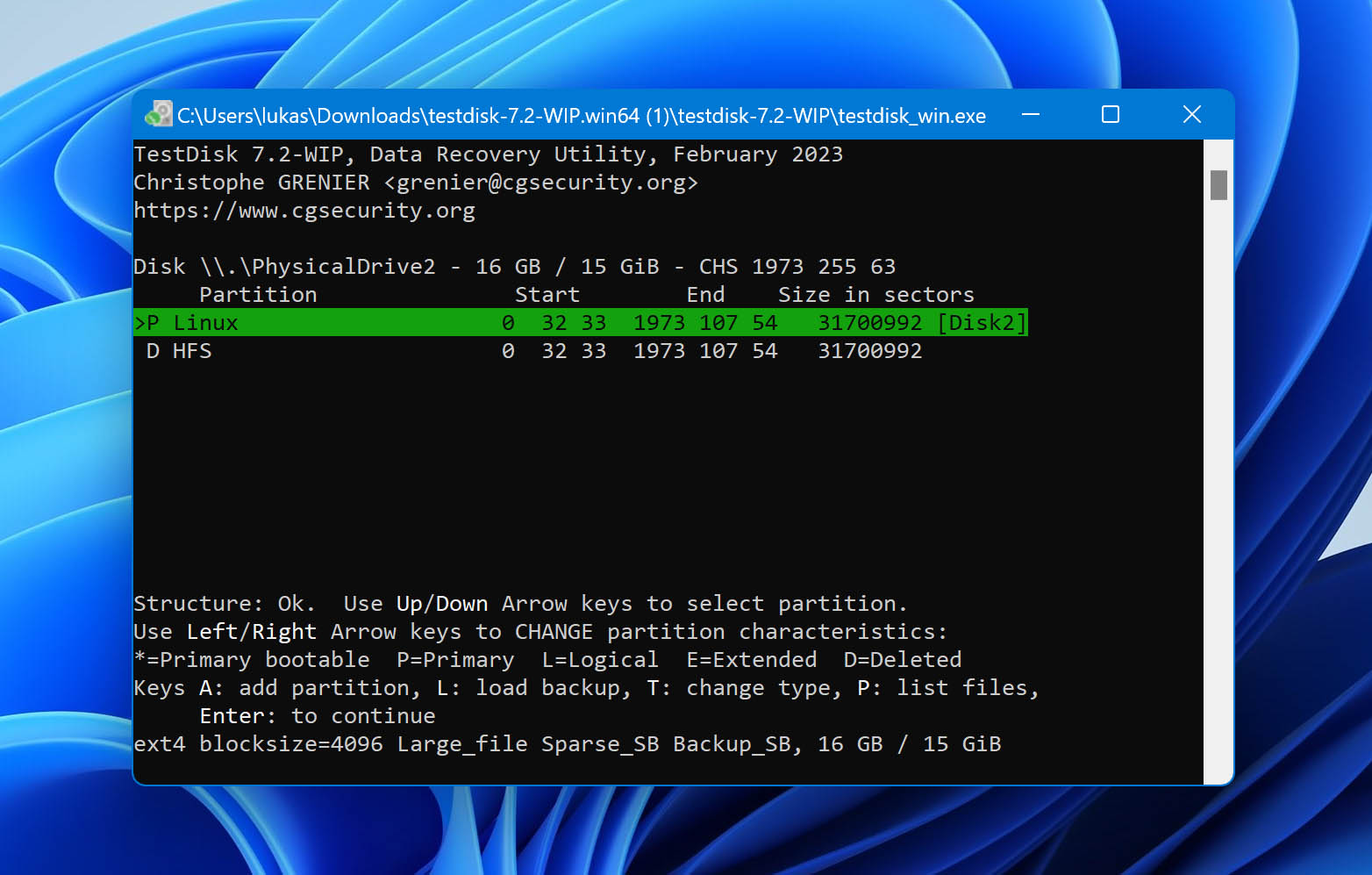 Designed to recover lost partitions and make non-booting disks bootable again, TestDisk is an excellent solution to many desperate data loss scenarios, but its text-only user interface puts it out of the reach of many users.
✅
Pros:
Capable of recovering many different filesystems and partition schemes
Broad operating system support
Free and open source
❗️
Cons:
Lacks an intuitive graphical user interface - command-line only
Repairs damaged partitions and file systems but not files
User Experience
If you've accidentally and permanently deleted an important file, and you desperately want to get it back, TestDisk isn't the right choice. This open-source data recovery application doesn't focus on individual files but entire file systems and partitions. It can fix partition tables, repair boot sectors, and do many other things to restore access to lost files.
It's true that TestDisk can undelete files from FAT, exFAT, NTFS, and xt2/ext3/ext4 file systems, but this functionality is tucked away inside the advanced menu, where most regular users never go. Besides, recovering individual files with TestDisk is extremely cumbersome because you can't preview files before recovery.
But despite its shortcomings, such as the lack of an intuitive graphical user interface, TestDisk remains one of the best data recovery software solutions for Windows, Mac, Linux, and several other operating systems.
Versions / Licensing: Free and open-source
System requirements: Windows 10/8.1/8/7/Vista/XP, Windows Server 2016/2012/2008/2003 / Any recent version of macOS / Linux kernel 2.6.18 or later
Supported languages: English, Catalan, Chinese, Czech, French, Italian, Portuguese, Russian, Spanish, Turkish
Supported file systems: FAT, exFAT, NTFS, and xt2/ext3/ext4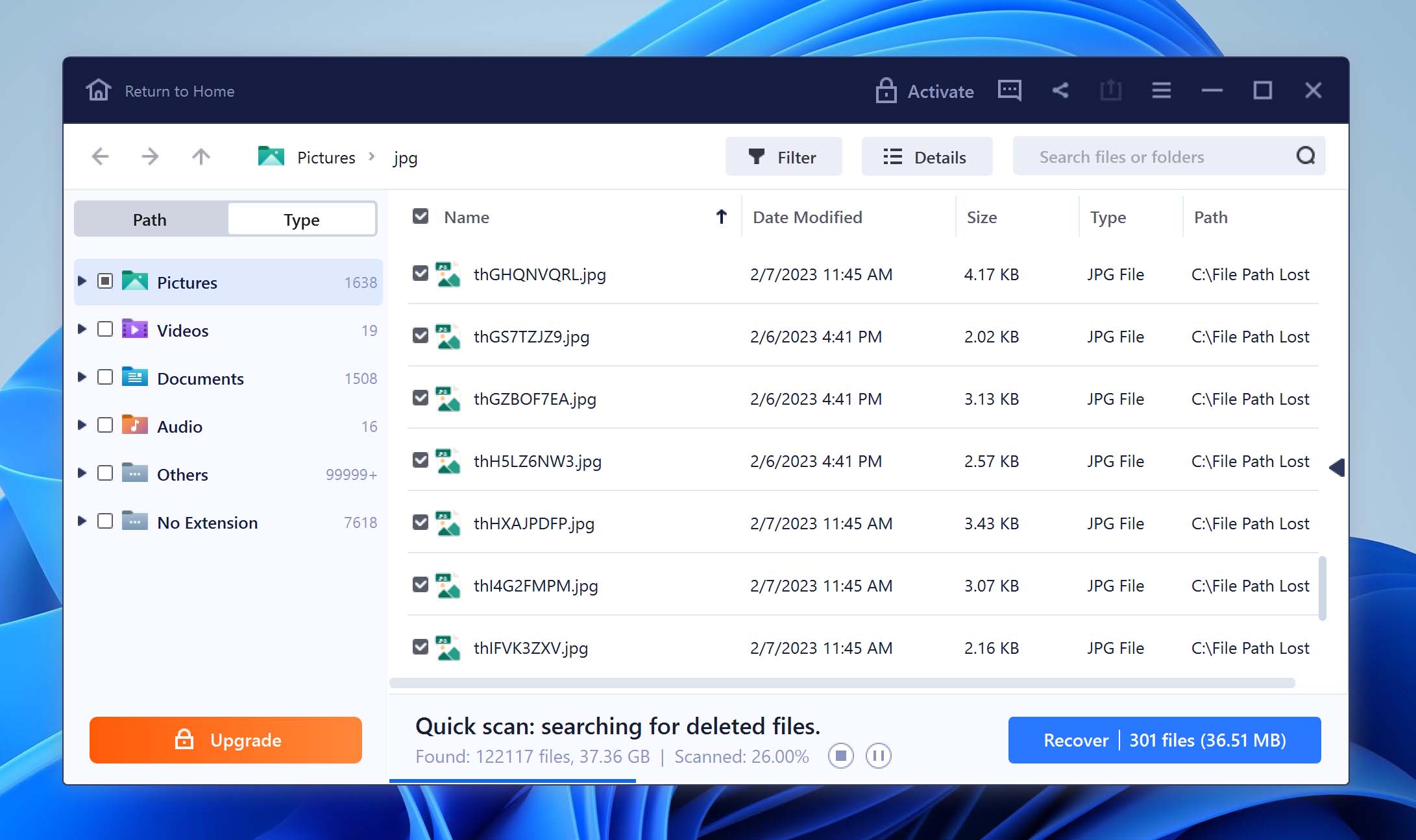 EaseUS has managed to garner a great deal of positive feedback across a wide spectrum of users, and our experience with its data recovery features has been similarly positive, which is why it deserves a place on this list.
✅
Pros:
Reliable data recovery performance
Lets users sort and filter deleted files
Makes data recovery accessible to anyone
❗️
Cons:
Includes unrecoverable files alongside recoverable files
Previews only files that are smaller than 100 MB
Doesn't accurately display remaining scan time
User Experience
EaseUS Data Recovery is a tried and tested data recovery software for Windows and Mac. Its developers have successfully made the complicated process of data recovery simple and accessible to anyone. There are no menus with multiple layers and options that require a lengthy manual to decipher what they mean.
When you begin data recovery with this software application, you're first asked to select a location to scan, such as your hard drive or USB flash drive. You can also select a specific folder, including the Recycle Bin. Then, you simply click the Scan button and wait for EaseUS Data Recovery to find your files.
If your budget is tight, you can purchase EaseUS Data Recovery for just one month. However, we recommend you get a lifetime license for $149.95 to enjoy unlimited free upgrades.
Versions / Licensing:
EaseUS Data Recovery Wizard Free: $0
EaseUS Data Recovery Wizard Pro: $69.95 a month
EaseUS: Data Recovery Wizard Technician: $299.00 a year
System requirements: Windows 2000 or newer / macOS 10.15 ~ 10.9
Supported languages: English, German, Japanese, French, Brazilian Portuguese, Spanish, Italian, Dutch, Chinese (Traditional), Chinese (Simplified), Swedish, Danish, Korean, Russian, Norwegian, Polish, Hungarian, Arabic, Turkish, Indonesian
Supported file systems: FAT (FAT12, FAT16, FAT32), exFAT, NTFS, NTFS5, ext2/ext3, HFS+, ReFS
---
Honorable Mentions
Are you still hungry for more data recovery software? Then take a look at our selection of try-worthy applications that didn't make it into the top 10.
Windows File Recovery: Developed by Microsoft for its Windows operating system, Windows File Recovery, is a command-line tool capable of recovering permanently deleted files that are no longer present in the Recycle Bin. We just wish it delivered better recovery results and came with an optional graphical user interface.
MiniTool Power Data Recovery: If you can live with an outdated user interface and a limited set of features, then the free version of MiniTool Power Data Recovery deserves a download from you since it works well in all kinds of data loss situations.
Undelete 360: Last updated in 2017 for Windows 7, Undelete 360 is an outdated data recovery application that has yet to become obsolete. You can use it to recover all Windows-supported storage devices with a few simple clicks, and it even lets you preview files before recovery.
Wise Data Recovery: If you want to recover data from an older version of Windows, then Wise Data Recovery is a solid choice. Just keep in mind that you may experience serious issues when using it on Windows 10 and newer.
SysTools Data Recovery Software: The long list of features and the highly technical language the official website of this data recovery software uses to describe them should be enough to tell you that this isn't the most user-friendly software in the world.
Remo Data Recovery Software: Because of how dependable Remo Data Recovery Software is, it has received many positive reviews from professional reviewers and real users alike. We just with the Windows application was more polished.
Zero Assumption Recovery: Also referred to as ZAR Data Recovery, this Windows software supports Windows FAT, NTFS, Linux ext/2/3/4, and XFS file systems, and you can download it free of charge from its official website.
TogetherShare Data Recovery Pro: You can try the full version of TogetherShare Data Recovery Pro without risking anything thanks to the 30-day money-back guarantee. The last version of the software even supports Windows 11.
Lazesoft Windows Data Recovery: What's great about Lazesoft Windows Data Recovery is the free price tag. What's not so great is its terribly outdated user interface and limited file system and file format support.
iBoysoft Data Recovery: iBoysoft Data Recovery doesn't offer anything groundbreaking in terms of features, design, and performance, but that's not necessarily a bad thing. If you're looking for an instantly recognizable alternative to established data recovery solutions, then this software is worth looking into.
GetDataBack Pro: Developed by Runtime Software, GetDataBack Pro excels in the HDD data recovery department but could use improvements in terms of being a more well-rounded and user-friendly program. Despite not being as popular as other data recovery software, it is a suitable choice for intermediate and expert PC users looking for a powerful recovery tool.
Ontrack EasyRecovery: As a rebranded version of Stellar Data Recovery, Ontrack EasyRecovery offers similar performance, and its free version allows you to recover up to 1 GB of data without paying. Although not among the best data recovery apps, it supports all major file types and is cross-platform, making it a versatile option that's worth trying. The biggest downside is its expensive annual subscription, which can be a deal-breaker for some users.
DMDE: Featuring an expansive set of features aimed towards professional users, DMDE stands out for its broad operating system support, even dating back to Windows 98. But despite its technical prowess, DMDE's complexity can be overwhelming for beginners, with an unintuitive scanning process and complex scanning results.
AnyRecover Data Recovery: By striking a balance between user-friendliness and data recovery capabilities, AnyRecover Data Recovery positions itself as an attractive alternative to the leading data recovery software applications. If only it didn't fall short in recovering data from some file systems during deep scans and offered more extra features, it could have made it into our top 10 list.
Tenorshare 4DDiG: This app's user-friendly interface makes data recovery a breeze, so it's a solid choice for regular home users who find complicated software intimidating. Just know that Tenorshare's ease of use outweighs its data recovery capabilities, especially when it comes to recovering files with their original names intact.
Cisdem Data Recovery: Though it's a clone of EaseUS Data Recovery Wizard, Cisdem deserves the attention of anyone seeking a well-rounded data recovery solution. With fast scan times, a user-friendly interface, and excellent support for various file formats, it makes for an accessible tool for users at all levels of tech-savvy. However, its lifetime license is quite pricey, costing $149.95, and the monthly subscription ($69.95/month) can quickly end up being even more expensive.
---
Data Recovery Software Picker
---
What to Expect From Data Recovery Software
Using software to recover deleted files is a reliable method of addressing an unexpected data loss scenario. In many cases, hard drive recovery software will get back all or most of the lost files. However, you need to have realistic expectations and understand what affects the reliability and success of data recovery software. Here are some items to keep in mind regarding the use of disk recovery software.
| | |
| --- | --- |
| 💻 OS Compatibility | The first requirement of disk recovery software is that it runs on your operating system. Look for a solution that gets frequently updated to keep up with new operating system versions and features. |
| 👍 Tool Safety and Reliability | The last thing you want to do is introduce more problems when recovering from data loss. Make sure you download any software tool from a reliable site and scan it for viruses before installing it on your computer. Unscrupulous actors may attach malware to recovery software in the hopes of gaining access to a user's machine during a stressful time. Downloading software from the developer's site is usually safer and is preferred over using third-party resellers' websites. |
| 📞 Technical Support | You need to be able to access technical support if you experience problems using the software. Whether contact is initiated by phone, email, or problem ticket, there needs to be a way to get timely help if you have issues when recovering your lost data. |
| 🤷‍♂️ Recovery Expectations | The probability of successfully using software to recover deleted files from a disk-based storage device is directly related to the amount of use the device has experienced since the data was lost. Using the device risks overwriting the logically deleted files that can be recovered with reliable disk recovery software. Ideally, you should stop using the device as soon as you realize you have lost data, but this might not be possible. You need to keep this fact in mind when evaluating the performance of a data recovery tool. |
| ⛔ Software Limitations | If data has been overwritten, there are no commercially available software tools that will get it back. You may be able to get the files back if you had backed them up before they were deleted. It is strongly recommended that you regularly back up your computer and all its important information. Physically damaged drives are beyond the capabilities of data recovery software but may be salvaged by a data recovery service. |
FAQ
Robert Agar is the Content Writer & Managing Editor for Handy Recovery. Robert brings over 30 years of experience in data storage, security, compliance, backup, and recovery to the HandyRecovery team. Several years ago, he turned his attention from hands-on technical roles to develop a career as a freelance writer concentrating on technology and its impact on society. Areas of focus include the cloud, data recovery, artificial intelligence, and industrial automation.
Andrey Vasilyev is an Editorial Advisor for Handy Recovery. Andrey is a software engineer expert with extensive expertise in data recovery, computer forensics, and data litigation. Andrey brings over 12 years of experience in software development, database administration, and hardware repair to the team.