The music industry has changed dramatically over the last decade. Despite the boom of streaming platforms, many people like to have their music downloaded and stored locally on their phones or computers.
🗨️
Local storage creates the potential for losing your files. This can be frustrating and upsetting, but luckily there are a few ways to solve this issue. In this article, we'll look at how to recover deleted music files, some of the best methods to get deleted songs back, and how to prevent this in the future.
5 Ways to Recover Deleted Music Files
Below we'll take a look at 5 of the ways you can recover your deleted music files in 2022. We'll quickly walk you through each method, with a step-by-step guide, and highlight any key points.
1. Recycle Bin (Windows)
We've all been here before, scrambling through our recycle bin to see if that file is still in there after carelessly deleting it. Whether it's schoolwork, an important document, or your favorite Fleetwood Mac album, it happens to the best of us.
✅
Luckily there's a quick and easy solution. Windows built-in temporary storage area for deleted files before they are permanently erased, otherwise known as the Recycle Bin.
How to recover deleted music from the Recycle Bin:
Go to your desktop and double click the Recycle Bin icon (or navigate via the start button into "Settings" – "Personalization" – "Themes" – "Desktop Icon Settings", and turn on the Recycle Bin icon).
Find and select the music files you want to recover.
Right-click on your selection and press Restore.
Your Recycle Bin should start restoring the lost music files to their original folders.
This method has its limitations due to a few factors; Users have to have deleted the files, if it is emptied it will be lost forever. On most Windows systems there is a maximum total file size before it auto deletes files (starting with the oldest).
⚠️
Note: If you're using Windows 10, the Recycle Bin automatically empties and permanently deletes files after 30 days.
2. Data Recovery Software (Windows & Android)
When you delete files from Windows they don't always end up in the Recycle Bin, contrary to what people think. If, for instance, you press Shift + Delete the files will go to a different part of the hard drive and effectively become hidden—but not permanently deleted.
Files can be lost and not appear in the Recycle Bin for a number of reasons. Formatting your USB flash drive, memory card, hard drive, or external storage drive could also lead to file wipes and you needing to recover deleted music.
Not a total loss today, I emptied the recycle bin on my laptop.

— Sentient Bunny Suit🐰 (@SentientSuit) October 20, 2020
⚠️
If your hardware or software fails, you can also be at risk of losing your music files. In these instances where you can't get your files back from the Recycle Bin, you need to look into using a data recovery software tool. Once you install the software, it will run you through the steps you need to recover your files.
These tools utilize complex data recovery algorithms to access and recover your music files in a range of formats. Music files that can be restored range from the more common such as MP3, AAC, WMA, WAV, M4A and the more obscure, Ogg Vorbis, AIFF, ALAC, and more.
🖥️ Data Recovery Software for Windows
If you're recovering music files from Windows, it's as simple as opening and running the program, which will guide you through the steps.
👀
We would recommend Disk Drill Data Recovery as a reliable and affordable data recovery software. In addition, Disk Drill can be tested for free on Windows and even Mac. The free version helps you see if it's a good fit for you.
Recovering Music with Disk Drill:
Download the correct version of the program for your platform.
Install Disk Drill and grant it administrator privileges. This is so the program can access your hard drive and recover deleted files.
Start the application and scan for deleted music files (start with a default scanning method to see if you can locate the files).
Take a look at the files Disk Drive has found to recover.
Select the files you want to get back and click Recover you should see a progress bar/timer.
Your files will be restored and lost music recovered once the recovery is complete.
---
🤖 Data Recovery Software for Android
Disk Drill can also be used to recover permanently deleted music files from an Android device. You can choose between the following two methods depending on whether the lost data was stored on an SD card or your phone's internal memory.
SD card: If the lost data was stored on an SD card, then all you need to do is remove the card from your phone, connect it to your computer, and scan it with Disk Drill.
Internal memory: To recover lost data from your phone's internal memory, you need to first root your device. Without root privileges, Disk Drill wouldn't be able to see all available disks and partitions. Then, simply connect your Android to a Mac, turn on USB debugging, and tell Disk Drill to perform a scan.
⚠️
Note: Android recovery is currently supported only by the Mac version of Disk Drill. If you don't have a Mac, you can try an Android app like DiskDigger.
3. Recover Deleted Music From 3rd Party Streaming Apps (Windows & Android)
Many PC and Android users rely on various 3rd party streaming apps to enjoy their favorite artists without actually having a local music library on a hard drive or memory card. If you're among them, then you should learn what can and can't be recovered from them in case you make a mistake and accidentally delete more than you intended to.
🎵 YouTube Music
YouTube Music is a streaming service launched by Google in 2015. The service allows users to upload their own songs and listen to them anywhere and from any compatible device. You can also save songs to your Android device for offline listening.
Unfortunately, YouTube Music doesn't currently have any data recovery capabilities, so you can't use it to recover lost songs and albums. What's even worse, there's no way to recover songs that you've accidentally deleted directly in YouTube Music.
---
🎹 Spotify
Spotify is the most popular music streaming app in the world, and you can use it to upload your own music from a PC and then listen to it on your Android device. Here's how it's done:
Import your local files on desktop.
Add the files to a new playlist.
Log in to your Spotify account on your smartphone or tablet using the same Wi-Fi as your desktop.
Download the playlist with your local files.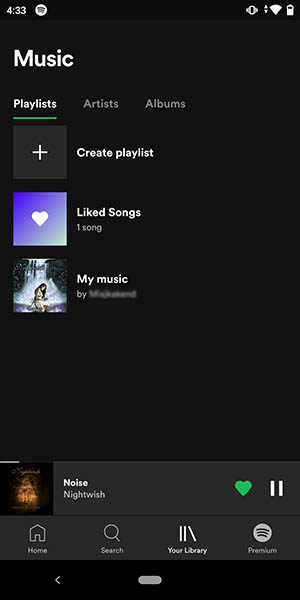 If you then accidentally delete the files stored on your desktop computer, you can still listen to them on your Android device.
⚠️
Keep in mind that this feature is only available with a Premium subscription.
4. Cloud Storage (Android)
Storing your files on a Cloud Storage platform can help alleviate any hardware or software issues with your Android, and in turn, keep your music safe.
There are a few options that you can use to ensure you are keeping your library secure. With the majority of Cloud-Based options, there are Recycle Bins or something of that nature. This means nothing is lost forever even if you delete it.
💣 Recover Deleted Music Files after Internal Issues
A lot of issues can arise that cause you to lose your files and mean you need to get deleted songs back. This can be from needing to Factory Reset your Android, to storage problems, to getting a new phone.
If you have saved your music files to your Cloud Storage prior to the issues or wipe, it's fairly straightforward to get them back:
Log in to your Cloud Storage.
Find the files you want to re-download.
Download the lost files to your phone.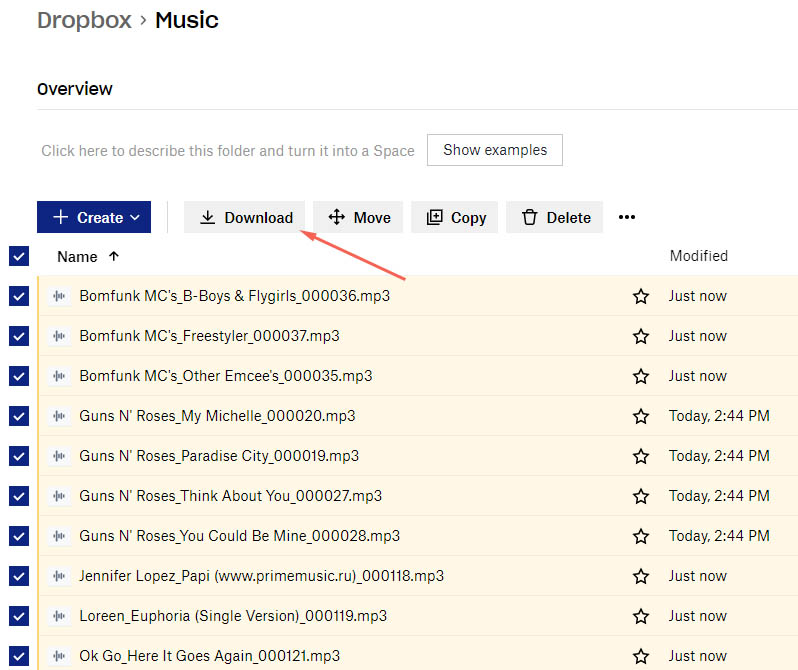 ---
✂️ Recover Deleted Music Files after Manual Deletion
If you have manually removed your files, it can sometimes be difficult to get deleted songs back, but this does depend on where you deleted the files from:
Manual Deletion from your Android – If you have just deleted it from your phone, you will be able to log in to your Cloud and re-download and recover deleted audio files.
Manual Deletion from your Cloud Storage – If you have deleted it from your cloud storage, you should be able to access the Recycle Bin (or equivalent for your chosen provider), and recover deleted music files for on average 30 days, before they are deleted.
👀
Obviously, each Cloud provider has different benefits, storage limits, and drawbacks, so go for the one that best suits your needs.
Following a similar route, next, we will take a look at Google's in-house Cloud-Based storage service, Google Drive.
5. Google Drive (Windows & Android)
Google Drive is one of the best ways to keep your files accessible and secure wherever you are and can be a great option for both Windows and Android users.
Naturally, this is a very viable option for Android users because you need a Google account linked to your phone, making it a seamless transition.
Google Drive Is Useful For Something At Last! Got All My Music Into The Phone!

¡Hasta Que Google Drive Si Sirve Para Algo! ¡Traspase Toda Mi Música Al Celular! pic.twitter.com/mJQOX84h9E

— Sasha (@SashaJustDancer) January 16, 2021
It can also be a great option for Windows users, and with the rise of Chromebook users, the dependence on Google Drive is only increasing.
📱 Google Drive Music Recovery on Android
When first setting up a brand-new Android device, you're asked to sign in to a Google account. This has a ton of benefits, but none is more important than the ability to recover lost data from the cloud.
Androids are able to recover deleted music files from your Google Drive if you have backed up your phone to the drive. This is normally an automatic feature on Androids unless you've turned it off. Here's how you can recover music from Google Drive:
Launch the Google Drive app on your Android device.
Navigate to the folder where your music files are stored.
Tap the three vertical dots next to the file you want to download.
Choose the Download option.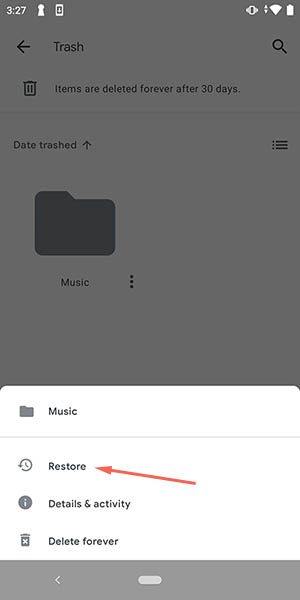 ---
🖥️ Google Drive Music Recovery on Windows
If you have an auto backup set on Windows for Google Drive, the process is the same as above, but you would go to the Drive in your web browser:
Go to: https://drive.google.com/
Log in with your username and password.
Navigate to the folder where your music files are stored.
Right-click on any song and select the download option.
After the download is complete, you can listen to the downloaded song on your computer.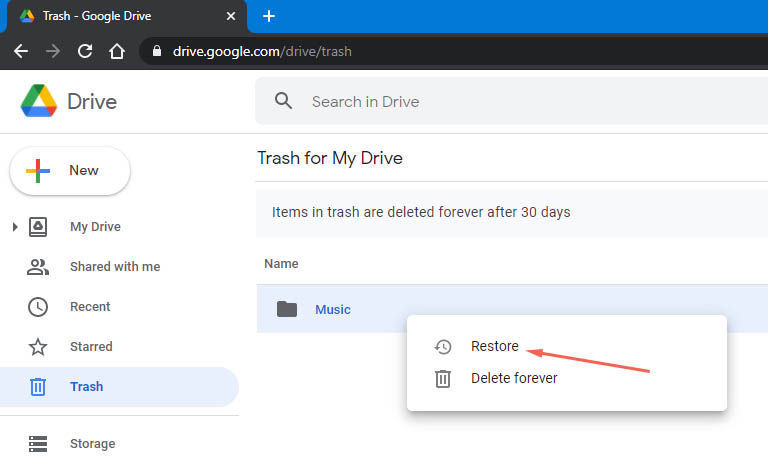 Storing files and music on Google Drive is a great way to protect yourself from any crashes, issues, viruses, or local problems on your PC.
Reasons People Need to Recover Deleted Music on Android & PC
There can be a whole range of reasons that you might lose your music files, some of which may be outside of your control. Here are a few of them:
Certain issues on an Android may need a factory reset to fix them. Performing a factory reset, wipes everything off your phone, and restores data and settings to a 'new' phone.
A virus could corrupt your files and mean they are unplayable or unreadable, this can happen on both Android and PC.
You might unintentionally delete a music folder or certain files when clearing space on your phone.
Incorrectly removing your phone from a Windows computer, whether not properly ejecting or clicking format (which could wipe the phone). This can also happen with an SD card.
Organizing your music collection and accidentally deleting certain files.
Breaking your phone and needing some form of replacement. This could be from water damage, battery issues, screen issues/cracks, locking yourself out of your phone, or system issues could also affect files.
Tips for Avoiding Deleting Music on PC
Here are some tips:
Organize your files so that you don't accidentally delete any misplaced ones in the wrong folders.
Backup your files so in the event, you lose any you can get them back easily.
Utilize Cloud-Based storage so if anything happens to your PC, your songs are safe externally.
Don't let anyone else access your files or log in to limit your potential for file deletion.
Enable data protection on a data recovery software (such as Disk Drill).
Hopefully, this list will help you avoid having to recover deleted music files, by not losing them in the first place. Did we miss any? Do you have any tips to help keep your music and files secure? Let us know in the comments.
How to Get Your Deleted Songs Back
You can lose your music files for a number of reasons, but there are a variety of ways to get your deleted songs back. So, whether you are on Windows or Android, you can relax knowing your songs and audio files are safe.
Losing your music can be really annoying, but it doesn't have to be with the right tools. Disk Drill is our favorite solution for data and music recovery, praised for its simplicity and value. It has a free version so you can recover up to 500MB, no questions asked.
Hopefully, now you have the knowledge to keep your music safe. After reading this article you should understand how to Recover deleted music, and maybe avoid it happening in the future!
James McKellar is a Content Writer and has been since the start of his professional career. Originally as a content marketer and then moving into writing to focus more on his passion for words. James has written about a wide range of topics but specializes in the B2B landscape, from SaaS, and FinTech, to Computing.
Andrey Vasilyev is an Editorial Advisor for Handy Recovery. Andrey is a software engineer expert with extensive expertise in data recovery, computer forensics, and data litigation. Andrey brings over 12 years of experience in software development, database administration, and hardware repair to the team.