A common problem faced by Windows users is realizing that they need a deleted file after the Recycle Bin has been emptied. While their first reaction may be to panic, the situation is not as bad as it seems. Disk Drill for Windows offers a method that enables users to perform the recycle bin recovery in a few simple clicks.
When data is deleted by Windows, the space that the file occupies is marked as available for future use by the OS. Until it is overwritten by new data, the original file can be recovered using a data recovery application, but you must act quickly to avoid permanent deletion.
Recover Deleted Files from a Recycle Bin
You've probably already done that, but practice shows that many users often forget to check if the files have actually been deleted. So, to recover data directly from the Recycle Bin:
Open the Recycle Bin by double-clicking on its icon.
Locate the items that you want to recover.
Check the box next to the files or folders you want to retrieve.
Right-click and select Restore to recover the items to their original locations.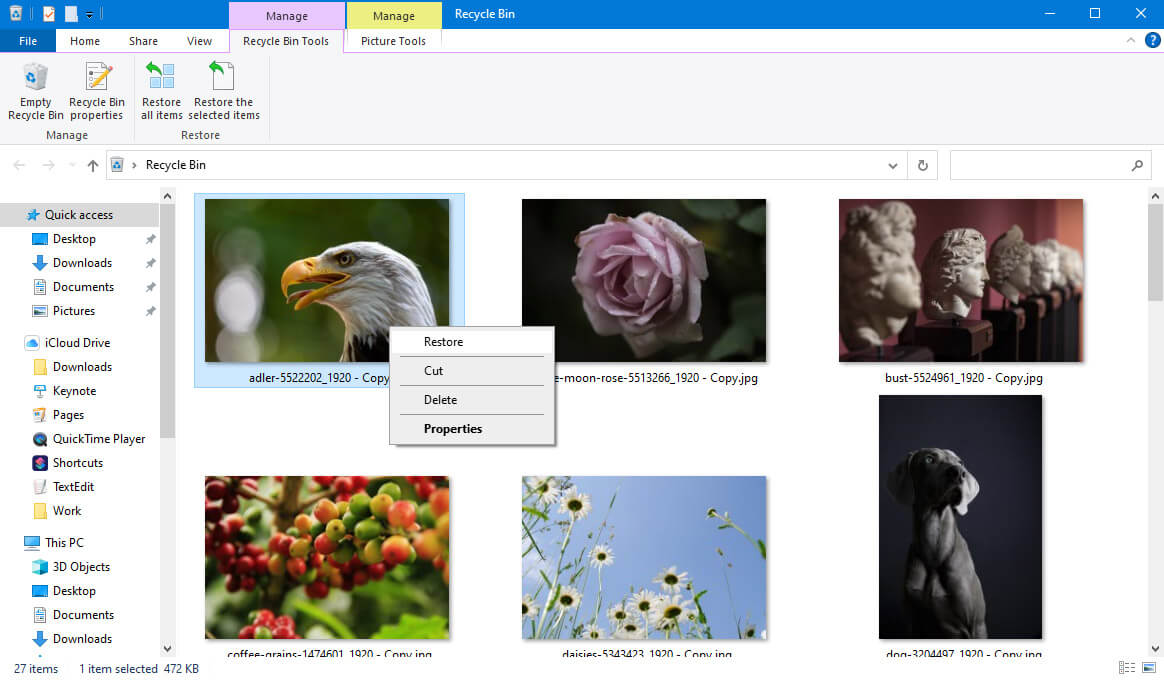 How to Recover Deleted Files from a Recycle Bin After Empty
5 EASY STEPS
Step 1. Download, Install and Launch Disk Drill to Start the Recycle Bin Recovery
After Disk Drill is installed on your computer, start the app on your PC. The free version of the program enables you to recover up to 500 MB of data. When the application starts, you will be prompted to upgrade to the Pro Edition of the tool which has no limitation on the amount of data that can be recovered.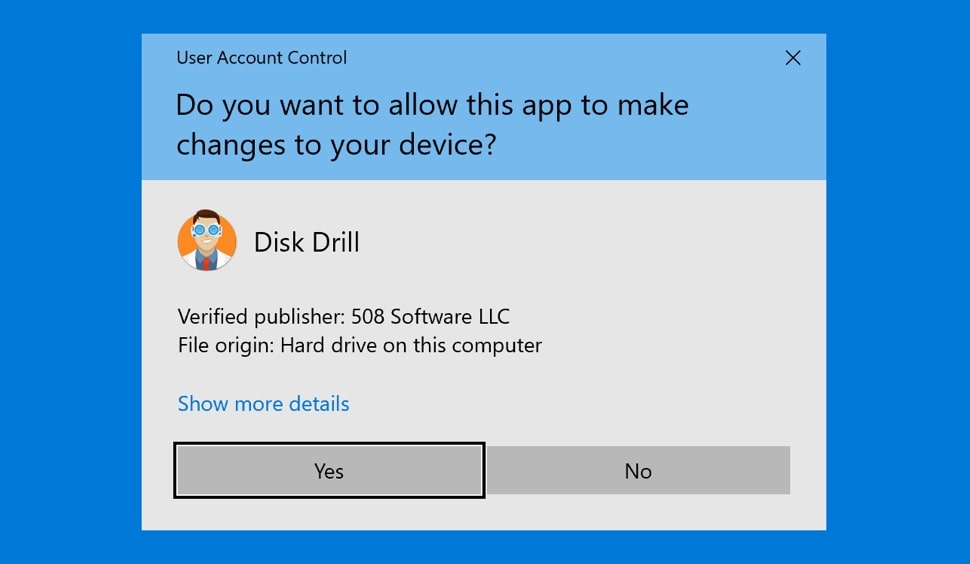 Step 2. Choose the Location and Start Scanning for Lost Files
Disk Drill's main window will display all the disks that are available for recovery. Clicking the Search for lost data button after selecting the disk on which the Recycle Bin resides (this is usually your computer's main internal drive) initiates the scanning procedure, which defaults to using all available scanning methods. You can also select the drop-down options next to the selected disk and choose a Quick scan for a faster restore or Deep scan for more thorough recovery results.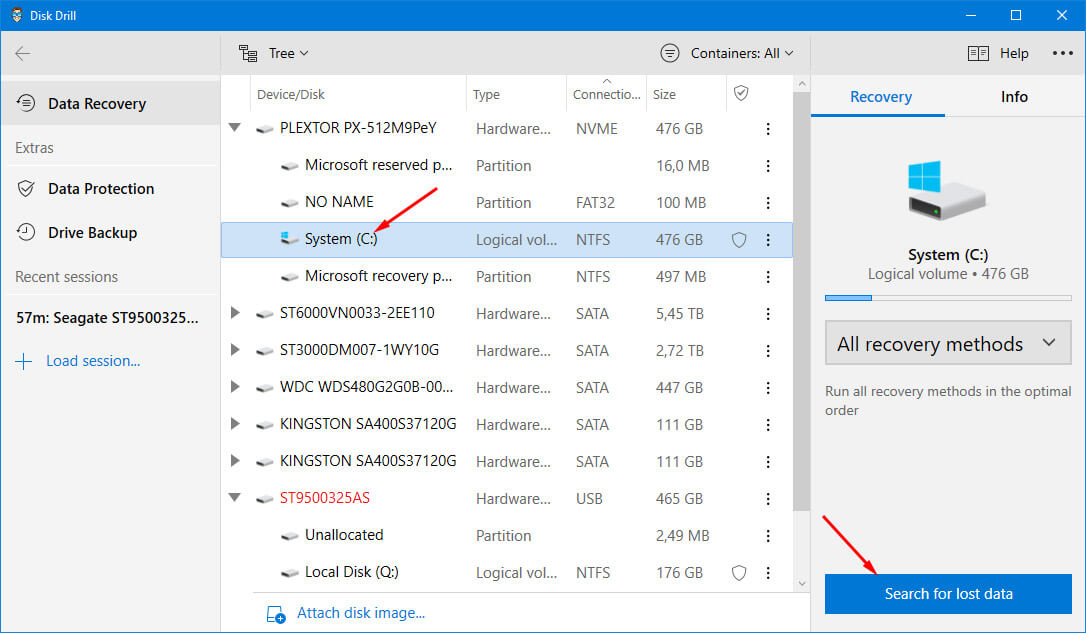 Step 3. Preview and Select the Files That You Want to Recover
Once Disk Drill finishes scanning your disk, you'll be able to preview the files available for restoration in the recovery panel. Files are grouped by type, such as Pictures or Documents, to streamline this process. You can view all files inside a folder and nested subfolders by holding the ALT key and clicking on the top folder. To preview a file, simply hover your mouse over it and click the preview icon (a small eye). When you find a file or folder that you want to recover, click the checkbox next to it to add it to the recovery queue.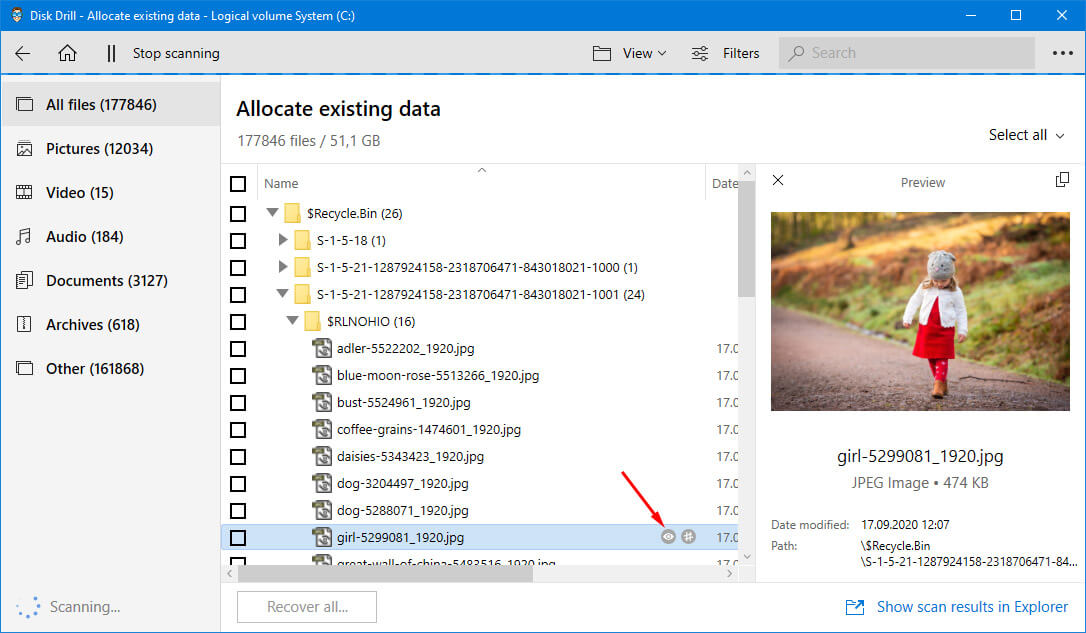 Step 4. Click the "Recover" Button to Perform the Recovery
After making your selections, click the Recover button and you will be prompted to choose a recovery destination for the selected files. Avoid using the same disk to minimize the chances of file corruption during recovery. Disk Drill will confirm that you've selected a suitable destination. Click OK to proceed.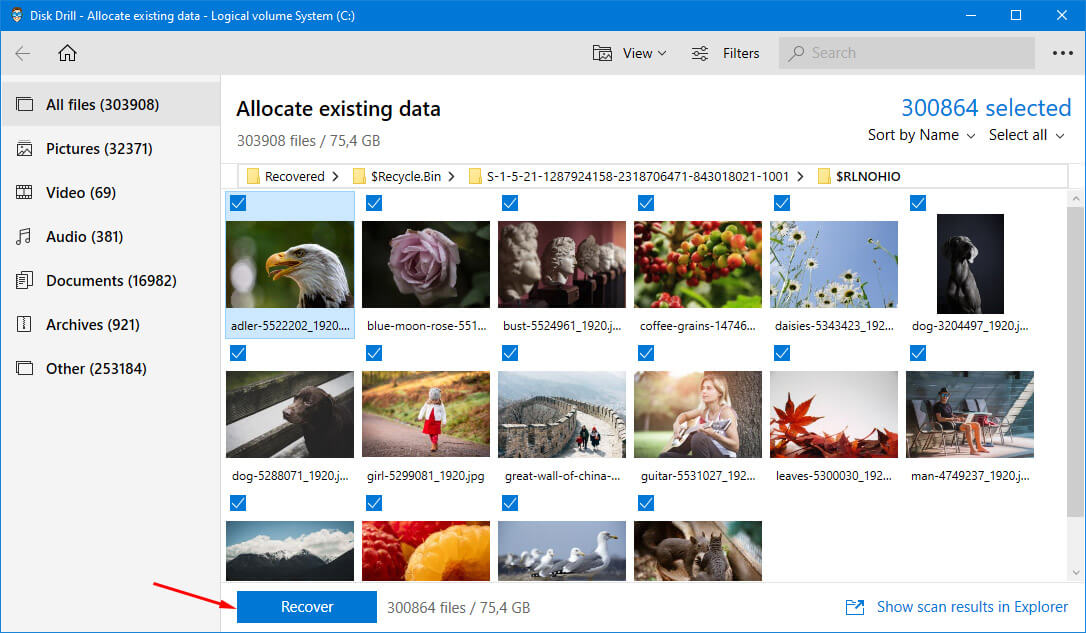 Step 5. View the Recovered Files
It should take just a short while for Disk Drill to recover your files and display the "Data recovery complete" message. To view the recovered files, click the magnifying glass icon next to the recovery path. Alternatively, you can return to the list of all the disks that are available for recovery and try a different recovery method or scan another disk.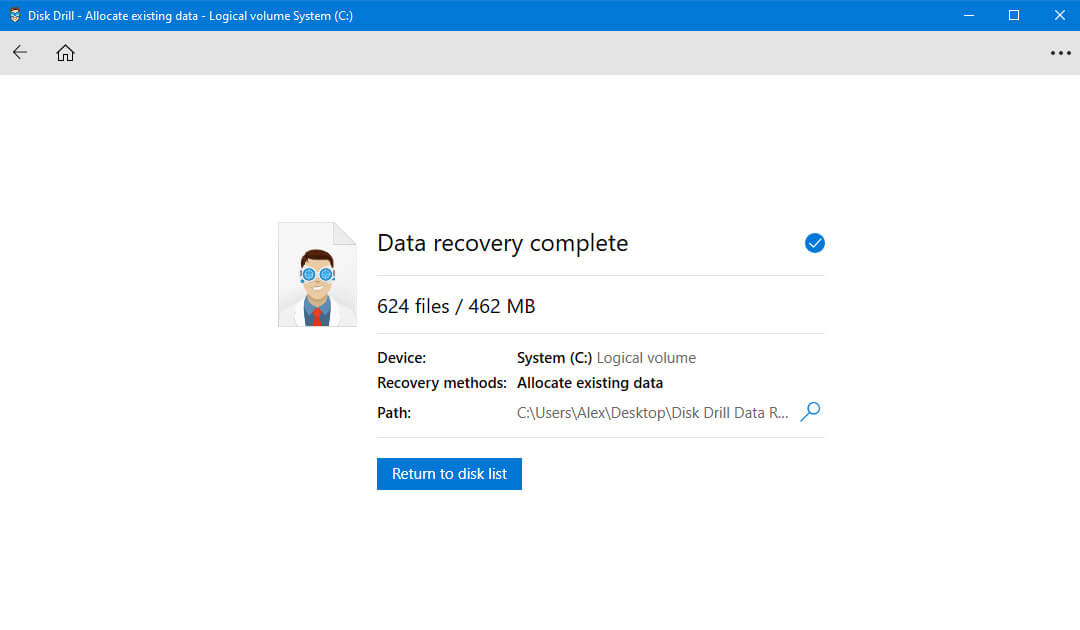 Recover Files Deleted From a Recycle Bin after Empty Without Software
Restore a Previous Version from File History
Windows offers the capability to recover previous versions of files by using the following procedure.
Right-click on the folder that contained the deleted file.
Choose Restore previous version from the menu.
Select the version you want to restore and click the Recover button.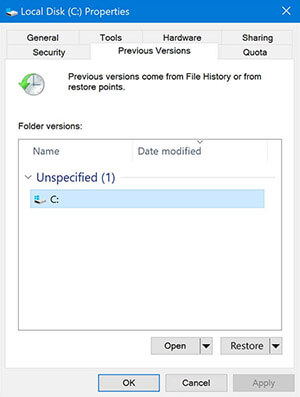 Restoring with Windows Backup
If you use the Windows Backup tool to protect your data, you can use it to recover deleted files with the following steps.
On Windows 7 systems:
Open Control Panel.
Select System and Security.
Choose Backup and Restore.
Click Restore my files and follow the wizard.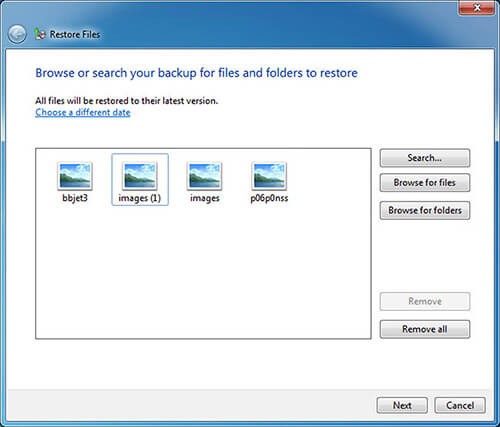 Windows 10 users should:
Open Settings.
Choose Update & Security.
Select the Backup.
Click the More options.
Choose Restore files from a current backup and follow the prompts.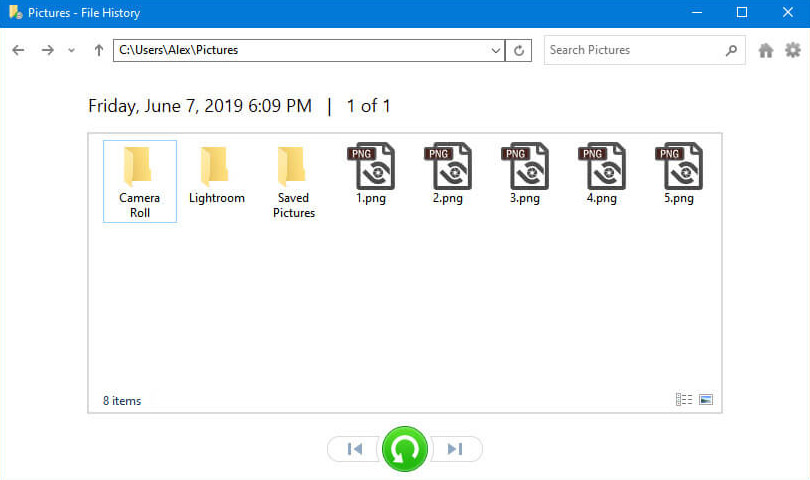 What's the Best Way to Prevent the Loss of Important Data
It's always a good idea to take extra steps in order to prevent the loss of important data. Even though it's usually possible to recover deleted files from the Recycle Bin or using a data recovery software tool like Disk Drill, why risk permanent data loss when you can easily prevent it by following the tips below?
Back Up Your Data
There's nothing more important when it comes to preventing the loss of important data than regular backups. If you don't want to purchase a dedicated backup storage device (external hard drive is a great choice), you can back up your data to the cloud using Dropbox, Google Drive, Microsoft OneDrive, or any other cloud storage solution with a free plan.
Maintain Your Computer
Hard drives and other storage devices are far more likely to fail if they're constantly overheating or are exposed to excessive vibrations, high humidity, and dust. If you make sure that your computer is always properly maintained, you can avoid data loss caused by sudden and irreparable hardware failure.
Use an UPS
An uninterruptible power supply, or UPS for short, is a backup power supply that provides emergency power during a temporary power outage. Most budget consumer-grade uninterruptible power supplies can keep your computer running for just a few minutes, but even that's long enough for you to save your work and close all running applications to prevent file corruption.
Avoid Overclocking
Overclocking is a great way how to gain extra performance without spending any money on new hardware components, but it can easily compromise the stability of your system. If you rely on your computer for work, we recommend you stay away from overclocking.
Don't Disable Your Antivirus
Some people disable their antivirus software because they want their computer to perform better, while others don't believe that antivirus software solutions are useful in the first place. The fact remains that there's a lot of dangerous malware that can cause you to lose access to important data if you make a single mistake and allow it to enter your system. Unless you're willing to take the risk, keep your antivirus enabled.
Buy Reliable Hardware Components
You wouldn't cycle around the world on a $100 Walmart bike for the same reason you shouldn't rely on cheap hardware components when it comes to doing important work. While all SSDs have a limited life span, there's a huge difference between premium and budget brands. A typical TBW (terabytes written) figure for a 500 GB low-end SSD is around 150 TBW, but it jumps up to 300 TBW for high-end SSDs, such as those manufactured by Samsung.
Frequently Asked Questions