Those who know about Murphy's Law are well aware that data loss can happen at any time, particularly when it's most inconvenient. Whatever your situation may be, grabbing a solid recovery tool should be at the top of your priorities. Since their quality varies, and some of them don't work well on older versions of Windows, this can be quite challenging.
👀
You might wonder: "What's the best data recovery software for Windows 7?". We've done thorough research to come up with 10 apps that are very effective at restoring data. But before that, a slight detour.
How To Choose The Best Windows 7 File Recovery Tools
Since the data recovery process is context-dependent, there isn't a one-size-fits-all solution to the problem. To pick the best software for your needs, you will have to take into consideration various questions. These include:
💸 What Is My Budget?: How much do you want to spend to recover your data? Is this a one-time thing, or are you looking for a permanent solution? Do you wish to pay for a subscription? Also, it's worth mentioning that some file recovery software for Windows 7 comes with a free trial. This way, you can test them for yourself and see if your files can be recovered before committing. We'd recommend going this route since it can be difficult to get your money back once you've already bought the product. You may also risk having to buy additional software or pay for a data recovery specialist if your refund is refused.
🗑️ How Did I Lose My Data?: Was your PC infected with malicious malware? Did your laptop experience hardware damage? Are your files still available but your disk is simply corrupted? Was everything lost because of a recent system update? Have you accidentally deleted it?
🤗 Is It Easy To Use?: The app may be effective, but that doesn't mean much if it's difficult to use. Keep in mind that some of them are geared toward professionals, which will only frustrate casual users by the sheer amount of options. Looking for software with a clear interface and a preview feature is your best bet.
🔗
And these are just the most important factors. For a more in-depth look, check this article.
Top 10 Best Data Recovery Software for Windows 7
To start, we have a widely known favorite from CleverFiles. Disk Drill was designed to be a powerful, user-friendly solution that can recover over 400 file formats. These include a variety of compressed, hidden, deleted, RAW, and encrypted files.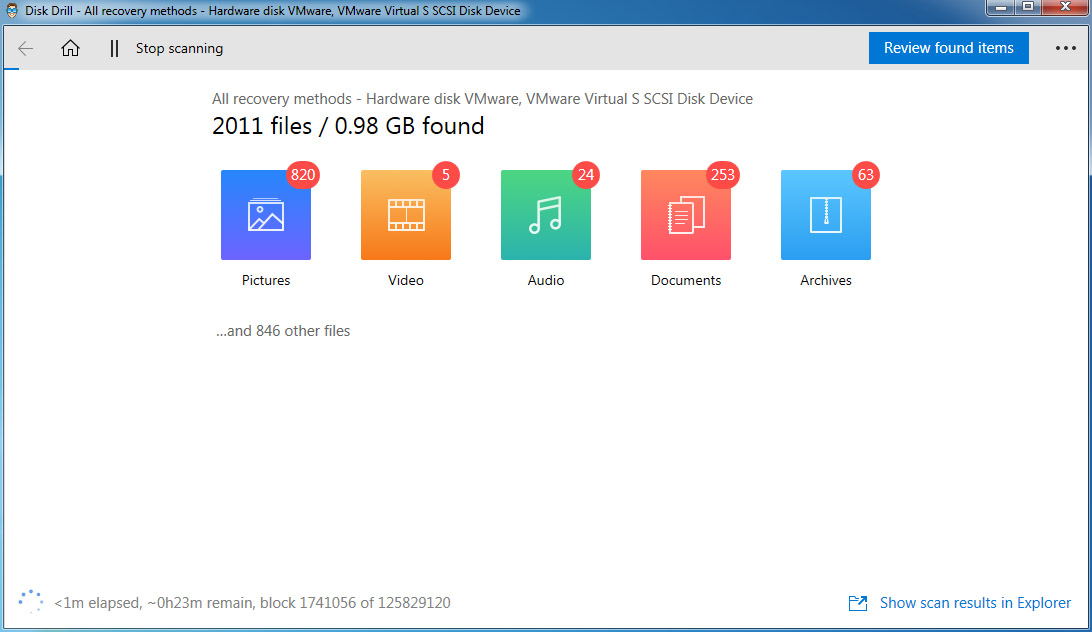 ✅
Pros:
Has support for hundreds of formats
Easy to use
Packed with features
High recovery rate
❗️
Cons:
Scan speed is average
No RAID recovery
Missing phone support
Disk Drill has a clear UI that makes navigation easy. By default, it will open a Data Recovery window which will display all of the available disks on your PC. Our quick scan lasted around 5 minutes and found about 70% of the files we lost. At this point, we opted out for a much longer, but very thorough deep scan. This had great results, and we managed to recover over 95% of our files. The app also didn't put much strain on the CPU, so we could continue using our computer while it actively worked in the background.
Disk Drill also offers Data Protection and Drive Backup features. They include tools such as SMART Disk monitoring that looks at the health status of your HDD, as well as data backup and Recovery Vault. These additional features help the app stand out, making it a powerful all-in-one solution.
Disk Drill has a free trial that lets you recover 500 MB of data. After that, you'll have to choose between a Pro ($89) and Enterprise ($499) version.
🔗
There's more to this app that we could squeeze in this article, so make sure to check out our full review to get a better picture.
Stellar Data Recovery is a software company from the India with 25 years of experience. It specializes in restoring videos, photos, documents, and audio files from USBs, SSDs, and HDDs, and it even claims to work on unbootable systems.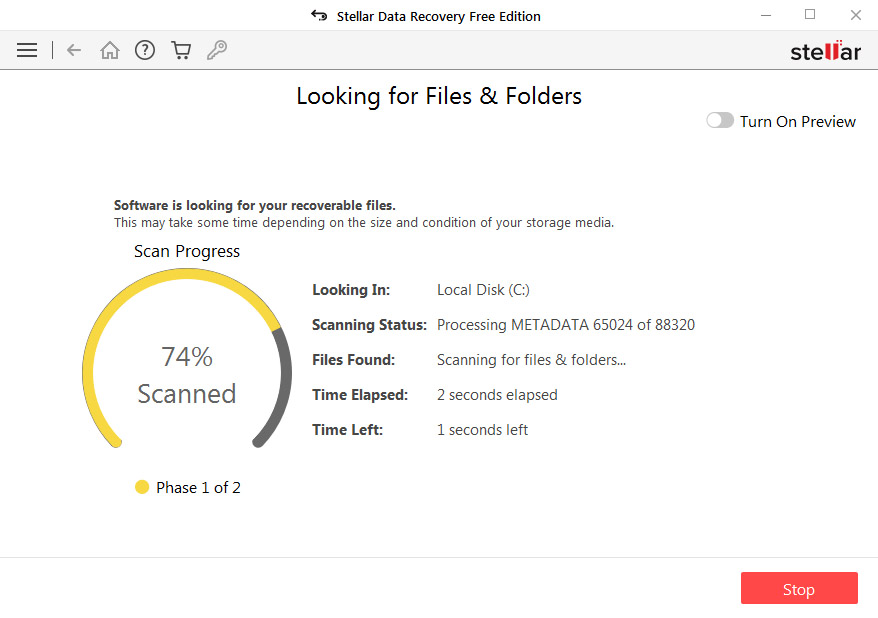 ✅
Pros:
Supports all important formats and file systems
User friendly
Additional tools that will help you test your disk and clone files
❗️
Cons:
Inconsistent recovery
Subscription-based model
Preview option sometimes doesn't work
Download Stellar Data Recovery
Stellar Data Recovery has a simple layout that is easily understandable to casual users. Once you pick your desired file type, you can pick between normal and deep scan.
To speed up the scans, you can also deselect files you don't need in advanced settings, as well as add custom file types. Here we also have a Resume Recovery feature, which is very useful if you are dealing with terabytes of data.
There's also a Stellar Drive Monitor tool, that will give you the health status of your drive, as well as the ability to Clone Disk.
A free trial is available, which will let you preview and restore 1 GB of files. To recover data, you will have to purchase a Professional, Premium, or a Technician version of this app.
🔗
You can take a look at our detailed review here.
Here we have a free recovery app from the company that created CCleaner. Recuva can reliably restore files lost during a computer crash or unwanted deletion, and extract data from damaged disks.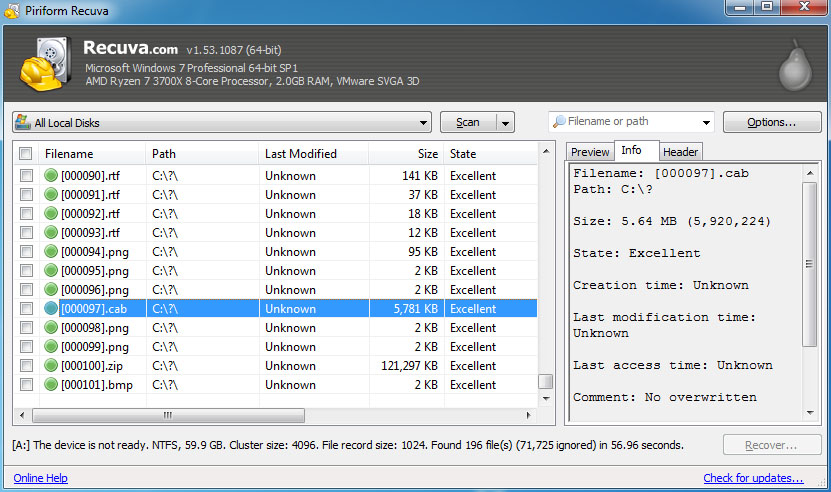 ✅
Pros:
Available as a freeware
Does quick scans
Affordable
Has a preview screen
❗️
Cons:
Somewhat confusing interface
Recovery could be better
Recuva is fast, intuitive, and affordable, which makes it a great recovery tool for casual users. It's also small in size, so you can download and install it in seconds. Recuva Wizard will then let you pick which files you wish to recover. You can choose between pictures, music, video, documents, e-mail, and compressed files.
Both regular and deep scans were done very quickly, but they didn't find all the files that we were looking for. If you've found what you were looking for, you may want to purchase Recuva Professional. This version provides you with a virtual hard drive, additional updates, and premium customer support. For $20, you will get a 1-year subscription for one computer.
Overall, the success rate of Recuva was around 75%. However, since it is freeware, you risk nothing by taking it for a spin yourself. If it doesn't recover the data that you are looking for, it may be time to check out our premium picks, such as Stellar Data Recovery or Disk Drill.
🔗
For more information about Recuva, you can read our full analysis here.
With 15+ years under its belt, EaseUS has acquired a lot of experience in dealing with data loss. As such, its recovery wizard is prepared for many scenarios, including format and partition recovery, or restoration of accidentally deleted files. EaseUS supports hundreds of file formats, a fact which has made it a very popular recovery solution.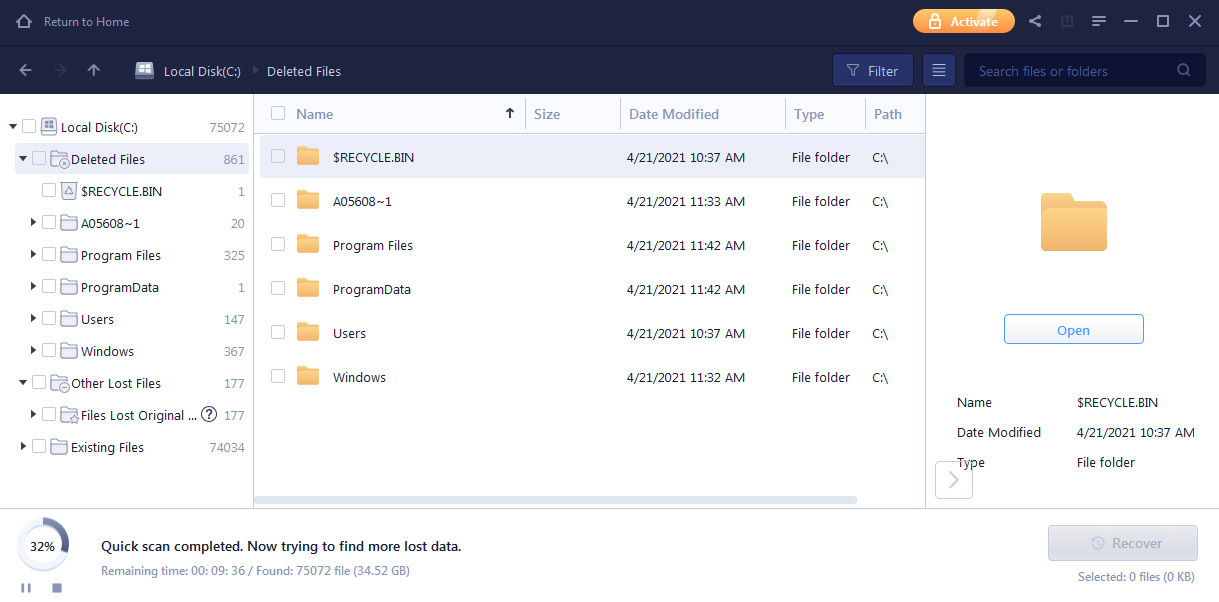 ✅
Pros:
Simple Interface
Reliable in restorations
Supports over 550 file types
❗️
Cons:
More expensive than most of the rival products
Some recovered files were corrupted
Slow recovery of big files
Download EaseUS Data Recovery Wizard
EaseUS Recovery Wizard greets you with an intuitive and minimalistic interface. Once you select a problematic hard drive, you can choose between 2 recovery modes. A quick scan will probably be enough to locate recently deleted files, but it will also check if your system has been infected by a virus. Advanced scan searches for traces of long-lost data, and it will take a few hours to finish.
We tried both and were surprised about their effectiveness, as we managed to retrieve nearly all of our files. However, although advanced scan did pull up many lost documents, a significant percentage of them were corrupted and couldn't be restored. Also, the recovery of large files was a bit too slow.
A trial version of EaseUS lets you restore up to 2GB of data, which is generous. However, after that, you will have to choose between a pricey monthly ($69.95) and yearly subscription ($99.95), or a lifetime license ($149.95).
🔗
You can read more about our test results here.
Released by Wondershare in 2003, Recoverit is a trustworthy data restoration software with a long track record. It's able to recover over 1000 file types, which should make it a solid solution for various data loss problems.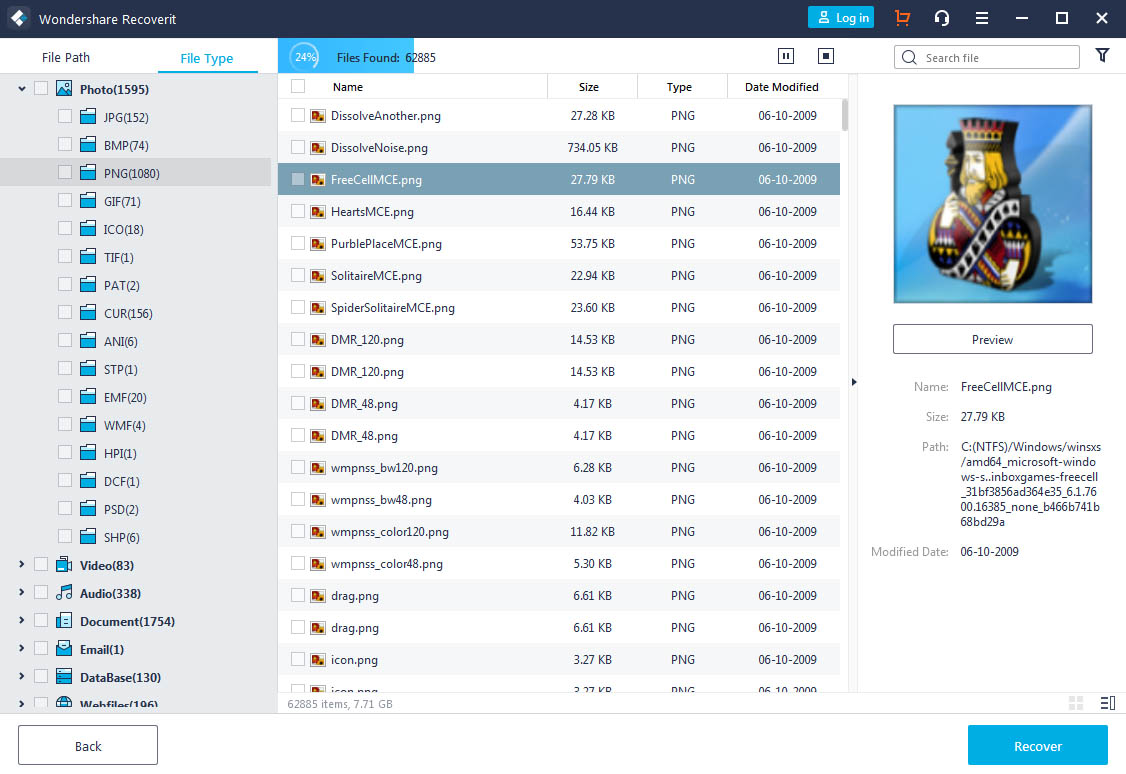 ✅
Pros:
Reliable tech support
Great recovery rate ( over 90%)
Supports hundreds of file formats
❗️
Cons:
Pricey subscription
Can't save scans
Free trial is very limited
Download Wondershare Recoverit
Recoverit has a slick modern interface similar that supports a well-developed 3-step recovery process. You can choose to restore files from HDDs and SSDs, specific locations, or external devices. Standard and Advanced plans also offer Computer Crash Recovery, which will save your photos and videos even if your PC cannot boot successfully.
The app has a Quick and Deep scan, both of which lasted a bit longer than we expected. Since our results were pretty impressive, we can easily forgive this. However, the retrieved files didn't have their original name, so we had to go through multiple documents before finding the ones we needed. Recoverit luckily has a filter function that sped up this process. Unfortunately, this software doesn't let you save scans for later use, so you will have to repeat the whole procedure every time you wish to restore something.
A free version will let you recover 100 MB of data before asking you to purchase one of the three monthly subscription plans. Essential ($59.95) has all of the usual recovery features, while Standard ($69.95) adds WinPE support and Computer Crash Recovery. The Advanced plan($79.95) will be useful for video editors, as it offers advanced video recovery options. All in all, Recoverit is very reliable, but it is also one of the most expensive windows 7 file recovery tools.
🔗
You can take a closer look at our Recoverit review here.
If you are experienced in data recovery and are looking for software with an extensive list of advanced options, R-Studio may be ideal for your needs. It can easily restore data from unbootable or corrupted HDDs and SSDs, as well as network disks. It also offers RAID recovery.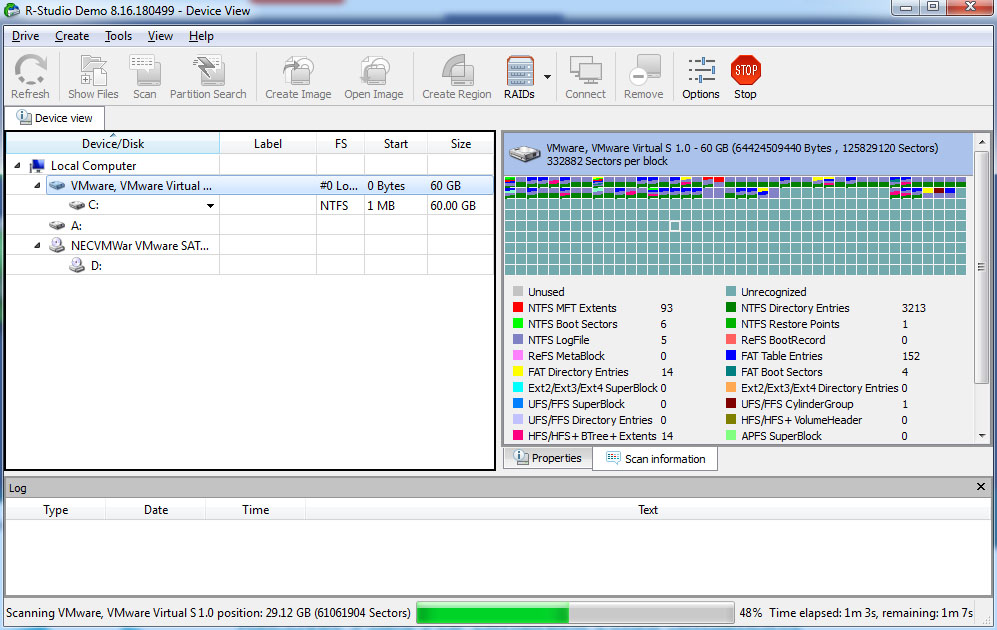 ✅
Pros:
Advanced features geared toward professionals
Supports dozens of file systems
Recovery from network disks
❗️
Cons:
Unappealing interface
Results aren't displayed during the scan
R-Studio is much different from previous entries, as it doesn't cater to casual users. As such, its user interface is complex, but it also gives you more freedom. You can simultaneously run various specified recovery scans that will filter files by a dozen of parameters.
Aside from advanced recovery algorithms, R-Studio has other useful tools. Hex Editor lets you preview found files, while SMART monitoring will report you on the health of your disks.
R-Studio has a few versions that recover data from different file systems. We have FAT ($49.99), NTFS ($59.99), Regular ($79.99), Network ($179.99), and Technician ($899.00) version.
AnyRecover is a sub-brand of iMyFone, a tech company that focuses on phone recoveries. This software uses similar advanced algorithms that can pull out files that were damaged or lost due to hardware malfunction, computer crashes, formatting errors, and more.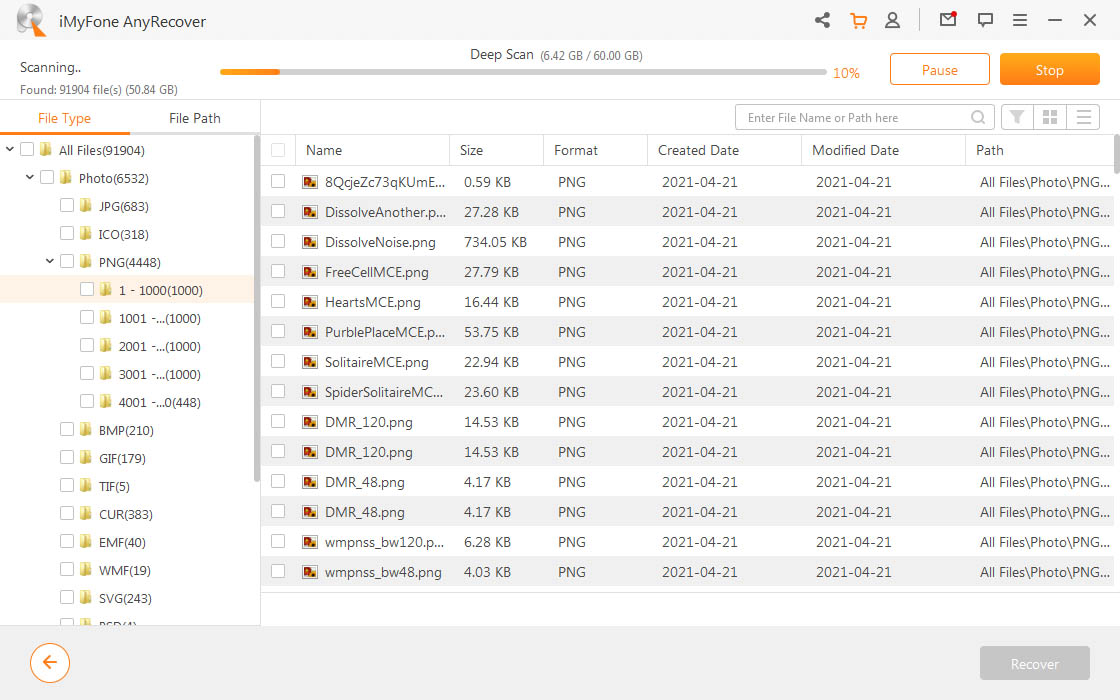 ✅
Pros:
Clean and well-organized
Great customer service
Affordable pricing
❗️
Cons:
Some restored files were corrupted
Lacks support for more exotic file formats
The app utilizes a 3-step recovery method that's very easy to follow. It's lightweight and scans through disks pretty quickly. The preview function also works really well, but restored files don't have their original name, which is a bit of a hassle.
AnyRecover works on all of the usual storage devices, such as SSD, HDD, USB, memory card, and digital camera. It has a high TrustPilot score, and many people praise their customer service. All in all, this is another solid file recovery software for Windows 7.
AnyRecover will let you restore three files for free, after which you will have to pay $49.95 for a full version.
Next, we have a relatively unknown alternative made by MiniTool. This is a lightweight and barebone (<10 MB) app that can recover data from all storage devices and supports 100+ file types.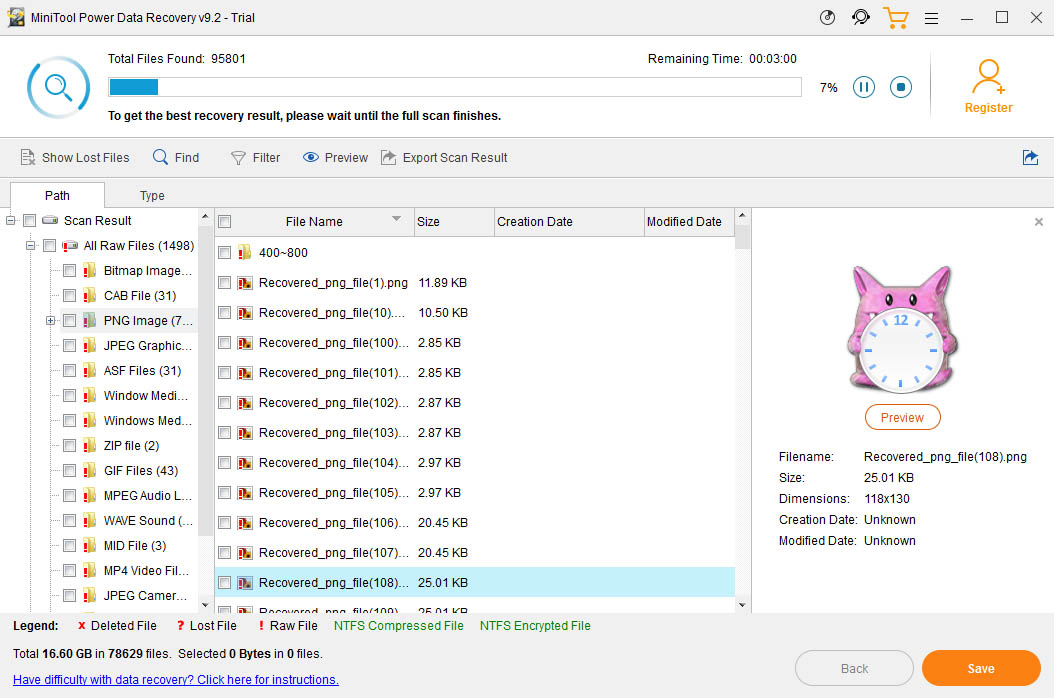 ✅
Pros:
Bootable media for recovering data from bad HDD
Solid recovery rate
❗️
Cons:
Complicated interface
Lacks backup tools
Free version doesn't save scan results
Download MiniTool Power Data Recovery
As you can see above, MiniTool claims to be useful in all of the important recovery scenarios, with bootable media tools reserved for premium users. Both quick and deep scan will go through FAT, NTFS, and HFS+ file systems. Aside from scanning specific locations, advanced settings will let you focus on certain file formats.
We would recommend that you use this filter, as scan results are not well organized. It also doesn't help that the preview function doesn't work on certain file types, which slowed us down. After testing it extensively, MiniTool Power Data Recovery ultimately left us a bit underwhelmed.
The trial edition lets Windows 7 users retrieve up to 1 GB of files. Paid versions are available on a monthly ($69) and yearly ($89) basis, or as a one-time payment ($99).
🔗
Don't miss our comprehensive review of MiniTool Power Data Recovery here.
Whether your data was lost due formatted drive, system crash, or accidental deletion, Wise Data Recovery can probably help. It can extract deleted files from all important storage devices and supports NTFS, exFAT, and FAT file systems.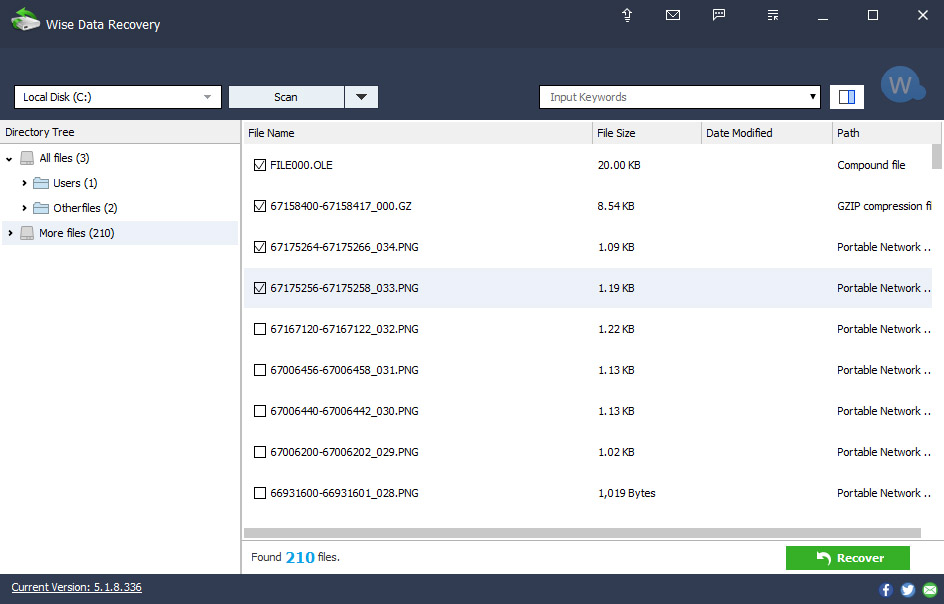 ✅
Pros:
Easy-to-use
Fast scans
Lightweight
❗️
Cons:
Average recovery
No preview option
Lacks bootable recovery
Wise Data's UI is a bit dated but still functions very well. The app offers 2 types of scans that use advanced algorithms to dig out your data. They are both pretty quick when compared with the competition, and don't significantly affect RAM and CPU. There's no estimated time feature, which is a bit annoying.
Found files can be sorted by type, size, and date modified. There's also a keyword search bar that can significantly speed up your recovery. That is, if you've found your files. This is Wise Data's greatest weakness, as it didn't manage to restore a chunk of our uncommon file types. It can still be useful to casual users, just know that there are better alternatives on the market.
Wise Data Recovery lets you use a quick scan function freely, without imposing any limits. However, for restoring RAW files and deep scans you will have to get a monthly ($44.95) or yearly ($67.46) subscription.
🔗
For more info on the product, check our review.
Lastly, we have Systweak's Advanced Disk Recovery. This is another in line of quick data restoration apps which claims to support many file formats and works in many different scenarios. Let's put it to the test.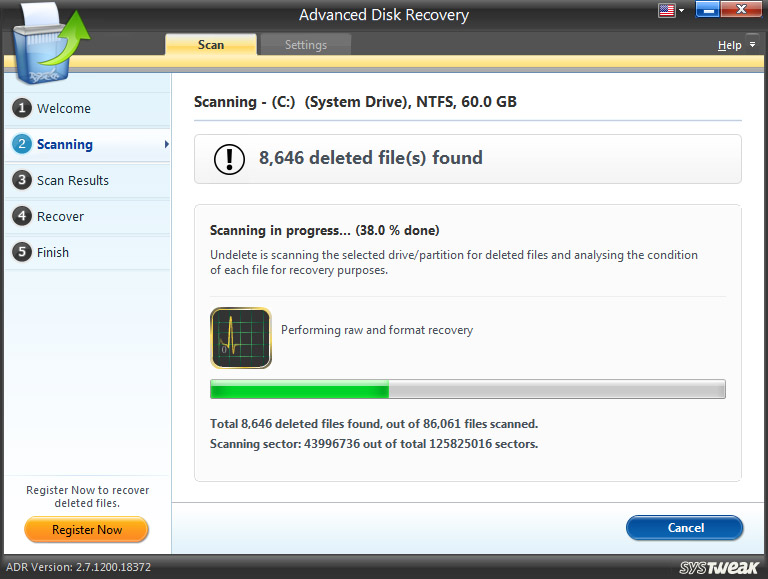 ✅
Pros:
Convenient filter
Affordable
❗️
Cons:
UI is somewhat outdated
The trial version doesn't have a preview option
Recovery could be better
Download Advanced Disk Recovery
The app has a clear interface, but it feels somewhat cheap. As expected, there are two scanning options, and they both do their job quickly, but with mixed results. It was pretty good at recovering RAW files and accidentally deleted data. However, if it was something lost during a computer crash or from a failing HDD, chances were much slimmer.
Searching through files is convenient, as the filter lets you group data based on dozens of parameters. There's also a neat file health feature that shows how likely every recovery is. Ultimately, Advanced Disk Recovery gave subpar results in many aspects, and as such we wouldn't recommend it.
If you decide to try it, the app offers a free 15-day trial during which you can restore 5 files. After that, you will have to purchase a full version for an annual price of $39.95.
FAQ
The first three entries on the list (Disk Drill, Stellar, Recuva) all support the 32-bit version of the OS and have solid recovery rates.
Recuva can be used completely free, although its results can vary considerably. Wise Data Recovery is also available, but only for quick scans.
They all have their strengths and weaknesses, but we would recommend looking at Stellar Data Recovery, Recuva, and Disk Drill.
Final Verdict
Choosing the best file recovery software for Windows 7 certainly ain't easy. While each entry here has at least one strong suit, what makes software great is its ability to adjust to your needs. The top entries of this list can do just that and offer the best balance of price and effectiveness.
Marko Medakovic carved out his path as a Freelance writer by writing premium articles on the tech and gaming industry. He has written extensively on the topics of data recovery and macOS security. Marko is driven by a desire to spread his knowledge clearly and concisely, so that everyone can benefit from it.
Andrey Vasilyev is an Editorial Advisor for Handy Recovery. Andrey is a software engineer expert with extensive expertise in data recovery, computer forensics, and data litigation. Andrey brings over 12 years of experience in software development, database administration, and hardware repair to the team.