Stumbling upon a variety of data recovery software nowadays requires minimal effort, including those that advertise a ton of features. But in reality, a good number of them are just baiting and don't offer some of the perks they claim to have. This article breaks down most of the features of one of the popular recovery applications on the market called R-Studio.
R-Studio is a widely known data recovery solution used to retrieve data from several file systems. According to the developer, the app is the "most comprehensive data recovery solution". We will attempt to be as detailed as possible with some of the app's key features.
This article will help you to get a good first impression especially if you're considering using the app in the future. Is this software as good as the developers say it is? Let's find out today.
👀
TL;DR: R-Studio data recovery software combines a unique set of data recovery technologies to help recover data from multiple files systems, including NTFS, FAT12/16/32, exFAT, HFS/HFS+, and APFS. Due to the app's advanced recovery algorithms, retrieving data from partitions that have been formatted, damaged, or deleted is feasible. R-Studio is also popular among tech-savvy users and professionals. Generally speaking, R-Studio is recommended if the app's complexity and price tag suits you.
---
⚠️
Want to help make our content better? Please vote for the best alternative to R-Studio Data Recovery Tool:
1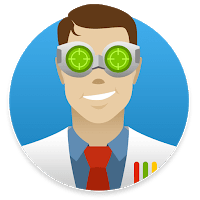 Disk Drill
Platform:

Windows, macOS
Distributed as:

Freemium
2

PhotoRec
Platform:

Windows, macOS, Linux
Distributed as:

Freeware
3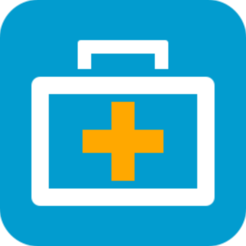 EaseUS
Platform:

Windows, macOS
Distributed as:

Freemium
---
Where can I download R-Studio?
R-Studio is available for download on several websites, but we recommend downloading it from the official R-Studio website. The app is compatible with the following:
Windows: 2000, XP, Vista, 7,8/8.1 & 10.
macOS: Mojave, High Sierra, Sierra, OS X El Capitan, Yosemite, Mavericks, Mountain Lion, Lion, and Snow Leopard.
Linux: Fedora 12+, Ubuntu/Kubuntu 10.4+, Debian 4.0+, or any kernel 2.6+ Linux distribution capable of installing .rpm or .deb packages.
How do I use the R-Studio Data Recovery Software?
Without mincing words, we will briefly describe first-hand how the recovery process in R-Studio works. The first thing you notice is that the user interface differs greatly from some of the modern displays available in certain apps, and it's also quite sophisticated (more on that later).
The recovery process described in this article is targeted at Windows users. As a precautionary measure, always ensure that you do not make changes to your storage device after you notice that some of your files have been deleted. Failure to do this decreases the chances of successfully recovering your lost files.
⚠️
This review was done using a device running Windows 10. The recovery process for other versions isn't entirely distinct from each other.
If you don't already have R-Studio installed, you should go ahead and download any of their packages here.
After the app is downloaded and installed, you should run the application.
A regular-looking interface containing a list of tools and features is immediately displayed. You will see a panel on the left side of the screen that indicates all the available devices/partitions you can recover files from.
Click on the partition you intend to recover your missing files from and click the "Scan" button to begin the search for your missing files. A dialogue box instantly pops up on your screen when you click the scan button. It includes options to select your preferred scan view and some other advanced scanning preferences.Using the simple scan view, the recovery process was completed almost instantly. We also attempted to recover files using the detailed scan view but this took some time to complete.
After the scan process is completed, a default subfolder that contains the recovered files is created under the scan location. Click on the folder and use the Ctrl+F2 command on your keyboard to recover the files. Alternatively, you can click the "Recover" button at the top of the screen.
Finally, select a location where you intend to save the recovered files.
What is R-Studio used for?
R-Studio is an advanced application mainly used for the recovery of data from Computer devices. The app is also used to repair hard drives that are damaged and file systems that are corrupted. The powerful data recovery tool uses a mix of advanced algorithms for recovering well-known files from multiple file systems and remains a go-to data recovery solution for tech fanatics and professionals alike.
Main Features of R-Studio
Users often consider certain features to determine the usefulness of data recovery software. Whether it's the performance or the user interface, these factors are useful when people consider choosing the right application out of the numerous data recovery options available.
Keeping this in mind, R-Studio offers a powerful and robust set of features for recovering lost data from multiple storage devices. The existence of advanced recovery algorithms helps to recover data from damaged and unsupported files systems. Let's explore in detail how relevant the features of R-Studio are, concerning real-time data recovery.
User Interface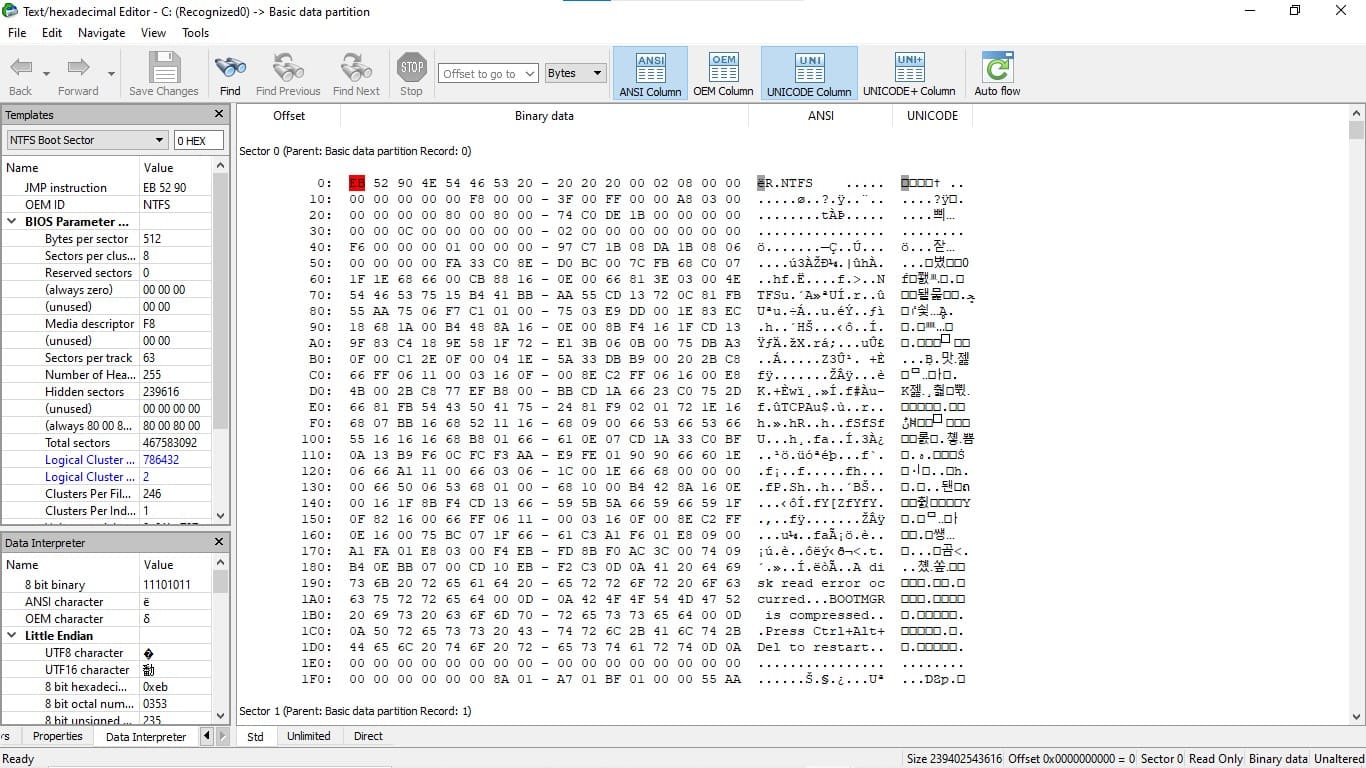 Perhaps one of the key features many users readily notice is the user interface. While it doesn't determine the overall usefulness of an app, the nature of an application's design can affect the overall user experience. When compared to similar data recovery software, R-Studio scores averagely in terms of aesthetics. Despite the simplicity and proper layout of the app's features, we were hoping for a more modern and artistic appearance.
However, while R-Studio's overall design falls below expectations, the app still maintains a proper layout of the various tools and features, making navigation pretty simple. This is great, especially for users who prefer clicking a few buttons to gain access to specific features. In my opinion, the app's simplicity makes up for the subpar design, which is okay if you aren't heavily invested in cosmetic displays.
Recovery Capabilities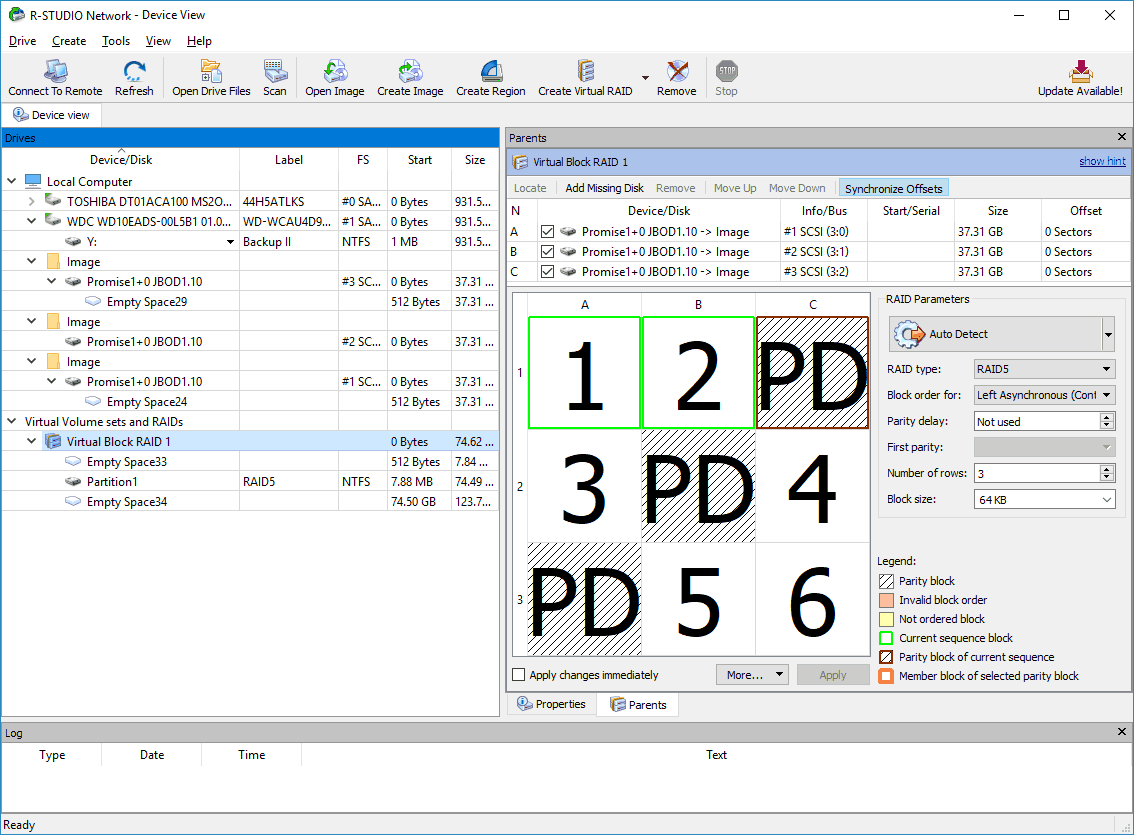 The real test was to identify how useful the app was in terms of its ability to recover lost files. For context sake, recovery of files was done using the R-Studio Demo version 8.16.180499 on a Windows 10 Notebook. R-Studio is designed to recover files from multiple file systems including NTFS, NTFS5, ReFS, FAT12/16/32, exFAT, HFS/HFS+, APFS, and Ext2/Ext3/Ext4 FS partitions.
Despite the possibility of recovering files from external drives, our scenario involved recovering from a local drive (NTFS). We were presented with the option to scan the entire disk or scan a specific area. The former was the much simpler method as we weren't looking to include specific parameters during the scan process. Either option is great depending on your recovery objectives.
You can also select your preferred scan view: Simple and Detailed. The Simple view displays the scan progress only while the Detailed view includes found objects. For quicker results, we recommend using the Simple view. You may also choose to avoid the scan view altogether, which guarantees the fastest results.
To be fair, it took a lot of dabbling to get a hang of the app due to its lack of simplicity.
Advanced Recovery Algorithms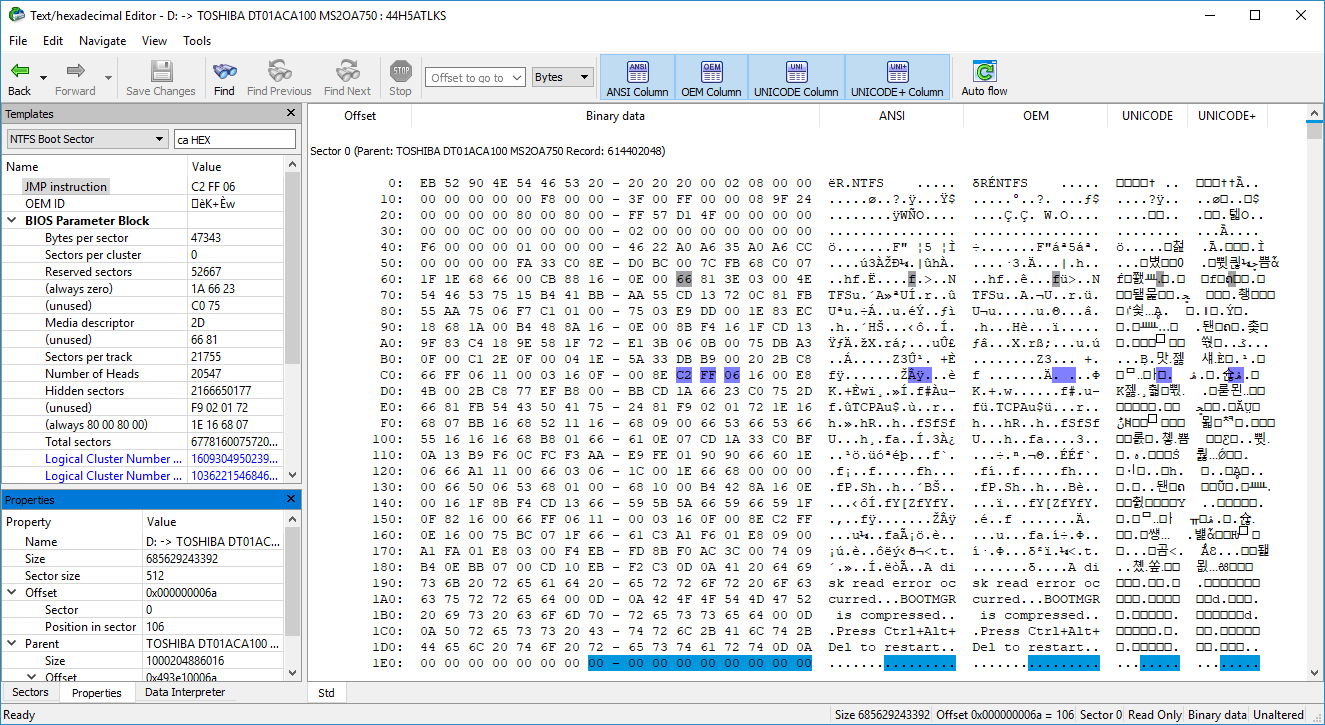 In instances where your recovery drive is badly damaged or unsupported, R-Studio is capable of searching for specific file signatures for certain file types including documents and images. You can also add new file signatures to the list of known file types.
Damaged RAID Recovery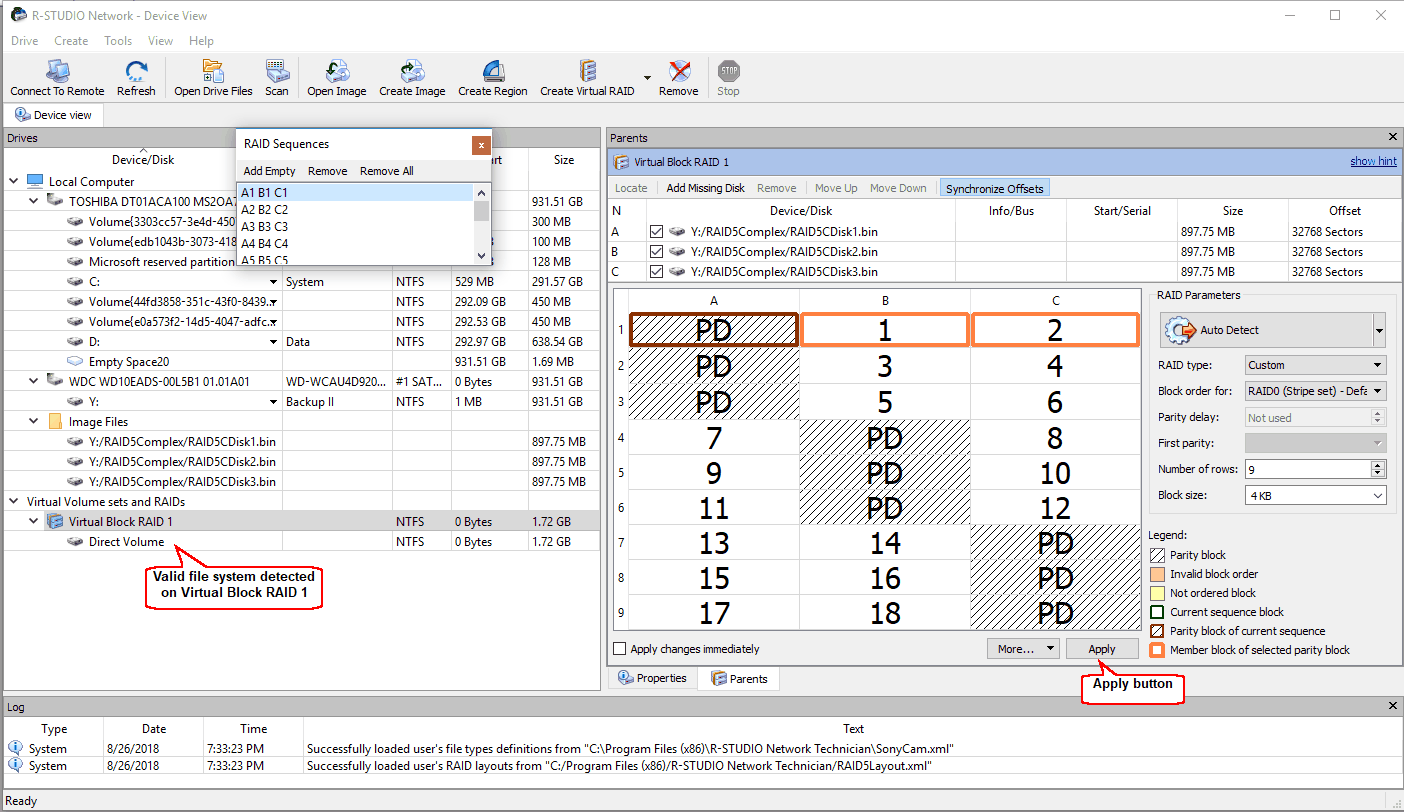 RAID recovery is often a tough hurdle to climb, especially when it's not recognized by your OS. However, with R-Studio recovery software, a major feature allows for the user to create a virtual RAID that can be processed like a real one and includes support for standard, non-standard, and nested RAID levels.
R-Studio's advanced RAID reconstruction module also supports parody delays in all applicable levels as well as customer-specified RAID layouts. Also with automatic recognition of parameters, R-Studio will recognize all RAID parameters for RAID 5 & 6.
Recovery Over Network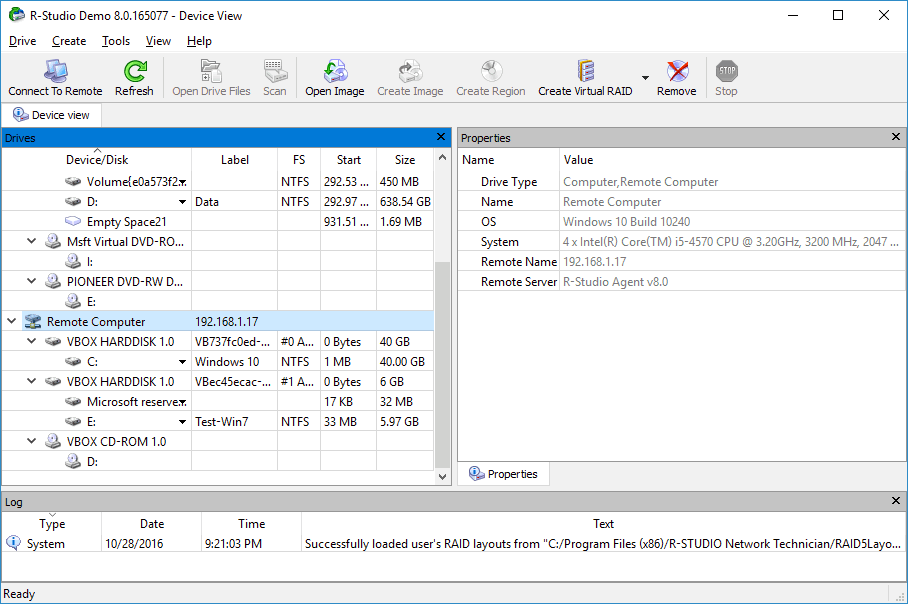 Another landmark feature included in R-Studio software is the ability to recover files on networked computers running Win2000/XP/2003/Vista/2008/Windows 7/8/8.1/10/Windows Server 2012/2016/2019, Macintosh, Linux, and UNIX.
Files recovered may be saved on any network or disks accessible by the host OS. You can also choose to save recovered files on a disk linked to a remote computer compared to transferring files over a network to a local device.
S.M.A.R.T. Monitoring
R-Studio can display S.M.A.R.T. (Self-Monitoring, Analysis, and Reporting Technology) attributes for hard drives to show their hardware health and predict possible failures. Any unnecessary work with such hard drives should be avoided if S.M.A.R.T. warnings appear.
👀
Performance results such as the speed may vary depending on the device you are using. On average, faster processors may guarantee quicker recovery results.
How much does R-Studio cost?
There are several versions of R-Studio, each of them containing features tailored for different users.
| | | | |
| --- | --- | --- | --- |
| | Windows | Mac | Linux |
| Free Version | Yes | Yes | Yes |
| R-Studio Standard | $79.99* | $79.99* | $79.99* |
| R-Studio Network | $179.99* | $179.99* | $179.99* |
| R-Studio Technician | $899* | $899* | $899* |
⚠️
The prices shown above reflect the cost for single licenses. Including extra licenses will attract additional fees.
Where Can I Get a Full Version of R-Studio?
The full version of R-Studio can be found on their website. Different versions targeted at specific users are available for free download and purchase. The Demo version which is available for free contains limited features.
Does R-Studio Recovery Software really work?
Based on usage, we were able to recover 1 GB worth of files that had been deleted. Therefore, it's fair to conclude that R-Studio software works.
What do people say about R-Studio?
R-Studio's popularity can be partly traced to the numerous user reviews published on websites such as Trustpilot, Spiceworks, PC World, and Capterra.
R-Studio's ability to recover files from damaged drives is underscored by some users. If you're looking for a data recovery solution that is capable of recovering files from failing drives, R-Studio should be up for consideration. Also, recovery from different file systems across multiple operating systems is a feature that excites some of R-Studio's users.
There are a lot of file recovery programs out there that can try to recover your files from a damaged drive. There are even free ones, but when your vital data is on the line, R-Studio Data Recovery is quite possibly your best bet. Not only does R-Studio Data Recovery work with FAT and NTFS partitions, it understands all the Linux, Unix (BSD), and Mac OS file systems, and even the new ReFS (Resilient File System) used in Windows Server 2012.(Jon L. Jacobi, pcworld.com)
On the flip side, the sophisticated user interface appears to be of grave concern for many users. As we mentioned, R-Studio data recovery may be less suitable for inexperienced users looking for a simple data recovery solution. The interface is not user-friendly and will take a lot of effort to get used to.
Complex interface. It's not easy to find the right way for data recovery. (Andrew Lewin, community.spiceworks.com)
While the scan process may vary in terms of speed, many users appear to have zero tolerance for R-Studio's scan process but they, however, appreciate the app's recovery capabilities. In addition, some users have criticized the app's refund policy after noticing inconsistencies with some of the app's features.
This is the worst data "recovery" "product" on the market. It can't even recover a simple delete immediately after the file was deleted (no, the disk was NOT used in the meantime). Neither "basic" nor "advanced" work and "advanced" took hours. There is a freebie product that is excellent; the UI is terrible but the data recovery is impeccable. Like another, R-TT refused a refund even though proof and a request was made within hours of discovering its incompetence. Save your money. (I.G. Romov, community.spiceworks.com)
Another great feature is the ability to recover files over a network. With this, you just need a local computer with R-Studio installed and R-Studio Agent installed on a remote computer to perform full data recovery.
The ability to image seemingly dead hard-drives and restore data is powerful. Also the ability to connect to remote systems is another great feature. (Doug E., capterra.com)
FAQ
Conclusion
✅
Pros: R-Studio has a wide range of features that are useful for data recovery and includes support for many storage types and file systems. R-Studio's advanced data recovery algorithms makes it the preferred solution for advanced users such as Data Forensic Analysts. The software worked perfectly on our Windows device and also runs seamlessly on Mac and Linux devices.
❗️
Cons: While the software contains some really good features for data recovery, it's not the most friendly to use. We had a difficult time navigating around some of the app's features which were mostly confusing.
Simply put, R-Studio combines a unique set of advanced features that are useful for recovering files in many data loss scenarios. However, the cost-effective data recovery solution is most convenient for advanced users and may likely serve the purpose of IT professionals, including computer forensic analysts.
Based on our own experience, we recommend R-Studio as a comprehensive data recovery solution for recovering all manner of files in complex data loss scenarios. The downside is that the application targets an advanced group of people and may not be suitable for non-professionals. Nonetheless, if you feel well equipped to handle the sophistication associated with R-Studio, it's undoubtedly a powerful data recovery solution.
---
✅
Our verdict: 4.5 out of 5.
Michael is passionate about Finance and Technology and has worked with several teams, startups and organizations in the Finance & Technology industry, both full-time and part-time. As a Content Writer, Michael brings over 6 years' experience developing content around topics such as Artificial Intelligence, IOT, RegTech, Futuretech, Cybersecurity, Blockchain & Data Recovery. Michael desires to make an impact and he translates this by using his writing skills to assist individuals and businesses unearth their true potentials.
Andrey Vasilyev is an Editorial Advisor for Handy Recovery. Andrey is a software engineer expert with extensive expertise in data recovery, computer forensics, and data litigation. Andrey brings over 12 years of experience in software development, database administration, and hardware repair to the team.