We all use them, and we've all experienced issues with them. We're talking, of course, about hard drives, which play just as important role in our personal and professional lives as the computers inside of which they operate.
The biggest problem with hard drives (both HDDs and SSDs) is their limited reliability. According to cloud storage and data backup company Backblaze, the Annualized Failure Rate (AFR) for 2020 hovers around 1%, which means that 1 out of every 100 hard drives will likely fail during a full year of use—ouch!
🗨️
While some hard drive failures can be quite easily recovered at home, not everyone has the time to learn how DIY hard drive data recovery works, which is where professional data recovery services come in.
⚠️
Want to skip the introduction and jump straight to the ranking? Click here.
What Is a Professional Data Recovery Service?

👀
Professional data recovery services are companies that specialize in the recovery of lost data from hard drives, optical media, memory cards, USB flash drives, and other storage devices.
Such companies employ data recovery specialists with in-depth knowledge of how data is stored and how it can be restored in the event of accidental deletion, logical corruption, or mechanical damage. The specialists they employ are equipped with advanced tools that make it possible for them to perform highly complicated repairs that would be impossible to do at home.
Contrary to what many people believe, professional data recovery services are within the budget of most people, not just large enterprises. The trick is finding one that delivers excellent recovery results while charging a fair price.
How Should I Choose a Data Recovery Service?
There are many data recovery companies that offer their services to individuals and enterprises alike, so choosing the best one can be difficult. Here are some things you should definitely consider before you safely package your hard drive for transport:
Capabilities: Just about any data recovery company can easily restore recently deleted files from a functioning hard drive, but successfully overcoming mechanical damage requires state-of-the-art equipment that not all companies have. At the very least, the company should have at least one cleanroom environment to safely open spinning hard drives without voiding their warranty.
Range of services: Some data recovery companies only work on HDDs and SSDs, while other companies also accept memory cards, USB flash drives, backup tapes, CDs and DVDs, or entire laptops and desktop computers.
Warranties: The best data recovery companies don't charge their customers any money unless they can get back their data. Some even offer free shipping and evaluation. Warranties and perks like these are important because you want to avoid paying hundreds of dollars just to discover that your files are unrecoverable.
Turnaround time: It can almost seem that hard drives like to fail at the worst time possible, such as a few days before an important deadline. Most data recovery companies take between one and two weeks to complete the restoration process, and you can usually pay extra for expedited recovery.
Pricing: While data recovery companies typically don't publish their prices online because they don't want to accidentally mislead their customers, you should be able to schedule a free consultation to get a rough estimate.
In What Situations Should I Contact a Data Recovery Service?
Data recovery services are not your only option on how to recover lost data. You can also download a data recovery software application and use it to recover your files at home.
Data recovery software applications are great for recovering accidentally deleted files, corrupted files, and formatted hard drives. In these situations, they can deliver the same results as professional data recovery services while being significantly less expensive.
What data recovery software can't help you with, however, is data loss caused by physical damage, firmware failure, and other forms of extensive logical damage. In such situations, you should always contact a professional data recovery service because any DIY recovery attempt is very likely to fail.
When should I

use data recovery software?

contact a data recovery service?

Recently deleted files
Accidental formatting
Logical damage

Extensive logical damage
Physical damage (head crashes, water ingress, etc.)
Firmware failure
Of course, just because a particular data loss scenario can be solved at home with the help of data recovery software doesn't mean that you have to go that route. If you can afford to pay for professional data recovery, then there's nothing stopping you from hiring experienced specialists to recover your data for you.
⚠️
In just case you're wondering, not even the best data recovery service won't be able to restore any data from the hard drive pictured above.
Top 7 Best Data Recovery Services
All seven best data recovery services that are listed below have earned the trust of countless individual and enterprise customers alike, helping them undelete critically important data that many lesser data recovery services would likely consider unrecoverable.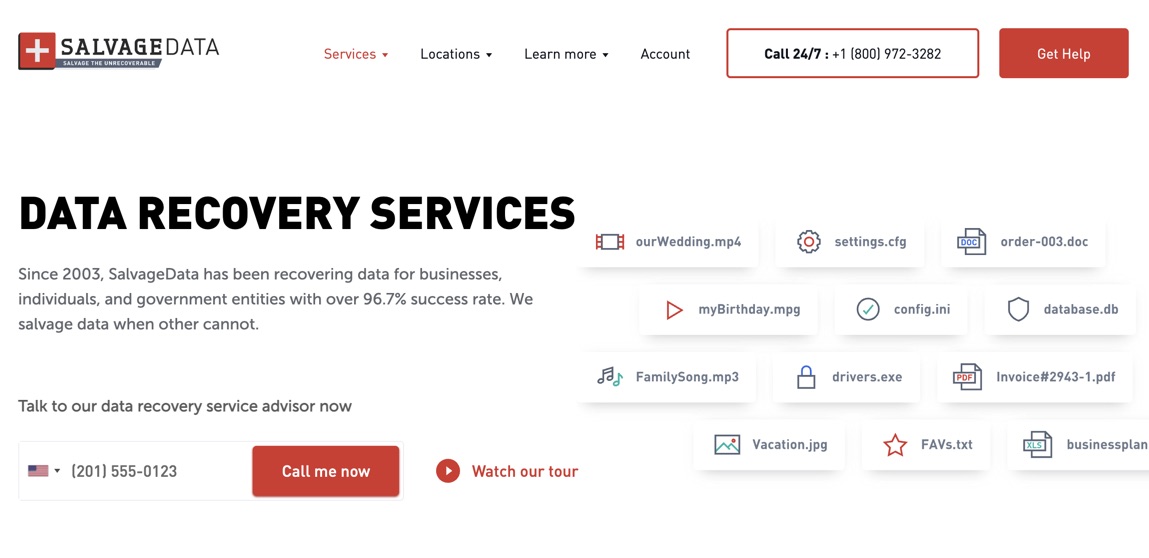 With more certifications, awards, and enterprise customers than we could possibly name here, SalvageData stands out as one of the most trusted providers of data recovery services out there.
🔧 Main services: PC/Mac recovery, HDD, SSD, flash memory, SD, RAID recovery, mobile recovery, personal & enterprise data recovery, government & HIPAA data recovery, and more.
🌎 Locations: 40+ convenient locations located across North America. You can use the SalvageData location finder to find the closest location.
💻 Overall:
SalvageData has been recovering data from storage devices belonging to the private, enterprise, and government customers for two decades, and the company has achieved an admirable data recovery success rate of 96.7%.
When SalavageData technicians receive a storage device from a customer, they always start by performing a free evaluation to determine the best data recovery approach. Thanks to ISO-certified laboratories and cutting-edge data recovery equipment, SalavageData can deal with even the worst data loss scenarios possible and restore data from virtually any device, from old floppy disks to modern SSDs.
Customers always know how well the recovery job is going and how soon they can expect to receive their lost data thanks to the SalvageData App for iOS and Android devices. The app even makes it possible to directly contact a SalvageData representative and them a question—that's what we call great customer service!
💲 Pricing: SalvageData offers an expert evaluation for free, so you always know how much you can expect to pay before you give your go-ahead.
✨ Perks:
Over 96.7% success rate
No data, no charge
24/7 emergency services
ISO-certified laboratory
Recovery updates with the SalvageData App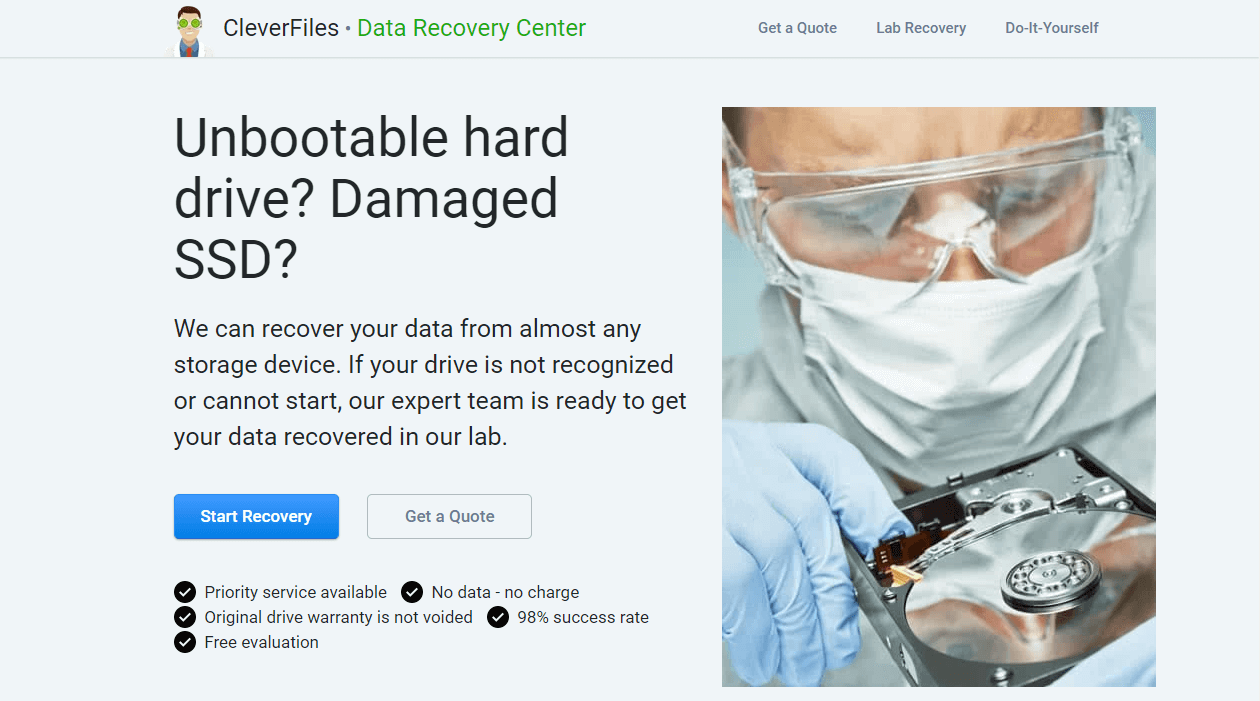 ACE Data Recovery is another best hard drive recovery company that has been around longer than many of our readers have been alive, which says a lot about its ability to deliver satisfactory data recovery results.
🔧 Main services: Data recovery (hard drive, SSD, RAID, Apple, mobile, network, tape, flash media, and more), remote recovery, emergency recovery, tape duplication, computer forensics
🌎 Locations: Full-service labs in Dallas, Chicago, and Houston + service centers in major cities all over the United States and Canada.
💻 Overall:
ACE Data Recovery is famous for its "no data, no charge" policy, which has convinced countless desperate clients to ship their hard drives to one of its many service centers. Since the company's recovery success rate is 98%, it's safe to say that its past clients had made a good choice.
Over the years, ACE Data Recovery has equipped its labs and service centers with professional equipment and capable specialists to meet all rigorous requirements of hard drive manufacturers. That's great news for its clients because it means that its hard drive recovery process doesn't void the original warranty.
It typically takes ACE Data Recovery between 3 and 5 business days to complete a hard drive recovery job, but it's possible to pay extra for emergency recovery or take advantage of the remote recovery service, which is effective for data loss situations when the hardware is still functioning, such as a logically corrupted server or NAS.
💲 Pricing: Total invoice amount is based on the complexity of the recovery and the capacity of the media.
✨ Perks:
Free evaluation
No data, no charge
Priority service available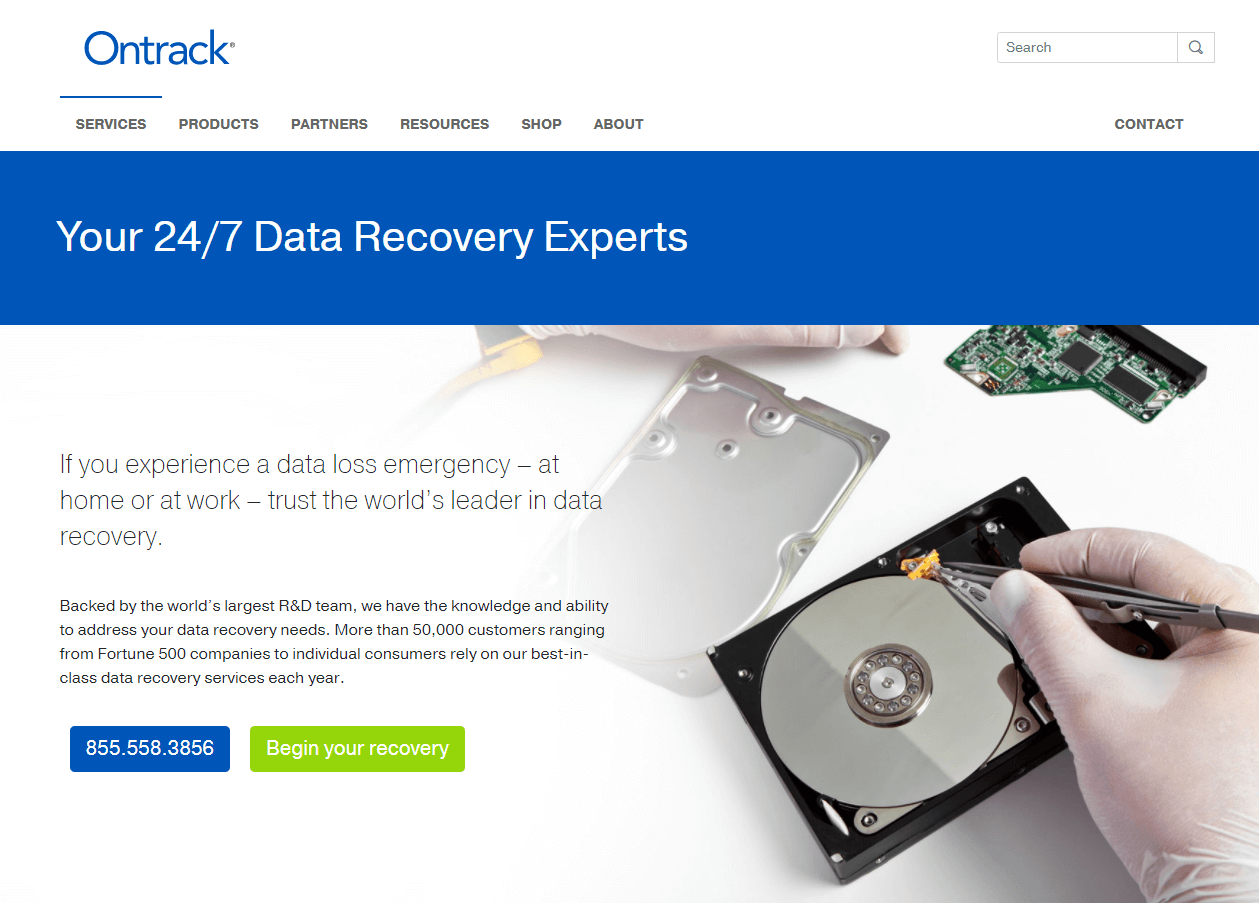 Only a handful of other data recovery services have a similar wealth of experience as Ontrack, but that's just one of many reasons why we consider it to be the best data recovery company out there.
🔧 Main services: Data recovery (SSD, hard drive, RAID, NAS, laptop, cloud, desktop, mobile, apple, and more), tape services (migration, auditing, cataloging, restoration), data destruction, disabled mobile device services, mobile device repair, email extraction, eDiscovery
🌎 Locations: 22 global laboratories
💻 Overall:
Ontrack has been in business for over 35 years, offering a wide range of data recovery services to help its customers solve complex data challenges related to data loss, data migration, data restoration, data erasure, and more.
All of its 22 global laboratories are equipped with state-of-the-art data recovery tools, which allow them to service all kinds of storage devices, including HDDs, CDs, DVDs, tapes, USB drives, memory cards, and others.
The standard turnaround is 7 business days, but customers can also pay extra for emergency recovery to get their data back in under 24 hours. Ontrack displays the current status of each job online throughout the recovery process, so its customers can always see how close they are to getting their files back.
💲 Pricing: Typically start at around $300, but the total cost depends on many factors, including complexity and turnaround time.
✨ Perks:
Free evaluation
Emergency recovery in under 24 hours
Displays job status updates online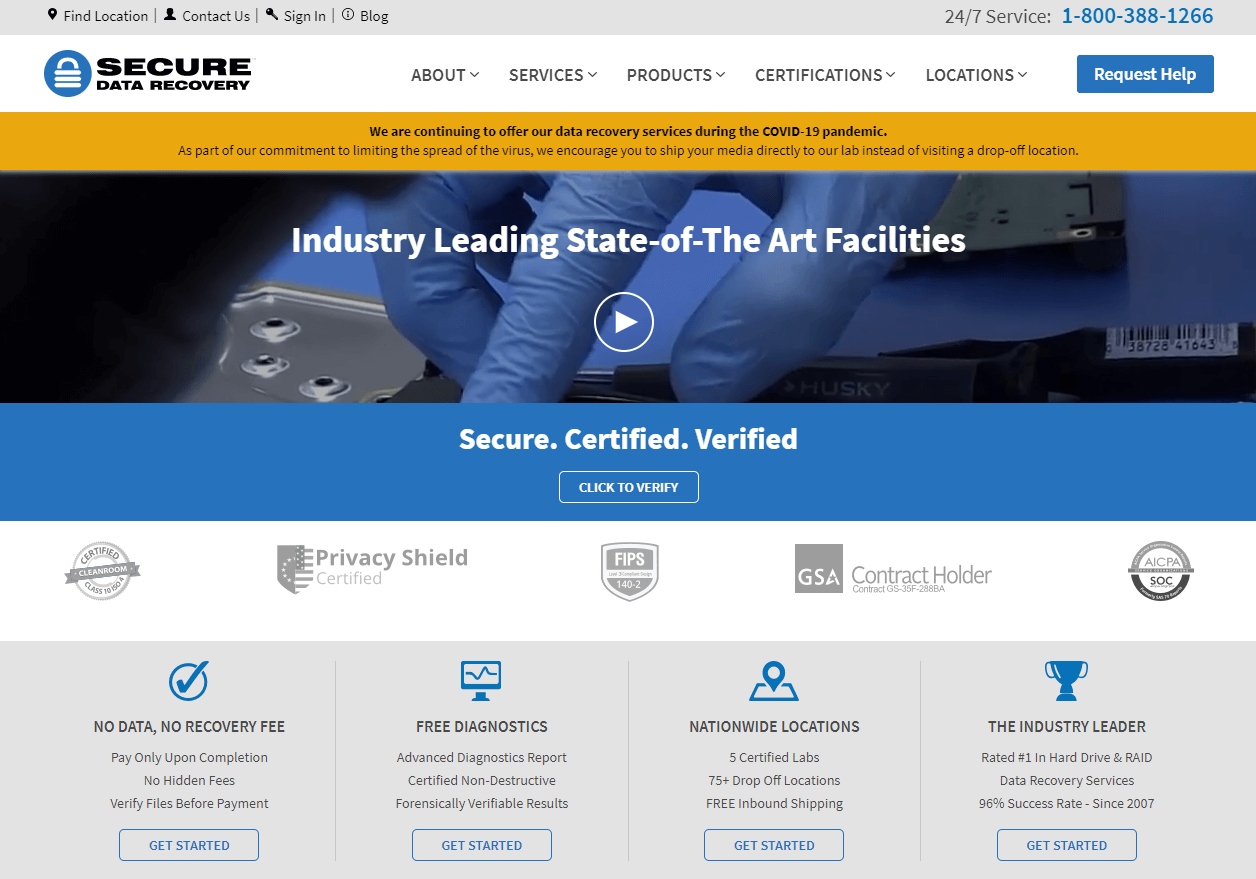 Secure Data Recovery is one of the best hard drive recovery companies for enterprises that must do everything they can to protect the sensitive information of their customers and business partners.
🔧 Main services: Hard drive recovery, tape data recovery, SSD recovery, Apple recovery, laptop recovery, enterprise recovery (RAID, database, server, remote, encrypted), digital forensics, eDiscovery, USB, flash, and memory card recovery, mobile recovery
🌎 Locations: Secure Data Recovery Services operates offices in more than 40 cities.
💻 Overall:
As its name suggests, Secure Data Recovery is a data recovery company that focuses on keeping its customers' data secure during the recovery process. Since its opening in 2007, it has earned a number of certifications that demonstrate its ability to protect sensitive information, including SSAE 18 Type II SOC 1, 2, and 3.
Secure Data Recovery is the only data recovery company in the United States with Class 10 ISO 4 cleanrooms. In such cleanrooms, there are less than 2.9 particles per cubic meter of space, making them suitable even for the most technically difficult data recovery jobs.
Because Secure Data Recovery has offices in more than 40 cities, it can offer true 24/7/365 emergency services with an average turnaround of fewer than 48 hours. If you decide not to pay extra for expedited recovery, you can expect to get your data back in 2 to 4 days.
💲 Pricing: Typically starts at around $1,000 for recovery of damaged hard drives, but the final price depends on complexity, turnaround time, and other factors.
✨ Perks:
Certified as compliant with HIPAA, FERPA, and PCI-DSS
96% success rate
24/7/365 emergency services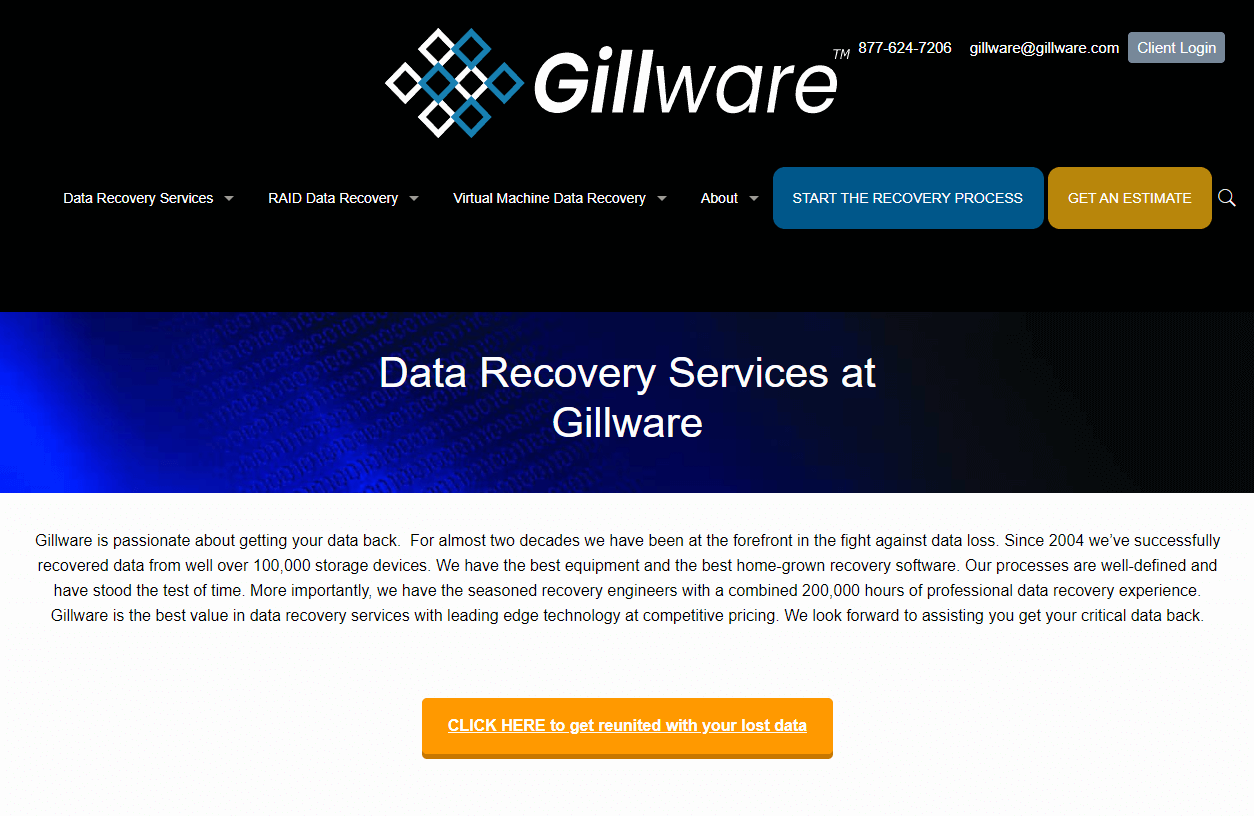 Serving individual customers as well as large enterprises, Gillware is among the best data recovery companies thanks to its combined 200,000 hours of professional data recovery experience.
🔧 Main services: Hard drive data recovery, emergency data recovery, flash drive data recovery services, RAID data recovery, server data recovery, NAS data recovery, phone data recovery, virtual machine data recovery
🌎 Locations: Wright Street Madison, WI
💻 Overall:
Gillware was founded in 2004 by two brothers who wanted to provide a more affordable alternative to hard drive data recovery services that were available at the time while still delivering excellent data recovery results.
Today, Gillware performs over 15,000 recoveries each year in its Wisconsin-based recovery lab, which is equipped with ISO-5 Class 100 cleanroom facilities and SOC 2 Type II security audited. The company has even worked with leading hard drive manufacturers to produce its own recovery tools to address different hard drive failures.
Gillware is trusted not only by its customers but also by its network of over 5,000 computer repair businesses and managed IT services providers, who don't hesitate to recommend it whenever their clients need to restore data from failing, broken, formatted, or otherwise damaged hard drives and other storage devices.
💲 Pricing: Customers can get an accurate pricing estimate by scheduling a free online consultation with one of Gillware's client advisors.
✨ Perks:
Free online consultation
ISO 5 Class-100 certified modular cleanroom benches
No hidden charges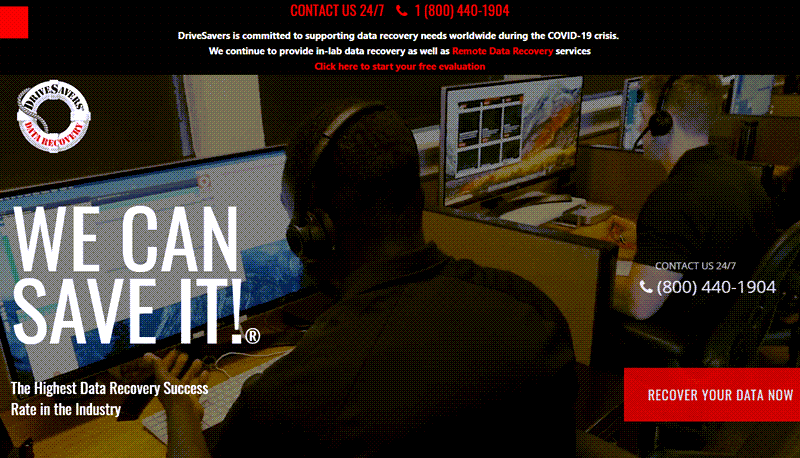 As one of the pioneers of data recovery, DriveSavers has been helping individuals and companies alike avoid data loss disasters since 1985, and its customers include celebrities such as Will Ferrell, Bruce Willis, Harrison Ford, and The Rolling Stones.
🔧 Main services: Data recovery (hard drive, solid-state drive, RAID, NAS, SAN, laptops, desktops, smartphones, tablets, memory cards, removable media), computer forensics, eDiscovery
🌎 Locations: DriveSavers has offices across the United States, a drop-off location in Japan, and contact numbers for international customers.
💻 Overall:
DriveSavers can trace its history to the dawn of the personal computer. Back then, hard drives could store just a few megabytes of data, and data loss issues affected only a few people who could afford to purchase a computer. Times have changed, and DriveSavers now employs over 90 professionals, who can recover data from dropped, damaged, and corrupted drives of all types and storage capacities.
All data recoveries are performed in certified ISO Class 5 cleanrooms, so you can rest assured, knowing a small speck of dust won't ruin your hard drive during restoration. For this and other reasons, DriveSavers is authorized by leading manufacturers, including Samsung, Kingston, Hitachi, SanDisk, and Western Digital, to open sealed drive mechanisms without voiding the original warranty.
Knowing that individuals often find professional data recovery services intimidating, DriveSavers offers both free evaluation and free shipping. You simply download a free overnight shipping label, ship your hard drive, and let professionals take care of the rest.
💲 Pricing: DriveSavers charges its customers only when it successfully recovers lost data.
✨ Perks:
24/7 customer support
No data, no charge
Free evaluation and free shipping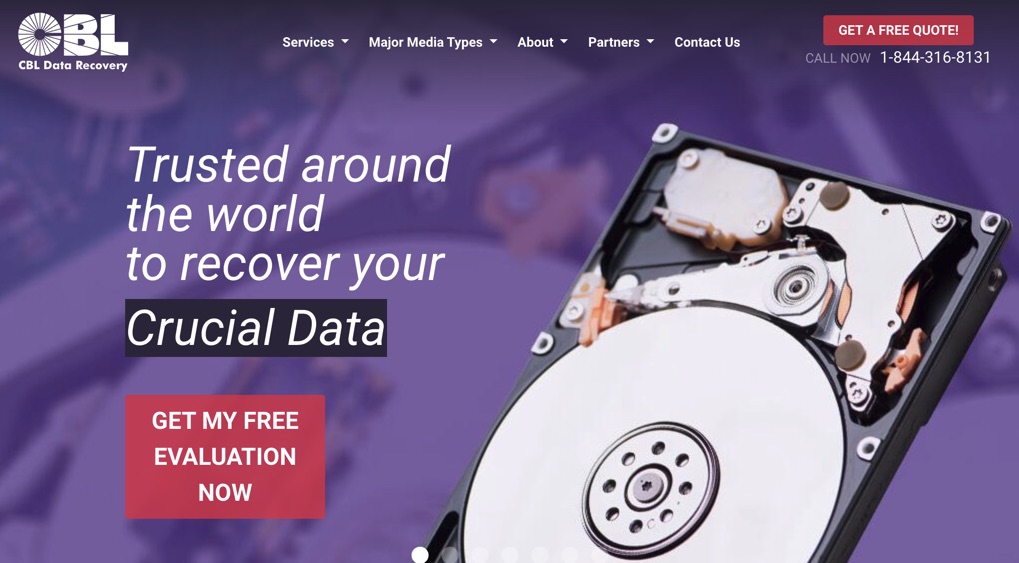 CBL Data Recovery is an international provider of data recovery services that has been in business for more than 20 years. The company completes around 15,000 recoveries every single year, with a data recovery success rate of around 90%.
🔧 Main services: Desktop hard drive recovery, RAID and server recovery, emergency data recovery services, forensic data recovery, and data destruction, desktop and laptop recovery, and more.
🌎 Locations: CBL Data Recovery operates in the United States, Canada, Latin America, Europe, Asia, and Australia.
💻 Overall:
CBL Data Recovery started as CBL Technologies, a small hard drive repair center whose customers included mostly distributors and OEMs. Over time, the company expanded its portfolio of services and opened locations around the world. Today, CBL Data Recovery has more than 140,000 completed recoveries under its belt, and it has over 30,000 items in its hard drive parts inventory.
Depending on how urgently you need to recover your data, you can either wait a bit longer and get a free evaluation, or you can pay $500.00 for a rush evaluation, which takes just two hours to complete and includes a free UPS Air next-day shipping label.
Regardless of which of the two approaches you decide to go with, CBL Data Recovery always follows the same advanced data recovery process to recover as much data as possible. Should the company's technicians fail to recover any data, you won't be charged any money.
💲 Pricing: Data recovery prices start at around $400 for straightforward memory card and USB flash drive recovery jobs, and all customers receive a free evaluation.
✨ Perks:
Emergency recovery services
No data, no charge
90% recovery rate
How Much Do Data Recovery Services Cost?
Even for the best data recovery companies, it's notoriously difficult to estimate how much a given job will cost without a personal examination of the storage device in question.
Generally, you can expect to spend between $300 and $1,000 to recover data from a logically damaged hard drive, such as one that's been accidentally formatted, while any mechanical damage can double or even triple the price.
🔗
If you would like to know more about the factors that influence the cost of data recovery, we recommend you read this article.
FAQ
Conclusion
When DIY data recovery tools are not able to get the job done, it's time to choose one of the best data recovery companies and let real professionals with expensive equipment recover your data for you. In our overview, we found Ontrack Data Recovery, ACE Data Recovery, Secure Data Recovery, Gillware, and DriveSavers Data Recovery to stand out from the pack the most, and we won't hesitate to recommend them to anyone who is currently dealing with data loss.
David Morelo is a professional content writer in the technology niche who joined the Handy Recovery team in 2019 and has since made an invaluable contribution to the quantity and quality of our materials. David's main principle is not to start working on a new article until he has studied the subject backwards and forwards.
Andrey Vasilyev is an Editorial Advisor for Handy Recovery. Andrey is a software engineer expert with extensive expertise in data recovery, computer forensics, and data litigation. Andrey brings over 12 years of experience in software development, database administration, and hardware repair to the team.