Are some of your files not showing on your USB flash drive? Have they disappeared all of the sudden? If so, you've come to the right place as I'll tell you all the possible reasons and solutions for this issue.
Jump to:
Why Files Can Disappear from a USB Flash Drive
👀
There are numerous reasons why your files can disappear from your flash drive. This issue is not uncommon, and it may happen because of:
😰 Accidental deletion: This is something that can happen to anyone, and there's a good chance that it has happened to you at least once in the past. The good news is that if you act quickly, the consequences of your mistake can be greatly reduced.
🕵️‍♂️ Hidden files: Hidden files are usually created by the system or application utilities. They are often used to store settings information or anything else the average user isn't supposed to directly touch. That said, any file can be marked as hidden, which is why this is such a common cause of files disappearing from a USB flash drive.
👾 Virus: Thousands and thousands of new strains of malware are created (or generated, to be more precise) every single day, and many known strains have the ability to make files stored on a USB flash drive disappear—both by hiding them and deleting them.
💻 Formatting: People sometimes forget they have essential files on their USB drives and click the format button too soon. Fortunately, formatting isn't as destructive as it may seem to be—at least not right away—so recovery is usually possible.
🔨 Wear and physical damage: If you can't access the files stored on your USB flash drive due to physical damage, then you have a serious problem because fixing this cause of data can be difficult even for data recovery professionals.
Methods to Recover Missing Files From a USB Flash Drive
Now that we've talked about the reasons why your files might have disappeared from a USB flash drive, I'll tell you all about the methods you can use to recover your missing or deleted files.
Method 1:

Make a Backup and Scan It With Disk Drill

One of the most straightforward solutions you can opt for to recover files that disappeared from a USB is Disk Drill. With this feature-packed program, you can make a full backup of your USB flash drive and recover your data from it instead of the USB flash drive itself as a safety precaution.

✅

Disk Drill's user-friendly interface will enable you to get a hold of the program in no time. On top of it all, Disk Drill is reliable, efficient, and affordable. The free version allows you to recover 500 MB worth of files, while you can retrieve an unlimited amount of files with the premium version. Here's how it works:
Download Disk Drill from the company's webpage.
Open Disk Drill and go to "Drive Backup" tab.
Select your USB drive from the list.
Click 'Backup' and select where you want to create the backup (Disk Drill will take 50-60 seconds per GB to create the backup).
Find the .dmg file Disk Drill created (it's a byte-to-byte copy of your files).
Navigate to the Data Recovery menu and click on three dots in the upper right corner.
Click on 'Attach disk image…'.
Select your .dmg file and start the scan.
Once the scan is over, you will see all the files listed at the finishing window. Once you're there, you'll be able to select the ones you're missing and recover them at your desired location. It's that simple!
⚠️
Note: If you want to recover more than 500 MB worth of files, you need to get the premium version of Disk Drill. My team and I consider that it's more than affordable because the program gets the job done well and does everything it advertises to do. There are also frequently various discounts you can find on the company's website, so be on the lookout for that!
Method 2:

Try to Unhide Files

If you think your files are hidden and showing them will do the trick, you can unhide them in the following ways:
With Windows Explorer
One of the simplest ways of unhiding files is using the trustworthy Windows Explorer. All you have to do is:
Open File Explorer from the taskbar.
Click on View > Options > Change folder and search options.
Select the View tab and click on Show hidden files, folders, and drives in the Advanced Settings.
Using Windows Command Prompt (attrib)
If you want to unhide your files using Windows Command Prompt, you will need to:
Press the Windows button and R at the same time.
Type in cmd.
Open the Command Prompt.
Type in the following command line: attrib -h -r -s /s /d E:\*.*
Change the drive letter accordingly, so it matches the USB flash dive letter on your computer.
To understand the attrib Windows Command Prompt line better, check out the table below:
| | |
| --- | --- |
| Command Line Part | Explanation |
| -h | This letter clears the hidden file attribute and shows the missing files. |
| -r | This one makes the hidden files modifiable once you make them show up. |
| -s | This letter clears the System file attribute. |
| /s: | This one applies attrib to the matching files in the selected directory and all of its subdirectories. |
| /d: | This letter applies the attrib to the selected directories. |
Method 3:

Search Missing Files Using Their Folder Path

One of the simplest ways to locate missing files that people often overlook is using the folder path. To search the lost files using their folder path, all you have to do is:
Navigate to the flash drive where you think your lost files are.
Click on the path at the top.
Navigate to the end.
Place a backlash and write the folder name at the end.
If the files aren't hidden and are still there, you should locate them.
Method 4:

Check the Integrity of the File System

Checking and verifying the file system integrity can help you locate bad sectors on your USB flash drive. It can also aid you in recovering corrupted or hidden data in cases where data integrity has been compromised (e.g., power failure or ejection). There are two ways you can check the integrity of the File System, including:
Running a chkdsk via CMD
To run a chkdsk via the command line, you need to open the command prompt as an administrator and type in the following command: 'chkdsk c: /f /r /x.' The scan will take a while to complete, but after that, you'll be able to see a summary and find out whether there are any errors on the flash drive.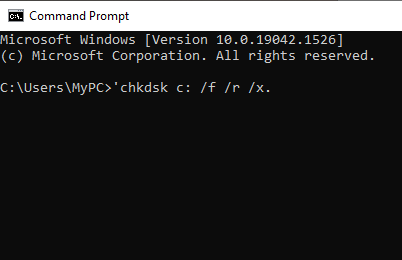 Using the in-built error-checking tool
To check the integrity of the File System with the in-built Windows tool, you need to:
Open Windows Explorer and right-click on your flash drive.
Click on the Tools tab.
Click on the Check button in the Error-checking section.
Click on Scan drive when the window pops up.
Method 5:

Try Formatting the USB

If your files have disappeared as a consequence of the "You need to format the disk in drive X:" error, then formatting can restore access to the drive.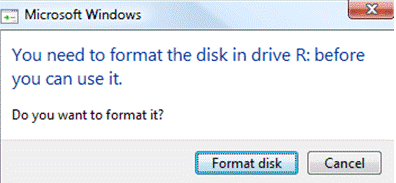 ❗️
However, formatting won't restore access to your files. That's why you first need to follow the first method described in this article to create a complete backup of your USB drive and recover lost files from it.
Then, you can go ahead and perform a quick format on your USB drive that's not showing files, you can use File Explorer, which requires you to:
Open This PC and see all the drives in one place.
Right-click on your desired drive from File Explorer.
Click the 'Format' option.
Set the options the way you want them and hit 'Start'.
If everything goes right, the error message should no longer be triggered, and you can copy the recovered files back to your USB drive.
FAQ
Conclusion
Files can disappear from a USB flash drive for a variety of different reasons. Luckily, there are also many different solutions that you can try to get them back, and we've described those you definitely need to know about in this article.
Logan tried many things before he fell in love with writing in 2011. HandyRecovery gives him a chance to share his knowledge and produce useful and fact-filled articles about tech-related topics. This freelance writer has been working on many projects, and combining writing with his passion for technology is a dream come true for him. People always considered him a computer geek, which is probably a good description.
Andrey Vasilyev is an Editorial Advisor for Handy Recovery. Andrey is a software engineer expert with extensive expertise in data recovery, computer forensics, and data litigation. Andrey brings over 12 years of experience in software development, database administration, and hardware repair to the team.