If you're noticing that your Mac isn't running as fast as it used to or that maybe it's crashing more often, Mac disk repair software is something that you want to consider as it could get your Mac back up and working like it used to before. Back to how it was when you first purchased it and it was brand new. Who doesn't want that?
🗨️
In this article, I am going to talk about what Mac disk repair software is, what you should consider when selecting disk repair software, and then give you a rundown of the best Mac disk repair software options available to you.
What Is Mac Disk Repair Software?
Disk repair software should be able to identify bad sectors on your Mac, monitor your hard drive, and recover data in case something should happen to it. A sector is an amount of accessible data on your hard drive. When these sectors get damaged or stop working correctly, they can cause slowdowns and computer crashes.
The disk repair software on Mac should be able to help you fix file directories as these can also cause slowdowns if there is missing information or if the path isn't right. It should also help you monitor your computer so that you're aware when things start to go bad and you can catch them right then, not months down the road.
Lastly, it should be able to help you recover data so that if there is a problem arising, you can save your data.
✅
Before moving on to our complete ranking, here is a quick recap of the best macOS disk utilities.
1

2

OnyX
Platform:

macOS
Distributed as:

Free
3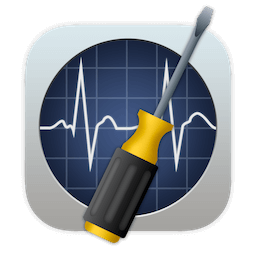 What Should You Consider When Selecting Disk Repair Software for Mac?
There are many things to consider when selecting a disk repair option for your Mac. Here are some of the things that I took into consideration when making the list below:
🤷‍♂️ Intuitive Interface That Is Easy to Use: If you're spending money or taking the time to install software, it should be easy to use and understand.
💰 Cost Of the App: You work hard for your money, this list only has apps that are worth it.
💻 Repairability of Your Mac: Apps can make promises, but they need to be able to deliver. Every app on this list can help you monitor hardware, repair directories, or recover data on your Mac.
⚙️ System Requirements: The apps on the list below should work on your Mac and offer a wide range of operating systems.
✔️ S.M.A.R.T Monitoring: Self Monitoring Analysis and Reporting Technology System is used for reporting disk health or disk problems. It will monitor your Mac for potential issues.
🖥️ HDD Management: Being able to repair directories and fix the paths of your files will help your Mac run smoothly. Having a cleanup solution is also a bonus.
⛔ Remapping/Identifying Bad Sectors: Sectors store data, being able to identify bad ones will let you know if you're hard drive is having an issue.
⌛ Data Backup & Recovery: If your hard drive is experiencing issues, the software options should have the ability to help you recover your data and put it on another device.
Top 7 Mac Best Disk Repair Software
Based on my experience and opinions, here is a list of the top 7 best disk repair software options for Mac.
Disk Drill is a comprehensive tool that allows you to recover deleted files on your Mac. One of its standout features is its ability to take Byte-to-byte images, allowing users to create full copies of damaged or malfunctioning hard drives and save them to an image file. This is especially crucial when you're dealing with a failing drive and need to ensure that all data is captured before it's too late.
In addition to this, Disk Drill comes equipped with Disk Health, a S.M.A.R.T disk monitoring system that stays vigilant for any potential disk issues. This proactive approach ensures that you can identify disk problems as they arise, rather than waiting for them to escalate.
Beyond monitoring, Disk Drill is renowned for its robust data recovery capabilities. It can effectively recover data even from hard drives that are corrupted, RAW, or malfunctioning. This offers arguably the best data recovery experience available. If a hard drive encounters an issue, you can promptly recover data from it, safeguarding files that you can't afford to lose. Moreover, for added protection, Disk Drill allows users to force drives into a read-only mode. This prevents accidental overwriting of data, ensuring the integrity of your files during the recovery process.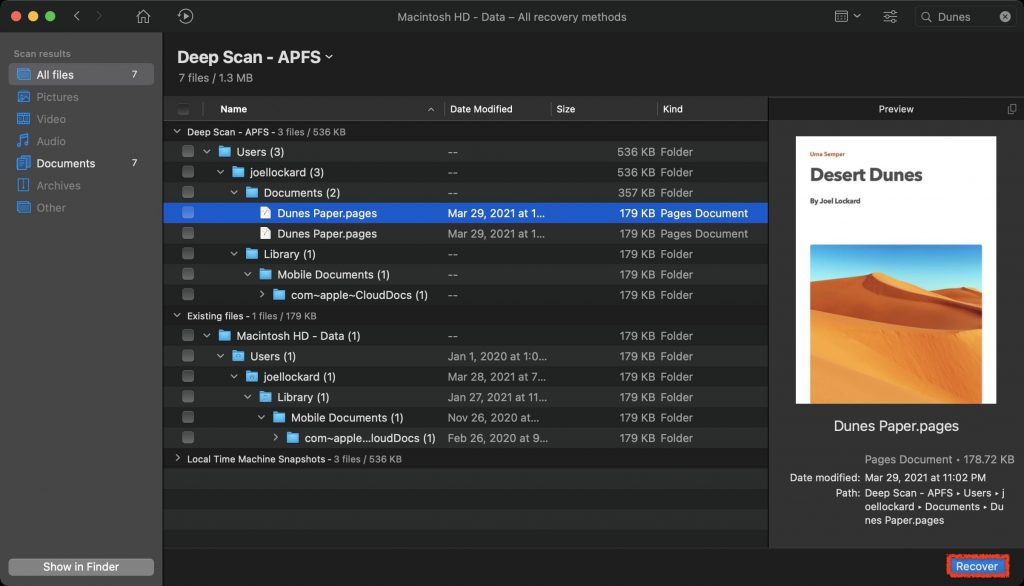 Stand Out Features:
Data Recovery - Scan your computer and recover files with one click. Comes with an easy-to-use and powerful preview feature.
Disk Health - S.M.A.R.T. disk monitor system that stays alert for any potential disk issues such as bad sectors or any other issues that your Mac may experience.
Data Protection and Guaranteed Recovery - have any folder that you specified monitored, which will allow you to recover recently deleted files.
macOS Installer Tool - this feature can help you if your OS has failed and you need to reinstall your OS due to issues with a bad hard drive.
Deep Scan of T2/M1/M2 Devices - Disk Drill's latest version offers an advanced scanning capability for system disks on devices equipped with T2, M1, and M2 processors. It is fully compatible with all Apple Silicon Macs, including those running the M1 & M2 chips on the most recent macOS version.
Pros:
Easy-to-use
Packed with recovery and hard drive protection tools
Modern interface
Deep Scan of T2/M1/M2 Devices
macOS installer tool
Amazing data recovery
Cons:
Requires you to purchase the app for data recovery
Doesn't come with antivirus or malware removal tools
System Requirements:

Price:

macOS 10.15 "Catalina" or later (10.15.7 or later is recommended) for Disk Drill 5
Older versions are available for OS X 10.5 and greater
🔗
For those interested in understanding why we consider Disk Drill to be a frontrunner in data recovery, we have compiled a detailed list that delves deeper into macOS data recovery software solutions.
2. OnyX (💵 Best Budget Option - Free!)
OnyX is a multifunction utility that you can use to certify the structure of the system files, to run miscellaneous maintenance and cleaning tasks, to configure parameters in the Finder, Dock, Safari, and some Apple applications, to delete caches, to remove certain problematic folders and files, to rebuild various databases and indexes, and more.
I really like OnyX as it does so much and it does it for free. It has been around for a long time and has a large user base that respects what this software can do. The developer shares the same name as me as well🥳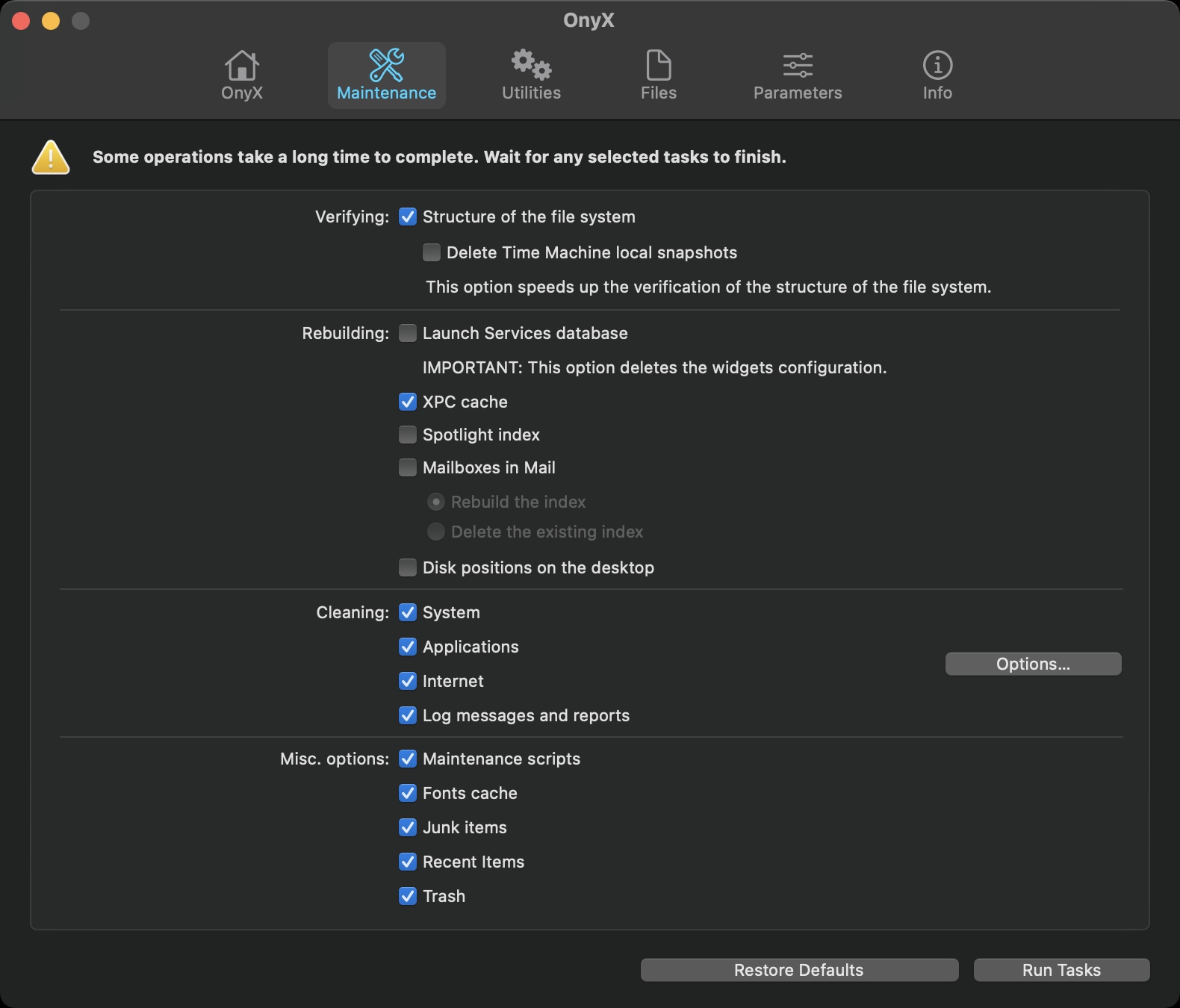 Stand Out Features:
Rebuild Various Databases and Indexes - this will allow you to repair your Mac and get it running fast again.
Structure of the File System Check - OnyX can check the structure of your Mac and see if everything is working correctly with your file system. This could find things such as identifying bad sectors on your Mac.
Support For Almost Every Operating System - no matter how new or old your Mac is, there is a version that will work for you.
Pros:
Free!
Rebuild various databases and indexes
Offers a ton of useful features
Structure file check
Maintenance options for your Mac
Cons:
No file recovery
The interface might be hard for some to understand at first
| | |
| --- | --- |
| System Requirements: | Price: |
| Individual versions are available for download from Mac OS X 10.2 to the most current version of macOS. To download, go here | Free! You can donate to the developer by going here |
3. Techtool Pro (🤓 Best Hardware Monitor and Prevention)
Techtool Pro is a Mac utility that allows you to monitor your Mac and check multiple parameters in terms of your Mac hardware. It will allow you to keep your Mac running at its best. It has a long-standing of being an essential Mac tool and for good reason.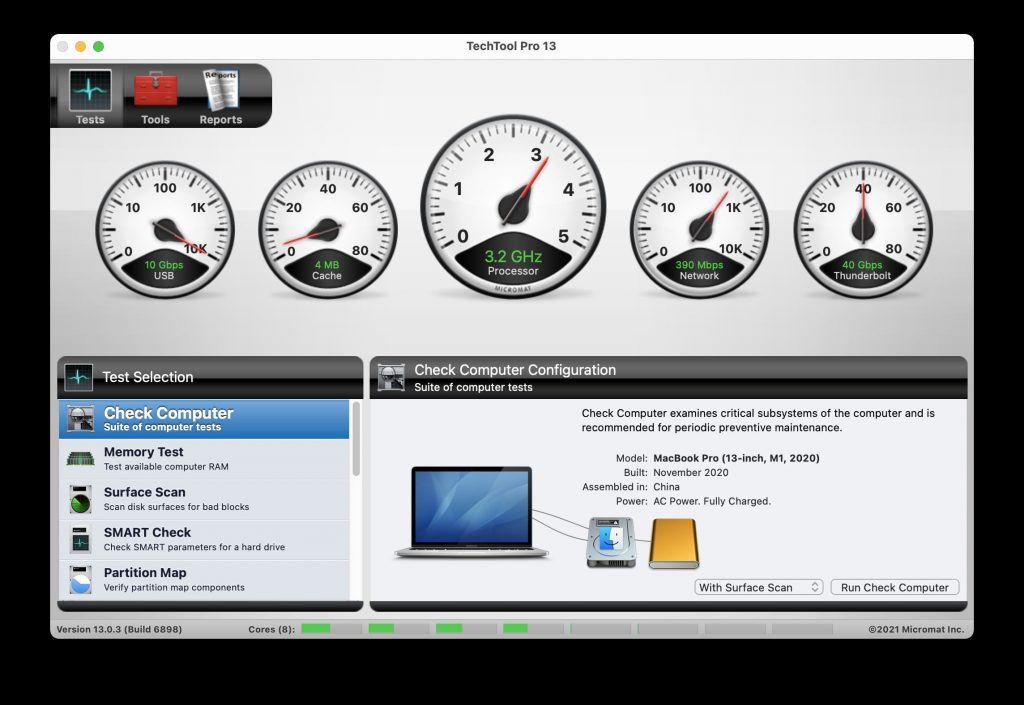 Stand Out Features:
Snapshot Recovery - data recovery options for APFS volumes. These snapshots can be used to recover accidentally deleted files on your Mac, even if a backup is unavailable.
Drive Speed Tool - Measure your disk speed. If your speeds are low, Techtool Pro can help you repair your hard drive and get faster speeds out of your Mac.
Mac Drive Testing and Repair - Techtool Pro comes with a Volume Rebuild Tool that can monitor your hard drive and alert you of any issues. If some hard drive issues are detected, they can be repaired.
Check Computer Suites - Run Full, Intermediate, and Quick checks on your Mac hardware to see if it's running how it should be and if not, you can try and repair issues with your hardware or identify components that may need to be looked at by a technician.
Pros:
Tons of hardware and monitoring tools to make sure that your Mac is running the best that it can be
S.M.A.R.T check
Hard drive testing and repair
Memory test
Data recovery
Emergency startup disk
Protect important data
Computer hardware testing
Cons:
Must purchase to use. No free trial is available
Not as good of data recovery as some of the other options
Price is a bit high
System Requirements:

Price:

Apple Silicon and Intel-based Macs
OS X 10.13 through macOS 13 'Ventura'

Techtool Subscription: $80.95. Renews every year. $89.95 per year for subsequent years.
Techtool Pro Full Version: $159.99
Data Rescue 6 will allow you to retrieve accidentally deleted or important lost files. If your external hard drive is no longer appearing or responding, it can help with that as well. You can use Drive Genius to monitor your hard drive and recover files.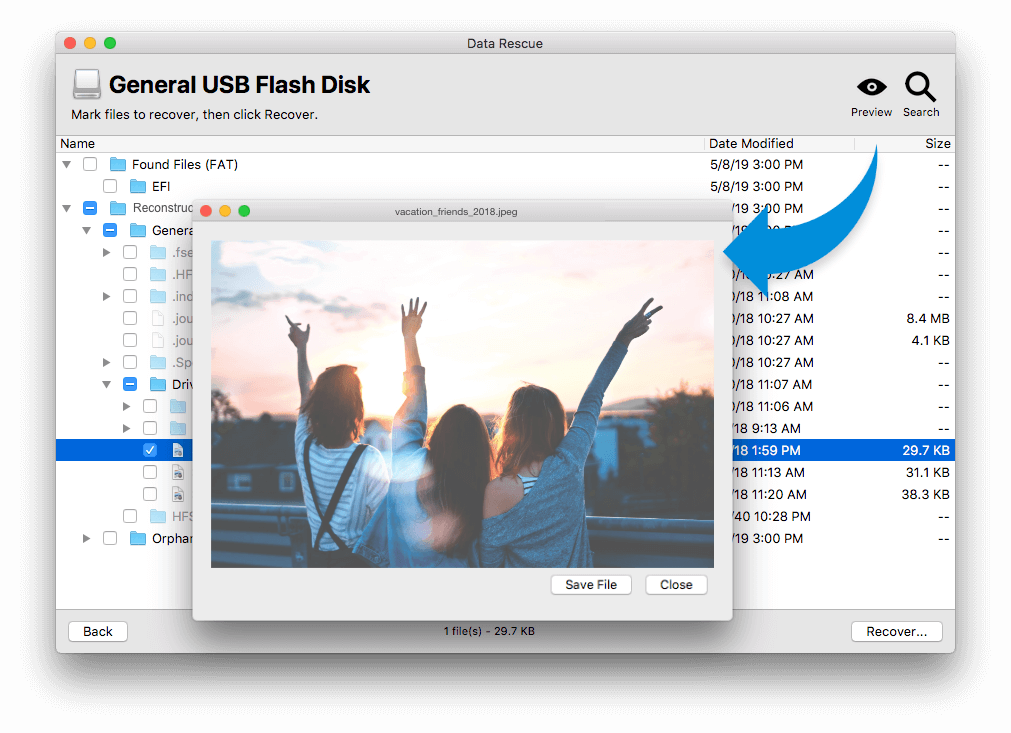 Stand Out Features:
Recover Files on Your Mac - scan your Mac for files that you would like to recover. If your hard drive is acting up, this would be a good feature to use so that you can save your data.
Clone - create a clone of your hard drive if it appears to be having hardware problems. There are Quick and Deep scan options for scanning your Mac.
Create a Recovery Drive - create a bootable disk to safely recover files from your main drive (also known as your startup disk).
Scan Source - whether you accidentally deleted files from your startup drive or external storage select the device you need to recover from.
Pros:
Cost is low
Recover files from your Mac
Cons:
Doesn't offer as many features as some of the options above
More basic features but still can help you recover files from your hard drive
System Requirements:

Price:

macOS 10.12 or later

Data Recovery Trial: Free
Standard License: $79
Professional License: $399 per year
DiskWarrior helps you take care of slow hard drive problems and it can fix these issues on your Mac. Have you ever gone to open a file and you see the spinning beachball and nothing happens? That can be frustrating and can be a sign of bad hard drive sectors. DiskWarrior can help you monitor your Mac and prevent these from happening. It's one of the best Mac disk utilities on Mac.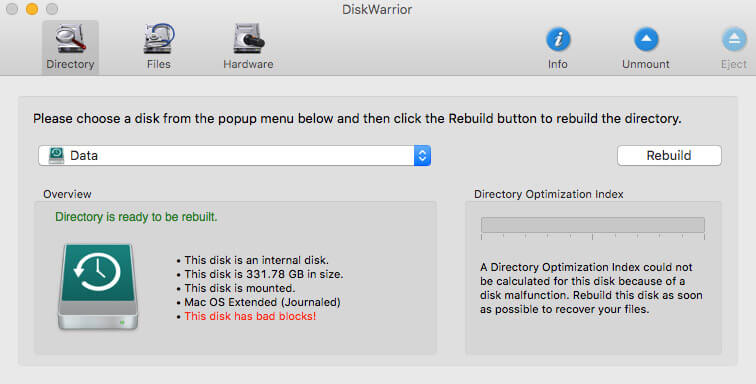 Stand Out Features:
Single-click repair - DiskWarrior can read damaged directories and find salvaged files and folders and rebuild them error-free.
Safe to use - verify repaired directories to ensure that it is error-free and working correctly.
Recover data from a failing hard drive - if you plug in a new hard drive, DiskWarrior can copy data from the failing hard drive to the new one.
Identify issues on your Mac - File paths, permissions, invalid plists, and other problems are tested to ensure your files can be found when you need them.
Pros:
Repair damaged directories
Data recovery
Can transfer data to a new hard drive if yours is failing
Cons:
No free trial available. You must purchase this software to use it.
System Requirements:

Price:

Supported Macs: Both Intel and Apple Silicon Macs.
OS Version: OS X Mountain Lion (10.8.5) through Sonoma (14.0) for rebuilding external disks.
Drive Genius is a macOS monitoring tool. It gives you control over your computer's hard drives and automates problem detection, malware detection, and clone synchronization. With version 6 now released, the software is now more feature-packed than ever.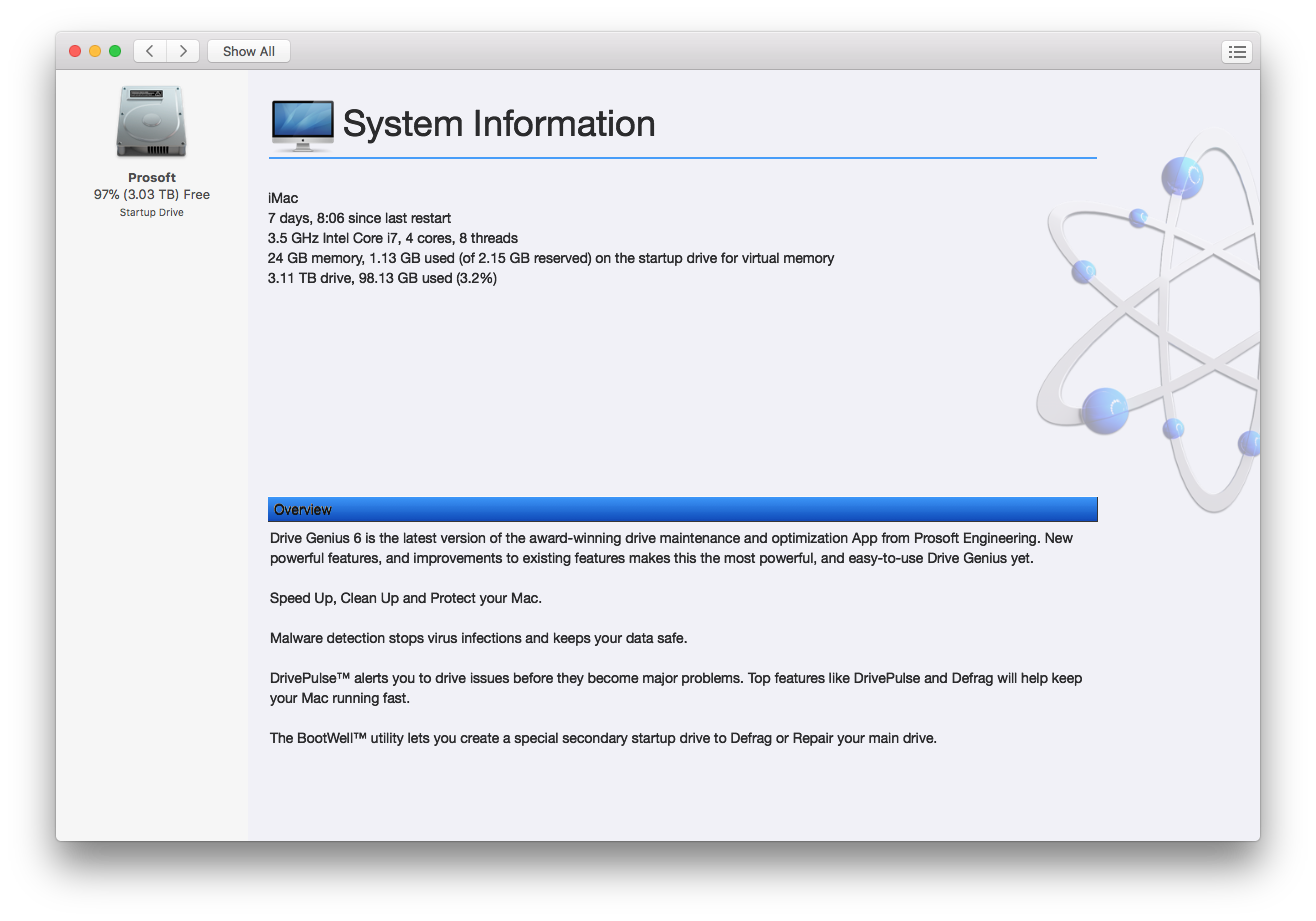 Stand Out Features:
Consistency Check - Check for possible file and folder errors.
Repair - Detect file and folder errors to prevent future errors and potential data loss.
Rebuild - List lost file names to the file data again.
Malware scan - malware can slow down your computer and cause issues with your hard drive disk. Drive Genius can search through files and downloads for known malware and remove them.
Instant DrivePulse - Checks a drive for hardware-related problems.
BootWell - create a secondary boot drive that can maintain your startup drive.
Defragment - search your hard drive for known malware.
Speed - measure the performance of your hard drive and see if it has slowed down over time.
Pros:
Checks for corrupted files
Can repair logical file and folder errors
Malware scan
Instant DrivePulse
BootWell
Defragment
Speed
Cons:
No data recovery
The interface isn't as intuitive as some others
System Requirements:

Price:

Mac OS X 10.12 or later for version 6 10.11-10.14.6 for version 5

Standard License: $79, 3 Computers, per year
Professional License: $299, 10 Computers, per year
Perpetual License: $99, per computer, per use
AppCleaner is a small application that allows you to thoroughly uninstall unwanted apps on your Mac. Installing an application distributes many files through your Mac using space on your hard drive unnecessarily and this can contribute to your computer running slower over time.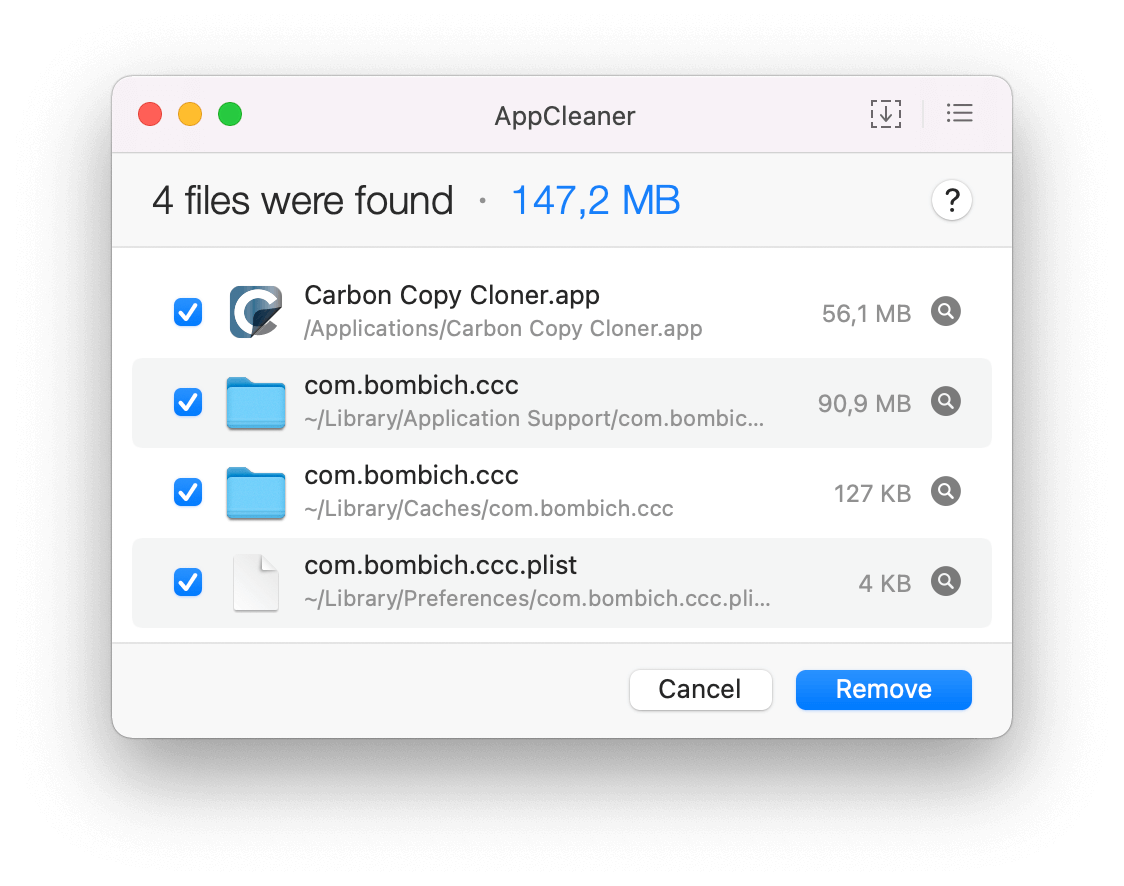 AppCleaner will help you uninstall software and everything associated with it. This will help your hard drive from filling up and is more of disk repair prevention than repair. As time goes on, your computer will fill up with leftover files that take up space and will start to slow your Mac down.
Stand Out Features:
Price - AppCleaner doesn't cost a lot but it does a ton!
Easy to use - drag 'n' drop apps to AppCleaner and have the app and all associated files removed from your Mac.
Preventive - helps you keep your Mac clean of files that can slowly add up to your computer getting slower over time.
Pros:
Low cost and is a valuable tool that everyone should have on their Mac
Helps you keep your Mac clean and prevents slowdowns
Cons:
Doesn't recover files
No malware or antivirus protection
Doesn't monitor computer hardware
System Requirements:

Price:

The latest version is tailored for macOS Mojave through macOS Ventura.
Older versions are available here.

Free
Summary
Here's a quick recap of my findings:
✅
Disk Drill (🥳 Best Overall): Simply put, Disk Drill offers one of the best experiences when it comes to recovering data from your hard drive if it's not acting right. With powerful features such as preview, guaranteed recovery, S.M.A.R.T monitoring, and Mac Cleanup. Disk Drill can help you recover files and monitor your hard drive for potential issues that could occur in the future.
✅
Techtool Pro (🤓 Best Hardware Monitor and Prevention): The best computer monitoring that you can get in my opinion. What I love about Techtool Pro is that it comes with data recovery, you can measure your hard drive speed, check your memory, use surface scan to check for bad hard drive blocks, and use S.M.A.R.T monitoring to watch over your Mac so that if issues come up in the future, you know about them right away and can take care of them. It makes me feel like I am working at a command center.
✅
DiskWarrior (💻 Best Directory Repair): I really like DiskWarrior due to its directory repair abilities. With single-click repair, you can repair damaged directories, salvaged files, and folders. If that doesn't fix the issue you have the option to copy data from a failing hard drive and transfer it to a new one. It's quite a powerful tool.
✅
OnyX (💵 Best Budget Option - Free!): OnyX has been a long-time favorite of mine as it's free and accessible to everyone. You don't have to shell out a lot for the ability to maintain your Mac. With Onyx, you can rebuild various databases and indexes and also do a file system check which will check the structure of your Mac.
Navigating the macOS Disk Repair Market
To better guide you in making informed decisions, I've delved into the market dynamics of macOS disk repair and recovery tools. This diagram I've prepared offers a clear perspective on the key players and their popularity metrics.
👀
Data was sourced from Google Ads and represents the average number of monthly searches worldwide. Different instances of writing the names of the same software were combined (e.g., Data Rescue for Mac, Data Rescue Mac). DiskWarrior, Drive Genius, and Techtool Pro are generally recognized as Mac software, so 'mac/for mac' was not used.
Comparison Table of Mac Disk Repair Software
| Software | Key Features | Price |
| --- | --- | --- |
| Disk Drill For Mac | Data Recovery, Disk Health, Data Protection, macOS Installer Tool, Deep Scan of T2/M1/M2 Devices | Trial: Free, Non-permanent: $89, Lifetime: $118 |
| OnyX | Rebuild Databases, Structure File Check, OS Support | Free |
| Techtool Pro | Snapshot Recovery, Drive Speed Tool, Mac Drive Testing, Hardware Checks | Subscription: $80.95/year, Full: $159.99 |
| Data Rescue For Mac | File Recovery, Clone Drive, Recovery Drive, Scan Source | Trial: Free, Standard: $79, Professional: $399 |
| DiskWarrior | Single-click Repair, Data Recovery, Transfer Data, Identify Mac Issues | $119.95 |
| Drive Genius | Consistency Check, Repair, Rebuild, Malware Scan, BootWell, Defragment, Speed | Standard: $79/year, Professional: $299/year |
| AppCleaner | Uninstall Apps, Remove Associated Files | Free |
Limitations of Mac Disk Repair Software
While disk repair software offers a plethora of tools to help you maintain, monitor, and recover data on your Mac, it's crucial to be aware of their limitations:
⚠️ Not Always Reliable for Data Recovery: No disk repair software can guarantee 100% data recovery. There are instances when the data may be too corrupted or the damage too severe for the software to retrieve it.
🔒 Not a Substitute for Backups: Regardless of the capabilities of a disk repair tool, it should never be considered a replacement for regular backups. Always have a reliable backup system in place to safeguard your data.
❗ Potential for Further Damage: In some cases, using a disk repair tool on a severely damaged drive can lead to further damage or data loss. It's always recommended to consult with professionals in cases of significant disk issues.
🛠️ No Protection from Physical Failures: Disk repair software can manage logical errors and issues within the software realm of the hard drive. However, they can't fix physical problems like a malfunctioning disk head or motor issues.
🦠 Not Comprehensive in Malware Protection: While some disk repair tools offer malware scans, they might not be as exhaustive or updated as dedicated antivirus or anti-malware software.
Conclusion
Knowing about the best disk repair software on Mac can protect your data and prevent issues that could occur in the future as you will be able to know about them ahead of time. There are many options when it comes to disk repair software on Mac and you can't go wrong with any of the options above.
FAQ
If your hard drive is having issues with sectors and being slow, I would recommend choosing one of the software options from above to help repair the drive. It would also be a good idea to have a disk repair utility on your Mac from here on out even if your hard drive is operating correctly so that your Mac can be monitored for issues and you will know about them ahead of time. If after using one of these disk repair software options your Mac is still experiencing issues, you should bring it into an Apple store so that a technician can take a look at it. You should also read our article on fixing a corrupted hard drive on Mac.
I would recommend using either Onyx from above or Disk Utility. If you don't want to use Onyx, Disk Utility comes installed on your Mac and it can be used to find and repair disk errors. It comes with a First Aid feature that is built into Disk Utility that can help repair your hard drive. If neither of these options fixes your Mac, I would recommend taking it into an Apple store for a technician to take a look at your Mac.
If you're trying to repair an SSD with issues, I would recommend Disk Utility, DiskWarrior, Techtool Pro, or OnyX as they should be able to help get your SSD working again. If you're still having issues with your SSD, I would recommend bringing it into an Apple store for a technician to take a look at it.
Andrey Vasilyev is an Editorial Advisor for Handy Recovery. Andrey is a software engineer expert with extensive expertise in data recovery, computer forensics, and data litigation. Andrey brings over 12 years of experience in software development, database administration, and hardware repair to the team.