Whatever the problem, you need a way to rescue your drive and recover all the important data. A good HDD repair software is your best bet. But what does disk repair even mean? And with so many options in the market, which software should you use? Let's find out.
Jump to:
✅
Before moving on to our complete ranking, here is a quick recap of the best hard disk repair tools.
1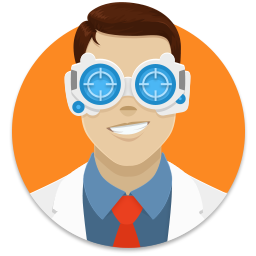 2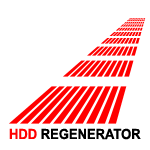 3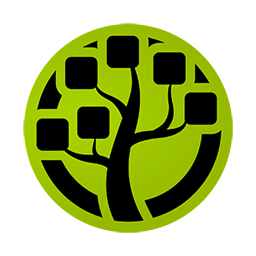 What Is HDD Repair Software?
What exactly do we mean when we say 'disk repair'?
👀
Hard disk drives work on the principle of sectors. Just like a geographical area is divided into smaller sectors, the storage area of a drive is split into logical sectors. Each sector stores a chunk of data, with larger files spread across multiple sectors.
Keeping track of which sectors hold which data is the job of the file system. NTFS or FAT, all file systems work by writing the organization information into a dedicated table.
❗️
When a hard disk starts malfunctioning, it rarely goes kaput all at once. Rather, some sectors start going bad. Normally, the OS should remap the data to a new sector, but it does not always work, leading to data loss.
Sometimes the file system table gets corrupted. This can show the drive as empty even though it is not. Occasionally this problem affects the Master Boot Record itself, preventing the OS from booting at all.
HDD repair or external HDD repair, therefore, primarily involves fixing bad sectors and recovering data from them. Some tools focus just on fixing the MBR, which can help you if your drive just isn't booting.
Simply analyzing the hard disk to determine its health and data distribution can be considered a part of disk repair too, as they help you decide how to best approach the problem.
Selecting the Disk Repair Software: What to Consider
There are many processes that come under the ambit of disk repair. The boot record of the drive, the file system, the distribution of data, to the storage sectors themselves – anything can be the source of the problem.
So here are some features you should keep an eye on when considering which disk repair utility to use.
🛠️ Repairing the Master Boot Record (MBR). The Master Boot Record or MBR is the primary 'address book' of the hard disk drive. In case it gets corrupted, the drive will be unable to boot, even if all the data in it is still intact. This is the simplest problem to fix, and thus a capability that must be present in any disk repair software you consider. Repairing the MBR makes all the data of the drive accessible without having to go through any involved process.
🗄️ Support of "Windows" drive types and file systems. If you use a variety of external storage media and USB drives, your data might be organized under different file systems. NTFS is the modern standard in most Windows devices. USB drives and some legacy systems still use various iterations of the FAT file system, though you will mostly encounter only FAT32. Any disk repair software you use must be able to work with all versions of both NTFS and FAT file systems. Fortunately, this requirement is fulfilled by most applications in this space.
📈 S.M.A.R.T. Monitoring. Self-Monitoring, Analysis, and Reporting Technology or S.M.A.R.T. is a built-in feature in most hard disk drives. Its purpose is simple – keeping track of the key statistics of the disk by itself. While the S.M.A.R.T. parameters aren't too comprehensive, they do help in getting a basic diagnosis of the health of the disk drive. A savvy user will notice problems before they become too difficult to deal with and back up their data in advance.
📁 HDD Management Sometimes, creating and deleting partitions can corrupt your hard drive. This mostly happens due to faulty software, which fails to detect the underlying issues with the drive. Such a mistake can wipe out entire sections of your disk, if not the whole drive itself. That is why we recommend using a good HDD management tool to perform all partitioning tasks. If partition management is integrated into your disk repair software, all the better. That way, you can repair faulty partitions or transfer the data to new ones without risking critical data loss.
⚠️ Remapping/Repairing Bad Sectors. A disk drive is not a single unbroken chunk of storage. Even when it is not split into multiple partitions, it is always divided into sectors. And when we say that a disk has gotten corrupted, it usually means that a few sectors have gone bad, not the whole drive. A hard disk repair software needs to be able to repair these sectors, or at least remap the data to new physical sectors on the drive. Some applications can also help you visualize these sectors, giving you a quick look at the problem areas. You can then use a dedicated tool to fix those sectors.
💽 Fixing corrupted Drives. Occasionally, entire drives get corrupted. The problem might show up in different ways. Sometimes, the file system itself is broken, and the drive doesn't show up at all. At other times, the problem only lies with the core system information itself, and the data is safe, even if inaccessible. Very rarely, the drive has been physically damaged and is beyond all hope. As you might expect, no one process can fix all the problems. Most disk repair applications will try multiple approaches, repairing what they can in each go. This is why you need a comprehensive disk repair application.
💾 Data Backup and Recovery. Hard drive issues start small. A small file got lost here, a corrupted sector there. This lulls users into a false sense of security, as they think most of their data will be safe. Think again. These small problems pile up over time, spreading across your drive. That one bad sector turns into a dozen, and before you know it, your disk has been corrupted. All your data is gone. This is why good hard disk repair software should also include backup tools. Recover important data and back it up even as you fix the corrupted sectors and create new partitions.
Top 7 Best Disk Repair Software for Windows
There are multiple things that can go wrong with a hard disk. Which is why there is no single "best" tool for disk repair. Different tools focus on fixing different aspects of the problem, from bad sectors to corrupted partitions. Here are the best tools for every job: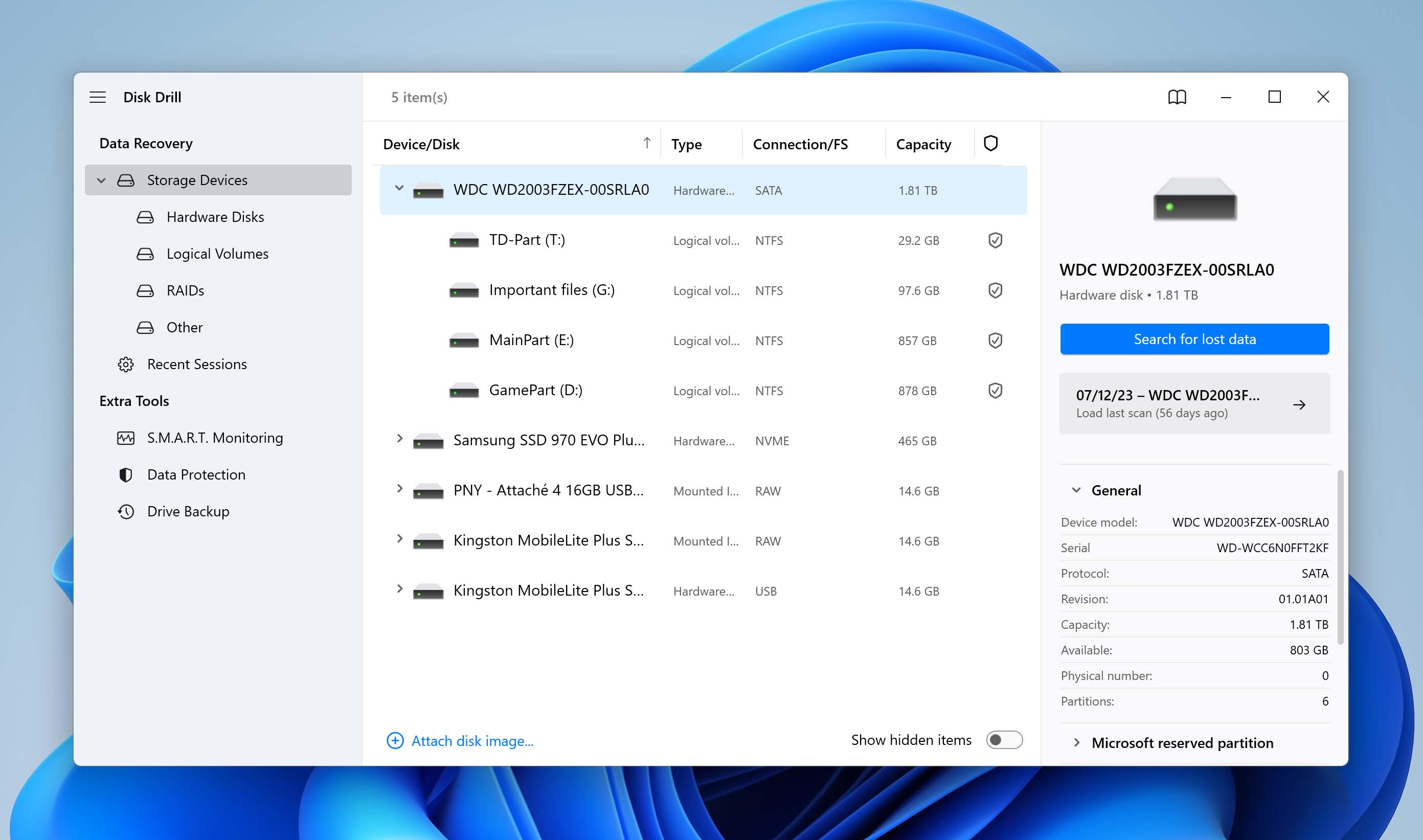 The problem with specialized software is that diagnosing the real problem might take a few tries. Instead of downloading a dozen different tools to figure out the underlying issue, you would be better off using a general-purpose data recovery tool. Disk Drill is optimized for Windows 11 and can recover data lost due to any reason, be it a corrupted hard disk or just accidentally deleted files.
Better yet, it can often access hard drives that cannot be opened normally, ignoring error prompts to rescue your valuable data. It even works for RAID arrays, be it a Mac RAID configuration or Microsoft Storage Spaces.
Pros:
Recover data from corrupted sectors
Read S.M.A.R.T. Data from the disk
Supports all file systems and storage media
Create backups of disk
Can recover corrupted data even in the free version
Cons:
Free version limited to 500 MB
Disk Drill is a data recovery tool. This includes data that was lost due to corrupted sectors along with files that were accidentally deleted.
The biggest advantage of using general data recovery software is the ease of use. You don't have to spend hours diagnosing the problem and figuring out what is wrong. You can just fire up Disk Drill, and it will take care of the rest.
As a complete data recovery solution, it supports all types of storage media and file systems, along with a GUI interface designed to be intuitive. Along with recovery, Disk Drill can repair your drive as well, running from a bootable USB if your HDD isn't working anymore.
🗨️
In addition, the software includes many features that otherwise need their own apps. Data Protection? Yes. Backing up important data? Check. Monitoring the drive's health? Check.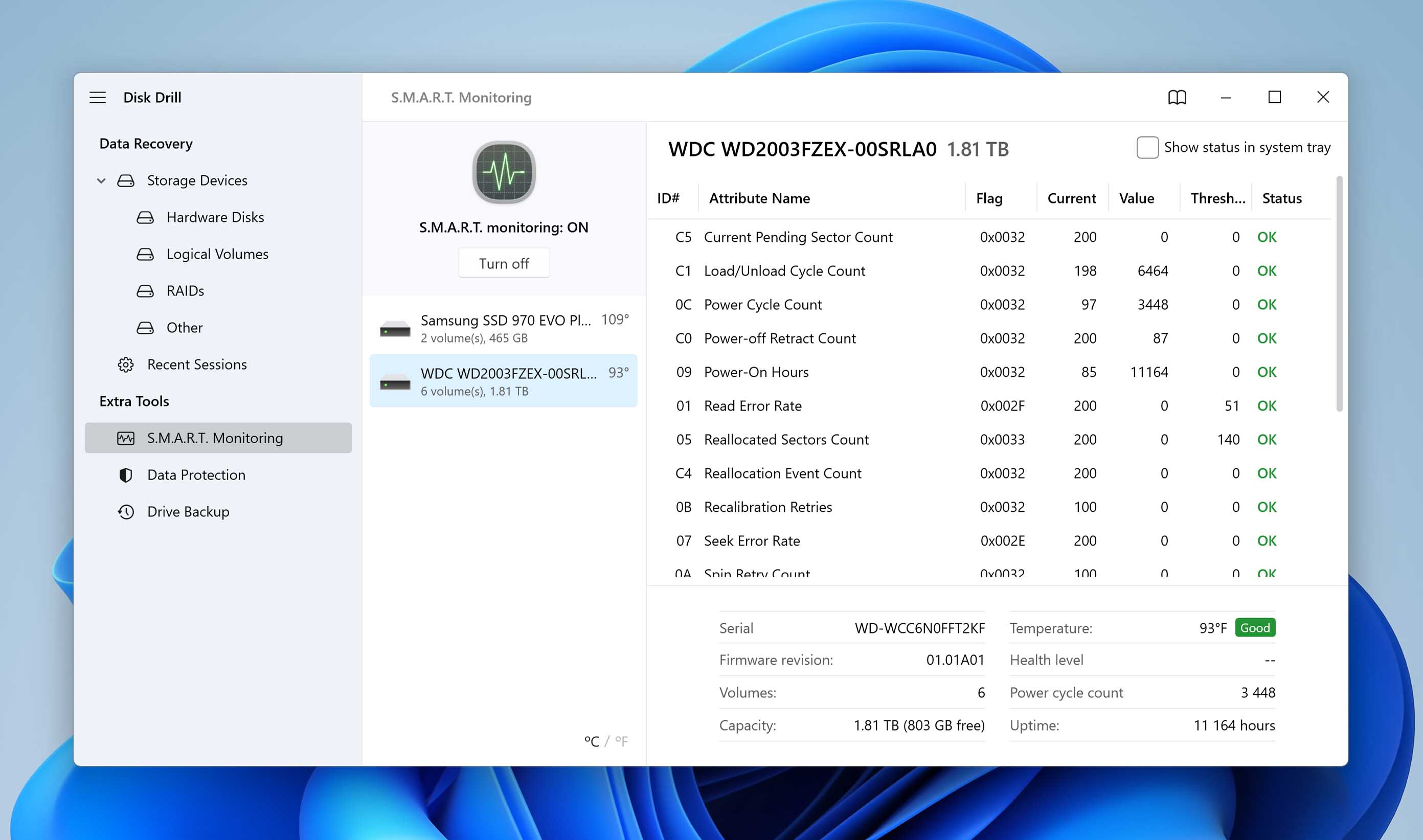 In short, for the price of a single application, you get a bunch of great software rolled into one.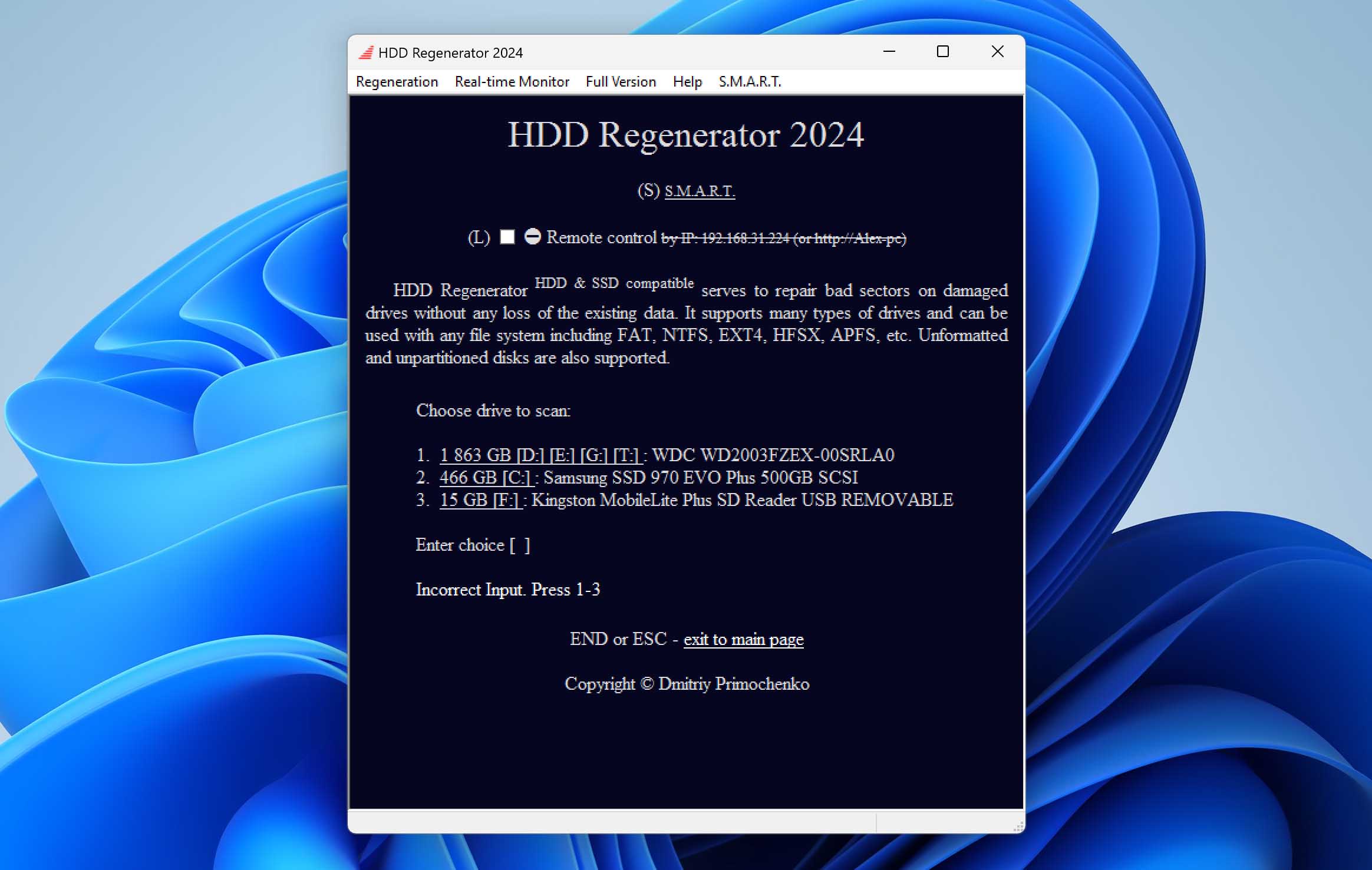 HDD Regenerator is one of the most powerful hard disk repair tools out there. The software is used by professionals to diagnose hard disk problems and recover data from them. For the normal user, it might be a bit tricky to use, owing to its text-based interface.
Pros:
Effective at repairing bad sectors
Fast scanning
Supports all file systems
Works from a bootable disk or USB drive
Cons:
Text-based UI
Somewhat expensive
Lacks partition management tools
Cannot clone disks
The demo version only repairs a single bad sector
HDD regenerator is perhaps the best free bad sector repair tool. Its sole purpose is to find bad sectors and repair them. As a result, it lacks many of the bells and whistles you might expect from such an application, like HDD management, sector remapping, etc.
That being said, it is good at what it does. If bad sectors are what is plaguing your hard disk, then you should use this tool. Its UI might be a bit limited, but it is not that difficult to use.
3. WinDirStat – Best Mapping Tool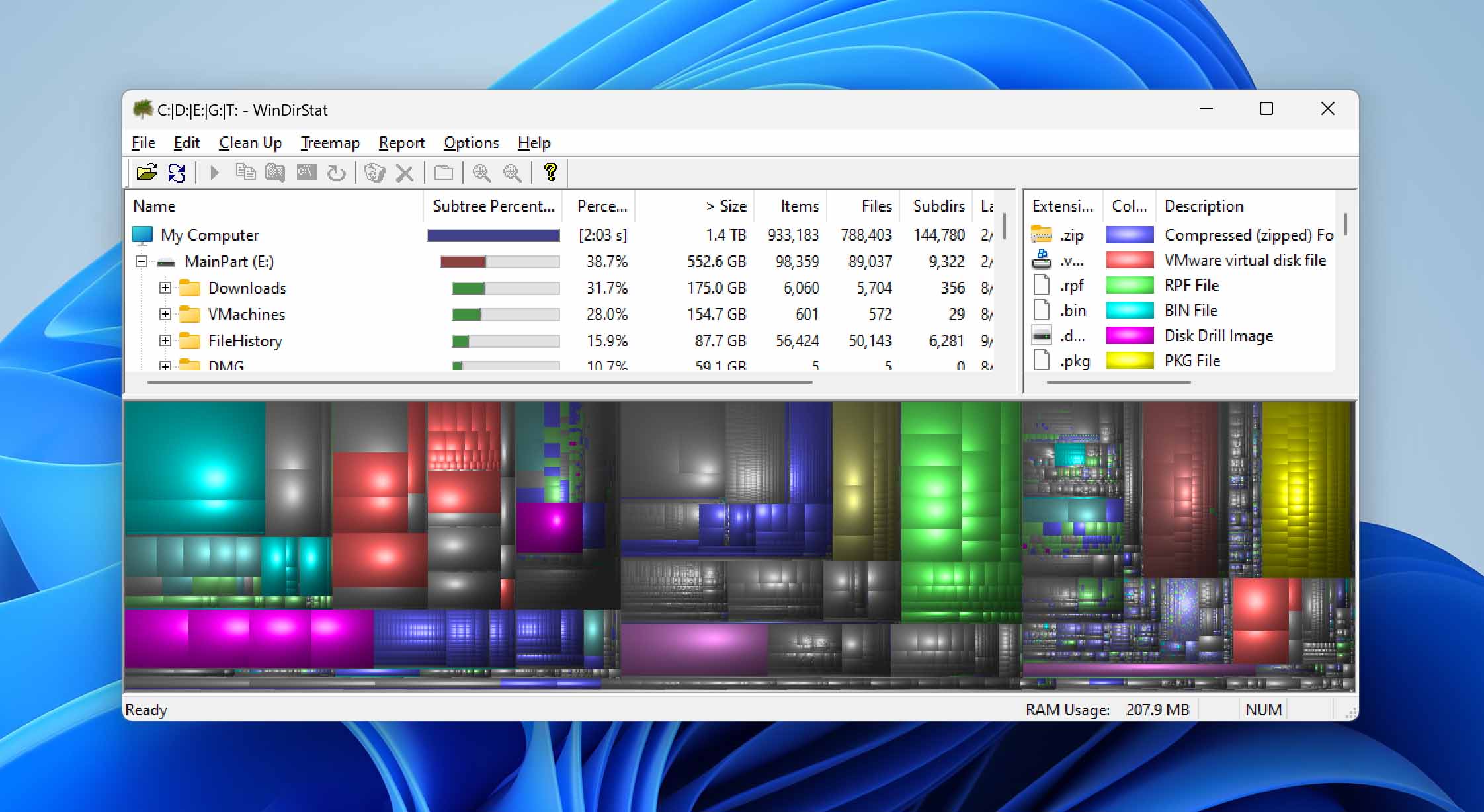 Most people start searching for disk repair software without actually knowing what is wrong with their disk. The bad sectors might contain nothing but useless files, wasting all of your time and effort spent on restoring them. WinDirStat can help give you an accurate assessment of the data on your hard disk and how it is organized.
Pros:
Free
Gives an accurate representation of the storage layout
Displays the complete directory tree at once
Cons:
Cannot recover files
Cannot fix bad sectors
Does not possess partitioning capabilities
Cannot run from a bootable disk
Before you jump into buying professional software for repairing your hard drive, it might be worth it to take an analytic look. Where is the crucial data actually stored? Do the bad sectors even matter?
With WinDirStat, you can do just that. It gives you an overview of how the storage of your drive is organized. And it does so visually, in a way that even a complete beginner can understand.
Do keep in mind that WinDirStat doesn't actually recover data or fix bad sectors. What it does is arm you with the knowledge of how information on your disk is stored, allowing you to make an informed decision on how to move forward.
4. CrystalDiskInfo – Best Disk Monitoring Tool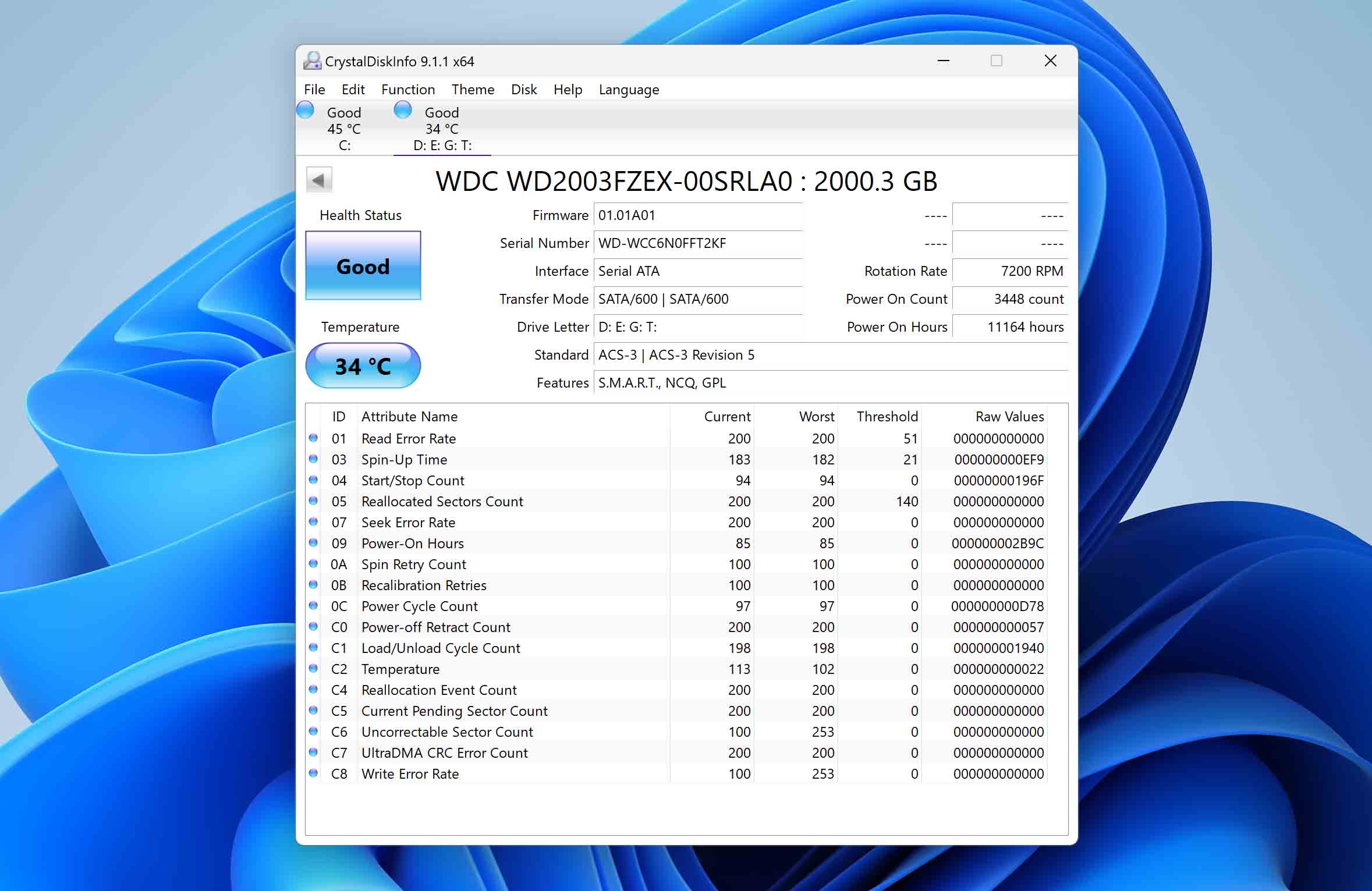 As they say, prevention is better than cure. Rather than waiting for your hard drive to fail and make its problems known, you can use a monitoring tool to keep track of your hard drive's important statistics. CrystalDiskInfo can tap into the S.M.A.R.T. data on hard disks to determine their health and alert you before they go bust.
Unlike other applications on our list, this software is supposed to be used before your drive goes defunct, not after.
Pros:
Displays the S.M.A.R.T. data of your drive
Warns you when any parameter exceeds the normal range
It is freeware
Cons:
Doesn't actually repair the drive
No HDD management
Cannot recover lost data
Lacks any method to fix the MBR
CrystalDiskInfo is the best software for analyzing a hard drive's health. It is an easy – and comprehensive – way of accessing the S.M.A.R.T. data of a disk. This includes vital statistics like the Read Error Rate and Reallocated Sectors Count.
Keeping tabs on this data through CrystalDiskInfo is an accurate way of gauging the current status of the drive. As soon as any of the numbers go beyond the acceptable limits, the software alerts you and you can start backing up your data.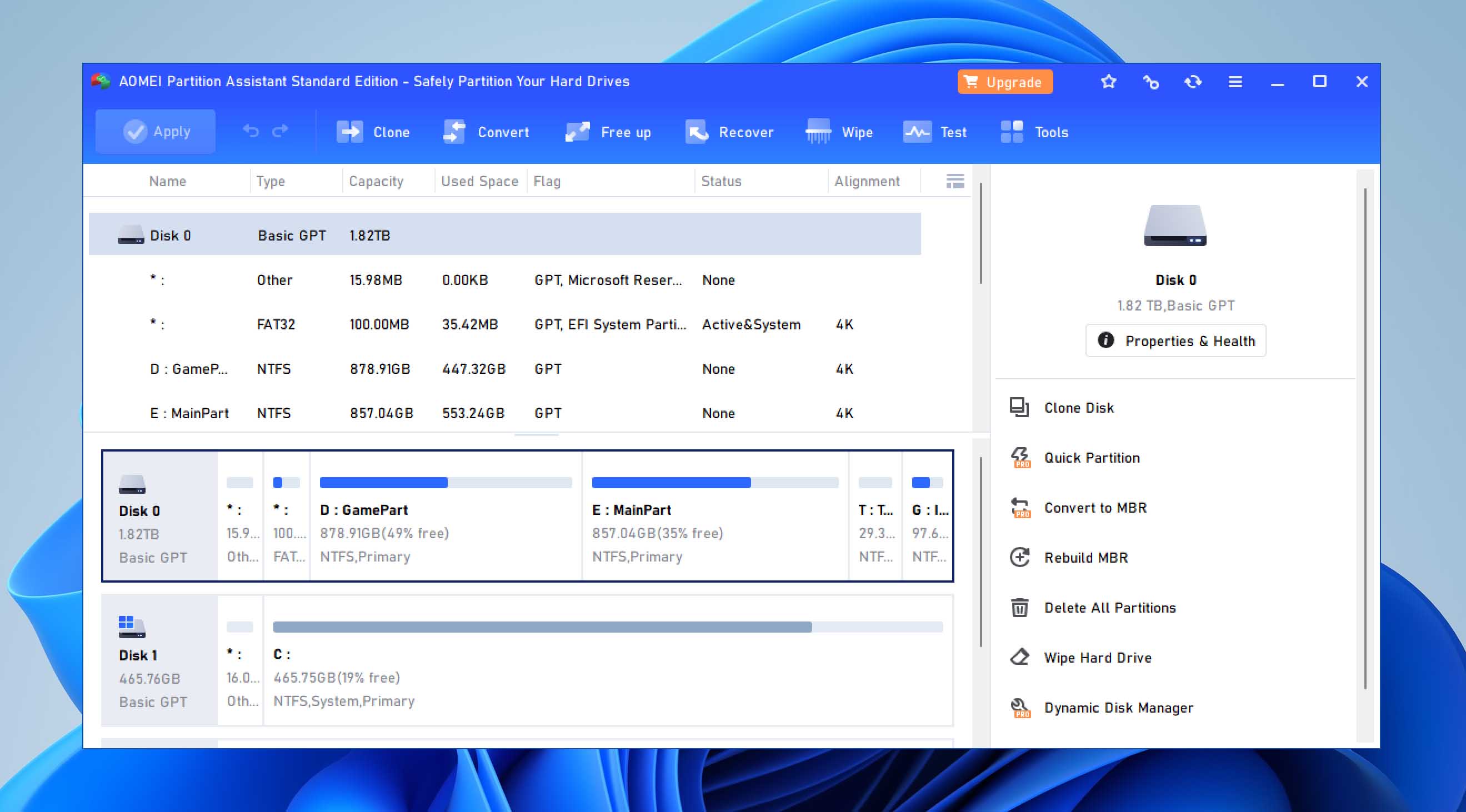 The most common reason behind a non-functional hard drive is a corrupted Master Boot Record (MBR). AOMEI Partition Assistant can repair the MBR, besides allowing you to organize the partitions on the disk. Moving, resizing, creating – you can modify your partitions in any way you want.
Pros:
Can fix the Master Boot Record
Supports all types of storage media: HDDs, SDDs and USBs
Manage up to 128 disks on the same system, including all RAID configurations
Perform all partitioning activities such as creating, merging, moving or resizing
Works with all Windows versions and file systems
Includes disk cloning
Cons:
Does not fix bad sectors
Cannot recover data
Need to pay to access all features
Download AOMEI Partition Assistant
When the problems on your disk stem from incorrect partitioning, all you need is a good partitioning tool. The AOMEI Partition Assistant is a great application specialized just for this.
You can create partitions, resize them, merge them, or split them, all through one software. AOMEI Partition Assistant also simplifies managing the disks themselves.
If you have multiple drives connected, you can easily use the tool to clone disks and create backups. Better yet, if you have a disk that refuses to boot, you can use this tool to repair its MBR and get it running.
6. CloneZilla – Best Disk Cloning Tool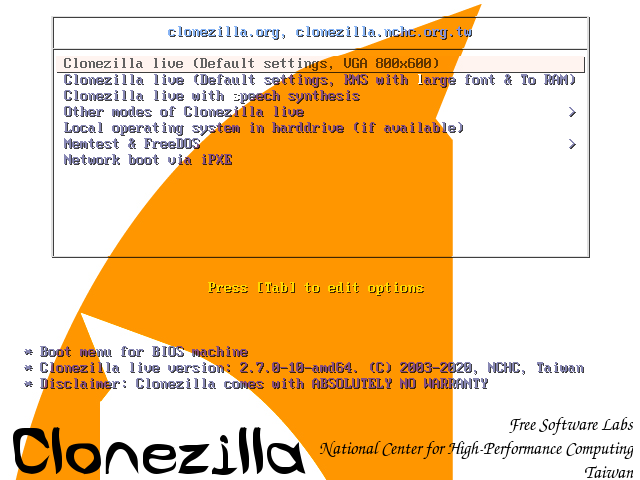 The best way to guard against data loss is to create backups. Cloning entire drives – or at least the important partitions – can save you much headache in the event of a drive failure. CloneZilla is the perfect freeware tool for this task, with some basic MBR repair capabilities, tacked on.
Pros:
Can clone partitions and disks
Disk image can be encrypted for security
Tools to repair the MBR included
Supports Windows, Linux, as well as Mac file systems
Free of cost
Cons:
Cannot recover data
No sector repair functionality
Lacks partition management tools
Performs basic boot repair only
When your drive starts giving you trouble, the first thing you should do is back up your data. Hard drive deterioration gets worse over time, so start creating backups of important information immediately.
CloneZilla is a great help in this regard. It can clone partitions or even whole disks quickly and efficiently. It can be used from a bootable disk, so you can back up your data even after the drive stops booting.
7. SpinRite – Best Legacy Tool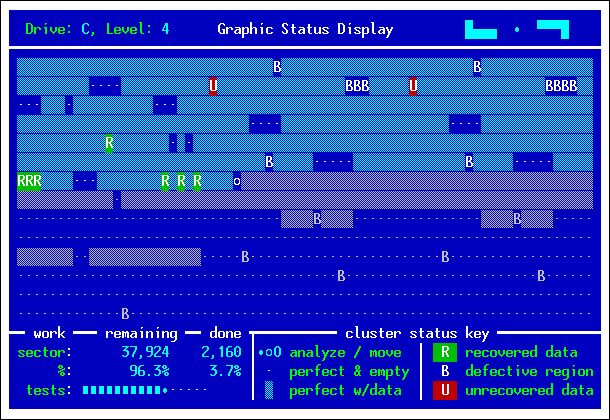 If the new-fangled options don't impress you, try out SpinRite. It is one of the oldest disk repair tools in the market, with an impressive reputation to match. The only problem is its dated interface, which can be a bit harder to parse.
Pros:
Demonstrated capability
Small size
Scans quickly
Supports all file systems and OS
Works from a bootable disk or USB drive
Cons:
Dated DOS-like interface
More expensive than similar tools
Not good at data recovery
Misses modern features
Spinrite is very similar to the HDD Regenerator. The reason we have ranked it at number six instead of one is because of its poor interface. Otherwise, it can be used as a hard drive repair tool or external hard drive repair software.
While HDD Regenerator was also text-based, it was at least streamlined. Spinrite probably has more features, but the way they are presented makes them a pain to locate and use.
On the performance front, however, there is nothing to complain about. Just like HDD Regenerator, Spinrite is great at detecting and repairing bad sectors. The app is lightweight, fast, and can run from any bootable media.
8. TestDisk – Best File System Repair Tool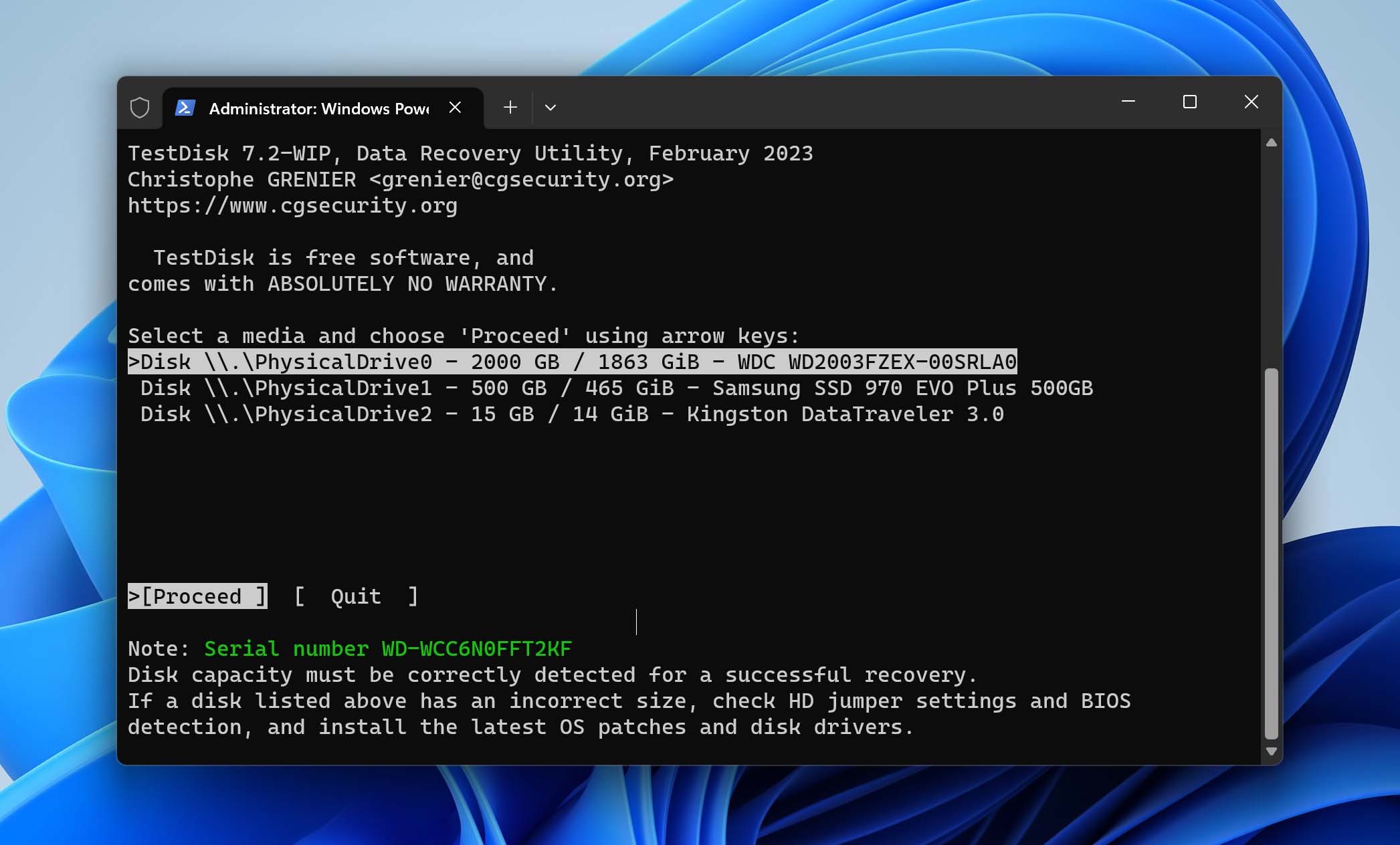 If you are not afraid of dealing with command-line interfaces, TestDisk is a great open-source hard drive repair tool you can try. While HDD Generator tackles bad sectors, TestDisk is focused on rescuing missing or inaccessible partitions.
Pros:
Searches and recovers corrupted partitions
Completely free to use
Portable app – no installation required
Can restore partitions not accessible normally
Cons:
Command line interface can be daunting
Lacks any data recovery features beyond restoring partitions
Cannot repair bad sectors
TestDisk is actually rather easy to use for a command-line tool. You mostly just need to hit enter on the default options presented to search for lost partitions and then write them back to disk.
This makes it a great software to use when entire partitions go missing on your drive or cannot be opened anymore. Which is actually pretty common, as file system errors can corrupt the file table and remove references to a partition even when the files are still there.
For bootable disks, this repair ability extends to boot records as well. Since boot records are structured similarly to file system tables, TestDisk works great in recovering and fixing them too. Of course, this only works if you have another method of booting onto your system.
Best Hard Disk Repair Tools: The Bottom Line
Let's summarize this article and present the results of our research in the form of a brief table.
| | |
| --- | --- |
| 🏅 Best Overall | Disk Drill Hard Drive Recovery |
| 🔬 Best Specialized | HDD Regenerator |
| 🧩 Best HDD Mapping Tool | WinDirStat |
| 📊 Best Disk Monitoring Tool | CrystalDiskInfo |
| ✂️ Best Partition Manager | AOMEI Partition Assistant |
| 🪞 Best Disk Cloning Tool | CloneZilla |
| 👴 Best Legacy Tool | SpinRite |
| 🔧 Best File System Repair Tool | TestDisk |
Tips for Successful HDD Repair
Always back up your data. The hard disk is usually the first component of the PC to fail. And even though data recovery tools can restore data from most data loss scenarios, the chances of successful recovery are never a hundred percent.
When you don't have backups, it is time to start troubleshooting to figure out the problem. Depending on what has gone wrong with your hard disk, different tools will be needed to solve the issue. If you are unsure, just go for a general-purpose data recovery tool to extract your data from the malfunctioning drive.
Sometimes, however, all of these methods can fail. It can be due to a hardware fault on the disk, or just a more complex software issue beyond the scope of DIY methods. In these situations, it is best to contact a professional data recovery service.
FAQ
Conclusion
Different software takes varied approaches to hard disk repair.
Some applications focus on diagnosing the problems and detecting them before it becomes too late. Others simply scan through the drive to locate bad sectors and attempt to fix them.
If the issue is booting, a partition manager is all you need. But if the whole disk is corrupted, you need something more powerful.
Or instead of trying to figure out the root cause yourself, you can just choose a general-purpose tool like Disk Drill to recover your data.
No matter what the problem with your hard drive is, you will find an application to repair your disk on this list.
A frontend developer turned writer, Levin brings his in-depth knowledge to bear in breaking down complex technical topics into a layman's perspective. A believer in emergent technologies, Levin writes about Machine Learning and Internet-of-Things to explore how people and businesses can benefit from innovation. He also likes going into the nitty-gritty details of software or hardware products to bring an unbiased review that adds value to his readers.
Andrey Vasilyev is an Editorial Advisor for Handy Recovery. Andrey is a software engineer expert with extensive expertise in data recovery, computer forensics, and data litigation. Andrey brings over 12 years of experience in software development, database administration, and hardware repair to the team.