Data Rescue 6 is an effective file recovery application that boasts simple file recovery with only a few steps. It lets you scan your drive, recover lost files, clone your drive, and even create a recovery drive for when your computer stops cooperating.. But, can it really deliver as stated? Let's take a look.
Today, we take a good look at what Data Rescue 6 has to offer, and what makes it different from the other file recovery applications on the market.
👀
TL:DR; Data Rescue 6 is a useful data recovery tool that offers some interesting features. Its most interesting feature is FileIQ, that gives it the ability to learn new file types for recovery. It allows users to trial their software by scanning their drive, but you will need to pay before you can recover anything, which is quite disappointing when compared to other file recovery tools that let you recover files until you reach a limit. In addition to this, the price is steep compared to other tools that offer more features. It covers the basics, but there are better (and more affordable) options out there.
⚠️
Want to help make our content better? Please vote for the best alternative to Data Rescue 6:
1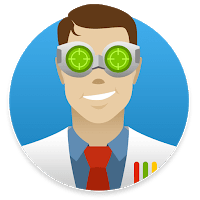 Disk Drill
Platform:

Windows, macOS
Distributed as:

Freemium
2

PhotoRec
Platform:

Windows, macOS, Linux
Distributed as:

Freeware
3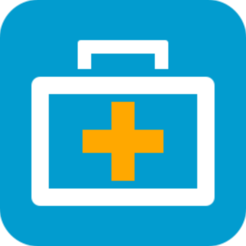 EaseUS
Platform:

Windows, macOS
Distributed as:

Freemium
Key Features
Data Rescue 6 is a recovery application developed by Prosoft Engineering. It's available for both Windows and Mac, and is designed for both personal and business use.
System requirements: Windows 7 (or later) or macOS 10.12 (or later), a secondary storage location, and an internet connection.
Review previous scan results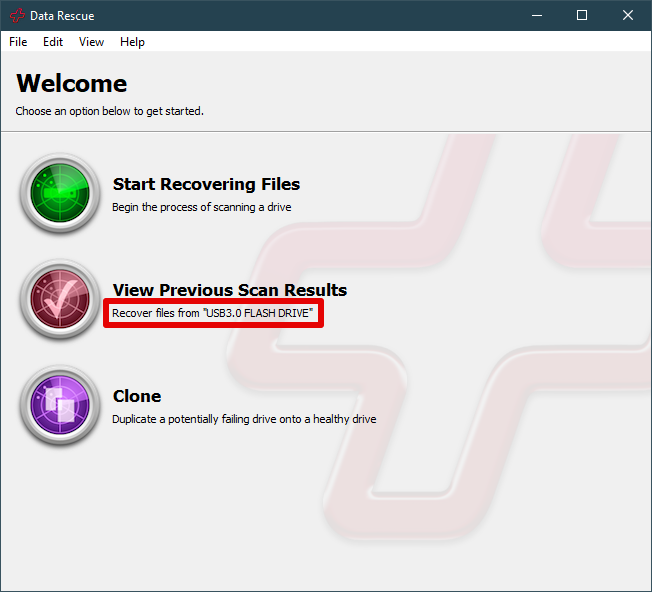 If you've completed a scan already, you can access it again. As long as the previously scanned drive is connected, you can use Data Rescue 6 to pull up the contents of the previous scan. However, only the last scan will be saved
Larger, more complex scans can take quite a lot of time so having a saved record is helpful in saving time so you don't need to re-scan the entire drive again.
Clone your hard drive
If you have a failing hard drive, or a hard drive that's not performing as well as it used to, you can use Data Rescue 6 to make a complete clone of your existing drive. Cloning your data is a proactive step in protecting yourself against data loss.
If you don't have a disk to clone to, you can create an image file directly from within the application instead. You can use this image file to image a hard drive at a later time.
Create a bootable recovery drive
The ability to create a bootable recovery drive is always helpful. While you can purchase pre-configured boot drives from the Prosoft website, they also give you the option of creating your own within Data Rescue 6.
A bootable recovery drive gives you a chance to recover the contents of your hard drive if your computer starts to have issues with completing its boot sequence. At the time of writing this article, this feature is exclusive to macOS.
Quick scan and deep scan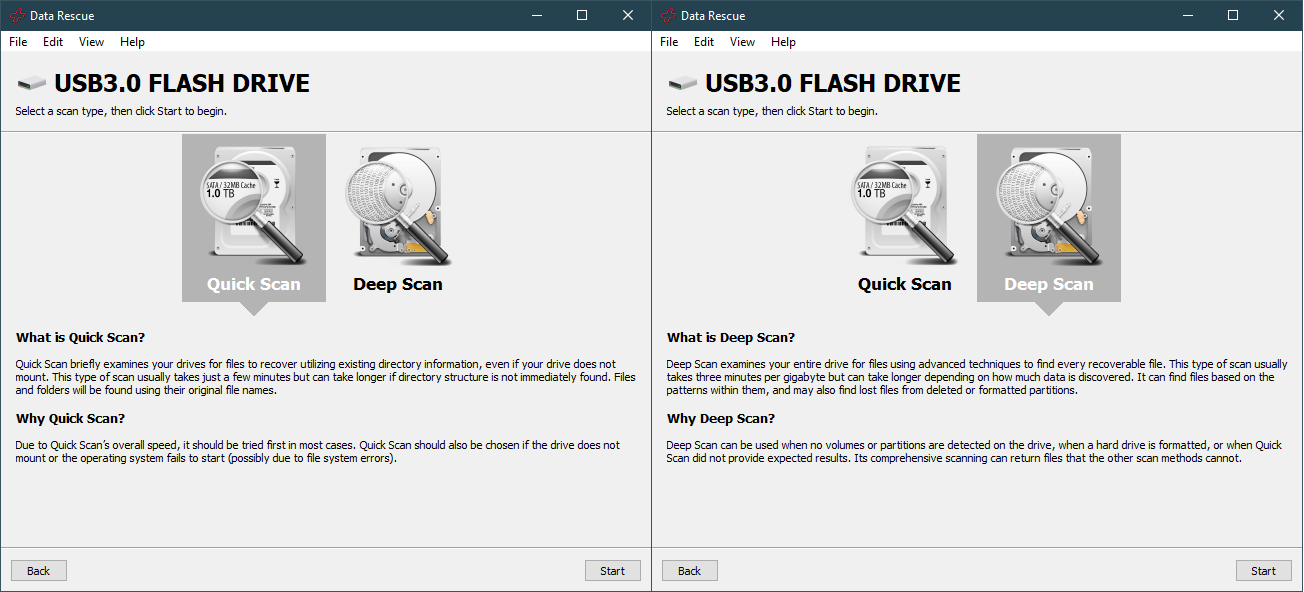 Data Rescue 6 offers two scan types: Quick Scan or Deep Scan.
As the name suggests, the Quick Scan is leagues faster than the deep scan, and scans existing directory information to quickly find files that can be recovered.
The Deep Scan takes a look at your entire drive to find every recoverable file. This scan is best used for recovering files that have been emptied from the recycle bin or lost from a recent drive format.
FileIQ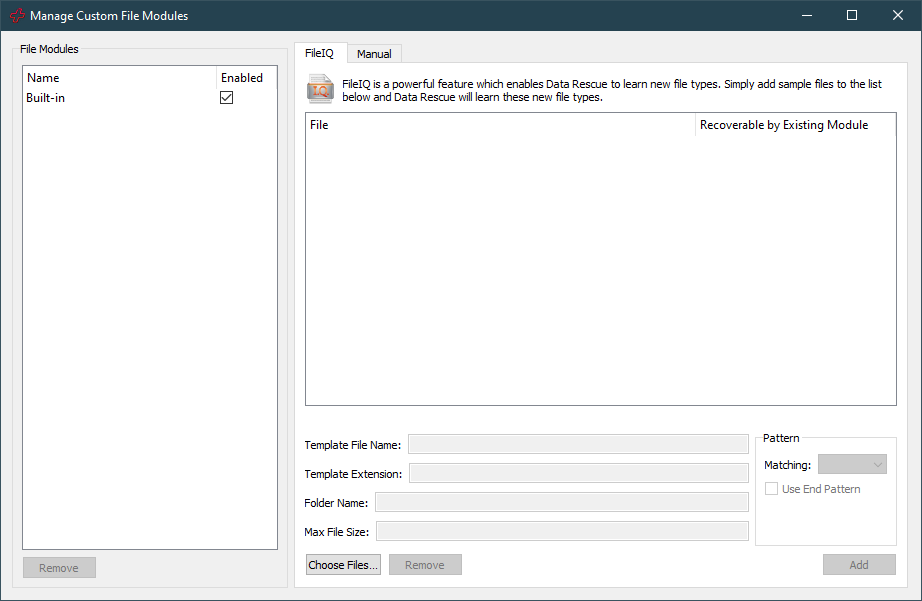 Data Rescue supports over 100+ different file types. And, for file types that aren't listed on the website, Data Rescue 6 comes with a built-in feature called FileIQ that allows it to learn new file types.
Simply add a file to the list and the application will remember that file type for recovery going forward.
RAID support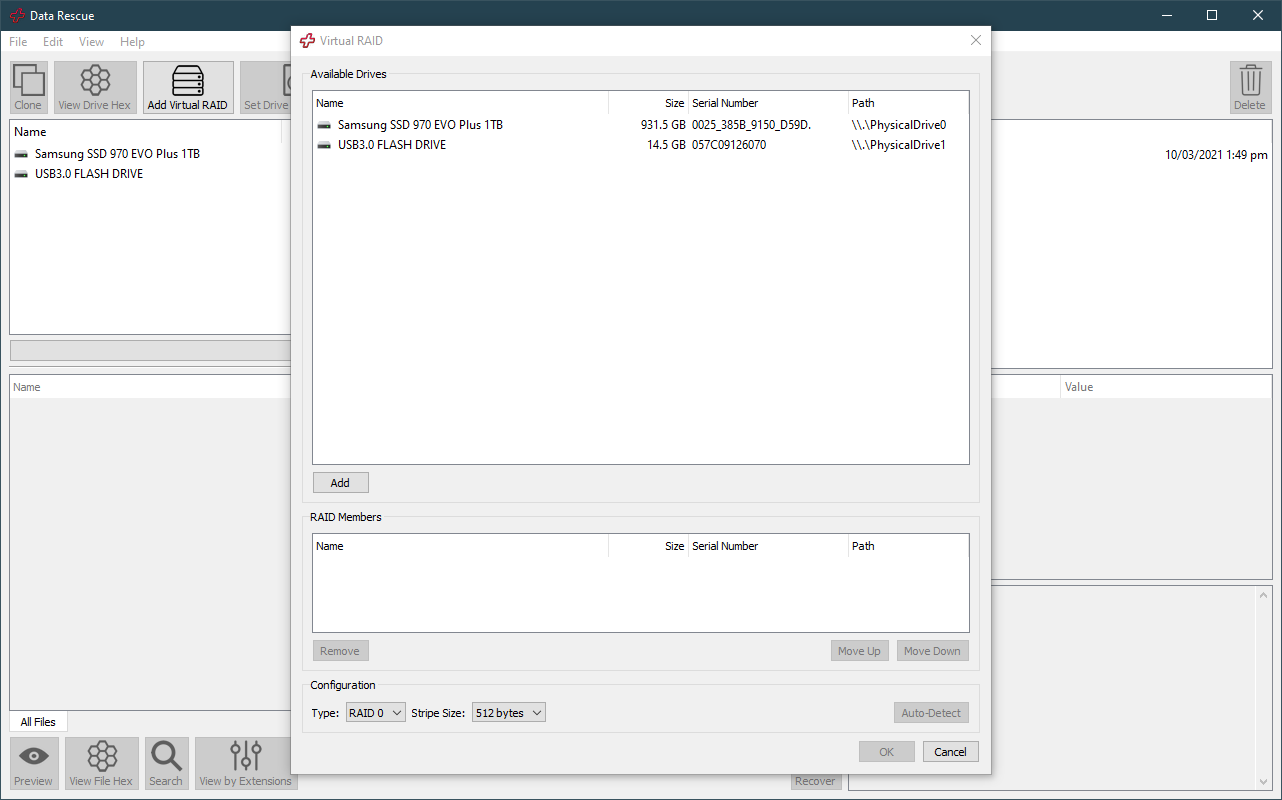 Not all features are enabled by default in Data Rescue 6. If you go to View > Switch to Professional mode, the utility will allow you to work with RAID setups. While this is a useful feature, it can easily be overlooked unless you're specifically told to enable Professional mode.
The Data Recovery Process
To get a real grasp for how effective Data Rescue 6 is in recovering files, let's take a step-by-step look at the recovery process. For this example, I just used a standard USB flash drive.
1. Choose 'Start Recovering Files'
When you open Data Rescue 6, you'll be met with a welcome screen that lets you choose between scanning for files, viewing previous scan results, and cloning your drive. To start off, click on 'Start Recovering Files'.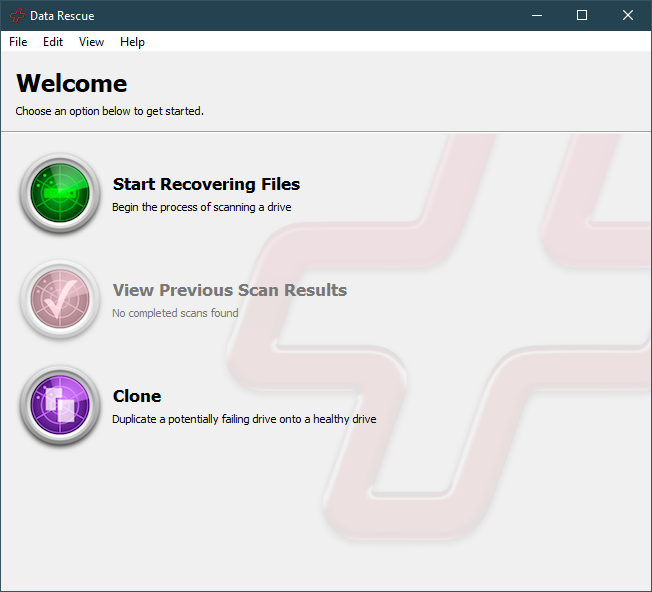 2. Select the drive you want to scan.
The next screen will let you choose what discoverable drive you want to scan for lost or recoverable data. If you want to scan your primary hard drive, you cannot do so unless you change the temporary file location through File > Change Temporary Storage Location.
For me, I used a USB for this test. Once you've selected the drive you want to scan, click Next.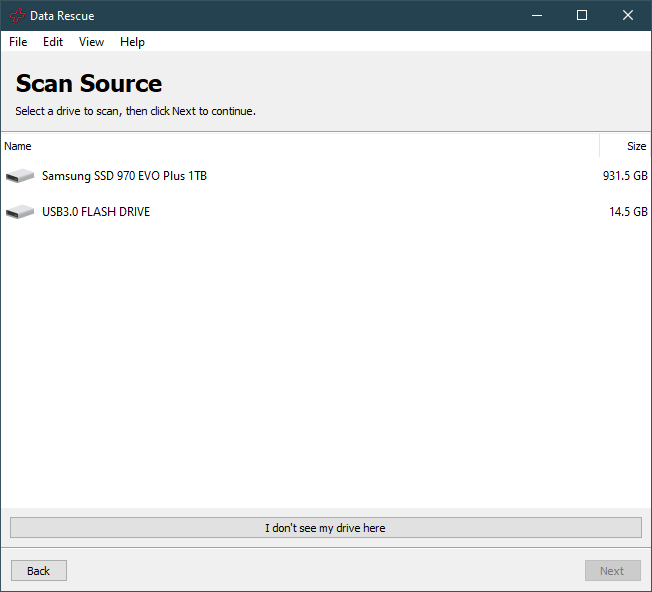 3. Select a Quick Scan or Deep Scan
Now comes the choice between whether you want to perform a Quick Scan or a Deep Scan. Each scan is going to examine your hard drive, but the difference between them is how thorough the scan will be. Once you've chosen one, click Start.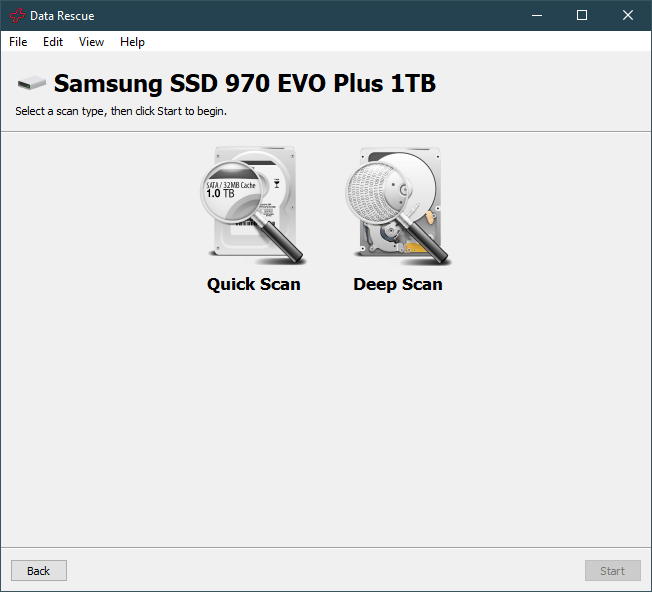 4. Review the scanned results
When the scan is complete, you will be presented with a list of files that Data Rescue 6 has found on the drive. These are the files that can be recovered.
Going through the list, you can click the files and use the Preview function to see if the file is in a functioning state. You can also use the Search function to look for specific files.
At this point, if you want to recover the files, you will need to upgrade to either a Standard or Professional license.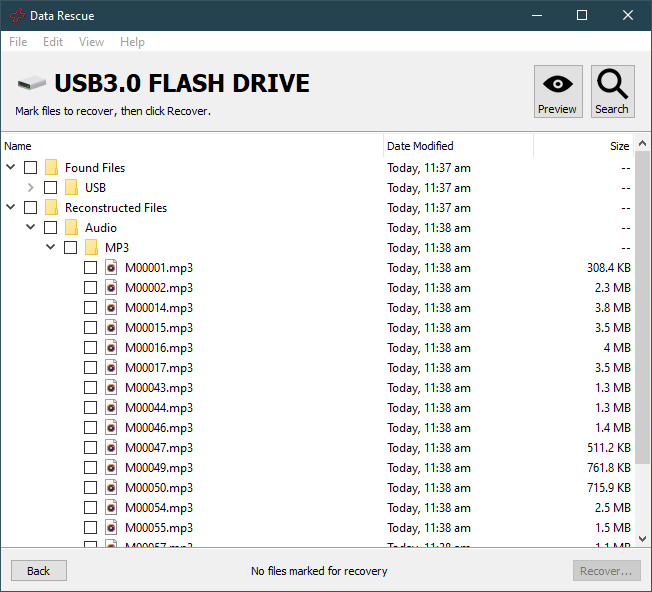 Plans & Pricing
Prosoft allows users to trial Data Rescue 6 by offering free scans to discover lost or deleted files. However, file recovery will be charged under either a Standard or Professional license.
With the Standard license, you have the option of scanning your drive for recoverable files. This gives you somewhat of a hands-on demo before paying. After the scan has finished, you only have to pay for the files that you want to recover, starting from $19 for a single file recovery. This pay-as-you-go method is great for those who may use the software only on occasion, but could drive up quite the price if used regularly.
Those who will use it regularly will benefit from the Professional license. However, the price is quite steep, especially considering it's a subscription-based product. For $399.96/year, you get unlimited system activations and unlimited drive recoveries. Compared to other recovery tools that offer lifetime upgrades for almost half the price, it can be hard to justify the price tag.
License version

Price

Benefits/Drawbacks

Primary usage scenario

Standard license

Free

✅ Free disk scans;

✅ Pay per recovery (starting at $19/file).

❌ No trial recoveries.

For those who want to see if their files are recoverable, and perhaps recover a select few files.

Professional license

$399.96 / year

✅ Unlimited file recovery;

✅ Unlimited activations;

❌ Expensive.

For someone who recovers files regularly and will use the tool extensively.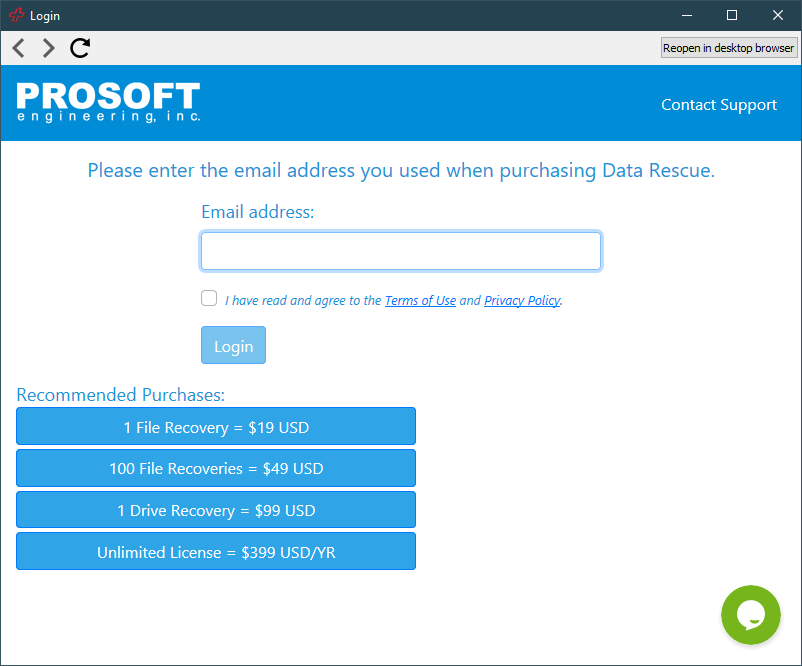 Data Rescue User Reviews
It's important to consider the opinions of others when doing a review of a product. Let's take a look at what the internet has said about Data Rescue's recovery software.
Techradar says: "While Data Rescue 5 is both efficient and effective, it's not the only option out there. For example, both Disk Drill and MiniTool Partition Recovery offer free trials for recovery data up to a certain limit (e.g., 500 MB)."
Comparitech says: "Data Rescue 5 is, put simply, one of the best data recovery software suites on the market today. In my mind, the only real problem is they seem to know that, which is why the Professional version of their product costs $299 a year, rather than the standard flat fee that almost every other provider in the space charges instead."
PCMag says: "Data Rescue is one of the top data recovery utilities that I tested. The addition of BootWell brings this effective, easy to use utility closer to alignment with Disk Drill, and I suspect that you will appreciate that, similar to Seagate, Prosoft hosts its own in-house data recovery lab."
Support
Prosoft has an FAQs page that also contains various tutorials for using the software on both Windows and Mac.
If your query can't be answered using their existing material, you can contact their team via live chat when they are available Monday to Friday, 8am to 5pm PST. Otherwise, you can email them and receive a detailed response within 1 to 2 working days.
They do not currently offer a phone support line for troubleshooting queries, so all support-related requests need to be done via an online channel.
Pros & Cons
✅
Pros:
Only pay for the files you need to recover
Preview files for free before recovery
Available on Windows and Mac
Simple and easy to use
❗️
Cons:
Secondary storage media is required for scan and recovery
No refund policy
Costly compared to other recovery tools
Troubleshooting support only available online
FAQ
To perform a scan using Data Rescue, follow these steps:
Open Data Rescue and click on 'Start Recovering Files'.
Choose the drive that you'd like to scan.
Select either Quick Scan or Deep Scan and press Start.
Review the scanned files.
The Quick Scan offered by Data Rescue is considerably faster than its Deep Scan. Scan times will depend on the size of the disk being scanned. The larger the size, the more there is to scan. According to Prosoft, the Deep Scan usually takes three minutes per gigabyte.
Yes, Data Rescue is safe. It is a recovery tool developed by Prosoft Engineering, and has been reviewed extensively.
The Verdict
Data Rescue 6 has some interesting features, like its FileIQ feature that allows you to upload file types for the application to recognise for recovery. However, the biggest drawback would have to be the pricing.
While other recovery tools out there allow you to trial their recovery features to a certain threshold, Data Rescue only lets you preview the files. In order to recover any files (without a Professional license), you'll need to pay for each file, starting at $19 for one.
Other than that, Data Rescue 6 features a basic UI that makes it easy to navigate and use. As a recovery tool, it definitely does just that. There are other recovery tools out there that offer more features for a more affordable rate. In summary, Data Rescue 6 is a good tool, but not the greatest.
---
✅
Our verdict: 4.5 out of 5.
Jordan Jamieson-Mane is a freelance content writer with a passionate interest in technology. Starting from a young age, this interest gradually turned into a career, with Jordan studying in the field of IT and moving into a technical role right out of tertiary education. After gaining first-hand experience in the field, he started his journey as a freelance content writer. As a tech enthusiast, his interests within the realm of technology include hardware, networking, smart technology, and consumer electronics.
Andrey Vasilyev is an Editorial Advisor for Handy Recovery. Andrey is a software engineer expert with extensive expertise in data recovery, computer forensics, and data litigation. Andrey brings over 12 years of experience in software development, database administration, and hardware repair to the team.