Undelete 360 is a powerful data recovery tool due to its feature set which includes things such as the ability to preview files before recovery and its targeted recovery feature which can help to cut down on the time it takes to recover files. Stay tuned to find out more about Undelete 360 and what we liked and didn't like about the software.
👀
TL:DR; Undelete 360 is a simple tool that will help you to recover files with just the free version. You'll have to pay for an upgrade if you want more advanced functionality. If you do choose to opt for a paid version, your license will be a lifetime one, meaning that you will never have to worry about paying for upgrades to the software.
⚠️
Want to help make our content better? Please vote for the best alternative to Undelete 360:
1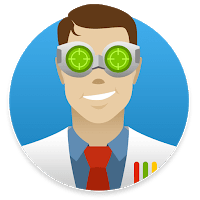 Disk Drill
Platform:

Windows, macOS
Distributed as:

Freemium
2

PhotoRec
Platform:

Windows, macOS, Linux
Distributed as:

Freeware
3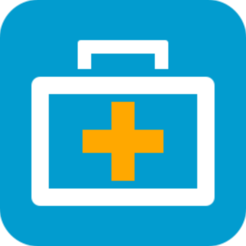 EaseUS
Platform:

Windows, macOS
Distributed as:

Freemium
Undelete 360: Key Features
Undelete 360 is a data recovery application developed by File Recover Ltd. It's available for Windows operating systems. File Recovery Ltd. is a Microsoft partner as well, which means that they have access to the latest technical information from Microsoft about their new technologies.
This allows them to provide the highest level of compliance with Microsoft's demanding requirements. Here are  some of Undelete 360's more important specifications:
Compatible operating systems: The app's website states that it is compatible with Windows 2000 / XP / VISTA / Windows 7 / 2003 or 2008 Server. We have confirmed that it also works with Windows 10.
Types of storage media supported: Undelete 360 works with hard drives, flash drives, USB external drives, ZIP drives, Firewire drives, SD cards, and more.
File types supported: This data recovery software supports file types such as DOC, XLS, RTF, CSV, AVI, MP3, JPG, RAW, and even more.
File systems supported: Undelete 360 supports NTFS, NTFS5, FAT12, FAT16, and FAT32.
We will now take a closer look at Undelete 360's capabilities.
File Recovery Grouped By File Type
After Undelete 360 has discovered files that can potentially be recovered, it will display them according to their file type. For example, music files will be grouped together.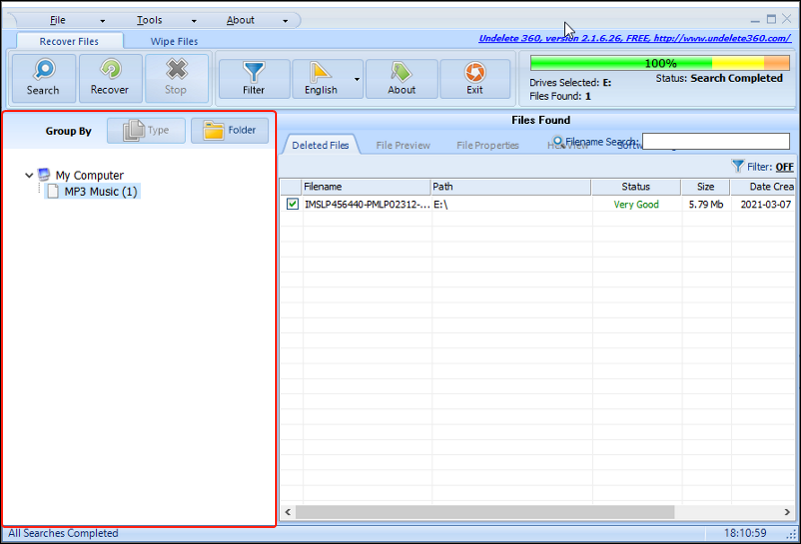 The paid versions of Undelete 360 can display recoverable files according to their folders. The paid version also allows users to filter their results to allow for faster location of recoverable files.
File Status
Unfortunately, not all files can be recovered. The likelihood of being able to recover a file is decreased if the disk is written to before recovery is attempted. Thankfully, Undelete 360 has a status bar that alerts users to the condition of potentially recoverable files.
If there is a high probability of a file being recovered, its status will show up as Very Good. If the file has been overwritten, then the status will be Overwritten.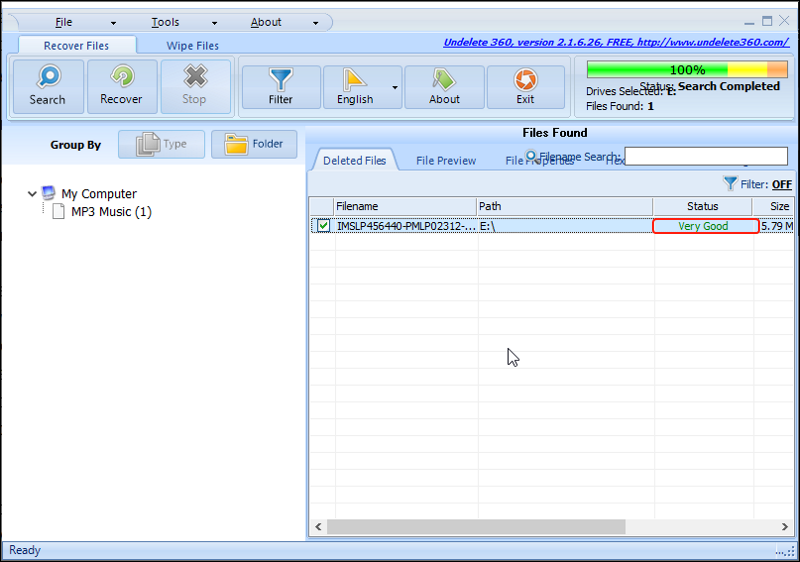 Wipe Option
The paid version of Undelete 360 includes an option that ensures that files can't be recovered. Data recovery software exploits the fact that files are not actually instantly deleted. However, this can be used against us.
This poses a security risk since files can be recovered by anyone who has access to your device and who has the knowledge of how to recover files. This is especially of concern if you're selling your computer to someone else. It's best to have any traces of your data completely erased.
Using Undelete 360 to Recover Data: The Data Recovery Process
Here, we'll show you step by step how the data recovery process in Undelete 360 works.
1. Select Search
The interface of Undelete 360 is quite simple. This isn't a bad thing; we're just mentioning this so that you know what to expect when you open the app for the first time. For this example, we'll be trying to recover a deleted audio file from an SD card.
To start the process of searching for files that you want to recover, start by selecting the Search option in the top left-hand corner of the app window.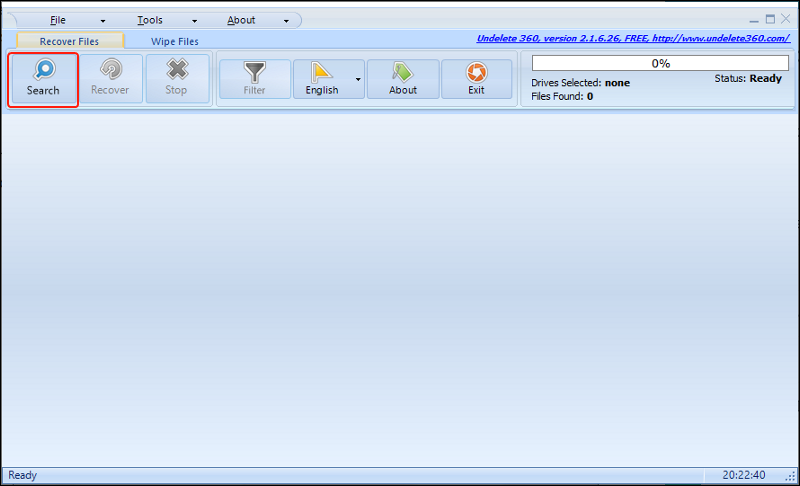 2. Select storage medium
After selecting Search, you will need to select the storage medium that you want to attempt recovery from. In our case, this is PICFRAME (E:).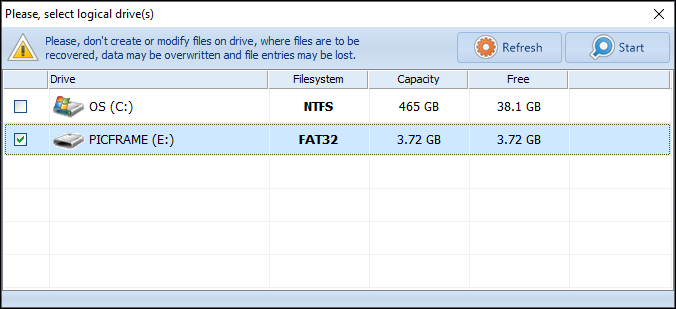 After selecting your storage medium, you can go ahead and click Start to get the scanning process started.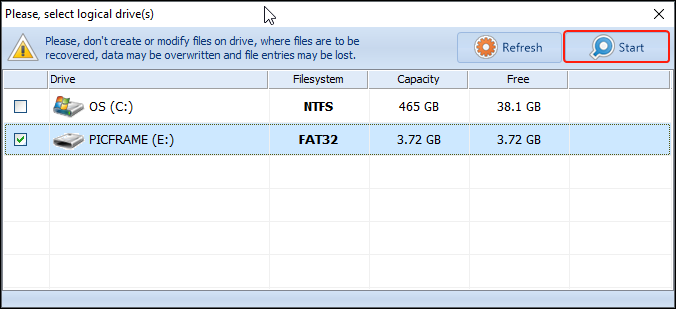 3. Browse files for the one(s) you're looking for
After the scan has been completed, you will see a list of recoverable files. The scan results window will display information such as the status of the file (how likely it is that you'll be able to recover it) and the file size.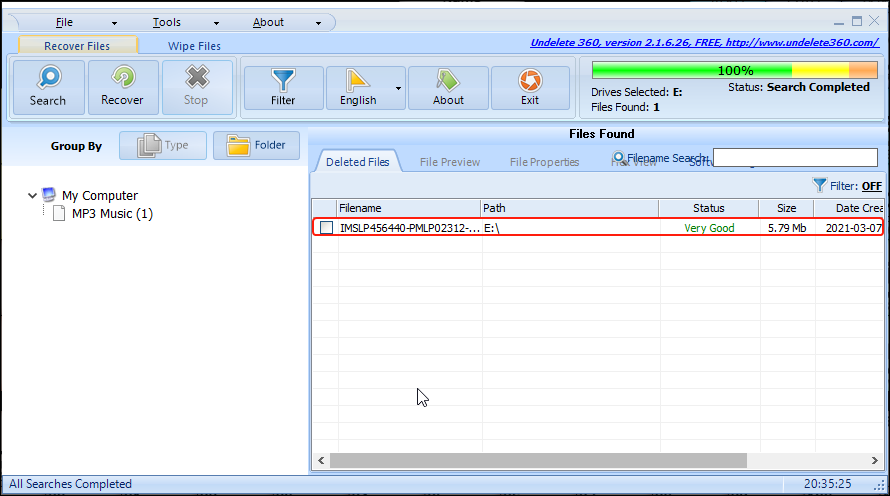 4. Recover files
To recover the files that you chose, simply click on them and then hit the recover button.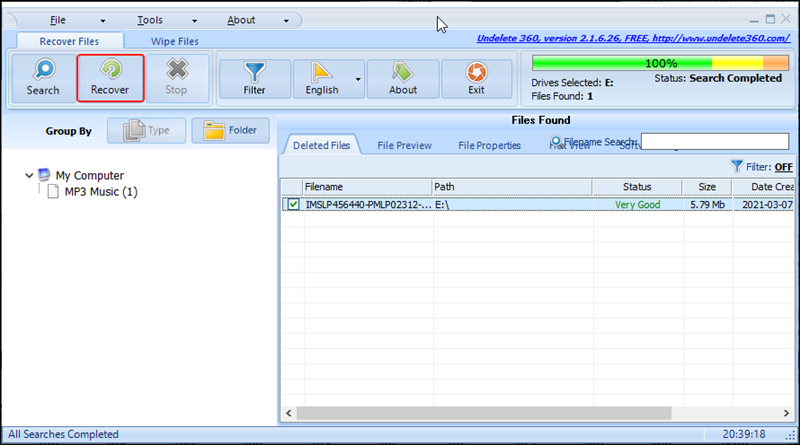 After clicking on Recover, you will have to choose the location that you want to save your recovered files to. During this step, you'll also have the option of selecting other options such as keeping the folder structure. These are only available in the paid version of Undelete 360.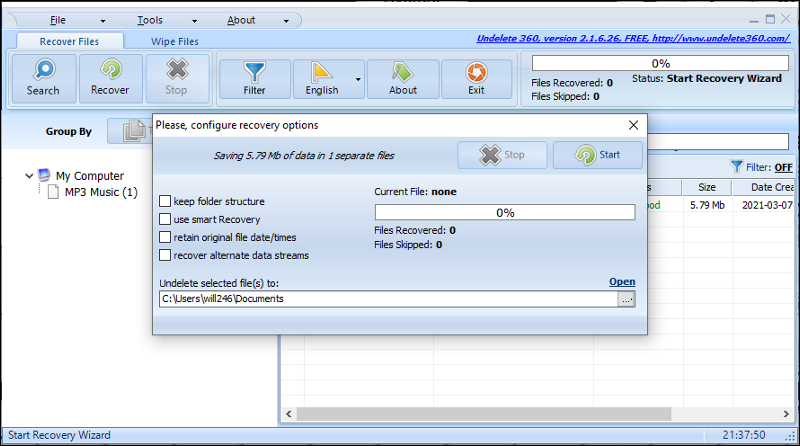 Undelete 360 Pricing
👀
Both paid packages include a lifetime activation license.
One of the best things about Undelete 360 is that you get the core functionality for free. However, by paying a fee, you can get access to more advanced functionality. One thing to note is that this software hasn't been updated since 2016.
Seemingly related to this is the confusion involved in finding the option for downloading the paid versions of the program. We had to do a Google search to find the right page to go to. Below, we will examine the paid packages that are available and what they have to offer.
Both paid packages will give you access to the following features:
Recovery results filtering
Organization of recovery results according to their folders.
File preview
Ability to view the file properties of recovery results
Ability to view file hex information
Access to software log
Ability to wipe files completely from storage media
Undelete 360: Professional Version ($39)
The Professional version of Undelete 360 gives access to all of the features above. However, this version is limited to restoring files greater than 10MB in size. Users can also choose to upgrade to the ultimate version later for $34.
Undelete 360: Ultimate Version ($69)
The Ultimate version gives you access to everything the professional and free versions have to offer in addition to not being limited to restoring files greater than 10MB in size.
What Users Are Saying About Undelete 360
Part of determining if recovery software is good is considering the opinions of others. Here's what some other review sites had to say about Undelete 360:
Techspot says: "Undelete 360 is one of the best programs to use for restoring accidentally or unintentionally deleted files from your computer, regardless of storage medium."
Softpedia says: "We haven't encountered any issues during our tests and highly recommend Undelete 360 to all users."
Cnet says: "Of course, there are no guarantees your data can be recovered, or that it will be completely intact. But Undelete 360 proved capable of recovering accidently or recently deleted data."
That's all well and good, but what about the individual users?
amnesia9301 on Cnet says: "Lots of programs can recover deleted data, and lots claim to be free. All of the others that I downloaded had restrictions on the amount of data that could be recovered – between 500MB and 2GB – not much use on a 16GB card. Very happy with 360!"
The reviews on CNET were in fact mostly positive but there were some complaints about customer service.
Pros and Cons of Undelete 360
✅
Pros:
Core functionality available for free
Paid packages don't need renewal
Interface easy to navigate
❗️
Cons:
Not updated since 2016
Not clear how to purchase the paid version
Only available on Windows
FAQs
Final Thoughts: The Verdict
Undelete 360 is a solid piece of software. It doesn't have many frills but it works. You'll be able to successfully recover files even with the free version. It works with several different file types and types of storage media as well.
While it does offer more advanced functionality, such as the ability to filter results and the ability to permanently wipe files, be aware that these features are only available if you purchase the paid version. In any case, for most simple cases of data recovery, Undelete 360 will be able to successfully do the job.
---
✅
Our verdict: 4.0 out of 5.
Andrey Vasilyev is an Editorial Advisor for Handy Recovery. Andrey is a software engineer expert with extensive expertise in data recovery, computer forensics, and data litigation. Andrey brings over 12 years of experience in software development, database administration, and hardware repair to the team.