All it takes is an absent-minded tap on the wrong button, a misbehaving app, or a software or hardware failure. And just like that, your photos disappear, your notes are nowhere to be found, your files are gone.
🗨️
Thankfully, there are solutions to such problems. They are specialized tools that can bring your files back from oblivion. However, not all of them are equal. Let's see some of the most popular apps that can help you recover deleted files from your SD card on Android.
🔗
Want to skip the theory part and just right to the ranking? Click here.
Why Use an App to Recover Data From an SD Card on Android?
Check the user reviews for any data recovery solution, and you'll find many people claiming they're useless. So, is your lost data gone forever? Are those apps the equivalent of snake oil? The answer to both questions is a simple "nope".
There are two approaches to getting your lost data back:
When files are marked for deletion, they seemingly disappear, but their data isn't really gone. Data recovery apps can find such files and remove their "to-be-deleted flag" to make them reappear.
A software or hardware malfunction may lead to a corrupted filesystem. In such cases, recovery apps can analyze a storage device and recognize data structures that match popular file formats. Then, try to "recognize" actual files and "fish them out" from the corrupted storage.
So, data recovery apps do work, but with some caveats. They can't recover files that are deleted and overwritten, nor save data from storage devices with physical damage.
It's worth mentioning that despite their usefulness, you might not have to use recovery apps to get your data back. There are many more ways to get back lost data – check, for example, our article on 10 proven methods to recover deleted files on Android. Maybe a simple "undo" function within an app will be more than enough!
❗️
🧠 Precisely because it's impossible to recover overwritten files, it's better to have one or more data recovery apps installed on your smartphone before you need them. Installing them afterward could overwrite some of the data you want to recover. On top of that, it's best to disable any network connectivity on your phone, to eliminate data transfers and updates for the same reason.
How to Choose the Best SD Card Recovery Software for Android
What's best for someone else might not work for you, depending on your preferences and priorities. So, before choosing a data recovery solution, you should consider the following points:
📄 What types of files do you want to recover? You can find free solutions that can only recover recently deleted photos. Or you can go for expensive but sophisticated solutions which can analyze all bits and bytes of storage to locate every single potentially recoverable file.
💲 What is your budget? A free solution might be able to recover some lost files, but not all. This "some" may be more than enough for many people. Others may seek the best app to recover all their lost data from an SD card, no matter the price.
⏳ How much time can you invest in recovery? Some recovery solutions might offer more extensive results but also demand more time than you can afford.
🩺 Do you prioritize optimal recovery results over both time and money? Then, a professional recovery service like CleverFiles' Data Recovery Center would probably be an even better choice than specialized software.
🐧 Can you (and do you want to) root your device? The term "rooting" comes from the "root" user account in Linux. It comes with full access to the operating system, with zero restrictions. Root access eliminates all barriers for data recovery apps, empowering them to recover even more data. However, it also means that if something goes wrong, your device might end up useless. Plus, depending on the manufacturer, it might void your warranty.
💻 Do you have access to a computer? Connecting your Android device to a PC or Mac leads to more options for SD Card recovery on Android. Some desktop data recovery solutions can recognize your Android device for what it actually is. Others may "see it" as a generic external storage device. In both cases, such apps can attempt to bring back your lost files. For example, in this article of ours on how to recover deleted files from an SD card, we moved an SD card to our Windows PC. There we used Disk Drill to salvage lost files since the SD card could be accessed like any other storage device.
✅
🔍 Even if you believe a particular app would be the best for you, it's worth also checking at least some alternatives. They might surprise you by unearthing data their peers missed, files that you believed were lost forever. Also, if you have access to multiple desktop environments (Windows, Mac OS, Linux), you may find better recovery solutions on one over the other. Thus, it's worth checking how the solutions for each fare against each other – something we've already covered in our article on the top 15 best SD card recovery software.
Top 5 Best Apps For SD Card Data Recovery On Android
As we've explained, not all data recovery apps are equal. You should choose one based on your priorities and preferences. So, let's see where some of the most popular options shine or lag behind their contemporaries.
⚠️
📷 Keep in mind that the solutions we'll see are mostly "general" recovery tools. Even if they prioritize photos, they don't specialize in them. If you're primarily interested in photos over everything else, it would be better to check our guide on how to recover deleted photos from SD cards.
1. Defiant Technologies DiskDigger
You'll find DiskDigger in most articles listing the best apps to recover data from SD cards on Android. As it turns out, our list isn't an exception, and DiskDigger's inclusion is justified.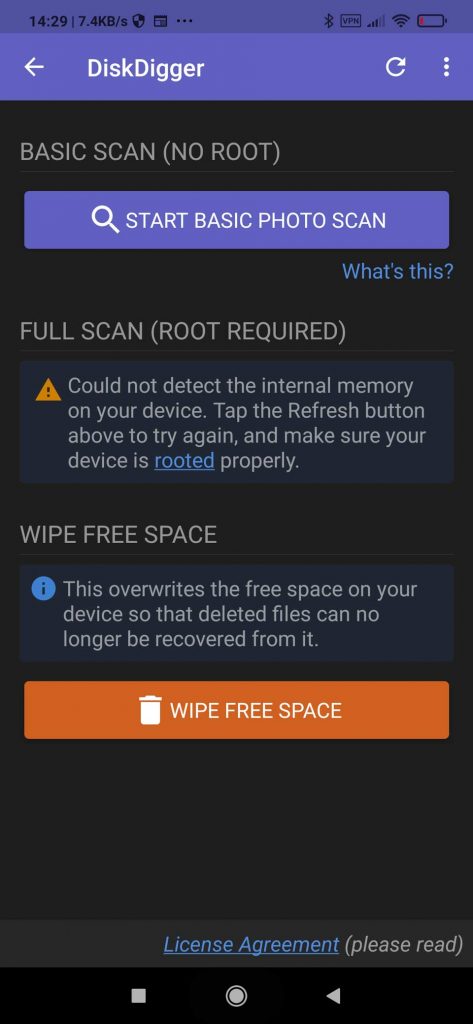 ➕ Pros:
Straightforward interface
Can recover to multiple destinations
➖ Cons:
Needs root access for optimal results
Getting Your Files Back on Android With DiskDigger
DiskDigger doesn't need lengthy introductions nor extensive tutorials on its use. It's as simple as:
Installing it from Google's Play – it works as a standalone app.
Running it.
Starting a Basic Photo Scan or, even better, a Full Scan if you have root access.
Granting the app access to your device's storage.
Choosing the files you'd like to get back.
Tapping on the friendly Recover button at the bottom of the screen.
Choosing where to save the recovered files – in the device's storage, an FTP server, or "send" to almost any installed app, from Dropbox to your favorite email client.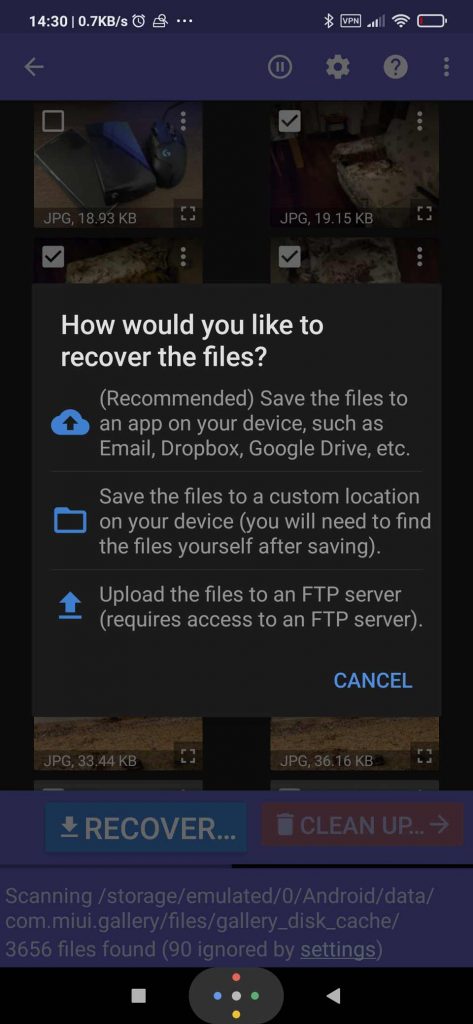 After mere seconds, you'll have your files back.
👀
💡 DiskDigger's free version can only recover photos and videos. To recover other types of files or to use an FTP server as your recovery destination, you'll have to upgrade to the full version. Like all other apps in its field, it also requires root access to achieve more extensive results.
2. Tenorshare UltData
Although Tenorshare's UltData is a relative newcomer in data recovery, it's already giving many of its long-established peers a run for their money. Let's see why.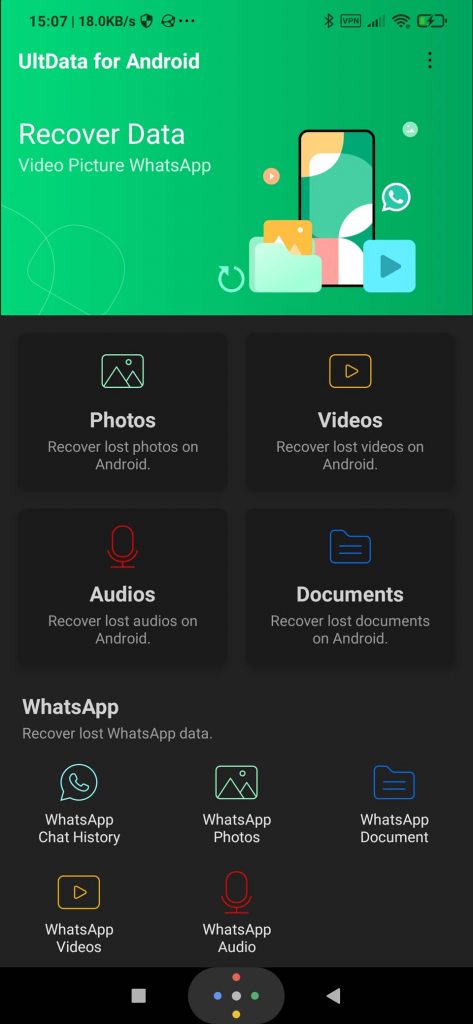 ➕ Pros:
Rapid search and recovery
Standalone app
Doesn't require root
➖ Cons:
Somewhat convoluted interface
Limited trial
Recovering Data on Android with UltData
UltData is, to put it simply, crazy fast during its scan for lost data, and the recovery process is almost instant. In that regard, it's nearly as zippy as our old favorite, DiskDigger.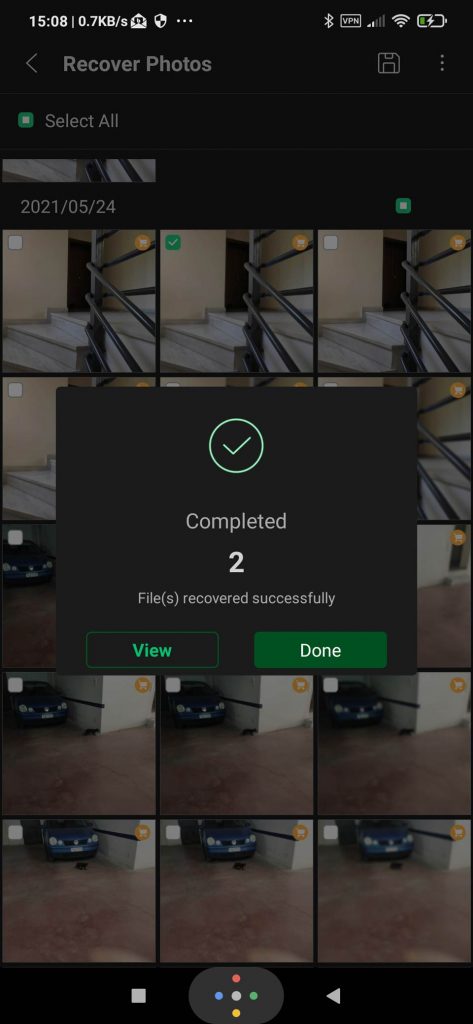 However, by displaying WhatsApp options under its primary recovery modes, UltData looks more convoluted than it should.
UltData presents you with buttons to get back Photos, Videos, Audios, or Documents. Right below them, there's a collection of extra – but similar – buttons dedicated to WhatsApp. If those were bundled behind a single WhatsApp button, UltData's interface would look much cleaner.
Unfortunately, the trial version is also quite limited. In practice, it only acts as a preview of the full version, allowing the recovery of only a handful of files.
3. EaseUS MobiSaver
EaseUS has been a trusted name in the data recovery field for close to two decades. Does their expertise on desktop-centric solutions translate well to their MobiSaver for Android?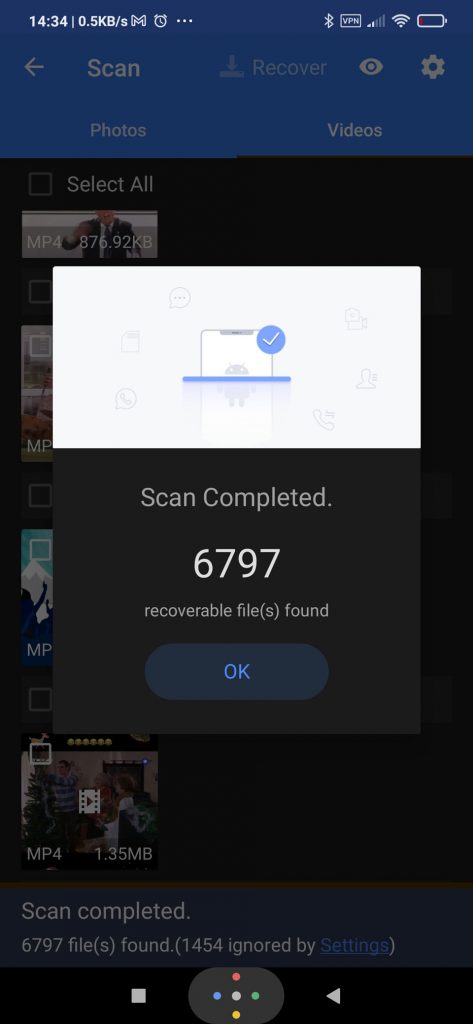 ➕ Pros:
Easy to use
Speedy scan and recovery
➖ Cons:
SD Card Recovery on Android with EaseUS MobiSaver
EaseUS's MobiSaver can work on your smartphone as a standalone app without demanding "support" from a PC. Combined with its straightforward interface, those characteristics make it ultra-simple to use.
MobiSaver's free trial allowed us to recover 20 lost images from our data recovery suite, but we met two problems.
We expected the first one since this was a trial version: we'd have to pay for a license to recover more images.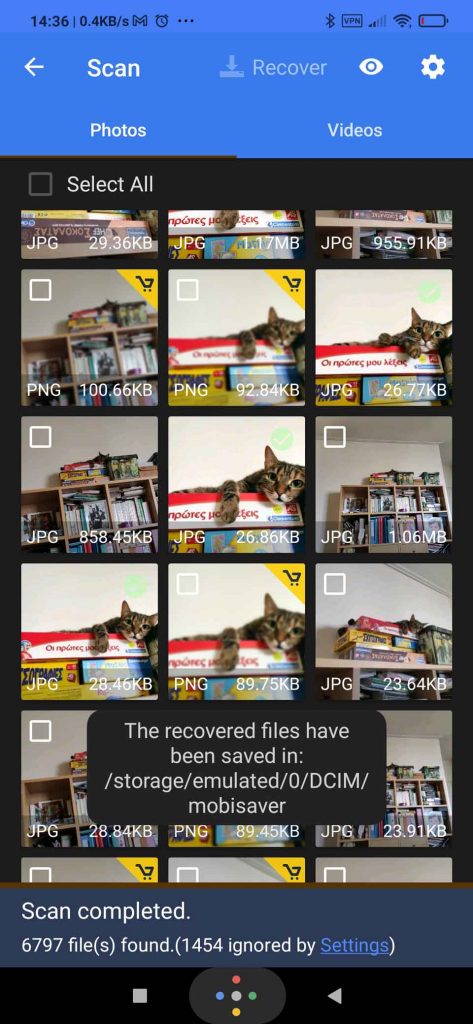 The second, though, was an annoying artificial restriction: some of our files were unrecoverable, "locked" behind a cart icon that signified we'd have to pay to get them back.
✅
💬 Many reviews at Google's Play Store claim the non-trial version also can't get some files back or keeps acting as a trial. However, we believe most such problems stem from user error. We didn't, for example, see a sub-par performance during our testing, nor did MobiSaver recover thumbnails instead of full-sized files.
4. WonderShare Dr. Fone
Dr.Fone is a "Complete Toolkit" for your mobile device. At least, supposedly. Its average score at Google's Play is a very respectable 4.1 at the time of writing. And yet, if it's one of the best-reviewed data recovery solutions for Android, how come we aren't suggesting it? For that, we'll have to see it in action.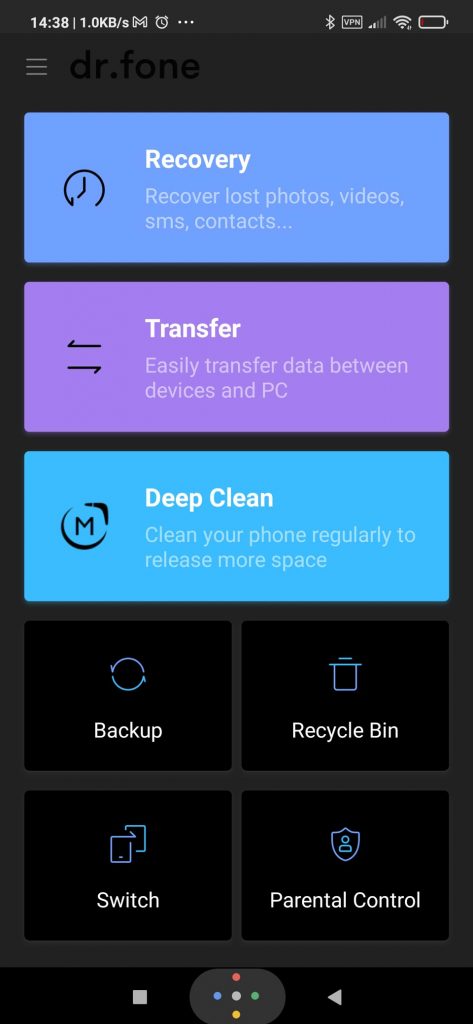 ➕ Pros:
Can do much more than recover lost files
Can manage multiple devices from a single desktop app
➖ Cons:
Complicated
Demands connection to a computer
Very restricted trial
Demands root for data recovery
(Not) Saving Your Lost Data With Dr. Fone
You can find Dr. Fone at Google's Play Store, but it's useless on its own: it only works as a client. You'll have to connect your Android device to a computer and then run the desktop app to take advantage of its features.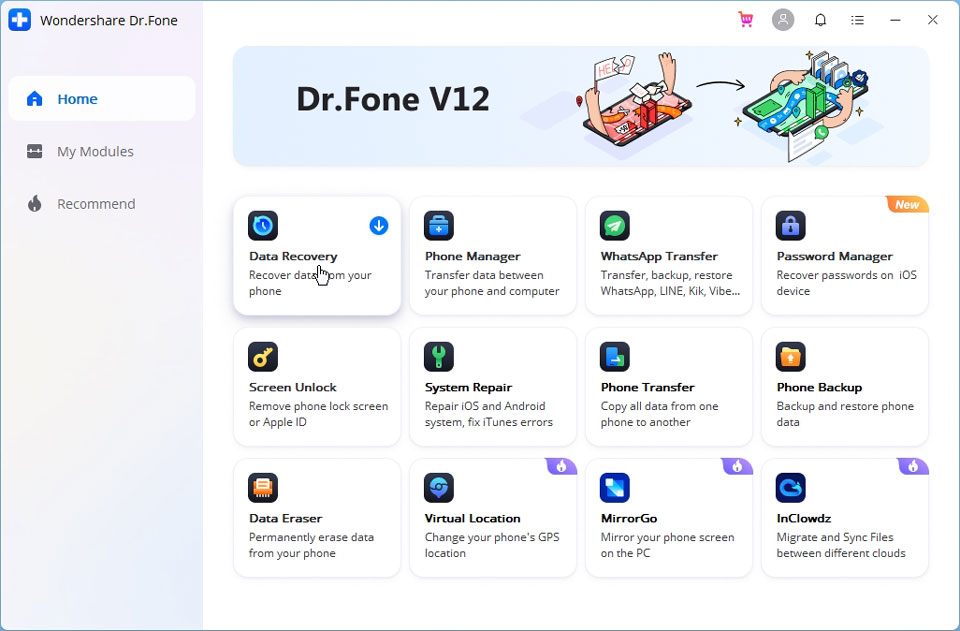 Dr. Fone doesn't act as a recovery app but as a complete toolkit for your smartphone. You can transfer data between Android and desktop, backup and restore phone or WhatsApp data, and even mirror your phone's screen on your PC.
Those features are excellent, but Dr. Fone wouldn't be our first choice for data recovery. Our reasoning?
Dr. Fone can't get back deleted files without root access. As in, none of them. It can only "see" existing files. As in, files that aren't, to put it simply, "in need of rescue". In other words, it's not better in "data recovery" than a typical file manager! On top of that, like many of its peers, Dr. Fone's trial version only works as a preview and doesn't allow actual data recovery.
We're sure its full version would fare better, especially when paired with a rooted smartphone. However, using its free version on a non-rooted device left much to be desired.
5. iMobie PhoneRescue
iMobie's PhoneRescue is another popular app for when you need to recover data from an SD card or your Android device's internal storage. How does it fare compared to the alternatives?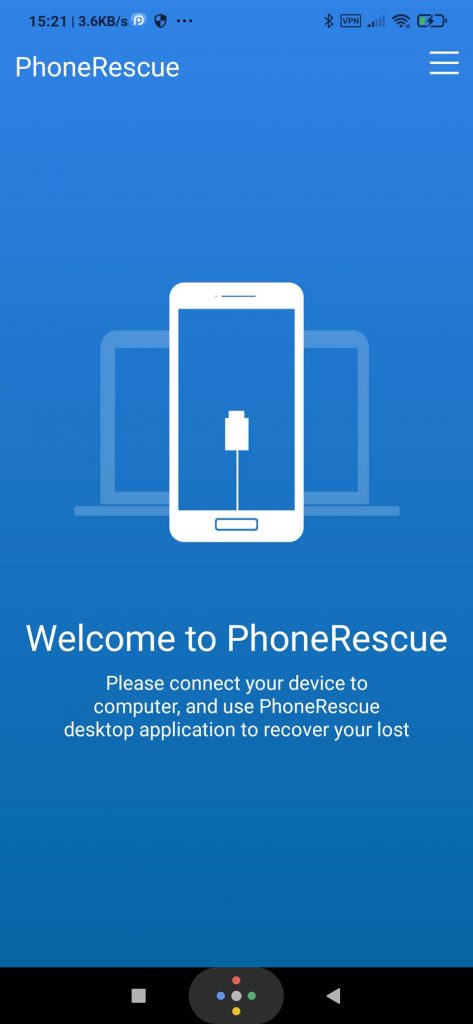 ➕ Pros:
Quick recovery
Supports many types of data
➖ Cons:
Demands root
Not standalone app
Bringing Back Lost Files With PhoneRescue
PhoneRescue is another one-two combo that expects you to connect your Android device to a computer. Its desktop app communicates with a client on your smartphone or tablet. Together they can get back your lost data.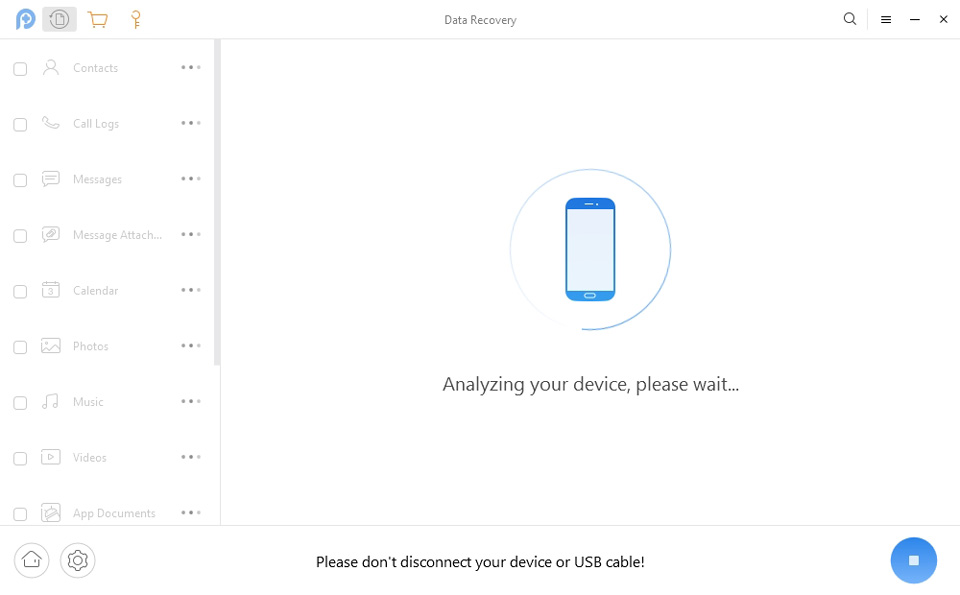 After the desktop app detects the Android client, it allows you to choose what type of data you wish to recover:
Contacts
Call Logs
Messages
Calendar
Photos
Music
Videos
App Documents
WhatsApp
Line
Select what you want to recover, and the two apps (desktop and client) start working in tandem to analyze your Android device and bring your data back. During our testing, PhoneRescue successfully detected all lost photos in our test suite but didn't allow us to recover them. That's because it, too, works as a limited trial, a sample of what the full version can achieve.
⚠️
⚡ PhoneRescue not only demands root for optimal results but also claims it can root your phone for you. In our case, using a Xiaomi Lite 9, it didn't. It also states that "Rooting your device won't void the warranty", but we're sorry to say that's a false claim. Depending on the device's manufacturer, rooting may void its warranty.
FAQ
You can try to locate deleted files yourself, but their location also depends on their originating app. You'll have to comb through your whole SD card and potentially thousands of files with a file manager, hoping you'll find the ones you want. Thus, it's better to use a specialized app that can locate them and offer the option to recover them. It will be an effortless process that will take only minutes, if not seconds.
If your Android device is non-operational, you can still recover data from its SD card by plugging it into a computer. Then, accessing it as a standard external storage device. However, it won't be possible to get back data from your Android device's internal storage.
We usually go for DiskDigger. It's rare to find alternatives with higher successful recovery rates that also offer an easily accessible interface and don't come with annoying limitations.
So, Which Is The Best SD Card Recovery Software For Android?
As we saw, it's not possible to single out an SD card data recovery solution for Android as the all-around "best". Despite having a common goal, each might follow a different path to reach it. Still, if you'd like even more choices, make sure to check our guide on the top 7 best Android data recovery software solutions.
Your choice will be affected by their recovery chops, speed, price, and interface. You might prefer to avoid rooting your device, potentially voiding its warranty. Or you might not like having your Android device "tied" to your computer for hours, waiting for a time-consuming recovery process to complete.
We're sure, though, you'll find the best solution for SD card recovery on Android for you among the ones we listed.
Odysseas Kourafalos started playing with technology over thirty years ago, with a Commodore 128. Instead of gaming with it, he ended up trying to learn what made games - and tech, in general - tick. Since then, he's used thousands of applications, from music trackers to video editing suites, on multiple platforms, and lived to write about them.
Andrey Vasilyev is an Editorial Advisor for Handy Recovery. Andrey is a software engineer expert with extensive expertise in data recovery, computer forensics, and data litigation. Andrey brings over 12 years of experience in software development, database administration, and hardware repair to the team.