Cisdem Data Recovery is a macOS tool aimed at helping users recover accidentally deleted or lost files. According to the developer, the app can restore a wide range of file types and works with Macs, as well as with external storage devices.
The lion's share of the advertisements and reviews found on the web are positive and claim that the software is highly efficient. But is that just a marketing tactic, or is the app that good?
Our team has tested how the Cisdem Data Recovery software works and whether it is worth using. Here's what we found out about it.
👀
Quick Summary: Cisdem Data Recovery for Mac is easy to install and simple to use. However, to use the software, you need to turn off System Integrity Protection on your Mac, which may be complicated for some users and is not always safe. It supports almost all possible file formats and is compatible with hard drives, USB drives, SD cards, and other devices. A significant advantage is that the app allows you to preview data both during and after a scan. But if your device stores lots of files, you might need to hang on in there since the scanning process takes a bit longer than usual.
---
⚠️
Want to help make our content better? Please vote for the best alternative to Cisdem Data Recovery:
1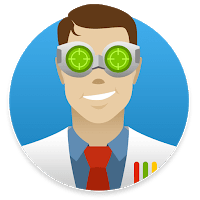 Disk Drill
Platform:

Windows, macOS
Distributed as:

Freemium
2

PhotoRec
Platform:

Windows, macOS, Linux
Distributed as:

Freeware
3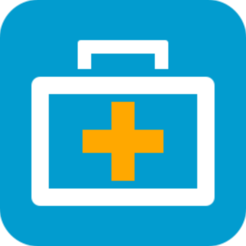 EaseUS
Platform:

Windows, macOS
Distributed as:

Freemium
---
Cisdem Data Recovery Main Features
The data recovery software under review was developed by a company called Cisdem. It is mainly known for building Mac software to assist users in making the most of their devices. Cisdem has been operating since 2009.
Cisdem Data Recovery for Mac was developed back in 2013, and since its release date, the software has been upgraded almost every year. Each upgrade brought new features and fixed previous bugs. To keep the app up-to-date, all that you need to do is purchase the license.
Let's go through the key features that the Cisdem Data Recovery software has to offer.
💻 User-Friendly Interface
It has a basic and incredibly easy-to-use design. From the main menu, you can access any type of data recovery solution that the software offers. The simplicity of the interface allows you to scan your device, choose the needed file or folder, and start its recovery process in a blast.
🔎 Multiple Data Recovery Solutions
This software comes with several data recovery options. You can use it to recover almost any type of file from your Mac, an external device, or from a mistakenly formatted hard drive. And even if you've accidentally deleted a file from the Trash folder from your device, this software should also do the trick.
💾 Supports a Range of File Formats
⚙️ Compatible With Most Device Types
👀 Preview Feature
This software comes with a preview feature that allows you to take a closer look at any file and folder during the scan. This is quite handy since you won't need to wait till the end of the scanning process to check out the found files.
Cisdem Data Recovery Process
To give an honest review of the Cisdem Data Recovery software, we installed the free version of this tool and tested its capabilities. We deleted a few files of different formats to see whether the software would be able to detect them or not.
First, we had to download the software and install it. Here's what we did:
To download the app, we had to go to its official download page.
Then after clicking Free Download, the download process started automatically.
To start the installation process, we had to click on the downloaded file.
After the installation process was finished, the software asked us to boot in Recovery Mode and turn off System Integrity Protection. This may be complicated for some to do, and there are some risks for doing so. So when you're done using the data recovery software, it is best to turn it back on.
After we downloaded and installed the software, we moved on to the next step of the file recovery process:
From the software's main menu, we chose the option of running a Trash Recovery scan to see if it would be able to recover a simple jpg file that we previously deleted from the Trash folder.
Then we chose the needed device from the list and clicked Scan to start the scanning process.
We successfully located the needed file during the scan. But unfortunately, we weren't able to test the software completely since the trial version allows you only to scan your device and preview the files. But to recover them, you're required to purchase a license.
⚠️
Our team also tested the other available data recovery options, which are Basic Data Recovery, External Drive Recovery, Formatted Drive Recovery, and Advanced Data Recovery. The software successfully completed the scans, so there is a high probability that after purchasing a license, it will be possible to recover any of those files.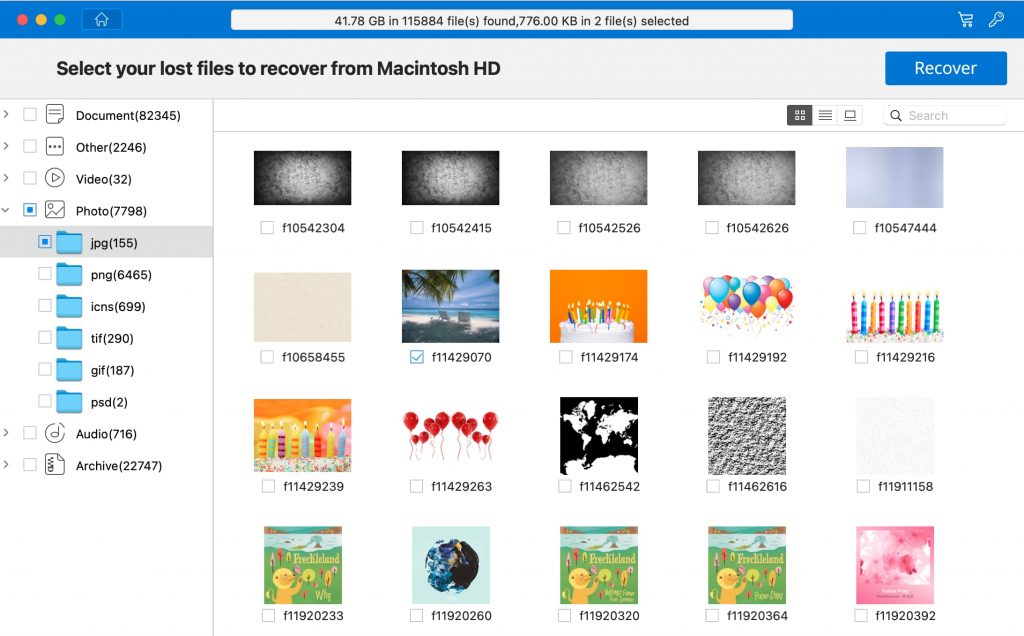 Cisdem Plans and Pricing
When it comes to downloading the Cisdem Data Recovery for Mac app, you can choose to get either the trial version (which is free) or to get a license.
There aren't many plan options to choose from since Cisdem offers only lifetime memberships. So if you want to give the full version of this data recovery software a try, you would need to get the lifetime membership.
But the good thing is that the lifetime membership price is not as high as one might think: $49.99 for a single user. Also, there are discounts available if you buy the license for two or five Macs.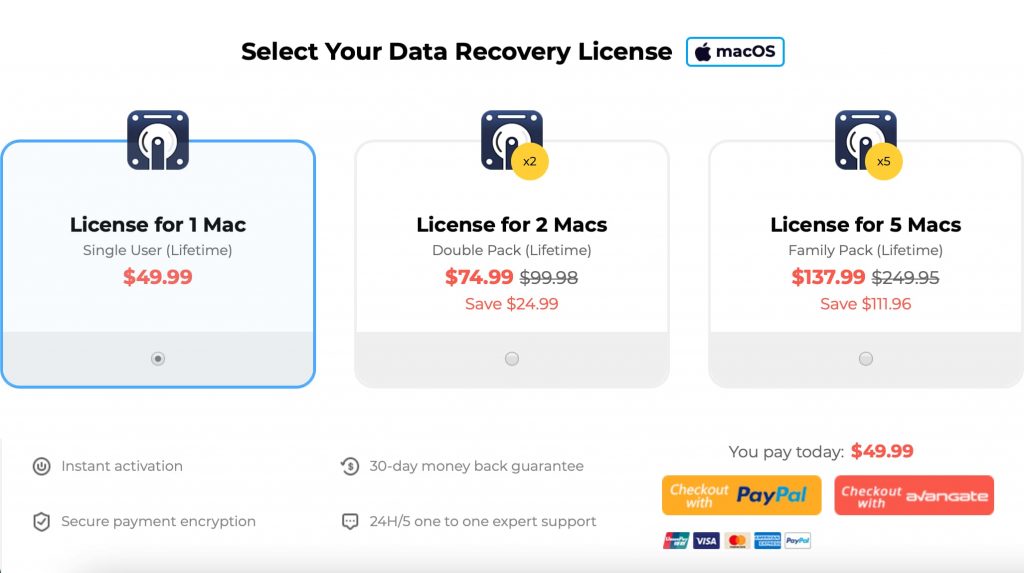 User Feedback of the Cisdem Data Recovery Software
Before purchasing any kind of software, it is always best to read what users have to say about it. However, it was almost impossible to find user reviews about the Cisdem Data Recovery Software for Mac. The ones that are out there are either outdated or located on the official Cisdem website.
But after reading through the reviews, we noticed that almost all of them are 5-star ones with just a few 4-star user reviews. So this means only one thing: either the software is exceptionally good, or the negative reviews weren't published on the site.
Also, the official site contains some authoritative comments about the software. Here's what some of them say: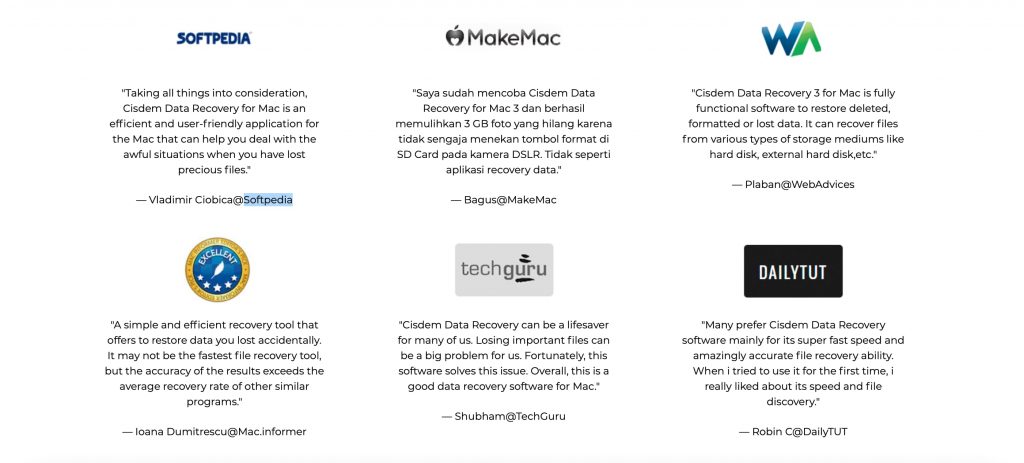 ✅
Pros:
Has a user-friendly interface
It is compatible with numerous file formats
You can preview some files during the scan
❗️
Cons:
It requires you to switch off System Integrity Protection
The scanning process takes up more time than usual
The free version doesn't allow to test recovering a file
It's impossible to preview audio and video files
No monthly or yearly subscription option
Frequently Asked Questions
Conclusions and Verdict About the Cisdem Data Recovery Software
Overall, Cisdem Data Recovery is a software suitable for every Mac user—it doesn't matter whether you're an advanced user or a non-professional. It has a user-friendly interface that allows you to navigate through the app with ease.
Since the trial version doesn't allow you to test how the software works completely, it's a bit complicated to say whether it is efficient or not. However, the free version allowed us to successfully complete a scan and preview the found files. Therefore it's quite possible that the software will be able to recover the found files as well.
---
✅
Our verdict: 4.0 out of 5.
Romana is a freelance content writer driven by a strong passion for everything tech. Since her childhood, she has been striving to keep up with the constantly emerging technology trends and learning how to make the most of them. Most of all, she enjoys writing about Mac, data recovery, and cybersecurity.
Andrey Vasilyev is an Editorial Advisor for Handy Recovery. Andrey is a software engineer expert with extensive expertise in data recovery, computer forensics, and data litigation. Andrey brings over 12 years of experience in software development, database administration, and hardware repair to the team.