We use our cell phones for everything these days; from taking pictures to recording voice notes and even as mp3 players we have become very attached to our phones. This results in us having lots of precious memories on our phones.
Unfortunately, there is a chance that we might lose some or even all of the data on our phones. Luckily, this isn't the end of the world. Cell phone data recovery software is there to save us in the event that this happens.
✅
Here, we will explore the various methods of recovering data on cell phones. We will also look at the best recovery software to choose depending on your situation and we will of course look at the 7 best applications available for cell phone data recovery.
Cell Phone Data Recovery Process
Here, we'll walk you through the cell phone data recovery process. Before we get there, there are some important things to note though. We'll talk about how backing up your device can help you in the event that you lose data.
I Need Help Guyss!

Recently while clearing Cache from mobile, I have deleted my Shareit App and the whole data i have taken from it ( Images, Videos, files ) are no longer in my phone. Please Please if anyone know how to recover all this, HELPP 🙏

— .Kay Katrina. (@Nitish_B2) April 19, 2021
We'll also talk about important things to consider about the data recovery software that you're planning on using.
Secure Your Data With Regular Backups
There are a lot of different options out there which actually work well when it comes to data recovery from phones.  However, as much as possible, you should only rely on data recovery software in a pinch.
👀
If you keep regular backups of your cell phone data then you will be able to restore your phone from that backup in the event of data loss.
Choosing the Right Data Recovery Software For Your Needs
Depending on your situation, some software might work for you while others may not. It's important to consider the circumstances of your data loss in order to figure out the solution that will be best for you.
Whether you're using an iPhone or Android device, you will still need to consider the same things. This will depend on a number of factors such as:
😱 The Reason for Data Loss: You have to consider why you need to recover files in the first place. Was it simply a matter of accidental deletion? Is it that your device's file system got corrupted? In cases like this data recovery software will be able to help you. However, if your device is physically damaged and can't be turned on then most data recovery software will not be able to help you. This type of damage means that the chance of your data being recovered is slim. However, a professional data recovery service may be able to help you.
💲 How Much Does The Data Recovery Software Cost? When you're researching data recovery software, you need to consider how much it costs. You need to think about if the software exceeds your budget. You might also want to consider looking for software that offers a free trial. This lets you see if the software works for you before potentially paying for it. This way you won't have to pay for two different applications if one of them doesn't work for you.
⚓ Data Location: Some devices have SD card slots. Others only have internal memory. Not all cell phone data recovery software has the capability to scan the internal memory of a device. This is something that you have to consider when choosing the software that you want to use.
📱 Unrooted Device Support: In order for phone recovery software to get full access to your Android device, it will need to be rooted. However, there are many apps that allow you to get access to some of the files on your device. If you don't want to go through the rooting process, then you will need to find software that supports unrooted devices.
🗂️ Storage Location of Recovered Data: When you're recovering data from your cell phone, it's best to store recovered data on an external storage device. This means that if your phone doesn't have an external SD card, then you should probably recover data from it by attaching it to your computer and saving your recovered data there. This ensures that you don't actually overwrite any data that you may want to recover. When you're recovering data, you also need to make sure that you have enough storage space to accommodate the files that you will be recovering.
🚅 Speed of Data Recovery Software: If you want to quickly run a scan and recover files in a short amount of time, then you should ensure that the application you're thinking about downloading has an option for a quick scan. However, if you want to increase your chances of finding as many recoverable files as possible, you will need to conduct a more thorough scan.
✨ Software ease of use (Are you a technical person?): The more complex a software is, the less user-friendly it usually is. While more complex software is usually more powerful, you have to consider your technical level. If you choose software that is too difficult to use, this could affect your ability to effectively use the software and you may not be able to recover any files.
Top 7 Best Cell Phone Data Recovery Software
After taking the factors above into consideration, we have come up with the list below. We also thoroughly tested each app to ensure that they met our expectations and that we have a positive experience while using them.
All of the apps in this list will do a solid job and cover the basics of data recovery. However, the top apps usually have more features. This does not mean that any of the apps on this list are bad. The app that you choose will largely depend on your actual needs.
❗️
It's best to stop using your phone if you need to recover data from it. Continuing to use your phone will result in the data you're trying to recover being overwritten.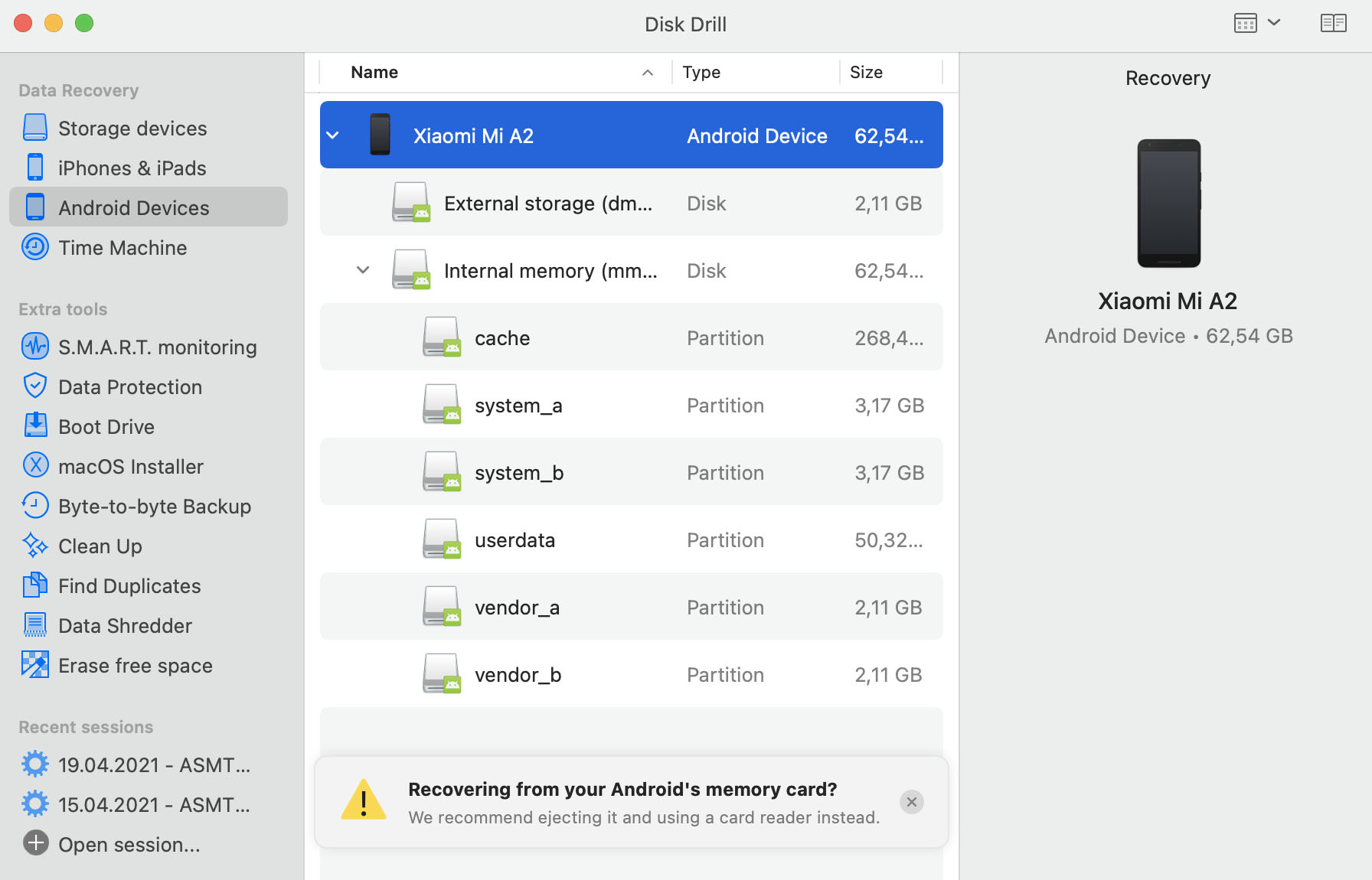 Disk Drill is straightforward to use and lets users start recovering their data with just a few clicks. This intuitive design makes it an appealing option for those trying to recover data from their cell phones.
Ease of use should not be taken for granted. While this is true, Disk Drill also doesn't neglect functionality. It is powerful and has a deep scan feature that scours storage devices, maximizing the chances of file recovery.
✅
Pros:
Easy to use, intuitive interface
Both quick and deep scans available
File preview available
Most file types can be recovered
❗️
Cons:
Only the macOS version of Disk Drill is capable of scanning cell phones.
User Experience
Disk Drill has a very clean interface that is easy to navigate. It offers quick scans which are convenient, especially if you're sure that you stopped using your device immediately after data loss.
Deeper scans increase the likelihood of you finding files that you may want to recover. This type of scan might be necessary if you did accidentally continue to use your cell phone after data loss.
While the free version offers many of the features of the paid version, you are only able to recover up to 500MB of data. In addition, only the macOS version of Disk Drill is capable of scanning cell phones.
If you're using a Windows machine, this won't be a problem if you're scanning an Android device that makes use of the UMS protocol. You will however have to use a macOS computer if you want to scan an iPhone or an Android device that uses the MTP protocol.
A Disk Drill license is priced at $89. However, if you want a lifetime license, the price is $118.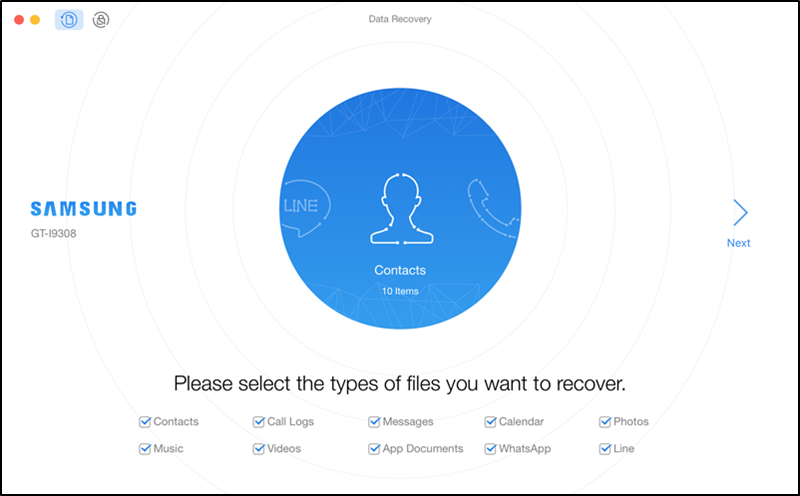 iMobie Phone Rescue is elegantly designed and is easy to use. While you will need to root your device for Phone Rescue to find all of the deleted files on your phone, it can still do a lot. It can find deleted files such as Whatsapp videos without you rooting your device.
✅
Pros:
Can recover from iTunes and iCloud
Supports most file types
Recovers Whatsapp files without rooting
Great customer service
❗️
Cons:
Free version only allows for file previewing
User Experience
Even without rooting on Android, PhoneRescue can retrieve deleted Whatsapp data. The interface is well laid out and has an elegant, modern feel to it. The recovery process can sometimes be lengthy, but the recovery results are well laid out and this application usually does a good job.
One disappointing thing to note about PhoneRescue, however, is that it doesn't let you actually recover files with the free version. You're only able to preview files. You have to pay for a license if you want to actually recover files. The 1-year license goes for $69.99 while the Lifetime license goes for $99.99.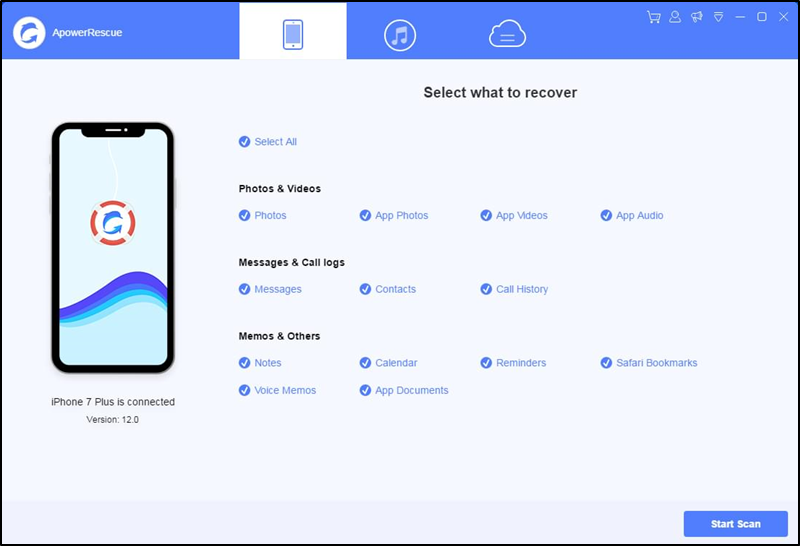 ✅
Pros:
Simple recovery process
Quick scan and deep scan available
Can Recover data lost due to ROM flashing
❗️
Cons:
iCloud data recovery not worth it
User Experience
Airmore has a very clean interface and is a tool that can be used by anyone due to its simplicity. While that is the case, it's a powerful tool that can recover files that were lost after things such as the flashing of a ROM. It is available for both Windows and macOS and best of all it's free of cost.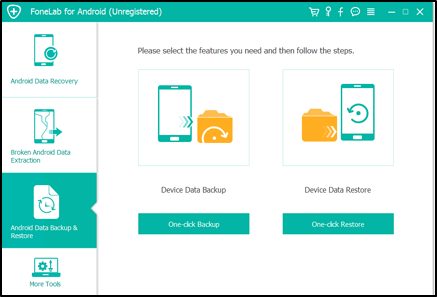 Fonelab offers a no-frills user interface that is simple to use. It can recover data from Android phones and iPhones as well as SIM cards.
✅
Pros:
Recovery of data from SIM cards possible
Capable of restoring files from Whatsapp
Detailed preview information shown for recoverable files
Recovers most file types
❗️
Cons:
Recoverable files not categorized properly sometimes
User Experience
Fonelab's interface is easy to navigate and makes the process of cell phone data recovery a breeze. It can even recover data from SIM cards. However, sometimes recoverable files may be categorized incorrectly with this software.
Fonelab offers a free trial for this week, but the asking price is $69.95 for a subscription.
FonePaw is straightforward to use. With a few clicks, you can have your data recovered. This software also lets you recover data from SIM cards which is a nice touch.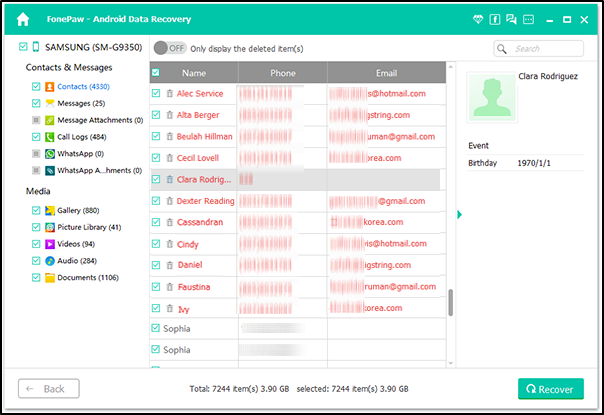 ✅
Pros:
Can recover from SIM card
Supports several file types
Easy to navigate
❗️
Cons:
Runs slowly for some users
Data only recoverable after purchasing a license
User Experience
FonePaw covers the data recovery basics well. However, it isn't as polished as some of the options above. It can take a long time to scan for some users.
In addition, while you can see a preview of recoverable files with the trial version, you need to actually purchase the software before being able to recover anything. With that being said, it is one of the few apps that is capable of recovering data from SIM cards which is a nice touch.
The price of the iPhone FonePaw paid subscription is $69.95 for the macOS version and $59.95 for the Windows version. The Android version goes for $49.95 for both the macOS and Windows versions.
Tenorshare supports many different file types and it can even recover Whatsapp data on Android phones without them being rooted.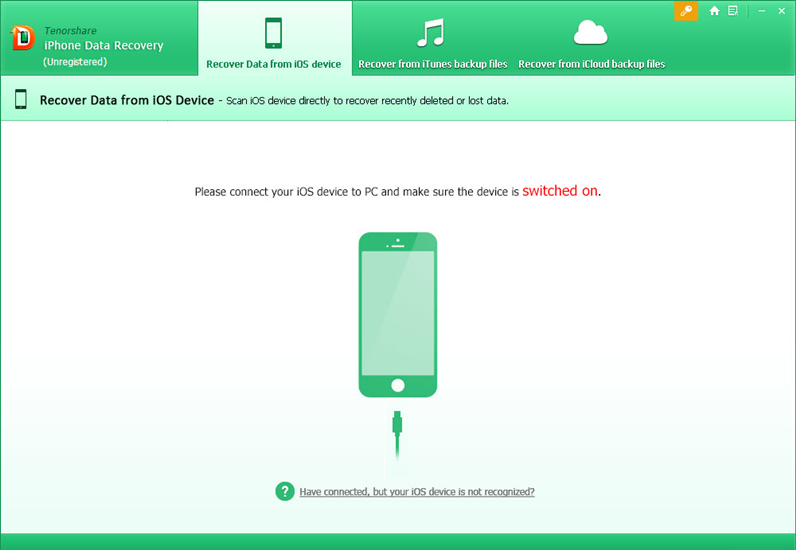 ✅
Pros:
Supports many file types
Scans quickly
Recovers Whatsapp data
❗️
Cons:
Expensive
Doesn't find as many files as other available options
User Experience
Tenorshare generally works well. It even has powerful functionality such as the ability to recover data from Whatsapp without rooting your Android device. However, sometimes it can be hit or miss and sometimes doesn't find as much recoverable data as other software.
Note that there are two separate versions of Tenorshare Ultdata for Android and for iPhone. A one year license for the Android version costs $119 while a one year license for the iPhone version costs $149.00.
Dr. Fone is a reliable application that covers the basics of cell phone data recovery. It doesn't offer any special features but it generally works well.
✅
Pros:
Works reliably
Large preview thumbnails make it easy to identify data
❗️
Cons:
Must register and pay to recover files
User Experience
Dr. Fone is a solid option that is good at what it does. A really nice touch is the large preview thumbnails that are displayed when your search results are being displayed.
However, while you can find files to recover with the trial version, you must register and pay before you're actually able to recover anything.
The iOS version of Dr. Fone goes for $59.95/year or $69.95 for a lifetime license for the iOS version. The Android version costs $39.95 per year or $49.95 for a lifetime license.
---
How Data Recovery Works on Android
Mobile data recovery will vary depending on the device that you're using. It can even differ depending on the age of your Android phone. Here, we'll cover how data recovery works for the different smartphones out there.
📞 Older Android Devices (USB Mass Storage Protocol)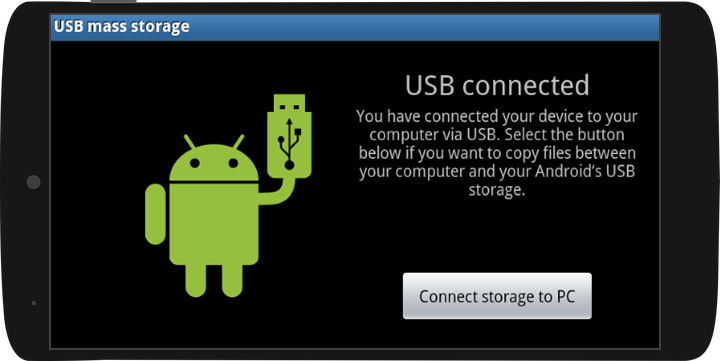 Older Android devices make use of the USB mass storage (UMS) protocol to facilitate connection to computers. With this protocol, computers can view the file system of the Android device.
This has the advantage of making data recovery easy. With devices that support the UMS protocol, users can simply connect their device to their computer and run a scan with any data recovery software without any hassle.
This is because computers simply view Android devices that support UMS like other USB storage devices such as flash drives and SD cards. Things aren't as straightforward with newer devices, which use a protocol known as the media transfer protocol (MTP).
📱 Newer Android Devices (Media Transfer Protocol)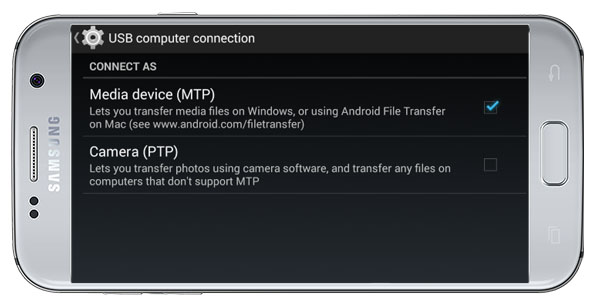 👀
All new Android devices use the MTP protocol for connecting to computers.
The MTP protocol was introduced to streamline the process of how files are transferred with Windows. With UMS, since computers have direct access to the file system, 2 separate partitions are usually present; one for data and one for apps.
This was necessary since the partition that computers access isn't available to the phone while it's connected to the computer. This means that sometimes the partition on devices that use UMS which stores apps may be too small for some users. On the other hand, the data partition may also be too small.
With MTP, computers don't have direct access to the phone's file system. Instead, phones that use this protocol provide your computer with a list of files and directories that are available on the computer:
When you want to download a file onto your computer, your computer essentially asks for permission from your phone to download the file first. On the other hand, if you wish to send a file to your phone, it is uploaded to your phone and then your device saves it to the right location.
If you want to delete a file, the computer essentially sends a delete request. Your phone then processes this and your phone carries out the requested action.
It's trickier to recover data from phones that use MTP since your computer doesn't have direct access to the file system. In order to allow mobile data recovery software access to your phone, you will have to root your device. This will allow data recovery software to access the file system on your device so that it can scan for recoverable files.
🤖 Android Data Recovery Apps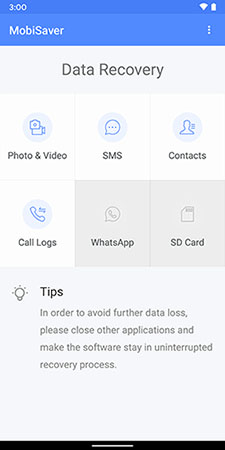 👀
Without rooting your Android device, you'll only be able to recover a limited amount of files with these apps. You will need full root access for deeper scans.
There are Android apps available that let users scan their Android devices for recoverable files. Apps like Easeus MobiSaver can help users to scan their devices for files that may want to recover.
How Data Recovery Works on Iphones
Data recovery is a little bit different on iPhones. However, there are still several opportunities to recover data as we will see. It's just that iOS uses a proprietary syncing protocol. This is what really makes the recovery process different from on Android.
🍏 iOS Proprietary Syncing Protocol
👀
Some apps can scan iTunes backups and iCloud accounts in order to recover data.
iPhones use a proprietary syncing protocol that allows for the transfer of photos and syncing. With the right software you will be able to recover several different file types. These include:
Camera Roll Photos
Videos
Contacts
Calendar
Voice Recordings
Text notes
Bookmarks
Messages
Call History
App Data
🍎 Methods of iPhone Data Recovery
👀
Unfortunately, there is no way to scan your iPhone for recoverable files directly from the device itself.
Below, we will discuss the existing methods of iPhone Data Recovery. These are pretty much the same across the board regardless of the age of your device. The methods include:
Connection to a Windows/macOS PC: iPhone data recovery can be done by either direct connection to a computer running Windows or macOS and scanning with software that supports recovery from iPhones such as Disk Drill for macOS.
Scanning iTunes Backups: Some phone recovery software is capable of scanning iTunes backups for recoverable files.
Scanning iCloud: Files that are deleted in iCloud go into a Recently Deleted folder. They are kept there for 30 days. Scanning this folder can help users to recover files.
Data Recovery on Older Phones (Symbian OS/Windows Mobile etc.)
Phone data recovery software can't usually recover data from older devices such as those that run on Symbian OS or Windows Mobile etc. The applications currently available on the market aren't capable of seeing the files on these devices.
However, you may be able to seek out the services of a professional data recovery service. Such a company may be able to help you recover your data.
FAQs
---
Final Thoughts
There are many data recovery apps out there that can help you to recover data from your mobile phone. Here we have reviewed 7 of the best of them. They will all do a good job.
✅
However, depending on your needs, one may work better for you. For example, while Airmore Data Recovery is free, it doesn't allow for deeper scans while Disk Drill does.
The amount of data that you can recover also depends on the phone you're using:
With Android phones, if your phone uses the UMS protocol, then you will be able to have direct access to the file system and you will be able to recover more files.
However, if your Android phone uses the MTP protocol, then you won't be able to recover as much data since data recovery apps won't have full access to the file system unless you root your phone.
While you will be able to recover some data from iPhones, there are some limitations to the data that you can recover as well. You can however still recover lots of different types of files like your call history and camera roll photos on iPhone, however.
Consider the type of phone that you have and see how these 7 apps can help your specific case to see which one will work best for you. Doing this will increase the chances of you recovering your precious files.
Andrey Vasilyev is an Editorial Advisor for Handy Recovery. Andrey is a software engineer expert with extensive expertise in data recovery, computer forensics, and data litigation. Andrey brings over 12 years of experience in software development, database administration, and hardware repair to the team.