In this article, we will look at the best third-party SD card recovery software for Mac. The software solutions we discuss enable you to retrieve files that have been lost or deleted from an SD card by human error, malware, accidental formatting, or any other reason.
Jump to:
Accidentally deleted some files on your SD card and need to get them back?
There are several reasons for data loss, such as accidental deletion, formatting, device malfunction, or malware attack. While there are a ton of data recovery tools for macOS out there, we picked out the top 7 best SD card recovery tools for Mac.
✅
Before moving on to our complete ranking, here is a quick recap:
1

Disk Drill
Platform:

macOS
Distributed as:

Freemium
2

3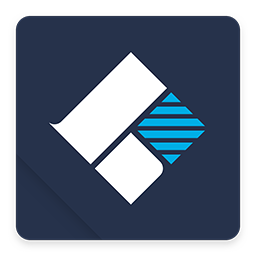 Recoverit
Platform:

macOS
Distributed as:

Freemium
So, get your SD card and your Mac ready. We've got some fixing to do.
What Makes SD Card Recovery Software Good Enough To Be On This List?
When coming up with this ranking for the best SD card recovery software for Mac, we considered the following criteria:
| | |
| --- | --- |
| Criteria | Description |
| 📈 Popularity | When it comes to software, popularity can be a good indicator of reliability. We will review and then list popular SD recovery software for Macs that actually work best. |
| 😍 User reviews | We wanted to include all highly-rated solutions. Besides, a first-hand experience or a user review is one of the most valuable elements when it comes to reviewing any type of software. |
| 🧳 Features | We love software packed with exciting features. Quick scan, deep scan, live previewing while scanning—we'll be keeping note of features that set some recovery tools apart from others. |
| 💰 Price | We favor software that has a reasonable price tag and delivers a set of features and recovery results that match it. |
Top 7 Best SD Card Recovery Software for Mac
Here is an overview of the seven best SD card recovery software for Mac that our team recommends. Hopefully, you can find a program from this list that will help you recover your files safely and soundly.
Disk Drill has always been on top of our rankings, and for many good reasons. It is a comprehensive data recovery tool that can deliver professional results, yet it's still very easy to use.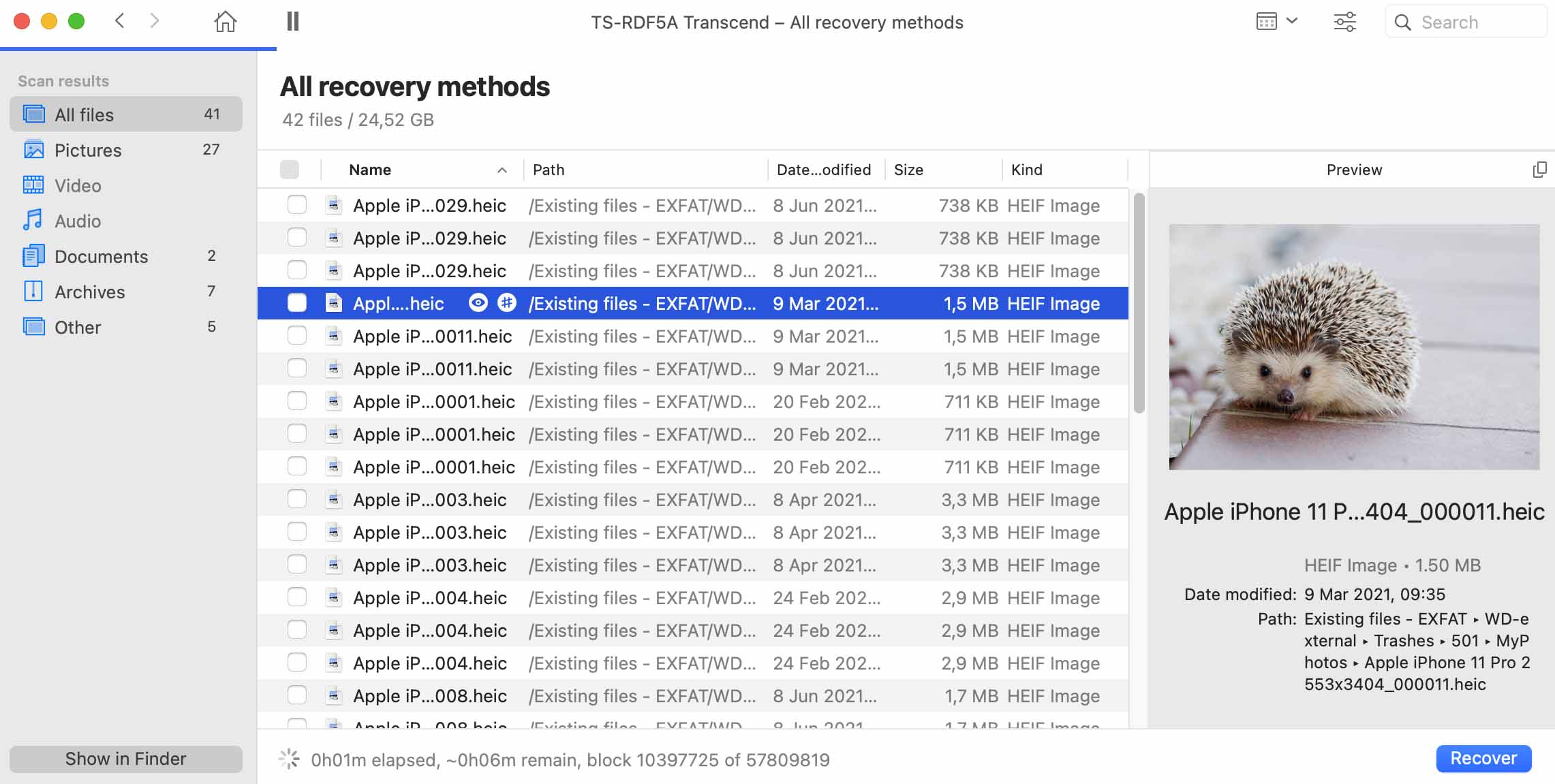 ✅
Pros:
Free trial available
Deep scan results with multiple scanning options
Recovers all deleted files
Easy-to-use modern interface
Straightforward recovery steps
Preview files
Supports over 400 file types
❗️
Cons:
Limited support for Linux filesystems
No phone support
User Experience
Disk Drill's data recovery process is very simple, which makes it easy for anyone to recover lost and deleted data. Just connect the SD card to your Mac and with just a few clicks, you can select that disk for recovery and start scanning for files. When the scan is complete, you can preview the files that you want to recover.
Disk Drill also gets a plus point for its capability to recover files even on a corrupted or reformatted SD Card. Aside from Disk Drill's superior data recovery, this software has a lot of added features to protect your files such as byte-to-byte backup and data protection. You can also do a disk cleanup to help prevent malware.
Price: It has a free trial version. $89 for the Pro version, and $499 for an Enterprise license.
OS version: Disk Drill supports all versions of the Mac operating system from macOS X 10.5 to macOS Ventura.
One of the top-rated tools for SD card recovery is Stellar Data Recovery. The program deserves recognition because it has a lot of different products for recovering data and corrupted files on all sorts of SD card formats. To top it off, it's very easy to use.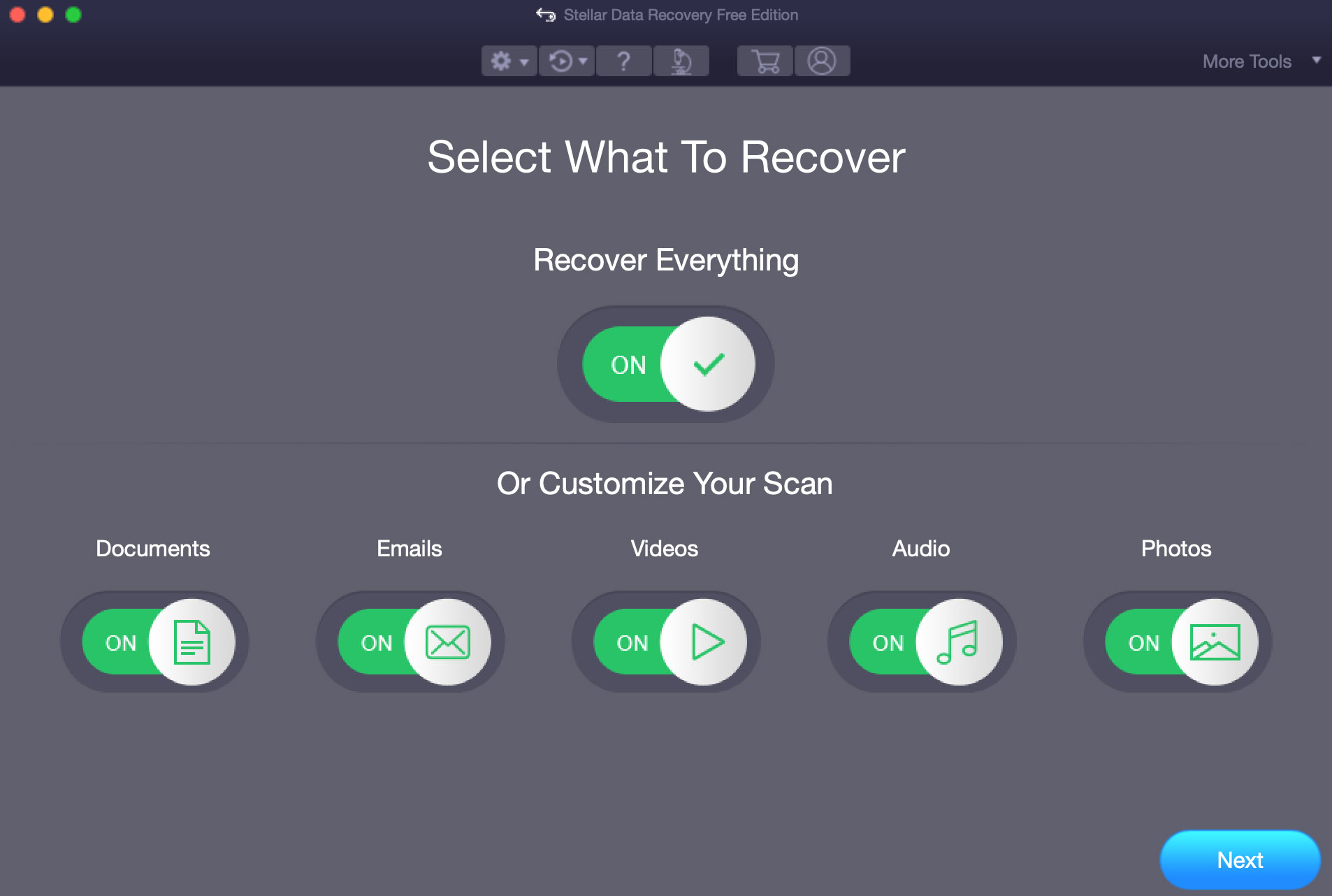 ✅
Pros:
Quick and deep scan modes
Step-by-step recovery process
Filter scan settings
Can repair corrupted video and image files
❗️
Cons:
A yearly license is required
Download Stellar Data Recovery
User Experience
Stellar Data Recovery has a no-frill, 3-step data recovery and its users love it. With this software, all you have to do is filter what type of data you're looking for, pick the SD card you want to scan, and select the files you want to recover. By filtering the types of files you're looking for, the scan is much quicker and more efficient.
They also have a detailed user manual and an installation guide to help first-timers. It is recommended that you upgrade to the paid versions if you want to enjoy other features such as recovering files from lost partitions, repairing corrupted or distorted files, and extracting thumbnails of images.
Price: Stellar Data Recovery has four plans to choose from. The free version lets you download up to 1GB worth of files. The professional Plan is $59.99, Premium Plan is $79.99, and Technician Plan is $149.
OS Version: Stellar Data Recovery supports macOS Catalina, macOS Mojave, High Sierra 10.13, 10.12, 10.11, 10.10, 10.9, 10.8 & 10.7
This software has been around since 2003 and has gained the loyalty of thousands of data recovery users since then. With a recovery rate of 96 percent, this software has stood the test of time and delivered flawlessly.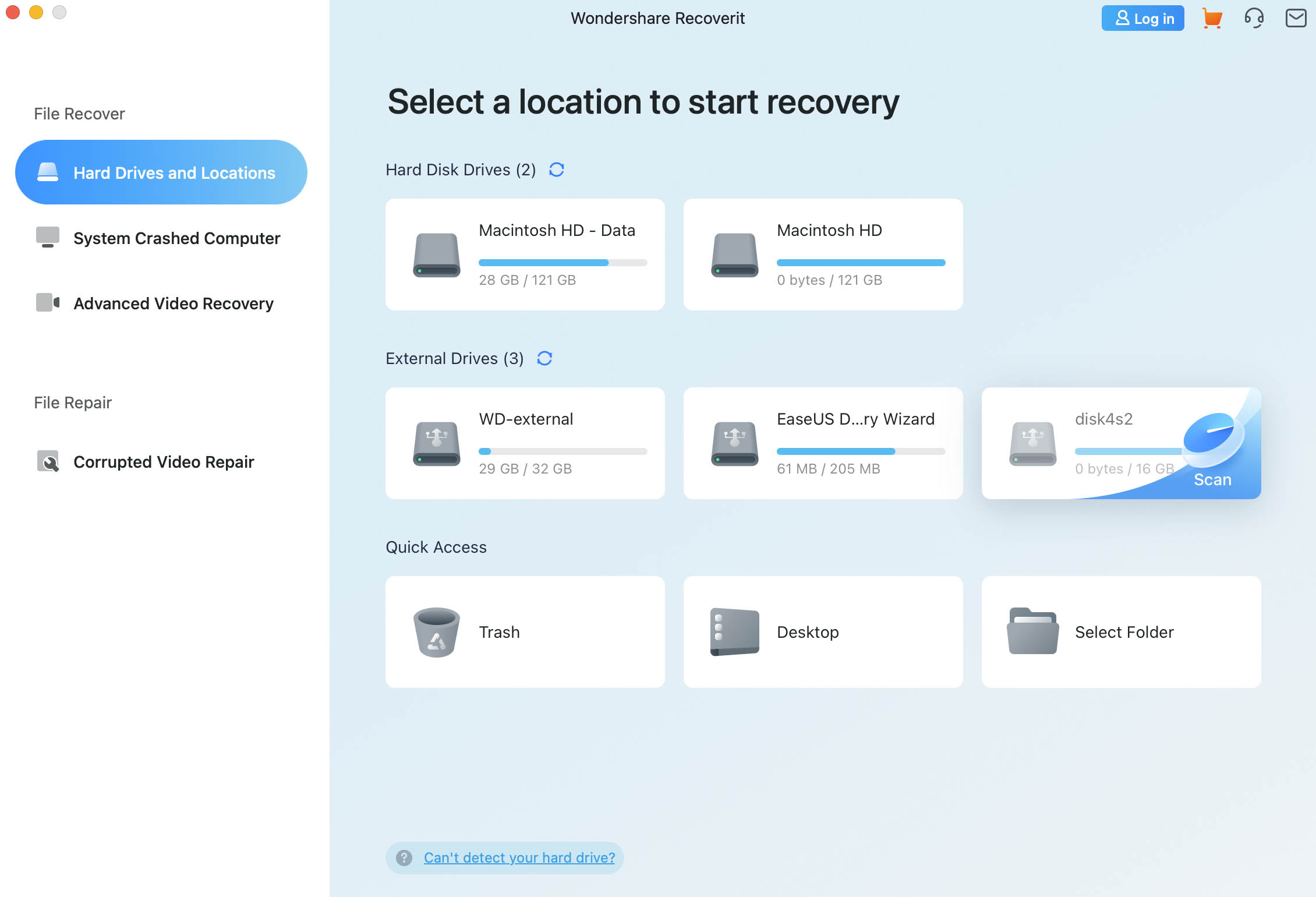 ✅
Pros:
Clear interface
Advanced scan algorithms
Export/import sessions
Money-back guarantee
Supports 1000+ file formats
❗️
Cons:
The more affordable versions miss the more important features
User Experience
It is important to note that the free version of Recoverit by Wondershare has a cap of 100MB for file recovery. So if you are looking to recover a big amount of files from your SD card, then upgrade to the paid license. Don't worry, if you aren't satisfied with the features and services, the software has a seven-day money-back guarantee.
Recoverit by Wondershare has a three-step recovery process, all on a clean interface. The average score on TrustScore is 4.3, and users are praising the software for its recovery speed and customer support. Most users also mentioned how it's very easy to use, like literally plug and play.
This is the only software that supports 1000+ file formats and is compatible with dozens of SD card formats. It also offers free technical support assistance.
Price: A one-month license for two Macs is $109.99. One-year license for $139.99 and $169.99 for a lifetime license.
OS version: Recoverit by Wondershare is compatible with macOS 10.10-11.
EaseUS Data Recovery Wizard has been one of the best SD card recovery software for years. The program is arguably the easiest to use on this list and their free plan is more than generous.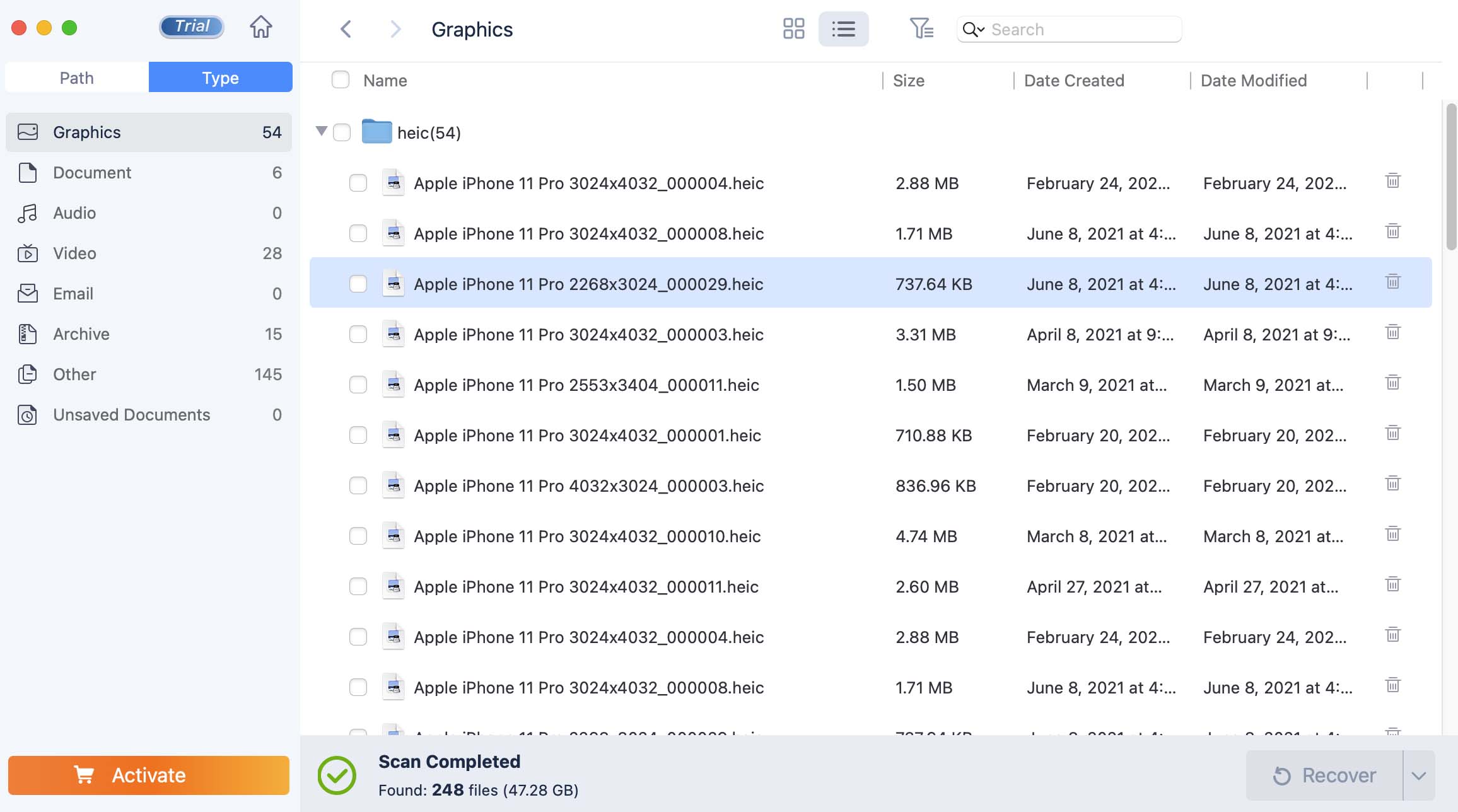 ✅
Pros:
Modern and user-friendly interface
Two scanning modes
Filter scan results by file type
Time Machine support
❗️
Cons:
The important additional features are only available on the paid version
Can't preview some file formats
Download EaseUS Data Recovery Wizard
User Experience
EaseUS Data Recovery Wizard, as its name suggests, puts ease of use first. This makes the program applicable to all users, even ones who aren't tech-savvy. This software has two scanning modes. A quick scan and a deep scan. The deep scan will take some time, but you can recover your files even while the scan is underway.
The free version is pretty generous and you can recover up to 2GB worth of files, which is more than most free plans from other tools. If you want to upgrade your plan, you'll unlock more features as well, like remote one-on-one assistance with a professional. Although if you want professional, one-on-one remote assistance, you have to upgrade your plan.
Price: Available for a free trial. The paid version is priced at $89.95.
OS version: EaseUS Data Recovery Wizard supports macOS 10.15, 10.14, 10.13, 10.12, Mac OS X 10.11, 10.10, 10.9, and Big Sur.
R-Studio was developed for professionals so an average user may find the interface quite intimidating. But if you are tech-savvy and like learning new things, R-Studio is definitely worth a try because of how extensive their recovery is.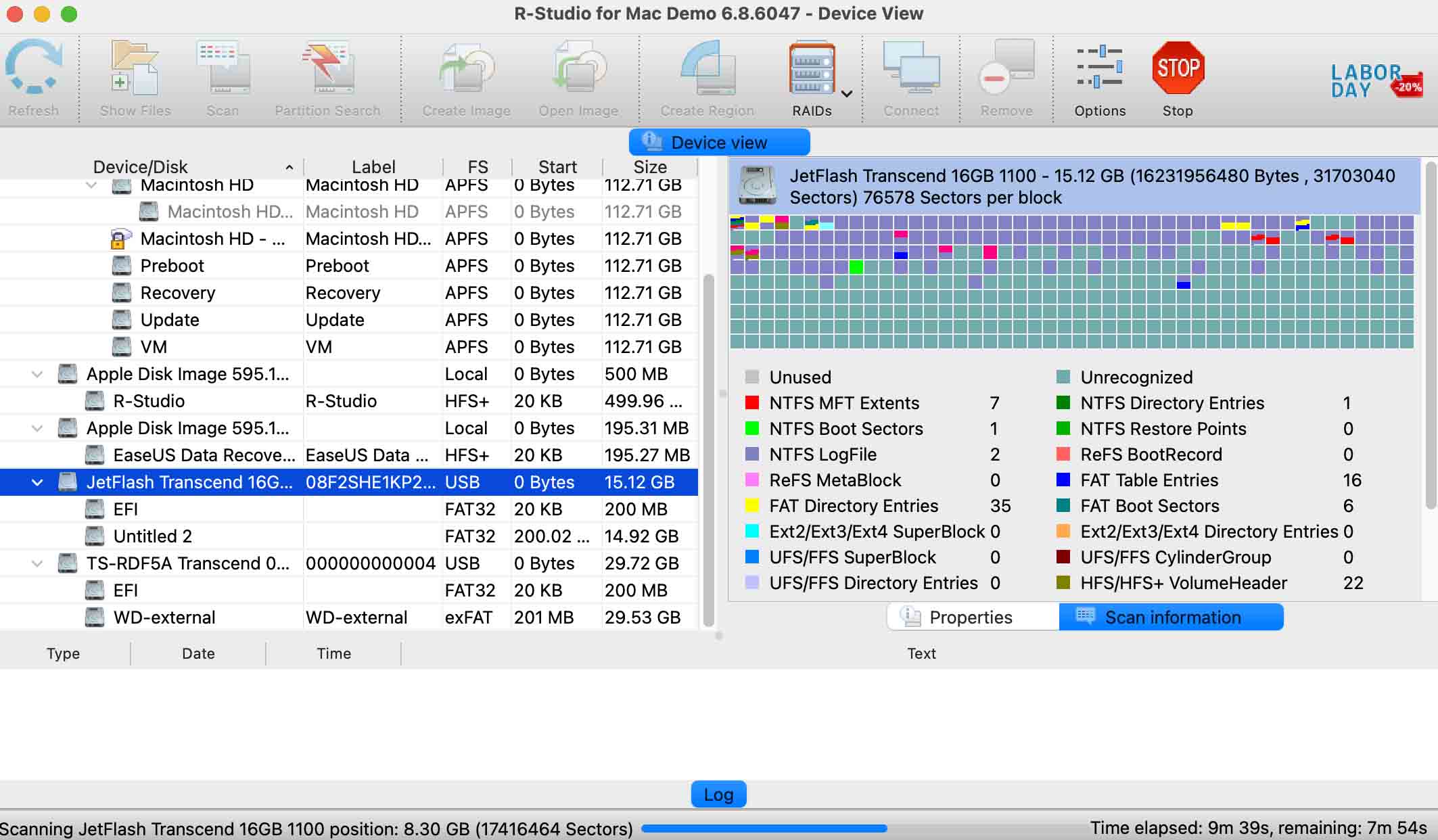 ✅
Pros:
Functional demo mode
Detailed recovery mode
Advanced features
Recover any file type from any disk-based storage device
Built-in HEX editor
Recovery over network
❗️
Cons:
Might be complicated for beginner use
Less straightforward data recovery process
Recovering large files will require fees
User Experience 
Professionals love R-Studio because of its advanced data recovery features. R-Studio includes network recovery and advanced capabilities that repair damaged RAID implementations. It also supports NTFS, NTFS5, ReFS, FAT12/16/32, exFAT, HFS/HFS+ and APFS (Macintosh), Little and Big Endian variants of UFS1/UFS2 (FreeBSD/OpenBSD/NetBSD/Solaris) and Ext2/Ext3/Ext4 FS (Linux) partitions and all storage devices.
So, not only is it compatible with almost all SD card formats out there, but you can also use the tool for other storage drives.
R-Studio also lets you preview your files before recovering them if you are not yet ready to fully commit to this software. And if you find the interface a bit confusing, R-Studio has a detailed online manual and help.
Price: The free plan cannot recover files larger than 265kb. The paid version is $79.99 for individual use, and the technician version is priced at $899.99
OS version: R-Studio supports all versions of the Mac operating system from macOS X 10.5 to macOS Big Sur.
Remo Recover may be the least popular among the batch, but it does not mean it is inferior to other Mac SD card recovery software.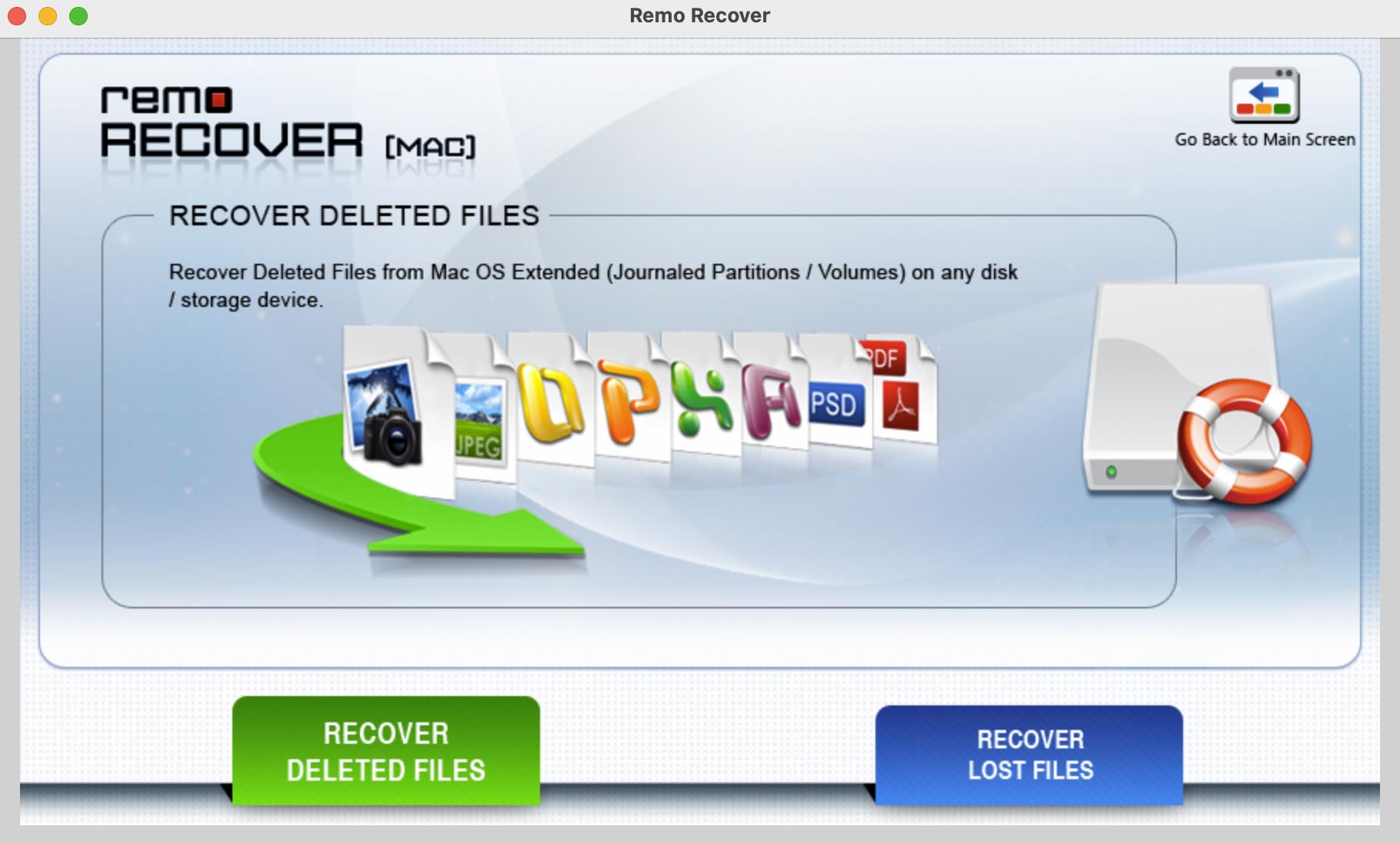 ✅
Pros:
Functional demo mode
User-friendly interface
Deep scan
Can recover over 300 file formats
❗️
Cons:
No impressive add-on features
Not widely used
User Experience
There are several errors that an SD card can have, like 'SD card not showing files' and 'unrecognized memory card'. Remo Recover can help you recover your files even if your SD card has these errors.
It can also recover data from various memory card brands, external hard drives, and other storage media. The interface is familiar, so you will not get lost in navigating the software. In addition to that, this memory card software for Mac works with a read-only mode interface to safely recover any format without any alteration.
Price: As of this writing, Remo Recover plans are on sale. The basic edition is at $59.97, while the is at $94.97.
OS version: Remo Recovers supports all macOS X versions and later.
PhotoRec specializes in SD card recovery software and it is open-source. You can get unlimited file recovery but you have to be familiar with the command-line user interface.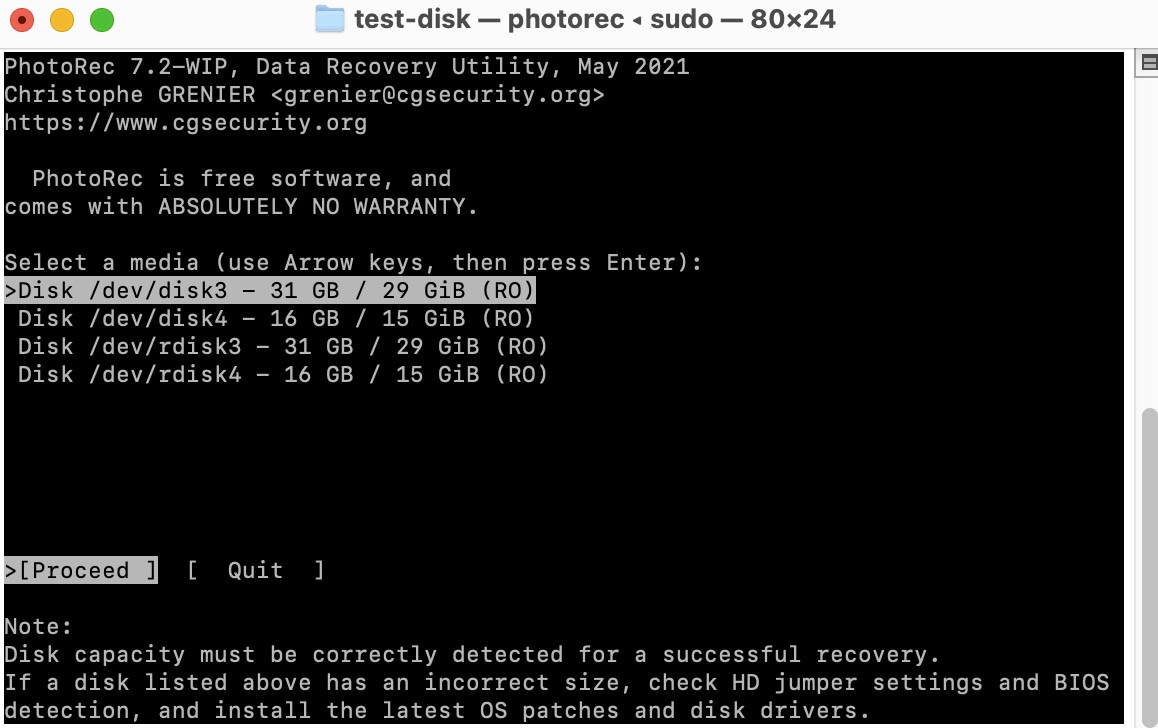 ✅
Pros:
Free and unlimited file recovery
Regular updates
Supports more than 480 file types
No need to pay if data is not found
❗️
Cons:
No preview option is available
No graphical user interface
User Experience
Despite its name, Photorec doesn't just recover photos. In fact, it is capable of recovering 400+ file types including videos, archives, documents, and other media formats. Since it's only focused on data recovery, you can trust that Photorec is up to the task. Also, the recovery process of PhotoRec is pretty stable.
As we mentioned, the only downside of this software is really the interface. But it's free forever with unlimited file data recovery, so who are we to complain? If you don't have the cash to shell out nearly a hundred bucks on subscription fees, YouTube tutorials and PhotoRec are your next best friend.
Price: Free. If you are not willing to pay for SD card recovery software, this will be your bet.
OS version: PhotoRec supports macOS X versions.
FAQs
Yes, it's possible to recover deleted data from a memory card using data recovery software as long as the following conditions are met: the data hasn't been overwritten, the memory card isn't physically damaged, and the data recovery software tool supports the data file format.
For us, Disk Drill will be our top choice. But for free data recovery of up to 2GB, we recommend EaseUs Data Recovery Wizard. If you have the time and patience to learn a bit of code, PhotoRec is a free alternative with unlimited file data recovery.
Overall Thoughts
While we listed down the top seven best SC card recovery software for Mac, the decision will still be up to you. This will depend on how extensive the data recovery you need and the price you are willing to pay.
Overall, Disk Drill will still be our number-one choice because of the following reasons:
Deep scanning
Easy recovery
Extra features to protect your SD like S.M.A.R.T monitoring and byte-to-byte backup
Fair pricing
But if you are not willing to spend for data recovery, most of the software on our list has a free trial that you can take advantage of.
Mako is a freelance writer with a passion for all things Mac. Whether you're talking about the latest macOS updates, figuring out the best Mac programs, or need to know something from the Mac ecosystem—he's your guy. He's been writing about Macs for more than 4 years but has been using one for nearly a decade.
Andrey Vasilyev is an Editorial Advisor for Handy Recovery. Andrey is a software engineer expert with extensive expertise in data recovery, computer forensics, and data litigation. Andrey brings over 12 years of experience in software development, database administration, and hardware repair to the team.