Are you unable to access important data because Windows says that your USB needs to be formatted? Don't worry! We have a solution, and it's not formatting. In fact, formatting is the last thing you want to do because it can negatively affect your data recovery chances. Keep reading to find out what it is.
Why Does My USB Drive Need to Be Formatted?
When the Windows operating system displays the error message below, it does so because it can't properly read/write data from/to the USB flash drive. This problem with your USB asking to format before use can be quite troublesome, particularly if you've got important data stored on the drive.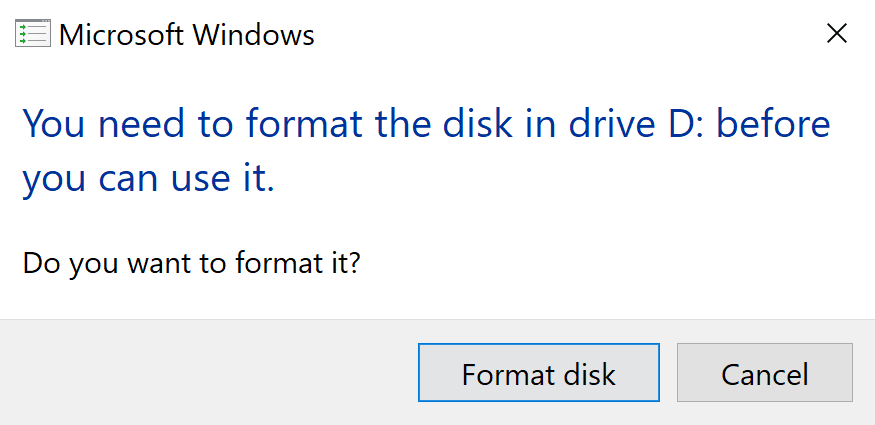 But why does the error message appear in the first place? Well, there are several common reasons. Click here to take a closer look at them.
| | | |
| --- | --- | --- |
| Data loss reason | Description | Solution |
| 🤷‍♂️ Unsupported file system | Windows officially supports only the FAT32, NTFS, and exFAT file systems, and it can't read/write data from/to a decide containing a different file system, such as ext3/4 or APFS. | There are data recovery tools like Disk Drill for Windows (see the next section) that can recover data from more file systems than what's supported by Windows. |
| 🙅‍♂️ No file system | A pendrive asking for formatting could be completely missing a file system. The absence of a file system can make any pendrive about as useful as a notebook without any pages. A storage device with no file system (only unallocated space) is typically referred to as RAW, and it needs a format before use. | A RAW drive may just be missing a partition table. In such a case, a tool like TestDisk (more about it later in this article) can be used to recover it. |
| 🗂️ Corrupted file system | A file system is basically a way to organize data on a storage device. This system can become corrupted due to read/write errors, power failure, improper ejection, or malware activity. | Sometimes, logical corruption can be repaired—but not always. It all depends on the extent of the corruption and the file system itself because some file systems are easier to repair than others. |
| 🧱 Bad blocks | All flash-based storage devices contain storage blocks, which are further subdivided into pages. Each block can endure only a certain number of write cycles before it goes bad. While the presence of a few bad blocks is usually no problem at all, too many bad blocks can make a USB flash drive unreadable even after reformatting. | Windows users can attempt to fix USB flash drives with too many bad blocks using the CHKDSK tool from Microsoft. It's also possible to use data recovery software to recover data from healthy blocks. |
| 🔨 Physical damage | Minor physical damage can leave a USB flash drive working but in an unreliable state. | If the damage can be easily repaired (bending a connector back is a good example), then you're in luck. If it can't, then one last data recovery attempt is the best course of action. |
| 🏭 Manufacturing defects | Modern pendrives are manufactured in huge quantities, so it shouldn't come as a surprise that some rare units contain manufacturing defects, including incorrect assembly and poor soldering. | Minor manufacturing defects, such as an improper connector alignment, can sometimes be repaired at home, but serious defects often render USB flash drives useless, and there's no point in trying to repair them given their cost. |
Regardless of why Windows displays the USB needs to be formatted error, you may be able to recover or unformat lost data from it using freely available tools.
How to Recover Data from a USB Stick That Needs to Be Formatted
👀
Just because your USB says it needs to be formatted doesn't mean that it's impossible to extract data from it. You just need to equip yourself with a capable data recovery tool like Disk Drill for Windows (full review here).
Disk Drill for Windows is one of the best data recovery tools for Windows, and it runs on Windows 7, Windows 8/8.1, Windows 10, and Windows 11. The tool boasts powerful algorithms that can recognize and recover hundreds of file formats from all kinds of storage devices, even a flash drive that needs to be formatted.
Even though the Windows operating system supports only the FAT32, NTFS, and exFAT file systems, Disk Drill for Windows can also recover the HFS/HFS+, APFS, ReFS, and ext2/ext3/ext4 file systems. It also works with RAW devices that have no file system whatsoever.
Here's how to recover data from a USB drive that's asking to be formatted using Disk Drill for Windows:
Click the Free Download button to download the free version of Disk Drill for Windows (you can use it to recover up to 500 MB of data without paying).
Open the downloaded installer and follow the instructions.
Launch Disk Drill and select the USB drive that needs to be formatted.
Click the Search for lost data button to open the USB without formatting and start scanning.
Wait for scanning to finish and look for your lost data.
Select every file you want to recover.
Click the Recover.
Specify a suitable recovery directory.
Confirm. 
You can now open File Explorer and navigate to the recovery directory to verify that your files have been successfully recovered.
How to Fix a USB Drive that Says It Needs to Be Formatted
To fix the USB needs to be formatted error caused by some of the problems described earlier in this article (software fixes won't help you fix physical damage and manufacturing defects), you can use TestDisk, an open-source recovery tool capable of repairing corrupted file systems and recovering lost partitions.
Follow these steps to fix without formatting a USB drive whose content can't be accessed:
Download the Windows version of TestDisk.
Extract the downloaded file archive and navigate to the extracted TestDisk folder.
Open the testdisk_win exe file.
Press Enter to create a new log file.
Select your USB flash drive using the arrow keys and then press Enter to proceed.
Select the appropriate partition table type (TestDisk will attempt to detect it automatically) and press Enter to proceed.
Press Enter again to search for lost partitions.
Select Quick Search and wait for TestDisk to finish analyzing your USB flash drive.
Choose the Write option if all partitions have been found. Choose the Deeper Search option if you're still missing some partitions, and only then write the new partition structure.
⚠️
Be patient when using TestDisk to fix a USB drive that says it needs to be formatted because the entire process may take a while from start to finish depending on the size and speed of your drive, especially if you're fixing it to recover files from a corrupted drive.
FAQ
Conclusion
If your USB drive is asking to be formatted and preventing you from accessing your data, then you use the recovery and repair techniques described in this article to regain access to them. Once your data is safely recovered by the best USB recovery software and stored in another location, you can go ahead and give the drive what it's asking for.
David Morelo is a professional content writer in the technology niche who joined the Handy Recovery team in 2019 and has since made an invaluable contribution to the quantity and quality of our materials. David's main principle is not to start working on a new article until he has studied the subject backwards and forwards.
Andrey Vasilyev is an Editorial Advisor for Handy Recovery. Andrey is a software engineer expert with extensive expertise in data recovery, computer forensics, and data litigation. Andrey brings over 12 years of experience in software development, database administration, and hardware repair to the team.