Unallocated space on a USB is useless because you can't store any data. Additionally, you can't access this unallocated space, so data recovery becomes quite challenging.
Incorrect formatting, unexpected system failures and virus attacks are common culprits of USB unallocated space. This article explores techniques to fix an unallocated flash drive and recover data.
How to Recover Data from Unallocated USB Drive
Using third-party USB data recovery tools is your best bet for recovering data from an unallocated pen drive.
There's a myriad of data recovery tools out there, and finding the right tool is analogous to hunting a needle in a haystack. Our expert team reviewed the best data recovery tools, and Disk Drill came out on top.
The free version from Disk Drill permits data recovery of up to 500 MB. As a result, you can get started with data recovery for free. Compatibility isn't an issue either as Disk Drill runs across various Windows versions: 7/10/11
This guide explores Disk Drill's byte-to-byte backup feature to recover data from an unallocated USB stick:
Download, install and launch Disk Drill.
Select Drive Backup from the left panel.
Now, select your removable disk and click Byte-to-Byte Backup.
Specify the destination to save the DMG backup file and click OK.
Now, click Done.
In the data recovery menu, click Attach Disk Image. Select the disk image of your USB drive.
By default, Disk Drill chooses the All Recovery Methods scanning option. We recommend going ahead with the default setting to improve the odds of data recovery. Alternatively, you could experiment with the Quick Scan or Deep Scan.
Now select Search for Lost Data. Disk Drill will scan your USB drive to discover recoverable files. After the scan completes, click Review Found Items.
Disk Drill also depicts recovery chances for every file. You can also preview recoverable files by hovering over them and clicking the eye icon to reveal the last modified date and file path.

🗨️

Filters help narrow your search effectively—type in the desired file type. I wanted to retrieve some of my deleted Taylor Swift songs. So, I searched for ".mp3" and got some hits.

Now, select your files for recovery and hit Recover.
Specify a destination for saving your recovered files and press OK. Note: We recommend choosing a different location to save your recovered files to prevent mishaps like data overwriting.
Click on Show recovered data in Explorer to navigate to your recovered files.
👀
Note: Here are our 2 cents on any data recovery scenario: Always stop using the affected device or drive, as this decreases the likelihood of successful data recovery.
The bottom line is that Disk Drill is an end-to-end data recovery tool that is your one-stop solution for many data recovery scenarios. The tool facilitates data recovery from broken USB drives, formatted USB disks, and corrupted flash drives.
🔗
Disk Drill promises many more exciting features, including data protection tools like the Recovery Vault. Check out our complete walkthrough and documentation of Disk Drill's various use cases.
How to Fix Unallocated USB Drive
Now, let's address the elephant in the room. How exactly do you fix a USB unallocated problem?
We have covered three techniques to fix an unallocated USB drive:
Method #1:

Fix Unallocated Space on USB Drive Using TestDisk

If you accidentally deleted a USB partition, the corresponding disk space would appear unallocated.

Here's a quick guide on fixing your unallocated USB drive using TestDisk:
Download TestDisk.
Extract the zip folder.
Launch TestDisk.
In the terminal window, select [CREATE] and hit Enter.
Select the appropriate connected storage device and hit Enter.
Now, you need to select a partition type table. Select Intel since you are on a Windows PC.
Select the Analyze option and press Enter.
Pick the Quick Search function and hit Enter. TestDisk will recover your deleted partition.
Select your partition and press P to reveal the partition files. Press Q to return to the partition list. After having selected your partition, press Enter.
Select the [Write] option and hit Enter; Confirm by entering Y. Note: If you didn't get any hits, try conducting a Deeper Search.
Reboot your computer to get back the lost USB partition – which essentially allows you to access the unallocated space.
Method #2:

Recreate Unallocated Space Using Disk Management

Disk Management is a Windows native tool allowing users to perform storage tasks like drive initialization, shrinking a volume, and changing a drive letter.

Follow these steps to reclaim your unallocated USB disk space:
Right-click on the Windows logo and select Disk Management.
Navigate to the unallocated volume; Right click > New Simple Volume.
On the installation wizard, click Next; Enter the new partition size, and hit Enter.
Select a drive letter to assign the new partition and click Next.
Configure the file system settings and click Next.
Click Finish.
Final Result
You can see that there is no unallocated space on the USB disk. Therefore, the entire disk space is now at your disposal.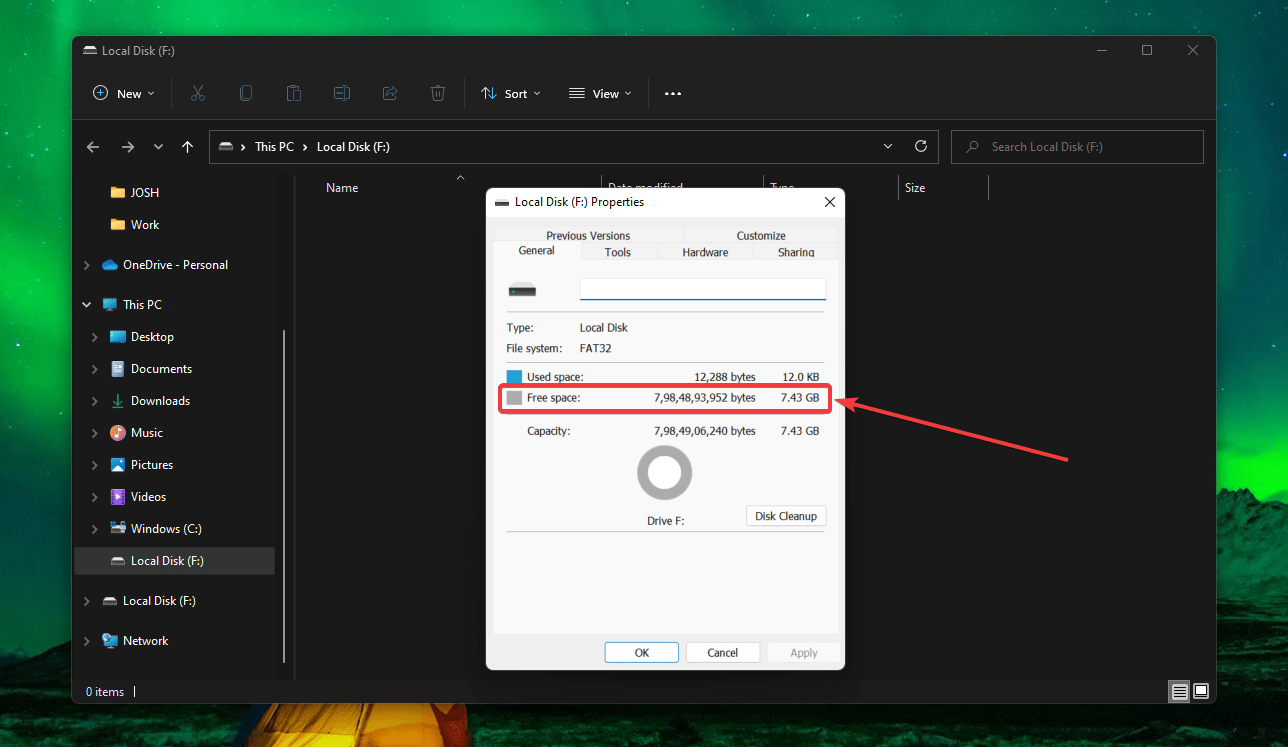 Now, the previously unallocated space should be accessible and ready to store data.
Method #3:

Allocate the Space Using CMD (diskpart)

DiskPart is another native tool for converting the unallocated space on your USB into a new partition:
Press Win and type in CMD; Select the Run as Administrator option.
Key in the following commands while pressing Enter after each line Diskpart List volume
Find the volume containing unallocated space and enter this command: Select volume 3 Note: Use the relevant disk number while keying in this command). In this case, Volume 3 represents my pen drive.
Now, execute this command: Create partition primary
Finally, format the disk into an appropriate filesystem. For instance, if you want to stick with the FAT32 file system, use this command: Format fs=fat32
Result: The above commands will help you restore the USB to its original state (similar to a factory reset default setting)
Note: Allocating space using CMD and recreating unallocated space using TestDisk yield the same results. We attempted to demonstrate two different techniques.
FAQs
Conclusion
Unallocated space on your USB drive can be frustrating, especially since you can't save any data and access files in this "invisible" partition.
We've covered four techniques for you to fix your unallocated space problem and recover data:
Which of the above techniques did you try first? Leave a comment below.
Joshua is a content curator for Handy Recovery. His expertise involves taking intricate IT concepts and breaking them down into super easy to understand chunks. He's been wielding the writing sword for quite some time now - 3 years to be precise. Digital marketing, data recovery, and anything "techy" are Joshua's niches.
Andrey Vasilyev is an Editorial Advisor for Handy Recovery. Andrey is a software engineer expert with extensive expertise in data recovery, computer forensics, and data litigation. Andrey brings over 12 years of experience in software development, database administration, and hardware repair to the team.