The error message "Removable disk/USB no media" appears when your computer is unable to access the attached storage device, therefore displaying it as empty. In such cases, you will be prevented from accessing any data on the USB until it is resolved.
🗨️
There are a few reasons why this error message can suddenly appear. In this article, we're going to explore some tried and true methods for getting it fixed.
Quick Navigation Through "Removable Disk/USB No Media" Guide
| | |
| --- | --- |
| The case | Suggested step/method |
| Everything was OK, but now the disk management shows an error. | |
| My computer/USB drive was recently infected with malware. | |
| I get a "USB device not recognized" error. | |
| I accidentally interrupted the data transfer or formatting process. | |
| My USB drive has been exposed to moisture or mechanical damage. | |
Recommended Steps to Fix "Removable Disk/USB No Media" Error
There are a few solutions floating around the internet that claim to be effective in resolving the "removable disk no media" error. Still, not all of them are as reliable as you might think. After troubleshooting the problem, we've concluded that the solution below is the best way to combat this error message and perform flash drive repair.
Step #1:

Mount Your Device to Different USB ports

If Windows is saying there's no media in the device, it may be due to a faulty USB port. A faulty USB port can cause a myriad of problems as connected devices can either connect intermittently or not at all.

If you're using a desktop computer, make sure you're connecting the USB directly to a port on the motherboard (typically at the back of your machine), as the USB ports on your computer case may have a fault in the cable that connects them to your motherboard internally.
Step #2:

Check the USB Ports Power Supply

Make sure your USB ports are receiving sufficient power. You can check this using Device Manager. Follow the below steps:
Right-click Start and click Device Manager.
Expand Universal Serious Bus controllers. Right-click either USB Root Hub or Generis USB Hub and select Properties.
Go to the Details tab, then change the Property dropdown to Power data.
Look at the current power state. It should have a value between D0 and D3. D0 means maximum power output, while D3 means the lowest power output.
If you're using a USB hub, make sure the USB hub is connected properly and powered if required. Moreover, if you're not using a powered USB hub, try removing other devices connected to the USB hub to ensure your USB receives enough power.
Step #3:

Scan Your System With Antivirus Software

Malware can be designed to do a number of harmful things to your computer. If a virus has infected your computer, it may be inhibiting your computer's ability to properly read the connected USB drive.

Microsoft Defender is a full antivirus program that comes preinstalled with Windows in versions Windows 8 and above. You can use it to do a full scan of your computer and remove any unwanted malicious software. Here's how you can do so:
Press Windows Key + S and search "Windows Security". Open the first result.
Click Virus & threat protection.
Click Scan options.
Select Full scan, then click Scan now.
Microsoft Defender will alert you to any viruses and take care of them for you. Following the scan and any successful virus removals, try accessing the USB again to see if it is working.
🗨️
If the Full scan was unable to produce the results you wanted, you can also try Microsoft Defender Offline scan as it's a powerful scanning method that operates outside the normal Windows kernel to target malware that attempts to bypass the Windows shell.
Step #4:

Update/Reinstall USB drivers in Device Manager

Outdated or corrupted USB drivers are the number one problem for a lot of USB-related issues. Device drivers are responsible for handling the communication between your storage device and your computer's hardware. Without them, Windows will not be able to detect the USB at all.

Follow these steps to either update your USB drivers or reinstall them if they're corrupted or damaged:
Right-click Start and click Device Manager.
Expand Disk drives, right-click your USB drive (the name will vary based on the model), and click Properties.
Go to the Driver tab and click Update Driver.
Click Search automatically for drivers. If the option appears to update, install the updated drivers. If not, proceed to the next step.
Click Uninstall Device.
Click Uninstall to confirm.
Remove the USB then reconnect it to force the drivers to reinstall.
Once this 0 bytes fix has been implemented, see if normal functionality has returned to the USB drive.
Recover Data From Your Device
Once your USB drive is back up and running, it's imperative that you recover any data that you can to ensure no further problems occur due to your USB drive's instability. If you don't, another problem may not present you with the opportunity to recover your data.
For the recovery of your data, we recommend Disk Drill. Drill Drill is a data recovery program specifically designed for recovery cases where your data has been lost, damaged, or deleted. As a highly reviewed and trusted recovery tool, it's a popular choice when you need to recover data that you cannot afford to lose, even in cases where it seems like it's gone forever.
Download and install Disk Drill.
Select the problematic USB drive and click Search for lost data.
When the scan is complete, click Review found items.
Mark the items you want to recover. The Recovery chances column gives you a hint of which data has the best chance of recovery. Click Recover when you're ready to proceed.
Specify an output location. Make sure you're not restoring the data to the same USB you're recovering from, as this can cause corruption. When you're ready to complete the process, click OK.
Just like that, your data is restored and accessible. To protect yourself further, consider implementing a backup solution like File History or Backup and Restore to keep a safe copy going forward. Alternatively, if Disk Drill wasn't to your liking, check out our list of the best USB recovery software for other options.
Let's Check Additional Methods to Fix "Removable Disk/USB No Media" Error
As we mentioned earlier, many solutions available online merely pose as a "USB no media" fix. Our testing shows that the below solutions, while perfectly viable as fixes for many other related issues, are not specifically appropriate for the "Removable disk/USB no media" error. That being said, we've outlined each solution and included reasons why they will not work.
Method #1:

Check Your Device With Built-in Windows Error Checking Tool

The Error checking function is a diagnostic tool included with Windows that can be performed on compatible devices. In essence, it's simply CheckDisk with a user interface. Its function is to scan your storage device for any possible errors and attempt to fix them.

Here's how it would usually work:
Open File Explorer, then right-click your drive and click Properties.
In the Tools tab, click Check.
Click Scan drive.
While this does sound like it could help, the utility that's used (CheckDisk) relies on the file system and file system metadata of the connected drive to find issues and repair them. Since the USB drive isn't being recognized completely by Windows, a file system cannot be accessed, therefore rendering the solution unusable.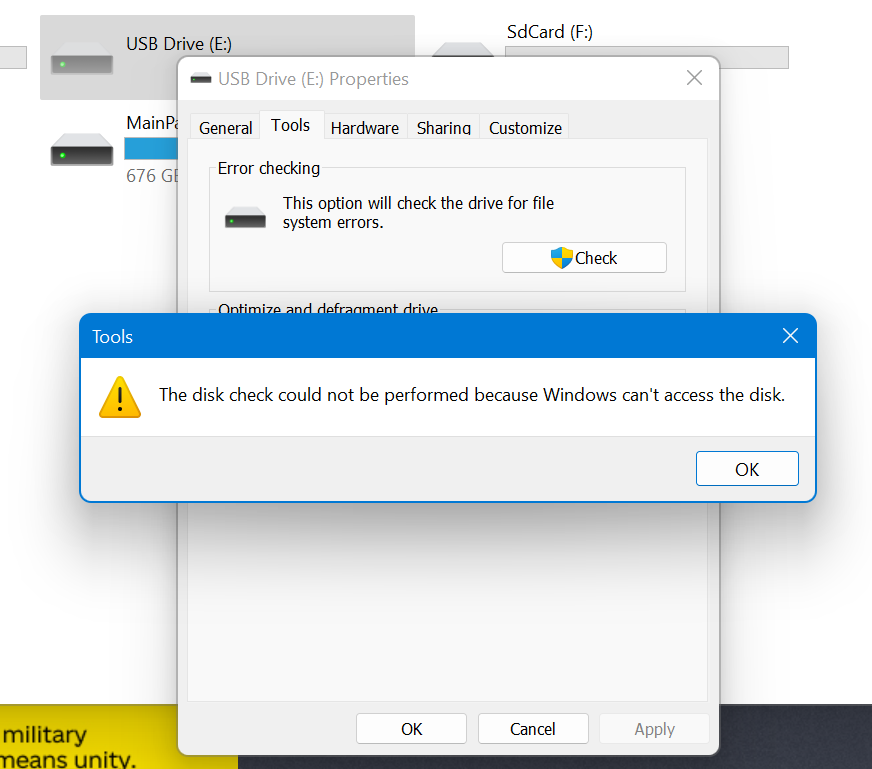 Method #2:

Change the Drive Letter

Changing the drive letter allows the system to analyze the disk again, allowing it to scan for any potential glitches or malfunctions as it does so. Changing the drive letter can be done through Disk Management, like so:
Right-click Start and select Disk Management.
Right-click the volume on your USB and select Change Drive Letter and Paths.
Click Change.
Select a new drive letter from the dropdown and click OK.
Click OK again.
The problem here is that, since your USB is showing empty, there's no way to change the drive letter attached to it so it won't solve the issue.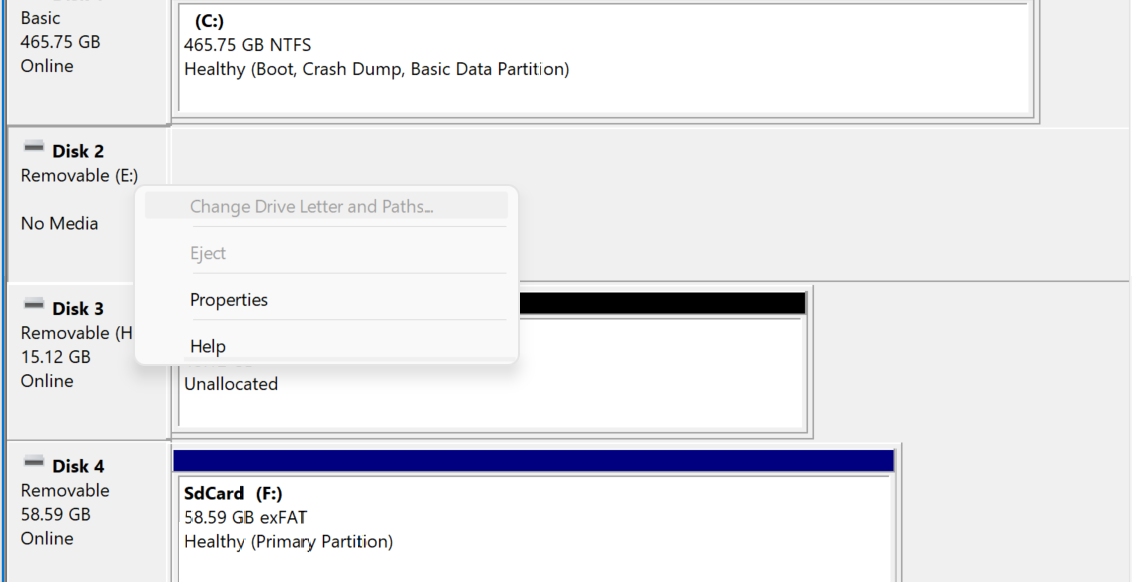 Method #3:

Check for Errors with CHKDSK

CheckDisk (CHKDSK) is a command-line utility that can scan your drive for errors and report them to you. With additional parameters, CheckDisk can even attempt to fix the problems for you. This is how you use CheckDisk to typically fix errors:
Right-click Start and select Windows PowerShell (Admin).
Type chkdsk *: /r. Replace * with your drive letter. Press Enter.
The reason why you can't fix it with CMD is that it relies on the file system of your USB drive. Since your computer cannot correctly communicate with the USB drive, CheckDisk will return an error message stating that it cannot open the volume for direct access.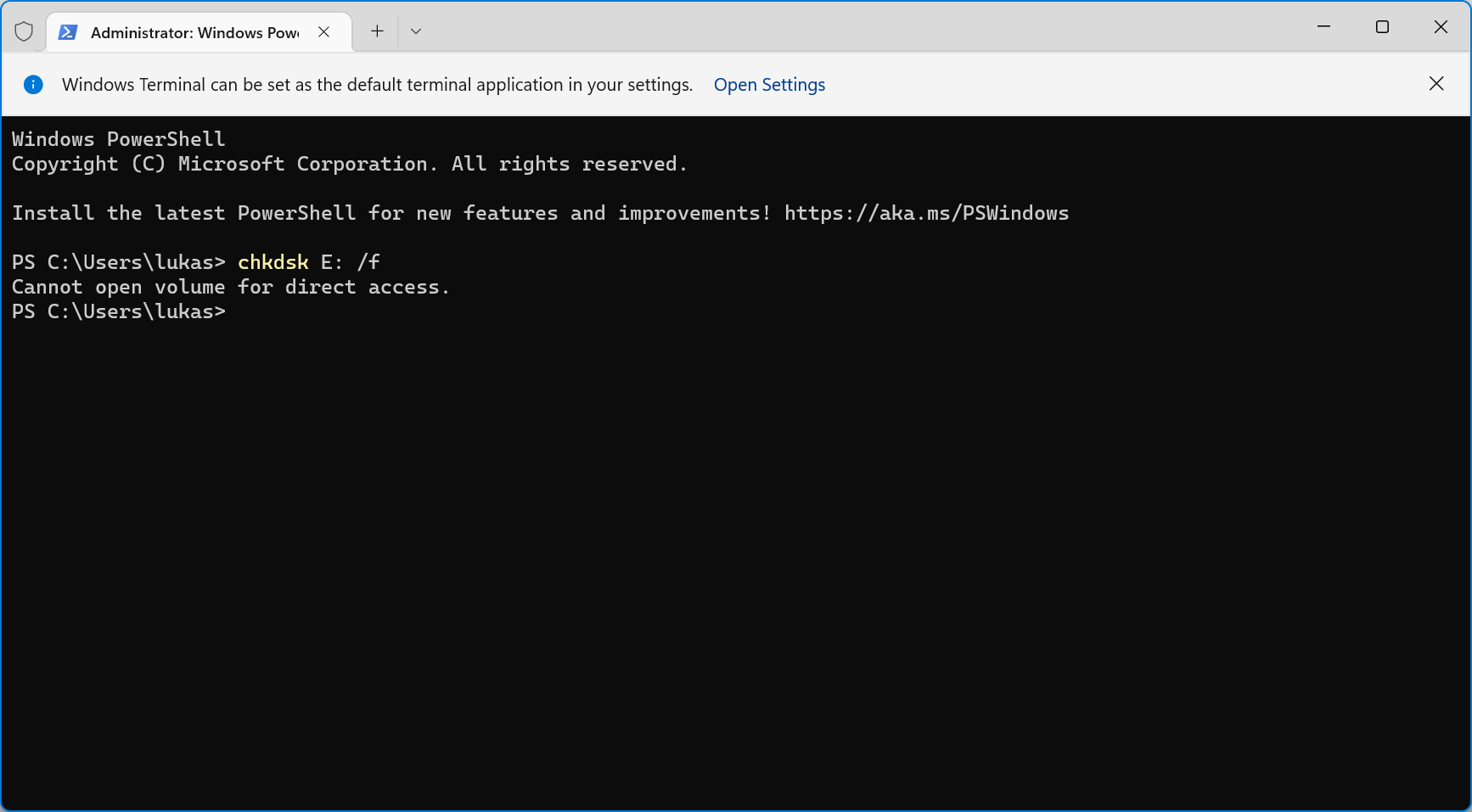 Method #4:

Format Your USB drive

Performing a format on your USB is the equivalent of restoring it to factory settings. Essentially, you're wiping the drive clean, including any errors as well as data, so you can start fresh. Here's how a typical format goes:
Open File Explorer.
Right-click your device and click Format.
Fill out the format parameters (ensure Quick Format is selected, as it gives you a chance to recover your data later) and click Start.
Once formatted, you can recover data from a formatted USB drive if you didn't do so beforehand. Unfortunately, while formatting is a great solution to fix many general errors, it doesn't work quite as well here because Windows still thinks there's no drive connected. When you attempt to format the USB, it will display an error stating that there is no disk connected and that you should connect a disk and try again. Even DiskPart says no media.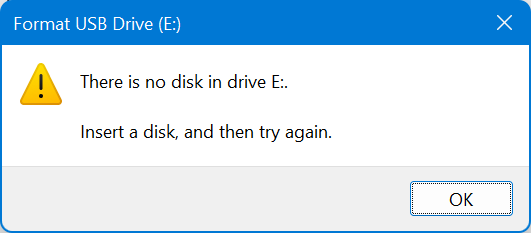 Still no Luck? Contact a Data Recovery Service
There isn't a 100% guarantee that the fix will work. In cases where the damage is extreme, your best chance of recovering the data on the drive is to rely on the services of a professional as it gives you the best chance of getting your data back in one piece. Check out our list of the best data recovery services to get started.
FAQ
Conclusion
The pesky "Removable disk/USB no media" error on Windows can appear at any moment with your USB or external hard drive. Thankfully, this error can easily be rectified by connecting the USB to a working port, ensuring your computer is virus-free, and updating to the latest drivers.
Jordan Jamieson-Mane is a freelance content writer with a passionate interest in technology. Starting from a young age, this interest gradually turned into a career, with Jordan studying in the field of IT and moving into a technical role right out of tertiary education. After gaining first-hand experience in the field, he started his journey as a freelance content writer. As a tech enthusiast, his interests within the realm of technology include hardware, networking, smart technology, and consumer electronics.
Andrey Vasilyev is an Editorial Advisor for Handy Recovery. Andrey is a software engineer expert with extensive expertise in data recovery, computer forensics, and data litigation. Andrey brings over 12 years of experience in software development, database administration, and hardware repair to the team.