Just about anyone who has used a personal computer for any length of time has used files created by Microsoft Word. Its DOC and DOCX file extensions are something of a standard for documents and many other programs allow you to save data in these formats. If you are like most users, it is almost inevitable that at some point you will have to recover a deleted Word document from your Windows system. We are going to show you multiple recovery methods that give you a good chance to recover a lost, delete, or unsaved Word file.
Quick Navigation
Recover Deleted/Unsaved Word Document
We will run through several methods with which you may be able to retrieve an old Word document. These methods will work on all versions of the operating system from Windows 7 to the newest iteration of Windows 10. Before we proceed with the methods, there is one precaution that you must take to give you the best chance of a successful recovery.
Due to the way Windows handles data deletions, when you delete a file from your PC, the physical data is retained on its storage device. Windows removes the logical links to the file, making it inaccessible by any program or application. The information is physically retained on the storage device, and can still be recovered until it is overwritten by new data. Once the data is overwritten by new information, the original file will be unreadable.
To avoid the risk of overwriting data that you want to recover, you must STOP USING THE STORAGE DEVICE as soon as you realize you have lost a file. Using the device can potentially overwrite or corrupt the files you need before you can recover them.
So with that said, let's look at the available methods with which you can recover files that have unexpectedly disappeared or been deleted.
Recover From the Recycle Bin
The first place you should look for any lost or deleted file is the Windows Recycle Bin. The Recycle Bin is a special folder in which the operating system temporarily stores deleted items. If your file is there, it can easily be recovered. Follow these simple steps to see if you can recover your deleted Word document from the Recycle Bin.
Open the Recycle Bin by double-clicking on its icon.
Locate the Word document you want to retrieve.
Right-click on the item and select the Restore option.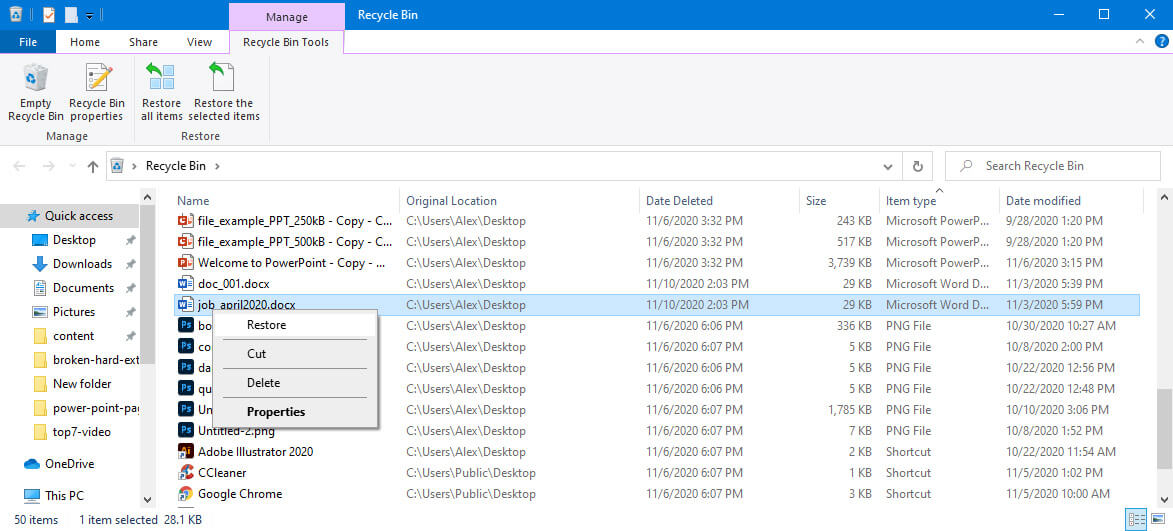 The file will be restored to its previous location and be available to the OS and other applications.
Recover from a Backup
You should be backing up your computer regularly to protect your data. On Windows machines, you can use File History which comes with the operating system, or use another third-party backup tool. In this example, we will show you how to use backups made with File History to recover a lost Word document. Just follow these simple steps:
In the taskbar's search box, type restore files.
Select Restore your files with File History.
Find the document you want to restore and use the arrow keys to locate different versions of the file.
Select Restore to recover the file to its original location. You can also choose Restore to if you wish to save it to a new storage location.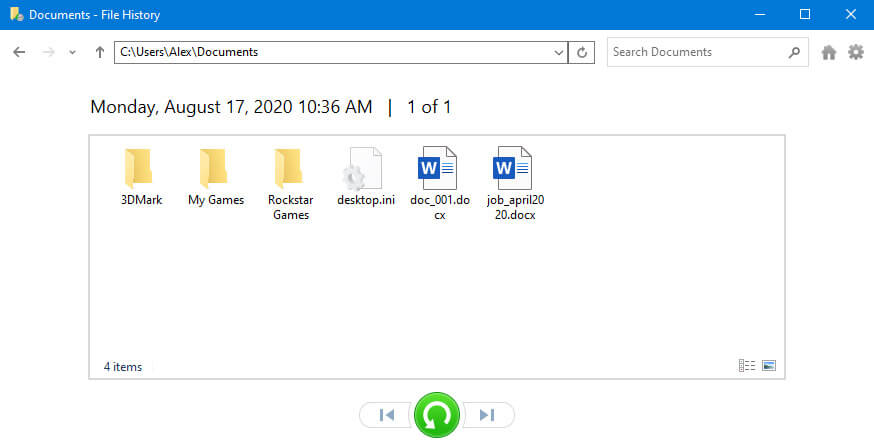 Changes made to the document since the last backup was taken will not be recoverable, but you will get the original file back which is better than the alternative of losing it completely.
Recover an Unsaved Word Document
You might need to recover an unsaved document if Word crashed while you were working on a file. You could come back from a short break and find your machine is frozen and you need to reboot it. In these cases, the AutoRecover feature might be able to get your data back. It's built into Word but needs to be configured if you want to use it to protect your documents.
Follow these steps to configure AutoRecover in Word.
Go to the File tab and choose Options.
Click on the Save tab.
Ensure that both the 'Save AutoRecover information every X minutes' and 'Keep the last autosaved version if I close without saving' are checked.
Click on OK.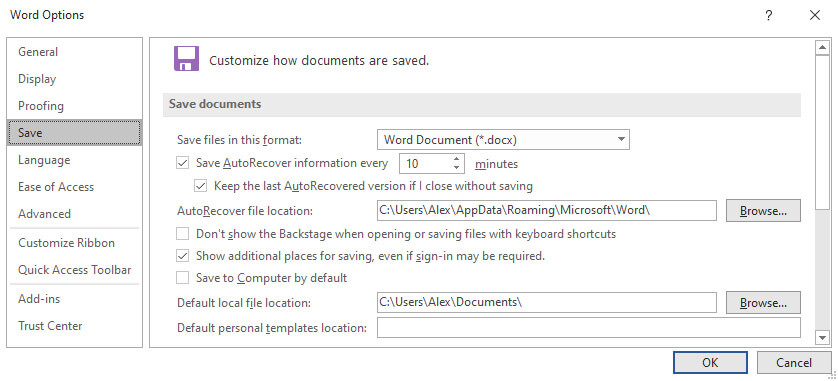 If AutoRecover has been configured, use the following procedure to recover your unsaved Word documents.
Start Word and go to the

File

tab.

Click

Open

and then

Browse

. Navigate to the folder where the file was last found. Search for files with the .asd extension.

If the document you are searching for is not listed, select 

File

 > 

Info

 > 

Manage Documents

 (or 

Manage Versions

) > 

Recover Unsaved Documents

.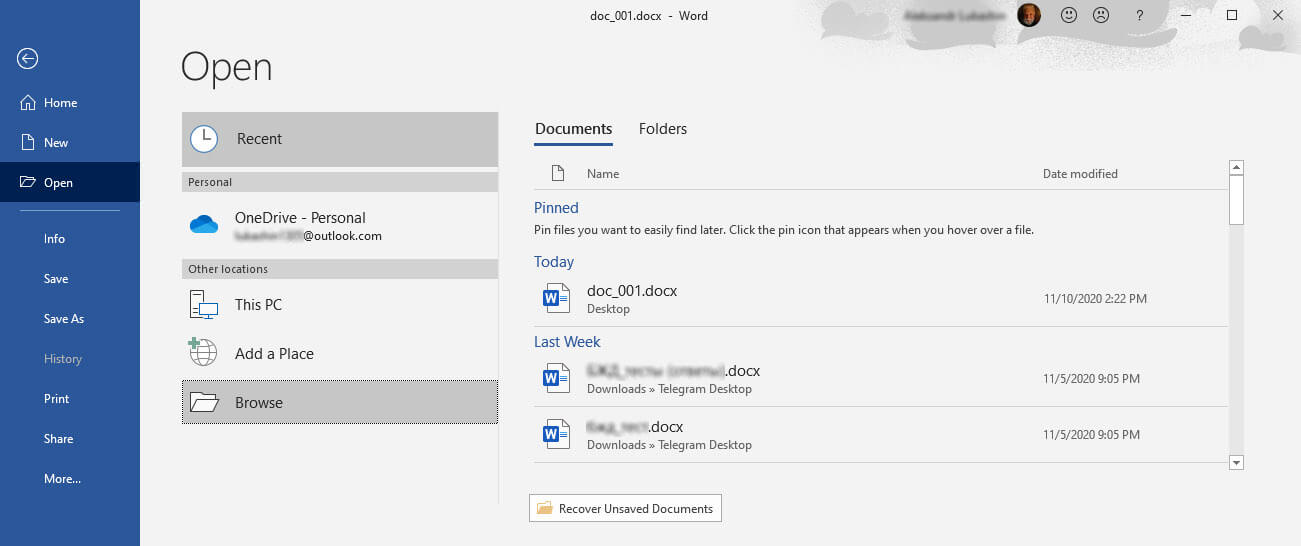 We recommend that you turn on AutoRecover and set the save interval to a small number to minimize the amount of work that may be lost.
Recover an Overwritten Word Document with Previous Versions
If you accidentally overwrite a Word document, you may be able to use the recover Previous Versions facility of Windows 10 to revert to an older copy of the file. You need to have System Restore enabled to use this method. System Restore creates restore points from which the previous versions are recovered. Use this procedure to attempt to recover the overwritten document.
Open File Explorer.
Go to the file or folder you wish to recover.
Right-click the item and select the Previous Versions option.
Select the version you want to recover.
Click on the Restore button.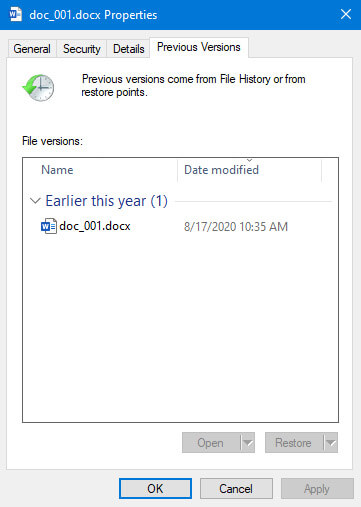 You should consider configuring System Restore so you have the option to recover previous versions of Word documents. Having access to older versions of a file can be very helpful to recover from accidentally overwriting a document.
Recover from OneDrive
OneDrive is a Microsoft storage service that allows users to store data in the cloud. It comes as part of Windows 10 and enables you to save disk space by storing files in the cloud and provides the ability to access them from any device. Use these steps to recover a deleted file saved to OneDrive.
Go to the OneDrive website and log in with your Microsoft account.
Select the Recycle Bin.
Choose the files or folders you want to recover.
Click the Restore button.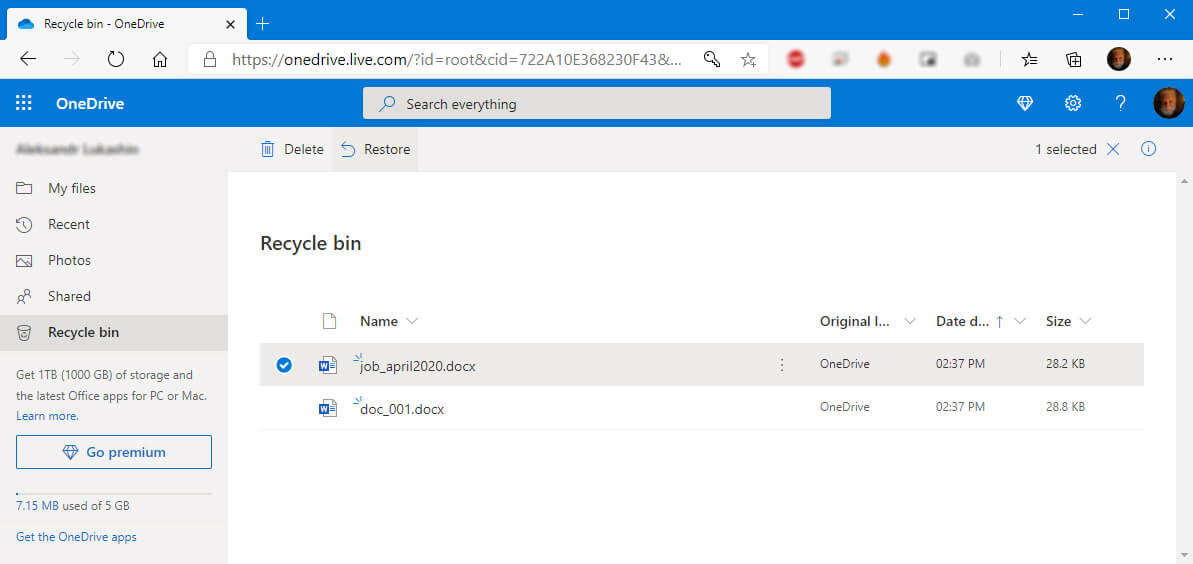 Recover with Data Recovery Software
Data recovery software takes advantage of the way the Windows OS handles data deletion. When Windows deletes a file from your machine, it removes the logical links that make the file accessible and marks the space it occupied as available for use. As long as the original data has not been overwritten, data recovery software can repair the logical links and make the document accessible again.
As previously mentioned, the most important factor that influences your chance of successfully recovering deleted data is to act quickly. Continuing to use the storage device that contained the deleted Word document risks permanently making the file unrecoverable by overwriting it. So don't use the device until you have recovered your deleted files.
There are many data recovery products you can choose from to attempt recovery of lost Word documents. We are using Disk Drill as an example of how you go about performing a recovery with software, but you can use the application of your choice when you need to rescue lost or deleted documents.
The following steps outline the procedure for recovering a deleted Word document with Disk Drill.
Download and install Disk Drill.
Select the storage device that contained the deleted Word document.
Click the Scan for lost data button to start searching for recoverable files.
Preview the files that can be recovered. You can limit the scan results so you only see the Word documents in which you are interested.
Select the files you want to retrieve and choose a safe location to save them.
Click the Restore button to get your lost files back.
Most data recovery programs work in a similar manner. Some other recovery programs you might want to consider for a Windows 10 recovery of lost Word documents include:
MiniTool Power Data Recovery;
R-Studio;
Recuva;
Prosoft Data Rescue 5.
Whichever solution you choose, our warning is the same. Don't save any new data to that device until the recovery is complete.
Are There Differences in the Recovery Process for Different Word Versions?
Yes, there are some slight differences in the recovery process for different Word versions such as Word 2003/2007/2013/2019 and Office 365. One big difference is the AutoSave feature that is part of Office 365. You can still use AutoRecover to get back unsaved data, but AutoSave keeps your files constantly updated.
When using Office 365, by default the program automatically saves copies of your work. So if you have inadvertently closed the program or forgotten to save a draft, the data is easily available. When recovering a file in Office 365, use the File > Save a Copy option instead of File > Save As to avoid overwriting the original file.
FAQ
You can use the Windows Undo command to recover text you have deleted from a Word document. The Ctrl+Z keystroke combination will undo your last action and can be used multiple times consecutively to undo multiple deletions.
You can try to recover an unsaved Word document if AutoRecover is not configured by searching for temporary files. If your system crashed or there were issues shutting down Word, there may be temporary files of documents that were open which can be used for recovery. Search your computer for files that begin with a tilde '~' which indicates they are temporary files created by Microsoft office.
You will need to have the password available if you want to recover a protected Word document according to Microsoft. There are no valid methods for recovery without the password.