Wise Data Recovery is a popular name in the data recovery software market. However, is this tool as effective as its developers claim to be? Let's find out.
We attempt to reveal the nuts and bolts of Wise Data Recovery: the installation setup, UI, performance & efficiency, the recovery process, support readiness, etc. for you to wrap your head around this tool and make an informed choice.
👀
TL:DR; Wise Data Recovery is a decent data recovery tool packed with many noteworthy features. The free version does allow recovery, albeit with a few restrictions. Our primary concern was that the customer support is administered only via email. Other downsides include tiny percentages of actual file recovery – a large chunk of your files may not be recoverable. However, the overall UI is delightful and relatively simple to navigate. You can definitely give the free version a shot, but there are better paid & free alternatives out there.
⚠️
Want to help make our content better? Please vote for the best alternative to Wise Data Recovery:
1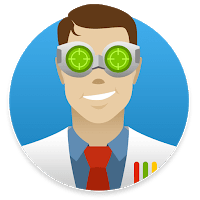 Disk Drill
Platform:

Windows, macOS
Distributed as:

Freemium
2

PhotoRec
Platform:

Windows, macOS, Linux
Distributed as:

Freeware
3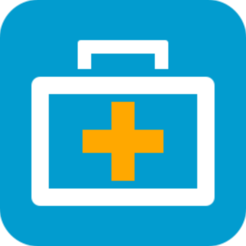 EaseUS
Platform:

Windows, macOS
Distributed as:

Freemium
Crunching the Numbers
| Parameter | Score (max: 5 stars) |
| --- | --- |
| UI | 4 |
| Recovery Process | 2.5 |
| Features | 3 |
| Pricing | 3 |
| Support | 2.5 |
| Total (Average) | 3 |
Key Features of Wise Data Recovery
This section throws light on some of the primary features that Wise Data Recovery offers:
Versatility in Data Loss Type
There are different culprits behind data deletion: Disk formatting, virus attacks, or even accidental deletion.
Wise Data Recovery enables data recovery from various kinds of loss situations, even from a crashed Windows or Mac PC, thanks to their WinPE bootable media technology (at least that's what the developers claim).
Huge Umbrella of "Recoverable" Files
Documents, emails, audios, videos, archives, etc. You name it; This tool digs it!

Device Versatility
Many tools have device compatibility restrictions. However, Wise Data Recovery caters to various devices ranging from SSD, HDD, external hard disks, digital cards, memory cards, and even the nostalgic floppy disks.
According to the developers, you can also recover data from NTFS, FAT, HFS, Ext2, Ext 3, and HFS+ file systems.
Portability
Portable applications (mainly for Windows) are excellent because they are super lightweight and low maintenance. Moreover, you can install such applications straight from a USB drive – thus increasing your chances of file recovery.
👀
As operating systems continually write files, the chances of deleted files getting overwritten increase drastically – especially when you install applications on your hard drive.
Additionally, portable applications work without prompting tedious installation procedures.
Quick and Deep Scans
If you're hunting for a recently deleted file, the quick scan feature is a Godsend! It rapidly patrols your hard drive and digs up deleted files.
The deep scan dives deeper into the depths of your hard drive to discover more lost files – even in the case of a disk format.
Wise Data Recovery: A Comprehensive Review
This section reveals the nuts and bolts of Wise Data Recovery: the installation setup, UI, performance & efficiency, the actual recovery process, support readiness, and the pros & cons for you to make an informed choice.
👀
Did you know that over 140000 hard drives fail in the United States – each week!? A study by Acronis concludes that 1 in 3 people are victims of data loss and would be okay paying $500 or more for data recovery.
Exploring the Client Setup
Wise Data Recovery features a swift and straightforward installation. Download the setup file and install the application on your hard drive, and voila: You're good to go!
A Gist on the UI
The UI is quite clean and modern that's super easy to navigate. The tool automatically recognizes the connected hard drives.
Regarding the recovery process, you have two options:
The discovered files get displayed in a friendly tabular manner. Moreover, this tool also offers sort by file or size, in addition to a keyword search tool.
Also, the app marks what files are recoverable. The files with a green circle near them indicate a good recoverability status – meaning these files are restorable.

On the other hand, orange and red circles indicate low probabilities of full recovery. Even if recovered, these files may not be fully readable.
Performance & Efficiency
Wise Data Recovery boasts of fast scan and recovery speeds. The quick scan is swift at identifying files housed in the Recycle Bin. However, the Deep Scan can dig up files that got deleted from the Recycle Bin – but not wiped entirely from the drive.
Moreover, you don't have to worry about increased RAM or memory usage as we're talking about a pretty lightweight app here.
Advanced algorithms grinding in the backend ensure quick scans that last for mere seconds.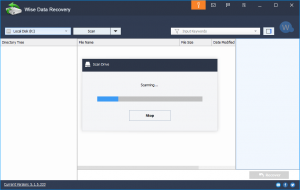 Grinding the Support Care
At the moment, there's only email support available. The support staff is available 24×7. However, responses to your issues depend on whether you're a free user or a Pro subscriber.
Pro users get replies within 24 hours, while the free users' reply times are around 72 hours.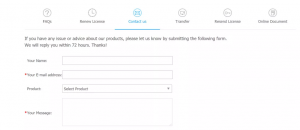 Walkthrough of The Actual Recovery Process
1. Select the Source of Data Recovery
Select the hard drive or device for data recovery.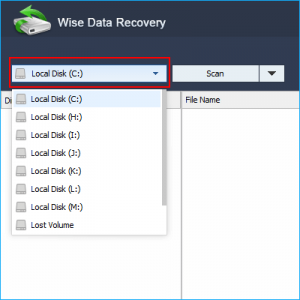 2. Select Your Type of Scan
If you want a quick overview of what's recoverable – hit Quick Scan. However, if you'd like a comprehensive analysis of your deleted files, hit Deep Scan.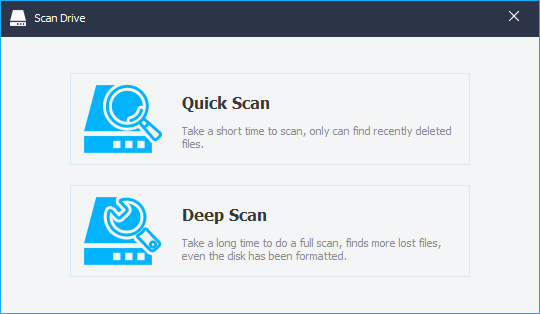 This is what a Deep Scan would look like. Look at the degree of detail that a deep scan manages to capture: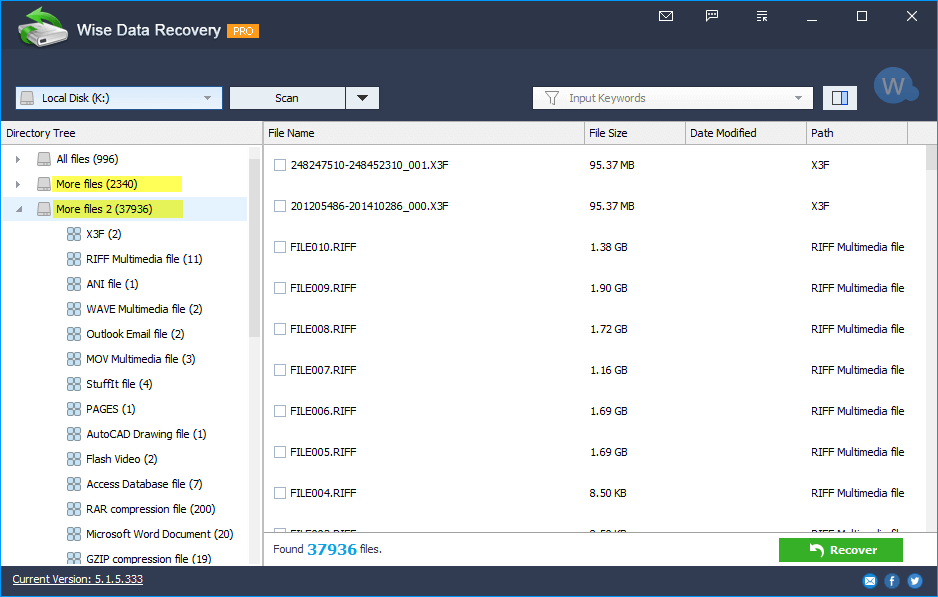 3. Select the files you want to Recover
Now you can use the sort function to perhaps, only check out the recoverable videos.
Additionally, you can type in specific keywords, for instance, "Uptown Funk," to check if the music video is recoverable from your hard drive.
Now, select the files you want to recover and hit the "Recover" button.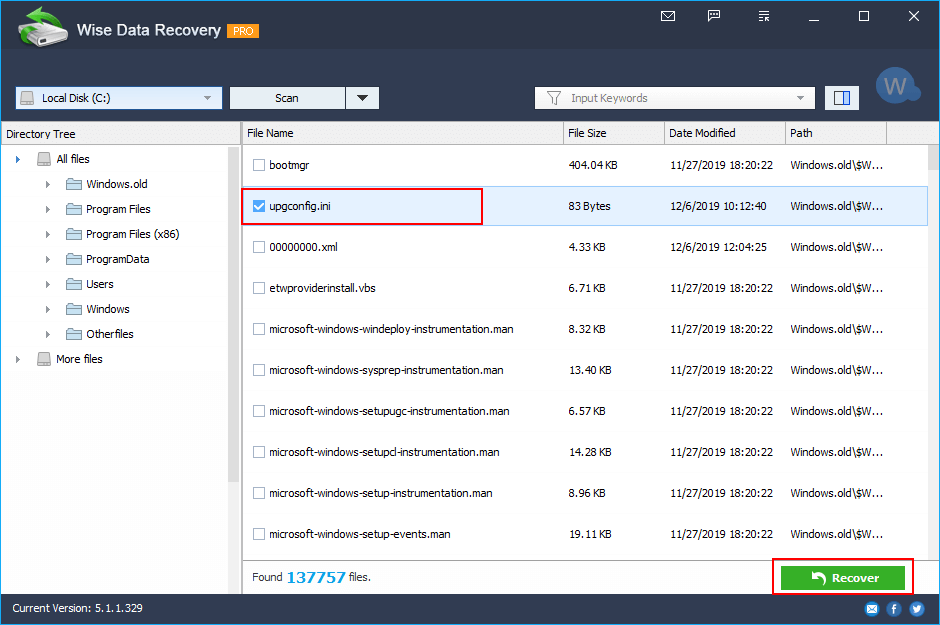 4. Select the Destination for Saving the Recovered Files
Once you've selected a folder to house the recovered files, you're all set to bring back the data from the dead!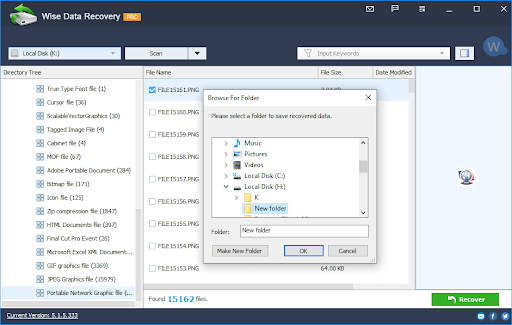 Pros & Cons
✅
Pros:
Recover multiple files simultaneously
Seamless UI
Fast installation and lightweight app
Displays multiple attributes like file size, recoverability, name, & path
Superfast scanning speeds
❗️
Cons:
Mostly, large chunks of files are "unrecoverable"
Upon recovery, the then deleted files do not belong in the original folders
Preview option before recovery is unavailable
No estimated time remaining attribute
Customer support is available only via email
No bootable recovery i.e. data recovery is impossible on crashed systems
Data recovery is possible only on Windows OS
Plans & Pricing
Wise Data Recovery is a free tool if you're looking to recover recently deleted data. However, you will require a Pro license in the case of re-partitioned, damaged, or formatted hard drives.
Plans start at $44.96/month and $67.46/year. The pro license also comes with premium tech support. Note that this is a recurring subscription model, and there's no one-time payment/lifetime subscription option.
The money-back-guarantee is a no-risk sure deal that ensures a refund within the stipulated time frame.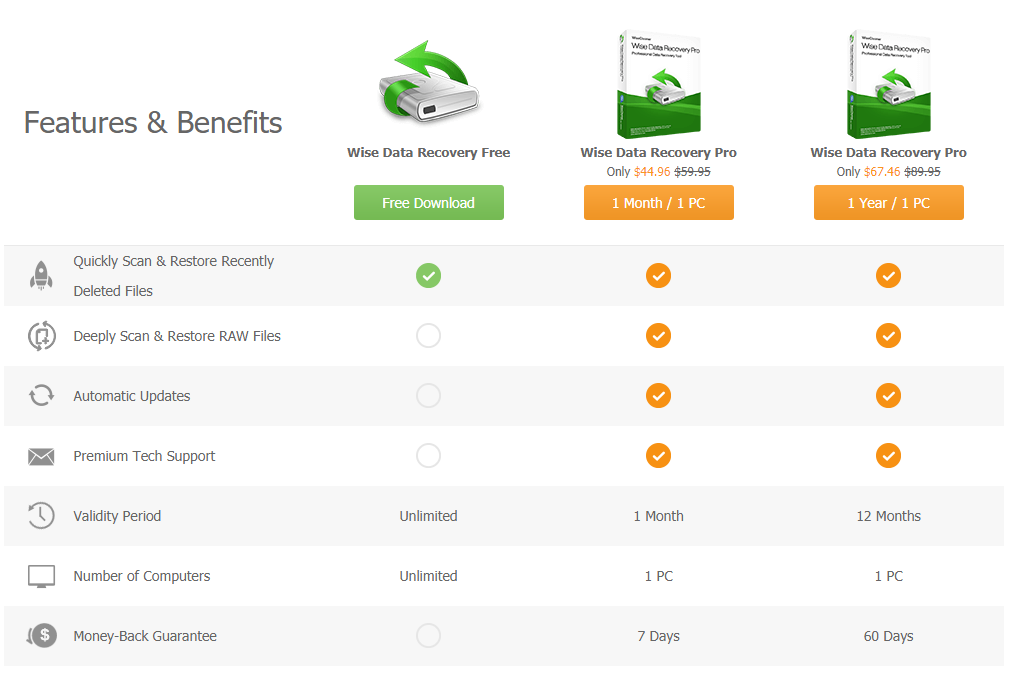 Always make an informed purchasing decision by comparing other cost-efficient data recovery options.
What the Internet Thinks About Wise Data Recovery
Softwaresuggest considers Wise Data Recovery amongst the best free data recovery software. The interface is relatively straightforward. One major downside includes the incapabilities of the trial version – it's pretty basic.
Rating: 3 stars
Download.cnet.com upvotes the sleek and lightweight aspects of Data Recovery. However, they emphasize the significant downfall of being unable to recover a large percentage of files. The clean and stylish UI makes Wise Data Recovery an easy-to-use tool, especially for first-timers.
Rating: 3.5 stars
TechRadar points out that Wise Data Recovery features only one instance of Deep Scan – which doesn't suffice complex data recovery needs. Moreover, the Pro version employs a subscription model. There are other better alternatives out there pitching a lifetime subscription.
Rating: 3.5 stars
Lisandro G – a senior tech technician claims on G2 that scan execution had minimal system impact as other background tasks on his computer were still smooth. However, the scan reports were a bit inaccurate and indicated certain files as recoverable – although they weren't.
Rating: 4 stars
Our Final Verdict
Wise Data Recovery does offer some unique features. However, the cons outweigh the pros. Customer care – being a pivotal element of the overall user experience goes for a toss as Wise Data Recovery only offers email support. Moreover, some other lowlights include improper file organization after recovery and small success percentages of recovery.
On the efficiency front, Wise Data Recovery fares high. The UI is straightforward and a breeze to use. However, all this simplicity might lead to frustration if you're unable to recover files at the end of the day.
There are other free and paid alternatives out there that offer more robust features. In a nutshell, Wise Data Recovery is a decent tool – but certainly not the best.
Our Rating: 3 stars
Frequently Asked Questions – FAQs
---
✅
Our verdict: 4.0 out of 5.
Joshua is a content curator for Handy Recovery. His expertise involves taking intricate IT concepts and breaking them down into super easy to understand chunks. He's been wielding the writing sword for quite some time now - 3 years to be precise. Digital marketing, data recovery, and anything "techy" are Joshua's niches.
Andrey Vasilyev is an Editorial Advisor for Handy Recovery. Andrey is a software engineer expert with extensive expertise in data recovery, computer forensics, and data litigation. Andrey brings over 12 years of experience in software development, database administration, and hardware repair to the team.