In the sea of data recovery apps, it is challenging to discern which ones are the most reliable. When dealing with lost files time is of utmost importance, and using subpar software for restoration can lead to emotional, informational, and even financial loss.
M3 Data Recovery, which was made in 2016, recently came to our attention as an intuitive software that claims to restore over 300 file types, including encrypted documents, and convert RAW files back to readable formats. Without much information online, it was time to test it myself and see how M3 Data Recovery holds up in 2022.
👀
Quick Summary: M3 recovery software is quick and uses few resources, but it left a sour taste in our mouths for a few reasons. While it found 25+ GB of deleted files, many of them were of a fraction of the original size, which made them unusable. The app also failed to retrieve the specific .pdf, .doc, and .txt files that we were looking for. While it has a clean interface, going through different subfolders to locate your files was a bit slow and required patience. Considering the price, we expected more from it.
⚠️
Want to help make our content better? Please vote for the best alternative to M3 Data Recovery:
1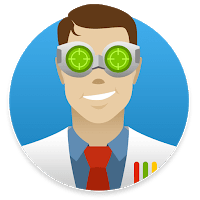 Disk Drill
Platform:

Windows, macOS
Distributed as:

Freemium
2

PhotoRec
Platform:

Windows, macOS, Linux
Distributed as:

Freeware
3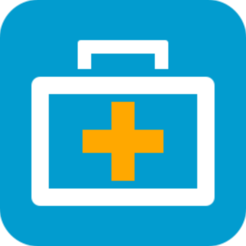 EaseUS
Platform:

Windows, macOS
Distributed as:

Freemium
Features of M3 Data Recovery
🔍 Scanning Methods
M3 Data Recovery can be used to find files lost due to deletion, inaccessible drive, lost partitions, formatting errors, and computer crashes. As soon as you open it, you will notice that the app has a user-friendly interface. It's separated into 3 groups, depending on the type of data that you wish to recover.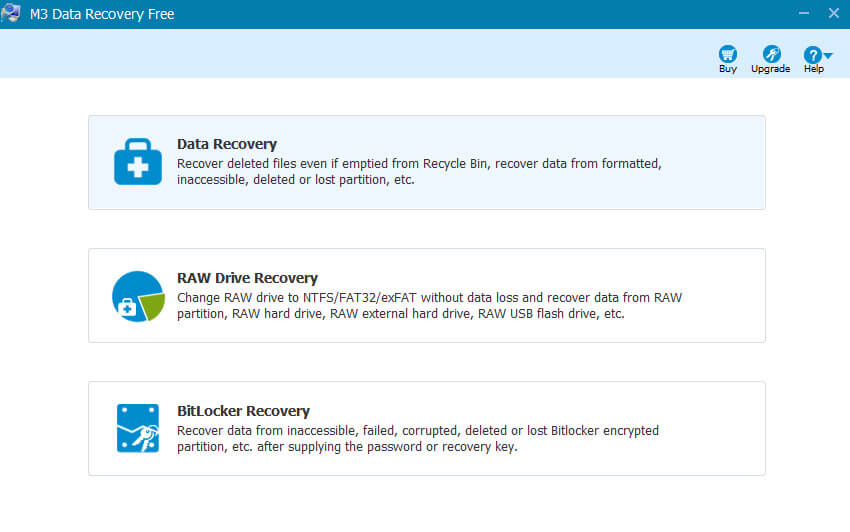 Data Recovery is the most commonly used and lets you retrieve all popular document, audio, image, and video file types. If you have sensitive information that's on the encrypted partition, you can use BitLocker Recovery.
Finally, if your computer doesn't recognize the file type, there's RAW Drive Recovery. This option lets you recover lost data even from storage devices that no longer have a file system due to corruption, formatting issues, or malware infection, just to name three common causes of file system loss. The software will locate the original file system (such as FAT32, NTFS, or exFAT) and attempt to recover it.
💿 Devices & File Formats
M3 recovery supports a variety of storage devices such as HDD, SSD, USB, MicroSD, SD, SDHC, and CF memory cards. However, recovery from RAID data storage is not available.
In total, M3 Data Recovery lets you restore 300+ file types, some of which include:
⚙️ OS Compatibility
The software is available to both Windows and Mac users, although only in English. It's compatible with the following versions:
Windows: XP, Vista, 7, 8, 8.1, and 10
Windows Server 2003, 2008, 2012, and 2016
Mac OS: Mountain Lion, Mavericks, Yosemite, El Capitan, Sierra, High Sierra, Mojave, Catalina, and Big Sur
As expected, its supported file systems include HFS, HFS+, FAT32, exFAT, APFS, encrypted APFS, and NTFS.
M3 Data Recovery Process
👀
To test its capabilities, we downloaded a free trial that lets you recover up to 1GB of files. I've deleted a few "important" files of various popular formats throughout the few days, so I could gouge how effective it is. Since Bitlocker and RAW Recovery are unavailable in the free version, I've analyzed the effectiveness of the basic data recovery procedure. For this test, I've used HP ProBook 450, which is a mid-tier laptop from 2017, with Windows 10.
First, we need to choose the drive from which we want to recover data. I've decided to restore files missing from my 125 GB SSD drive. I was also wondering if it has some lost volumes, so the first thing I used was the Find More Partitions tool in the bottom left corner.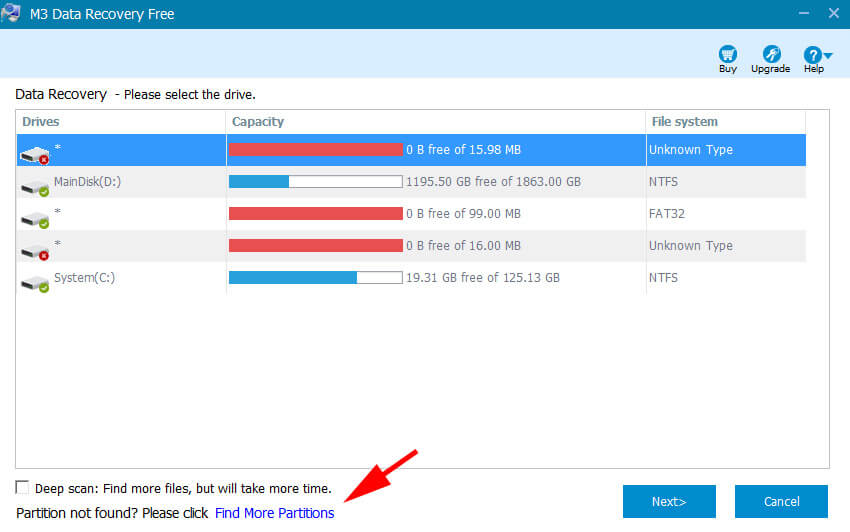 This procedure took around 5 minutes and did find 2 more partitions.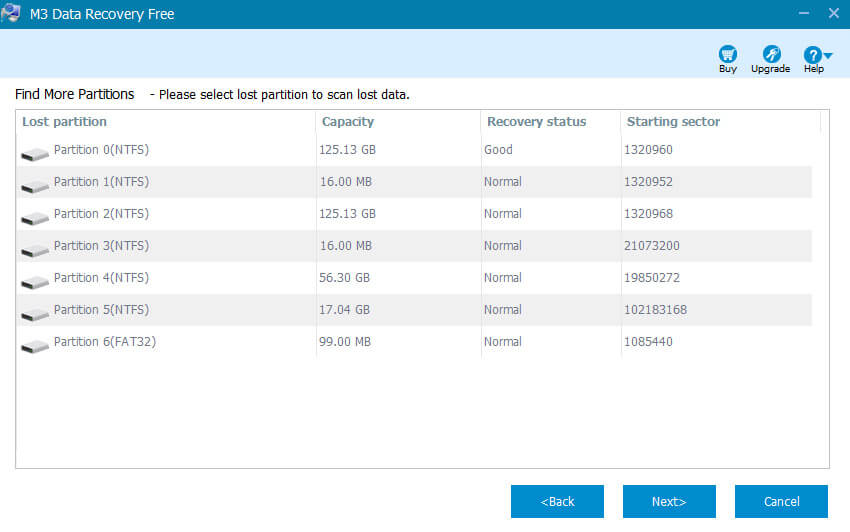 After selecting the right partition, I was left to choose between the Quick and Deep Scan. I've decided to test them both.
Quick Scan Result
The quick scan was done in 5 minutes, and although at first glance results seemed bad, simply ticking the boxes on the left showed that the app found nearly 125 GB of files. This could easily be missed by casual users. At the bottom left, there's a drop-down menu that lets you filter by showing only deleted files. This showed 24 GB of files ready to recover.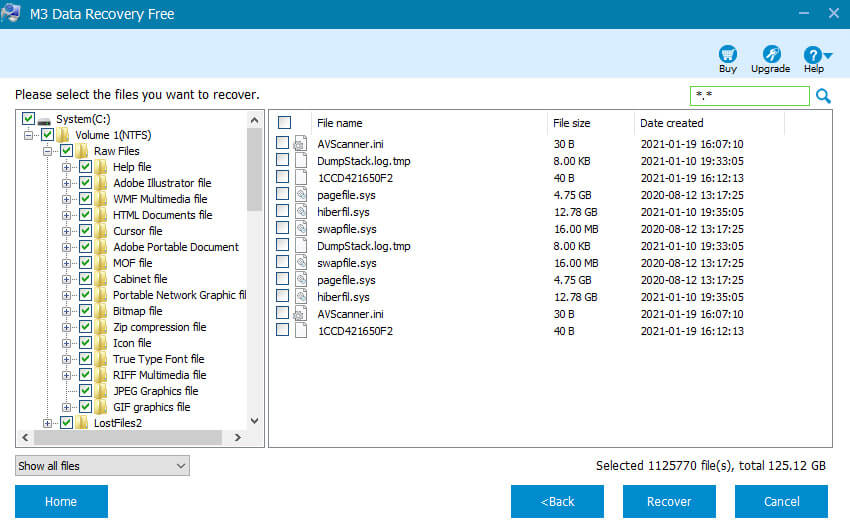 That may seem like much, but I noticed that the vast majority of them were incomplete traces of larger files, usually a few kilobytes in size. Since the preview window is unavailable in the trial version, I couldn't really be sure which files I was looking at. After a few minutes of searching, it was clear that a quick scan didn't find the files I've deleted just a few minutes prior.
Using the Deep Scan
It was time for a more thorough approach, which should be able to retrieve even some long-lost files. This one used a bit more CPU (60%) and took around 25 minutes. Throughout it, I was able to use my laptop with little signs of slowing down.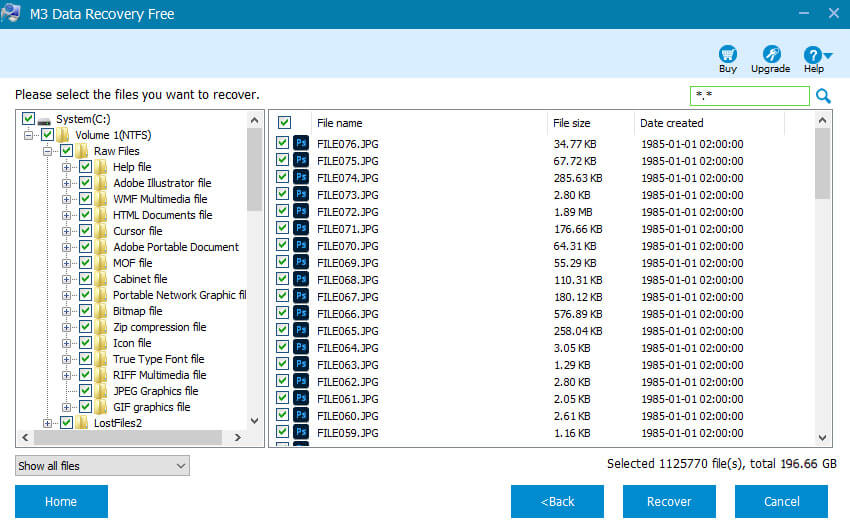 As you can see, Deep Scan came back with nearly 70GB of additional files, but only 2GB more that were deleted. I was disappointed that I couldn't locate my recently removed files, though I still retrieved some valuable data.
M3 Data Scan Procedure
Once you start the scan you will get a rough time estimation. The app managed to finish them sooner than expected, which was a pleasant surprise. Unfortunately, once you start it, the main window can't be minimized, which can be annoying.
The scan procedure consists of 2 steps, which may be different on Mac OS.
Reading NTFS File Record
Building Virtual File System
After M3 recovery goes through your record, it will take its time to present you with all existing and deleted files that are available for recovery. They will be sorted through by their last known folder. You can then manually select the files that you wish to restore. To make this a bit simpler, you can filter files by name, size, and date of creation. Text and image files can also be previewed, but only if you have a full version of the app.
Unfortunately, you can't filter files by extension, which could speed up the recovery process. Also, M3 Data doesn't give you a full overview of the files, so you'll have to move from folder to folder to see what is in there. In short, the process of locating lost and deleted files could've been more elegant. If you wish to continue the recovery later, there's an option to save the scan results.
License Pricing
After your 2 weeks are over, you will have to pay for M3 software to enjoy its benefits. The price will vary, depending on if you are using Windows or Mac. Here are the options you can choose.
For Windows Users

Standard: For $69.95, you will get a lifetime license for 1 computer. However, this edition only lets you do RAW drive and data recovery.
Professional: This edition costs $199 and includes 1 license for 2 PCs. Additional features include BitLocker recovery and WinPE bootable disk that can be used to start the computer when it isn't turning on.
Technician: $299 is what you'll need to spend to get a lifetime license for 5 computers. Aside from all of the above-mentioned features, you will also gain unlimited usage and a built-in deactivate option.
For Mac Users
For Apple users, Professional licenses are available on a monthly, yearly, or lifetime basis. Aside from the Technician edition, 1 license can be used on 2 Macs. Since there is no auto-renew, you don't have to worry about paying for the service that you are no longer using.

1 Month: For $ 89.95, you will get 30 days to restore your files with M3 Data Recovery.
1 Year: $ 99.95 will get you an annual subscription to the Professional Edition.
Lifetime: If you are really impressed by M3 Data Recovery, you can purchase complete access for $ 169.95.
Technician: An annual license will cost you $ 299 and is enough for 5 Macs. However, if you need to recover data from Apple's T2 chip, the price goes up to $ 499. T2 Technician Edition can also be purchased for a lifetime for $ 699. With them, you will also get continual tech support.
What the Users Say
When deciding about purchasing a data recovery software, it's also a good idea to research what customers are saying about it. So far, there are only a few user reviews available, and this is their verdict.
✅
Pros:
Quick scans
Uses few resources
Has a user-friendly interface
❗️
Cons:
Raw partition recovery is unsatisfactory
Some users report corrupted file recovery
Confusing to use
Had quite a scare earlier. Went to update my writing app to the new ver and once I managed that, I deleted the old one….

The new one didn't import my files over. None. Everything gone. 😫

Luckily M3 data recovery got it back. 😭 All bc I wanted 2 screens. pic.twitter.com/E6kfBGC1OH

— Chaotic Neutral Core (@flexdimension) October 29, 2019
Frequently Asked Questions
Our Verdict
Ultimately, M3 Data Recovery failed to recover our important files, which is why we wouldn't recommend it. Although minimalistic, the interface is still confusing and will prolong the recovery, provided that you find what you are looking for. Since I couldn't test RAW or Bitlocker recovery, we could only go by users' comments, which were less than stellar. This software is still pretty unknown, and this didn't help me to trust it.
M3 recovery app also lacks protection tools such as S.M.A.R.T monitoring or data backup. For what it offers, we found it to be a bit expensive, especially for Mac users. Since there's no shortage of data recovery apps on the market, we'd say that you look for your help elsewhere.
---
✅
Our verdict: 4.0 out of 5.
Marko Medakovic carved out his path as a Freelance writer by writing premium articles on the tech and gaming industry. He has written extensively on the topics of data recovery and macOS security. Marko is driven by a desire to spread his knowledge clearly and concisely, so that everyone can benefit from it.
Andrey Vasilyev is an Editorial Advisor for Handy Recovery. Andrey is a software engineer expert with extensive expertise in data recovery, computer forensics, and data litigation. Andrey brings over 12 years of experience in software development, database administration, and hardware repair to the team.