The data recovery space has become saturated throughout the years, making it tough to differentiate the good from the mediocre, especially with most programs claiming to be the best around. In this Lazesoft Data Recovery review, I'm taking a closer look at a no-nonsense recovery tool that promises to retrieve deleted or lost data from any storage medium.
It does so using a wizard-based interface that's simple enough for anybody to understand and use. But with such an outdated design, it will be interesting to see if Lazesoft Data Recovery still manages to keep up with the times.
🗨️
TL;DR: Archaic design aside, Lazesoft Data Recovery is a passable recovery tool that isn't always capable of retrieving all your files successfully, but it usually gets the job done. Its wizard-style user interface is decidedly simple and easy to navigate, while its free models are among the best in the data retrieval niche. It may not be glamorous, but Lazesoft Data Recovery is certainly worth giving a try.
---
⚠️
Want to help make our content better? Please vote for the best alternative to Lazesoft Data Recovery:
1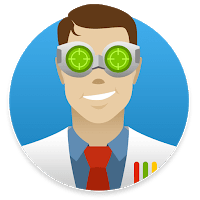 Disk Drill
Platform:

Windows, macOS
Distributed as:

Freemium
2

PhotoRec
Platform:

Windows, macOS, Linux
Distributed as:

Freeware
3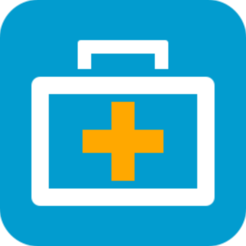 EaseUS
Platform:

Windows, macOS
Distributed as:

Freemium
---
Part #1

: Features of Lazesoft Data Recovery
Simple Wizard-based User Interface
As soon as you fire up Lazesoft Data Recovery, you'll be greeted by a welcome screen and four recovery modes to choose from: Fast Scan, Undelete, Unformat, and Deep Scan.
While they are fairly self-explanatory, let's go through each of the options to explain what they are meant to achieve.
Fast Scan: You should use this to scan storage mediums that have been corrupted or compromised.
Deep Scan: As its name suggests, this is a more thorough search that should be used if "Fast Scan" fails to uncover the files you need.
Undelete: This recovery mode is meant specifically for files that have been accidentally deleted or emptied from the recycling bin.
Unformat: The final recovery option is for when you need to retrieve files from a storage medium that has been recently reformatted.
Aside from the desired recovery mode, there are some advanced options that you can choose from, such as filters and partition and RAW recovery options. The basic functionality of the program is really easy to figure out, which is perfect for greenhorns in data recovery. Unfortunately, the more advanced options can be difficult to understand, and the guides available on Lazesoft's official website may be too tough to follow for novices.
Aesthetically, Lazesoft Data Recovery looks pretty dated and would benefit greatly from a nice facelift. The features are easy to find, and everything is arranged neatly enough, but the overall visuals just feel like they should've been overhauled about a decade ago.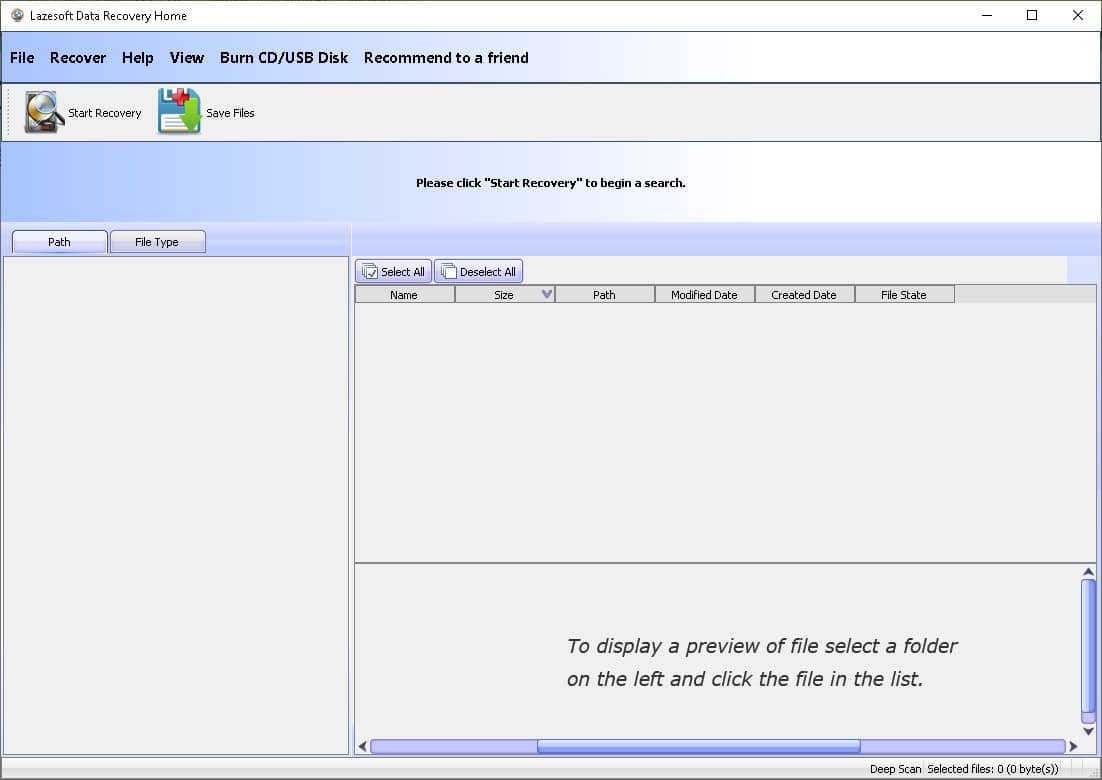 Bootable Data Recovery Disk
There are times when a critical disk failure or operating system crash renders your OS unbootable. Lazesoft Data Recovery's "Burn CD/USB Disk" feature allows you to create a bootable disk that lets you access your PC or laptop so you can retrieve any important files. For example, if the Windows 10 OS on your desktop PC stops working for whatever reason, you can use this feature to recover deleted files in Windows 10 without actually booting up your operating system.
The bootable disk works perfectly fine with various popular brands of desktops and laptops, including HP, Dell, Lenovo, and more. The tool matches your operating system version by default, but you can manually select the OS version you want to create a boot disk for.
There are a few additional options you can fiddle with,  such as selecting the WinPE (Windows Preinstallation Environment) version you want the disk to utilize, manually adding specific WinPE drivers, and choosing the file system type of your bootable disk.
Lazesoft recently added a nifty Windows-style start menu feature to their boot disk that makes it a lot easier for users to access useful tools like the command prompt, task manager, and notepad. This addition comes in particularly handy for casual users who aren't very tech-savvy.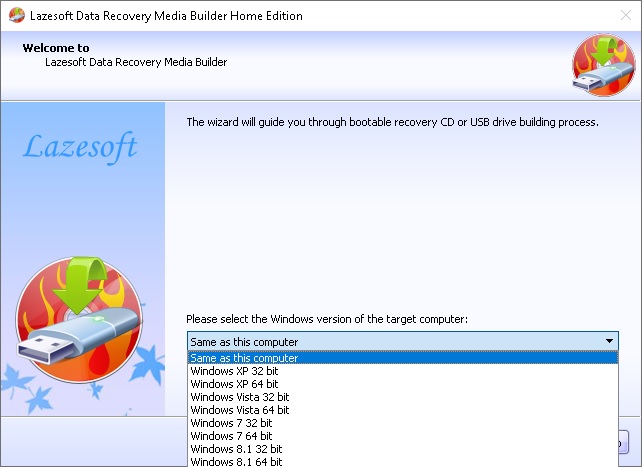 Compatible With a Wide Range of Operating Systems
Whether you use a laptop or desktop computer, Lazesoft Data Recovery supports various OS versions, including:
Windows 10
Windows 8.1
Windows 7
Windows Vista
Windows XP
Windows 2019 server
Windows 2016 server
Windows 2012 R2 server
Windows 2012 server
Windows 2008 R2 server
Windows 2008 server
Windows 2003 server
Windows 2000 server
There's also a version of the program developed specifically for Mac operating systems that can be downloaded here, but for this review, we used the Lazesoft windows recovery version.
Allows You To Preview Files Before Recovering Them
When using a data recovery software to scan for retrievable data, it'll often pull up damaged, lost, or deleted files that aren't properly labeled, so you have no idea if that's something you want to restore or if it's even safe to retrieve in the first place.
The problem with some data recovery programs is that they don't give you a good look at the contents of the potentially retrievable file, meaning you have no choice but to recover it first before you can investigate. Lazesoft Data Recovery remedies this issue by giving you a preview of the file before you start retrieving it. That way, it's easier to find the files that you are looking for, and you save a ton of time and disk space in the process.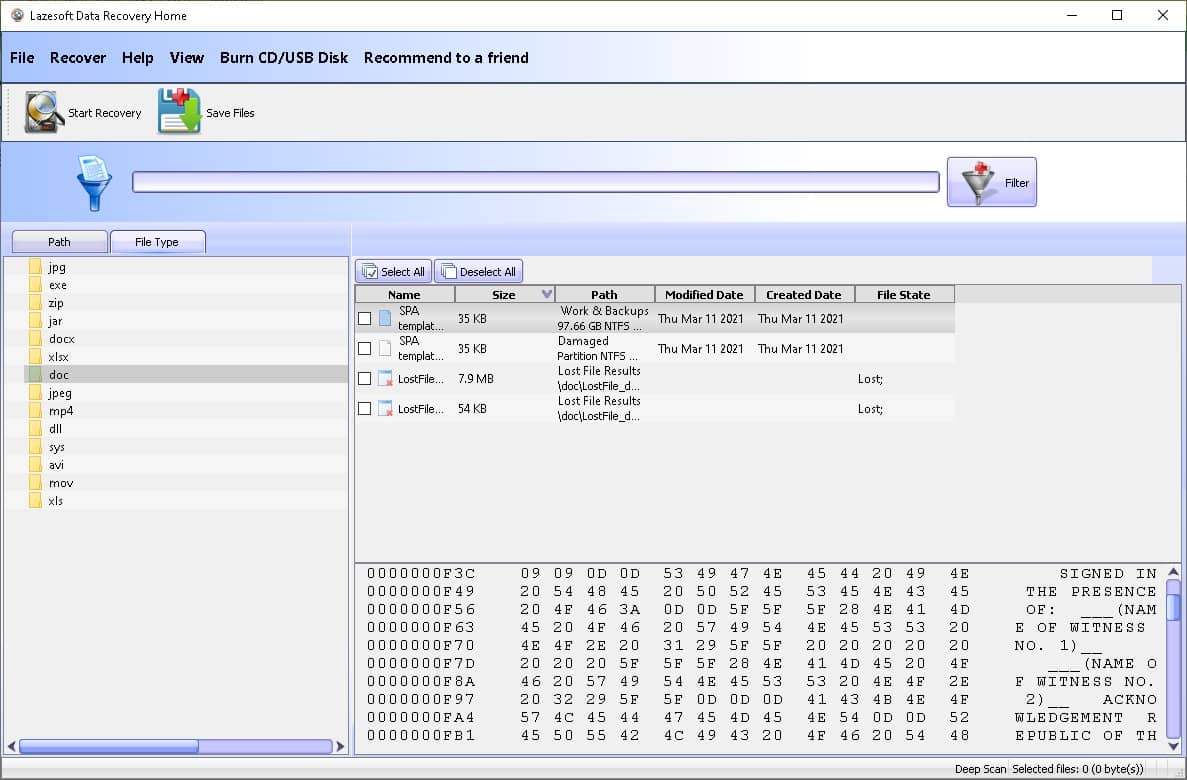 Capable of Retrieving an Extensive Variety of File Types
Lazesoft Data Recovery isn't picky about the types of files that it can recover, as it can rescue pretty much any kind of lost data. This includes:
Numerous document types (.docx, .xls, .txt, .pdf, etc)
Images
Videos
Audio files

Part #2

: Lazesoft Data Recovery Process

For the purposes of this Lazesoft recovery review, I installed the Lazesoft Recovery Suite 4.5 Home Edition which is absolutely free and can be downloaded from Lazesoft's official website. Unlike most trial versions, the free version of Lazesoft Data Recovery allows you to rescue as much information as you want. That's a huge plus in my book.

Once you successfully install the program and launch it, a welcome screen pops up asking you to select one of the four available recovery modes. You can exit this window by hitting the "cancel" or "X" button, which will take you to the app's home screen. In the free version, the only other feature you can access is the "Burn CD/USB Disk" that lets you create a bootable disk in case your operating system is compromised for whatever reason.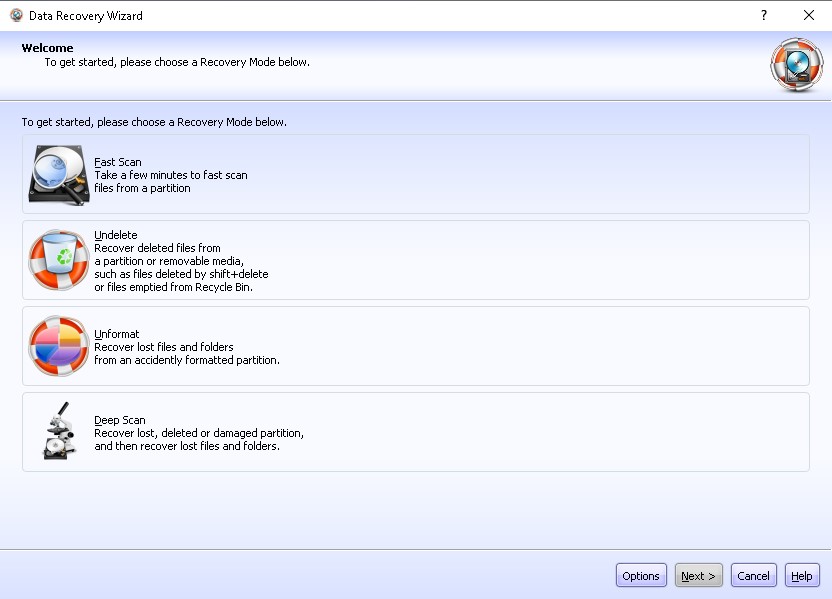 Clicking the "Start Recovery" icon brings back the welcome screen that initiates the data recovery process. For testing, I did a deep scan of my E drive which was part of an SSD and had a total of 97 GB of space. The program managed to complete the scan in under 10 minutes which was fairly quick considering how often the drive is used.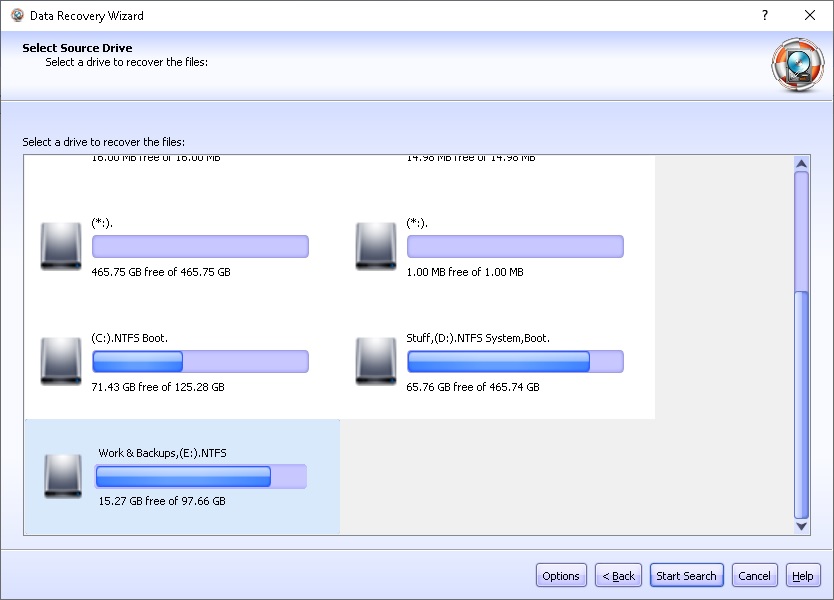 The results can be displayed by either "path" or "file type" depending on which button is toggled on the left side of the screen. "Path" is usually selected by default, which follows the same directory system as your OS. You can double-click your drive and that'll show you the files in that drive, allowing you to navigate the data much like Windows Explorer.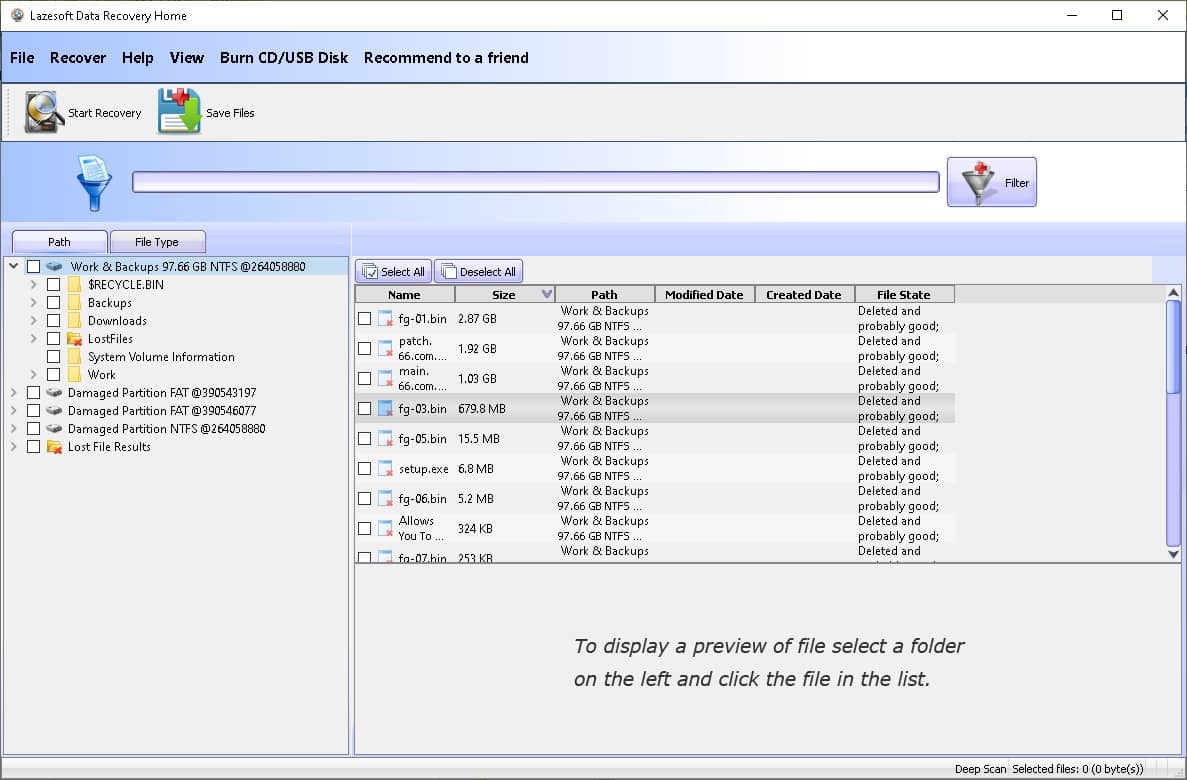 If you display the results via "file type", the program will arrange the recoverable data into folders that are labeled by file extension, such as dll, jar, jpg, exe, mov, etc. This makes it easier to browse through all the files of a specific type. For example, if you're looking to retrieve a bunch of .docx documents that were scattered across various folders, you'll find them all in the docx folder.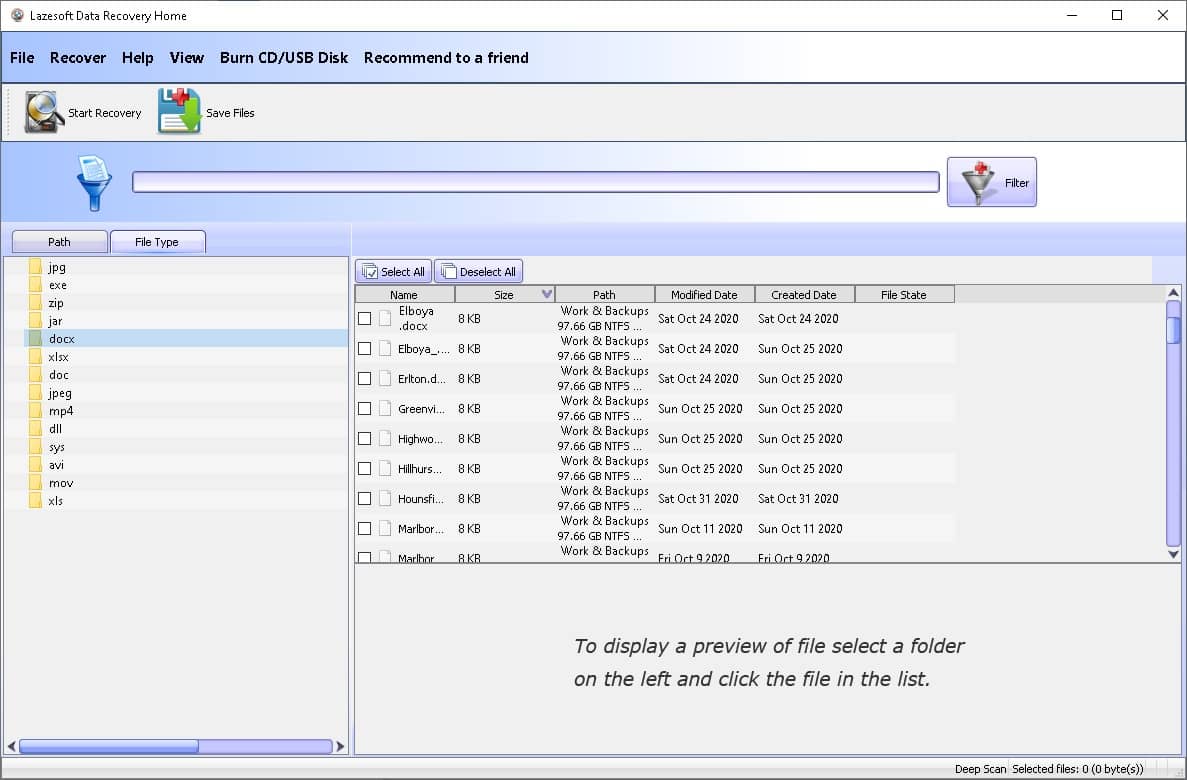 Once you've figured out which files you want to recover, all you have to do is tick the appropriate boxes on the left side of the files or folders and then press the "Save Files" icon near the top of the window. This will prompt a pop-up window where you can choose the destination of the recovered files. Bear in mind, however, that you can't save recovered files in the same drive where they were recovered from. Attempting to do so will lead to an error.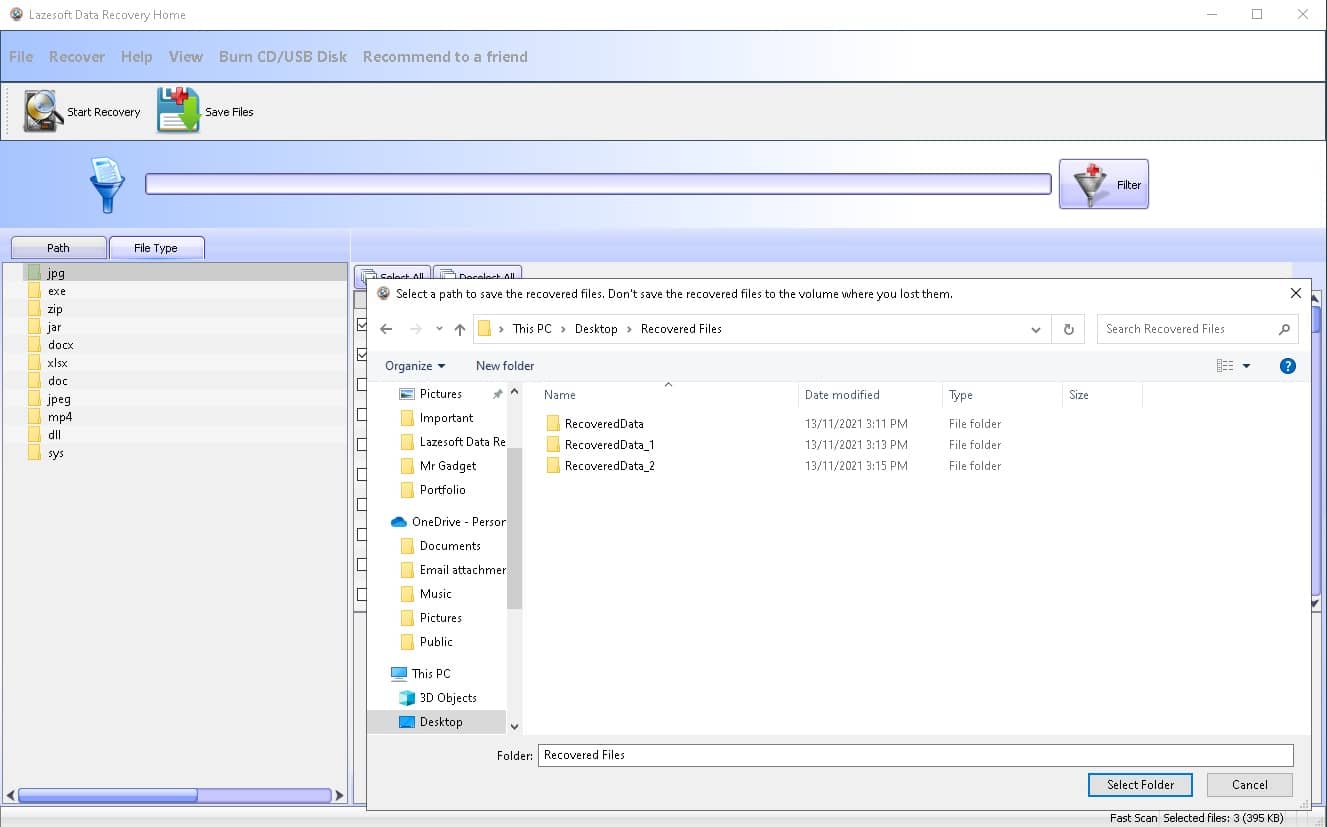 When you're all set, just hit the "Select Folder" button and the program will start recovering. How fast the app is able to retrieve files depends mostly on the type of storage it's retrieving from and where it's saving them to. I was able to recover around 1.5 GB worth of data from an SSD and save it to a flash drive in around two minutes, give or take.

As for how effective the data retrieval results were, it was kind of a hit and miss. I managed to recover more than 2000 lost images in one go and all of them were fully intact. However, in another instance, I attempted to bring back a 200 MB video and the file was unreadable no matter how many times I tried. This was fairly odd considering I deleted the video right before trying to retrieve it.
Part #3

: Lazesoft Data Recovery Pricing

In total, there are five different versions of Lazesoft Data Recovery to choose from, two of which are free while the others require a one-time purchase. It's nice to see that Lazesoft went with a single-payment method as opposed to a recurring monthly or yearly subscription.

Oddly enough, both the Free and Home Editions are actually completely free, with the only difference between them being the Bootable Recovery CD/USB Disk feature that is only available in the latter. The Professional, Server and Unlimited Editions are all paid versions in ascending price.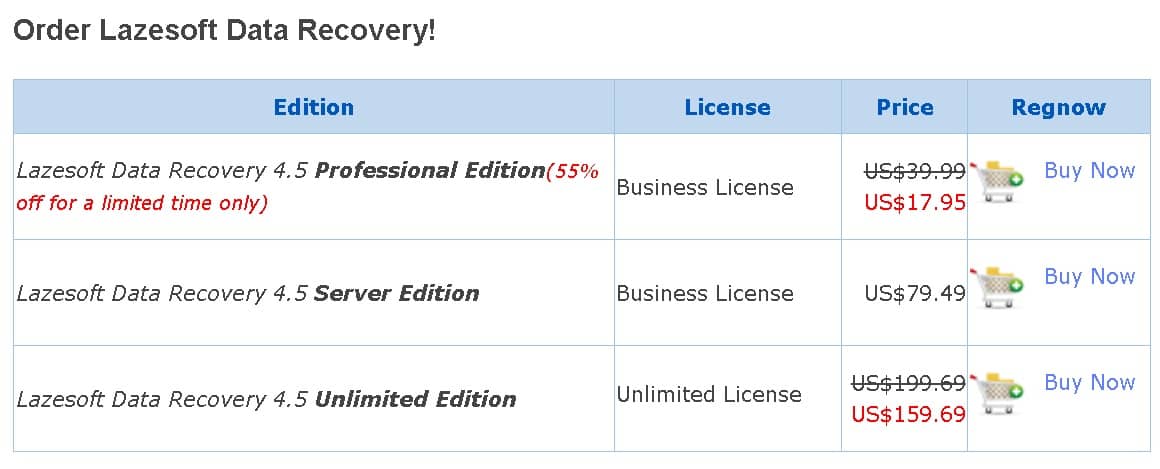 Part #4

: Customer reviews of Lazesoft Data Recovery

Before investing some of your hard-earned money into a data recovery solution – or any other purchase for that matter – it's important to hear from users who've purchased the product themselves. Here are some of the recurring pros and cons that came from people who gave Lazesoft Data Recovery a try:

✅

Pros:
Using the program is simple and straightforward, so even users who aren't tech-oriented shouldn't run into much trouble.
The free editions of the program don't come with any recovery limitations.
It can recover deleted files from an SD card, hard disk, flash drive, and various other storage mediums.
Purchasing the paid versions of the app requires a one-time payment instead of a recurring subscription.
The Bootable Recovery CD/USB Disk feature is incredibly useful.
Allows you to preview files before recovering them, which saves you a lot of time and effort.
Being able to browse results by file type comes in very handy when you're trying to recover lots of data of a similar type.
❗️
Cons:
The program's interface could use a major upgrade.
Recovered files don't always work.
Advanced options aren't properly explained, and the official online guides are not very well-written.
The app fails to detect storage mediums that are connected after the program is launched. You'll have to restart the app for it to show.
FAQs about Lazesoft Data Recovery
Conclusions and Verdict About Lazesoft Data Recovery
Overall, Lazesoft Data Recovery proved to be a decent data recovery tool that, for the most part, performs as advertised. It's easy to use, works quickly enough, and includes a useful feature that allows you to create a boot disk in case your operating system is out of commission.
It does have its fair share of downsides, like the outdated design, finicky recovery results, and lack of well-written guides. But we've done quite a few software tests on various different data recovery solutions and, all things considered, Lazesoft Data Recovery is a fairly competent program. Plus, its free editions come without any recovery limitations, so you're free to try it out to your heart's content.
---
✅
Our verdict: 4.0 out of 5.
Emma Collins is a Content Writer at Handy Recovery. She used to work as an Assistant Language Teacher (ALT) in Hokkaido, Japan before she finally changed careers and focused on digital marketing, content writing, and copywriting. For 5 years, she has already written thousands of articles and web pages on different niches, such as fashion, finance, digital marketing, and technology— particularly android, iOS, Windows, social media, and more.
Andrey Vasilyev is an Editorial Advisor for Handy Recovery. Andrey is a software engineer expert with extensive expertise in data recovery, computer forensics, and data litigation. Andrey brings over 12 years of experience in software development, database administration, and hardware repair to the team.