Zero Assumption Recovery is a data recovery tool, though not as popular as other data recovery tools. Our tests reveal that it can successfully recover your lost data. And that's great, but how does Zero Assumption Recovery compare to other tools on the market? Is it any more or less effective?
We tested ZAR ourselves to get a feel of its performance and feature set. A lot of its features are available for free, but you'll need to pay for Zero Assumption Recovery if you want to access the full suite of features.
We answer all your questions in this Zero Assumption Recovery review so you can make an informed decision about whether you should use the tool or look for another one.
👀
TL:DR; Zero Assumption Recovery is a good data recovery tool, but it has several shortcomings such as slow performance and scanning speeds. If you need to recover data, ZAR will do the job in most cases. Single license costs $69.95 given that the app is pretty bare-bones, but spending a little more can get you a significantly better feature set.
---
⚠️
Want to help make our content better? Please vote for the best alternative to Zero Assumption Recovery:
1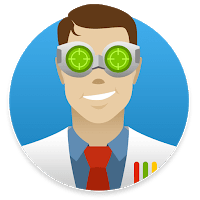 Disk Drill
Platform:

Windows, macOS
Distributed as:

Freemium
2

PhotoRec
Platform:

Windows, macOS, Linux
Distributed as:

Freeware
3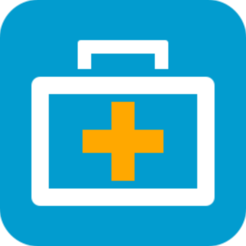 EaseUS
Platform:

Windows, macOS
Distributed as:

Freemium
---
Main Features
ZAR Recovery isn't among the most feature-rich data recovery tools out there and is more inclined towards technical users. However, it does offer all the basic functionalities you'd want for data recovery.
Data Recovery Types
Zero Assumption recover offers three types of recovery methods: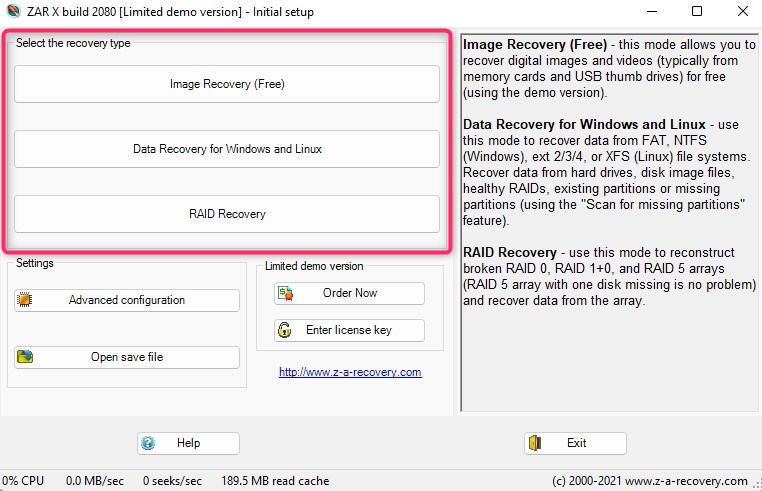 Image Recovery (Free)
The image recovery feature is completely free. It allows recovering image and video files from flash drives, SD cards, and other storage devices.
Data Recovery for Windows and Linux
This feature recovers all types of files such as pdf, exe, and similar files. However, the demo version only allows recovering up to four folders. You can save scans so you don't have to rescan the device, but the demo version is unable to load the saved scan file.
RAID Recovery
You can use the RAID recovery feature for recovering data by reconstructing broken RAID (RAID 0, RAID 10, and RAID 5) arrays.
Supported Devices and File Systems
ZAR data recovery supports most devices but has limited compatibility in terms of filesystems.
You can recover data from flash drives, SD cards, RAID arrays, disk image files, and hard drives. However, ZAR data recovery works on these devices provided they're formatted with one of the following filesystems:
FAT16 and FAT32.
NTFS.
ext2, ext3, ext4, and XFS (Linux filesystems commonly used in NAS devices).
Digital images (no matter the filesystem).
Cameras (see the list of compatible cameras).
Miscellaneous Features
Zero Assumption Recovery does offer a few additional features such as:
Saving scans for recovery.
Previewing found files.
Monitoring hard drives for early signs of failure.
However, there are a few shortcomings you should consider such as:
You can't pause and resume scans — a major shortcoming for data recovery software.
ZAR doesn't offer any built-in imaging or cloning features either.
The interface has some fundamental flaws too. For instance, once the scan is complete, you can't go back to the home screen. You can either go to the next step (i.e., start recovering files) or exit the app and relaunch it to use the home screen.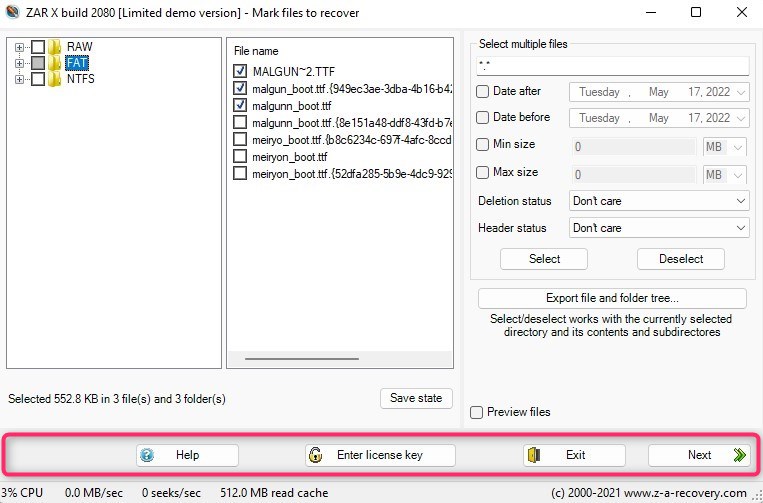 It also lacks features that other, more robust data recovery tools offer. For example, our most recommended data recovery tool Disk Drill offers features like Data Protection that safeguard your data from being lost, mitigating instances of complete data loss.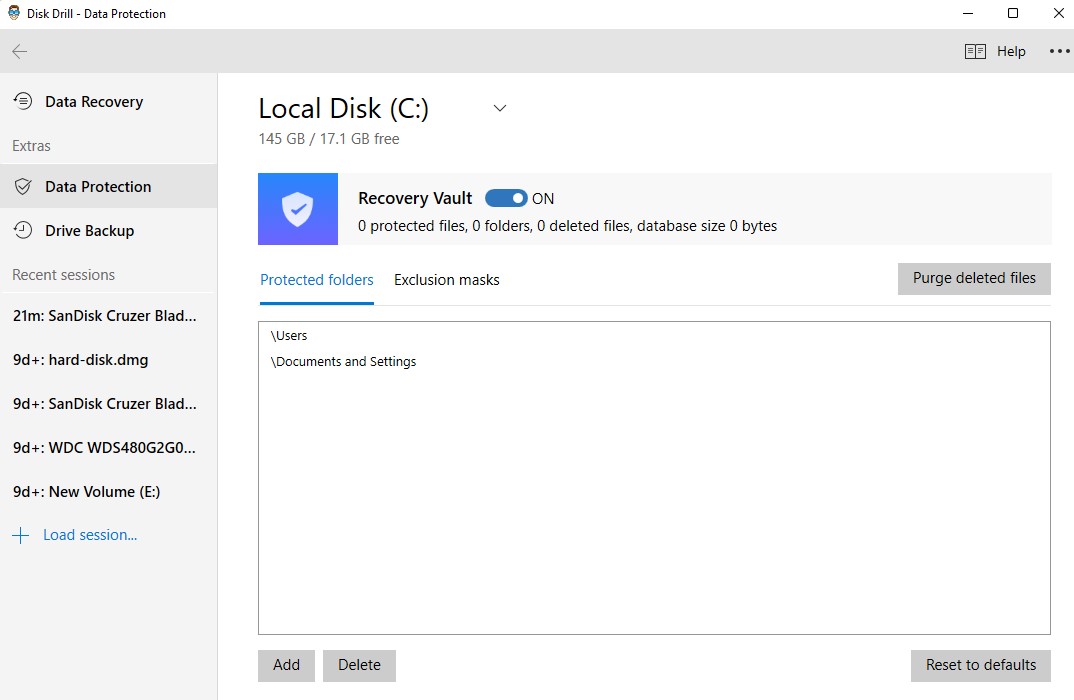 Effectiveness and Performance
ZAR recovery is mostly an effective data recovery tool. It performs thorough scans and gives you additional control over scans with bad sector handling options. Of course, no tool can guarantee the recovery of lost files, but if it still exists on your drive, there's a good chance that ZAR will be able to find it.
That said, the performance isn't top-notch. For instance, when you launch the app and select one of the scanning modes, you'll see a message "Enumerating devices, please wait" for ~2 minutes.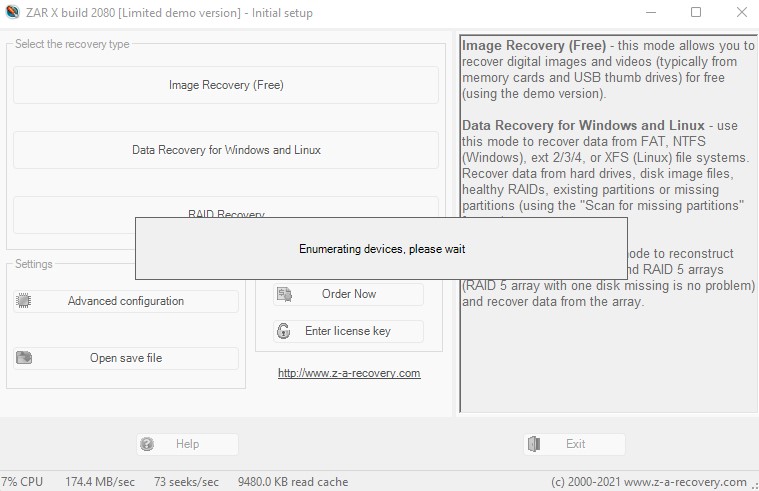 That's very slow considering it's only the first step after which you'll see the list of storage devices (and partitions) connected with your PC. It's also fairly resource-heavy when it's enumerating devices as per the Task Manager: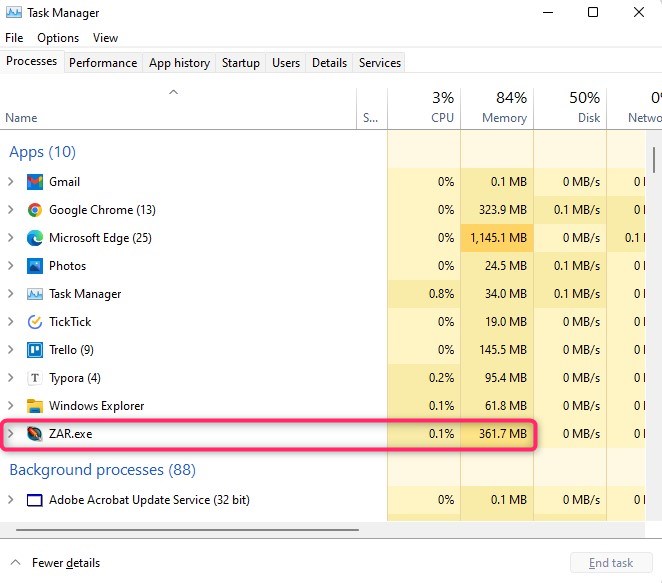 The scanning process is fairly slow too. For instance, ZAR data recovery took ~30 minutes to scan our 8GB flash drive. Most popular data tools offer much faster scans and similar results.
Data Recovery Process
The data recovery process with ZAR is relatively slower, but not complicated. To get started, you'll need to download ZAR data recovery and install it on your PC. Once you're done installing, follow the below-illustrated steps to recover files using ZAR.
Step 1.

Select the type of scan

When you launch ZAR, you'll have the option to select from three types of scan. Choose a relevant method. Here, we'll use the Data Recovery for Windows and Linux option, but the process more or less remains similar except a few differences. Once you select a type, allow ZAR to enumerate devices.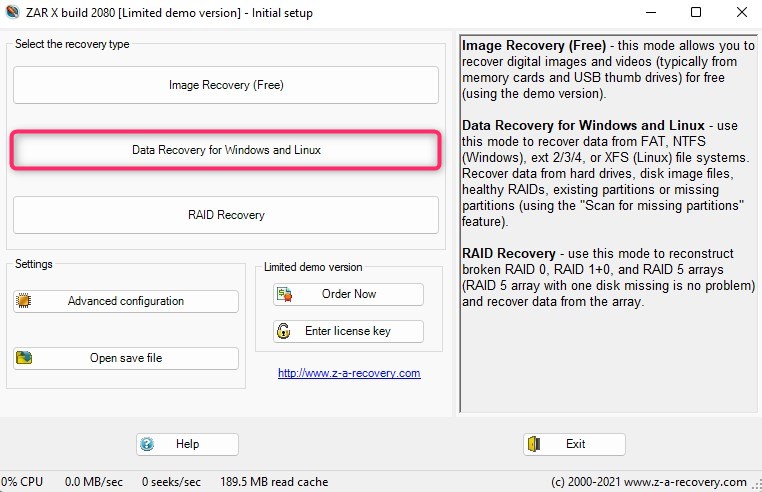 Step 2.

Start the Scan

You'll see a list of storage devices connected to your PC on the next screen. Select the device you want to scan.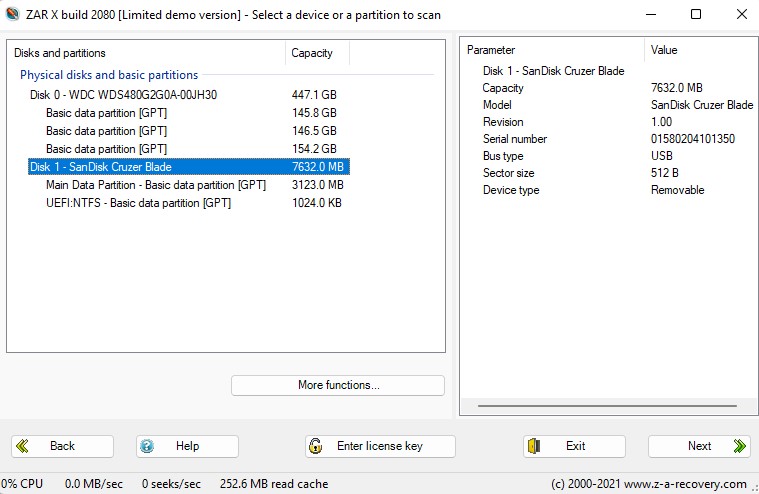 Click Next after selecting a device or partition to start scanning.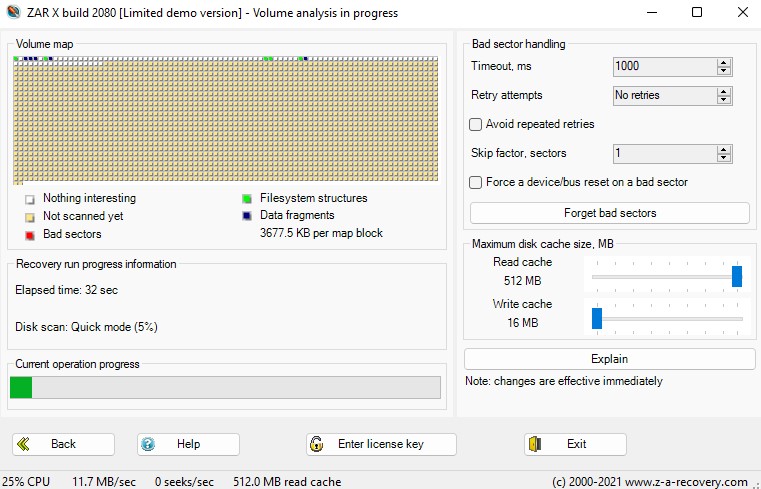 Step 3.

Select Files to Recover

You'll see a list of files available for recovery once the scan completes. If you're on the free version, you can recover only 4 folders (this includes the number of subfolders).

We like that there are several filtering options here. You can filter the files by file extension, "date after" and "date before", size, deletion status, and header status.

Once you've found the files you want to recover, select them by checking the box next to them and click Next.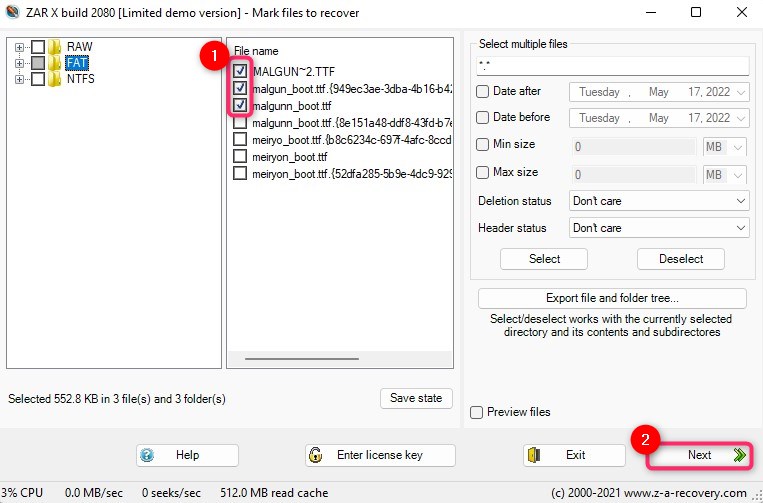 Step 4.

Recover Files

You'll need to select a path where you want to recover the files on the next screen. Make sure you don't recover the files on the same device you're recovering from to avoid overwriting the data. After selecting the recovery location, click on Start copying to start recovering the files.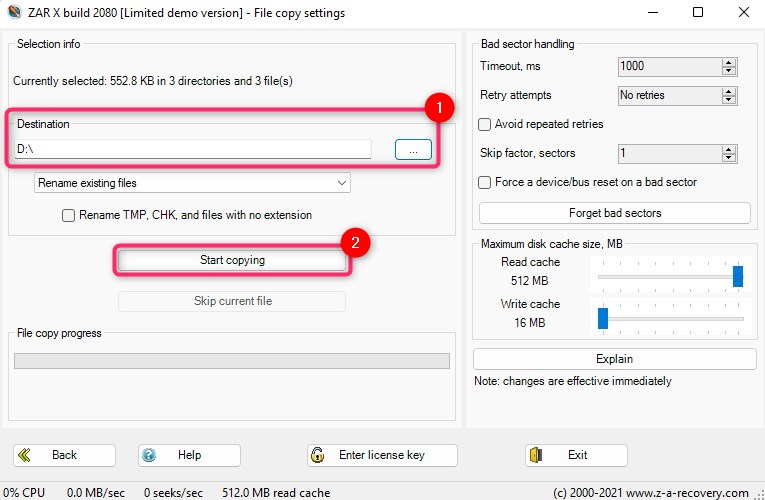 Pricing
Zero Assumption Recovery's Single user license costs $69.95 while the Technician (site) license costs $199.95. If you need ZAR for 3 or more PCs, the Technician (site) license makes more sense.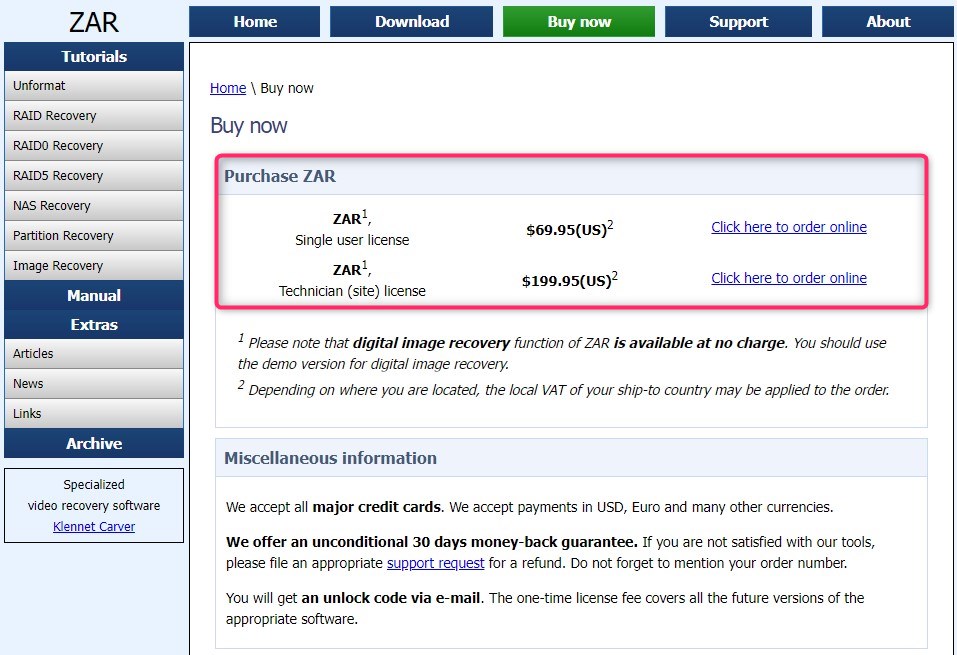 ZAR costs much less than other recovery tools, but that makes sense given the lack of many advanced features. For instance, Disk Drill offers a substantially better feature set and lifetime access for just $89. Other tools like EaseUS cost $99.95 for a yearly subscription while Recoverit Data Recovery costs $69.95 for a yearly subscription.
User Feedback
If you're sold on buying ZAR data recovery, it's best to first look at what existing users are saying about their experience with the software.
We found some reviews online, but most of them are fairly old given the tool isn't all that popular. The reviews are mostly positive, though some of them express dissatisfaction towards ZAR's scan speeds and occasional malfunctioning.
For instance, one user expressed that the software didn't work as it was supposed to:
Other negative reviews are mostly about ZAR's slow scanning speed. Other than that, the reviews seem to be favorable.
Frequently Asked Questions (FAQ)
Our Verdict
Zero Assumption Recovery does a good job of recovering your files. It offers all basic functions and a demo version that lets you recover any type of files, though with a cap of four folders. In cases where your device has been severely damaged, you'll need to use a data recovery service because none of the recovery tools will be able to recover that data.
Improving the scanning speed or at least offering a quick scan option can greatly improve ZAR's user experience, but in the meantime, you can use other high-performance data recovery tools we've found during our tests.
Arjun is a freelance writer with experience writing about data recovery. On a normal day, Arjun spends his time helping people recover critical data from their Windows devices. He's also a tech ninja, codes HTML and CSS, and has received an honorary mention as the family's go-to tech help during get-togethers.
Andrey Vasilyev is an Editorial Advisor for Handy Recovery. Andrey is a software engineer expert with extensive expertise in data recovery, computer forensics, and data litigation. Andrey brings over 12 years of experience in software development, database administration, and hardware repair to the team.