Trying to recover some data on your Mac and came across iBoysoft? Losing and having your files deleted is a nightmare. Thankfully, data recovery tools just like iBoysoft are there to save your day. But how trustworthy, secure, and effective is iBoysoft compared to the other data recovery tools out there?
In this article, we'll talk about all of iBoysoft's features, what you can expect from the service, and if it really is a cheap imitation of M3 Data Recovery.
👀
Quick Summary: iBoysoft is a solid data recovery tool, but its expensive price tag and uncanny similarities to M3 Data Recovery makes it look like a white label clone. While the software did manage to recover files fairly well, it does it slower than most data recovery tools out there. The final nail to the coffin is that you can't look or preview the files while the scan is underway.
⚠️
Want to help make our content better? Please vote for the best alternative to iBoysoft Data Recovery:
1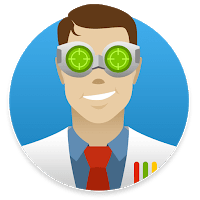 Disk Drill
Platform:

Windows, macOS
Distributed as:

Freemium
2

PhotoRec
Platform:

Windows, macOS, Linux
Distributed as:

Freeware
3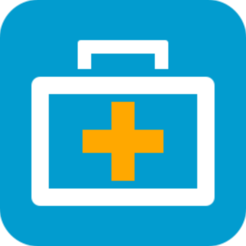 EaseUS
Platform:

Windows, macOS
Distributed as:

Freemium
Features of iBoysoft
🔍 Scanning Methods
iBoysoft comes out strong with a ton of features. For starters, you can recover data from hard drives, formatted hard drives, and APFS formatted drives.
After several tests and reading through other articles, user reviews, and forum threads, it's safe to say that iBoysoft is legitimate and safe to use.
There are a lot of data recovery programs out there for Mac, but iBoysoft is one of the dozen tools that are categorized for heavy duty. The data recovery program has a deep scan feature that makes sure you can recover more files than usual. Aside from the ones already mentioned, iBoysoft can recover from corrupted and unreadable data drives. This includes data recovery for drives with the "The disk you attached/inserted was not readable by this computer" error.
💿 Devices & File Formats
The type of storage you're trying to recover isn't an issue either. You can recover files in FAT32, exFAT, and NTFS formats, and more. These are generally used for videos and photos, so your digital camera or memory card is in safe hands. iBoysoft is also compatible with internal and external disks, which opens up the doors to external storage. The program even checks for partitioned areas and storage.
As for the file systems it supports, anything in these file formats will work smoothly:
APFS, HFS+, HFSX, HFS, FAT32, and exFAT
The iBoysoft website doesn't explicitly mention which file types it can recover, but it's safe to say that the majority of them out there are taken into account.
⚙️ OS Compatibility
iBoysoft is both Windows and macOS compatible, but we'll only be highlighting the supported macOS versions here.
Here are the operating systems supported by iBoysoft:
macOS 11, 10.15, 10.14, 10.13, 10.12, macOS X 10.11, 10.10, and 10.9
💻 Hardware Requirements
The program doesn't require a lot from your system to install. If you have these specifications, then it'll pretty much run and work without a problem.
Disk Space – 32MB
CPU – at least with an x86
RAM – 128MB or more
The specs are pretty much a no-concern.
iBoysoft Data Recovery Process
👀
To test how well iBoysoft works, we downloaded the free version of the program. Free users can only recover up to 1GB of files, but that's generally the standard for other data recovery as well. I've already deleted a couple of "important work" files, so hopefully iBoysoft can get those back for me.
Here's the entire recovery process.
First, I downloaded the program from the iBoysoft website. The landing page is fairly complete with information about the data recovery tool, so that's a plus.
When that's done downloading, just install the program and run it. You'll normally find the file in the Downloads folder.
When you open the program, you'll be greeted with a catalog of all the storage drives connected to your computer. We'll first start by choosing which drive needs recovering. In my case, it's the 121GB Macintosh HD drive.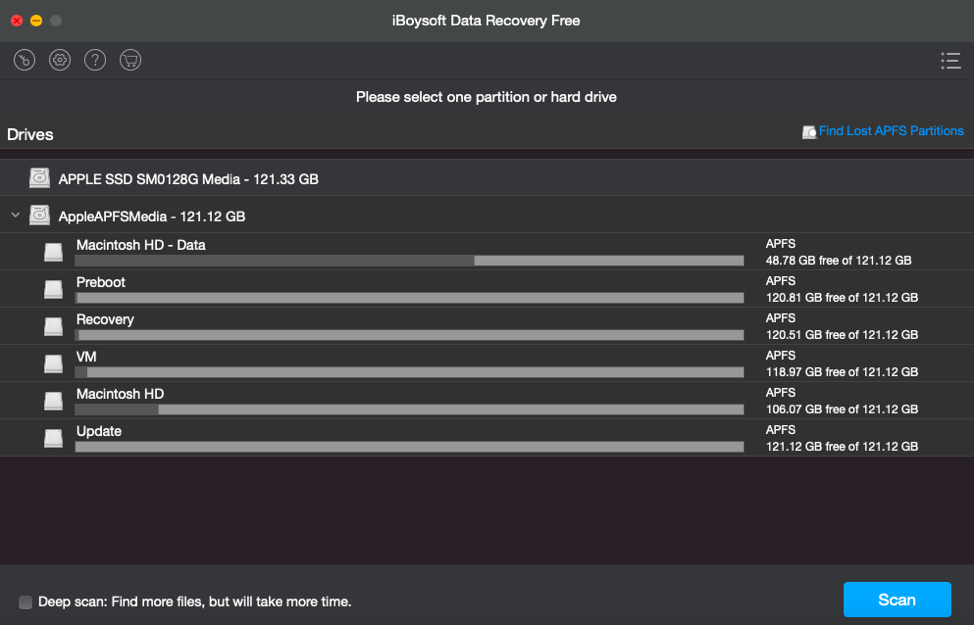 Before you click on anything, iBoysoft has two features you can configure before the scan. At the top-right, there's a Find Lost APFS Partitions feature that digs deeper into your drive for lost partitions. Aside from that, you can also enable the Deep scan feature that will do a more thorough scan through your drives but will take more time.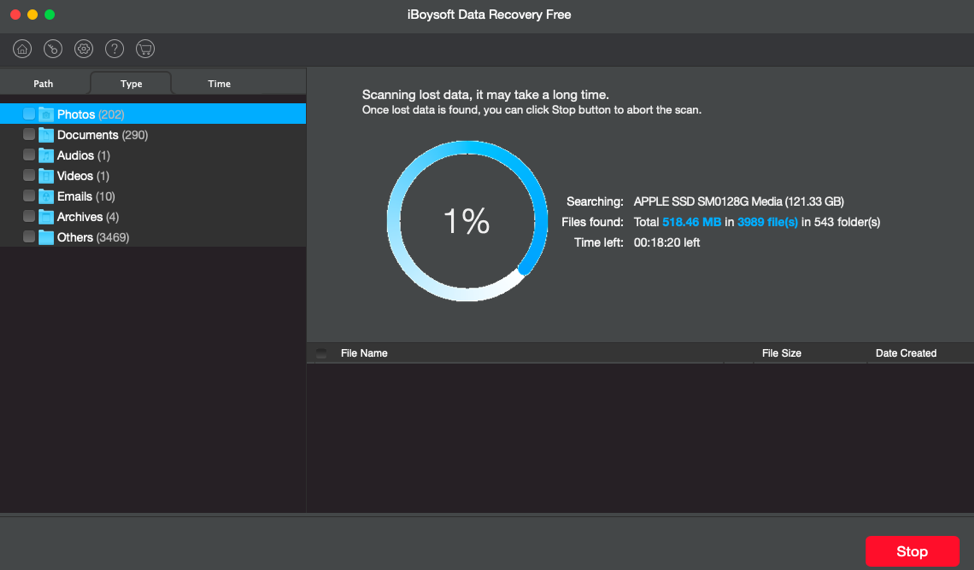 Since we're measuring the effectiveness of the tool, I decided to test both the normal and Deep scans.
iBoysoft Quick Scan Results
After 10 to 15 minutes, iBoysoft came out with a thorough catalog of my deleted files. Now, I did find the file that I deleted, so I was able to recover that without a hitch.
That said, let's take a closer look at the end results of iBoysoft's scan. It's worth noting that you can't preview the scanned items while the scan is underway. Other data recovery tools have this feature, which can save time when you've already found what you were looking for without having to wait for the entire drive to finish scanning.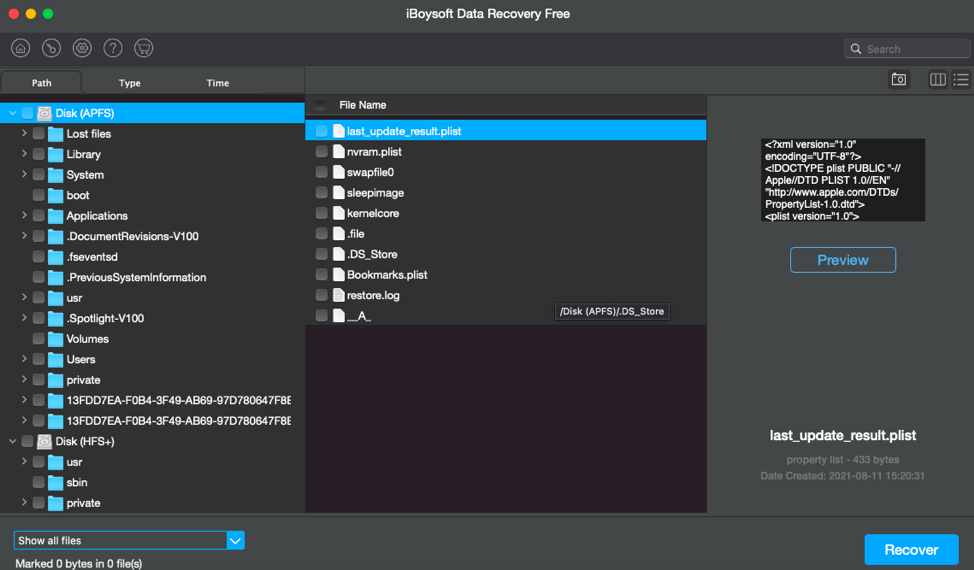 iBoysoft lets you sort the scanned items by Path, Type, and Time. There's even a preview panel at the right-hand side of the screen. Granted, some simple .jpg, .pdf, .docs, and .txt files among others couldn't be previewed for some reason. The same problem also applies to media files like .mp3 and .mp4, so you won't have any luck reviewing audio and video files before recovering them.
Using iBoysoft's Deep Scan
Even though the normal scan found and successfully recovered my deleted files, I figured why not do a deep scan anyway? The deeper scan used a bit more of my computer's resources but took the same amount of time, around 10 to 15 minutes.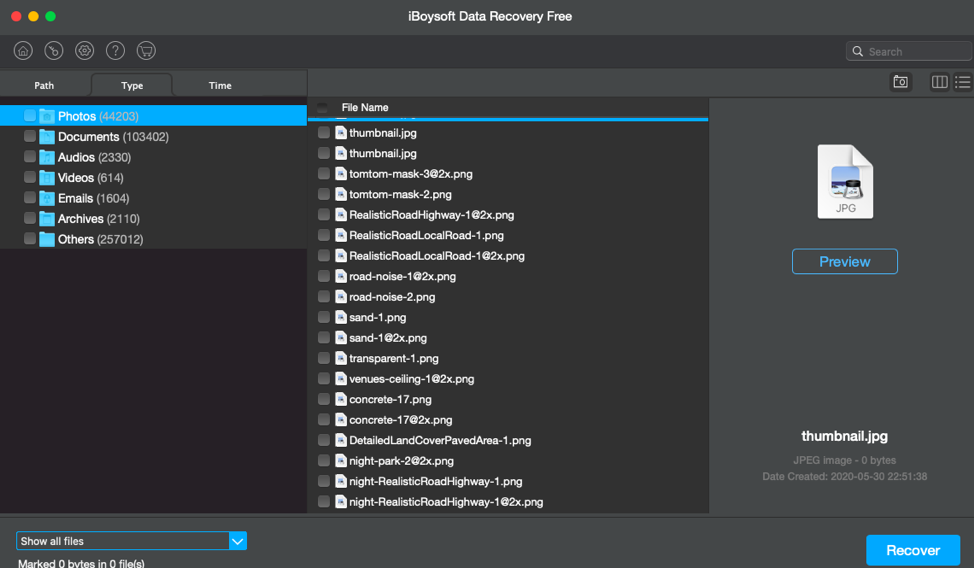 Surprisingly, the deep scan didn't find anything special other than a dozen other files—not enough to create another GB of data.
iBoysoft's Pricing Plans
When it comes to the pricing plans, iBoysoft is surprisingly much more expensive than most recovery tools out there. For starters, they only have a monthly and yearly subscription plan and they don't offer lifetime memberships.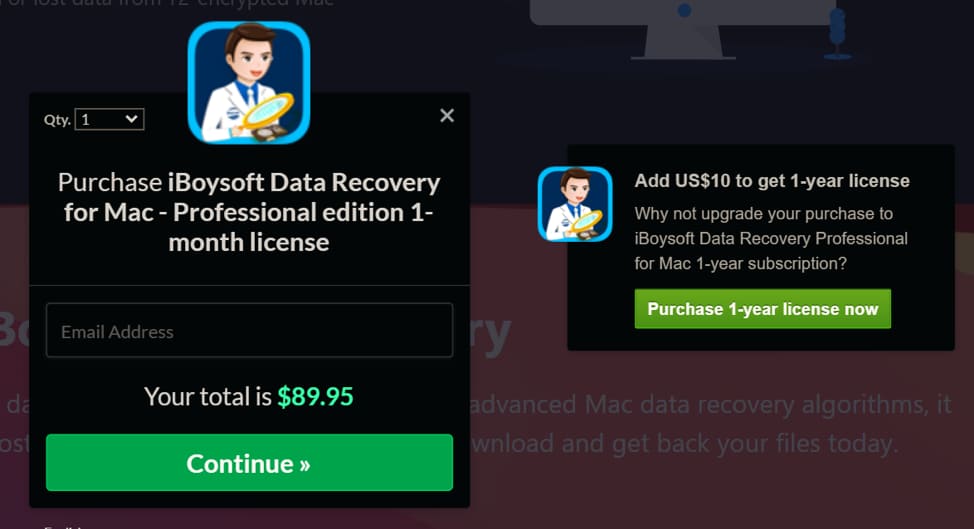 Their monthly subscriptions cost $89.95, and adding just $10 to that for $99.95 extends that to a yearly plan. In my opinion, for the quality and reliability of the service, you could do better with other recovery tools.
Pros and Cons to iBoysoft
Let's finalize the entire experience of iBoysoft. I'll talk about what I observed while using the program, and also highlight my experiments with other computers running iBoysoft.
✅
Pros:
It's a heavy duty data recovery program. iBoysoft supports a lot of file and storage formats, and even works on corrupted storage devices.
The sorting and arrangement system for the program is straightforward yet effective.
 The app is simple and straightforward to use.
❗️
Cons:
The scanning takes longer than usual. There were some cases where the scan was already starting but the progress bar remained at zero percent even after a few minutes.
You cannot preview files while the scan is underway. This is a feature that's available with other data recovery tools, so not having it here is a bummer.
Preview doesn't work on all files. Even when the scan is done, there are still some image and word files that you can't preview. Media files like audio and video are off the table as well.
While it isn't the worst data recovery tool I've reviewed, it's definitely not the best either. iBoysoft works well for what it tries to do, but I don't know if the price tag that comes with it is justified.
iBoysoft vs M3 Data Recovery
Before we conclude the article, let's address the elephant in the room.
We've expressed our opinion before in our extensive top 10 best data recovery tools article that iBoysoft feels like an M3 Data Recovery rip-off. The interface and features were just like a white label clone, but that sentiment is pretty much gone.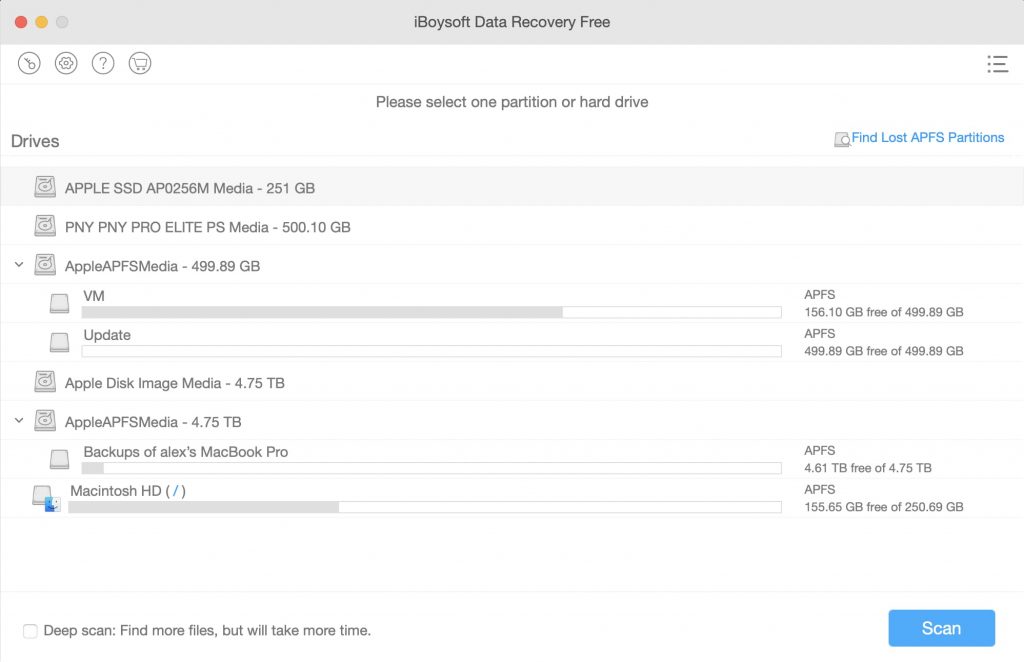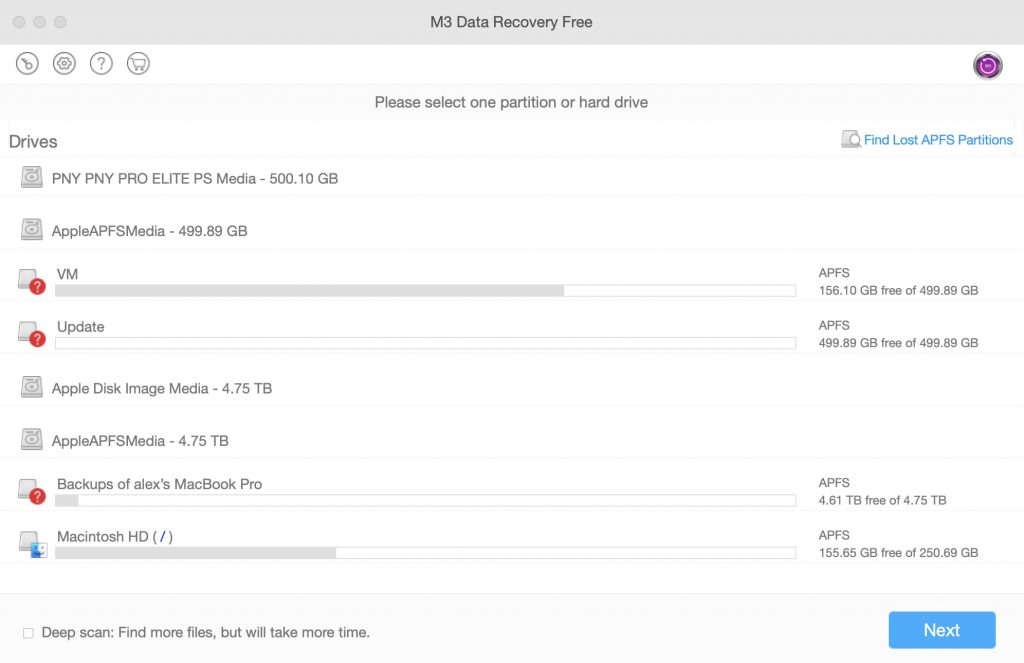 It looks like iBoysoft bought off M3 Data Recovery and the website has now become an affiliate to iBoysoft's data recovery tool. Or maybe it was originally the same company.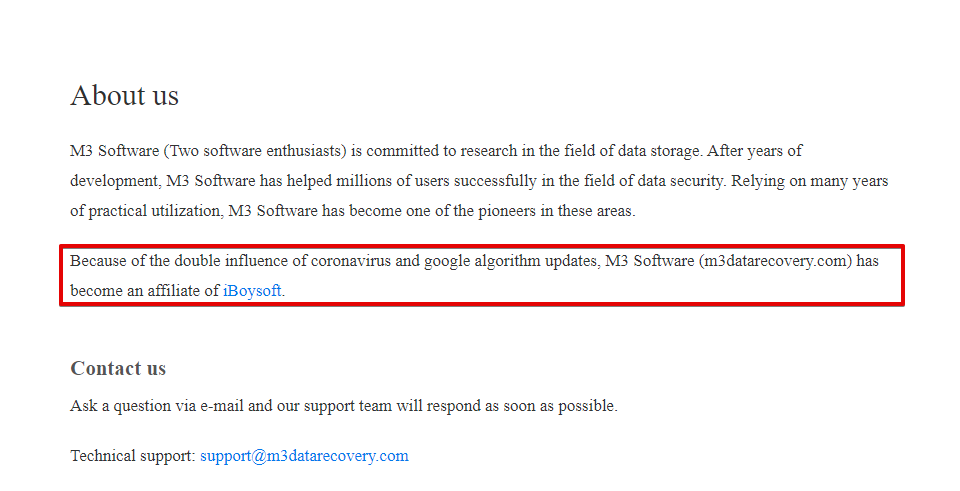 Frequently Asked Questions
iBoysoft data recovery is safe based on our test and from the verdict of other articles. While the recovery tool might not be the best in the business, it does its job securely and legitimately.
iBoysoft is safe for Mac after testing it on my own MacBook Air. Other users and articles also express the same sentiment and think that it's safe too. We couldn't find any malware and hidden malicious files while we were testing it.
Using iBoysoft data recovery on Mac is fairly straightforward. You just need to run the program, choose the drive with the file you want to recover, and then do a deep or quick scan of your drive. When the scan is complete, look for the deleted file and then recover it with the program.
Our Final Verdict
All in all, iBoysoft is a solid data recovery tool at its fundamentals. However, we can't help but compare it to M3 Data Recovery. If you're just trying to look for files and want to take advantage of the free plan, then iBoysoft is reliable enough to recover your data. I wouldn't pay good money for the monthly or yearly subscription though, you can get better deals elsewhere.
---
✅
Our verdict: 4.0 out of 5.
Mako is a freelance writer with a passion for all things Mac. Whether you're talking about the latest macOS updates, figuring out the best Mac programs, or need to know something from the Mac ecosystem—he's your guy. He's been writing about Macs for more than 4 years but has been using one for nearly a decade.
Andrey Vasilyev is an Editorial Advisor for Handy Recovery. Andrey is a software engineer expert with extensive expertise in data recovery, computer forensics, and data litigation. Andrey brings over 12 years of experience in software development, database administration, and hardware repair to the team.