Anyone can accidentally delete an important video file. Thankfully, it is not only possible but also easy to restore deleted videos on Mac with today's technology.
👀
In this article, we'll discuss in detail the different ways you can recover deleted videos on Mac, even those that have been permanently deleted.
Is It Possible to Recover Deleted Video Files on Mac?
In general, deleted videos can be recovered as long as they haven't been overwritten. Overwriting can happen almost instantly after deletion, but it can also take hours, days, and even weeks—it all depends on the size and type of your storage device, its usage, and your luck.
As a Mac user, you have several ways to restore deleted videos that still remain in the system even after being deleted:
💿 Backups: Up-to-date backups can save you from even the most catastrophic cases of data loss. If you have Time Machine enabled on your Mac or have recently created a manual backup of your video files, then recovering the missing ones shouldn't be a problem.
🗑 Trash: When you delete a file on macOS, the file is moved to the Trash folder. It then stays there for some time, giving you a chance to recover it with a simple click.
👨‍💻 Data recovery software: Files that are no longer in the Trash folder physically remain on the storage device until they are overwritten with new data, and data recovery software makes it possible to get them back.
If you're reading this article, then you've probably ruled out backups and Trash already. If so, then it's time to download and use data recovery software, and the next section of this article explains how.
How to Recover Permanently Deleted Videos on a Mac
As a Mac user, you can choose from multiple data recovery software applications to recover permanently deleted videos. For the purposes of this article, we will focus on one paid solution (Disk Drill) and one free solution (PhotoRec). Each of the two applications can reliably recover permanently deleted video files, but they provide a vastly different user experience and features.
Option A:

Disk Drill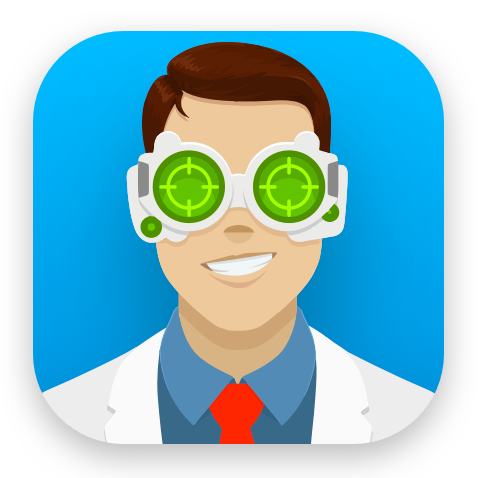 Aside from its data recovery capabilities, Disk Drill is packed with features that protect your disks and help you manage your data. Here are just some of the reasons why we recommend Disk Drill:
📁 It can recover over 400 file formats from your Mac, as well as from various internal and external storage devices, including flash drives, memory cards, and external hard drives.
❤️ It has S.M.A.R.T. monitoring capabilities, allowing you to check the hard drive health of your macOS device and detect hardware issues that can potentially lead to data loss.
📅 It can create full byte-to-byte backups of your storage devices and protect file metadata to increase data recovery chances.
🔍 It has multiple scanning options: quick scan, deep scan, and scan for lost partitions.
🧰 It has additional features such as disk clean up, data shredder, and data protection.
The free version of Disk Drill can preview an unlimited number of files, giving you a chance to see which can be recovered and which can't before you purchase a license. A single Disk Drill Pro license costs just $89, and you can use it for as long as you want.
👀
Now that we've described the features and capabilities of Disk Drill, let's move on to how to recover permanently deleted videos from Mac using the app.
Download the Disk Drill app from its official website.
Open the downloaded file and then drag the Disk Drill icon to the Applications folder to complete the installation.
Launch the app by opening the Disk Drill app on your Mac.
Grant the app access once you see the prompt. Just enter your administrator password to proceed. You may also have to change security settings. If you come across this, just follow the on-screen instructions.
Select the drive you want to check for lost videos. If you want to scan an external hard drive, make sure to plug it into your computer before launching the app so Disk Drill can detect it.
Start a scan by clicking Search for lost data. Disk Drill will start scanning for lost files. To get the best results, wait for the scan to finish completely.
Choose between Recover all or Review found items once the scan is done. With the latter, you can use the filter icon located beside the Search bar to recover only the files that you need. You can sort all the found files by type. In this case, you should sort by video to locate your video files easier.
Preview files before restoring them to make sure that you are recovering the correct file. Once you've found and selected the missing file, click Recover.
Choose the folder destination where you want to place the recovered file.
🔗
That's it! If you want to know more about Disk Drill, read our full review.
Option B:

PhotoRec

If you're an advocate of open-source software or would like to recover your lost video files without spending any money, then PhotoRec is for you.
Even though this data recovery software is named PhotoRec, it can recover more than just photos, and it can perform everything from SD card recovery to hard drive recovery. The only catch is you need to be comfortable with Terminal because the application doesn't have a graphical user interface.
Here are some of the things we like about PhotoRec:
💸 It's completely free. No need to pay to fully enjoy its features.
🔄 It can recover an unlimited number of files.
🗂️ It can recover over 400 file types including videos, archives, and other media formats.
Here's how to recover lost video files using PhotoRec on Mac:
Install PhotoRec using Homebrew (PhotoRec is included in the TestDisk package): brew install testdisk
Launch Terminal, type photorec, and press Return.
Use your arrow keys to select the drive you want to scan and retrieve the lost video files.
Locate the Proceed option by pressing the arrow keys to continue. You will be taken to a new screen where you will see your selected drive.
View the lost files by selecting the option File Opt.
Recover all your files by pressing S on your keyboard. Keep in mind that if you choose to retrieve all, the recovery process will take time.
Recover specific files by scrolling down until you see the file name, and hitting spacebar to select the file. Press B to save the settings, then press Enter twice to go back to the previous menu.
Press the Arrow Up key to select the No Partition option which scans the whole disk. Then go to the Search option by pressing the Left key and Enter. Choose Other if you are not using an ext file system.
Choose your destination folder from the list that will appear on your screen. Confirm your selection by pressing the C key.
Wait for the recovery process to finish. This will take a while depending on how heavy the file is. "Recovery Completed" will appear on the screen to confirm that the process is completed.
Exit the program.
Using a command-line interface may be tricky at first but you'll eventually get a hang of it with a bit of practice.
How to Recover Deleted Videos on macOS Without Software
As explained earlier in this article, it's sometimes possible to recover deleted files on Mac without software. Let's take a closer look at several recovery options available to Mac users.
Method #1:

Trash Bin

The first place to check when you delete a file is the Trash Bin, or simply Trash. To recover a deleted video from Trash, follow the steps below:
Click the Trash Bin icon from the dock to launch Trash.
Search for the video file that you'd like to recover. You can sort the content of the Trash folder by type.
Right-click on the file you wish to recover and select Put Back.
The file will immediately be placed back to its original location.
Method #2:

iPhoto/Photos Library

If your Mac is running on OS X Mavericks or older, you can try retrieving deleted videos using the iPhoto app. Here's how you can recover deleted videos on Mac using iPhoto:
Open the iPhoto app.
Select Trash located on the sidebar of the iPhoto app page.
Right-click the file that you want to retrieve, and select Put Back.
If you're using Yosemite or later, you can recover accidentally deleted videos from the Photos app:
Launch the Photos app.
Select Recently Deleted from the left sidebar.
Look for the video file that you want to retrieve, right-click, and select Put Back.
Method #3:

Time Machine

Time Machine is a built-in macOS app that lets you create backups. If the app is enabled on your system, then you should be able to restore missing videos with its help. Here are the steps you need to follow:
Launch the Time Machine app by searching for it on Spotlight. The list of the backed up files will be displayed on the screen.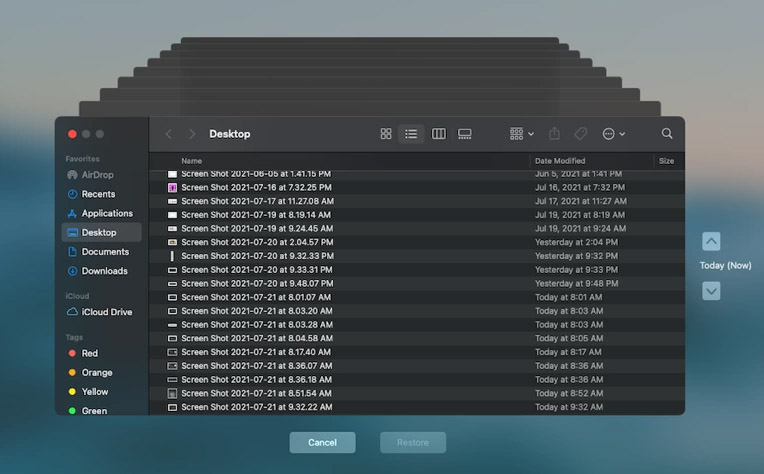 Look for the files that you want to retrieve (you can preview files by pressing Spacebar). Select all missing video files.
Click Restore. Time Machine will restore all selected files to their original locations.
Method #4:

Data Recovery Service

Even the best video recovery software solutions can't recover video files from physically damaged storage devices. If that's the data loss scenario you're dealing with, then we recommend you don't risk making it any worse and, instead, contact a professional data recovery service. Most services won't charge you unless they manage to get your video files back, so you have nothing to lose.
FAQ
Conclusion
When you lose an important video file, there are several methods that you can try to get it back. Out of them, only data recovery software can restore video files that have been permanently deleted. Disk Drill for Mac is our favorite data recovery software because it allows even inexperienced home users to achieve professional results.
Mako is a freelance writer with a passion for all things Mac. Whether you're talking about the latest macOS updates, figuring out the best Mac programs, or need to know something from the Mac ecosystem—he's your guy. He's been writing about Macs for more than 4 years but has been using one for nearly a decade.
Andrey Vasilyev is an Editorial Advisor for Handy Recovery. Andrey is a software engineer expert with extensive expertise in data recovery, computer forensics, and data litigation. Andrey brings over 12 years of experience in software development, database administration, and hardware repair to the team.