Disk Drill and Wondershare Recoverit are two of the leading data recovery tools in the market. But which of them is the better choice? Let's find out.
Comparisons aside, there is nothing stopping you from trying out the applications, so we encourage you to go ahead and install the free versions of both apps and decide which one you like the best.
| | | |
| --- | --- | --- |
| | Disk Drill | Wondershare Recoverit |
| ⚙️ Requirements | Windows 10-11 (x64 only) | Windows 8-11 (x64 only) |
| 🚫 Trial Version Limit | Recover up to 500MB for free | Recover up to 100MB for free |
| 💸 Starting Price | $89/Lifetime | $69.99/Year |
| 🦾 Recovery Quality | Great | Good |
| 👨‍💻 Usability | Easy | Easy |
| 🌐 Website | | |
| ⬇️ Download | | |
Disk Drill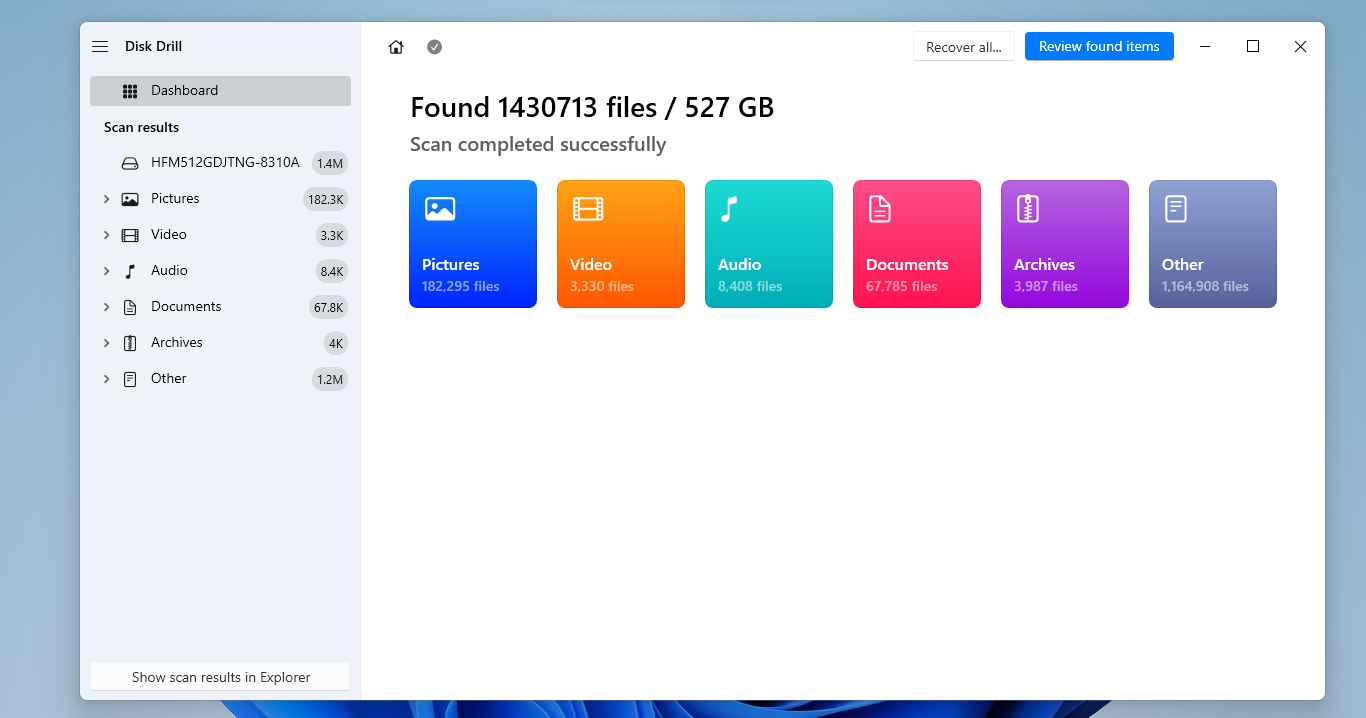 Disk Drill ranks consistently as the top data recovery application in our software tests, which makes it the clear favorite in this comparison. And it isn't hard to see why – from better features to an incredibly cost-efficient pricing scheme, there is little reason to choose Wondershare Recoverit over Disk Drill.
While Recoverit is certainly easy to use, Disk Drill's UI is very user-friendly as well. Its recovery results are actually organized better, since Wondershare Recoverit often lists the same file multiple times, confusing people. Disk Drill is also safe to use, with no viruses or malware that can inject your computer.
Pros
Generous free version with 500MB data limit
Lifetime license on purchase
Recover 360+ file types
Simple user interface
Protect data against future loss
Recover RAID arrays
Cons
No phone support
Lacks the option to create bootable disks
Cannot run on Linux
Wondershare Recoverit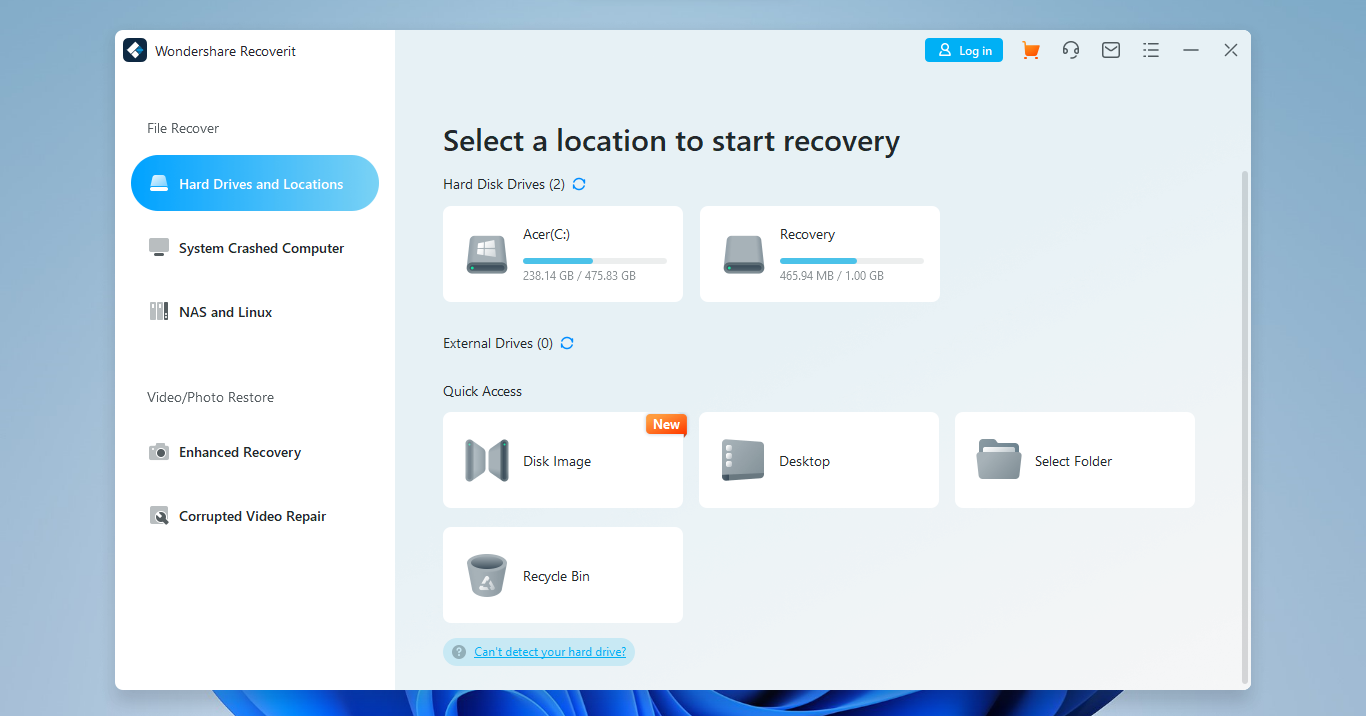 Wondershare Recoverit is a great data recovery tool for Windows and Mac. Its specialty lies in its ease of use, promising to recover your data in just three steps. And refreshingly, this is not just hyperbole.
Recoverit is actually a very well-designed application that makes it easy for even a complete beginner to restore their missing files. Performance-wise, it works quite well too, recovering a variety of file types lost for many different reasons. The only problems are the rather expensive pricing and poor support of non-Windows file systems.
Pros
Excellent user interface
Video repair functionality
Recover multiple file types from Windows and Mac
Can create bootable discs
Cons
Struggles with Bitlocker-encrypted devices
Expensive annual pricing scheme
Only 100MB of data can be recovered for free
Needs internet access to work
Disk Drill vs Recoverit: Pricing Comparison
Disk Drill

Wondershare Recoverit

Distributed as

Freemium

Freemium

Trial version available

Yes

Yes

Trial version limitations

Recover up to 500MB for free

Recover up to 100MB for free

Number of devices per license

Essential – 1
Standard – 1
Premium – 2
For Team – 5
For Student – 1

Starting price

$89/Lifetime

$69.99/Year

License model

Lifetime

Annual

No credit card to try

Yes

Yes

Money back guarantee

Yes

Yes
The pricing is the biggest difference between the two applications, and perhaps the most important. For many users, this will be the deciding factor.
This is because Disk Drill offers a lifetime license. Basically, a buy once, use forever deal we wish more software developers opted for.
Instead, Wondershare Recoverit – like most data recovery tools out there – charges you an annual subscription fee, which can cost you quite a bit in the long run. Especially considering how little you will actually end up using the data recovery tool on a daily basis.
And if you think you can get by with just the free version, think again. Wondershare Recoverit's trial only lets you recover 100MB of data, which is hardly enough to even try it out.
Disk Drill is a bit better in this regard, with a 500MB free data recovery limit, but that still requires you to be careful with what you choose to recover. Buying a license is the easiest way to get unlimited recovery, and Disk Drill makes it worth your while by making it last a lifetime.
Recoverit vs Disk Drill: Data Recovery Performance Comparison
| | | |
| --- | --- | --- |
| File System | Disk Drill | Wondershare Recoverit |
| FAT32 partitions | ✅ | ⚠️ |
| exFAT partitions | ✅ | ⚠️ |
| NTFS partitions | ✅ | ⚠️ |
| EXT4 partitions | ✅ | ⛔️ |
| HFS+ partitions | ✅ | ⚠️ |
| APFS partitions | ✅ | ⚠️ |
| BitLocker support | ✅ | ⚠️ |
| Windows shadow copies scanning | ⛔️ | ⛔️ |
Data recovery works by scanning the underlying data of a file system and looking for file signatures that might not be recorded by its main table. This requires an in-depth understanding fo the files system being scanned.
On paper, Wondershare Recoverit can recover files from a variety of file systems. In practice, however, its performance leaves much to be desired. While it works well enough with the most common file systems like FAT32, NTFS (used in most Windows computers), and HFS+ (found in Mac PCs), a scan reveals fewer files than in Disk Drill.
Disk Drill, in contrast, has excellent performance across the board, only unable to scan Windows shadow copies properly. It can successfully retrieve files from file systems used in Windows, Mac, Android SD cards, and even some Linux distros.
So if you want to maximize the chances of recovering your lost files, Disk Drill is the way to go.
Disk Drill vs Wondershare Recoverit: Feature Comparison
| | | |
| --- | --- | --- |
| Feature | Disk Drill | Wondershare Recoverit |
| Update frequency | ✅ | ✅ |
| Changelog available | ✅ | ⛔️ |
| Online market share | ✅ | ⛔️ |
| Sort results | ✅ | ⛔️ |
| Recovery from RAID1, 0, JBOD | ✅ | ⛔️ |
| Real-life recovery challenge | ✅ | ⚠️ |
| Raw photo recovery | ✅ | ⚠️ |
| Video formats recovery | ✅ | ⚠️ |
| Document formats recovery | ✅ | ⚠️ |
| Convenient scan session management | ✅ | ⛔️ |
| Scan free space only | ✅ | ✅ |
| Corrupted video repair tool | ⛔️ | ✅ |
Every data recovery tool can perform basic data recovery, but that's not always enough. What if you want to recover RAW photos from a video camera or restore obscure document formats? What if you want to restore data from a RAID or JBOD configuration?
Well, Disk Drill has you covered. It has a more extensive list of supported formats than Recoverit and can scan RAID configurations as well. Disk Drill also comes with a bunch of quality-of-life features like sorting the recovery results and saving scan sessions.
The only area in which Wondershare Recoverit beats Disk Drill is the ability to repair corrupted videos. Recoverit features a built-in video repair tool that can sometimes fix an unplayable or corrupted video, while Disk Drill lacks any such feature as of now.
Verdict
Wondershare Recoverit might be an above-average data recovery tool, but it fails to stand up to the incredible performance and features of Disk Drill. Whether it is the file systems supported or the pricing scheme, Disk Drill beats Recoverit handily.
Not only is Disk Drill cheaper on your pocket due to its lifetime license (compared to the annual billing of Wondershare Recoverit), but it is also more likely to find your deleted files, whether on Windows or Mac. Even the free version of Disk Drill triumphs over Recoverit by allowing you to recover 500MB of data instead of a paltry 100MB offered by the latter.
A frontend developer turned writer, Levin brings his in-depth knowledge to bear in breaking down complex technical topics into a layman's perspective. A believer in emergent technologies, Levin writes about Machine Learning and Internet-of-Things to explore how people and businesses can benefit from innovation. He also likes going into the nitty-gritty details of software or hardware products to bring an unbiased review that adds value to his readers.
Andrey Vasilyev is an Editorial Advisor for Handy Recovery. Andrey is a software engineer expert with extensive expertise in data recovery, computer forensics, and data litigation. Andrey brings over 12 years of experience in software development, database administration, and hardware repair to the team.