Data loss can be detrimental to anyone it happens to. Luckily, there are recovery solutions out there like Recoverit to help get back the invaluable data that was lost. But, what if it doesn't work for you? Well, luckily, there are alternatives to Recoverit out there.
Although Recoverit is a powerful tool, sometimes it can fall short. If you've tried Recoverit and found that it's just not cutting it for you, read on to find out what recovery tools are out there and how they might benefit you.
✅
Here's a quick recap of our findings You can also vote for the software you think is the most suitable alternative to Wondershare Recoverit. We will update our ranking in the future based on your votes.
1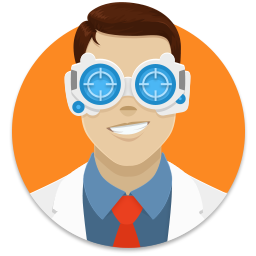 2

PhotoRec
Platform:

Windows, macOS, Linux
Distributed as:

Free
3

Recuva
Platform:

Windows
Distributed as:

Free
What is Recoverit?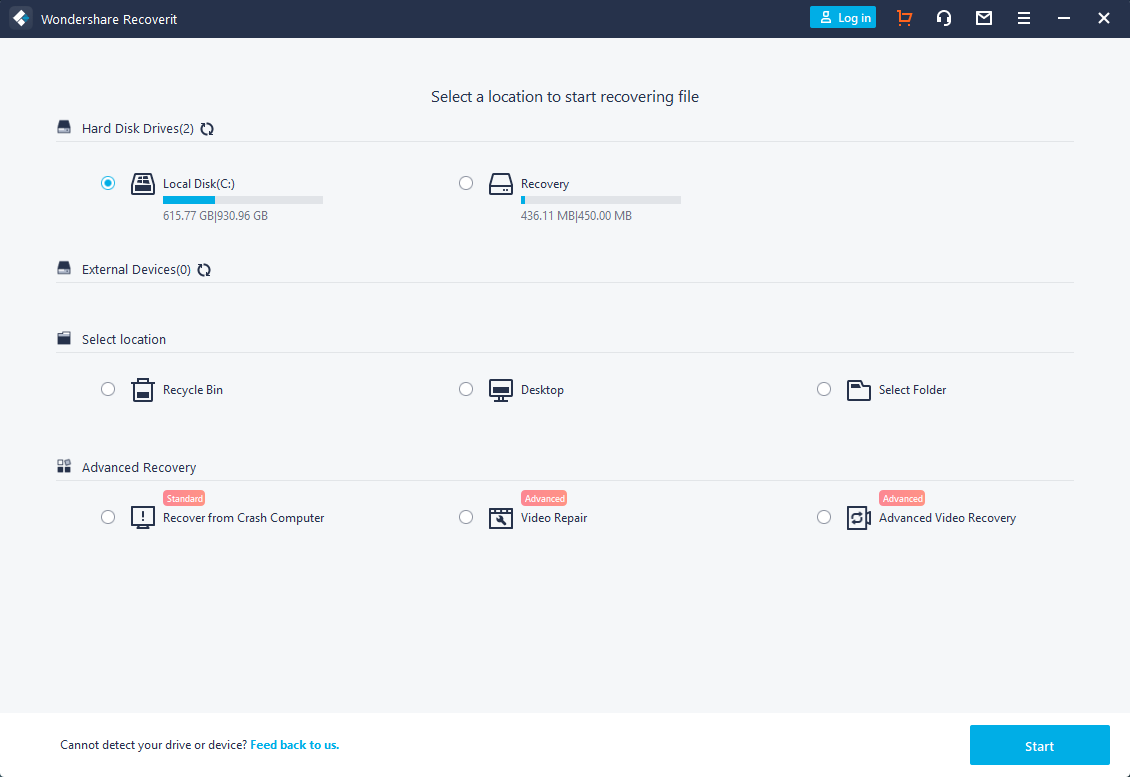 Recoverit is a data recovery application developed by Wondershare that's available for both Windows and macOS. Since its development in 2003, it has received many updates and remains one of the go-to solutions for file recovery. It boasts support for over 1000 different file types and claims to be able to recover data from all devices that have been deemed unrecoverable by other recovery solutions.
You can download the free version of Recoverit and recover up to 100MB of data before needing a paid plan. The scanning and recovery process is very similar to other recovery tools. To start, you will have the option to do a Quick Scan on your drive. If that isn't sufficient in finding the data you need, you can then move onto a Deep Scan. At either of these stages, you can filter the discovered data and choose what files you want to recover.
Once the scan has completed, you have the ability to preview your files before recovery. Recovered files are sent to a specified location of your choice. As a data recovery tool, it gets the job done most of the time.
Reasons for Seeking an Alternative to Recoverit
While Recoverit is a powerful recovery solution, there are various reasons why one might seek an alternative. Below you will find some of the most common reasons users seek out a different recovery solution.
⚙️ Features – While Recoverit does its job of finding and recovering lost files, there are many other recovery solutions out there that offer much more in terms of features. While the added features may not be necessary for most, they can be a welcomed addition if you want to keep your data safe going forward.
💲 Price – Price is a big factor for anyone that's looking to invest in a data recovery solution. Some might think that the price is too steep for what you get with Recoverit, as there are cheaper alternatives on the market that provide additional features.
💻 User interface – For some, the user interface is all about personal preference. For example, technical users may prefer the command-line interface offered by PhotoRec. Others may just prefer a different layout to the one offered by Recoverit.
⚡ Effectiveness – It could boil down to the fact that Recoverit just wasn't able to recover the data that you needed. Different recovery tools use different algorithms to recover data, and if Recoverit hasn't worked for you, perhaps it's time to look at other options.
No matter what your reasons are for seeking an alternative, there's no shortage of recovery tools to choose from. Let's take a look at some of the best alternatives to Recoverit.
Top 5 Best Alternatives to Recoverit
Disk Drill is a robust and user-friendly recovery tool for Windows and macOS that can recover data from all major devices. It also comes packaged with features like disk health monitoring, duplicate finding, and active data protection.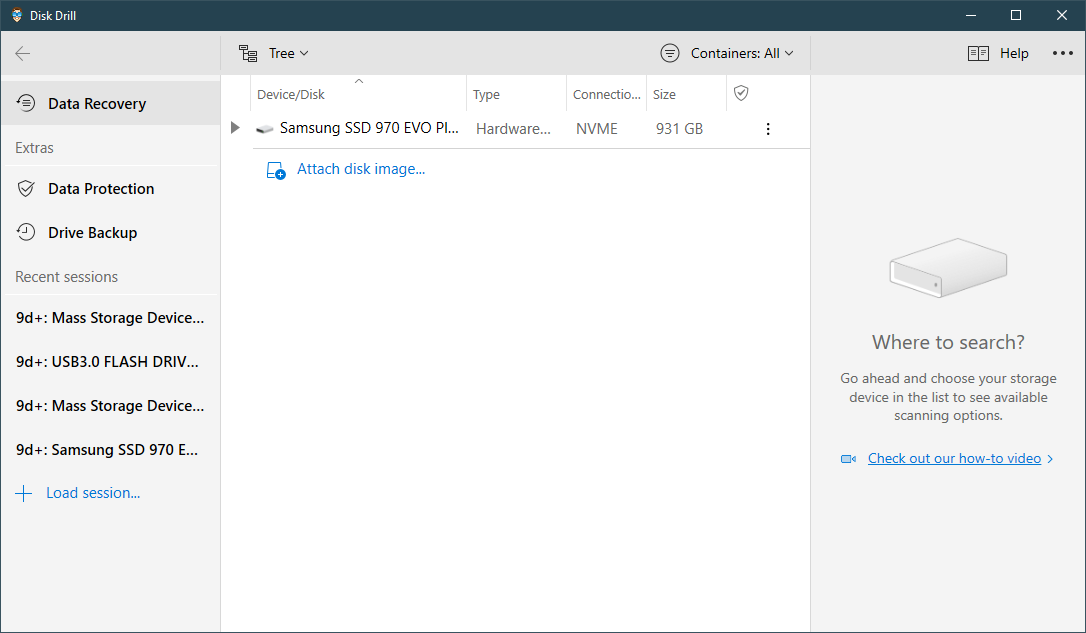 ✅
Pros:
Support for 400+ file types
Free recovery up to 500MB
User-friendly interface
Disk health monitoring
Active data protection
Disk Drill is a feature-rich recovery solution that is trusted by many thanks to its proven reliability. Boasting recovery capabilities for up to 400 file types on any disk-based storage media, it'd be a challenge to find a file that Disk Drill can't recover.
Disk Drill's user-friendly interface was designed with usability in mind. File recovery is made easy, even for those who aren't technically inclined. And, it even saves the four most recent scans performed so that you don't need to perform multiple scans on your storage media.
Using the Recovery Vault feature allows you to mark important files so that in the event that they're deleted, you have a good chance at recovering them without having to do any scans. This is an added layer of security and reassurance to put your mind at ease. If you want to take it a step further, you can use the Guaranteed Recovery feature which creates an actual copy of the file that can be recovered whenever you like.
If file recovery is all you need, you can trial Disk Drill for free and recover up to 500MB worth of data before having to opt for a paid plan.
🔗
For a more detailed review on Disk Drill, check out our review of it.
PhotoRec is an open-source recovery solution developed by CGSecurity. Although its targeted audience is photographers, the application can recover a range of file types which makes it great for all types of users.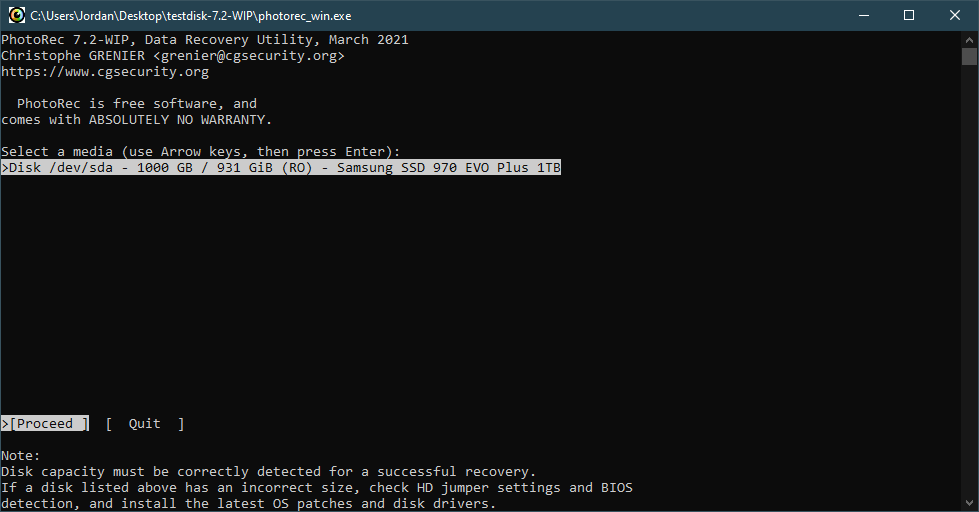 ✅
Pros:
Unlimited free recovery
Support for multiple file types
Support for most disk-based media
Compatible with all main operating systems
❗️
Cons:
Intimidating user interface
Limited support
Restored files have different file names and folder structure
PhotoRec is great because it's free and supports multiple file types and operating systems. But, its biggest drawback has to be its command-line interface. Unlike most recovery solutions, PhotoRec doesn't have an intuitive user interface. This can deter those who aren't familiar with navigating without popup windows and buttons.
If you can move past the command-line interface, you'll find that PhotoRec is a powerful and versatile recovery tool. It can support up to 480 file extensions, and even offers a free online tool where you can upload a file type to see if PhotoRec can recover it.
Since this is donationware, there are no official support channels for the tool. However, thanks to it being open-source and readily available for all, there are many active forums that act as a replacement.
🔗
For a more insightful look into PhotoRec, check out our review.
Recuva is a recovery solution by Piriform that's fast and effective at recovering almost any type of deleted file from disk-based storage media.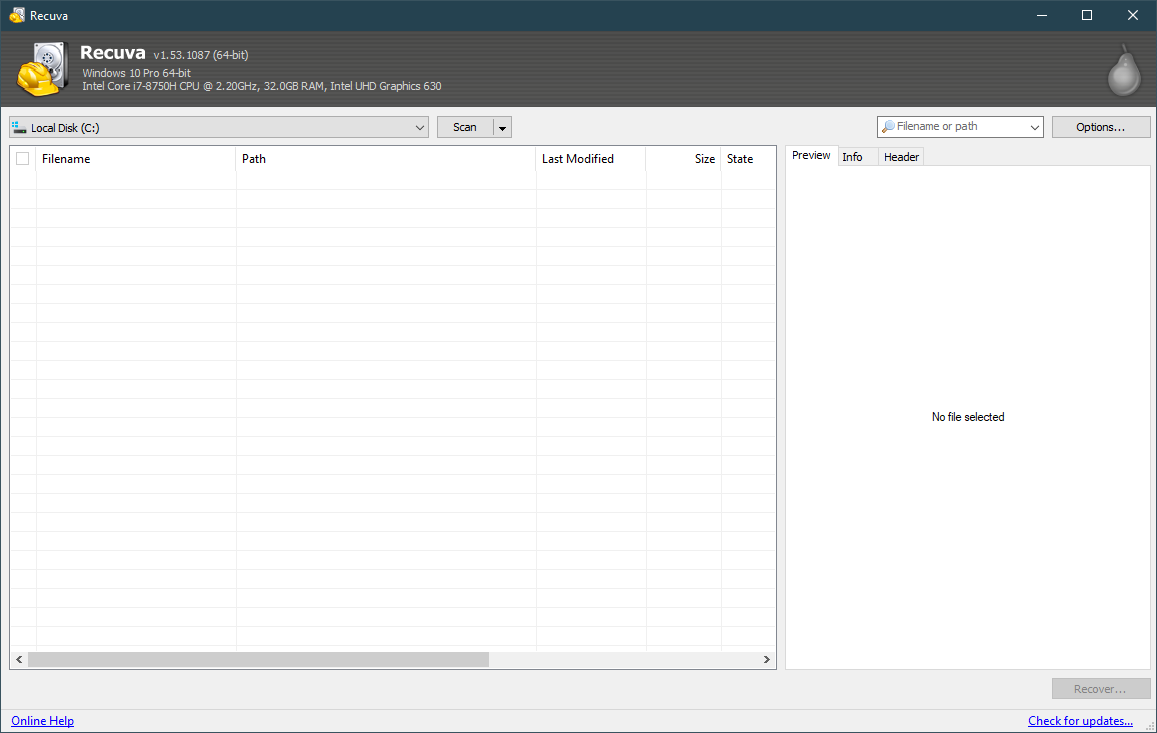 ✅
Pros:
Very competitive price
Freemium plan available
Portable version available
Secure file deletion
❗️
Cons:
No support for macOS
Limited features
Recuva is light, affordable, and gets the job done. It may not have all the bells and whistles like other recovery tools but the super low price reflects that. The free version offers advanced file recovery, but if you upgrade to a Professional plan, you gain access to features that include virtual hard drive support, automatic updates and premium customer support.
If you have files that you want to erase to the point where they can't be recovered by you or anyone else, you can make use of Recuva's secure file deletion feature. When files are deleted, they can easily be recovered through the likes of recovery tools. Recuva uses industry-standard secure deletion methods to make sure that your data is deleted for good and even gives you the choice between four different levels of secure deletion, each level being stronger than the last.
One of Recuva's biggest strengths is its simplicity. Users often just want to recover a handful of files, and Piriform fulfills that need. The software itself hasn't had an update since 2016, which can stand as a testament to its reliable functionality. And, the fact that this software was developed by the same crowd that brought us CCleaner gives users a sense of trust knowing that the team who developed the tool are trustworthy and know what they're doing.
🔗
To see if this is the ideal choice for you, check out our Recuva review.
EaseUS is another powerful recovery solution that can recover your data without much fuss. Their website contains a collection of helpful tutorials that can help any user recover their data in no time.
✅
Pros:
Recover up to 2GB for free
Intuitive user interface
Compatible with Windows and macOS
30-day money-back guarantee
❗️
Cons:
Costly compared to other data recovery solutions
Other features like partition recovery are separate
EaseUS allows a whopping 2GB of free data recovery before you need to opt for a paid plan. This can be very attractive for those who want to thoroughly test the tool's capabilities before making more of a commitment.
While there isn't a full list of the file types that EaseUS supports for recovery, it can recover a wide range including photos, videos, documents and audio. Since most major file types are supported, you will only face issues if trying to recover rarer file types.
The application allows you to filter through your results, allowing you to specify the type of documents you want to display. If this isn't sufficient enough, you can make use of the Advanced Filter which allows you to specify the file type, file size, and the last time the file was modified.
🔗
We take a closer look at this recovery solution in our EaseUS review.
Minitool is a recovery solution available for Windows and macOS that can recover all types of files including photos, videos, audio, and documents.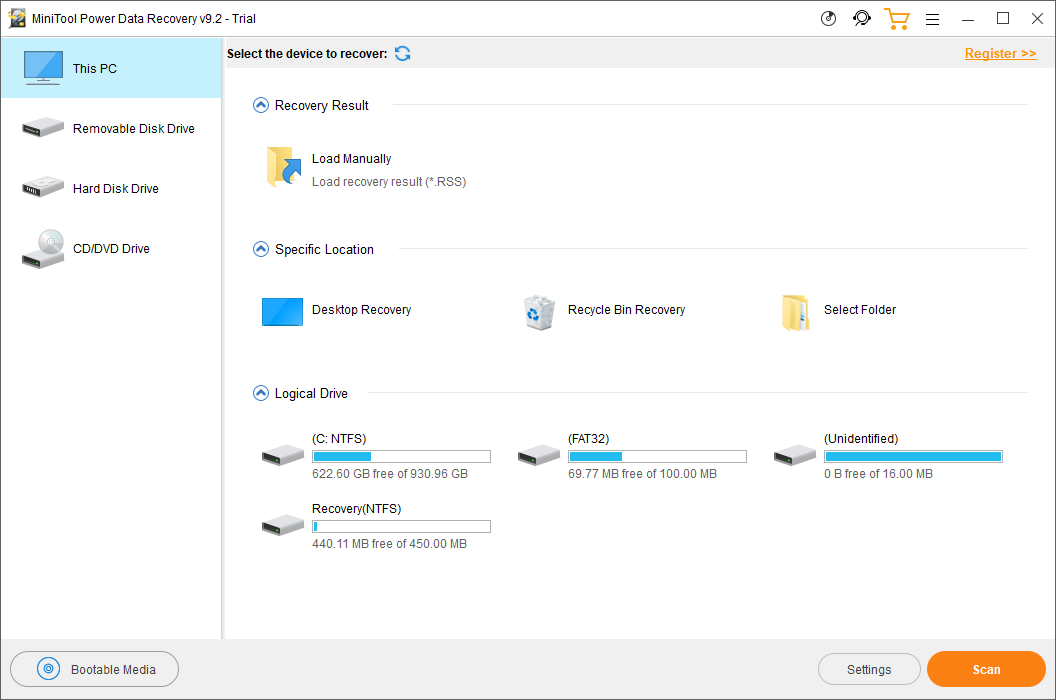 ✅
Pros:
Recover up to 1GB for free on Windows
Compatible with Windows and macOS
Competitive lifetime pricing
30-day money-back guarantee
❗️
Cons:
Not many features
Very outdated user interface
Minitool Data Recovery (also known as Stellar Data Recovery for Mac) is a simple file recovery solution that doesn't do more than recovering the files you need. It's fast to download and fast to install thanks to its small file size.
The official supported file type list for Minitool is quite small, but the tool allows you to recover raw data too, which further increases the different types of files you can recover.
The software is available for both Windows and macOS, and also offers a trial version which allows you to recover data up to 1GB before you need to upgrade to a paid plan.
In terms of features, it's lacking compared to other data recovery solutions out there. But, if you only want to recover data, Minitool can satisfy your recovery needs. And, if you find that it's not a great fit for you, make use of the 30-day money-back guarantee.
🔗
To see if Minitool would be a good fit for you, check out our review on it.
FAQ
Recoverit comes with a range of paid models but also allows users to trial their software with a free version. The free version contains limited features but you can recover up to 100MB of files before needing to upgrade. In some instances, you may notice the Recoverit logo on the recovered file.
Recoverit is a useful and effective data recovery solution. It is trusted by many users and has extensive reviews. If you are trying to recover lost or deleted files, Recoverit can get the job done without much hassle.
There are many different options available when it comes to data recovery software for Mac. To make it easier, we compiled a list of our favorite Mac recovery tools. This list contains our insights into what makes a recovery tool good and the differences between some of the best data recovery tools on the market.
Conclusion
Recoverit is good, but it's not perfect. Sometimes it may leave you wanting more. And, to satisfy those needs, you may need to look elsewhere for your data recovery needs. Luckily, there are many options out there.
The perfect data recovery solution heavily depends on your needs and what you want to achieve. Do you simply want the ability to recover lost or deleted data? Or, do you also want to protect your data from future incidents so you don't have to spend time going through the file recovery process? No matter what you're looking for, the alternatives we've presented are the perfect starting point.
Jordan Jamieson-Mane is a freelance content writer with a passionate interest in technology. Starting from a young age, this interest gradually turned into a career, with Jordan studying in the field of IT and moving into a technical role right out of tertiary education. After gaining first-hand experience in the field, he started his journey as a freelance content writer. As a tech enthusiast, his interests within the realm of technology include hardware, networking, smart technology, and consumer electronics.
Andrey Vasilyev is an Editorial Advisor for Handy Recovery. Andrey is a software engineer expert with extensive expertise in data recovery, computer forensics, and data litigation. Andrey brings over 12 years of experience in software development, database administration, and hardware repair to the team.