Today's computers are so powerful that they can run multiple operating systems at the same time using virtualization software like VirtualBox and VMware.
As practical as it can be to create a dedicated virtual machine for a specific task, such as for testing or software development, keeping all eggs in one virtual basket can be risky because a single mistake may result in the complete loss of all data.
🗨️
Well, it may, but it doesn't have to. There are different techniques and solutions that you can use to perform virtual machine data recovery and recover files from deleted or otherwise lost virtual machine image files.
Common Virtual Machine Data Loss Scenarios
Before we take a close look at several virtual disk recovery techniques and solutions, we should first explore the scenarios when they are applicable.
5 Best Methods to Recover Data from a Virtual Machine Disk
Using the methods below, you can effectively address most cases of virtual machine disk data loss.
Method 1:

Check Your Backups

Because of how easy it is for virtual machines to become lost or damaged, it's a good practice to back them up on a regular basis. If the virtual machine disk image you're trying to recover was stored in a location that's included in your File History backup, then it's very likely that you'll be able to retrieve it intact by following these steps:
Open the Start menu.
Type "control panel" and launch the Control Panel app.
Navigate to System and Security > File History.
Click Restore personal files.
Navigate to the folder where the virtual machine disk image was stored.
Select a previous version of the folder.
Click Restore.
👀
By default, File History is configured to back up your Libraries, Desktop, Contacts, and Favorites.
Method 2:

Scan Your File Storage for a Lost Virtual Disk Image

If you've deleted an entire virtual disk image, then you need to get it back using a data recovery tool with support for VHD recovery (Windows virtual machine disk format), VMDK file recovery (VMware virtual machine disk format), or any other virtual drive file format you may need to recover.

One data recovery tool that can reliably recover most virtual drive file formats is Disk Drill Data Recovery. Thanks to its streamlined recovery process, Disk Drill can deliver results in a few simple steps, and the free version can restore up to 500 MB of data, so you might be able to recover a smaller virtual machine disk image without paying any money.

Here's what you need to do to scan your file storage for a lost virtual disk image using Disk Drill:
Download Disk Drill for Windows from its official website.
Install and launch the application.
Select the storage device where your virtual disk image was stored.
Click the Search for lost data button to initiate a scan.
Analyze the scan results and look for the missing virtual disk image.
Select the image and click the Recover button.
Pick a suitable recovery destination for the image and click OK.
Depending on the size of the virtual disk image, it might take Disk Drill some time to recover it to the selected destination (especially if you select a slower hard drive or a USB flash drive connected to a USB 2.0 port).
Method 3:

Mount and Scan Your Disk Image Using Specialized Software

Do you want to recover files from a healthy virtual disk image or perhaps a corrupted one that can no longer be opened by your virtualization software? In that case, you should scan the disk image directly using the best data recovery apps with support for VMDK and VHD file formats.
Option A: Directly Scan Your Disk Image with Disk Drill
Disk Drill can mount and scan a number of different disk image file formats, including:
Apple disk images (*.dmg)
Raw disk images (*raw)
Forensic DD images (*dd)
Sector-by-sector disk images (* img)
Uncompressed disk images (*iso)
Byte-to-byte disk images (*.dsk)
Generic disk images (*.bin)
Legacy binary disk images (*dat)
Virtual VMware disks (*vmdk)
Virtual Disk files (* vhd)
Virtual Disk files (*vhdx)
This is how it works:
Download Disk Drill for Windows from its official website.
Install and launch the application.
Click the Attach disk image option.
Select the disk image you want to scan. The image will be added to the list of available storage devices.
Select the added image and click Search for lost data.
Select any files you want to recover and click the Recover button.
Pick a suitable recovery destination for the selected files and click OK.
If you're looking for a specific type of data, then you can use Disk Drill's file type filters to narrow down the scan results.
Option B: Mount Your Virtual Disk Image in Windows Disk Management & Then Scan It (VHD)
Disk images in the Windows virtual machine disk format (VHD) can be mounted using the Windows Disk Management tool, which is included in all recent versions of Windows. You can then scan them using Disk Drill just like you would when recovering files from a formatted hard drive or a formatted partition.
Follow the steps below to mount a virtual disk image in Windows Disk Management:
Press Win + X and select Disk Management.
Open the Action menu and select the Attach VHD option.
Select your virtual disk image file.
The Windows Disk Management tool will mount the selected image file and automatically assign a drive letter to it. You can simply open Disk Drill and scan the newly available storage device.
Option C:

Scan Your Disk Image with R-Studio
Disk Drill isn't the only virtual disk recovery software solution out there. There's also R-Studio, a feature-packed application with many useful features geared toward data recovery professionals.
If you don't let its complexity intimidate you, then R-Studio can help you recover files from virtual machine images that are not supported by Disk Drill. To use it:
Download R-Studio for Windows from its official website.
Install and launch the application.
Open the Drive menu and click Open Image.
Select the virtual disk image file you want to open.
Highlight the newly opened image file and click Scan.
Customize the scan options if you want to and click Scan again to proceed.
Wait until R-Studio finishes scanning.
Open the recovered files in R-Studio's file browser.
Select all files you want to recover from the image file.
Click Recover Marked and specify the desired output folder.
Confirm by clicking OK.
The free version of R-Studio can recover files that are up to 256 KB large. To recover large files, you need to purchase a license.
Method 4:

Install the Data Recovery Software Inside the Guest Operating System

In many ways, virtual drive images are like libraries, and it's much easier to find a specific book when you're actually inside the library than when you're looking from the outside through a window. In some cases, such as when all windows are fully opaque, it's completely impossible to find any book at all from the outside, and that's exactly the problem you'll encounter when you attempt to recover an encrypted image.

The solution? Run your recovery software of choice directly from the guest operating system just like you would normally.

⚠️

If you suspect that the virtual image has become corrupted, then you can attempt to fix it the same way you would fix a corrupted hard drive: using the CHKDSK tool.

To fix a corrupted virtual image before recovering data from it by running data recovery software inside the guest operating system:
Launch the guest operating system.
Press Win + X and launch Windows Terminal (Admin).
Enter the following command to scan and fix the system drive: chkdsk /f /r /x
You will be asked to schedule a scan the next time the system restarts, and you need to press Y to confirm.
Restart your guest operating system and wait for CHKDSK to finish.
You can then launch a virtual disk recovery software application like Disk Drill inside the guest operating system and use it to scan the system drive for recoverable files.
Method 5:

Contact Your Local Data Recovery Service Center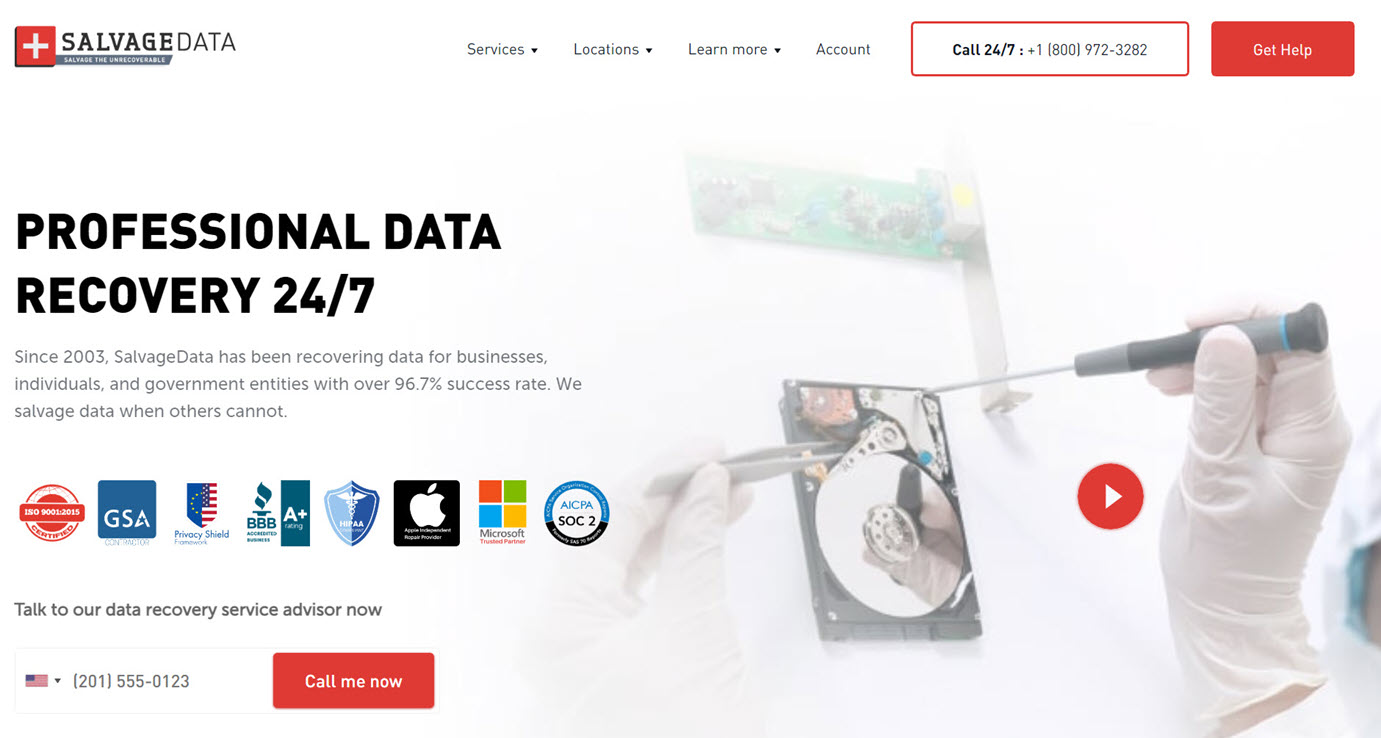 While it's true that many cases of data loss related to virtual disk drives can be solved at home using the techniques and solutions we've described so far, sometimes it's best to take advantage of the best data recovery services in your area.
Companies like SalvageData have the equipment and expertise necessary to recover data even from dead hard drives that have been physically damaged to such an extent that the operating system can no longer recognize them. They're also deeply familiar with specific challenges associated with the recovery of virtual drives, so they're more likely to succeed than an inexperienced home user equipped with a free software tool.
To get a free data recovery quote, you need to:
Find the nearest SalvageData recovery service center.
Take or ship your storage device to the service center.
Wait a short while for your quote.
If you decide that the price to have your virtual drive professionally recovered is reasonable, then you can give SalvageData your approval to begin the data recovery process. It won't take long before you receive all restored data on a new device or in the form of a download link.
FAQ
Conclusion
Anyone who relies on virtual drives should familiarize themselves with the virtual data recovery techniques and solutions described in this article to gain the ability to restore files from virtual machines as soon as data loss occurs. Of course, backups still provide the most reliable prevention against data loss, so you shouldn't stop creating them just because you now know how to perform virtual drive recovery using popular data recovery tools.
David Morelo is a professional content writer in the technology niche who joined the Handy Recovery team in 2019 and has since made an invaluable contribution to the quantity and quality of our materials. David's main principle is not to start working on a new article until he has studied the subject backwards and forwards.
Andrey Vasilyev is an Editorial Advisor for Handy Recovery. Andrey is a software engineer expert with extensive expertise in data recovery, computer forensics, and data litigation. Andrey brings over 12 years of experience in software development, database administration, and hardware repair to the team.