You are probably frantically scrolling for a solution to recover your data. Calm down: formatted partition recovery is possible!
However, a word of caution: Attempt data recovery as soon as you realize the deletion; else, there is a possibility of data overwriting – which drastically reduces the chances of recovery. Completely stop using your hard drive/partition until you read this article thoroughly.
Always ensure you have a backup of your data. If you notice any data loss, immediately stop using the drive in question.
What Is a Formatted Partition?
Partition formatting creates a file system on the drive so that files can be stored and accessed by the system. For your operating system to use and recognize a specific file system, you must format the partition or volume on hard drives or other storage devices.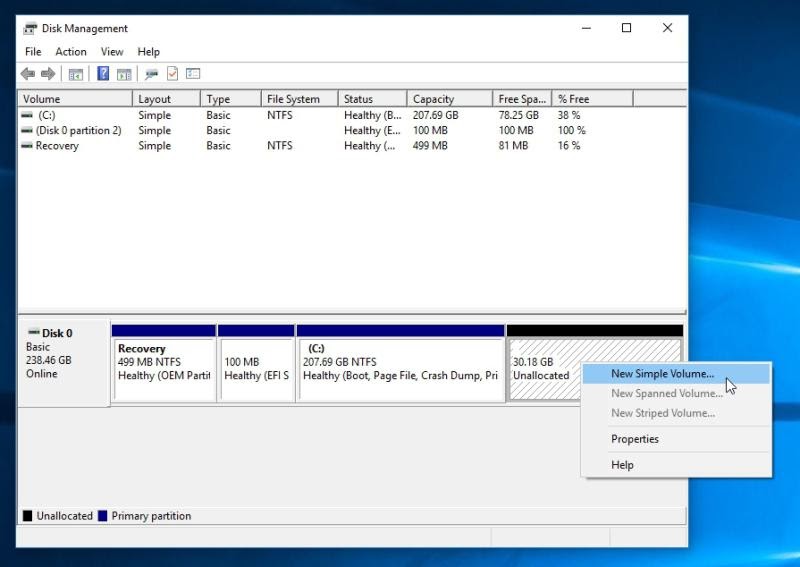 Formatting or reformatting a disk or partition is serious business and must be performed carefully. Always have partition data backed up in advance.
Suppose you do not have a backup copy of the formatted partition, you will have to unformat the partition and recover data. Partition formatting is a valuable and essential function, and users carry it out for various reasons.
How Is Formatted Data Recovery Even Possible?
The bottom line is that you can recover lost files and folders from a formatted partition or disk. So even if you accidentally format the whole drive, file recovery is still a possibility. But you may wonder how this formatted data is still recoverable.
In a nutshell, when you format a partition, you only remove the file entries on the root directory and file allocation tables. As a result, all file data isn't wiped from the drive. Since entries for those files are removed, the operating system cannot access the corresponding data and then marks these sectors (taken up by formatted data) as free. These newly marked sections get overwritten with new data.
Thus, lost files are recoverable as long as they are not damaged or overwritten. Consequently, if you want to wipe the hard drive completely, simple formatting is not enough.
Suggestions To Achieve Successful Format Recovery
Although formatted partition recovery is possible, you need to pay attention to the following to maximize chances of data recovery:
🚫 Stop writing any data to the partition: Formatted files stay on the partition and continue to exist somewhere on the volume, although they appear invisible. Furthermore, if you save data to the partition after formatting, there is a possibility to overwrite the recoverable data. Hence, immediately stop using the partition and close programs that may access the drive.
💿 Do not reformat the partition: Since the formatting process creates a new file system on the volume, reformatting the partition again hampers your chances of data recovery.
❌ Do not run a disk check on the formatted partition: The disk check function provided by the operating system checks and repairs partition errors. However, this tool may repair excessively and even damage information critical to successful partition recovery.
✔️ Try trusted recovery software: Do not try any cracked recovery software which may contain viruses and destroy recoverable data. Instead, you should download data recovery software from trusted websites. The primary criterion is that the tool should be clean, read-only, and reliable.
Deleted/Lost Partition – Common Causes
It's essential to identify the causes of a formatted partition to prevent facing one. Here are some of the common reasons for deleted or lost partitions:
😵 Deletion by accident: Accidental data deletion is a common mishap that can happen even to computer experts. While cleaning a specific partition, you can end up accidentally cleaning an entire volume. Moreover, accidental deletion can occur when reinstalling windows or formatting the wrong disk volume while using the DISKPART command on the command prompt.
🕳️ Corrupt data: Viruses or faulty disk operations can result in partition deletion.
🔌 Power disruptions: Power fluctuations such as a surge or failure can result in an improper shutdown, which can even render the drive useless.
☣️ Bad sectors: If you have bad sectors on the disk, your partition will not be recognized by the operating system.
⚠️ Formatting message: If a formatting message pops up while working and you do format, it sometimes results in data loss. Power disruptions: Power fluctuations such as a surge or failure can result in an improper shutdown, which can even render the drive useless.
🛑 Error message: You could get an error message asking you to format, which leads to loss of data.
Well, formatted partition recovery is possible, but only if you act proactively.

The Essence Of Swift Action
When a partition gets deleted, the system removes the assignment for that location (on the hard drive), permitting the overwriting of this memory section. Therefore, data recovery is possible only if this disk section remains untouched.
Do not use your computer until completing the recovery. Otherwise, the hard drive will get overwritten with new data, and data recovery chances become very slim.
Formatted Partition Recovery Using Data Recovery Software
Get the tool: Download the free version of Disk Drill. Install it with admin privileges.
Select the drive: Ensure that you have connected the drive for recovery. Once you launch Disk Drill, it displays the accessible drives. Select the desired drive, and then choose a scanning algorithm. If you have a lot of data, it might be best to try All recovery methods and then click Search for lost data.
Wait for the scan to complete:

Disk Drill displays a progress bar as the hunt for files goes on. Additionally, you can pause the scan to quickly recover a select few and then keep the algorithm running.

Recover your deleted files:

Choose the files that you want to recover from the list of recoverable files displayed by Disk Drill.

Select a destination:

Select a destination for the recovered files. We strongly suggest that you select a different location than your original partition to avoid further data loss.
Note:
While we wrote this article to help Windows users with their data recovery problems, Disk Drill is also available for Mac! It is equally easy to
recover your deleted partitions on Mac
using Disk Drill.
Tips For Recovering 100% Data
Here are some expert hacks for you to maximize the chances of a successful file recovery sequence:
Stop using the affected hard disk – If you have formatted the hard drive partition, stop using it. Further usage of the drive results in overwriting of the deleted data.
Use genuine and trusted software – To recover data, use only genuine and trusted software. Pirated software may contain viruses capable of corrupting your hard disk.
Save recoverable data on another disk – Always use a separate disk to save the recovered data. This prevents overwriting and hence permanent data loss.
Quick vs Full Format
Formatting a drive is quite often needed when you must change file systems, encounter corrupted files, or have a virus-infected drive. On Windows 10, when you choose to format your drive, you typically see a checkbox for Quick format. What does this actually mean?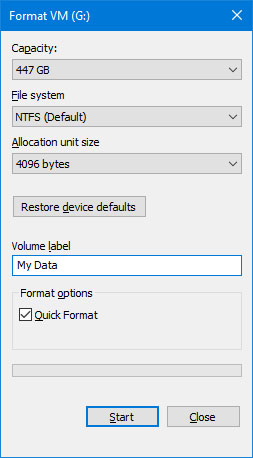 A quick format simply rewrites the partition tables (which is like a surface-level deletion). However, a full format dives deeper beneath the surface and conducts a sector check. Consequently, this format procedure fills your drive with zeroes – which marks a permanent deletion.
While for most purposes, quick formatting your drive is enough, if you encounter bad sectors, you might have to fully format the drive. Unfortunately, if you have fully formatted your drive, you can no longer recover any data from it.
Helpful Checklist While Formatting your Drive
Formatting is essential to heighten a drive's performance. Here are some simple tips on formatting so that 100% recovery is possible with data loss:
Take a backup before formatting: Disk Drill can perform a byte-to-byte backup – creating an exact disk image and its data residents.
While formatting a portable drive such as an SD card or external hard drive, use the exFAT file system. This file system is compatible with multiple operating systems. As a result, you can avoid formatting the drive for compatibility reasons.
In case of any performance-related issues, avoid formatting the storage drive. Instead, use various troubleshooting methods such as CHKDSK and SFC Scan.
If formatting the drive is a must, opt for quick formatting rather than complete formatting. A full format results in a complete reorganization of file sectors (with the new file system) in the drive. However, in a quick format, even if data is lost, it is recoverable. Another reason to not go for the full format is that this increases the chances of the hard disk deteriorating or wearing out, resulting in bad sectors.
FAQs
Conclusion
Recovering data from formatted partitions is possible, regardless of which operating system you are using. With our instructions, you should be able to attempt data recovery. You just need the right software tools or a basic understanding of the command prompt, and you will have your data back in no time!