Western Digital (WD) is a leading manufacturer of media storage solutions and is renowned for its reliable hard drives. But even the most dependable technology is not immune to unexpected data loss.
✅
Thankfully, using powerful data recovery software, you can easily recover deleted or corrupted files from your WD hard drive. In this article, we will explore the top 6 best Western Digital recovery software tools that can retrieve lost data and allow you to reclaim your valuable files.
What to Look for in Western Digital Recovery Software
With so many recovery tools available, selecting the right one as your Western Digital data recovery software is imperative to ensure the highest chances of successful recovery.
With respect to features and functionalities, there are a few things to consider when selecting reliable software to recover data from Western Digital devices. Among other things, it should be able to recover data from both healthy and failed drives, as well as fix bad sectors and repair filesystems.
Typically, different data recovery software specializes in different areas of WD data recovery. There is no "Swiss Army Knife" recovery software that excels in all aspects of data recovery; rather, each one has its own strengths. Keeping that in mind, here's what you should look for in the ideal Western Digital HDD recovery software:
🪛 Ease of use: Good data recovery software should be easy to use with an intuitive user interface. No matter your technical skills, good WD recovery software will provide you with all the tools required to perform a recovery on your own.
📊 Recovery success rate: The primary goal of data recovery software is to retrieve lost data successfully. The higher the recovery rate, the better your chances of getting back your lost files.
🗂️ Compatibility with different file systems: Compatibility with different file systems ensures versatile recovery opportunities. This includes recovering data with its original file names and folder structures. Data loss can occur on any number of devices and storage media. Whether you lost photos, videos, or audio files from your WD hard drive, a good recovery software should be able to retrieve them.
🗄️ Capability to recover partition data: Western Digital hard drives are often the storage device that requires data recovery. As data may be stored in partitions on your WD HDD, recovering lost partitions is a great feature to have.
💿 Ability to fix bad sectors and repair filesystems: In case of logical damage or corruption of your HDD, the ability to repair and recover data from bad sectors and filesystems is important. Reliable data recovery software should be equipped with WD HDD repair tools.
Top 6 WD Recovery Software Tools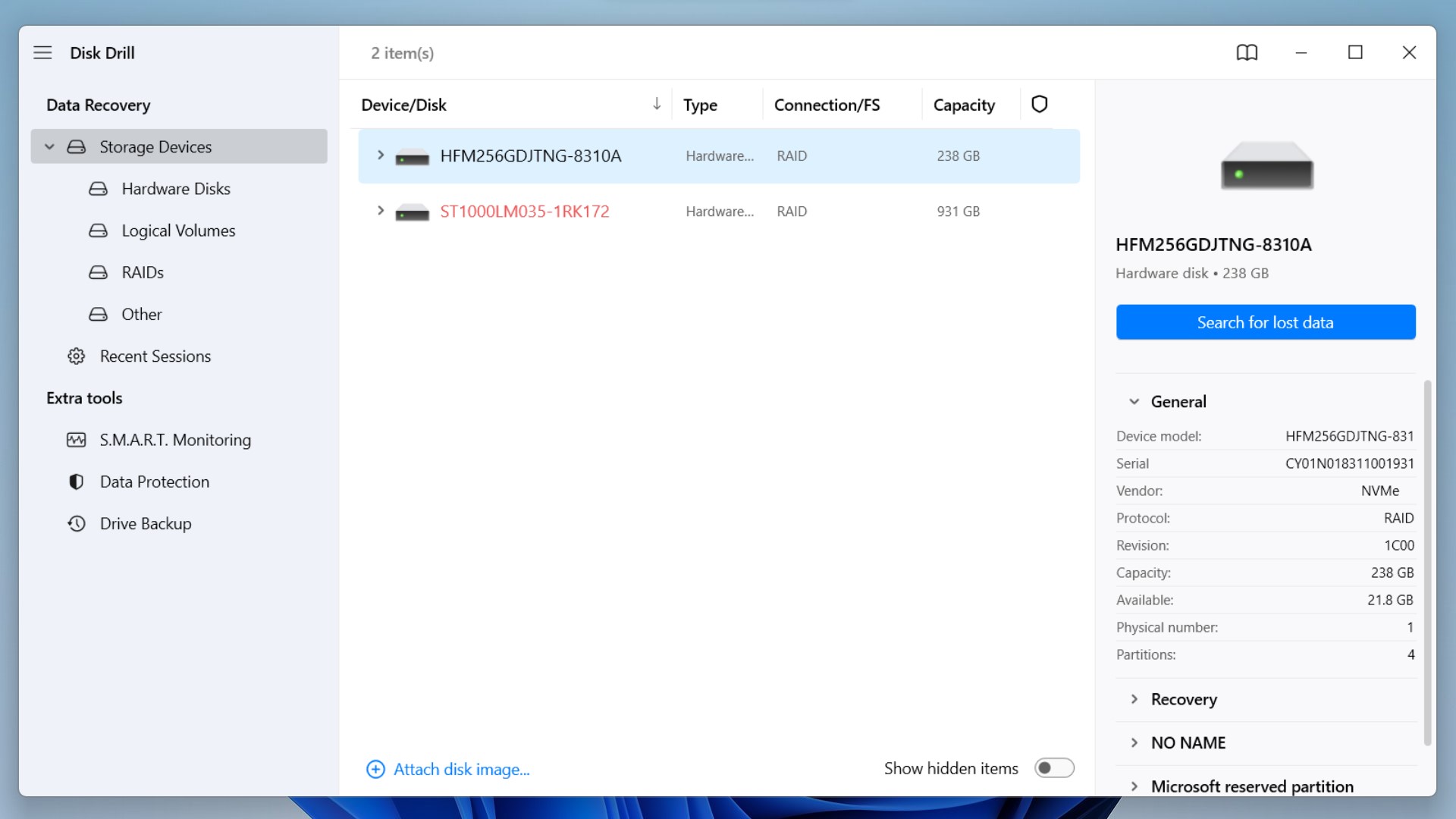 Disk Drill 5 for Windows and macOS is an excellent tool for Western Digital data recovery. It can work with varied data loss scenarios, ranging from accidental deletion and data formatting to recovering data from failed drives with corrupted or RAW file systems.
Whether you've lost photos, videos, or even audio files and documents, Disk Drill can likely save the day. With support for over 400 different file signatures, Disk Drill is both comprehensive and completely safe to use.
Different file systems supported include FAT16/FAT32, exFAT, NTFS/ NTFS5, HFS/HFS+, and many more. In fact, Disk Drill can recover files from virtually any disk-based device, whether it's your internal Western Digital HDD or an external device like a WD My Passport.
Thanks to its simple UI, you'll be on the path to data recovery in just a few clicks. To make things even easier, it shows you an exhaustive list of all the files it finds in real time while scanning. The 'scan results filter' lets you sort these files by file type, modification date, file size, and odds of recovery.
It also has the ability to make a byte-to-byte backup of your hard drive before recovery. This disk image ensures that your data remains safe even if your WD drive experiences further failure.
And if that's not enough, Disk Drill lets you recover up to 500 MB of data without paying a cent!
Pros:
Excellent data recovery speeds with fast scans.
High rate of successful recoveries.
A modular design with an intuitive user interface makes it easy to use by anyone.
Ability to recover data from formatted drives or partitions.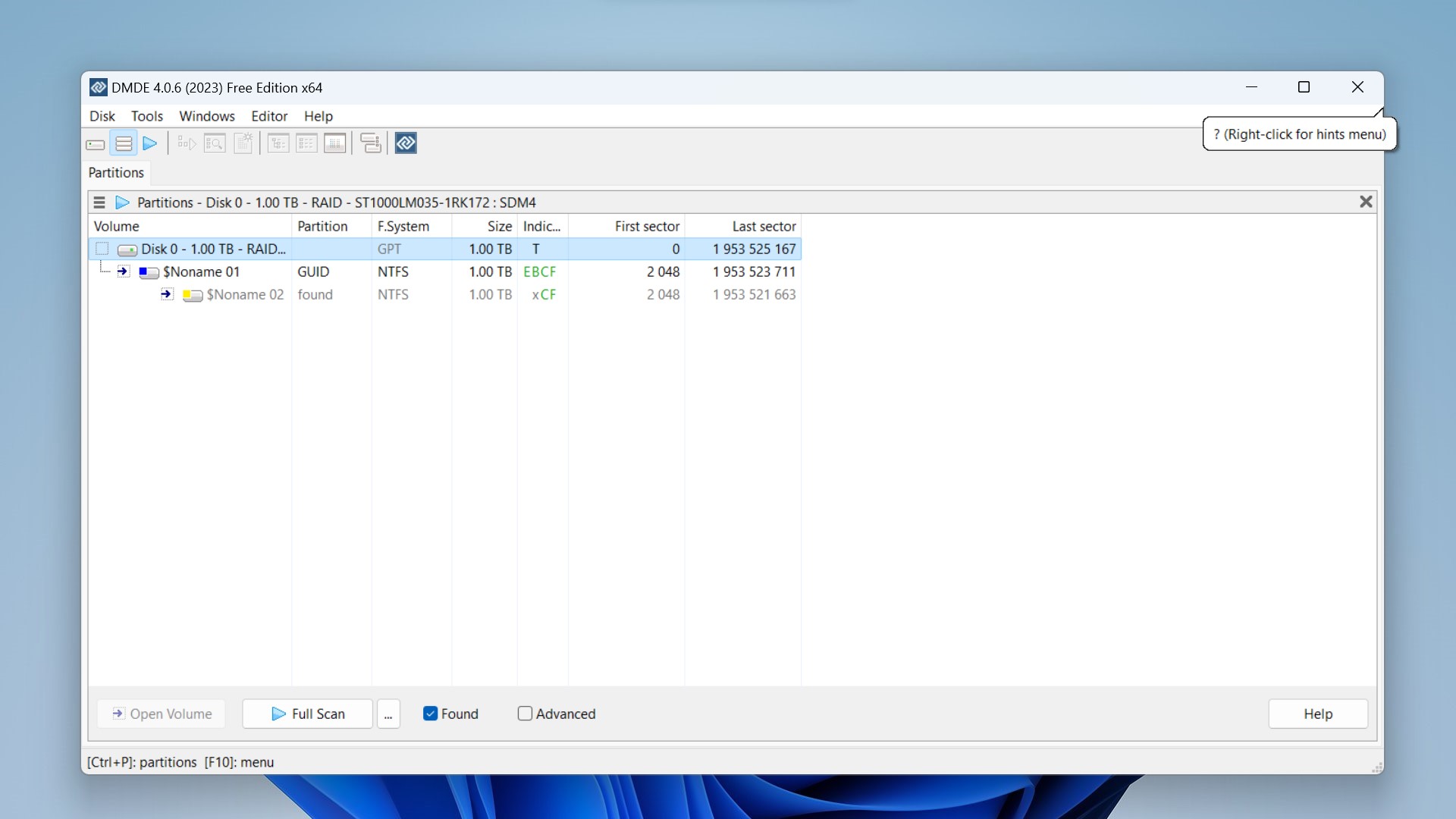 DMDE is a powerful data recovery tool for data searching, editing, and recovery on hard disks. While its free version is limited, it can still help with recovering lost files and has a host of other advanced features.
These include a disk editor, a simple partition manager, a tool to create disk images and clones, a RAID constructor, and many more.
The full version is feature-packed, and those less tech-savvy might get deterred by its interface. Nevertheless, DMDE is geared more toward professional data recovery needs.
DMDE may recover directory structure and files in some complicated cases through the use of special algorithms that other software can't help recover. It supports NTFS, FAT12/16, FAT32, exFAT, Ext2/3/4, HFS+/HFSX, etc., and runs on Windows, Linux, macOS, and DOS.
If you know what you're doing, DMDE can prove to be a valuable tool for modifying your hard disks and recovering data from them.
Pros:
Support for various file systems.
Easily accessible and runs on all major operating systems.
Abundance of tools like a RAID constructor, disk editor, and partition manager.
Cons:
Limited free version.
Outdated user interface.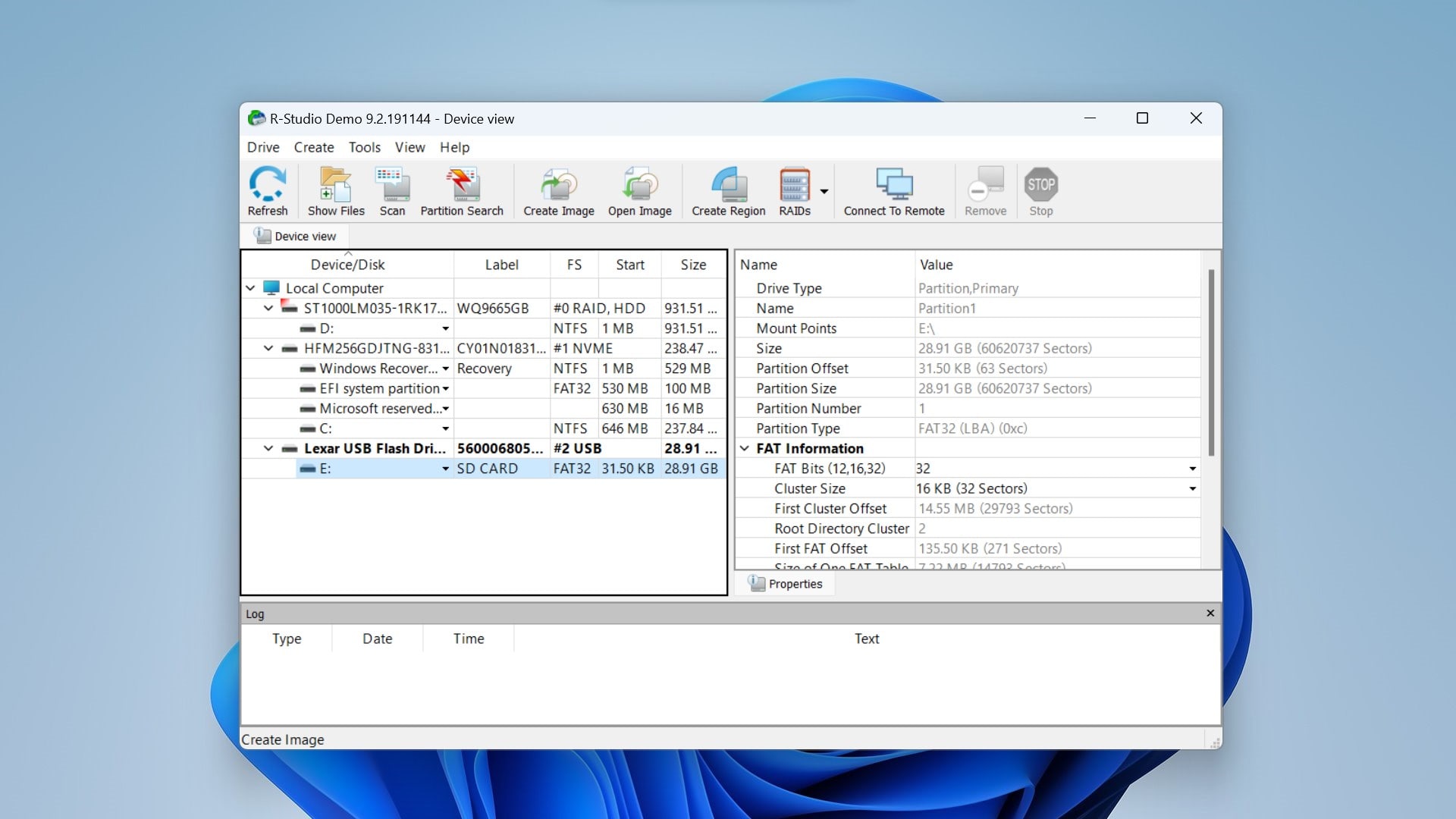 R-Studio is a comprehensive data recovery solution that is aimed at more experienced users who are able to use its extensive options and powerful features.
It provides support for all commonly used file systems like NTFS, FAT12/16/32, exFAT, HFS/HFS+, and APFS. In addition, it even handles damaged or deleted partitions. This can be especially useful for Western Digital hard drives with partition errors.
R-Studio gives users the freedom to start multiple data recovery jobs at the same time in separate tabs. Once your files are recovered, they can be sorted by their extensions, creation time, modification time, and other parameters.
It also works on major operating systems like Windows, macOS, and Linux.
Pros:
Feature packed with capability for advanced data recovery.
Can recover data from lost or damaged partitions.
Cons:
A confusing interface that is too complicated for most users.
Requires a separate license for each operating system.
Does not offer file preview for recoverable files until after the scan.
DiskGenius is a powerful partition recovery software that can help you recover data from damaged or lost disk partitions. Unlike other partition recovery tools that feature bland command-line interfaces, DiskGenius has a more appealing look which makes partition recovery more intuitive for the casual user.
It can help users with advanced partition management, disk scans, error checks, and repairs. To add to this, DiskGenius comes with a disk cloning program that lets you clone a partition or disk. It also has a dedicated System Migration tool for migrating all partitions, user data, apps, and settings.
DiskGenius has great functionality along with powerful features that can be used by professionals and newer users alike. Thanks to its popularity, if you ever get stuck, you can also easily find online tutorials for using its different tools.
Pros:
Features a myriad of disk partition management tools.
An extensive online knowledge base makes it easy to troubleshoot.
Cons:
No preview for found files.
Has a complicated interface which makes it harder for new users to navigate.
Not available for macOS.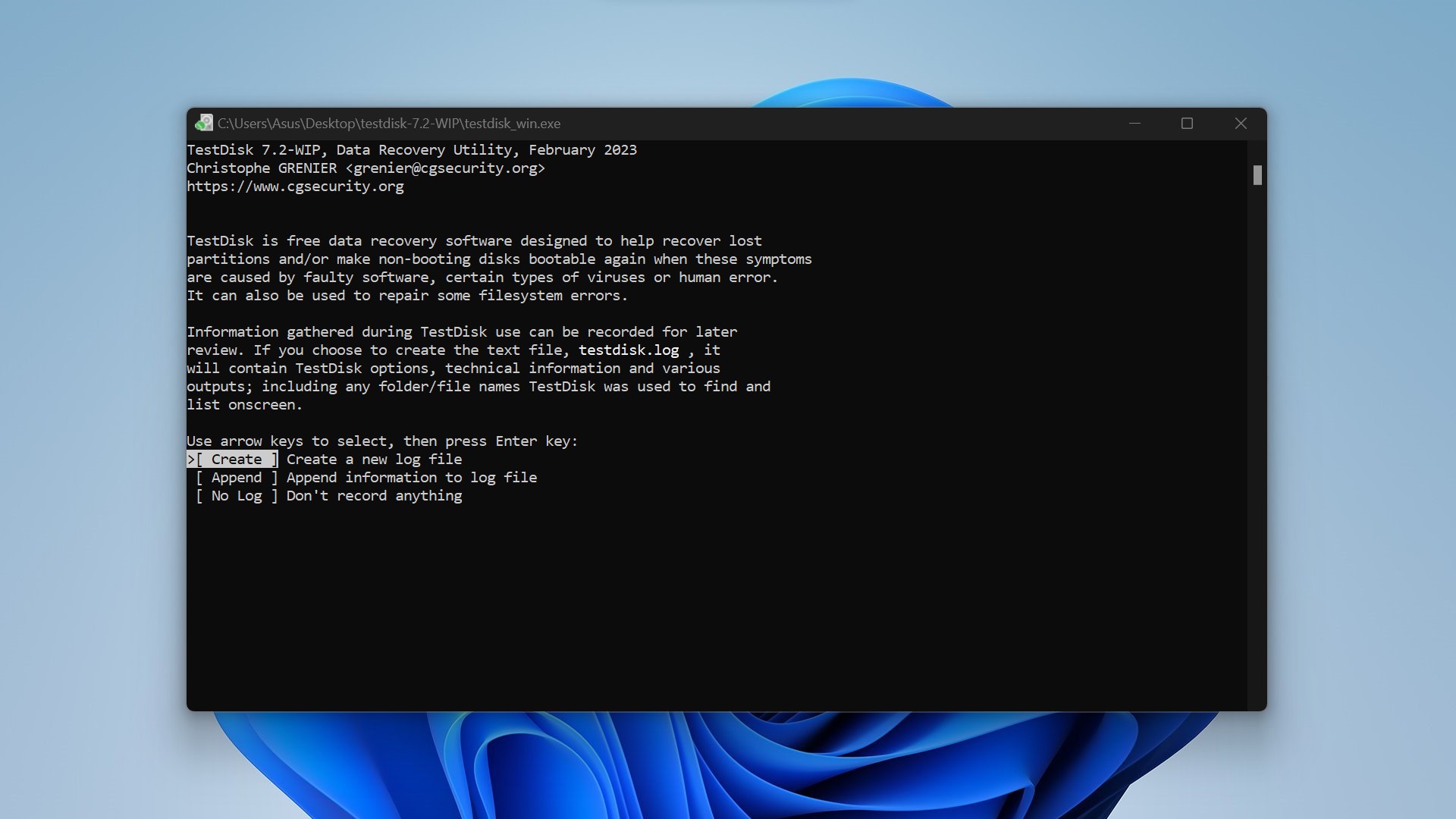 TestDisk stands out as a free and open-source tool that is ideal for partition repair and recovery. Whether you need to recover files from corrupted partitions or make non-booting disks bootable again, TestDisk has you covered.
A corrupt partition on your Western Digital drive's partition table causes all your data stored on that segment to become unreadable. TestDisk can recover a variety of file systems, and its companion software, called PhotoRec, can read and recover media files from various WD storage devices.
TestDisk can fix errors like "Drive is invalid" or "MFT is corrupted" by locating and displaying safe entries on the partition to allow for secure data recovery to a different storage device.
It can also scan your WD disk and check the integrity and status of your disk drives. It can detect and fix logical errors and also mark bad sectors where the disk is damaged or unreadable.
👀
TestDisk mainly focuses on file system repair and reconstruction, and its file recovery capabilities are limited to restoring the logical links to them. If you want to recover permanently deleted files, TestDisk is not a very good option.
Pros:
Free and open-source partition repair software.
Can be used to fix logical errors in hard drives.
Can be used to fix MFT and FAT tables.
Cons:
An outdated command-line interface and confusing UI make it hard to use.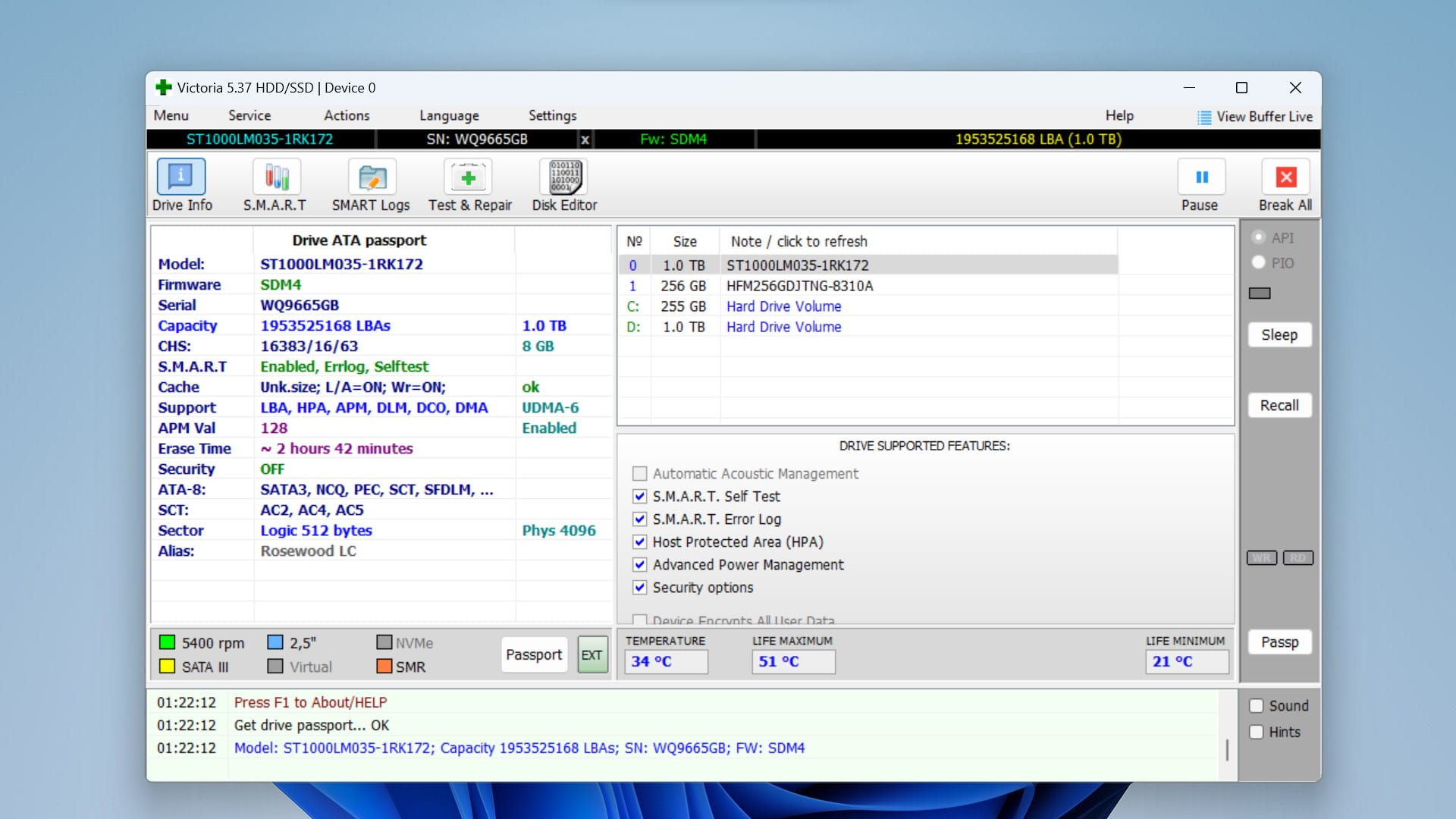 Victoria is a tool for identifying and remapping bad sectors on your WD hard drive and can be used to monitor its performance.
The program can measure the performance of your hard drive, and if issues are detected, it can perform some minor repairs. Victoria SSD/HDD displays your hard drive's model, size, features, and some more advanced information from S.M.A.R.T. details.
The software can identify and mark bad sectors on your disk to prevent data loss and ensure optimal performance. After scanning your hard drive's surface, it can remap, erase and even restore data when errors are spotted.
Pros:
Provides advanced configuration options for hard drives.
Has tools for drive cloning, benchmarking, low-level formatting, and partition management.
Cons:
Not available for Mac or Linux.
Limited data recovery capabilities.
Are There Any Native Windows or macOS Features That Can Be Used as a WD HDD Repair Tool?
Western Digital HDD repair tools can be used to repair hard drives, fix bad sectors, and manage partitions. These WD repair tools may be free and open-source or premium ones that can be downloaded from the internet.
If you need an easy way to quickly repair your WD hard drive without using third-party software, consider using these native tools for Windows and macOS:
Error Checking Tool/CHKDSK (Windows): CHKDSK is an inbuilt system utility on Windows operating systems that scans your hard drive for file system errors. Running this utility helps check and repair hard drive errors and keeps your system data organized. You can also use the CHKDSK utility to check for and fix bad sectors, although this depends on the type of bad sector. A Soft bad sector, one where data is written incorrectly, can be recovered using CHKDSK. However, Hard bad sectors caused by physical damage to your drive cannot be repaired. You can run the CHKDSK command via Command Prompt on your Windows system. Here is a full guide to using CHKDSK for WD hard drive repair.
Disk Utility (macOS): Disk Utility is a free HDD repair tool that can find and repair errors related to the formatting and directory structure of your Mac disk. Some disk errors can cause unexpected behavior when using your Mac device, and major errors might even prevent your Mac from starting up at all. In most cases, you can open Disk Utility from the Utilities folder of your Applications folder. However, if your Mac doesn't start up, or you need to repair the disk on which your Mac starts up, open Disk Utility from macOS Recovery. Here's a full guide to repairing a Mac disk using Disk Utility.
Windows File Recovery (Windows): Windows File Recovery is Microsoft's command-line-based recovery tool. While other recovery software might cost you money, you can get this one for free from the Microsoft Store. Be warned, though, this free tool's actual data recovery capabilities are pretty limited. Here's our full review of the Windows File Recovery tool.
FAQ
Conclusion
With data loss on Western Digital devices being an ever-present threat, it is important to back up your data and take preventive actions. However, you should also keep good data recovery software in your arsenal to tackle potential data loss scenarios.
While no one software can tackle all the myriad problems your HDD might face, each one is best suited for a particular need. That being said, some shine over others thanks to higher recovery rates and a more user-friendly interface, among other things.
After thorough testing and research on the topic, Disk Drill seems to be the best option for a wide range of Western Digital data recovery applications. Thanks to its high recovery rates, user-friendly interface, and abundance of recovery tools, it gives you the best chance of recovering your lost information.
Our other recommendations would be DMDE for more advanced features as well as R-Studio, although these require a little more technical expertise to use efficiently.
Vihaan is a freelance content writer with over two years of experience in creating original content across a multitude of niches such as tech, infotainment, lifestyle, and media. He is also deeply interested in the field of data recovery and has been studying it extensively for some time now. Vihaan is passionate about sharing his knowledge and insights on the topic and hopes to contribute to the community of professionals working in data recovery.
Andrey Vasilyev is an Editorial Advisor for Handy Recovery. Andrey is a software engineer expert with extensive expertise in data recovery, computer forensics, and data litigation. Andrey brings over 12 years of experience in software development, database administration, and hardware repair to the team.