Are you currently using Tenoshare 4DDiG as your data recovery tool but are not completely satisfied with the product? Or you haven't decided yet and want to see what are the other options available on the market? This article compiles some reliable alternatives to Tenorshare 4DDiG.
🗨️
TL;DR: Tenorshare may be a decent data recovery tool, but there are better options. The best alternatives are Disk Drill, R-Studio, DiskGenius, PhotoRec, and Recuva. Each has features that can compete with Tenorshare 4DDiG, and can suit the needs of the different users.
What is Tenorshare 4DDiG?
Tenorshare 4DDiG is a data recovery software tool that can recover deleted or lost files from your computer's hard drive. It also allows you to recover data from damaged or corrupted partitions, external storage devices, and USB flash drives.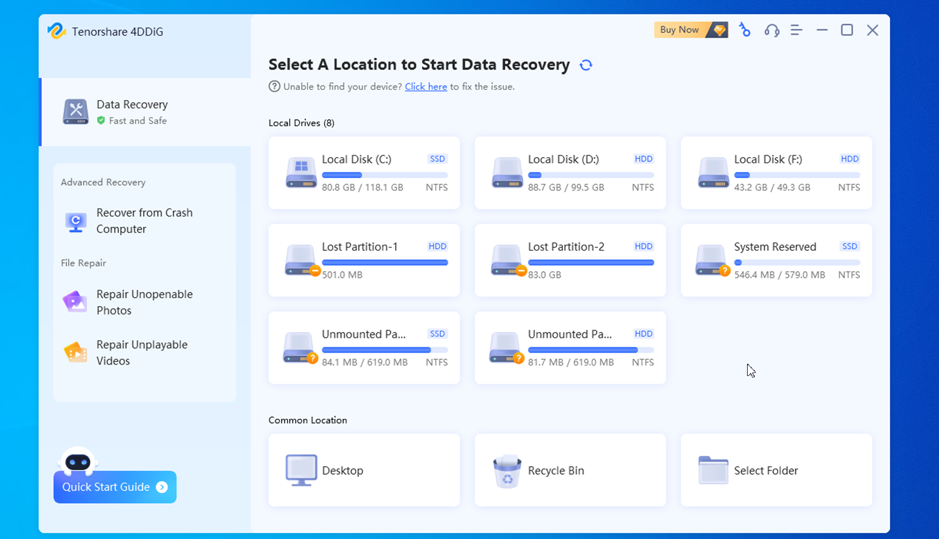 ⚠️
Tenoshare 4DDiG may be the top-of-mind data recovery tool for some people, but like every product, it has number of drawbacks.
Why might you need an alternative to Tenorshare 4DDiG?
Though Tenorshare 4DDiG has all the bells and whistles to recover accidental data loss, a few loopholes are worth looking at before trying this data recovery tool.
⏳ Long deep scan process time. Tenorshare takes more time than most recovery tools while performing a deep hard drive scan. While taking 10-12 hours for a 1TB drive seems a positive feature since the more extended you put your drive under the test, the better the results will be. Right? Well, various recovery tools can perform scans in less time and produce accurate results.
📱 Android-first software. Tenorshare 4DDiG is more geared toward Android devices. Yes, it pulls off constant updates to the desktop version, but the more useful ones tend to flow toward Android devices. For example, the latest Tenorshare Ultdata update that extracts your deleted photos, videos, and even WhatsApp messages is also made for mobile users.
🧰 Very limited features on the free trial. While you can download Tenorshare 4DDiG for free, the free trial version only offers free scans and a few file previews.
💰 Price point. The plan of Tenorshare 4DDiG starts at $45.95 for a one-month license. While it is not the most expensive software, there are definitely more affordable options.
So what's the catch here? If you have time to spare for every deep scan and you most want to recover files from your mobile phones, then every minute of waiting will be worth it with Tenorshare 4DDiG. But if you mostly recover lost data on your personal computers and want quick results without compromising accuracy, then the alternative data recovery tools are the best to go for.
🗨️
Where to find these alternatives? We have listed the five best alternatives to Tenorshare 4DDiG Data Recovery, each of which has certain strengths that can overcome the weaknesses of Tenoshare 4DDiG. Read on below to know more.
Best 5 Tenorshare 4DDiG Data Recovery Alternatives
These five best Tenorshare 4DDiG alternatives simplify the process of recovering lost files. The editor team tried to match the software to different needs so that everyone could find a product to suit them.
1. Disk Drill (Best overall alternative)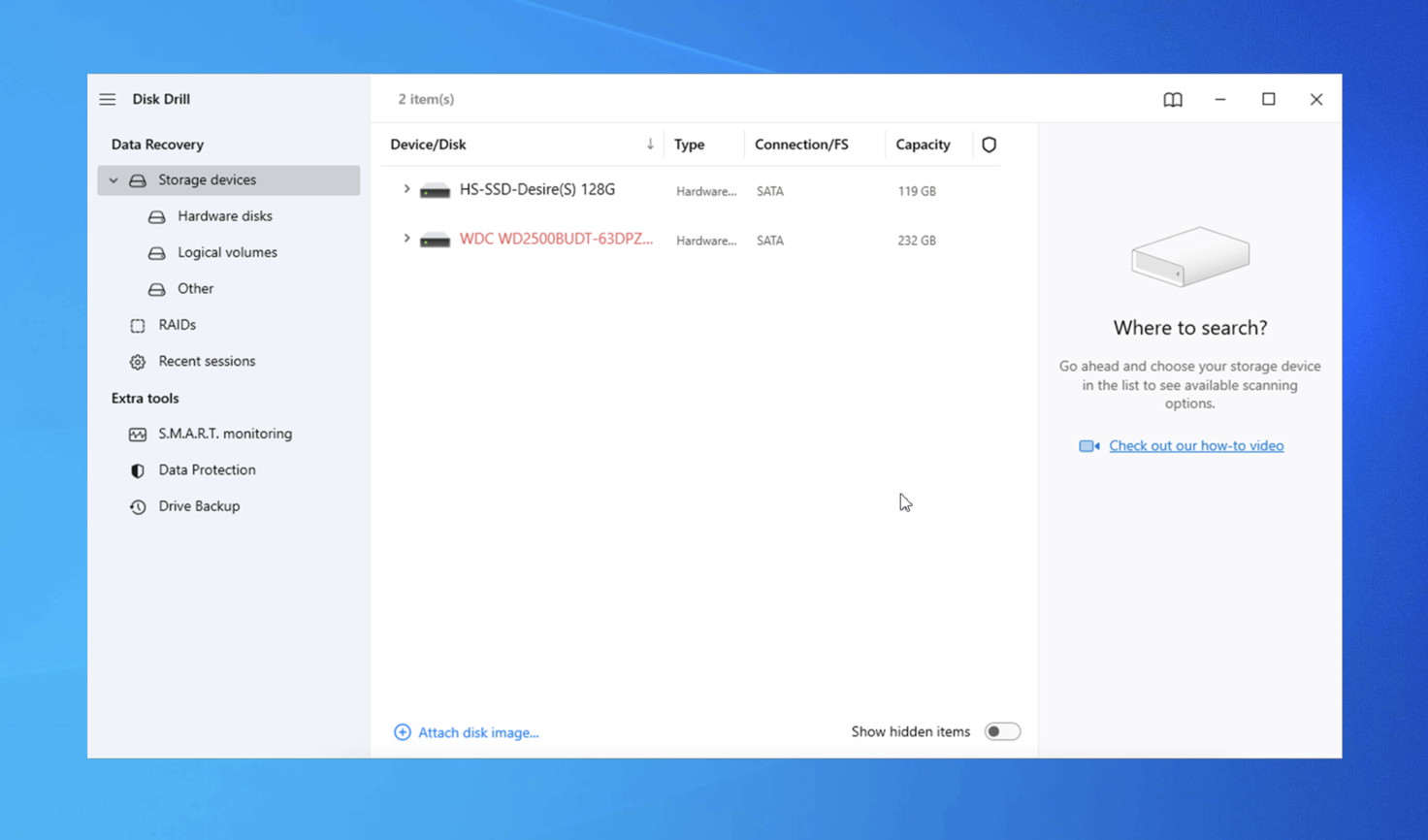 Key Features
Industry-leading data protection and backup features
Top-notch recovery rates
You can mount scan results as a folder for added versatility
Features lost partition search to find your lost drive instantly
Compatibility with several file systems, including FAT32, exFAT, NTFS, APFS, and ext2/ext3/ext4
Can recover 500MB worth of files on the Windows version
Preview files and recovery chances before recovering them
Why Disk Drill?
One of the closest Tenorshare alternatives is Disk Drill. This data recovery software tool is the perfect recovery tool for both individuals and professionals. Its intuitive interface makes it easy to use for everyone.
Similar to Tenorshare 4DDiG, Disk Drill can also do quick and deep scan, the latter providing the most accurate results. Supporting up to 400 file formats, Disk Drill does wonders in digging out lost files.
Disk Drill is the top choice for desktop users looking for efficient Windows recovery software. It's a perfect balance–powerful recovery features but easy and intuitive to use. It is also proven to be safe to use.
Pricing
Disk Drill enterprise version: $499
Disk Drill Professional version: $89
Disk Drill basic version: Free (Up to 500 MBs)
2. R-Studio (Best alternative for professionals)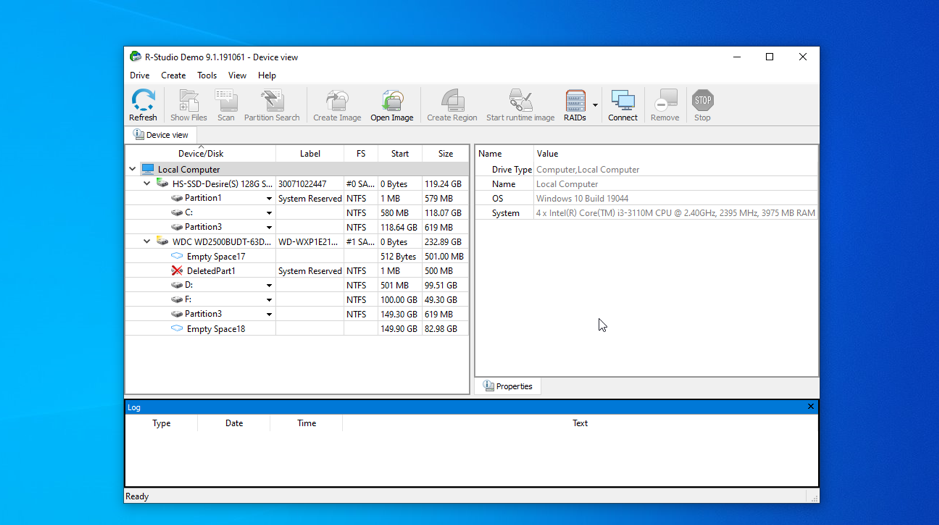 Key Features
Emergency Startup Version
Advanced RAID Reconstruction
Professional and complex Recovery algorithms
Can recover data over network and internet
Comes with an Advanced HEX editor
Why R-Studio?
If you are savvy in data recovery niches and understand this field's technicalities, then R-Studio is for you. This data recovery tool has modern and complex features that can uncover data from damaged hard drives or partitions.
Supporting hundreds of file types and using high-grade recovery algorithms, R-Studio is not aimed at individuals who want to recover their family photos. It is geared toward industries and professionals wanting to recover complex forms of data such as e-mails, word processing documents, maps, time series, images, and video.
R-Studio stands above the shoulders of many Tenorshare 4DDiG alternatives because it can recover data through both internet and network without a hassle.
Pricing
R-Studio Technician: $899.00
R-Studio Network: $179.99
R-Studio: $79.99
R-Studio NTFS: $59.99
R-Studio FAT: $49.99
3. DiskGenius (Best all-in-one alternative)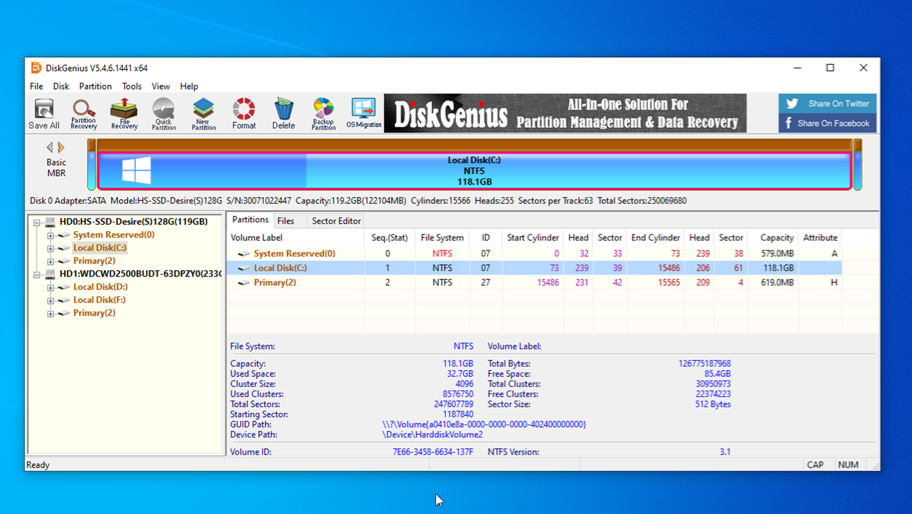 Key Features
Supports converting Windows systems (Windows 10/8/7/Vista and Windows Servers) into a VMware virtual machine, and then you can boot the system in VMware
A free version is available to test the tool
30-day money-back guarantee
Disk cloning is available
Why DiscGenius?
Are you looking for a recovery tool and disk manager combo? If yes, then DiskGenius has got what you need. DiskGenius effortlessly portions raw drives into logical partitions. It helps to manage your system drives with efficient and modern tools.
The software lets you recover accidental data losses with tools like hex editors and turns your Windows into a virtual machine within seconds, which allows you to boot your system from VMware. This gives an added layer to recover your files safely without damaging the operating system. The interface of DiskGenius could be less  intuitive than Tenorshare 4DDiG's but with features like disk cloning and checking and repairing bad sectors, DiskGenius is worth giving a shot at.
Pricing
DiskGenius Professional: $99
Diskgenius Standard: $69
Diskgenius Basic: Free
4. PhotoRec (Best open-source alternative)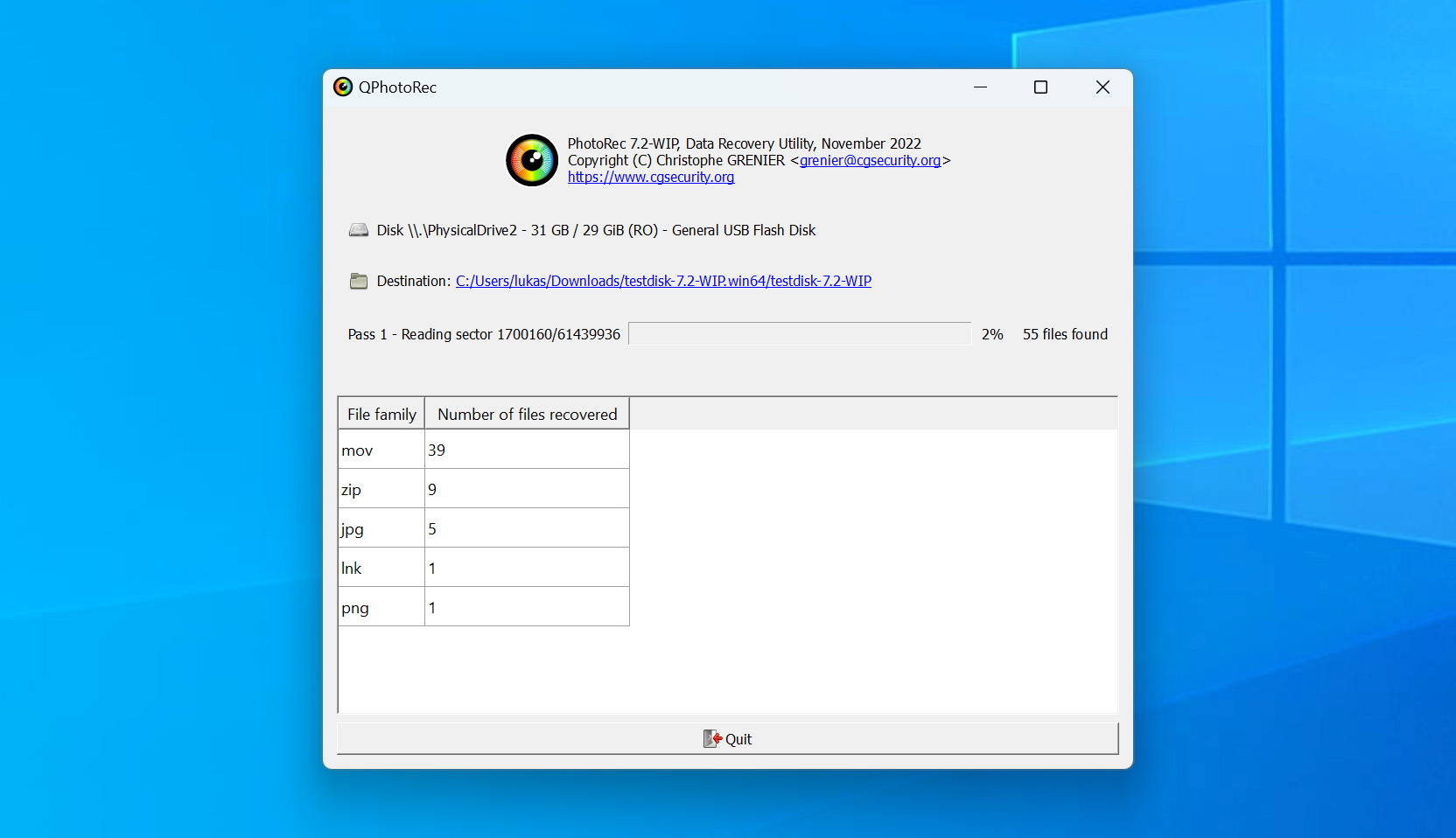 Key Features
Provide efficient support for many file systems
Can retrieve up to 450 file extensions
100% free
Some supported file systems are FAT NTFS, exFAT, ext2/ext3/ext4 filesystem, and HFS
Why PhotoRec?
PhotoRec is an open-source Tenorshare 4DDiG alternative that makes it harder for lost files to remain hidden from you. It's an advantage for Linux and Mac users because PhotoRec uses a command line interface that is familiar to Linux and Mac users. On the other hand, Windows users might get uncomfortable commanding PhotoRec because Windows is based on GUI. However, Windows users can also download QPhotoRec, which has a graphical user interface.
This also makes the interface a little techy because you need textual language to perform actions. PhotoRec can retrieve up to 450 file extensions and works with various storage devices, including hard drives, Cameras, memory cards, DVDs, and much more.
The most intriguing feature of this data recovery tool is that it's totally free. PhotoRec lets you retrieve precious data without investing anything, which makes it one of the best alternatives to Tenorshare 4DDiG Data Recovery.
Pricing
5. Recuva (Best popular alternative)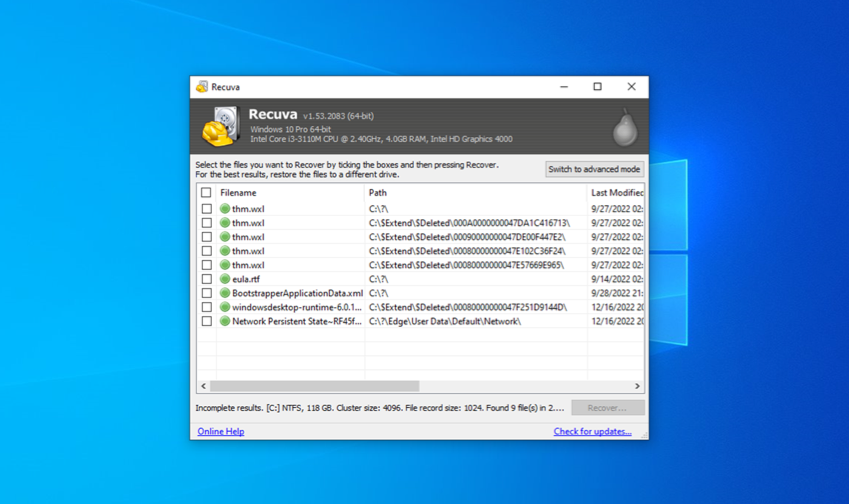 Key Features
Preview screen available
Free version to test the tool
Simple interface
The most commonly supported file systems are FAT, exFAT, and NTFS
Works with multiple storage devices
Why Recuva?
Recuva is an excellent choice for those who are tight on budget. Since it's the cheapest alternative on the list (along with PhotoRec of course), it can only recover fewer file types compared to the other competitors. It also has a free version, and you can recover around 30 file types. But with a cheap price tag, asking for high-grade performance is too much.
The interface of Recuva made us feel nostalgic as the company still follows the Windows XP-type display, which may feel a bit annoying for some. However, at the same time, it's simple to operate.
Pricing
Recuva professional version: $19.95
Recuva basic version: Free
FAQ
Conclusion
Overall, summarizing the search for an alternative to Tenorshare 4DDIG our editorial team recommends Disk Drill as it offers complete value for both tech-savvy and beginners. It is the closest neighbor of Tenorshare 4DDiG when it comes to recovering data files effectively. It offers an easy-to-use interface with great performance. More than that, the scan time is a lot shorter compared to Tenorshare 4DDIG, especially when it comes to deep scans. If Disk Drill is not suitable for you, you should consider R-Studio as a more comprehensive software, or PhotoRec if you are looking for a free alternative.
Mako is a freelance writer with a passion for all things Mac. Whether you're talking about the latest macOS updates, figuring out the best Mac programs, or need to know something from the Mac ecosystem—he's your guy. He's been writing about Macs for more than 4 years but has been using one for nearly a decade.
Andrey Vasilyev is an Editorial Advisor for Handy Recovery. Andrey is a software engineer expert with extensive expertise in data recovery, computer forensics, and data litigation. Andrey brings over 12 years of experience in software development, database administration, and hardware repair to the team.