Because SD cards are used by smartphones, tablets, portable media players, digital audio recorders, and other electronic devices that can play or record audio, they commonly store hundreds or even thousands of audio files.
While SD cards do offer basic write protection, it's often not enough to prevent audio files from becoming accidentally deleted or otherwise lost, which is why SD card music recovery is such a trending topic. So, without any further ado, let's dive deep into it.
Common Reasons Why Music or Audio Files Disappear from SD Cards
Music or audio files never disappear from SD cards without a reason. Here are some of the most common reasons you may encounter:
🤦‍♂️ Accidental deletion: While Windows and macOS make it easy to recover accidentally deleted music or audio files from the Recycle bin and Trash, many mobile devices and portable audio players and recorders don't provide this functionality, making accidental deletion a huge problem.
🧹 Formatting: Emptying an SD card by formatting it is quick and easy, but even a single mistake can have disastrous consequences. For example, you definitely don't want to format the wrong SD card because that would cause all files stored on it to instantly disappear. Fortunately, it's possible to recover data from a formatted SD card.
💔 Corruption: When you spill a drink on a book, one or more pages may become unreadable. Likewise, when a poorly written software application attempts to write data on an SD card, it may corrupt existing files, making them impossible to open.
🦠 Malware: There are many nasty strains of malware that can cause music and audio files to disappear or become unreadable. While most malware targets the Windows operating system, mobile malware is a growing threat that's expected to impact more and more people every year.
🧑‍💻 Daily wear & tear: Most SD cards are not engineered to be durable. If you regularly remove your SD card from your device, then you subject it to considerable wear and tear. Over time, this wear and tear may make the SD card unreadable and your files inaccessible.
💧 Physical damage: Every SD card hides a tiny flash memory chip inside. This chip is where your music and audio files are actually stored. If it becomes damaged, you're unlikely to ever see your files again. However, even less serious damage, such as a broken connector pin, can be difficult to deal with without the right equipment and repair skills.
How to Recover Permanently Deleted Music From SD Card on Windows 10/11
Windows 10 and 11 users who want to recover deleted music from an SD card can choose between third-party software like Disk Drill for Windows and Microsoft's own data recovery software solution, called Windows File Recovery.
Option A:

Disk Drill

Disk Drill is among the most popular third-party deleted music recovery apps for Windows. You can use it to quickly and easily recover many different audio file formats, including deleted MP3 files, from any SD card, regardless of whether it's manufactured by SanDisk, Transcend, Toshiba, Lexar, or some other company.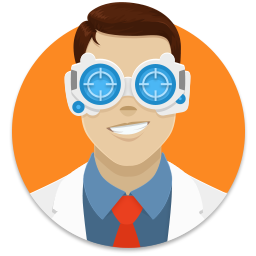 ✅
Good to know: The free version of Disk Drill for Windows can recover up to 500 MB of data, and you can always unlock unlimited recovery by purchasing a PRO license, which can be activated by 1 user on up to 3 devices.
Step 1: Download and install Disk Drill for Windows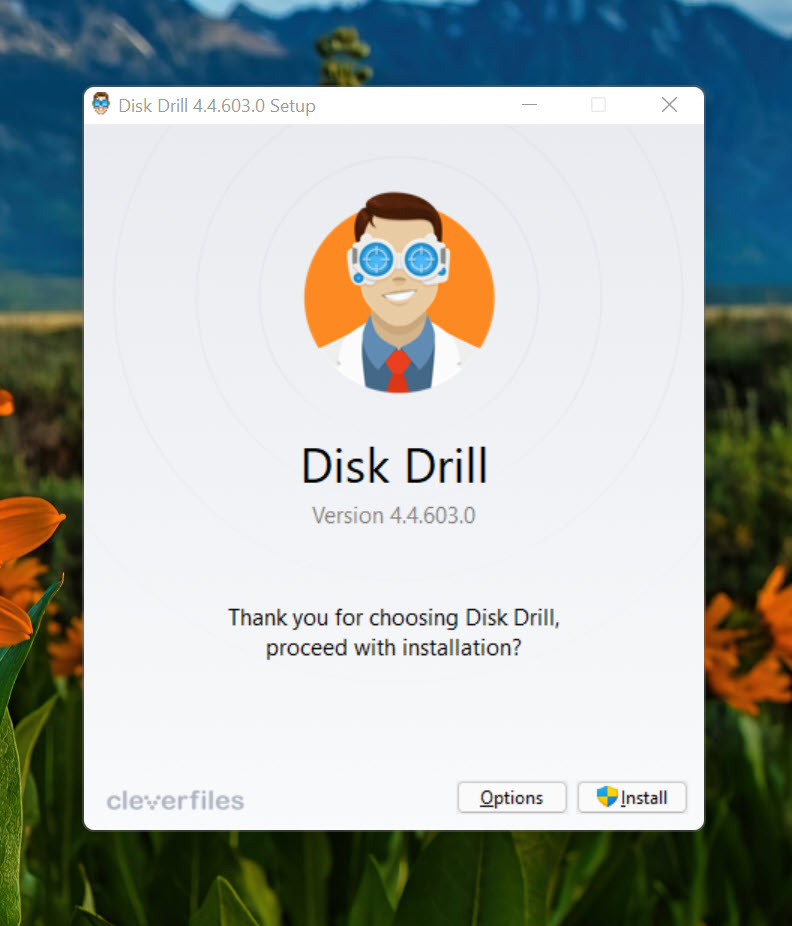 Disk Drill for Windows can be downloaded for free from its official website. To install it, simply open the installation file and follow the instructions provided by the installer.
Step 2: Connect your SD card to your PC and scan it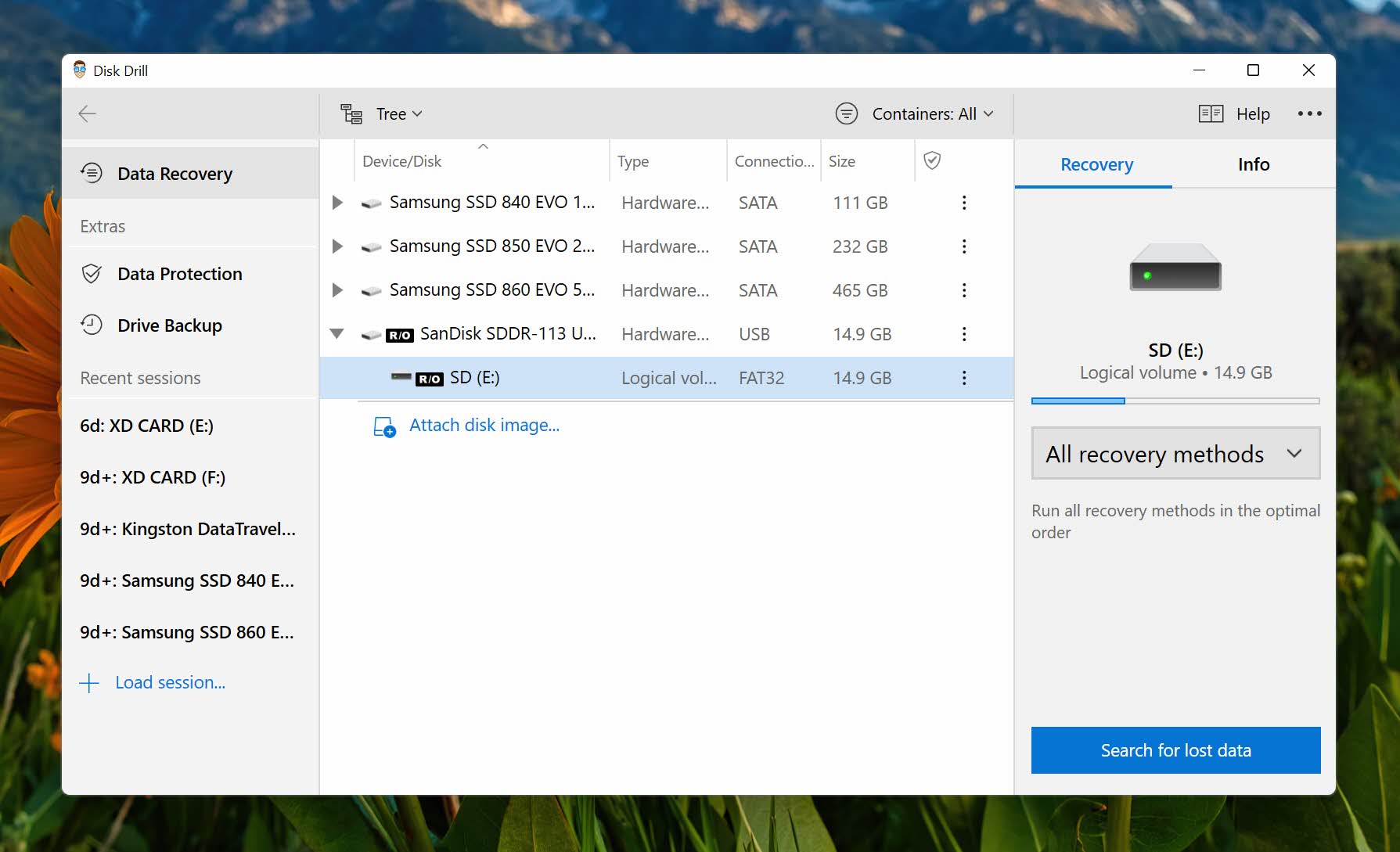 Next, connect your SD card to your PC using a built-in or external memory card reader. Once the card is recognized, you can launch Disk Drill and scan it. To do that, simply select it from the list of available storage devices and click the Search for lost data button. Disk Drill will automatically run all recovery methods in the optimal order.
Step 3: Analyze the results and recover your deleted music files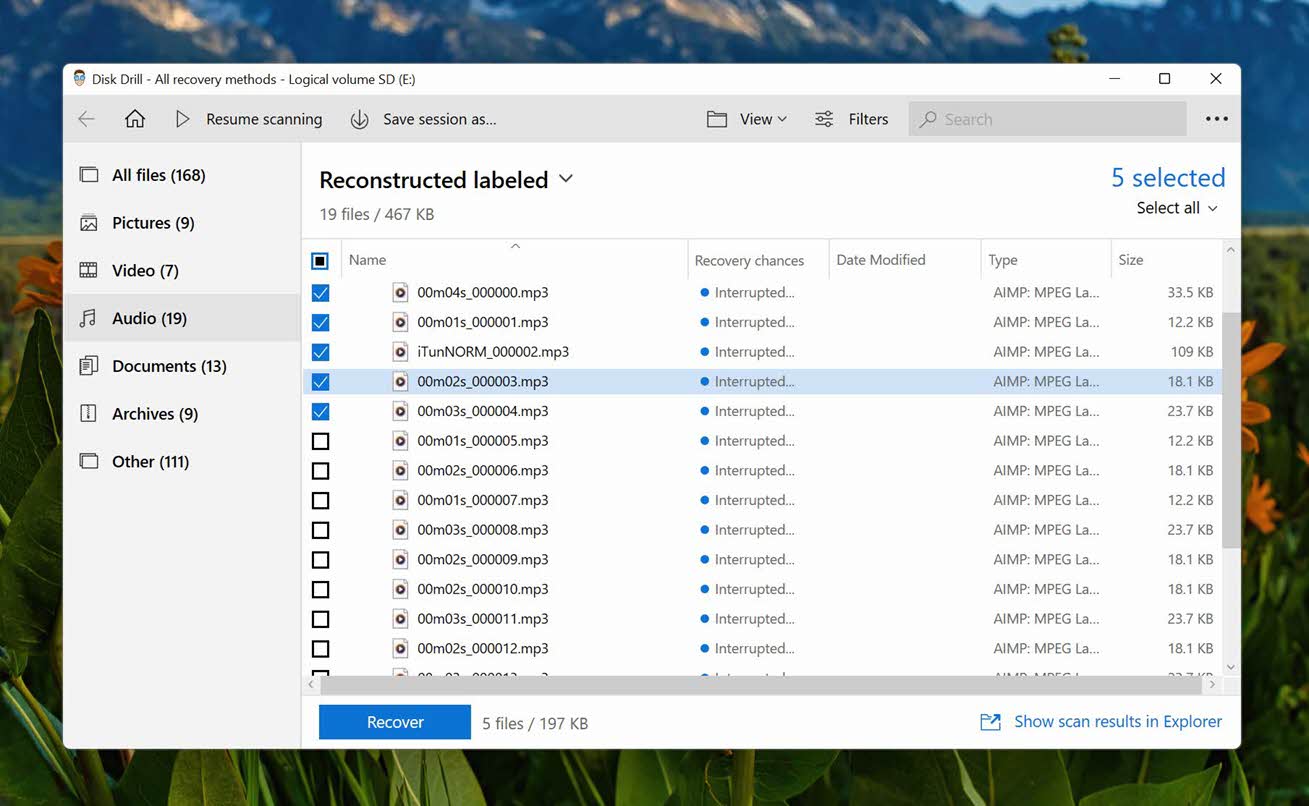 Depending on the size and speed of the SD card, it may take Disk Drill a while to scan it. Fortunately, you can analyze the scan results in real-time and pause the scan as soon as you find the deleted MP3 files. When you do, select them by clicking the checkboxes next to them. Finally, click the Recover button and specify a suitable recovery directory.
👀
Pro tip: Disk Drill is a versatile data recovery software application that recognizes several hundred file formats, so you can also use it to recover deleted videos from an SD card, as well as photos, documents, and other file formats.
Option B:

Windows File Recovery

Knowing that Windows users often deal with data loss, Microsoft released its own data recovery software utility, called Windows File Recovery, in 2020. Unlike Disk Drill, Windows File Recovery runs from the command-line, so using it to restore deleted music from SD cards is a bit more complicated. On the other hand, the utility is completely free and unlimited.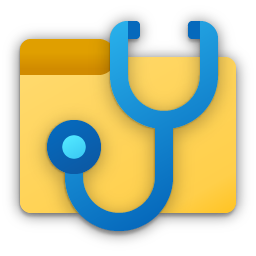 Step 1: Download Windows File Recovery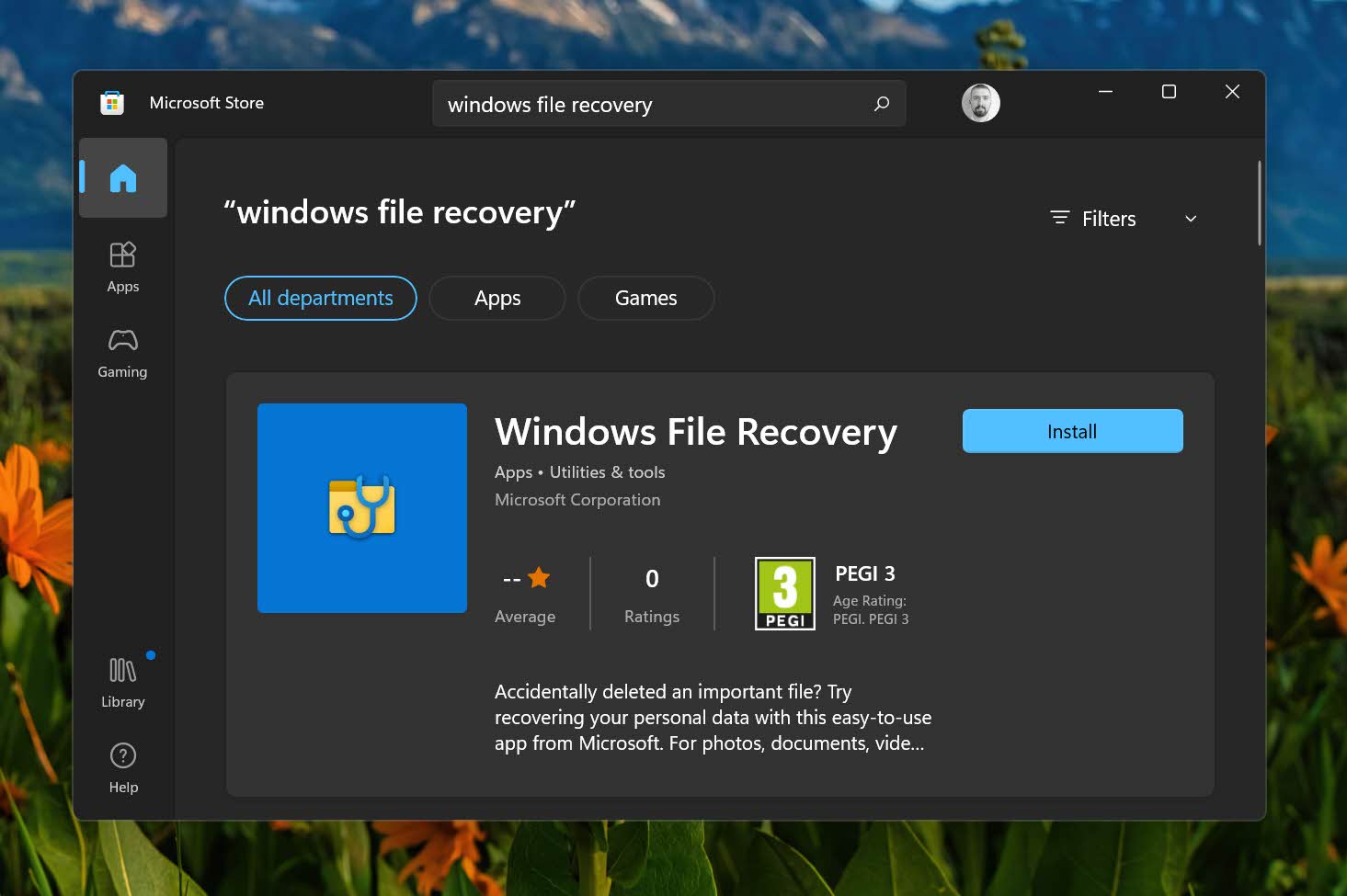 You can download Windows File Recovery directly from the Microsoft Store digital distribution platform. The utility is available for Windows 10 2004 and above, and it's completely free.
Step 2: Connect your SD card to your PC and scan it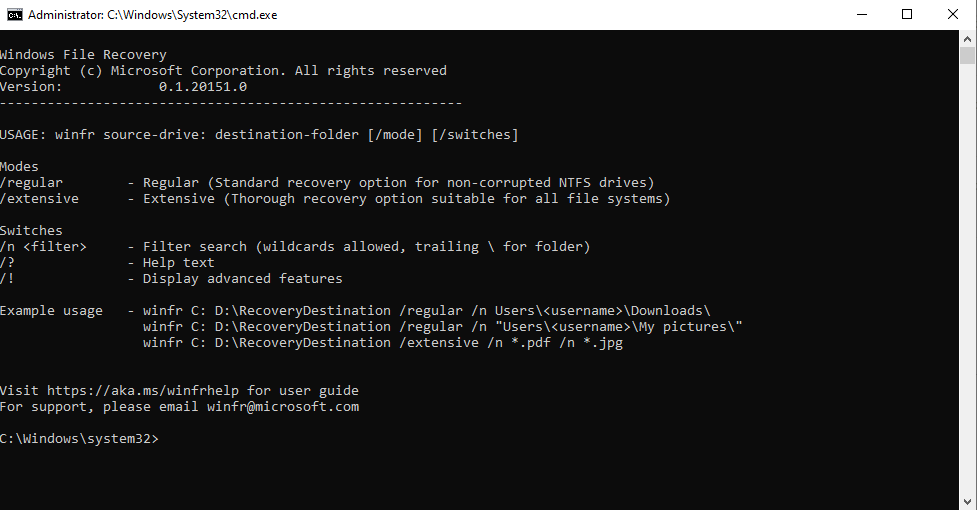 Now that Windows File Recovery is installed on your PC, you can go ahead and connect your SD card. To scan it, you first need to launch Windows Terminal (Windows 11) or PowerShell (Windows 10). Then, enter the following command and press enter to recover all MP3 files from drive X to drive C in Regular mode:
winfr X: C: /regular /n *.mp3
You can also recover MP3 files in Signature mode:
winfr X: C: /x /y:MP3
⚠️
Unfortunately, Windows File Recovery supports only a handful of audio file formats, including MP3, WMA, ASF, and M4A. Still, it's one of the best free SD card recovery software solutions, so you should definitely give it a chance.
Step 3: Analyze the recovered files
Windows File Recovery doesn't let you pick and choose which files you want to recover. Instead, it always puts all recoverable files to the recovery folder on the specified storage device. You can navigate to this folder using File Explorer in order to retrieve your files.
How to Recover Permanently Deleted Audio Files From SD Card on a Mac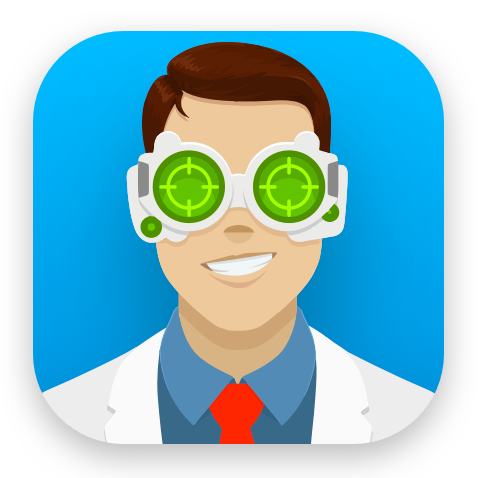 Step 1: Download and install Disk Drill for Mac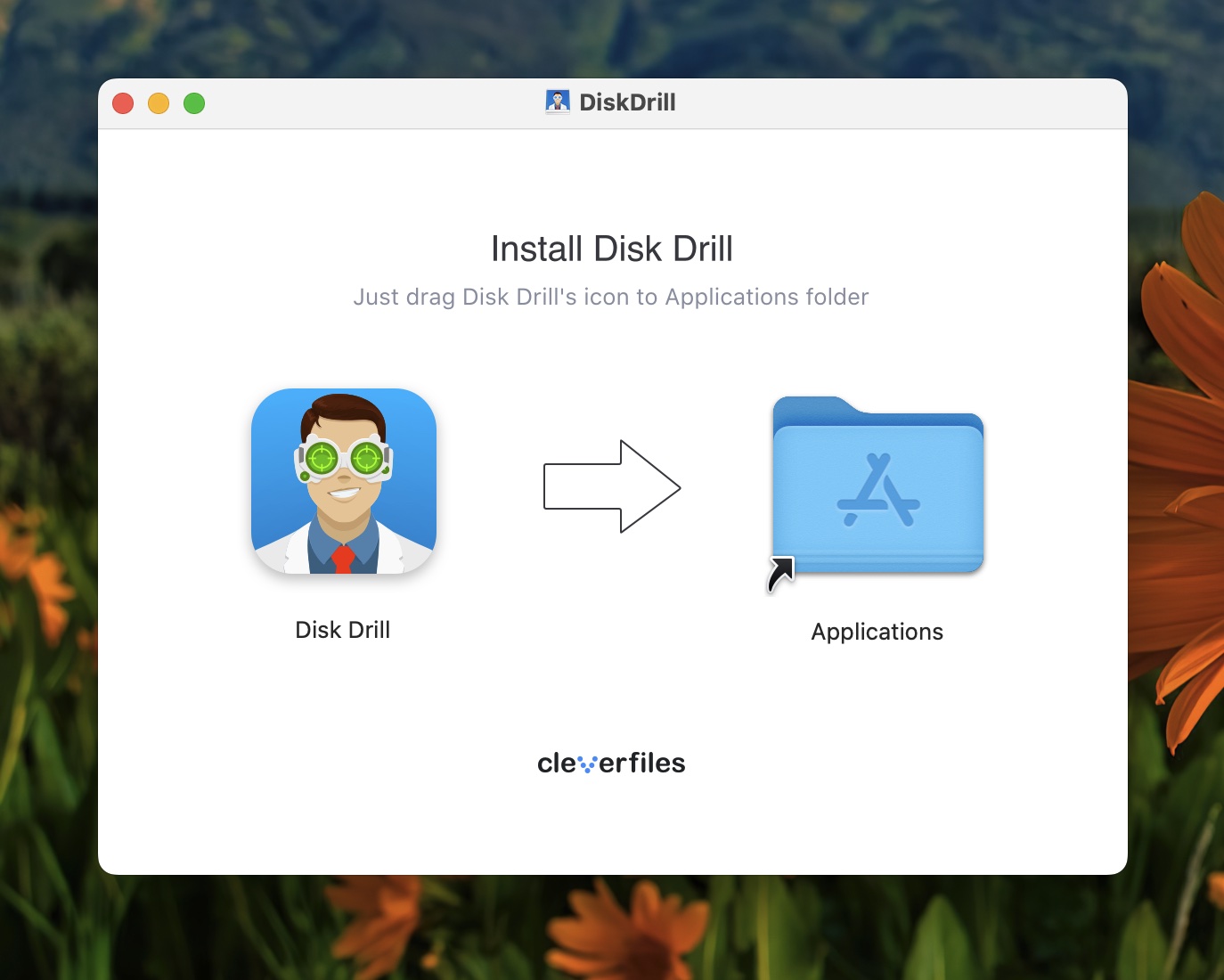 The Mac version of Disk Drill can be downloaded for free from its website and used to scan an unlimited number of SD cards. You can then use it to preview recoverable files before purchasing a license to actually recover them. To install Disk Drill for Mac, open the downloaded file and move Disk Drill to your Applications folder.
Step 2: Connect your SD card to your Mac and scan it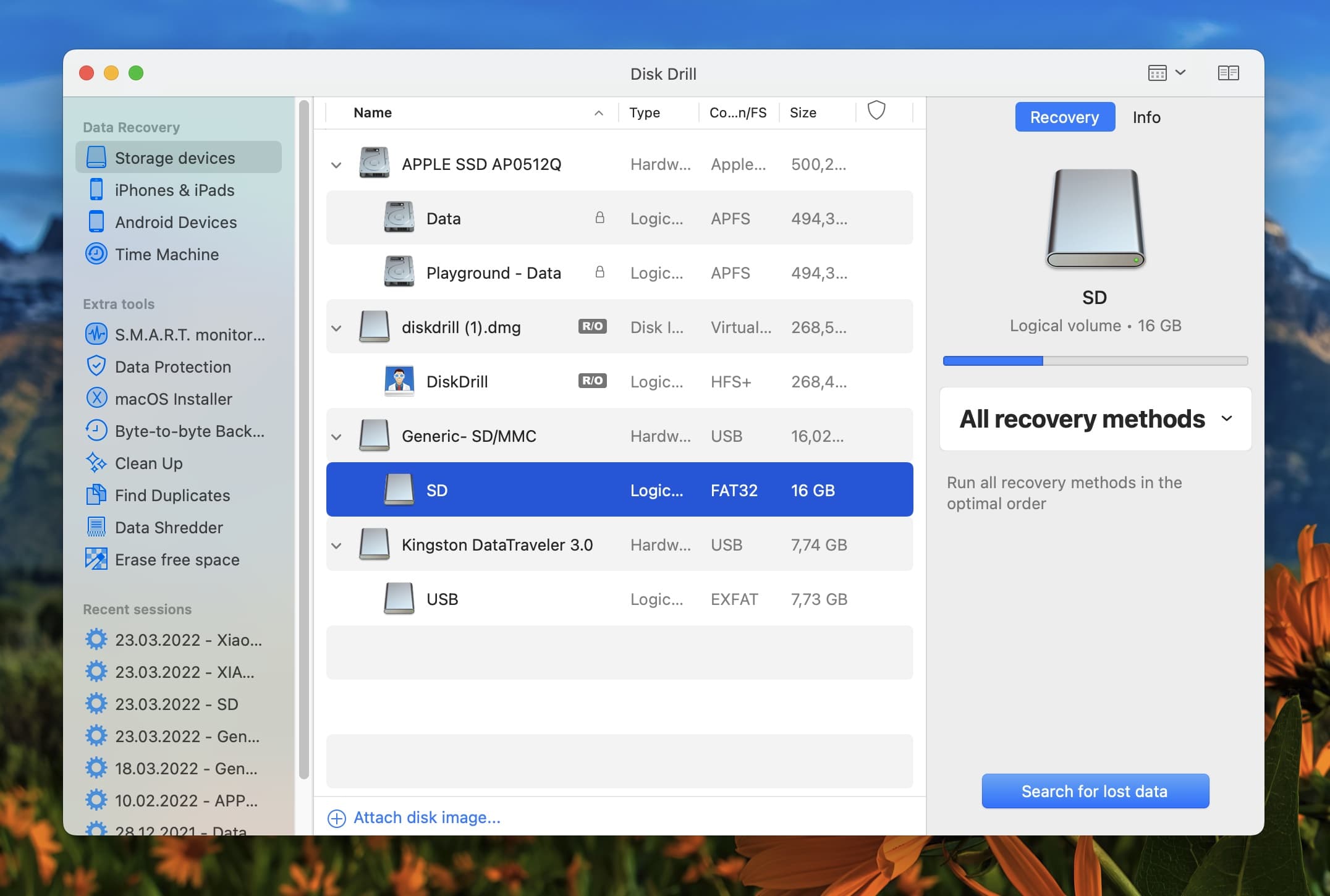 Many Macs come with a built-in SDXC slot that can be used to read full-sized SD cards, miniSD cards, and microSD cards (with an adapter). If your Mac doesn't have one, then you can use an external memory card reader. Once your SD card is connected, launch Disk Drill and scan it.
Step 3: Analyze the results and recover your audio files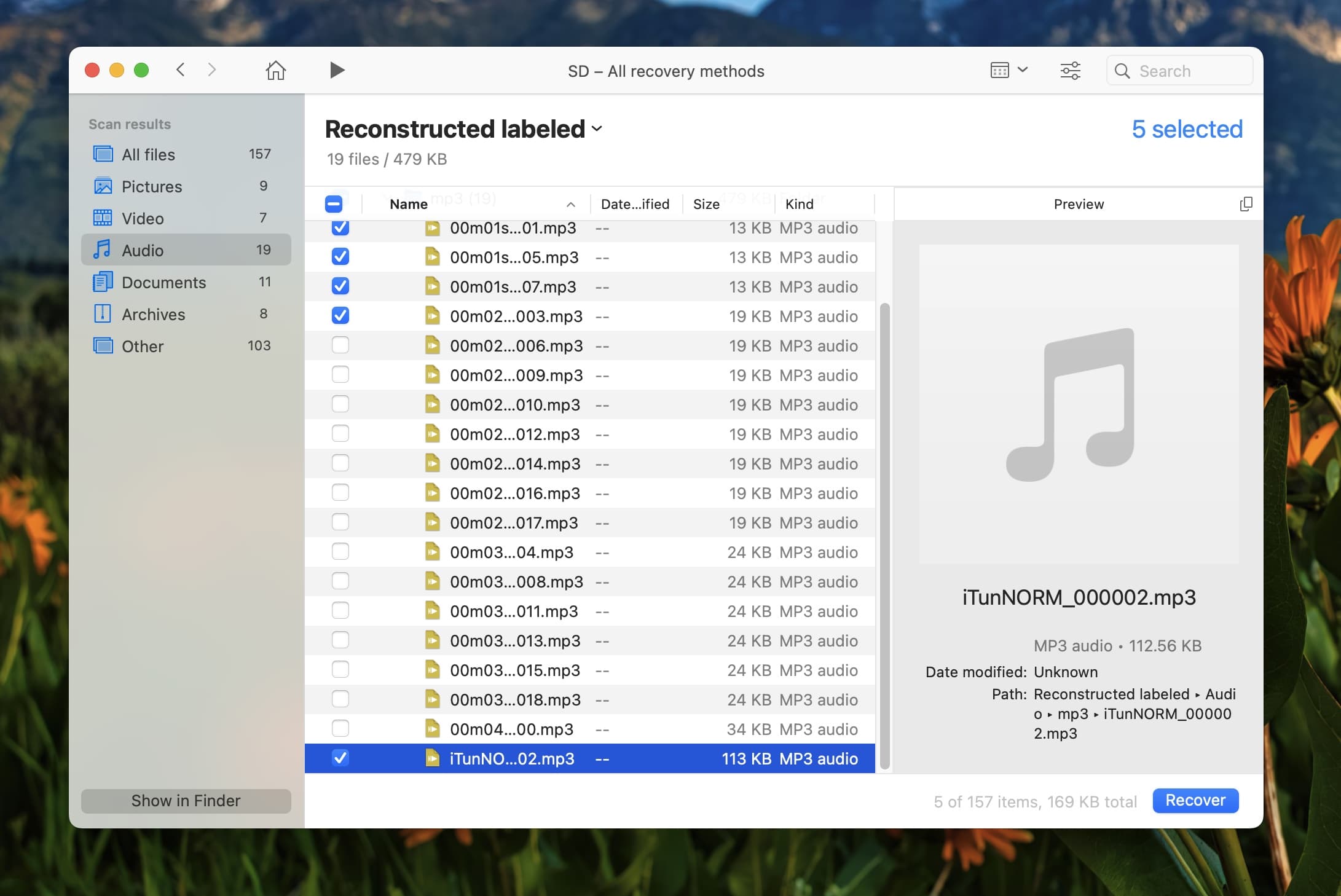 We recommend you let Disk Drill scan the entire SD card before you start analyzing the scan results, but you can also go through them in real-time if you don't want to wait. Using Disk Drill's scan result filters, locate your missing audio files and add them to the recovery queue by clicking the checkboxes next to them. Finally, click the Recover button and tell Disk Drill where it should restore deleted music from the SD card.
How to Recover Permanently Deleted Audio Files From SD Card on Android
Many Android devices have an SD card slot (for microSD cards) that can be used to expand the total storage capacity.
To recover deleted music from an SD card that was used inside an Android device, you can either remove the card from the device and use computer data recovery software, or you can use a deleted music recovery app for Android.
Option A:

Scan the SD Card on a Computer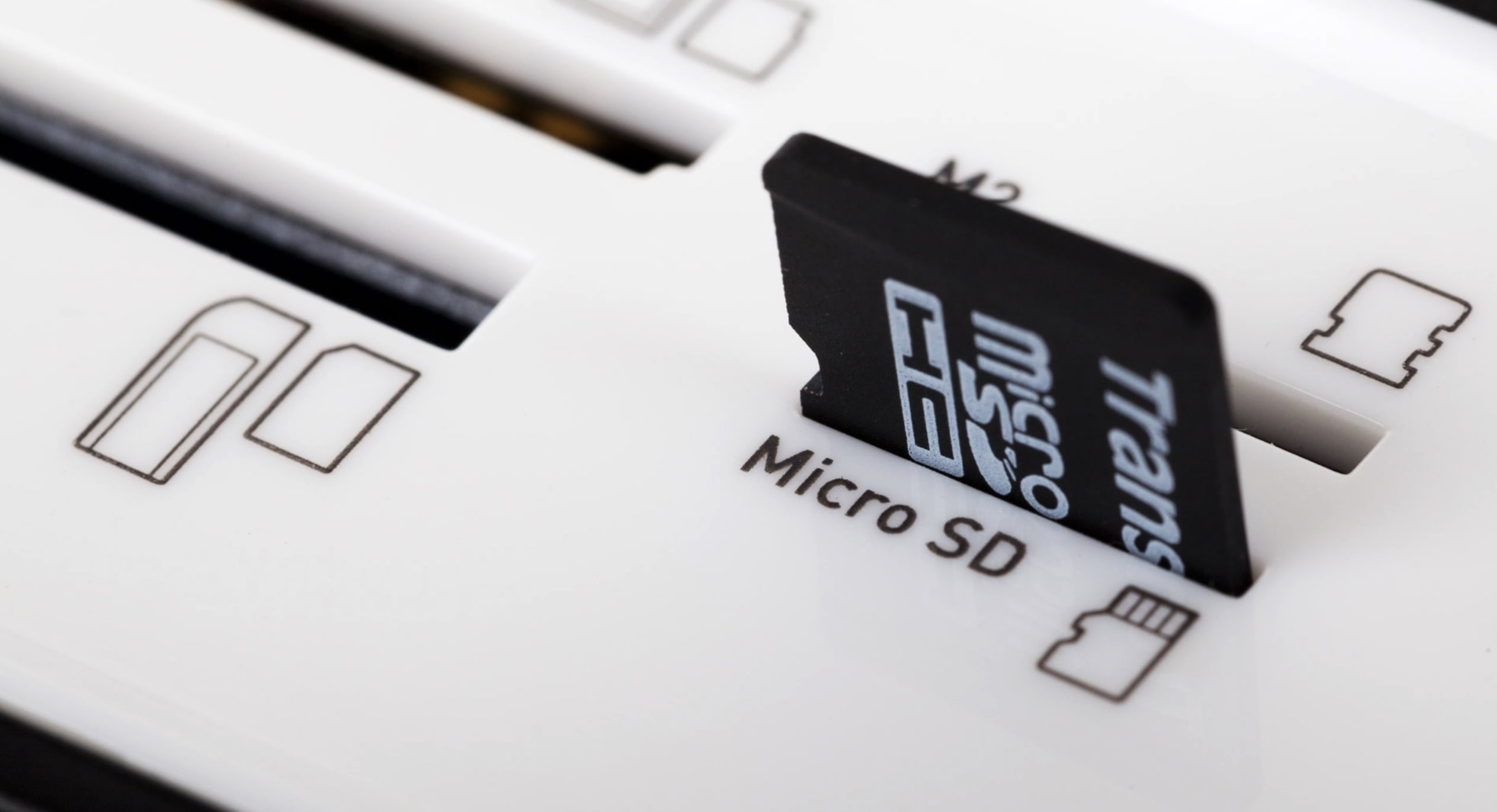 Do you have a computer running Windows or macOS nearby? If so, then we recommend you remove the SD card from your Android device, connect it to the computer, and follow the steps provided in the previous two sections of this article to recover permanently deleted audio files from it using Disk Drill.
Option B:

Use SD Recovery App for Android

The Android operating system gives the users of rooted devices low-level access to the file system, making it possible to use the best SD card recovery apps for Android to restore missing audio files.

👀

Based on our experience, DiskDigger Pro can reliably undelete music files in most popular audio file formats, and the app is straightforward to use:
Download DiskDigger Pro from the Google Play Store.
Launch the app.
Scan your SD card.
Select the audio files you want to recover.
Restore them to your device's internal memory.
How to Fix an Unreadable/Corrupted/Broken SD Card
In some situations, it may be impossible to restore deleted music from your SD card due to various access issues, data corruption, or physical damage. When that happens, you must first fix the underlying cause, and this section explains how.
Making Your SD Card Accessible Again

Is your device suddenly unable to see your SD card? In such situations, the easiest thing you can do is to remove the SD card, clean all of its connector pins, and insert it back again.
If the device is recognized by your device but not fully accessible, then it's possible that the physical Lock switch is in the on position. To put it in the off position, simply slide it all the way up.
Fixing Logical Issues With Your SD Card

Logical issues can caused music files to disappear from your SD card. The good news is that it's often possible to recover files that have disappeared from an SD card using the CHKDSK tool in Windows or the First Aid utility in macOS.
Before recovering files from a corrupted SD card, we recommend you create a byte-to-byte backup of the entire SD card just in case something goes wrong and the corruption becomes even more extensive. Disk Drill comes with a free backup tool that you can use just for this exact purpose.
Recovering a Physically Damaged SD Cards
It doesn't take much to damage an SD card, but any physical damage can make data recovery impossible unless it's fixed first. Unless you know exactly what you're doing, it's better to let one of the best SD card data recovery services repair your SD card for you.
How much does data recovery cost? Well, there's no universal answer, but you can expect to pay anywhere between several hundred and several thousand dollars. Only you can decide if the price of data recovery services is worth having your music and other audio files back.
FAQ
Conclusion
Knowing how to perform SD card music recovery can be the difference between the permanent loss of deleted MP3 files and their successful retrieval. By following the instructions provided in this article, you should be able to recover deleted music from your SD card regardless of how you use it.
David Morelo is a professional content writer in the technology niche who joined the Handy Recovery team in 2019 and has since made an invaluable contribution to the quantity and quality of our materials. David's main principle is not to start working on a new article until he has studied the subject backwards and forwards.
Andrey Vasilyev is an Editorial Advisor for Handy Recovery. Andrey is a software engineer expert with extensive expertise in data recovery, computer forensics, and data litigation. Andrey brings over 12 years of experience in software development, database administration, and hardware repair to the team.