SanDisk is one of the leading storage medium brands in their world and they're known for producing quality yet affordable SD cards for various uses, like smartphones and high-end cameras. But even the best memory cards can fall victim to data loss, which is when you'll need a top-tier data recovery solution to help you get your files back.
🗨️
With that in mind, we've put together a list of the best tools to assist you with your SanDisk SD card recovery.
What To Look For When Selecting SanDisk Recovery Software
There are various factors to keep in mind when looking at data recovery solutions for your SanDisk memory card. Here are some of the most important ones to consider:
📊 High recovery rate: The main purpose of a data rescue program is to help you get your lost files back, so it makes sense that you'll want a program that boasts a high recovery rate. That way, you'll have a better chance of recovering your information.
🛠️ Flexibility: Whether it's for your smart device, camera, or video game console, a SanDisk memory card is bound to store a lot of different file types. That's why it's important that your recovery tool is flexible enough to retrieve a wide range of file formats from a variety of different data loss scenarios and storage mediums.
📈 Popularity: The most popular data recovery programs have achieved that level of acclaim for a reason, and that's by being exceedingly effective at what they do and being well-received by their user base. Famous recovery tools have tons of user reviews that can give you an honest insight into how effective they are.
🧰 Features: You'll want to pick a recovery solution that has the right features for retrieving files from memory cards, like a preview feature for browsing information before attempting recovery, or a cloning system that would let you create a complete backup of your compromised SD card.
Top 7 Best SanDisk Data Recovery Software Tools
Disk Drill is one of the leading data recovery programs on the market for rescuing lost or deleted photos, audio files, videos, and various kinds of documents. It works well with any kind of memory card, including ones manufactured by SanDisk.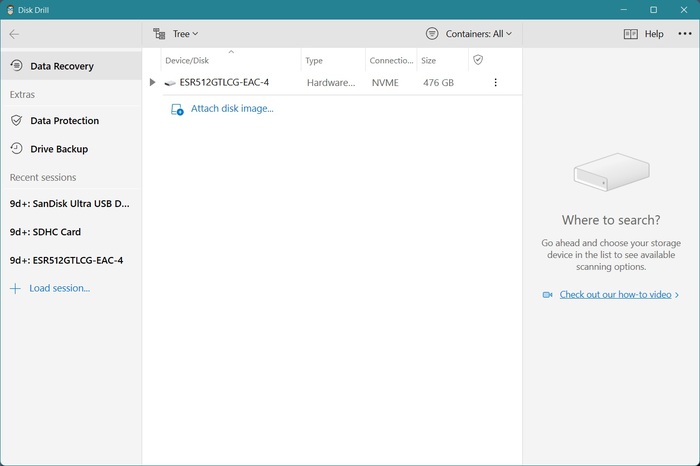 Pros

Cons

Supports a wide range of file types and storage mediums
Impressive recovery rate
Has a free version with a 500 MB recovery allowance
An attractive interface that's simple to navigate
It's the optimal choice for SanDisk SD card data recovery, on account of its exceedingly newbie-friendly and intuitive design and unbeatable recovery numbers. Navigating the program is easy enough that you'll be scanning and retrieving files in just a few clicks and it supports a plethora of different file formats for whatever purpose your memory card is for.
It's also compatible with pretty much any storage medium, so it's guaranteed to work with whatever SanDisk SD card model you're trying to recover data from. Plus, it's great for users looking for a free tool, as its basic Windows version allows you to recover up to half a gigabyte's worth of files without paying a dime.
It's not just about file recovery either. Disk Drill comes with a backup feature that lets you save a perfect image of your memory card – deleted files and all – that you can recover lost files from in the future. All things considered, Disk Drill is the most effective data recovery program on the market for all kinds of memory cards and will likely be your best bet at getting your lost or compromised information back.
2. Recuva (Windows)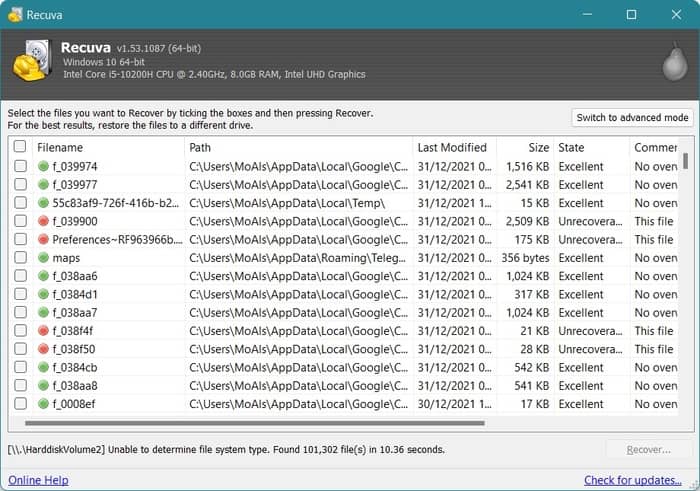 Recuva is a lightweight data recovery program from the minds that brought us the popular cleanup tool CCleaner. It's not the most up-to-date solution on the market, but it has an excellent free version and a very simple design that's welcoming towards novices.
Pros

Cons

The free version does not have a data recovery cap
Great for novice users
Does not take up much of your machine's resources
Solid recovery results

The software has not been updated in some time
UI isn't the prettiest
Recuva Data Recovery starts up with a wizard that you can easily follow to start the scanning process. You can choose the file type of the information you want to recover and the storage medium you want to recover from, like your SanDisk SD card. You also have the choice to enable Deep Scan for a more comprehensive examination. This kind of setup is especially useful for less tech-savvy users, giving them a simple track to follow in order to get their lost files back.
Of course, you can also do away with the wizard altogether and opt for a more traditional layout, though the UI feels a bit uninspired and difficult to navigate. It does a great job of recovering files, boasting a high success rate and relatively speedy scans. To top it all off, the free version lets you recover as many files as you want, though you will miss out on a few things, such as virtual drive features and premium support.
EaseUS Data Recovery is one of the more reliable tools out there, sporting a handsome user interface that's easy to figure out and a generous free trial that'll help you get back a lot of information.
Pros

Cons

The interface is easy on the eyes and simple to use
High recovery results
Lots of online support for getting started
The free version offers a greater data recovery allowance than most

Paid versions are pretty expensive
Scans are a little on the slow side
EaseUS is better known for its partitioning program, but their Data Recovery software is no slouch either. Its modern user interface is delightfully easy to follow, with all your available storage mediums being laid out in front of you as soon as you launch the app. From there, you just choose your SanDisk memory card and the program starts scanning right away.
The scan results pop up in real-time, which can save you a lot of time since you can stop the scan when you find the files you need, though it's worth noting that the scanning process is a bit slow. You can also effortlessly organize the results by file type, making it easier to locate the information you're looking for. There's a built-in preview function as well, allowing you to take a sneak peek at the file before starting the recovery process.
The free version of EaseUS Data Recovery gives you a 2GB limit to work with, which is a lot more than most of its competition, but subscribing to any of the paid versions can be rather pricey.
4. PhotoRec (Windows, Mac & Linux)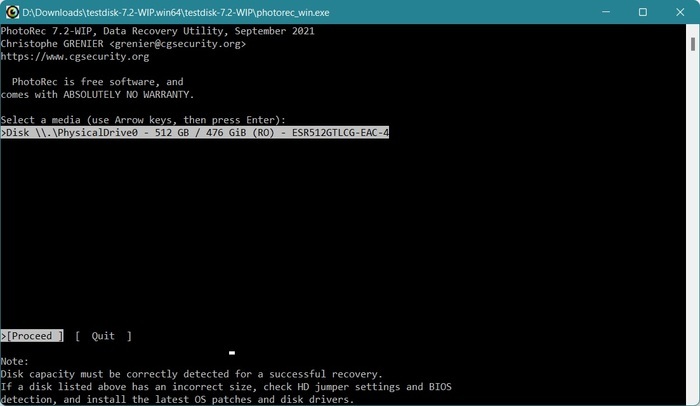 PhotoRec is a prime command-line-based for advanced users trying to recover data from a formatted SD card or one that's incurred any other form of data loss. It's free, powerful, supports a lot of different file types, and works with all major operating systems. It's pretty tough to use, however, so casual users will probably want to look elsewhere.
Pros

Cons

Open-source and completely free
Exceptional performance
Available on all major operating systems

Command-line design is a deterrent for newbies
Filenames aren't included in the recovery
Contrary to its name, PhotoRec will have no trouble helping you recover all sorts of files from most types of memory cards, as it supports over 480 file extensions. It's a completely free SD card recovery software, but the catch is that you'll have to be well-versed in command-line skills in order to use the program, limiting it to advanced users only.
On the plus side, PhotoRec is very effective on the recovery end and it's compatible with all three major operating systems – Windows, Mac, and Linux. Its open-source nature also means that you won't have to pay for any version of the program, making it one of the best choices for adept computer users to rescue files from their failing SanDisk SD card.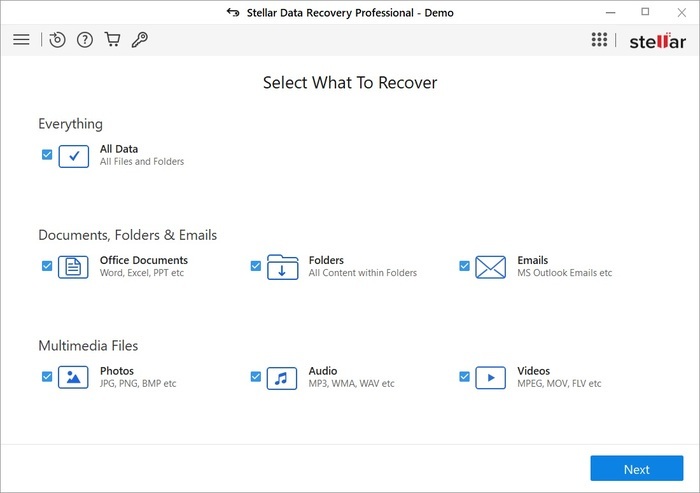 Stellar Data Recovery's strengths lie in its charming and easily accessible interface and its ability to retrieve custom file types. Its free version is watered-down quite a bit compared to the paid editions, but it's still a very competent tool nonetheless.
Pros

Cons

The user interface is pretty and easy to understand
Allows you to search for custom file types
The paid version has some nice extra features
Lets you recover data from drive images

Scans are a little slow
The preview feature is hit-or-miss
Paid editions are expensive
Minimalists will find Stellar Data Recovery's clean white aesthetic rather attractive and all of its controls are laid out in a way that makes data rescue exceedingly intuitive. You can search for all sorts of multimedia files or documents (including emails) and your SanDisk memory card will automatically appear for scanning under the "Connected drives" header when connected.
It also includes a handy feature that lets you look for custom file extensions that aren't usually on the radar of other recovery tools. The free version nets you 1 GB's worth of recoverable data which is good, but you won't be able to access some of the extra features, like recovery drive creation. Stellar Data Recovery is also a bit on the slow side in scanning and the preview feature can be pretty finicky.
6. R-Studio (Windows, Mac & Linux)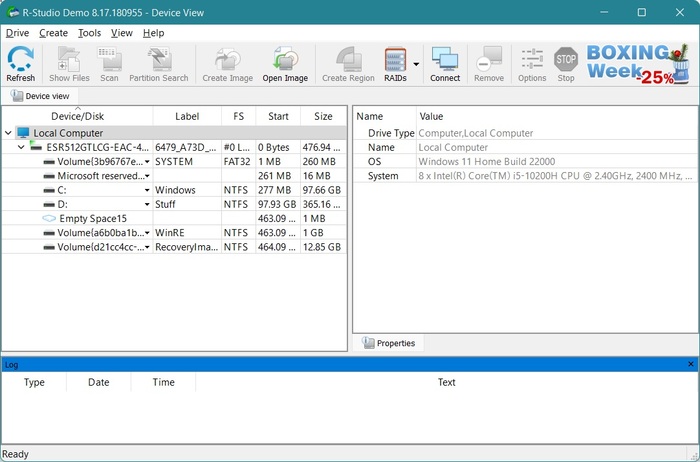 Similar to PhotoRec, R-Studio is another recovery tool that's geared primarily towards users with a lot of technical know-how, but for vastly different reasons. It offers exceptional recovery prowess, some great additional features, and works on all major operating systems, though its complexity greatly limits the kind of people who can use it.
Pros

Cons

Supports storage medium formats from any major operating system, no matter what OS the app is running on
Crammed full of advanced features, like hex viewer and RAID creation
Can retrieve files over a network

Too complicated for the most users
Preview only works on certain file types
Separate licenses for different operating systems
Unlike PhotoRec, R-Studio doesn't require any command-line skills to utilize, but that doesn't make it any less complex. It has a proper UI that's chock-full of information and would require a user with a decent amount of technical expertise to fully make use of it. But if you know how to use it, you'd be able to recover files via the network, look through storage mediums in hex format, and so much more.
You'd also be able to recover files from a SanDisk SD card that's formatted for any operating system, regardless of the OS you're using R-Studio on. Aside from how complicated it can be, R-Studio has a few other drawbacks, including its limited preview functionality and how you'd need to purchase a different license for each OS.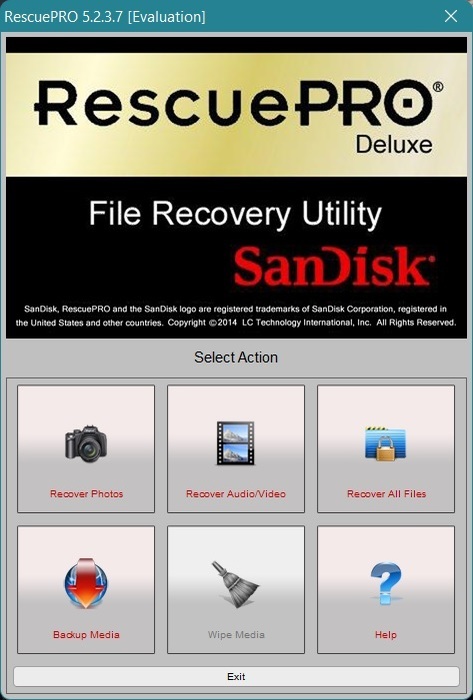 We're rounding out the list with SanDisk RescuePRO® – the brand's proprietary data recovery solution that can help retrieve files exclusively from removable media or image backups. It isn't much to luck at and quite lacking in terms of features, but it's lightweight and gets the job done.
Pros

Cons

Easy to use
Allows you to create backups of your removable drives
Lightweight

UI is incredibly outdated
Only recovers files from removable storage mediums
Not much in the way of extra features
SanDisk RescuePRO® is a simple tool. It can attempt to recover lost data from your SanDisk memory card or other removable storage medium and it can create backups of those mediums for you. That's about it. The free version allows you to recover the first 25 images, after which you'll have to invest in one of the paid versions.
While the software is capable enough and easy to figure out, its archaic interface and fairly limited functionality make it tough to recommend for its asking price. But if you're after a simple and straightforward tool for recovering files from your memory card or other storage devices, SanDisk RescuePRO® makes for a decent option.
Frequently Asked Questions (FAQs):
Conclusion
After some thorough testing and deliberation, Disk Drill emerged as the clear winner when it comes to SanDisk memory card recovery, on account of its wide storage medium support, sky-high recovery rate, and well-designed interface. There are a couple of other options to recommend, like R-Studio if you're looking for more advanced features or PhotoRec for those in the market for a free command-line-based solution.
Emma Collins is a Content Writer at Handy Recovery. She used to work as an Assistant Language Teacher (ALT) in Hokkaido, Japan before she finally changed careers and focused on digital marketing, content writing, and copywriting. For 5 years, she has already written thousands of articles and web pages on different niches, such as fashion, finance, digital marketing, and technology— particularly android, iOS, Windows, social media, and more.
Andrey Vasilyev is an Editorial Advisor for Handy Recovery. Andrey is a software engineer expert with extensive expertise in data recovery, computer forensics, and data litigation. Andrey brings over 12 years of experience in software development, database administration, and hardware repair to the team.